Nut butter, oh how I love you so. 
At any given time, there are probably 10 jars of nut butter in my pantry. I most often spread it on fruit or throw it in my smoothies for some extra creaminess and flavor. I also am a fan of incorporating peanut/cashew/almond butter into my baked goods, like today's muffin recipe.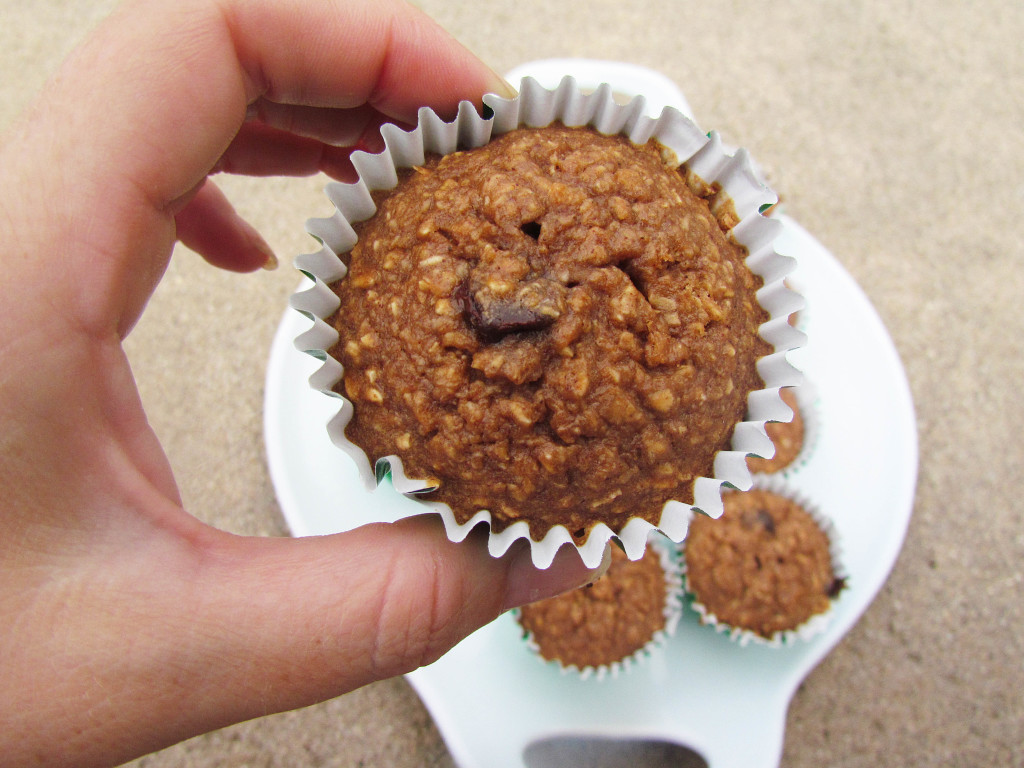 One brand of nut butter that you'll always find in my kitchen is Peanut Butter & Co. I especially love their Dark Chocolate Dreams peanut butter! While I love smooth nut butter, powdered peanut butter is also a staple in my kitchen. So, you could imagine my excitement when I got involved in a Fit Approach collaboration with Peanut Butter & Co. to experiment in the kitchen with their new powdered peanut butter line, Mighty Nut.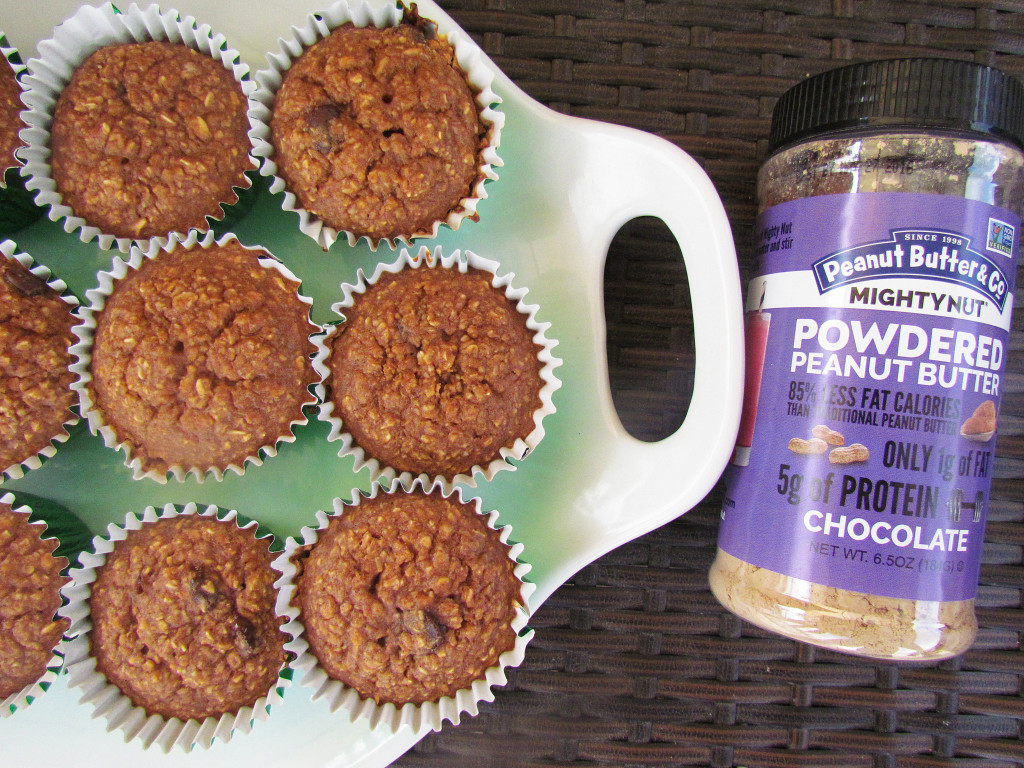 Created from quality USA grown peanuts, Mighty Nut is a non-GMO powdered peanut butter line made by roasting and pressing the peanuts. What remains is the protein, fiber and delicious peanut buttery taste – but much less fat and calories. Mighty Nut is now available in 4 varieties:
Original
Vanilla
Chocolate
Flax & Chia
I decided to come up with a muffin recipe that gives you lots of chocolatey and peanut buttery goodness, while also being low in fat and calories. These wholesome, gluten free babies were the result: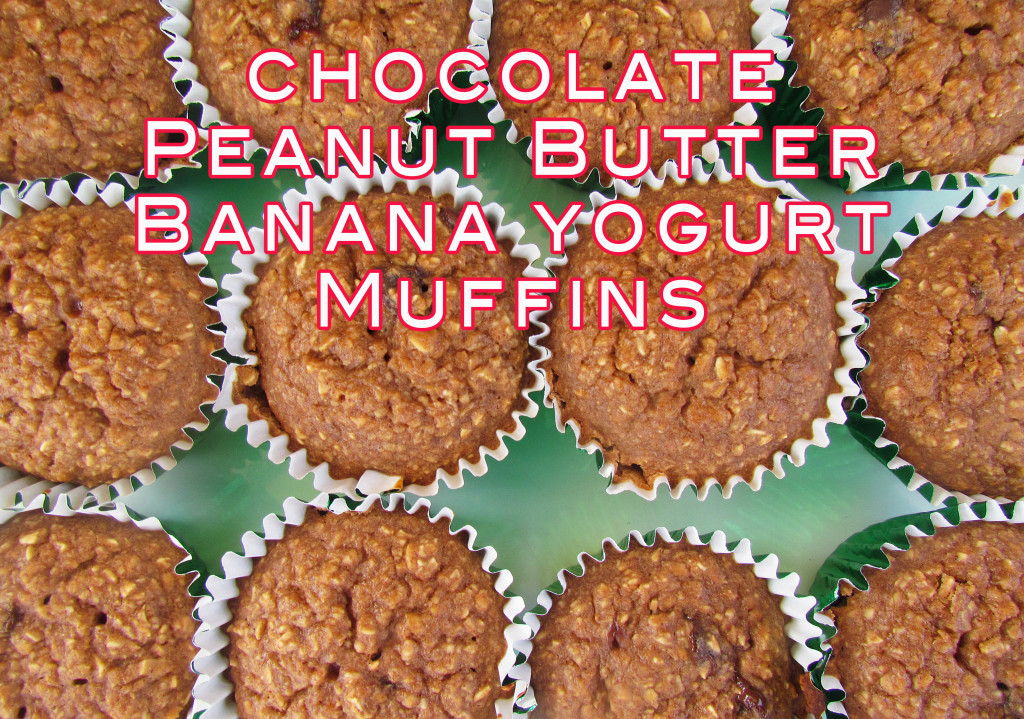 Let's discuss…
For the base of the muffins we've got some oats and Mighty Nut chocolate powdered peanut butter.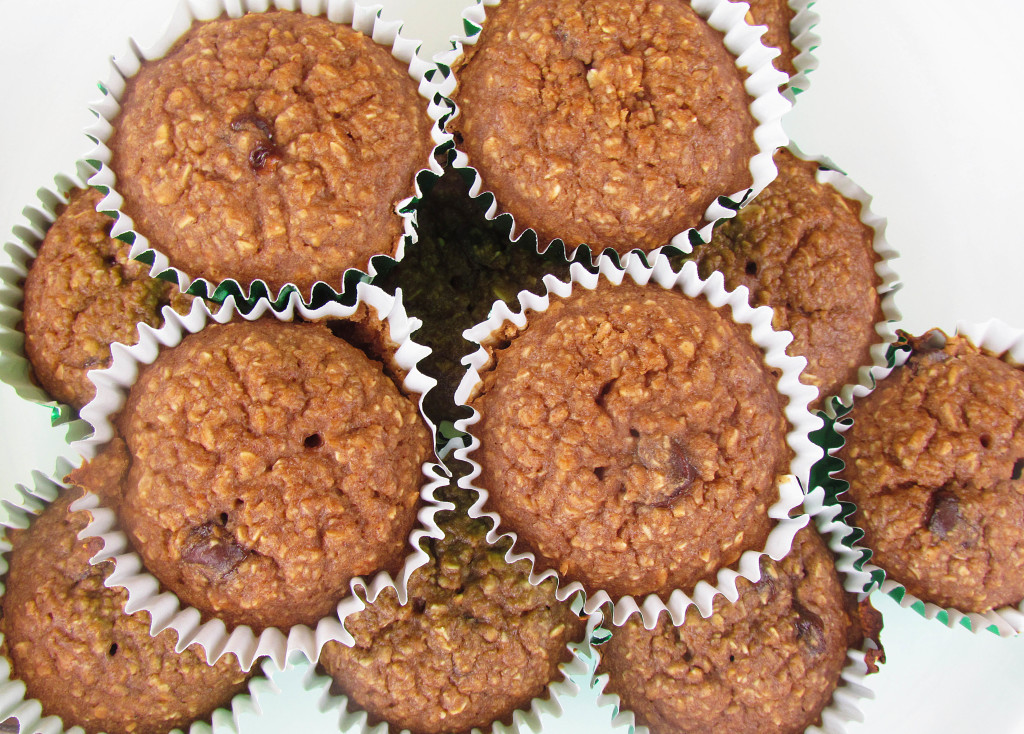 Containing no added refined sugar, the muffins are sweetened with only honey and banana. I also included some plain yogurt for a bit of added density and a touch of tanginess.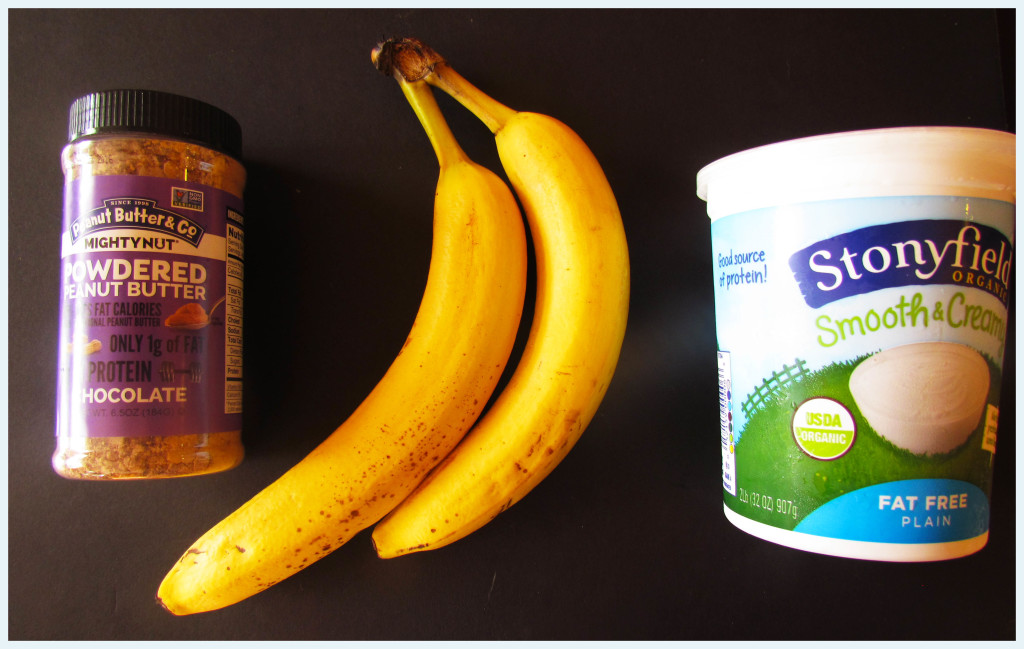 To make the batter, you simply throw all ingredients except the chocolate chips in a food processor and pulse until combined. Stir in the chips, pour evenly into a 12-cup muffin tin, and throw em in the oven. Maybe 5 minutes of prep time?! Easy stuff my friends.
One muffin contains 165 calories, 3 grams of fat, 4 grams of protein, and 32 grams of carbs – making it a perfectly portioned snack that satisfies your sweet tooth.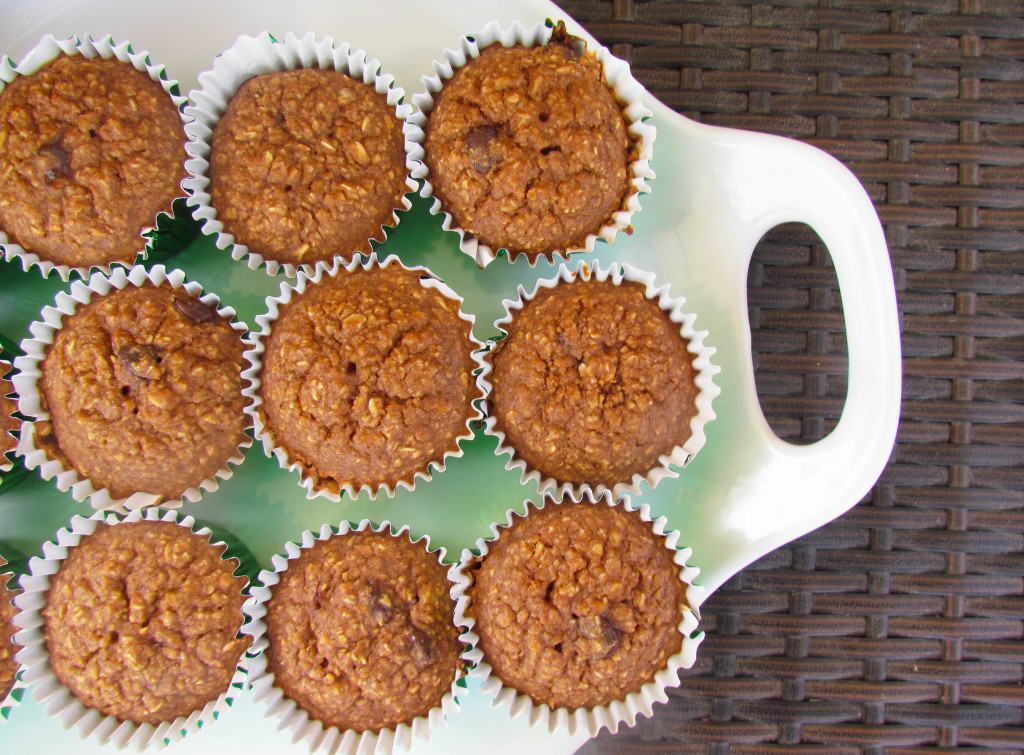 Check out the full recipe below for instructions on how to make these muffins!
Want to try Mighty Nut powdered peanut butter? You're in luck because…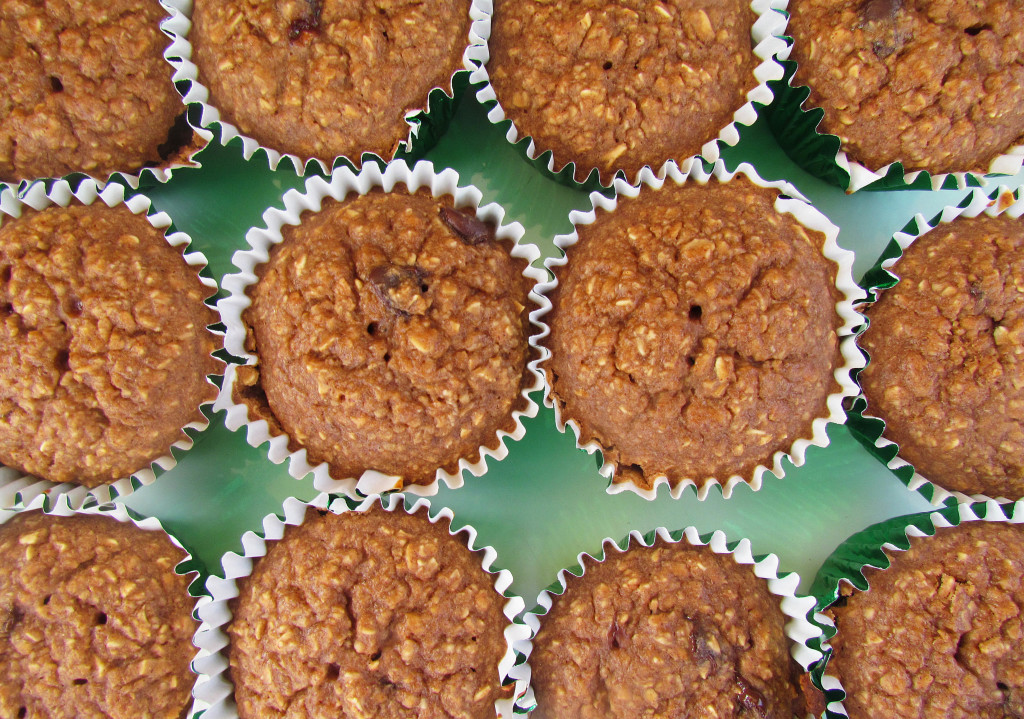 Today I'm doing a Mighty Nut giveaway! One lucky winner will receive a jar of Mighty Nut in their preferred flavor + the below pictured measuring scoop.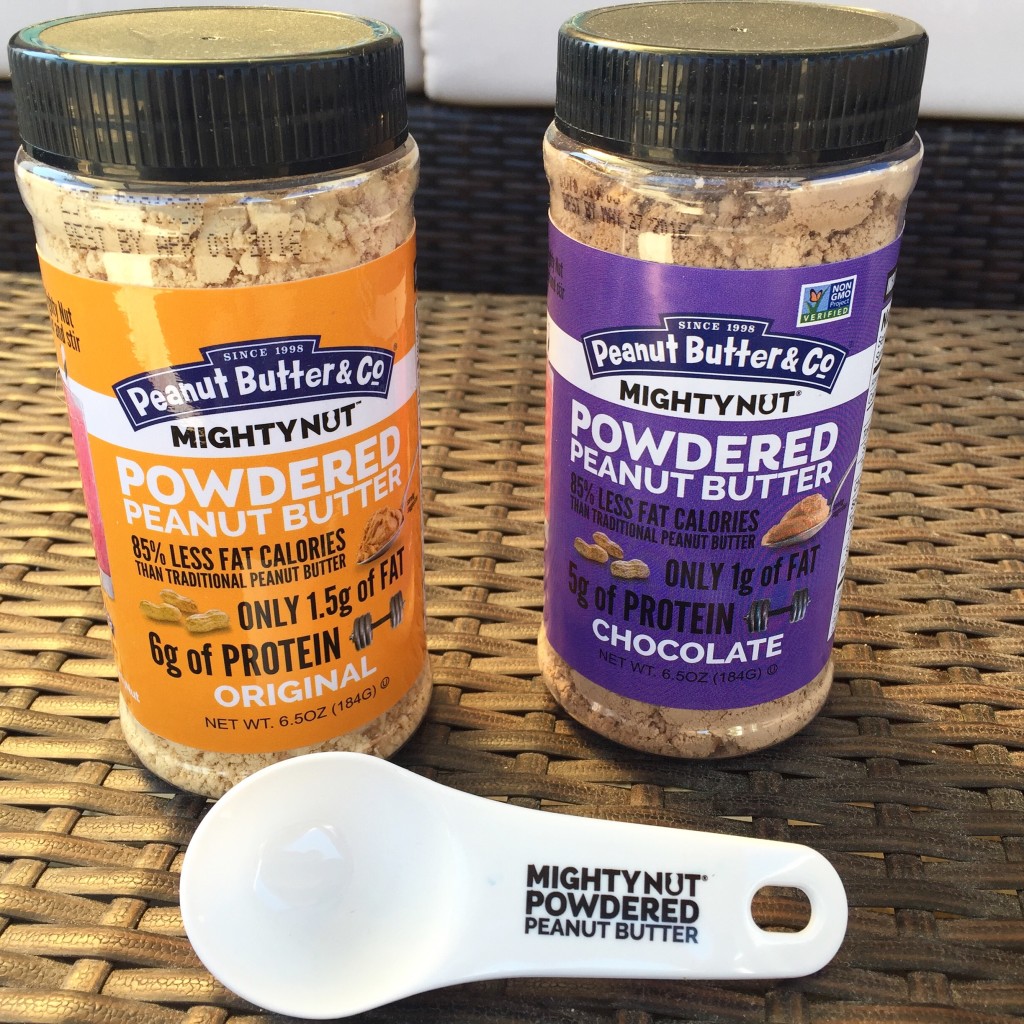 Below are the giveaway entry methods. You may choose do only 1 method, or do them all for a better chance to win! Be sure to leave a comment for EACH way you enter:
Follow @GoMightyNut on Twitter
Follow @GoMightyNut on Instagram
Tweet about the giveaway. Sample tweet:  I would LOVE to win the giveaway via @foodiemtfitness so I can create recipes with @GoMightyNut! #EatMighty #PeanutButter @fitapproach
Pin a picture from MightyNut.com
Leave a comment and let me know which flavor you most want to try: original, vanilla, chocolate or flax & chia
Follow Foodie Loves Fitness on Twitter (@foodiemtfitness)
Follow Foodie Loves Fitness on Instagram (@foodielovesfitness)
Contest is open to U.S. residents only. I'll randomly choose a winner in a week, on 10/28. If you already follow any of the above social media accounts, leave a comment stating so, so that those giveaway entries can be counted. 
Note: One prize per person. If you win this giveaway, and have already won another prize from Mighty Nut through another blog, please disclose that you have already won so we can choose another winner. 

Chocolate Peanut Butter Banana Yogurt Muffins
Author:
Foodie Loves Fitness
Prep time:
Cook time:
Total time:
Ingredients
2 cups old fashioned oats (certified gluten free if necessary)
½ cup Mighty Nut powdered chocolate peanut butter
2 bananas
½ cup honey
½ cup plain yogurt (preferably organic)
⅓ cup dark chocolate chips
¼ cup unsweetened almond milk (or any other kind of milk)
1 TSP cinnamon
1 TSP vanilla extract
1 TSP baking powder
¼ TSP salt
Instructions
Preheat oven to 375 degrees. Line a 12-cup muffin pan with muffin cups.
Combine all ingredients except the chocolate chips in a food processor. Pulse until blended and mostly smooth (some chunks are okay!).
Stir in the chocolate chips. Spoon evenly into the muffin cups.
Bake for 17 minutes, or until muffins are lightly browned and a toothpick placed in the center of a muffin comes out clean.
Nutrition Information
Serving size:
1 muffin,
Calories:
165,
Fat:
3 g,
Saturated fat:
1 g,
Carbohydrates:
32 g,
Sugar:
19 g,
Fiber:
3 g,
Protein:
4.5
** One last thing before I go: The winner of my Aurorae yoga mat towel giveaway is Kelsey. Congrats, my fellow yogi! **
Disclaimer: This post is sponsored by Mighty Nut through my partnership with Fit Approach. As always, all opinions expressed are genuinely my own.