After tapas cooking, wine tasting, and sightseeing around Malaga on my recent Spanish vacation, my hubby and I hopped on a plane to travel from southern Spain to Barcelona. After all, with it being just a cheap hour flight away, my stance was, how could we not experience Barcelona?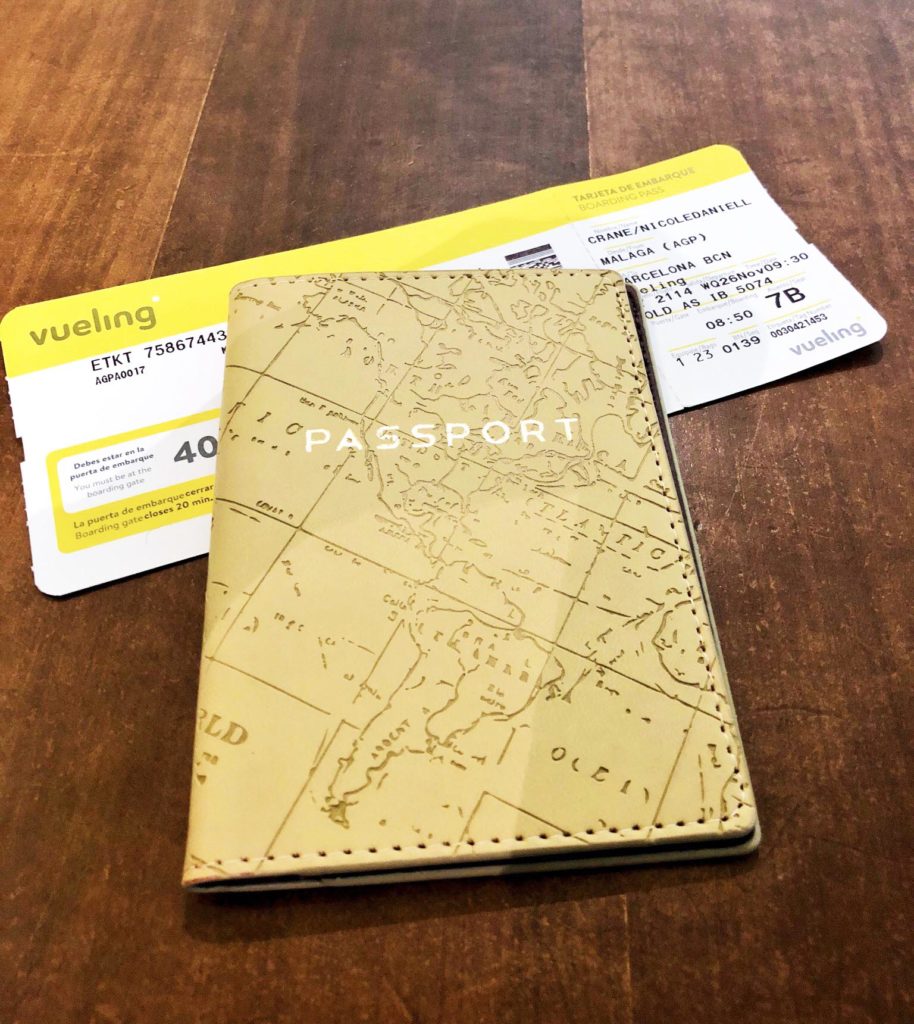 Barcelona is a magical city full of charm, funky architecture, and inviting bakeries everywhere you turn. We ate some delicious food there – which I'm looking forward to sharing in another post soon.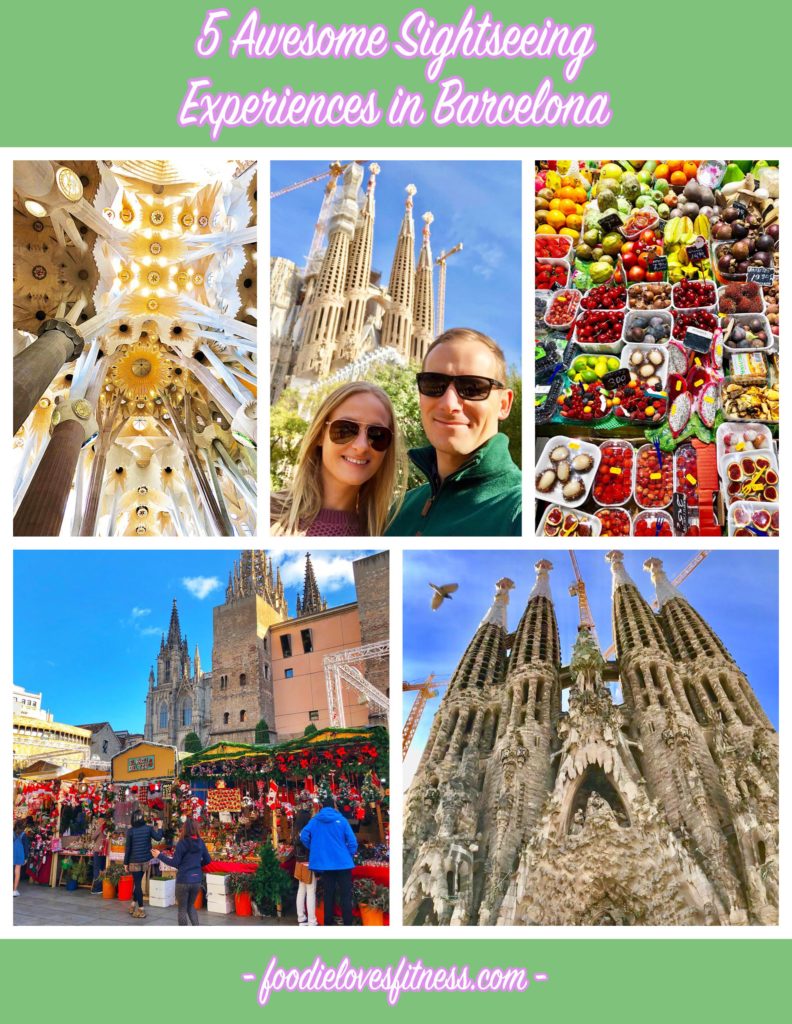 I really loved the city & was glad that we made it the finale of our trip. Today I want to highlight my favorite sightseeing of our time there, so here are 5 awesome things we experienced in Barcelona!
1.) Barcelona Cathedral.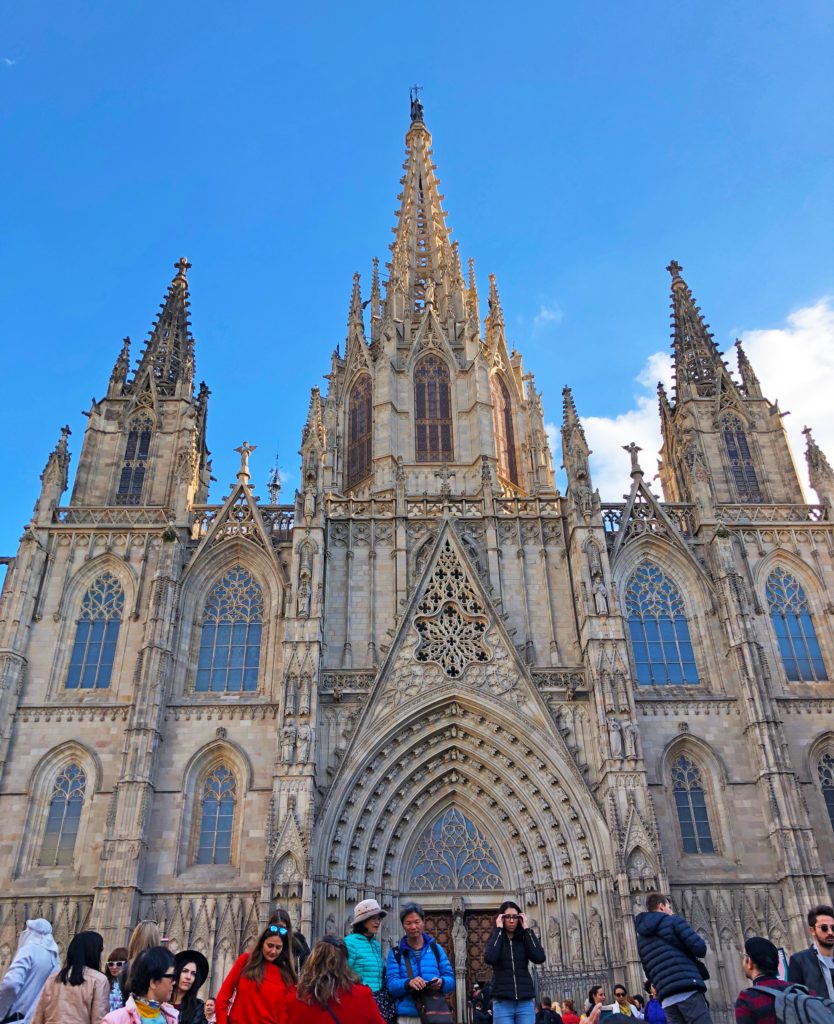 I had Barcelona Cathedral on my list of places to visit, but we actually just sort of stumbled upon it when we were walking around on our first day in the city. We were strolling down a gorgeous cobblestone street taking the sights in and then BOOM, the cathedral appeared in front of us…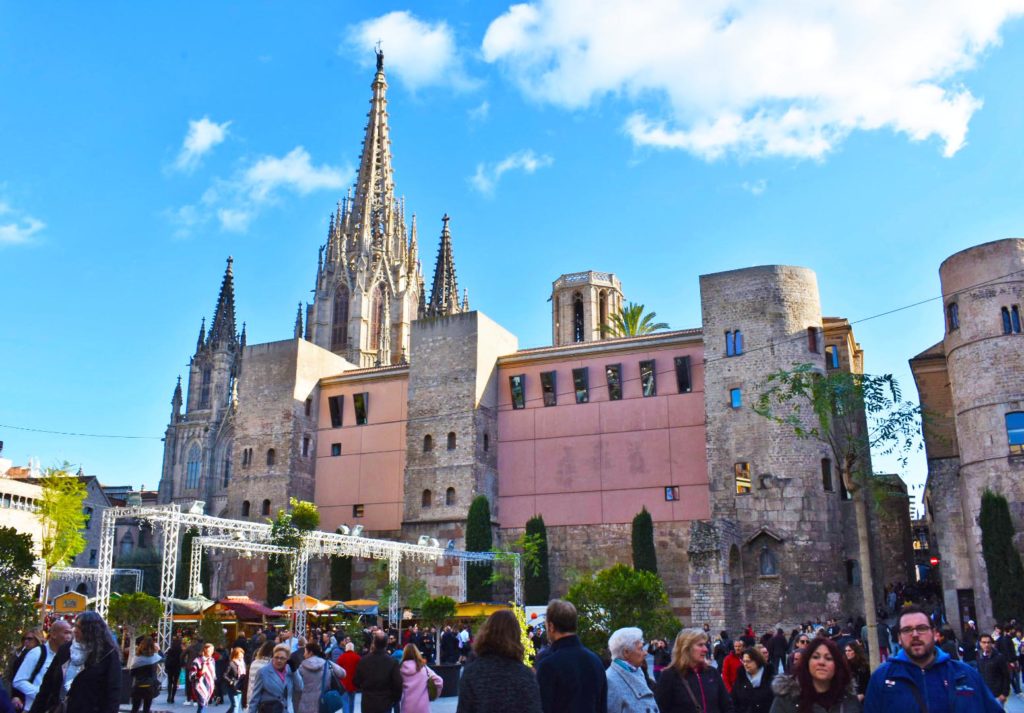 Dating back to 1298, Barcelona Cathedral features several architectural styles that each pay homage to a period in Spain's history. The cathedral is elaborate and dramatic, and an interesting place to just walk around and experience.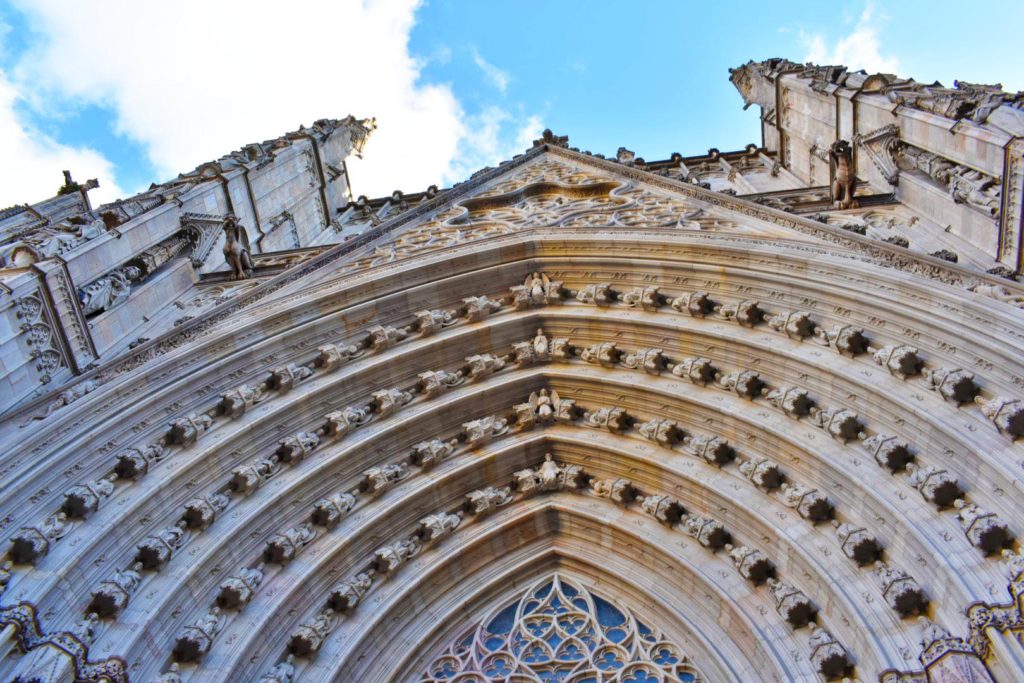 2.) Mercat de la Boqueria.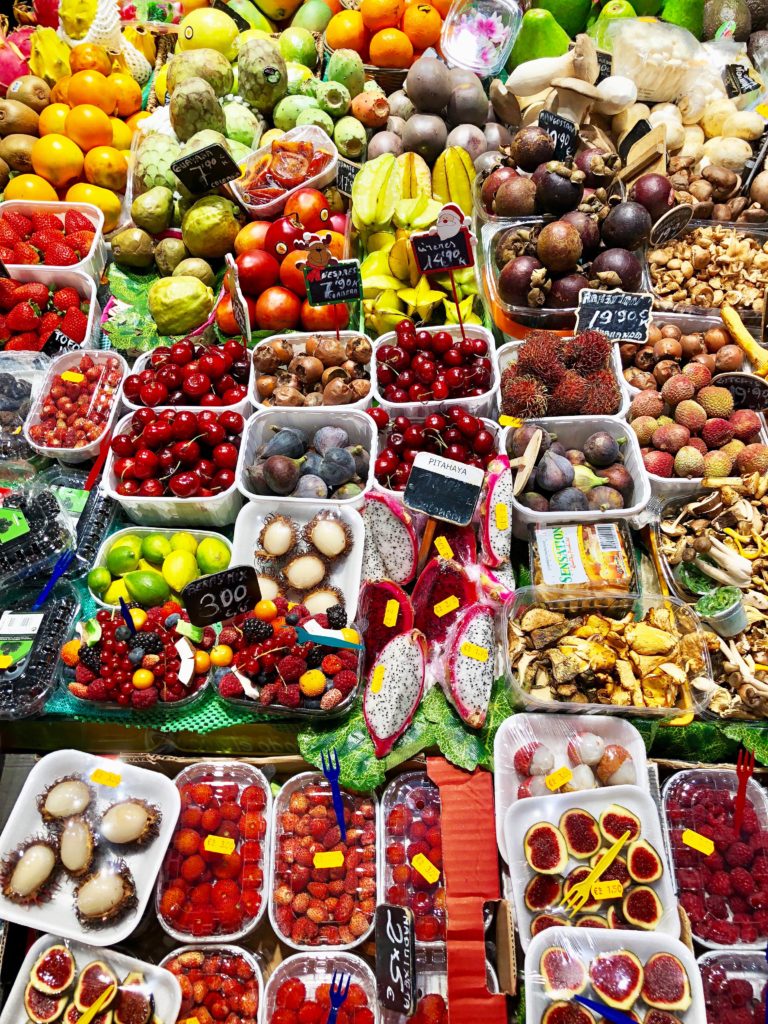 I'm a huge fan of open air markets and try to visit them everywhere I travel (as well as frequent them at home), so I made Mercat de la Boqueria a must-see while I was in Barcelona. It's the most famous food market of the city, and with everything from fruit and veggies to spices, meat and cheese, it has something for everyone.
My hubby and I grabbed fresh juices and strolled around while we were there. I would have loved to pick up fresh fruit for breakfast in my hotel room had we not been leaving town the next day, but I got to pick out some fun little gifts for loved ones there, including biscotti for my mom and glazed almonds for my dad.
3.) Sagrada Familia.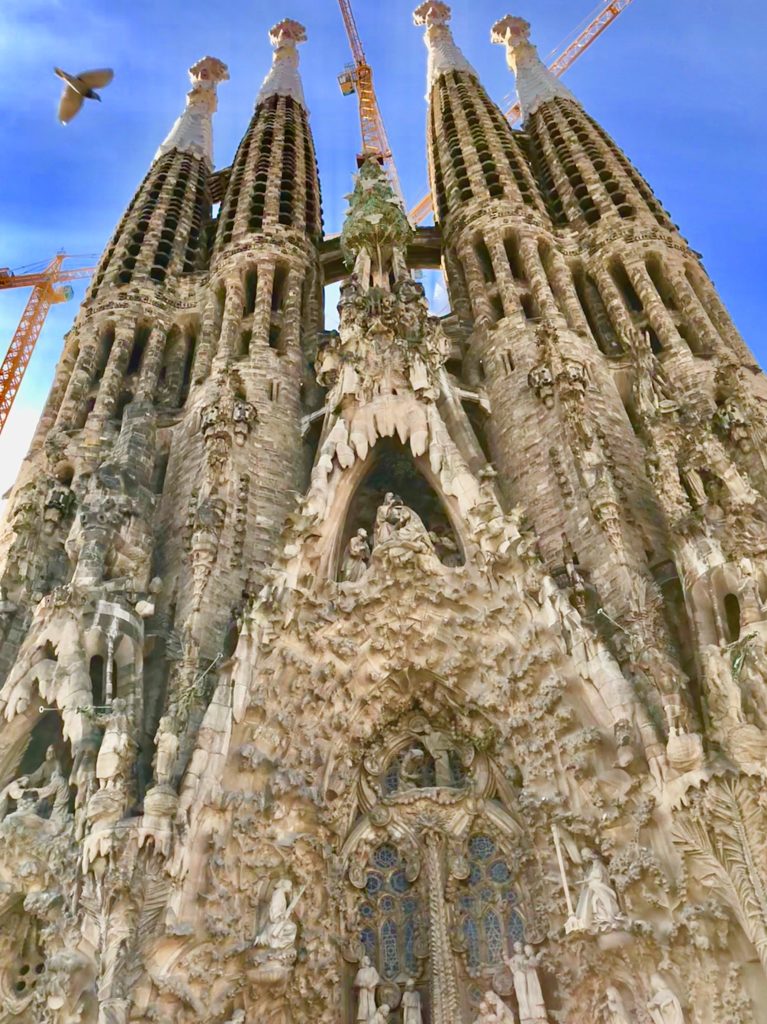 Probably the most well-known attraction in Barcelona is Sagrada Familia, and from my first glance at it, I could understand why. It's over-the-top, full of personality, and juts out into the sky like nothing else in the city.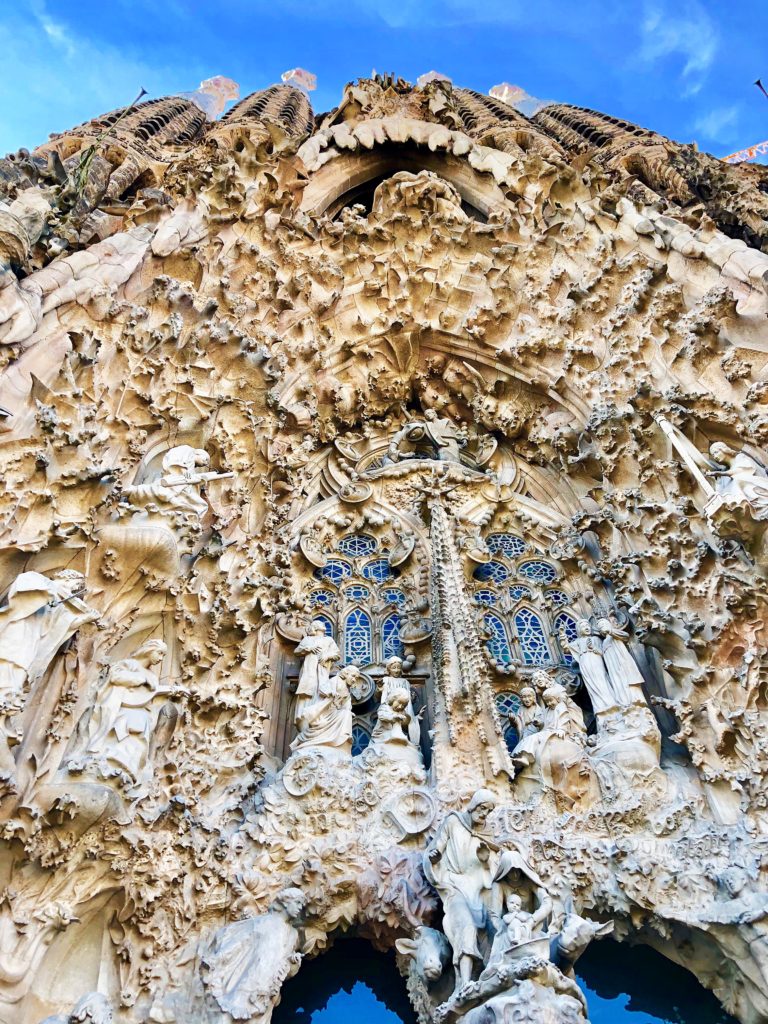 Barcelona is full of works from architect Antoni Gaudi, and Sagrada Familia was a dream that he worked on for 40 years before getting hit by a tram near the cathedral. While the building of the elaborately detailed church screeched to a halt during the Spanish Civil War and for years after, it's been under construction in recent years. Plans to complete the project are slated for 2026 – 100 years after Gaudi died. They've got a lot of work to do to create the cathedral that they're envisioning, so I'd like to go back once it's a finished masterpiece!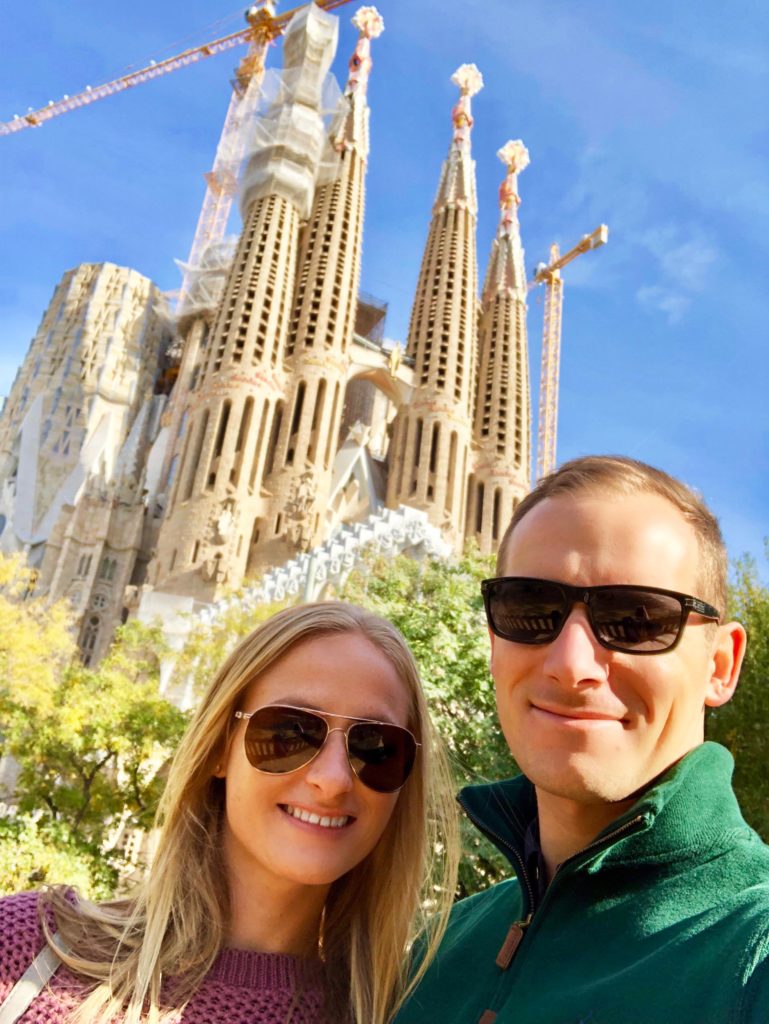 The project is financed by over a million visitors each year, and we were 2 of them in 2017! It's hard to describe how imaginative the designs of Sagrada Familia are. If you're not Catholic or typically into churches (I'm not), don't let that stop you from visiting it. It's wildly stunning to see in person! Pictures don't quite capture it, but here are a few: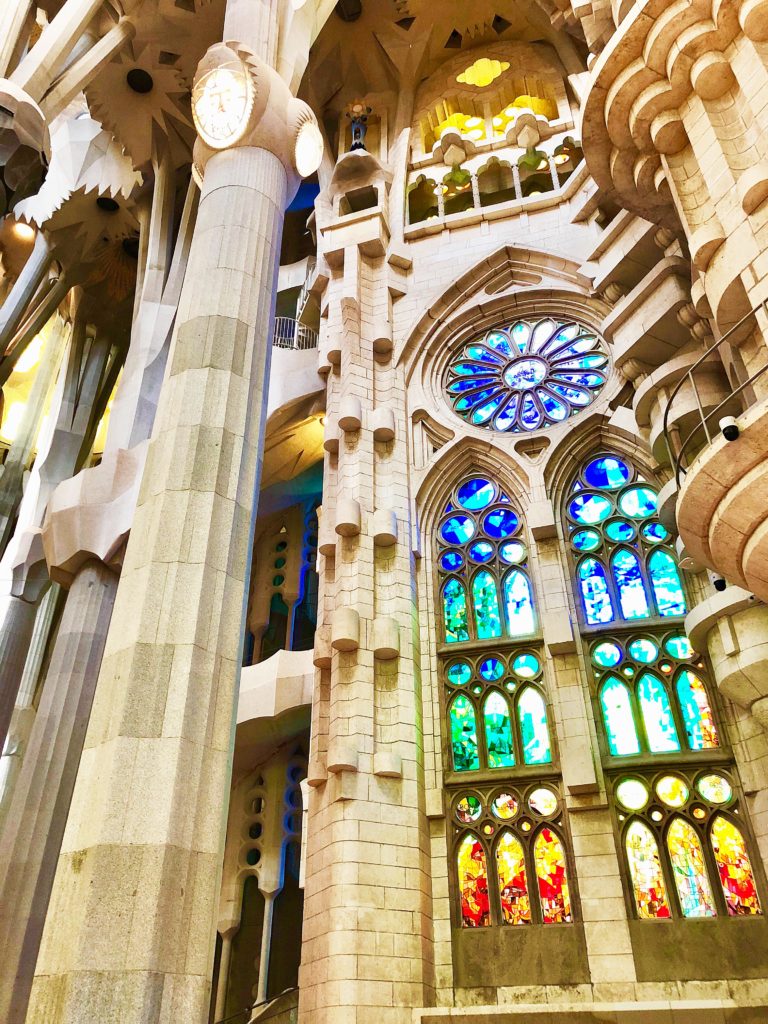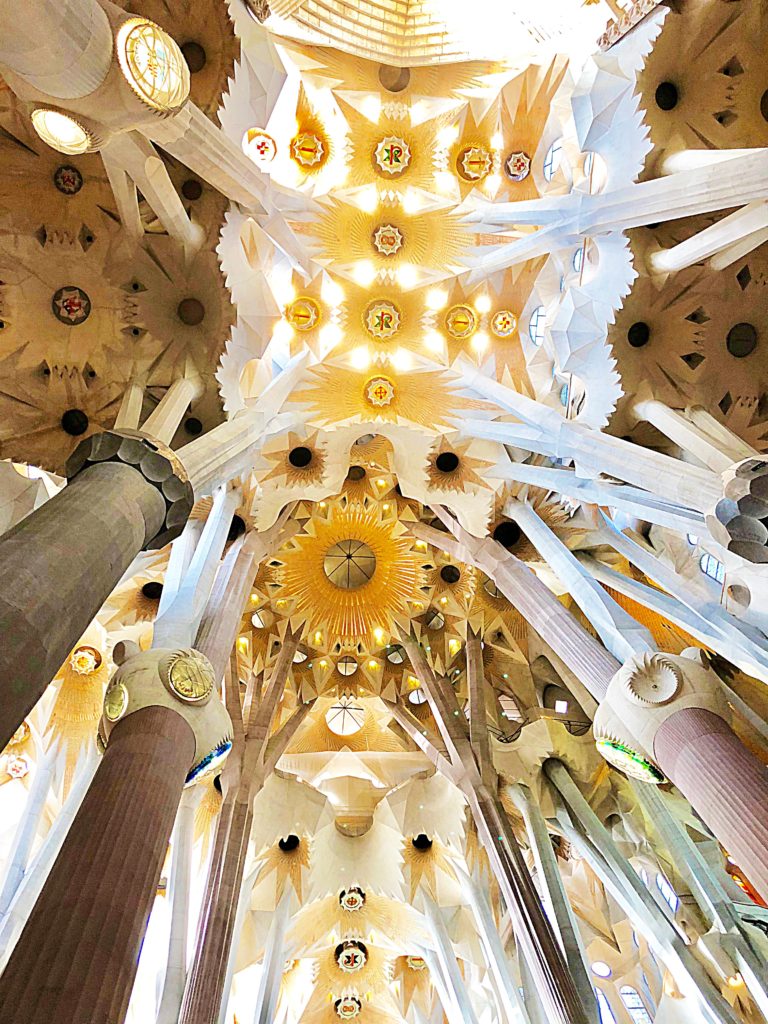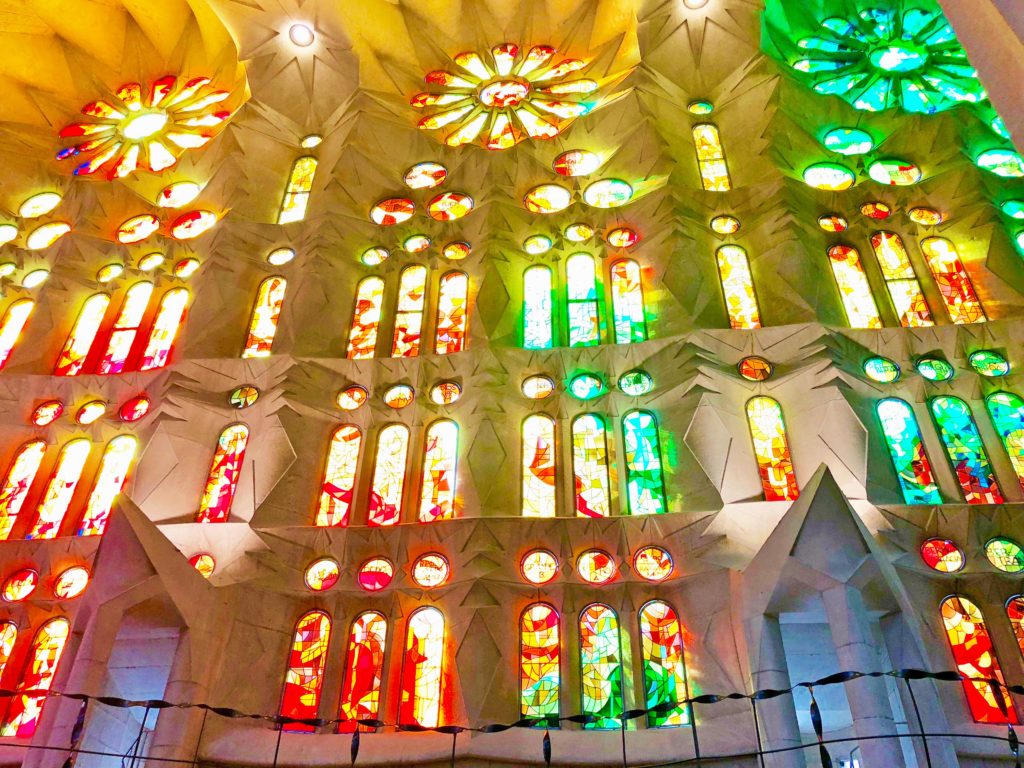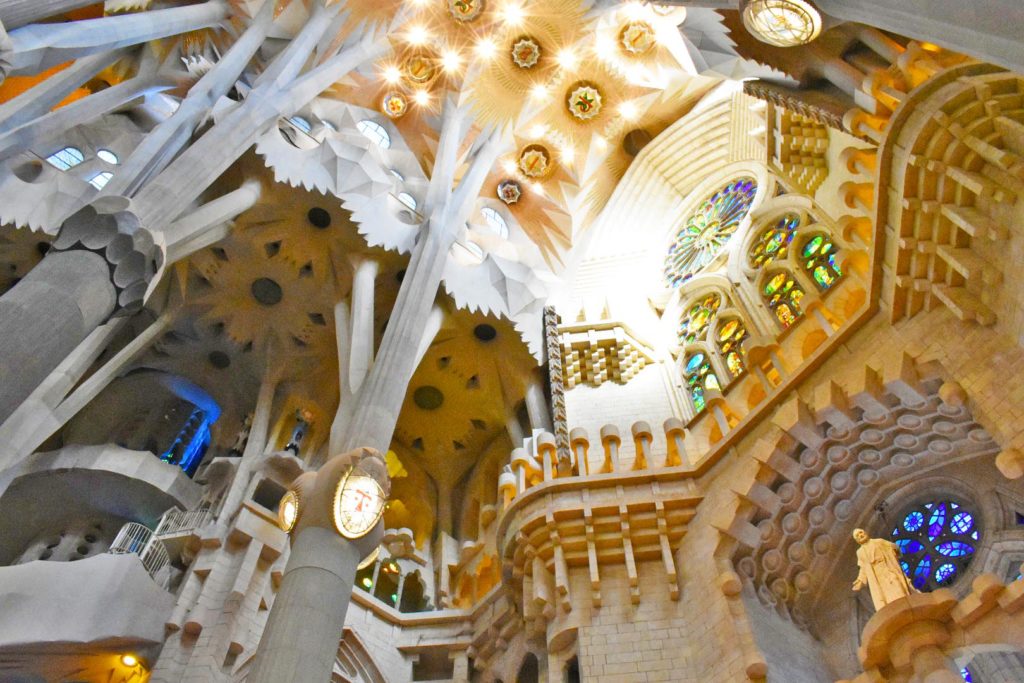 4.) Christmas Market at Avenida de la Catedral.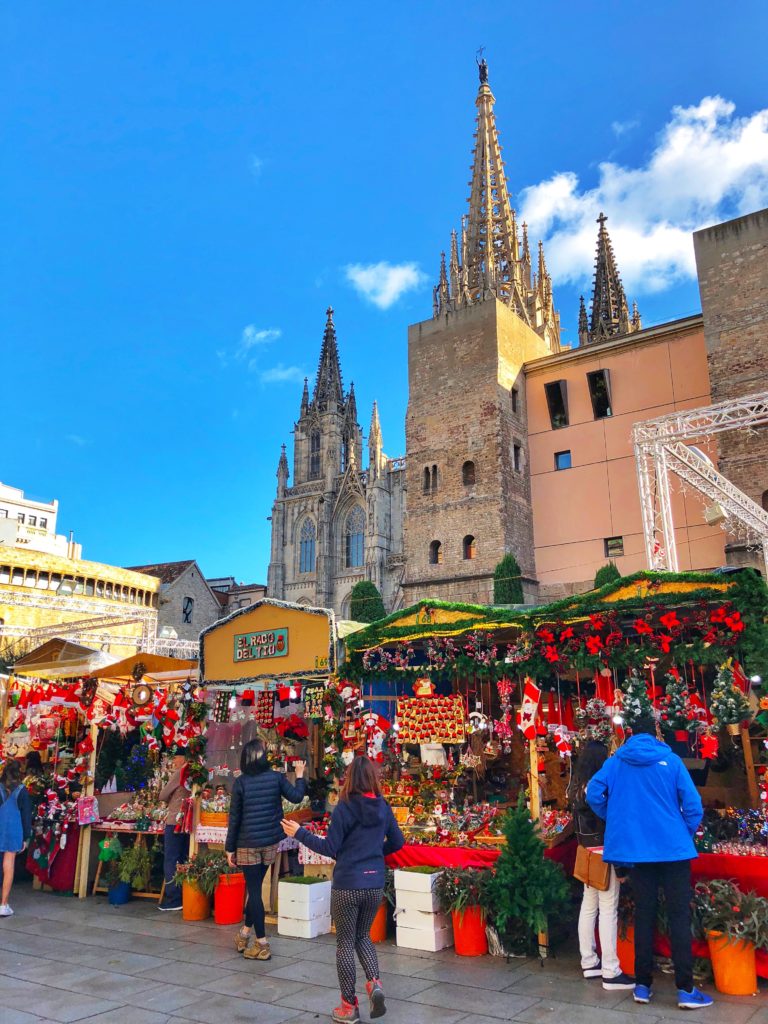 I'm a lover of all things related to Christmastime, so I was really excited to stumble upon outdoor holiday markets in Barcelona. According to City Life Barcelona, the market outside of Barcelona Cathedral that we visited is known as Fira de Santa Llucia, and it's open from November 25th-December 23rd. The market stalls feature trinkets, jewelry and home decor made by local artisans.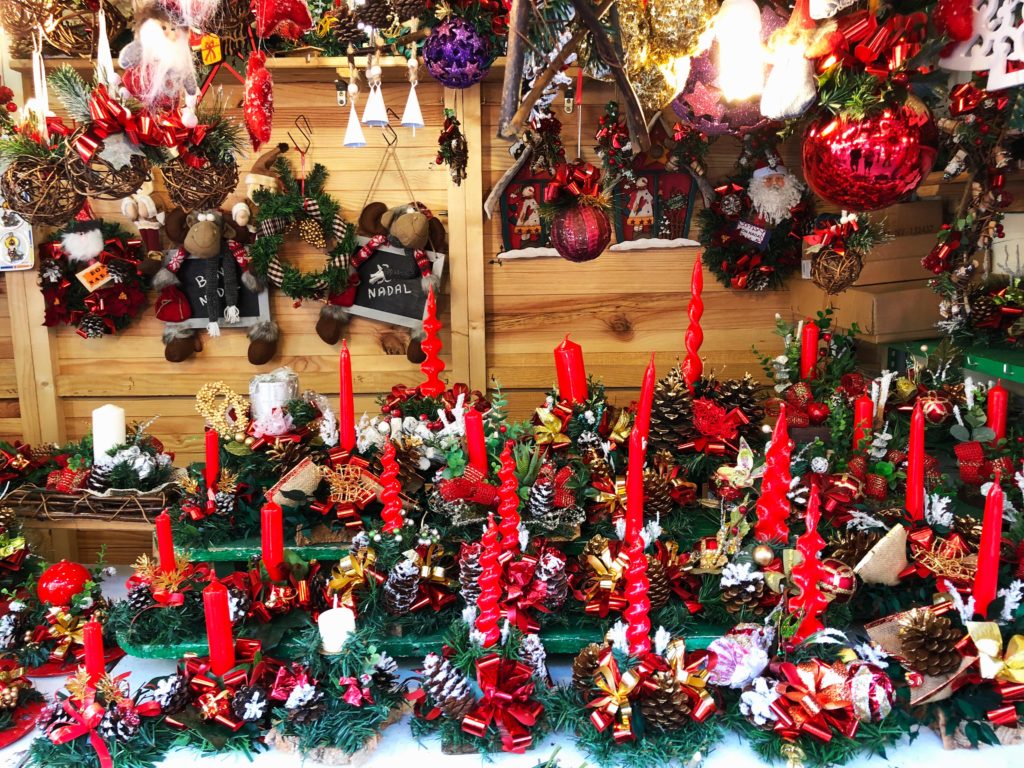 I'm not a big shopper, but when I travel I do enjoy buying unique things for myself that remind me of the trip and gifts for loved ones that I couldn't get anywhere else. At the Christmas market, I bought an ornament for my tree that has Buon Nadal written on it (Merry Christmas in Catalan), so now every year when I put the ornament up, I know I'll be reminded of our time in Barcelona. Love my souvenir!
5.) La Rambla.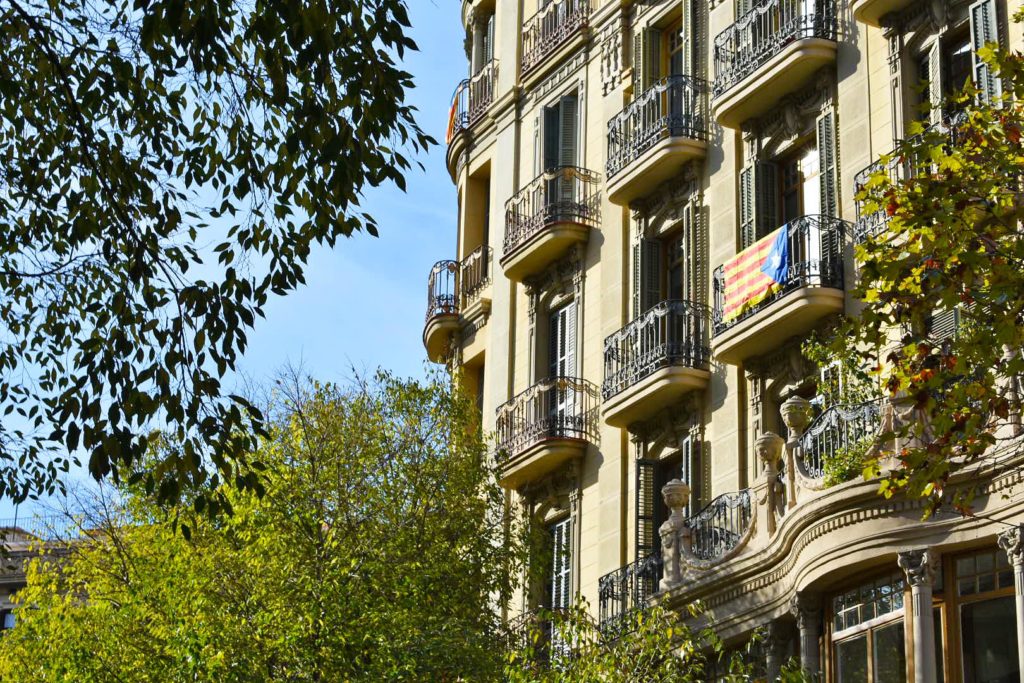 Yes, La Rambla is a super touristy area of Barcelona, but it's also the best for people watching and strolling around. One of my travel books called La Rambla "voyeuristic heaven" and that is definitely the truth! It's buzzing with people and activity, and it's fun to just walk around without any definite plans to see where it takes you. Since we didn't have a ton of time in Barcelona, we stayed right in the heart of La Rambla at a cheap rate and they upgraded us to a balcony room (perks of the off season!), so we had a nice view of it all. I liked being able to just walk out of our hotel to sightsee or have a meal in the heart of the city.
In contrast to Malaga, Barcelona was, as expected, a much bigger, touristy city. In Malaga, we only met a few other Americans the entire time and were surrounded mostly by other Europeans speaking many different languages, whereas in Barcelona, people were speaking English everywhere and we met lots of people from the States. I liked getting to experience the two contrasting cities – both beautiful areas of Spain, but with different vibes.
In Barcelona, especially in more touristy areas like La Rambla, there seemed to be a lot more pickpocketing and general worry about things getting stolen. "They're like magicians," one waitress there said to me about stuff disappearing.  The last night of our trip, Adam and I were walking back to our hotel from dinner. I had my purse over my shoulder towards the back, and I felt someone gently tug on it. I turned around and there was a group of three young people walking extremely close to me, and one of the guys was trying to lift some belongings out of the front of my bag! I screamed at him, he claimed I "scared him,"quickly ran off, and nothing was taken. I had a taser sitting pretty in the area of my bag where he was trying to steal from… so I'm just a little disappointed that I didn't get to use it on him! 😉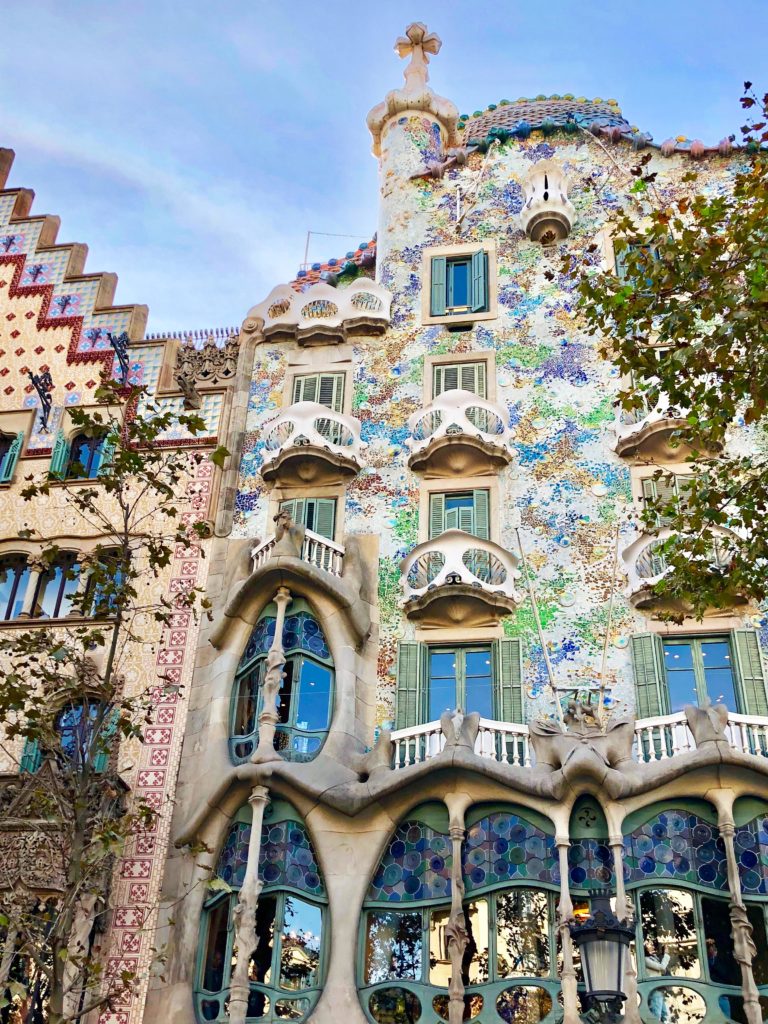 The colorful exterior of Casa Batllo, designed by Gaudi
But don't let the theft reputation deter you from visiting there – it's just a reminder to be careful & alert. Overall, Barcelona was a dreamy city with lots to see, do and eat! I'll be back soon with more posts about my experience in the city and the rest of my trip, including a quick trip to Africa from Southern Spain.
Tell me… Have you ever been to Barcelona? Do you have any travels planned for the year yet?