Hi friends!
Today I'm back with my second recap from my vacation last month. After getting a taste of Stockholm, my husband and I flew to Malaga, Spain, where we'd stay for a week and get to experience Southern Spanish culture.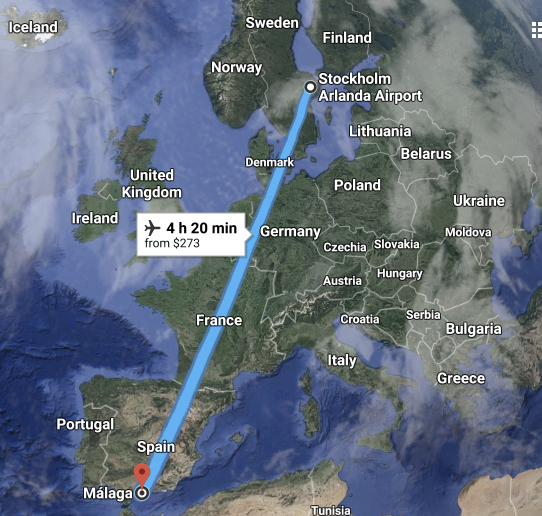 My first full day of vacation in Malaga, I wanted to explore the city and get a lay of the land. We started the day by taking the train in from where we were staying a bit south in Mijas Costas, then we sat down at a cafe outside for some tea and croissants.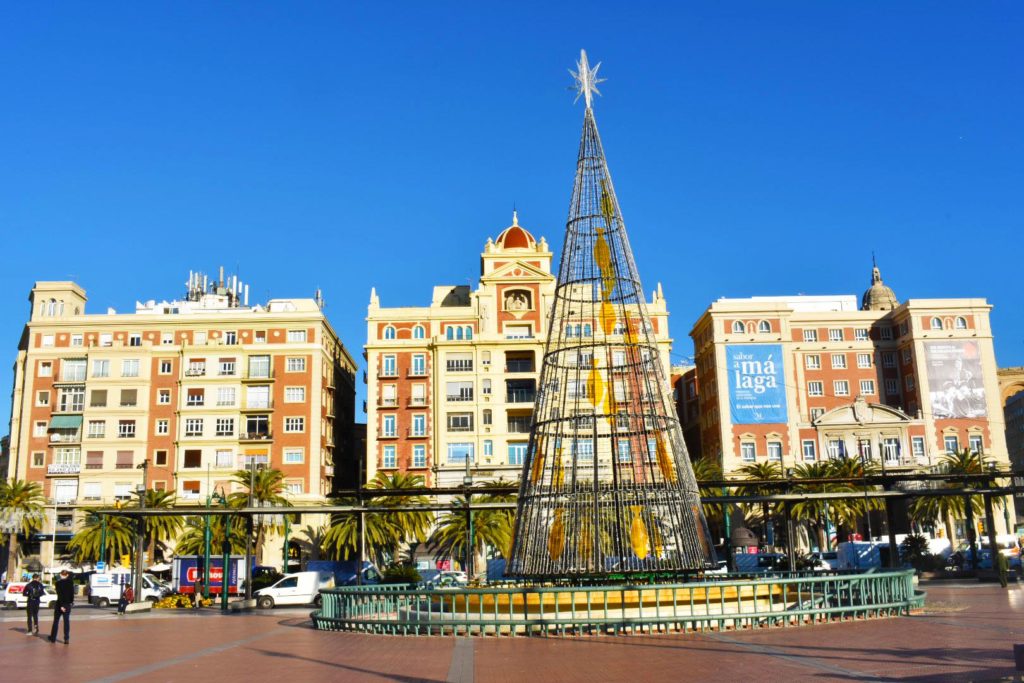 As we sat, sipped, and noshed, we did a lot of people watching. My first lesson of the culture in Malaga came from seeing the older man at the table next to us pour olive oil on his toast with a very heavy hand. People here love their olive oil (and of course their strong coffee too – this is Europe after all)!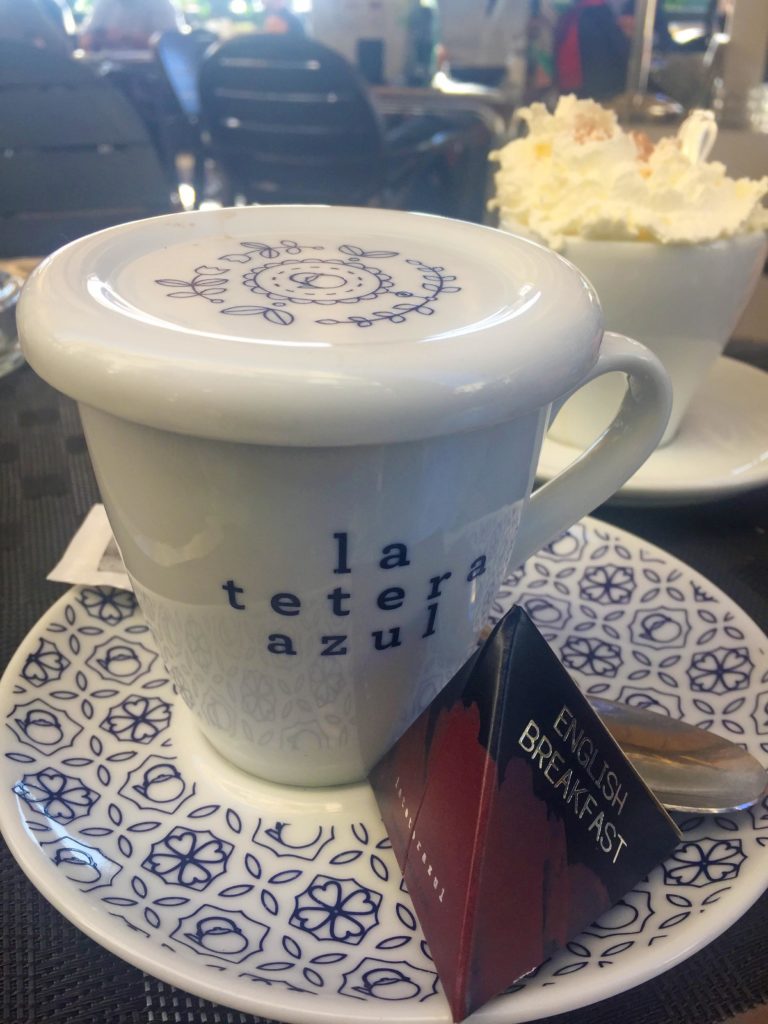 After breakfast, it was time to meet up with our tour guide for the day. We had arranged to do the Ultimate Malaga History & Food Experience tour with welovemalaga, and I was excited to learn from a local perspective and soak up the city!
We were greeted with our tour guide for the day, Damian. welovemalaga is a family-run local tour company started by the Garrido family. Damian was born in Malaga and is passionate about his city, as are his brother and dad.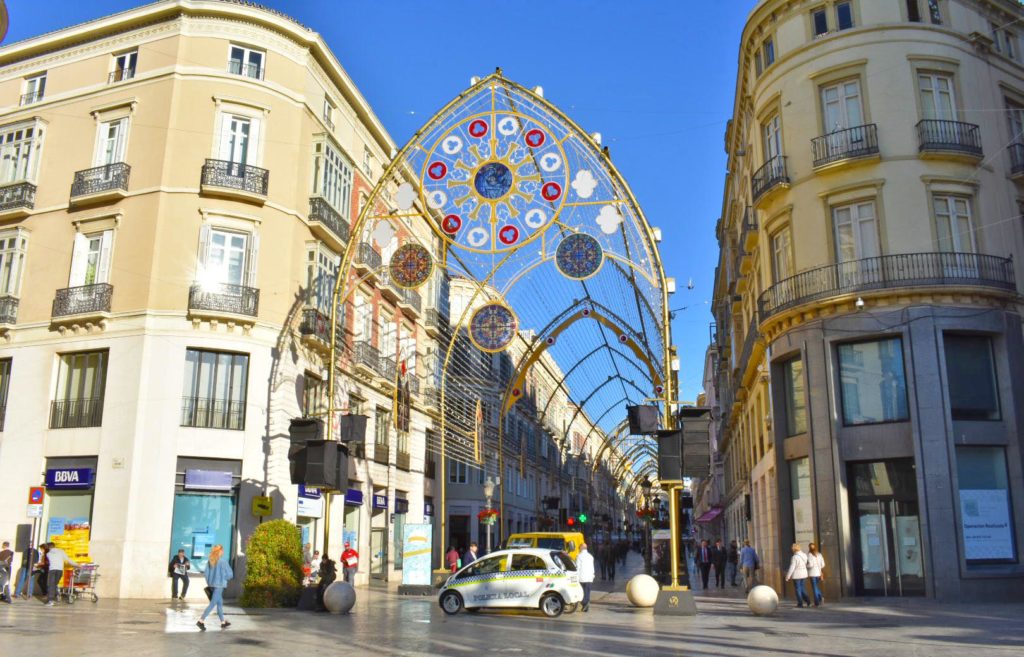 First we got to walk around the city and learn about some of their Christmas traditions. It was fun to see the city all decorated for the holidays, and later in the week we came back to this very spot to see the Malaga Christmas lighting with local Spaniards.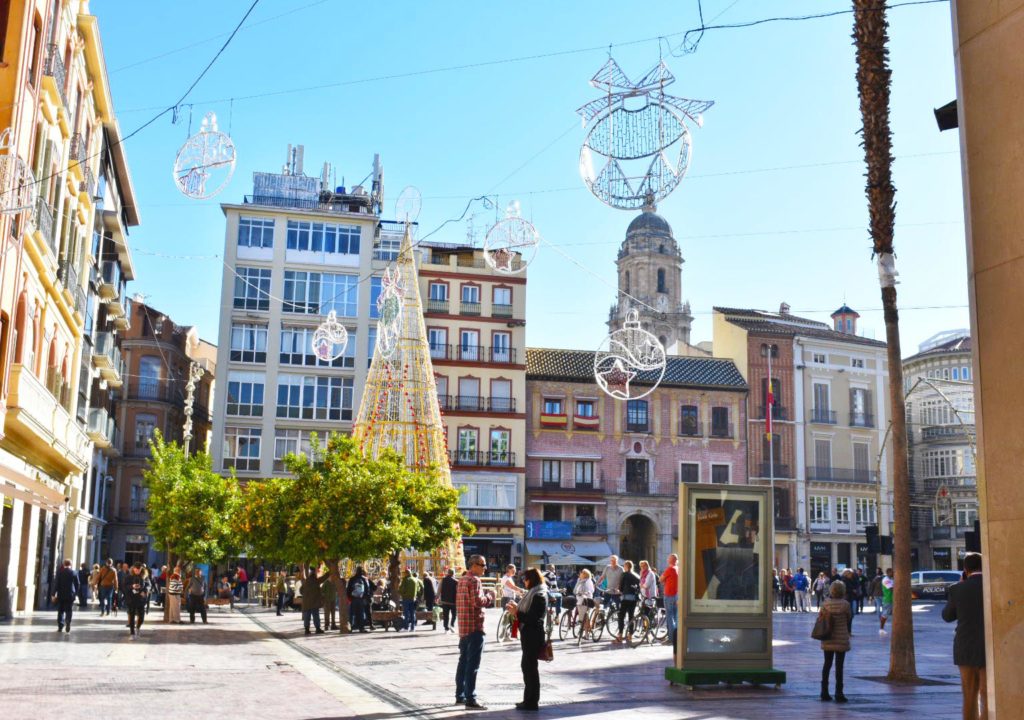 Damian shared with us some fun tidbits about their holiday traditions, my favorite of which is their New Year's grape eating ritual: People in Spain eat 12 grapes in quick succession as soon as the clock strikes midnight. To them, it symbolizes 12 lucky months ahead, and it's thought to be bad luck if you can't down them all.
Damian said that people usually wind up laughing and gagging as they try to eat their grapes fast enough… I think I might need to try it out myself this New Year's to see how it goes!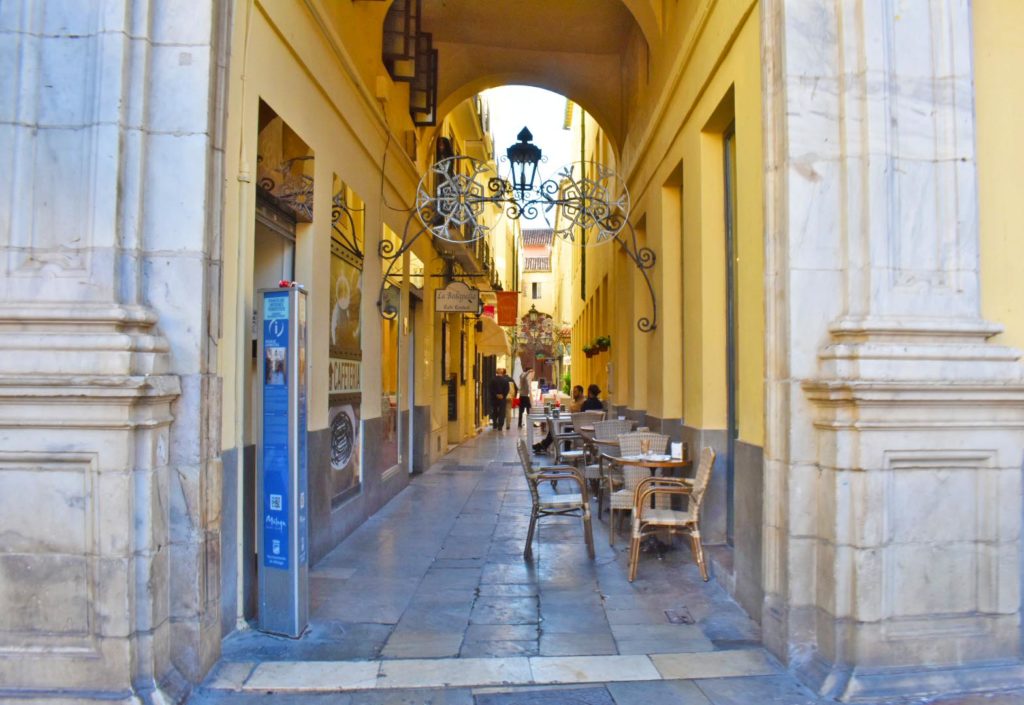 As we walked around and learned about Malaga's history, I fell in love with the quaint narrow streets, full of cafes set in buildings that look like they're straight out of another world. In fact, Malaga's history spans around 3,000 years, which inevitably means it has been inhabited and influenced by a few different empires. Throughout the day, we saw how this shaped the culture today in Malaga, from the Moorish fortress, to the city's cathedral and ancient Roman theater. First up was our visit to the Malaga Cathedral.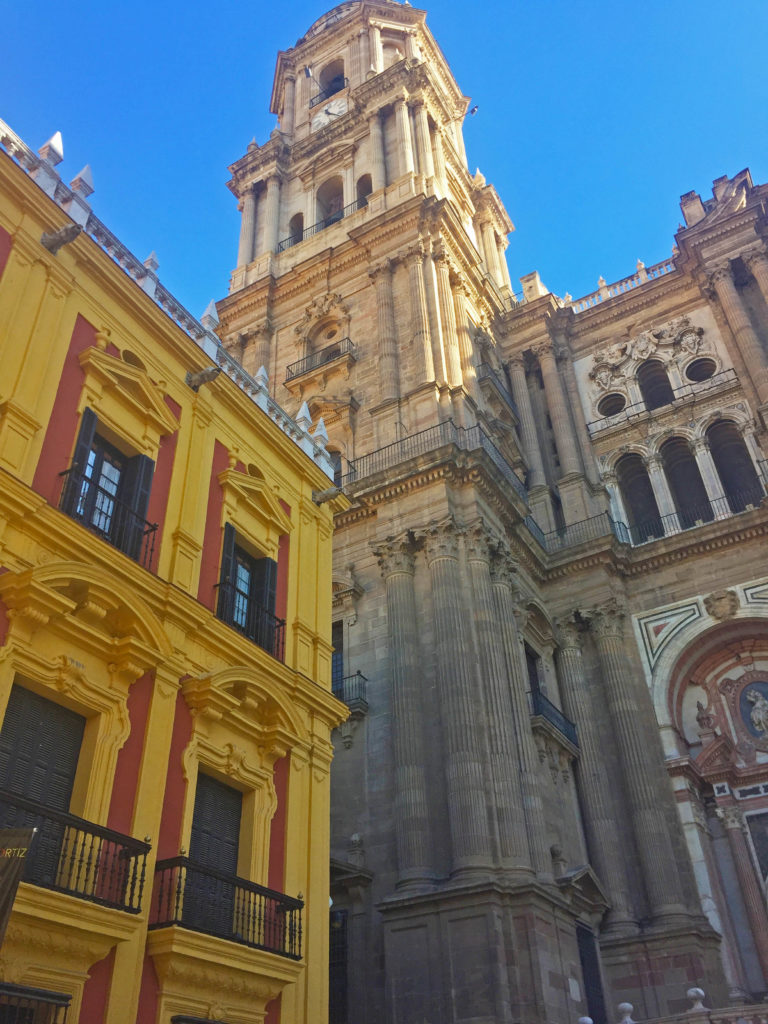 This square was my favorite area of the city, offering gorgeous views of the architecture of the church and great people watching, which you can enjoy while you sip a glass of wine at one of the cafes set in the middle of it all.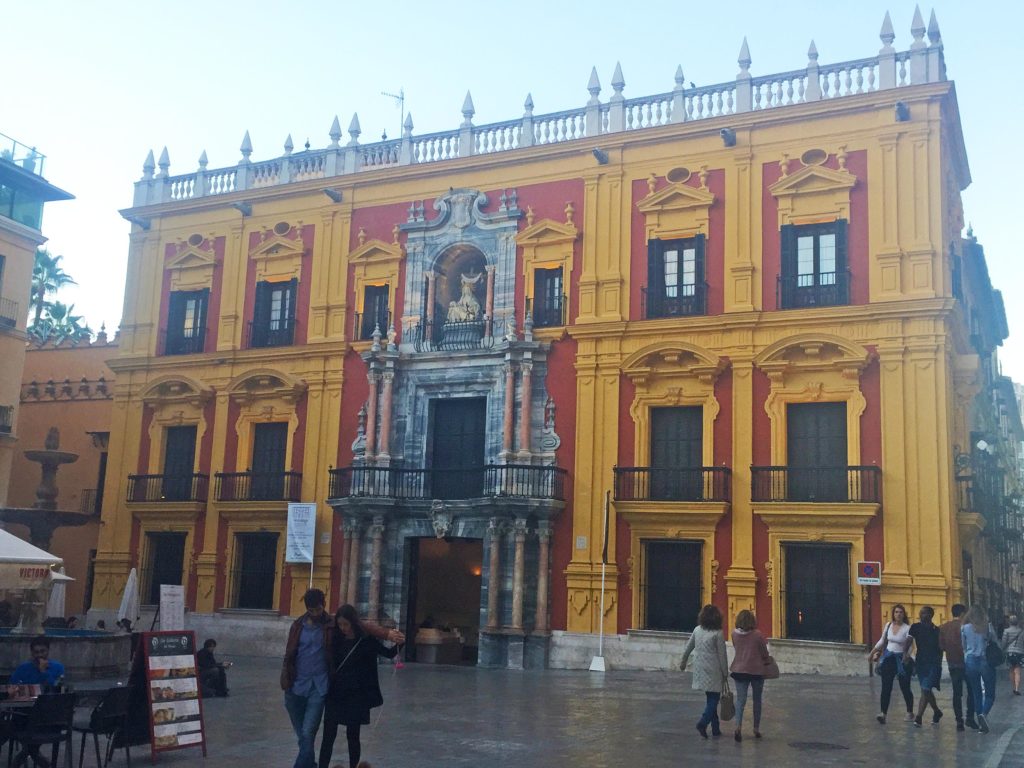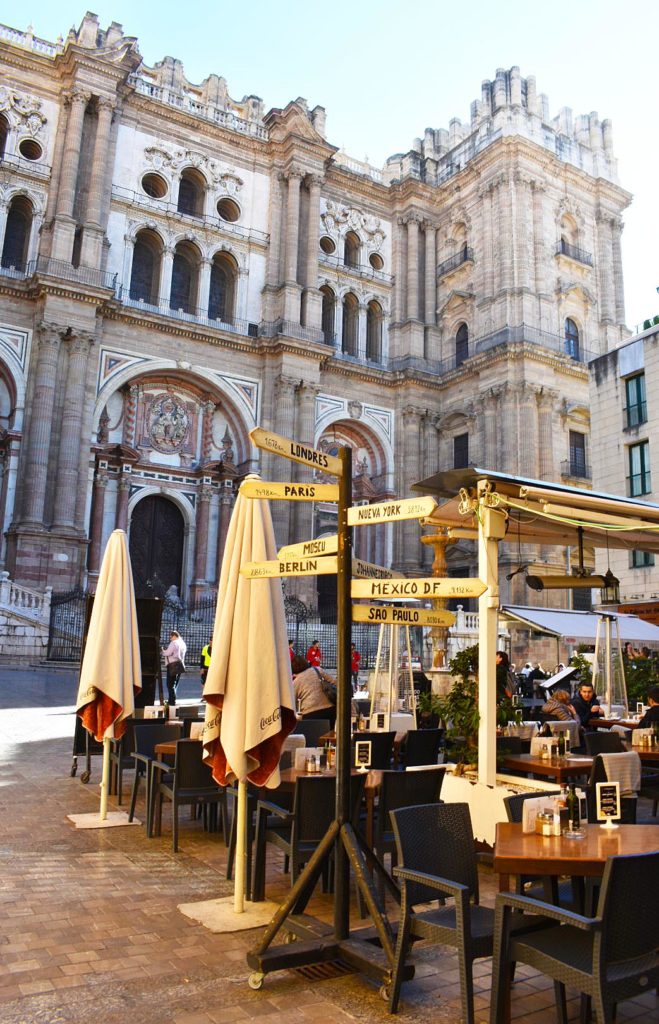 Damian told us about the history of the beautiful church, which features the unfinished south tower that you see above – nicknamed "La Manquita" which translates to "The One-Armed Lady."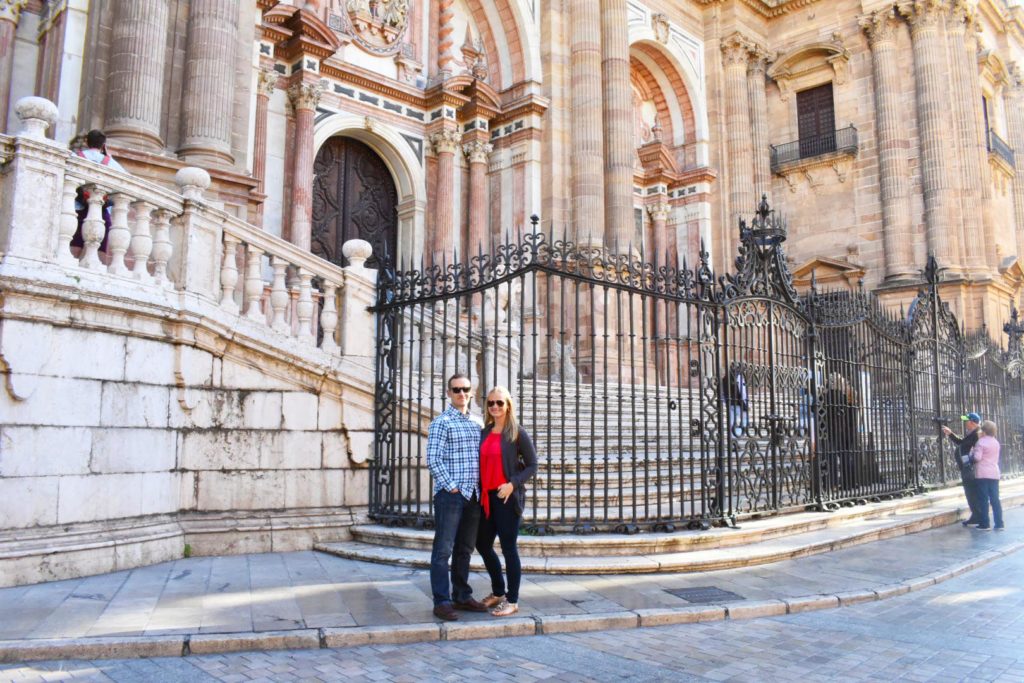 We headed inside to check out the church, which was lovely to walk around. It's hard to capture a church's beauty in photos, but I was impressed with all three of the churches that we visited in Spain on this trip – this cathedral in Malaga + two in Barcelona, all of which were gorgeous.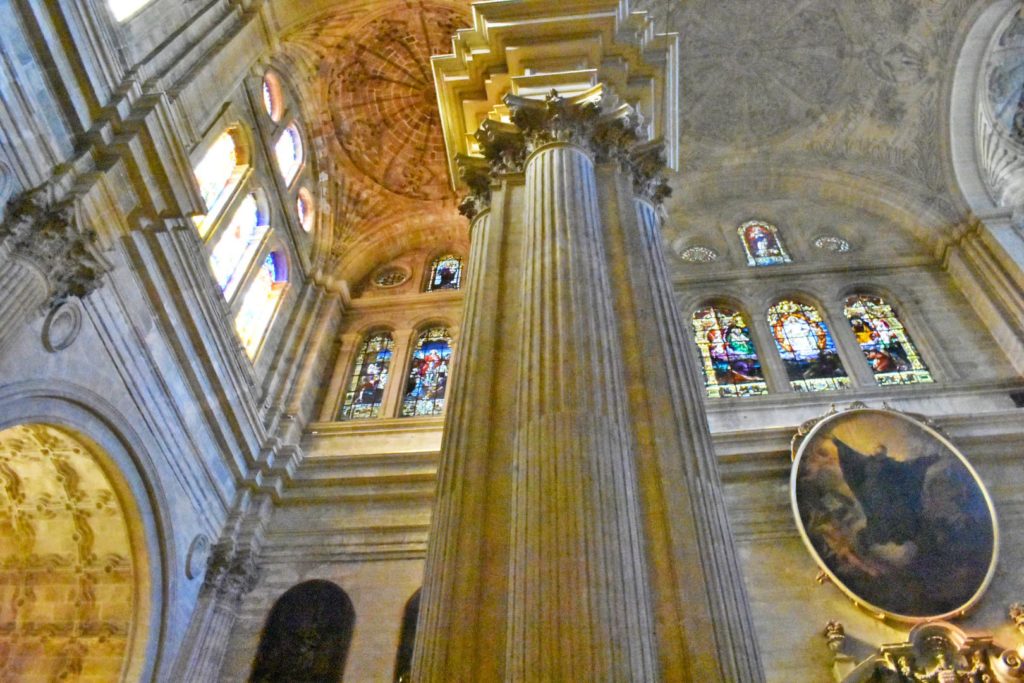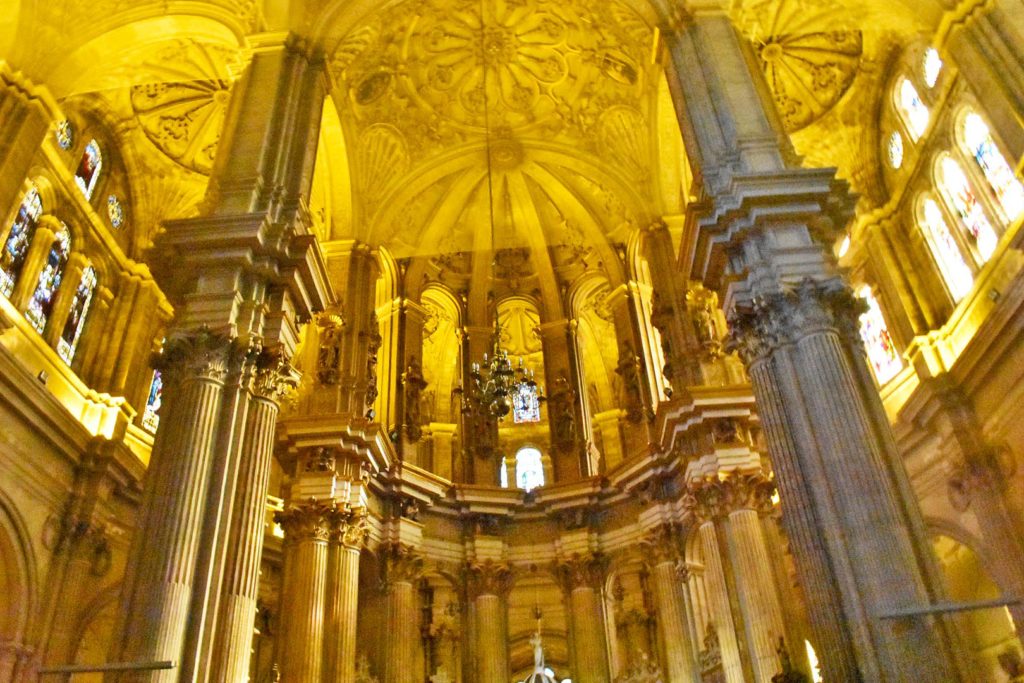 Here's a little tidbit: Around the Malaga Cathedral and in the city in general are orange trees. They look lovely, but don't be fooled: apparently the fruit is crazy bitter!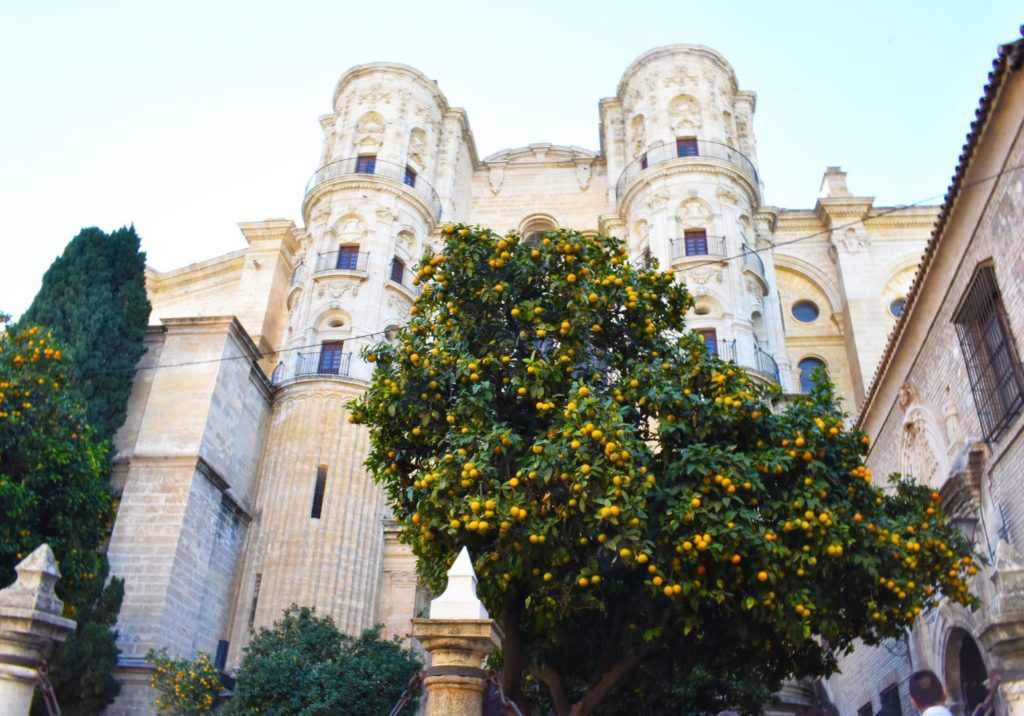 After our visit to the church, we walked over to the Alcazaba – a Muslim fortress that was built in the 11th century when Moorish people ruled the land.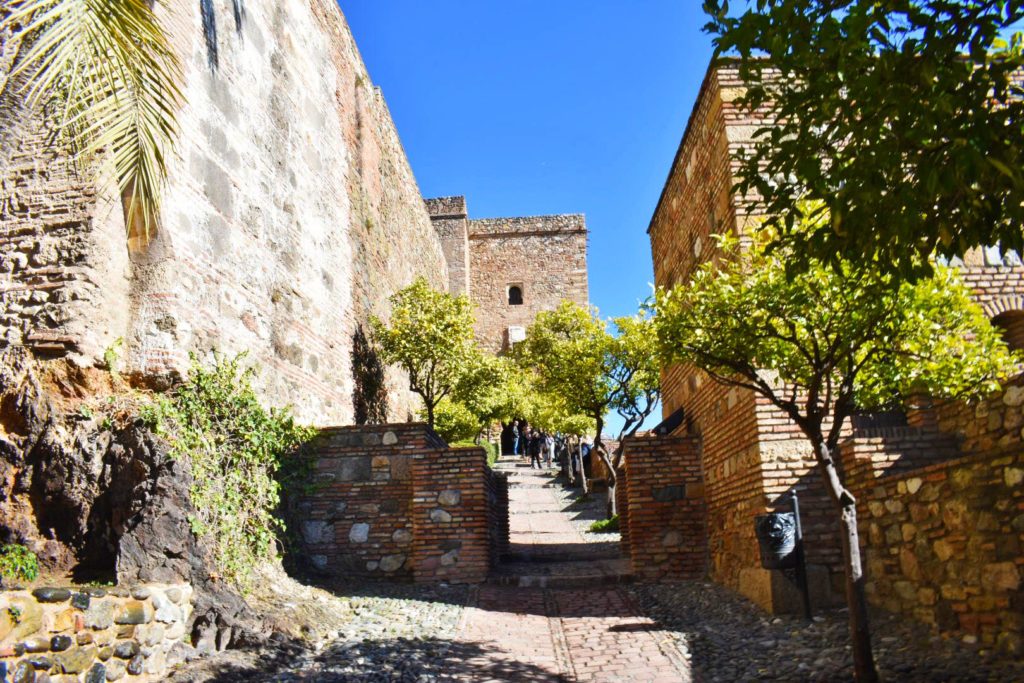 Built overlooking the sea, Malaga's Alcazaba features massive entry fortifications, and was surely created so that the Moors could keep a close eye on anyone trying to invade their land.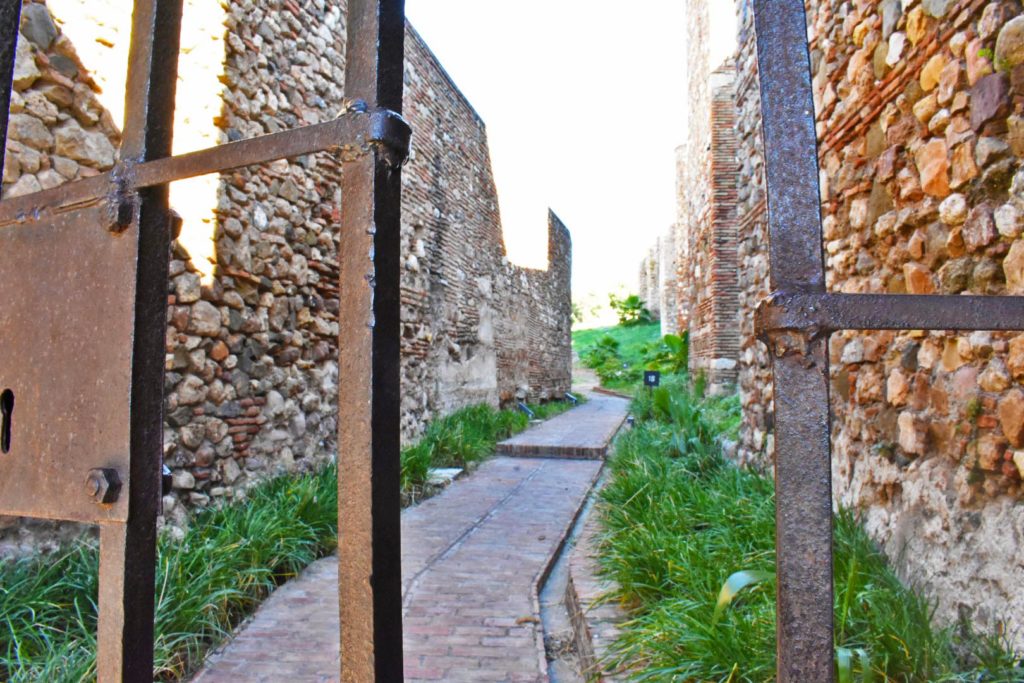 The pathway to get to the top winds through gardens, fountains, and countless gateways. It's a mild walk up, and the views of the city from the top are well worth the climb!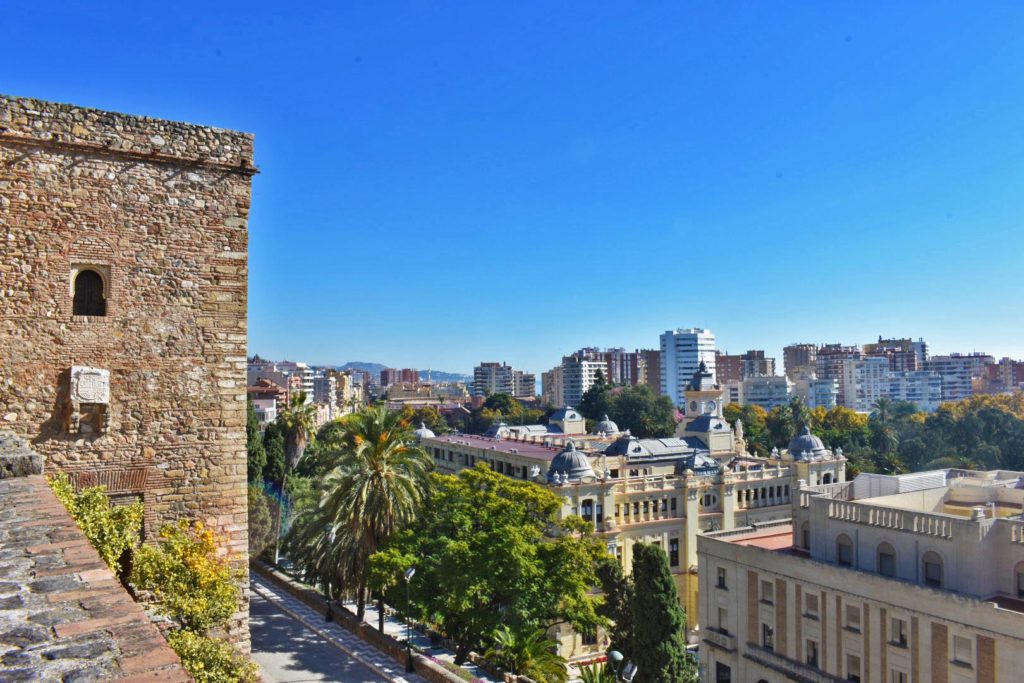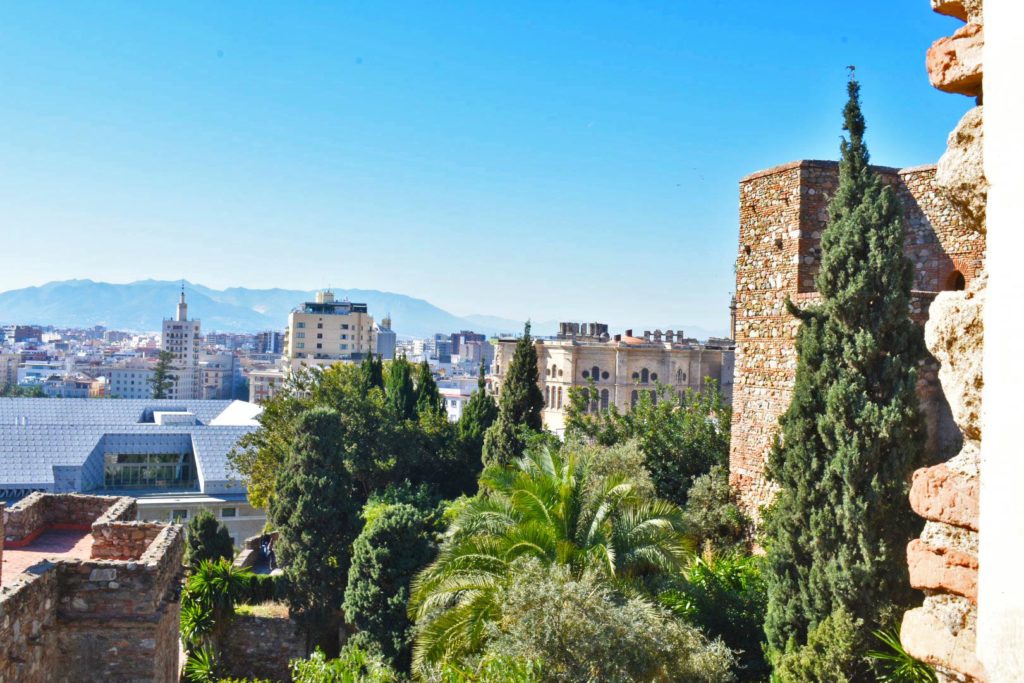 It's funny how the Alcazaba is just kind of in the middle of the city. I think it's definitely worth checking out for an hour or two if you're exploring Malaga.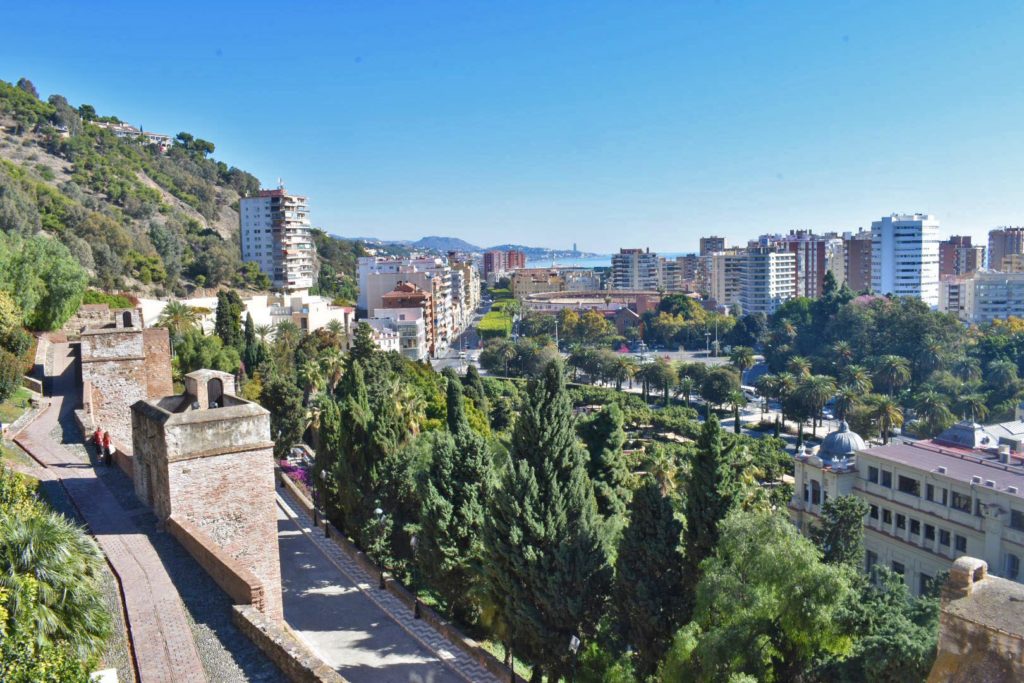 Adjacent to the Alcazaba are remnants of the Teatro Romano, the Roman theater – which dates back to 1st century BC. Talk about historic!
It actually laid hidden for hundreds of years, and was rediscovered in the mid 1900s when workers were laying the foundation for a new cultural center and found it on accident. Turns out the theater had been hiding underneath their feet! Many years of restorative work have led to what the theater looks like now: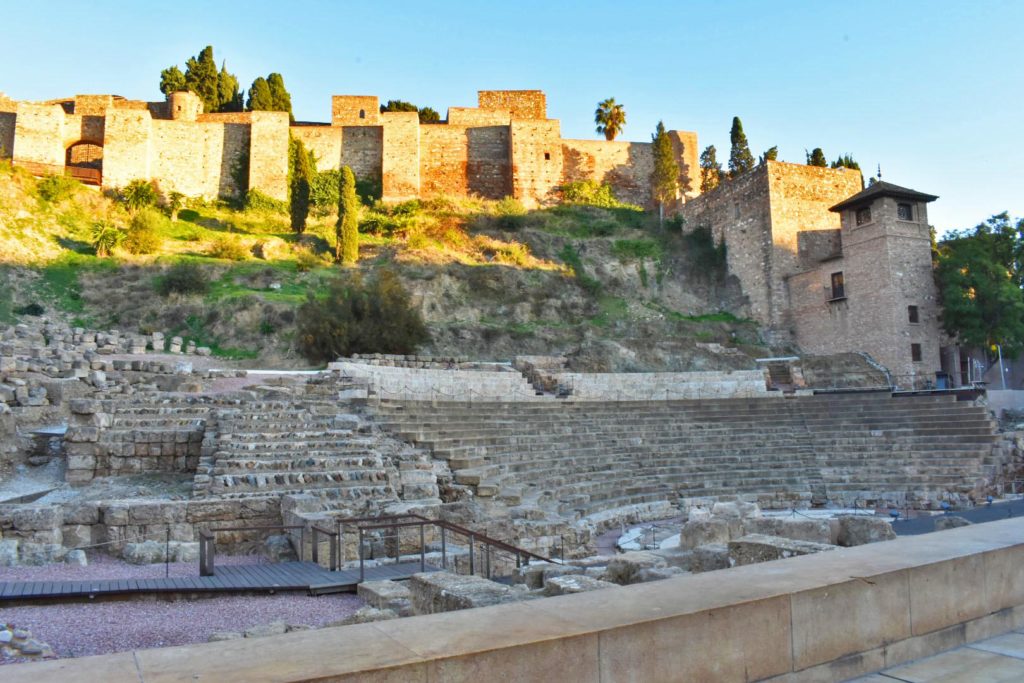 Historians believe that after the Romans abandoned Malaga in the 4th century, the theater fell out of use. The Moorish settlers, who arrived around 750 AD, used the theater as a quarry, and took some of the pillars and stones to help build their fortress. Pretty neat history, right?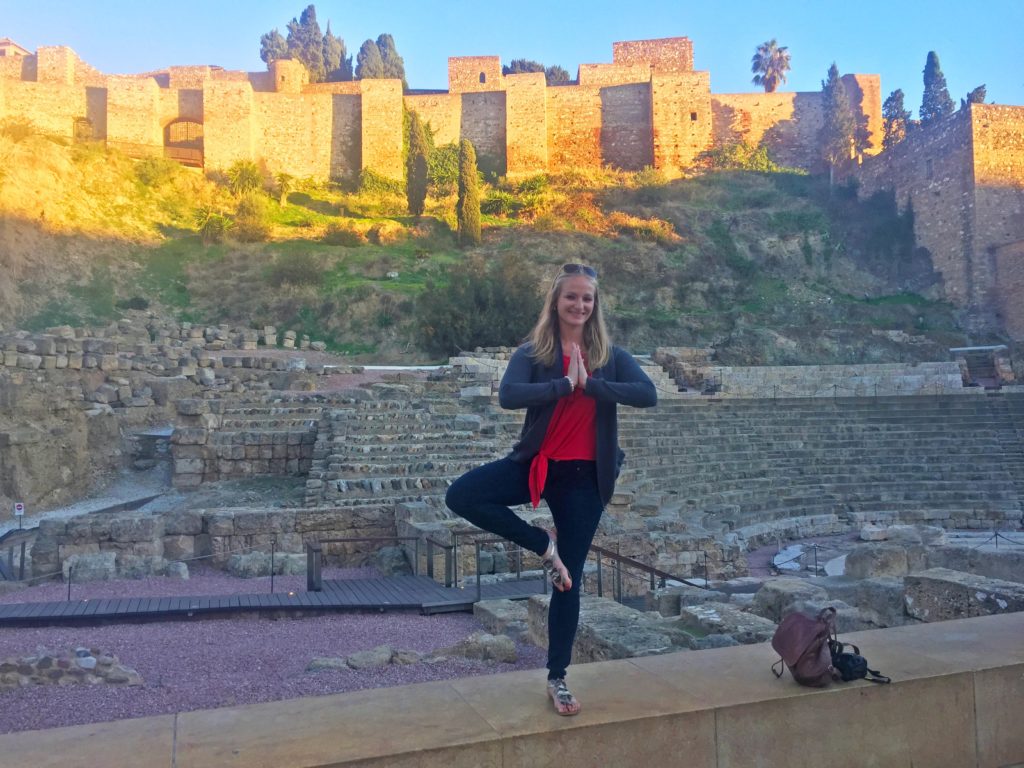 I couldn't resist striking a tree pose in front of this ancient landmark! 
After checking out the Roman theater, our sightseeing portion of the tour had ended, and it was time for Damian to take us to a few local eateries – the first of which was Los Gatos.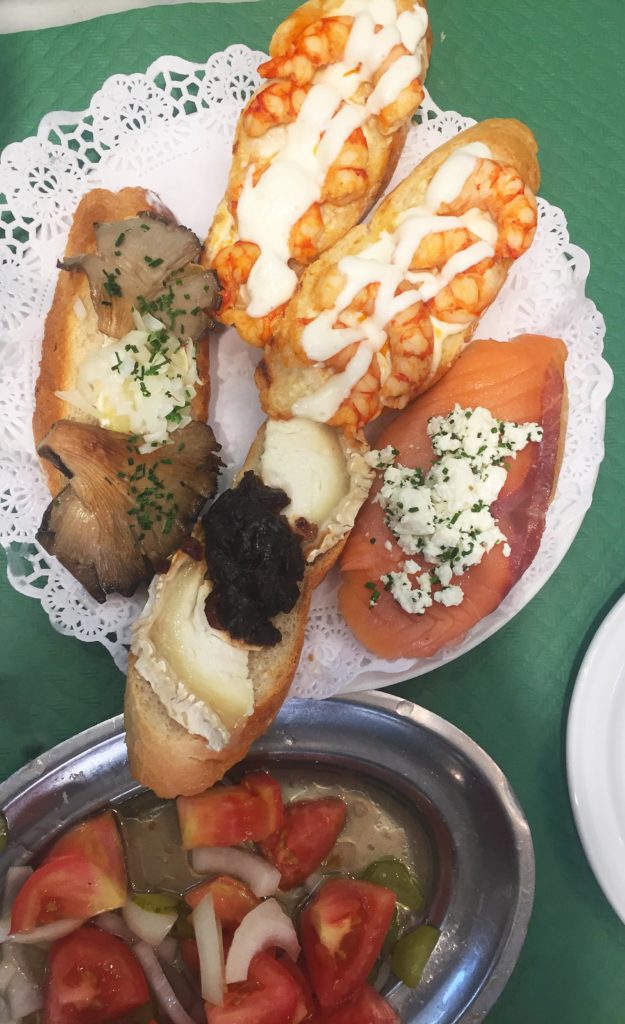 Los Gatos has a local vibe, and we loved the food that we tried there. First, we had a tomato salad – which is a good example of how keeping it simple and using just a few ingredients can be delicious. Then, we noshed on several crostini. Adam loved the seafood options, while my favorite was a brie + caramelized onion combo.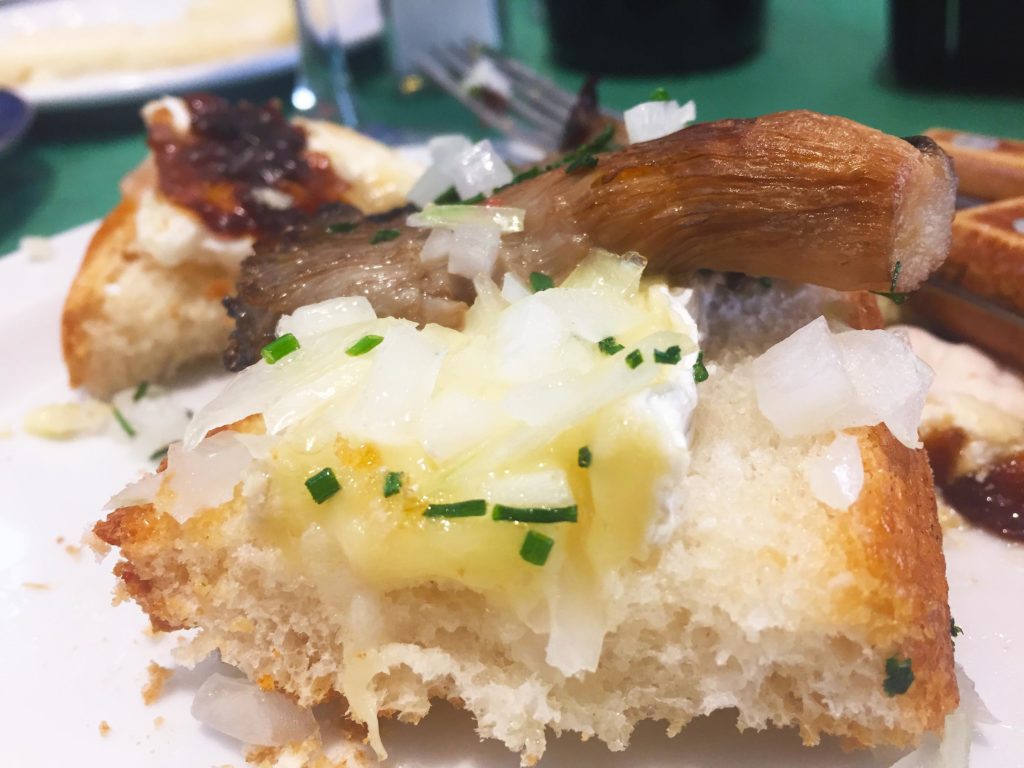 This mushroom pincho was pretty tasty too!
Damian told us that these kinds of foods are called pinchos – meaning small snacks eaten in bars. I'm such a fan of small plates and dishes, so getting to eat tapas style in Spain was a dream for this foodie! Adam liked these pinchos so much, we returned to Los Gatos later in the week to eat more of them.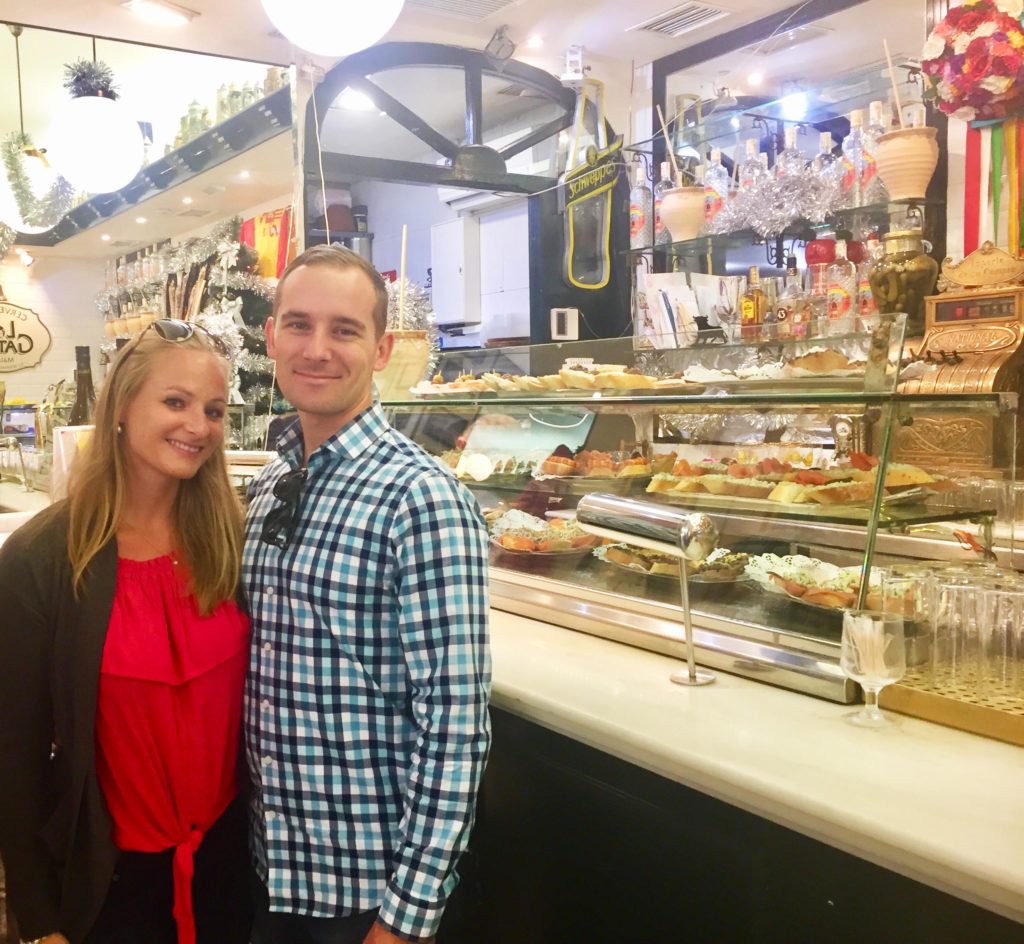 We also enjoyed some local wine at Los Gatos, as we chatted with Damian about everything from American and Spanish politics to our favorite sports. And then, last up at Los Gatos was their flan. I can't remember the last time I had flan before this, and it was so creamy and delicious.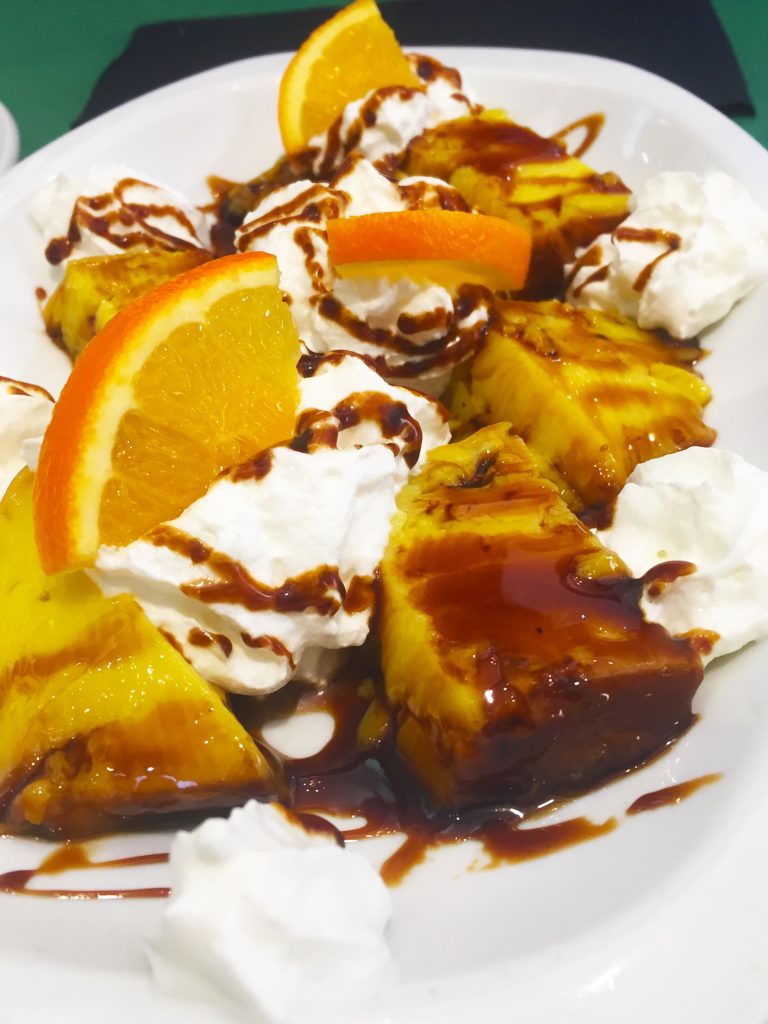 Second up on welovemalaga's gastronomy tour was a visit to a cute eatery and wine tasting spot called Los Patios de Beats Vinoteca. Walking in, I immediately knew that this was the type of place that Adam and I would visit on our own. We love fun wine spots!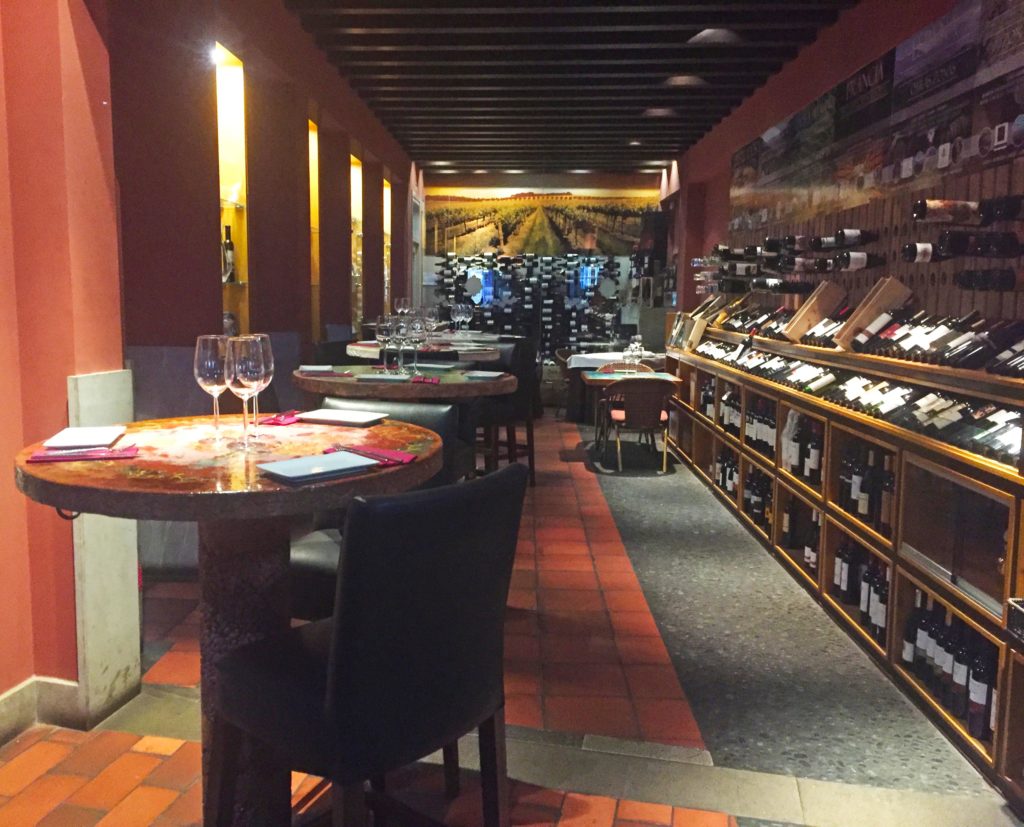 We tried some local wines and ate a couple of appetizers, including mushroom croquettes, before our tour came to an end.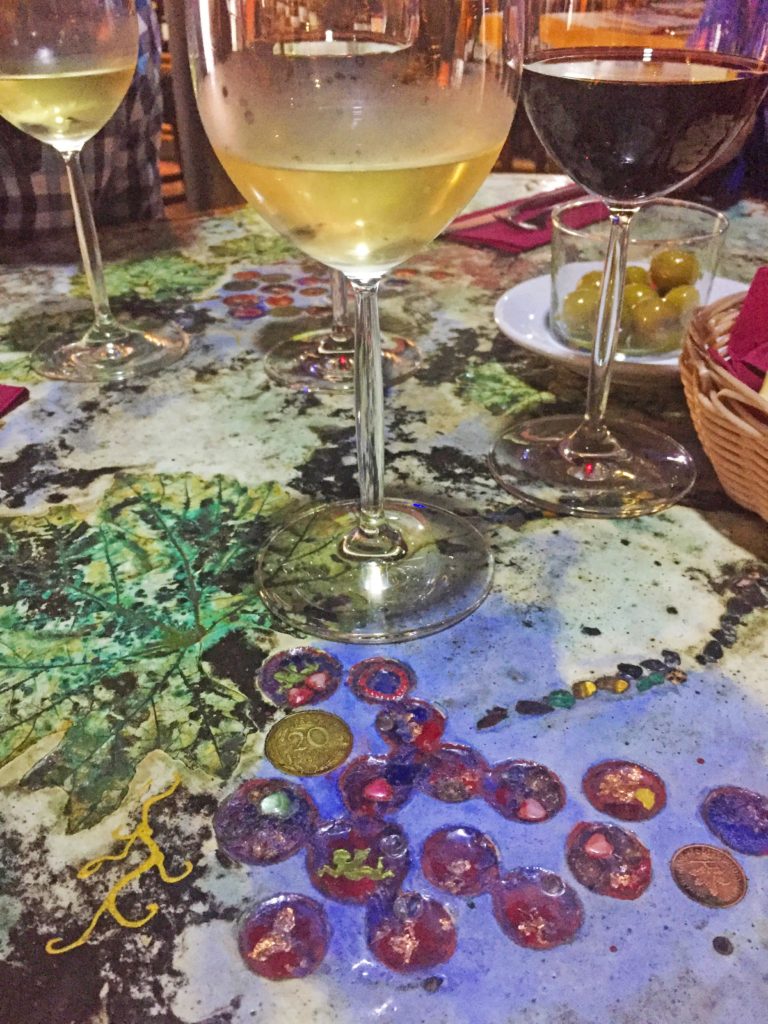 All in all, I had so much fun learning more about Malaga on this tour, and welovemalaga gave us a wonderful local perspective! I loved the restaurants that we visited, and it was great to have a tour guide share his knowledge as we explored the city's best sightseeing spots.
welovemalaga offers small group tours in Malaga, typically only up to eight people, so that you get an intimate environment with your local guide. I love that type of atmosphere, where you're free to ask whatever questions you have as you experience a new city.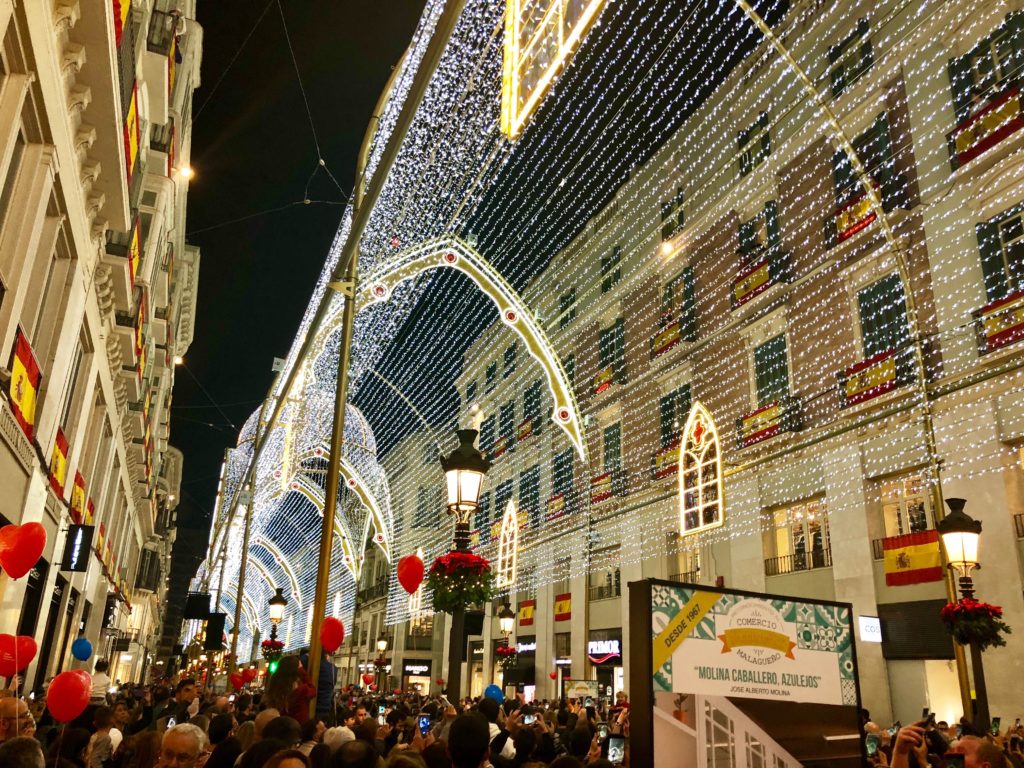 The following weekend, we attended Malaga's Christmas lighting, which was a unique experience for us Americans to be surrounded by locals singing Feliz Navidad as the lights danced around us. We may have missed Thanksgiving in America as the kickoff to the holidays, but it was a memorable, unique way to welcome in the holiday season this year!
Tell me… Are you familiar with the Spanish city of Malaga? When's the last time you took a tour while traveling? 
Disclaimer: While I received a complimentary tour from welovemalaga, as always, all opinions expressed are genuinely my own.