What kind of workouts have you been getting into lately?
I've noticed that when I get crazy busy, I tend to stop getting as creative with my workouts. And since April was a hectic month for me, my workouts were not all that exciting. I had been going to some fun classes that were challenging me, but the first thing that goes when my schedule is packed is fitness studio visits. After all, not having to drive to studios saves time in my day! I was also traveling for half of the month, during which I snuck in quick morning workouts before full days. Oh, but I did go on an awesome hike during my quickie getaway to Idyllwild!
No matter how busy I am, I make it a priority to workout. I tell myself, no excuses! Truth be told, I have exercise ADHD, so my "boring" workout stretch is probably still more exciting than most. I have about a dozen workout DVDs I like, I use YouTube to find new workouts (Speaking of which, check out my post on 3 at-home kickboxing workouts to try!), take my dog for long walks around our neighborhood, favorite parks, and by the beach, and use my at-home workout equipment. I have a variety of dumbbells, resistance bands, recovery tools, and my favorite thing of all, my indoor bike trainer.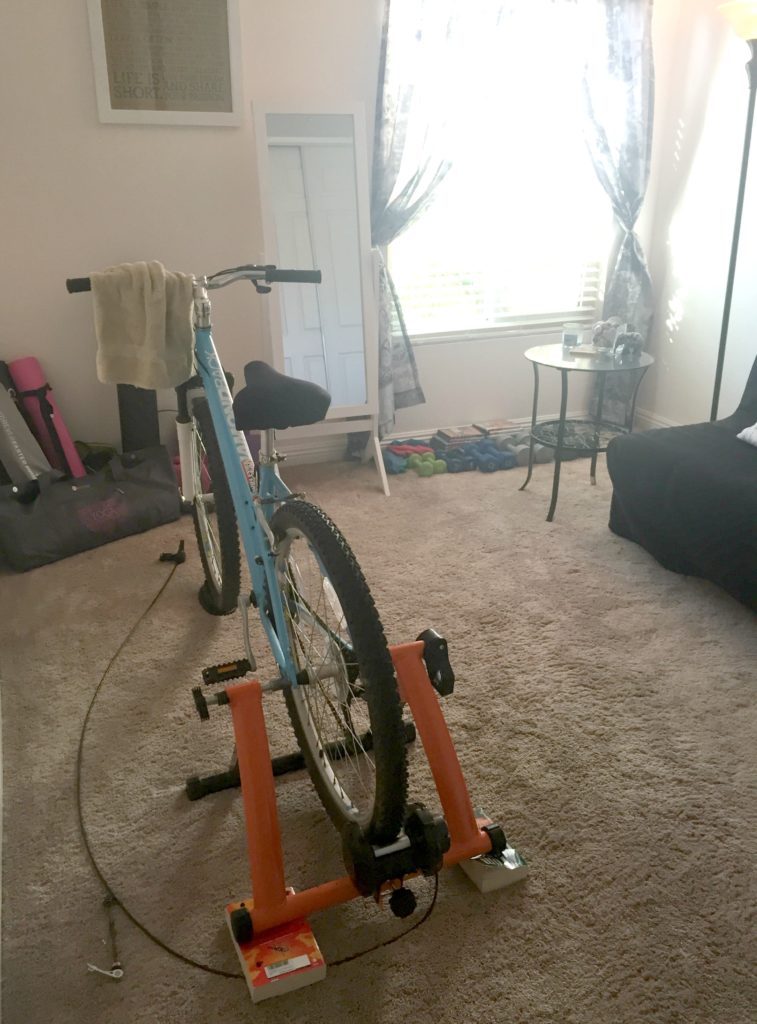 I've mentioned it before, but I got this bike trainer a year or so ago that allows me to make my mountain bike a stationary one. The funny thing is, my hubs bought the trainer for himself, but I pretty much exclusively use it. Soon after he got it, he began riding his bike to/from work, so it's worked out. We both put some miles on our bikes!
To switch things up, I created today's workout: the cycling + strength circuit workouts of threes. It combines cardio – I cycle, but you could do any kind of cardio you like – with strength moves – push ups, sit ups, squats, shoulder flies and lunges – done three different ways. There are 3 rounds to the workout, and in each round, you do 10 minutes of cycling, followed by variations of those core 5 strength moves. I like breaking up my cardio in this kind of way because, as I said, I have exercise ADHD!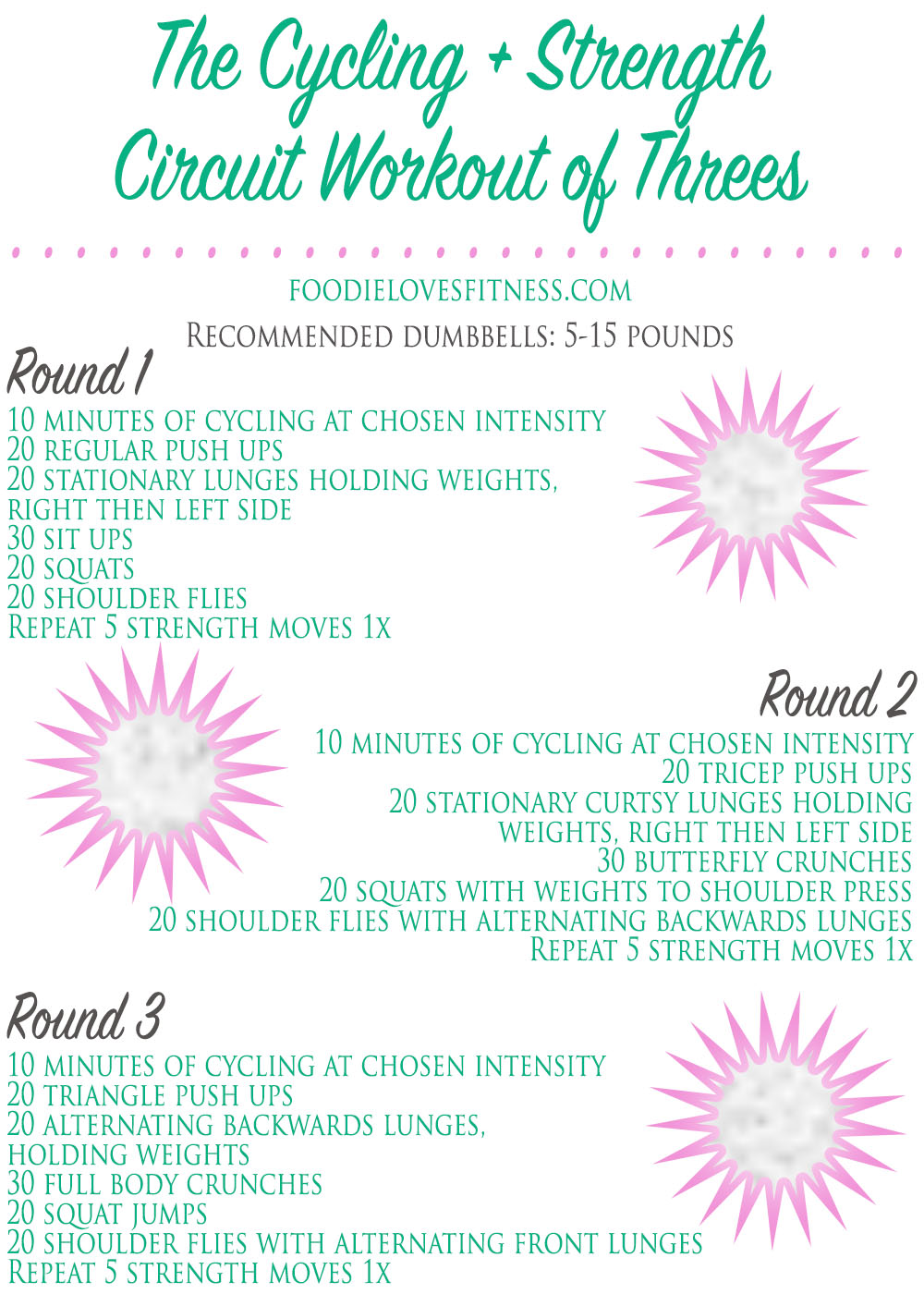 This workout is a goodie, and I hope that you try it! Here are some explanations of moves included:
–Shoulder flies
– Tricep Push Ups
– Cursty Lunges
– Butterfly Crunches
– Triangle Push Ups (she calls them tricep push ups, which they are too!)
– Squats to Shoulder Press
– Full Body Crunches
– Jump Squats
I'm planning on being more adventurous with my workouts in the coming weeks. I plan on taking a couple of challenging classes (boxing, here I come!), heading outdoors for a few hikes, and maybe a few outdoor bike excursions + summery workouts like kayaking.
Looking for other cycling workout ideas? Try my Total Body Cycling Circuit Workout!
Tell me… What's your favorite form of cardio?