Hi friends!
How was your weekend? Did you celebrate St. Paddy's Day? I was flying cross-country all day Friday on the actual holiday, but I had a chance to celebrate the Irish holiday yesterday with my parents. I'm in Jersey this week visiting family, and went to a winery yesterday with my parents that had a live Irish band playing. It made me want to be back in Ireland hanging out at pubs with my family!
So, let's dive into the real topic at hand today: Mediterranean Barley Stuffed Peppers – an easy Meatless Monday dinner idea!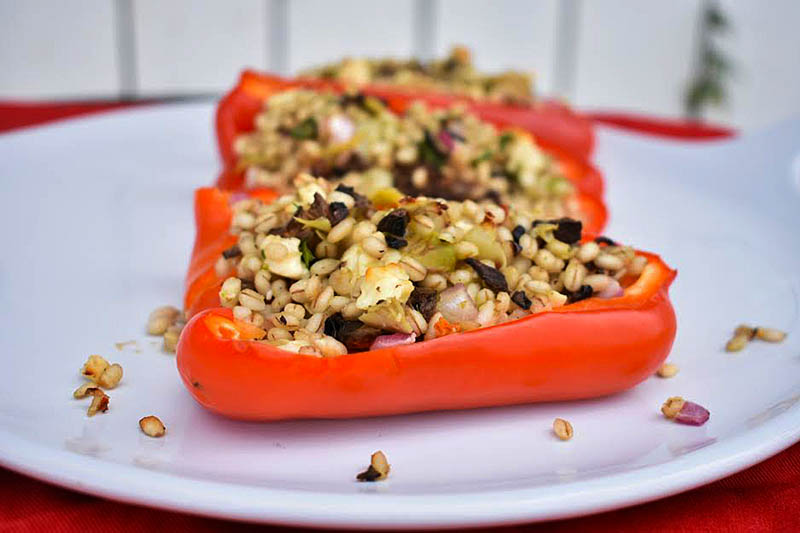 I've always been a fan of stuffed peppers, and for this recipe, I wanted to do something different in terms of grains. I usually will use brown rice for stuffed peppers, but this time I decided to try barley instead and loved it.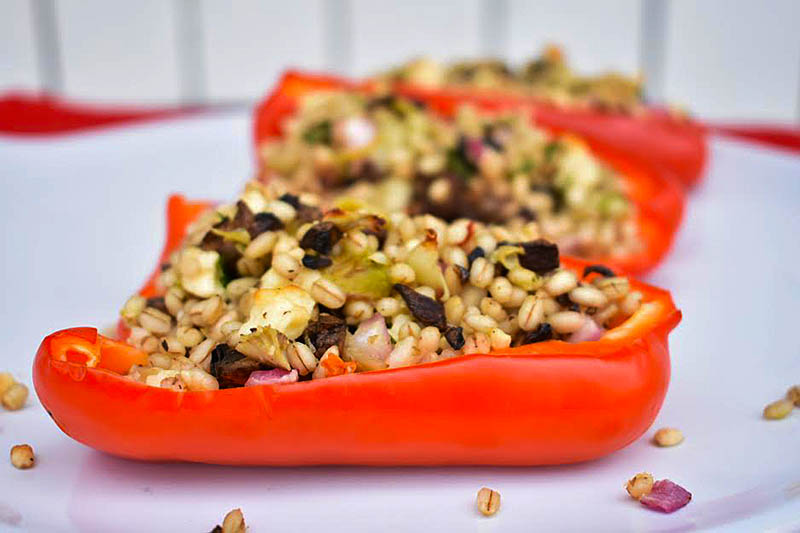 I like to make a nice sized pot of grains at the beginning of the week to use for a few different meals, so this time, I cooked up some barley and used some for this recipe, then some another night with veggie burgers and sautéed zucchini.
You can always swap out the barley for whatever other grain you feel like – such as farro, cous cous, or rice for a gluten free option.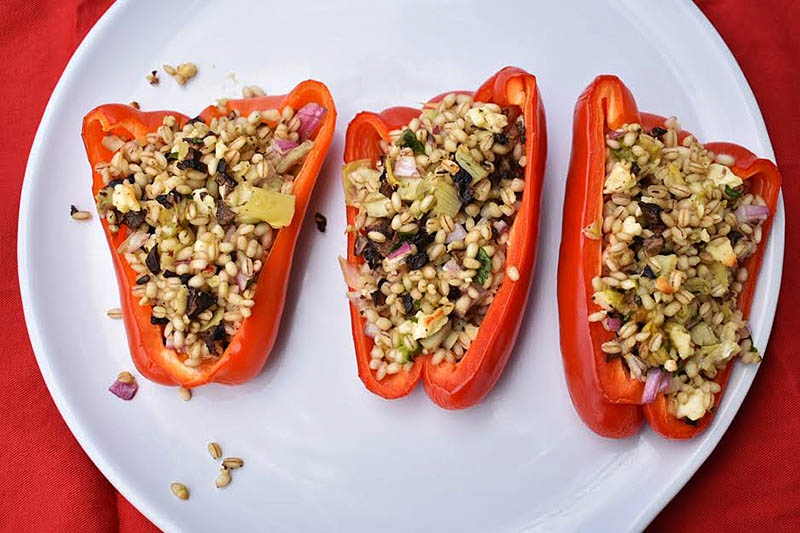 These peppers take a Mediterranean twist with the inclusion of crumbled feta, red onion, artichoke hearts, avocado, red onion and portobello mushroom. I always love making meals Mediterranean-style because the ingredients commonly used in this type of fare are so healthy and flavorful!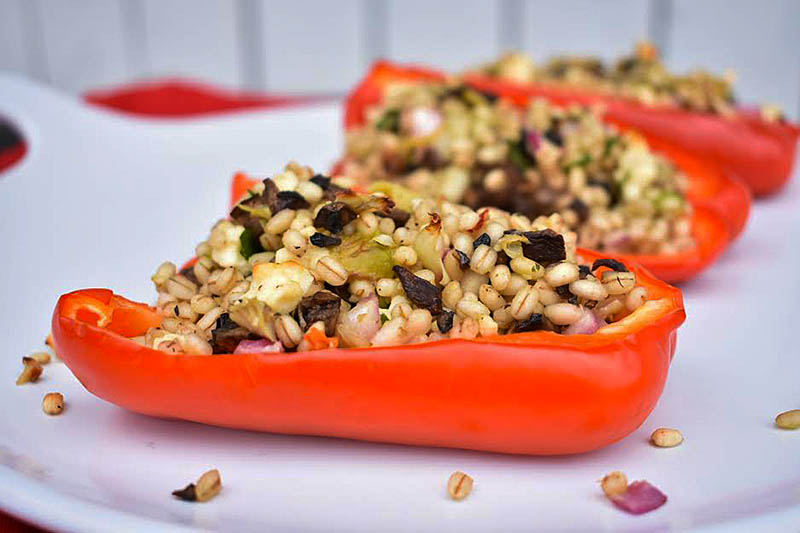 This recipe is great for dinner, as well as for leftovers that you can easily take with you to work or reheat up quick for lunch. Last week I sent my hubby to work with these one day. It's great for a light meal, as two pepper halves contain 325 calories, 13 grams of fat, 11 grams of protein, and 44 grams of carbs – as well as 9 grams of fiber!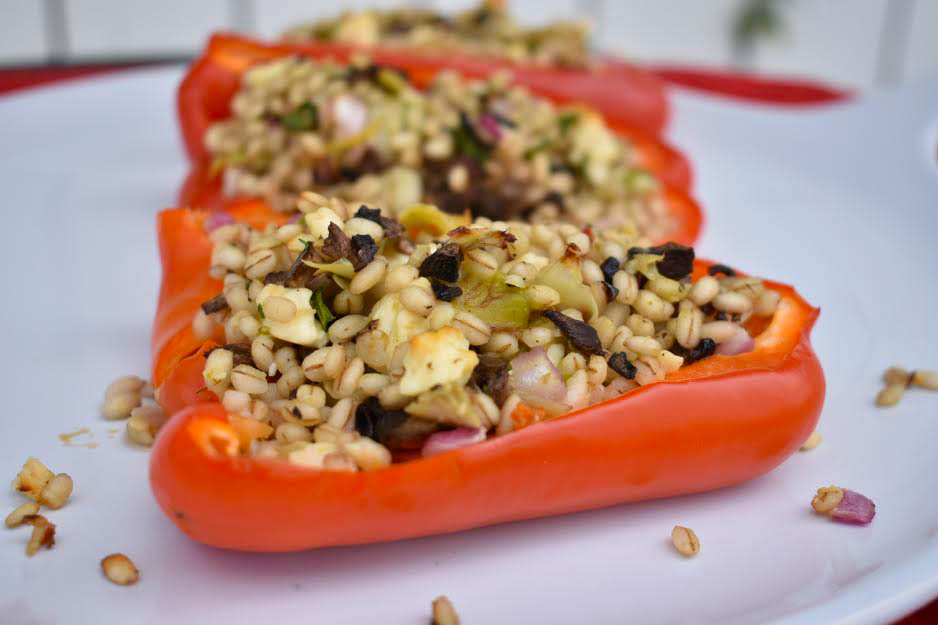 If you prep the barley ahead of time – which really just involves boiling water with barley and leaving it alone to simmer for a bit – this recipe takes about 25 minutes to put together from start to finish. Dinner in under 30 minutes flat is the kind of recipe I make most often during the weeknights!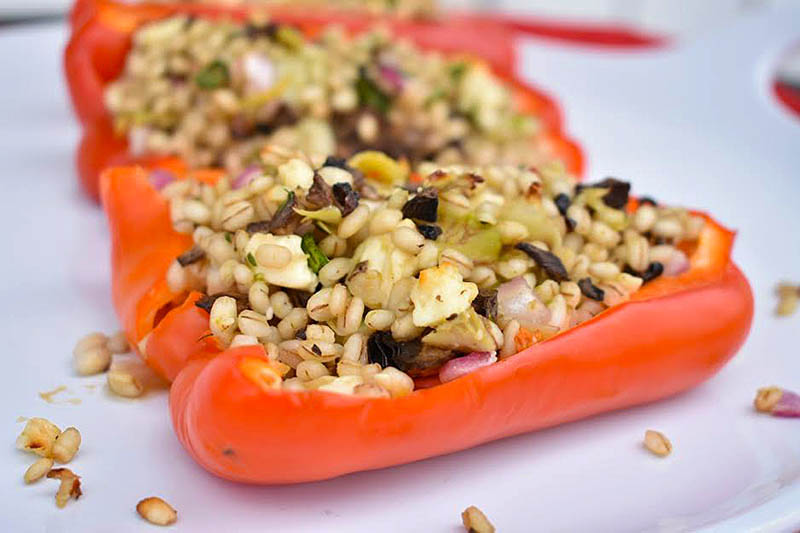 Tell me… How long does dinner typically take you to make? How many nights a week do you usually cook at home?
Mediterranean Barley Stuffed Peppers
Author:
Foodie Loves Fitness
Prep time:
Cook time:
Total time:
Ingredients
3 red bell peppers
1½ cups cooked barley
1 cup portobello mushrooms
½ cup crumbled feta cheese with Mediterranean herbs (about 2.5 oz)
2 TBSP fresh parsley
¼ red onion
½ cup marinated artichoke hearts
½ medium avocado
¼ TSP salt
2 TSP extra virgin olive oil
Dash of ground pepper
Instructions
Preheat oven to 375 degrees. Lightly coat a baking sheet or baking pan with cooking spray.
Halve the peppers longways, then remove the cores and seeds. Place on the baking sheet
Chop the portobello mushroom, red onion, artichoke hearts, avocado and parsley. Combine in a bowl.
Add in the cooked barley and crumbled feta. Drizzle the olive oil in, and seasons with salt and pepper. Mix to combine well.
Spoon the mixture into the pepper halves. Bake for 15 minutes, or until the peppers seem tender.
Nutrition Information
Serving size:
2 pepper halves,
Calories:
325,
Fat:
13g,
Saturated fat:
3g,
Carbohydrates:
45g,
Sugar:
7g,
Fiber:
9g,
Protein:
12g