A few weeks ago, I stopped at the Vitamin Shoppe to pick up a few goodies (and buy my first box of Quest bars!), and they had a store party going on. I walked out with a bag of samples to try, which I was obviously excited about. It's the little things in life people!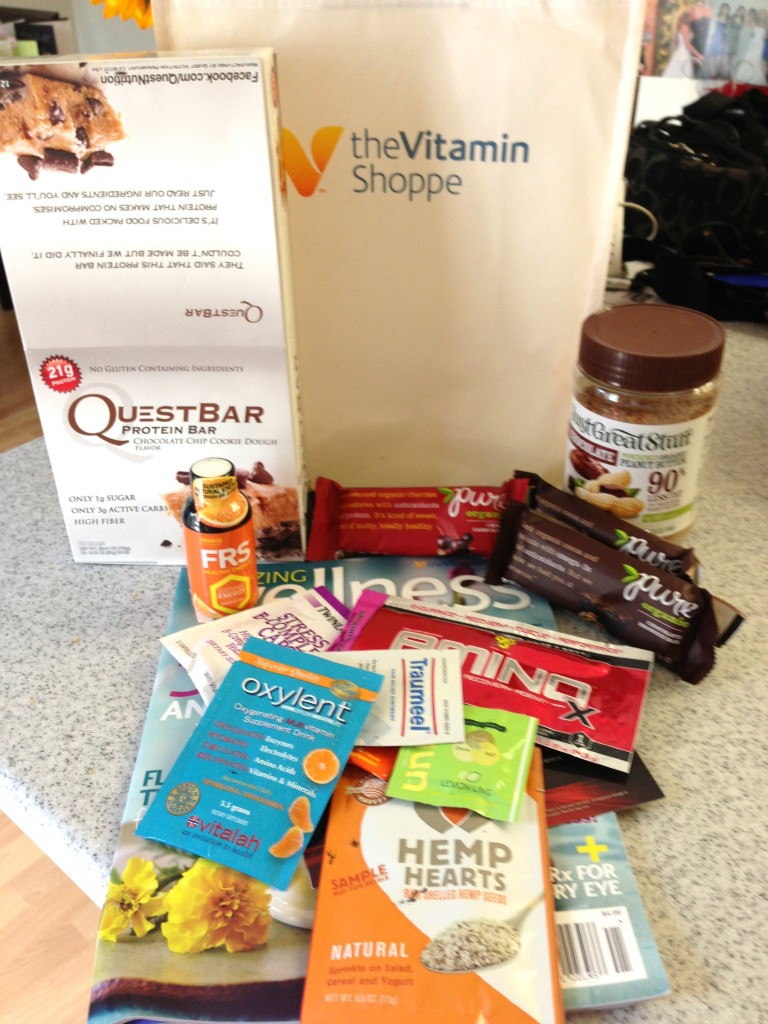 One of the samples in the bag were hemp seeds, which I've heard a lot about but have never tried (at home at least). Today I used my sample and whipped up one awesome salad for lunch.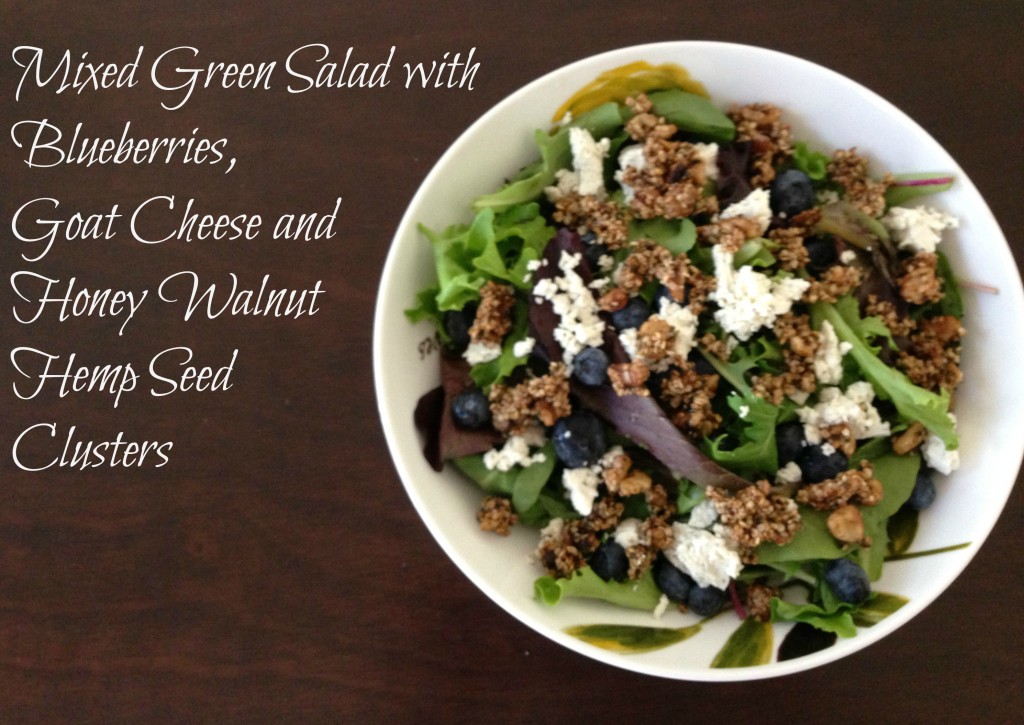 I adapted this recipe from Vegetarian Times, switching around some ingredients and amounts, and making a single serving portion since it was just little ole me. You can view their original recipe here.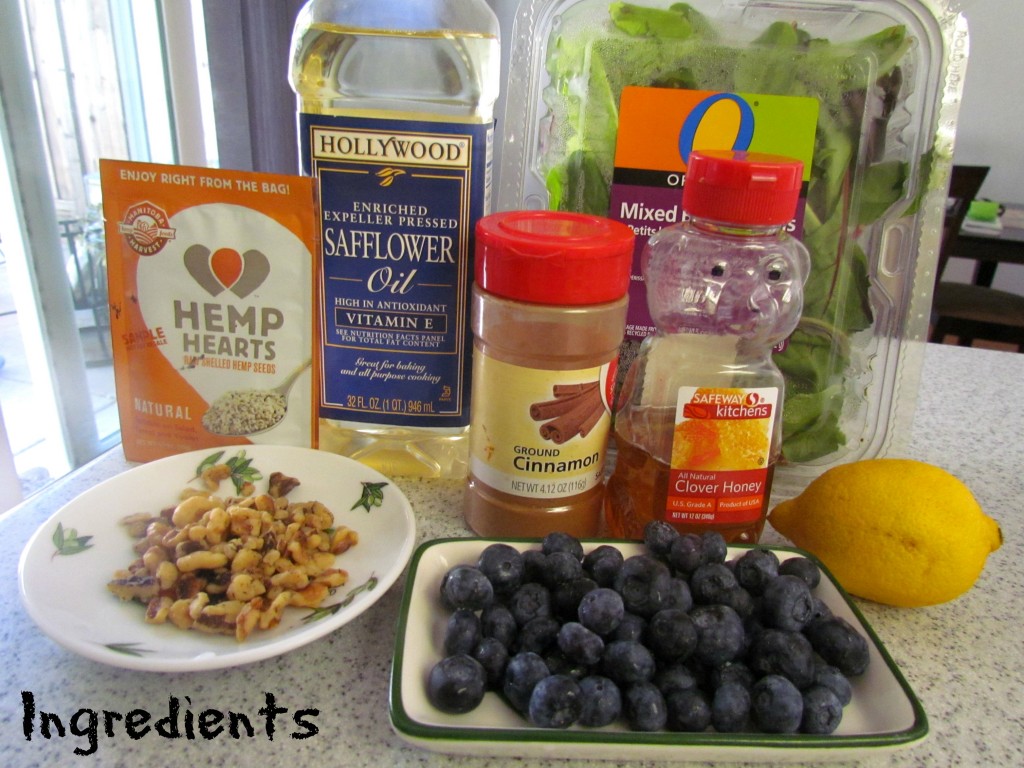 To make the clusters, I toasted the hemp seeds with walnut pieces, honey and cinnamon. So easy to make, and such a tasty addition to a salad that I'm definitely going to be making again soon!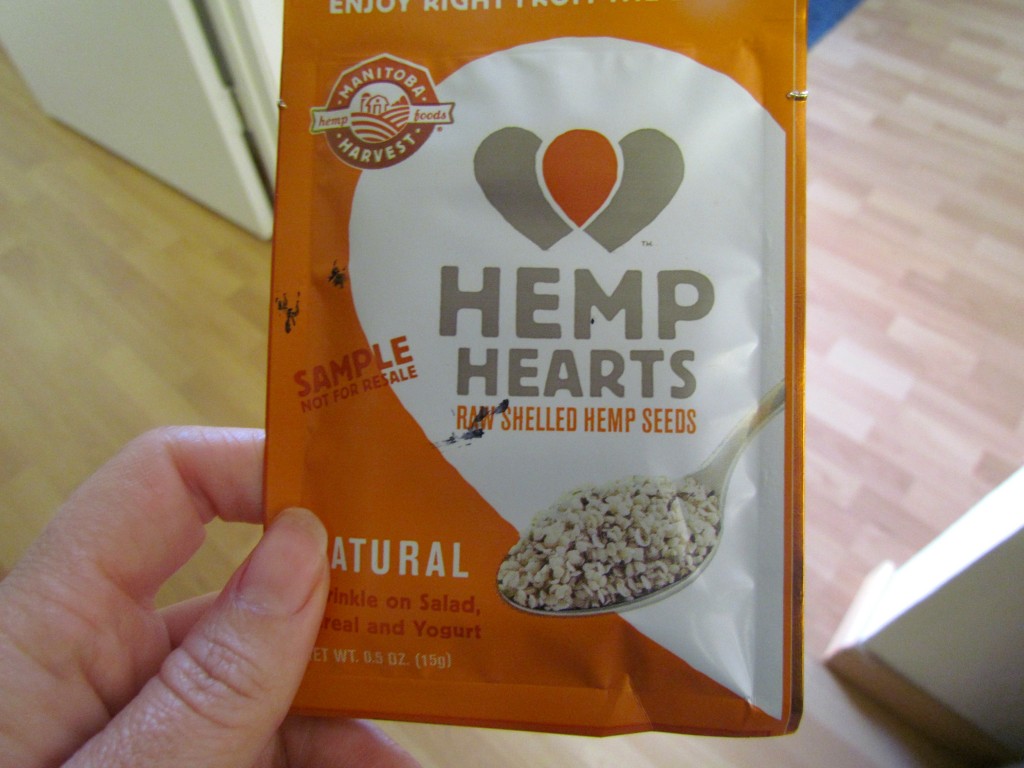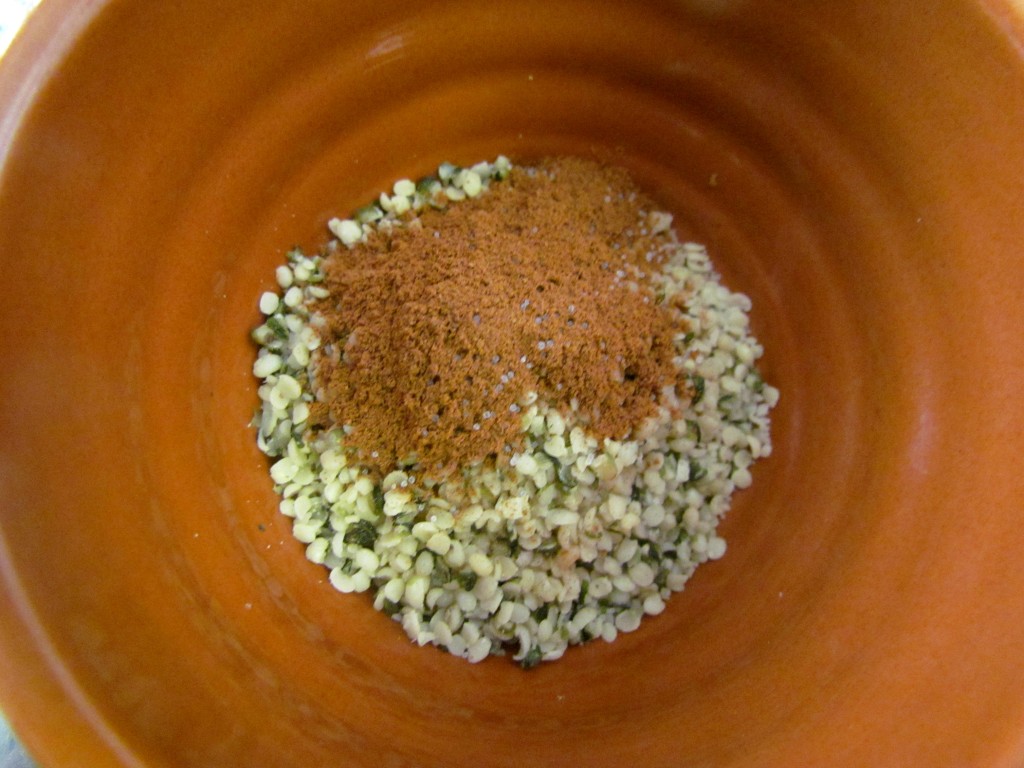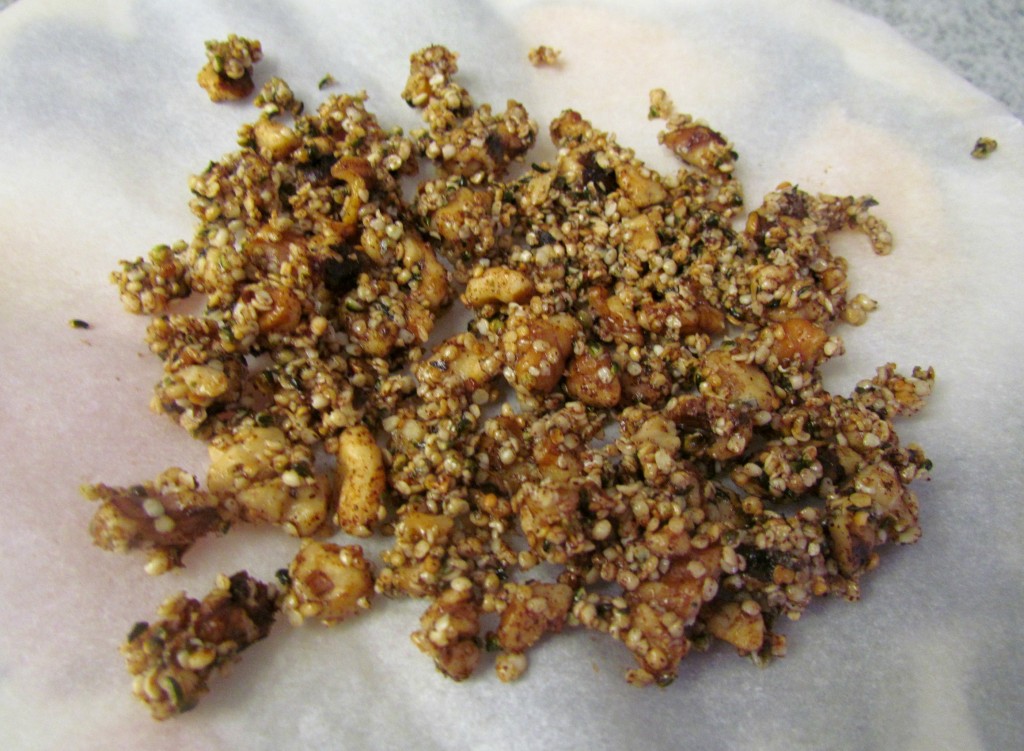 At the last minute, I decided that the salad could use some cheese in it. Goat cheese was a great add-in, but you can easily leave it out and have a vegan salad.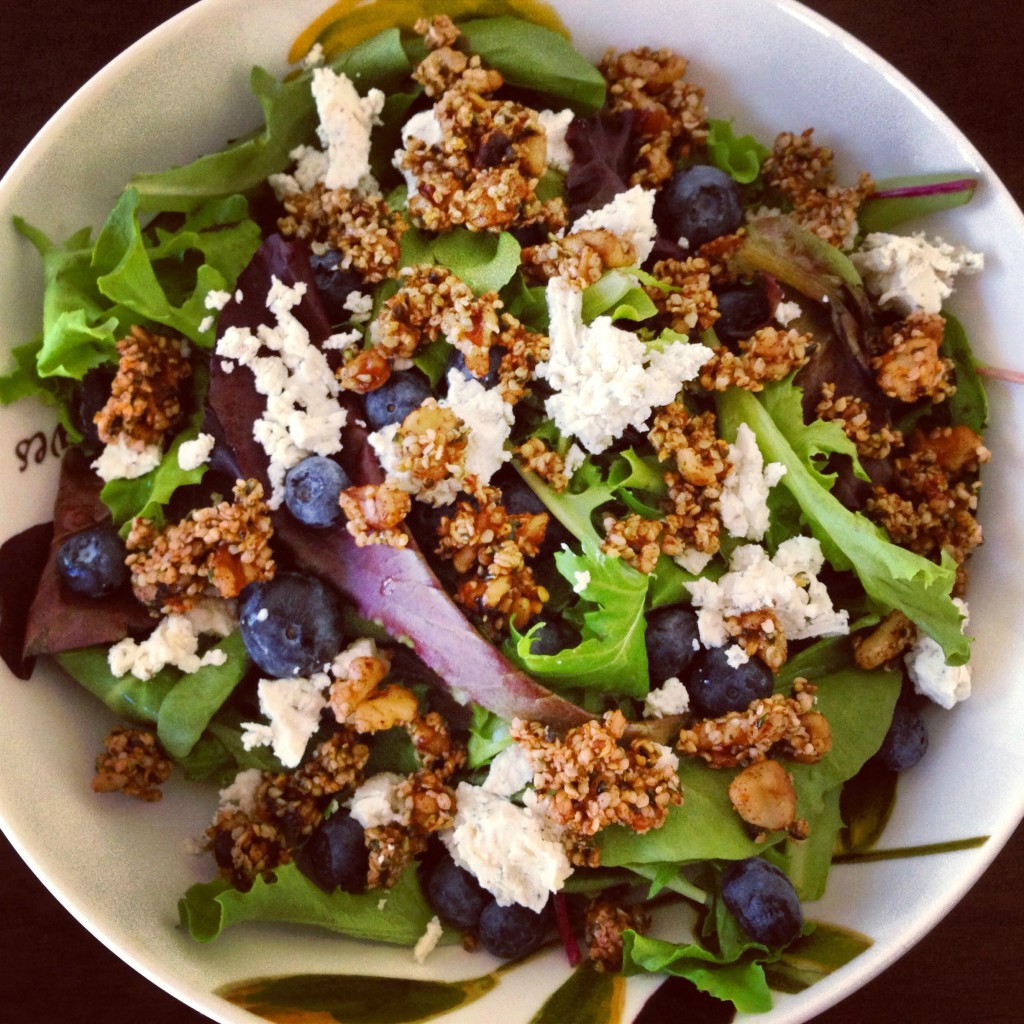 Mixed Green Salad with Blueberries, Goat Cheese & Honey Walnut Hemp Seed Clusters
Author:
Foodie Loves Fitness
Prep time:
Cook time:
Total time:
Ingredients
3 cups mixed baby salad greens
½ cup fresh blueberries
½ TBSP honey
1 oz creamy goat cheese
1½ TBSP raw shelled hemp seeds
2 TBSP walnut pieces
¼ TSP ground cinnamon
½ TBSP safflower oil
Juice from ½ small lemon
A pinch of salt
Instructions
Line a plate with parchment paper. Mix hemp seeds with cinnamon and a pinch of salt in a small bowl. Set aside.
Heat a small pan over medium heat. Add the walnuts, and toast for about 5 minutes, stirring often. Add the hemp seed mixture, and cook for another 2 minutes, stirring constantly. Mix in the honey, and stir constantly until it's completely mixed in with walnuts & seeds and the entire mixture is lightly browned.
Transfer to the parchment-lined plated. Lightly press into the plate, and allow to cool.
Whisk safflower oil and lemon juice together, then toss with lettuce. Put into a bowl, and add in blueberries and the goat cheese in chunks. Sprinkle additional salt on top, if desired.
Once walnut/hemp mixture has cooled a bit, break into clusters and add to the salad. Enjoy!
Nutrition Information
Calories:
400,
Fat:
29 g,
Saturated fat:
6 g,
Carbohydrates:
27 g,
Sugar:
17 g,
Fiber:
5 g,
Protein:
14 g
Have you ever tried hemp seeds? Thoughts?