"I go to nature to be soothed and healed, and to have my senses put in order." – John Burroughs
In September I put together a list of fun things that I wanted to do this autumn, and on that list was the goal of trying out three new hiking trails. A couple of weeks ago, I found myself exploring new trail #2 – even though that's not what I initially set out to do that day.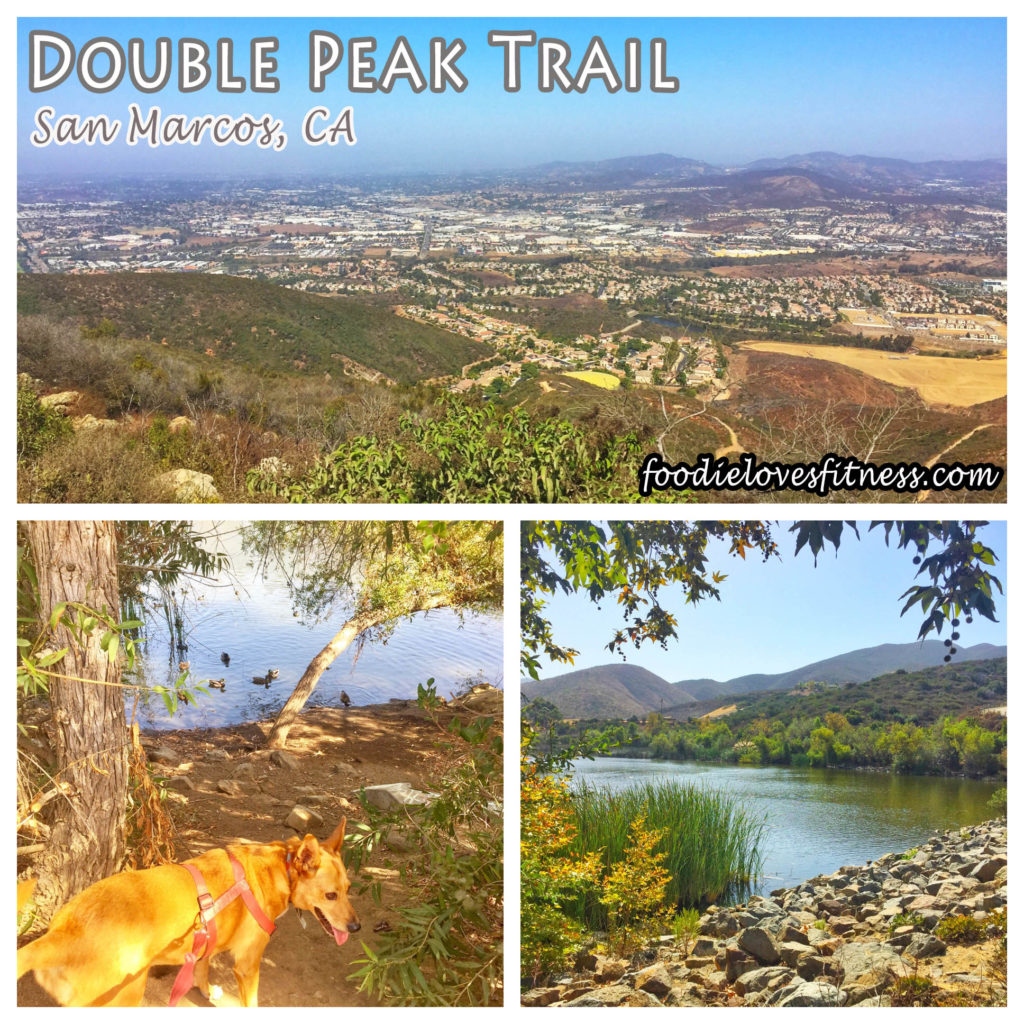 Let me explain: The day started off with me planning on making a return trip with my pup to one of my favorite local hiking areas, Escondido's Elfin Forest, but unfortunately when I got to the park entrance, it was closed due to extremely high fire danger.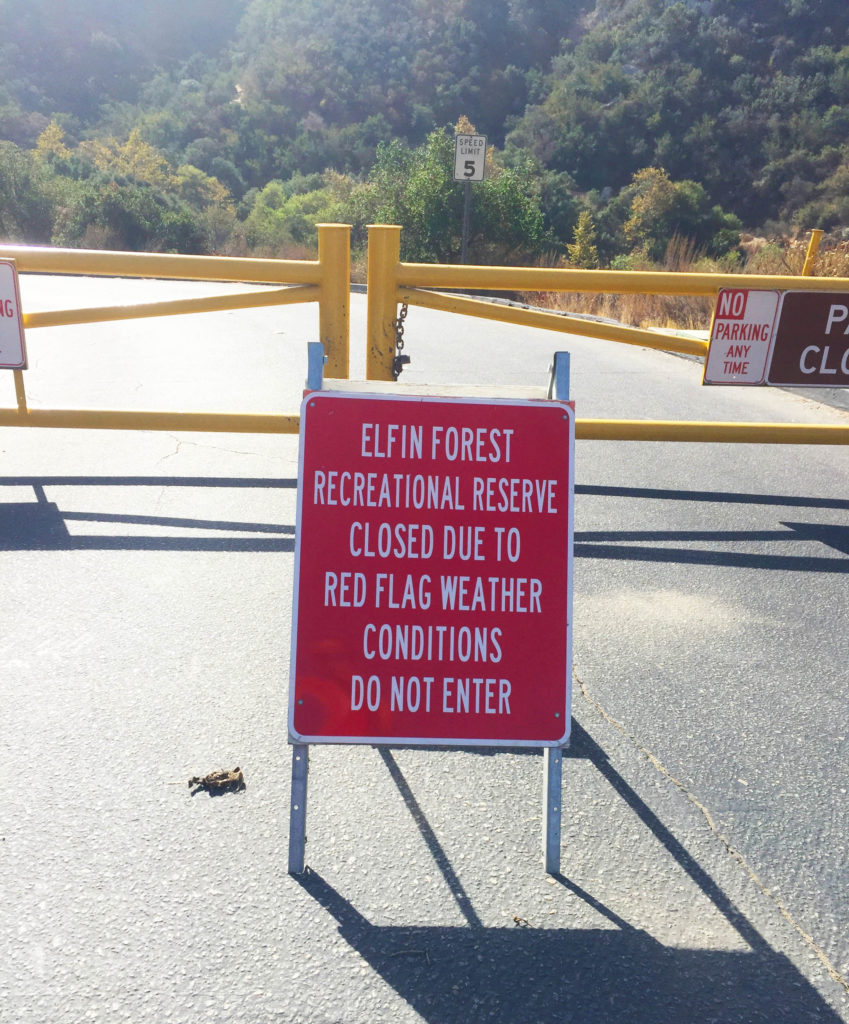 This was at the same time that the NorCal Sonoma area fires were raging, and since the park is usually open even with high fire danger, it made me a little worried. Thankfully I haven't heard of any fires starting in the area. With Elfin's trails closed, I had to come up with a Plan B. I pulled up my AllTrails app to find a new hike nearby – which by the way, I only recently downloaded, and I have no idea why I didn't have the app sooner. If you like hiking, I highly suggest getting it!
I wound up finding a new hiking spot on AllTrails called Double Peak Trail, so off we went to the nearby town of San Marcos to check it out. Double Peak wound up being a kind of strange trail with pretty city views, and today I thought I'd share a recap of it.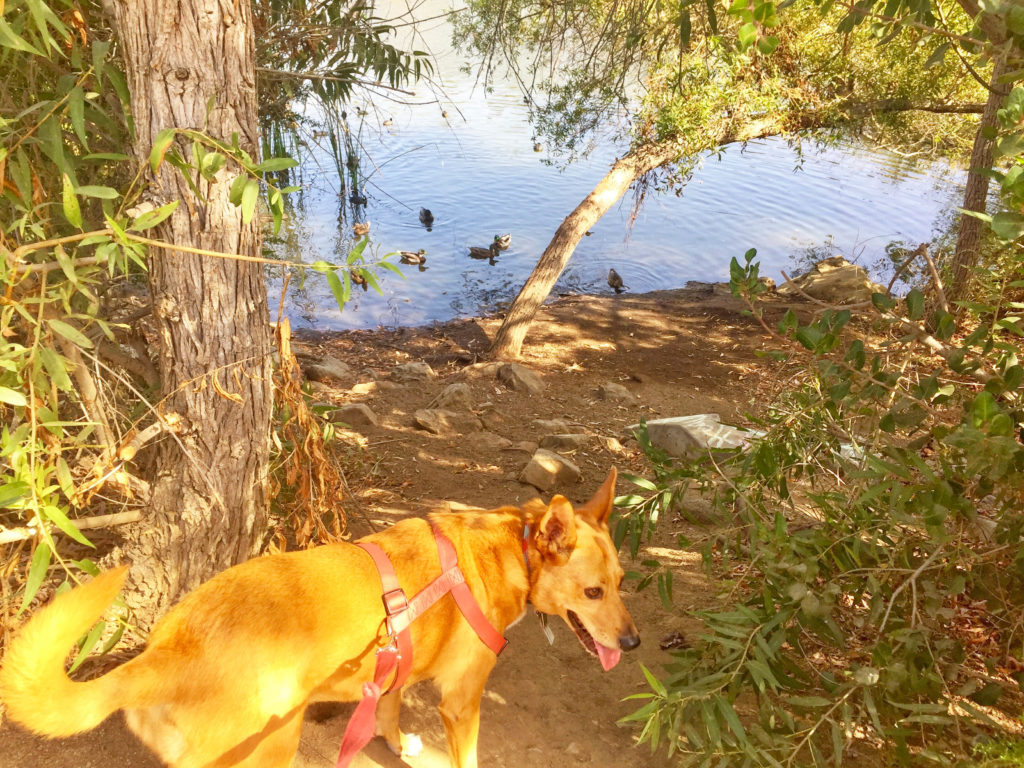 The trail is easily accessible from Discovery Park, and quite frankly, it's a lot more well-manicured than a lot of the hikes I normally do in Southern California. The day we were there, there were a lot of families out and about walking, with children playing at the playgrounds and feeding the ducks. A lot of the hikes I find myself at don't have any signage, let alone bathrooms and amenities.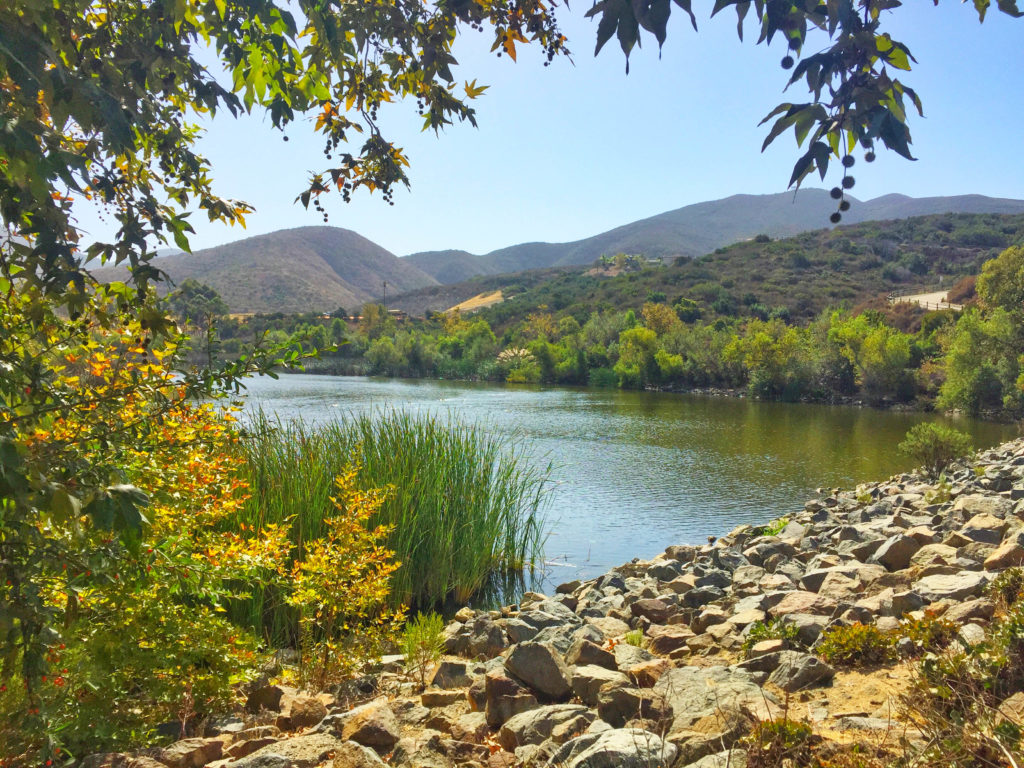 We walked around the park, making our way around pretty Discovery Lake, then following a sign for Double Peak up a dirt path – the first incline area of the hike. I think that you could probably park closer to the trailhead than we did, but it was a nice walk around the lake. Strangely enough, after you pass the lake and incline up the dirt road, the trail then takes you through a nice residential neighborhood.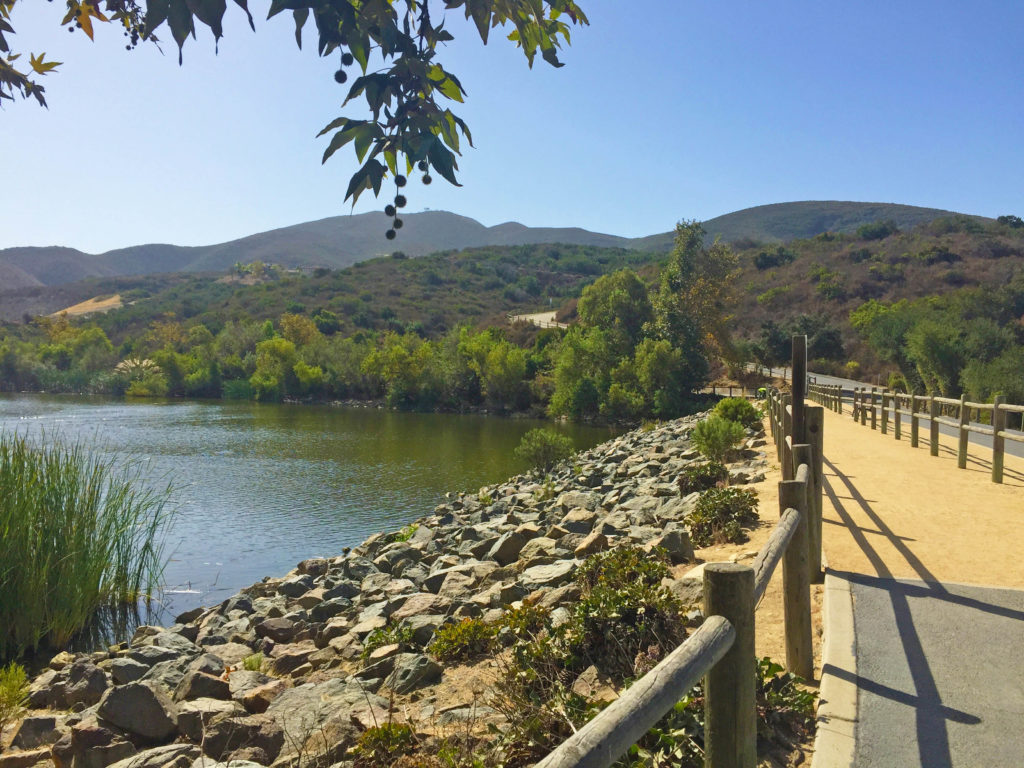 There was not another soul in sight as we walked through the housing development, and I wouldn't have thought we were going the right way if it wasn't for the occasional sign pointing us in the right direction. That, and the fact that I have the worst sense of direction… but we were actually on the right path, so we forged on.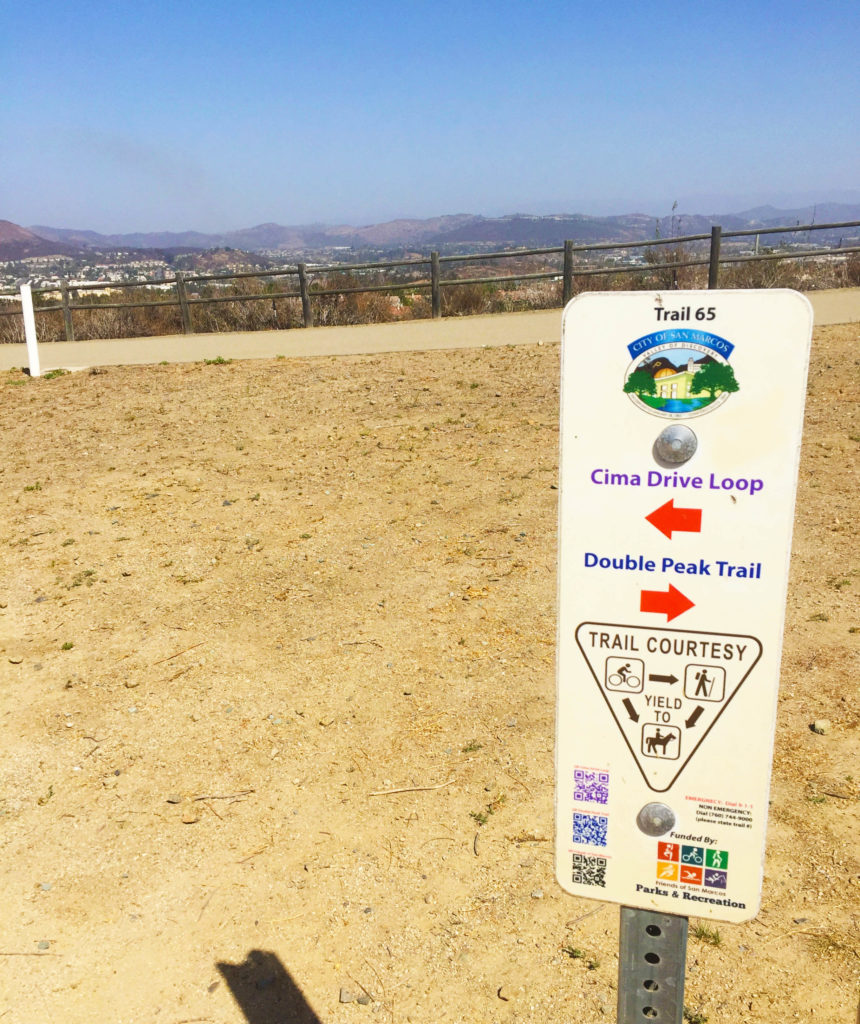 Towards the end of the hike, there's a pretty good uphill stretch. We passed a water tank, kept hiking through a bunch of switchbacks, then wound up walking along a paved access road.
I realized then that we could have just driven up to the peak, but where's the fun (and workout) in that, right?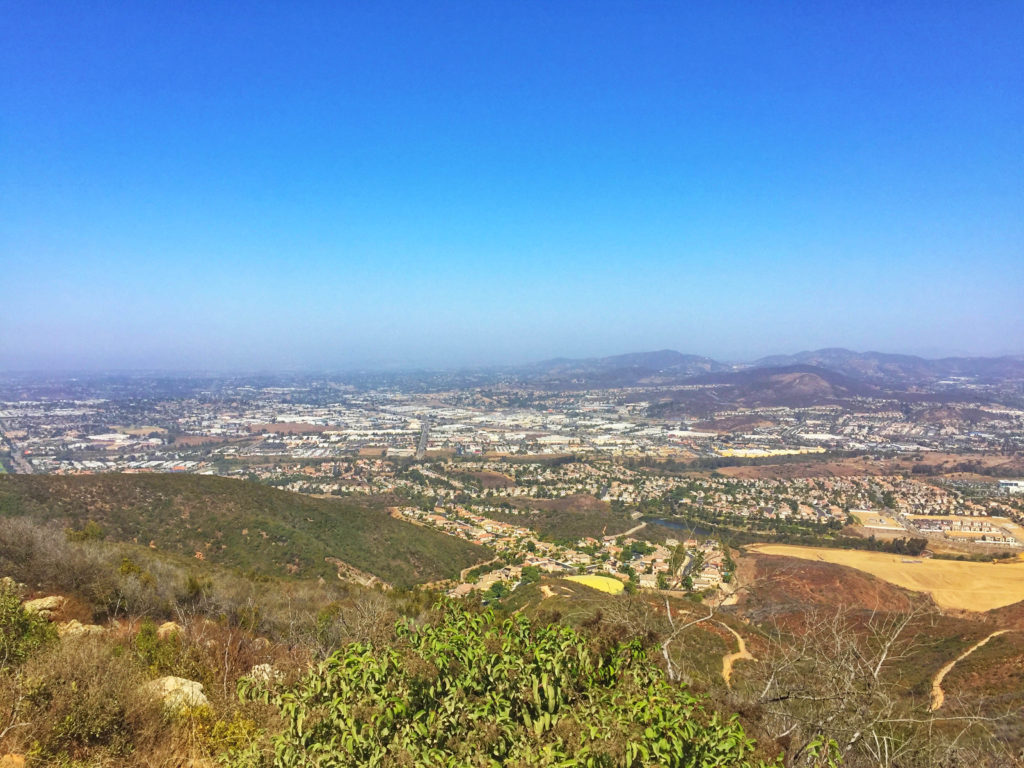 At the very end, we climbed up a steep use trail in the brush alongside the street. It was the toughest part of the hike, but then we found ourselves at the top with the above pretty views! There are picnic tables at the top, and some people were just hanging out taking in the views. If I do this trail again, I'd love to bring a picnic to enjoy at the top.
After taking a water break, we headed back down the trail the way that we came. All in all, it took 2 1/2 hours to complete the hike. We did this hike during San Diego's crazy October heatwave, so it felt like a harder workout for both Harley and me than it would usually be. She was exhausted from it, and passed out about 30 seconds after we got home.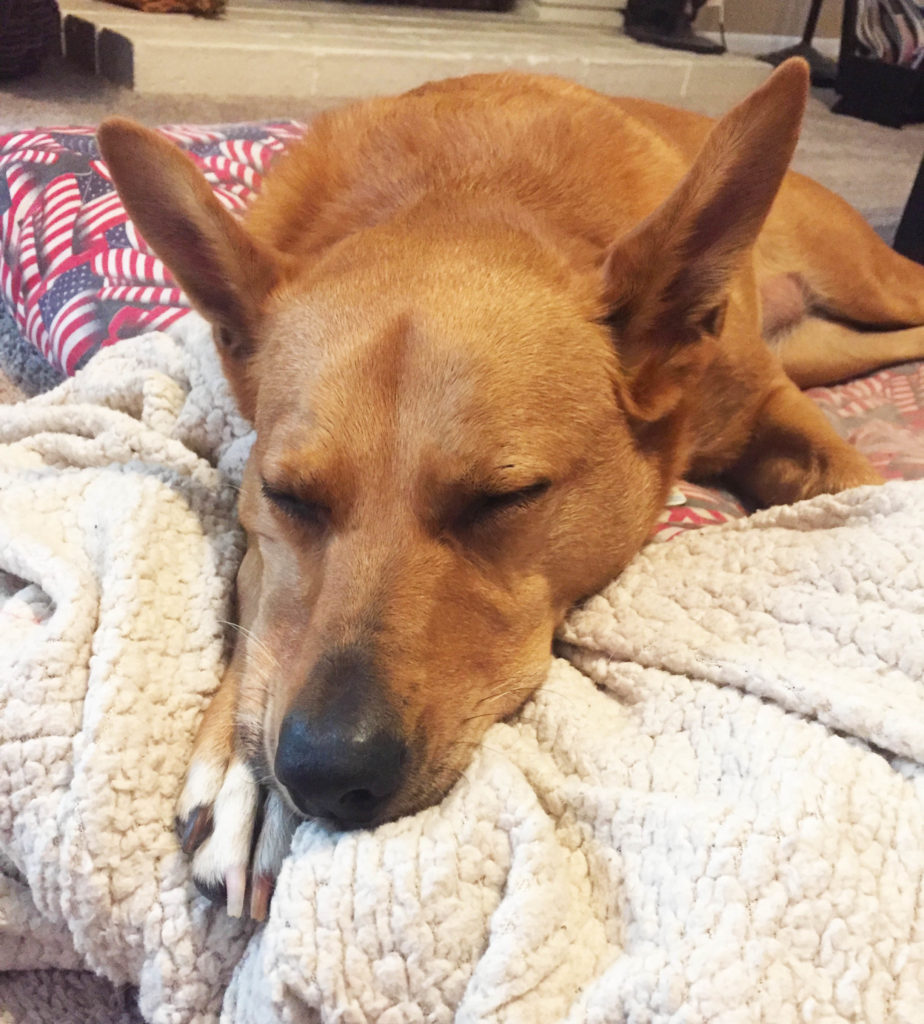 While it wasn't as out in the wilderness as I usually prefer on hikes, I was happy to have tried out a new trail and seen a new San Diego hike. Plus, it was a good workout!
The gist: 
Round-trip distance: About 4.5 miles (depends on where you start in the park)
Elevation gained: 1,130 feet
Time: 2-2 1/2 hours (it takes longer if you have a dog that likes to stop every 10 seconds like I do!)
Difficulty: Moderate
When to hike it: Spring, fall & winter. San Marcos is a bit inland, so it gets hotter than coastal San Diego – particularly in the summer. It's best to avoid hiking it during hot summer days (though we hiked it in what wound up being a 95 degree October day!).
Notable Details: Dogs and horses allowed, bathrooms available & bikers allowed
Tell me… What's one thing that you've wanted to do this autumn? 
Another thing on my list is making apple cinnamon donuts. Must first get a donut pan!