A couple of weeks ago, my hubby and I celebrated our 8th anniversary. I feel like so much has happened & we've grown up so much in these years, yet the years sure seem to fly by being married to your best friend!
To commemorate the occasion, we went camping for the weekend in the Julian area – a SoCal inland town a couple of hours away that's known for its apple pies. It serves as a countryside escape for San Diego city dwellers, and we usually visit once or twice a year.
Our initial plan was to go apple picking, but unfortunately all of the orchards had already closed for the season or were in their last weekend. Plan B was to go wine tasting instead.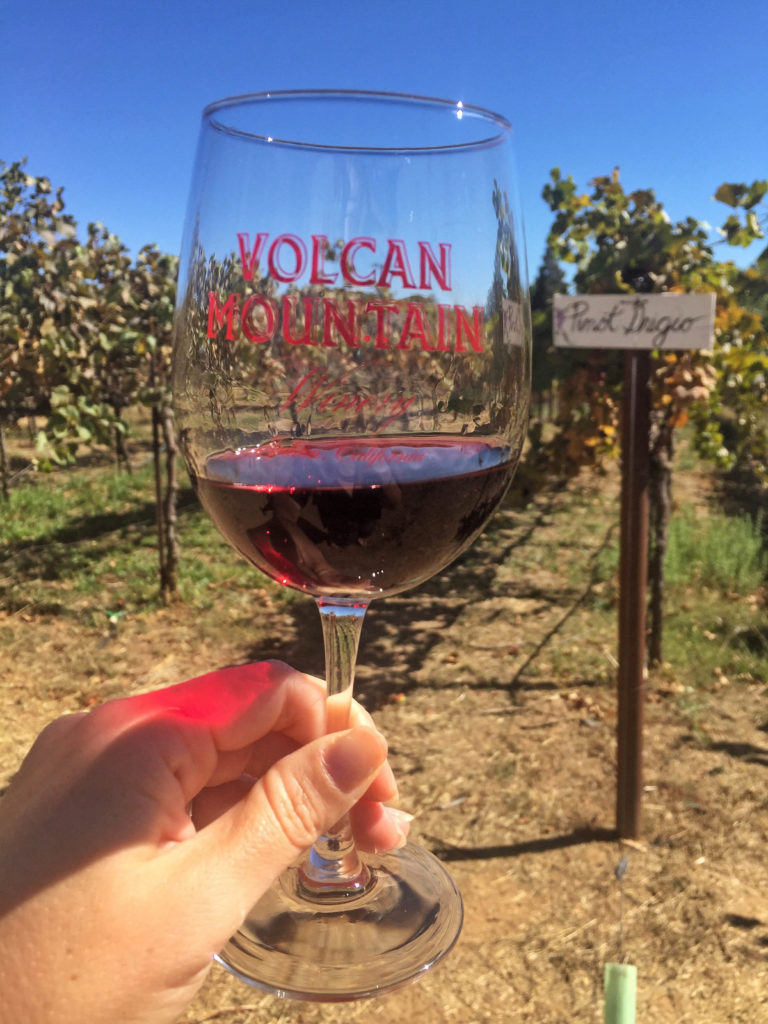 We visited Volcan Mountain Winery first, which had decent red blends and a muscat that we left with a bottle of. After we were done there, we walked right up the road to Menghini Winery – a place where we've been a few times and even went to a grape stomping event at awhile back. Both wineries have nice, open outdoor patio seating areas where people were relaxing, picnicking, and tasting wine with their furry friends by their side (Harley also enjoyed bee hunting out there!).
In contrast to more popular wine areas across California like Napa, and even comparatively speaking to SoCal's Temecula wine region, I like how Julian area wineries are so laid-back. The prices are also reasonable, and while they're not quite Sonoma quality wines, the wine was better than I remember.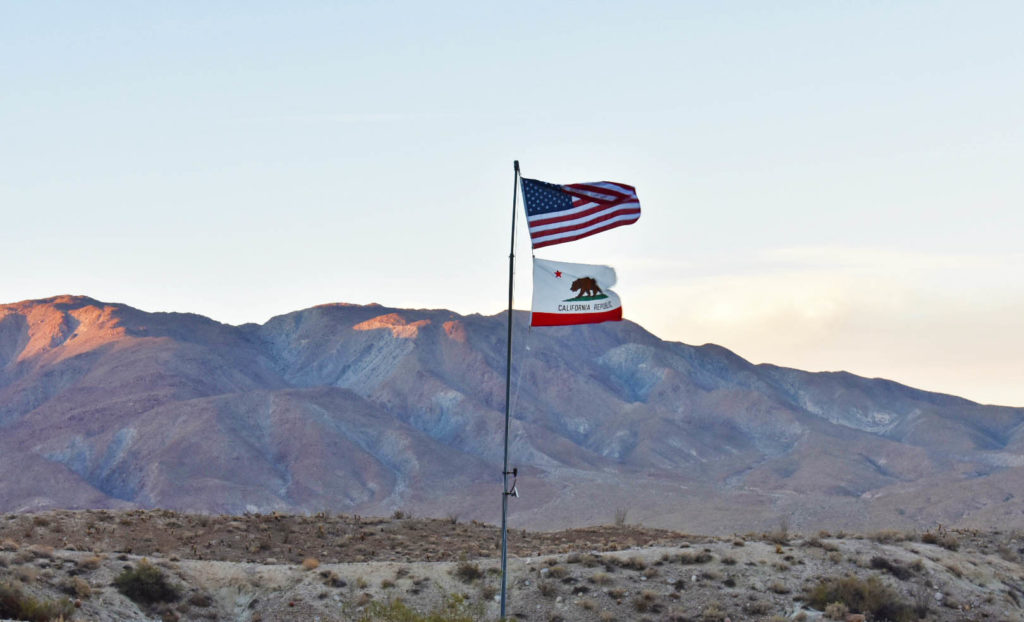 *Speaking of California wine country, my thoughts & love goes out to everyone affected by the devastating wild fires ravaging the Sonoma area. It is so sad to see such a beautiful area being destroyed, and I hope that everyone is staying safe.*
After wine tasting, we headed off to our campsite. Nestled in the middle of nowhere in the Anza-Borrego Desert State Park lies the Agua Caliente campground.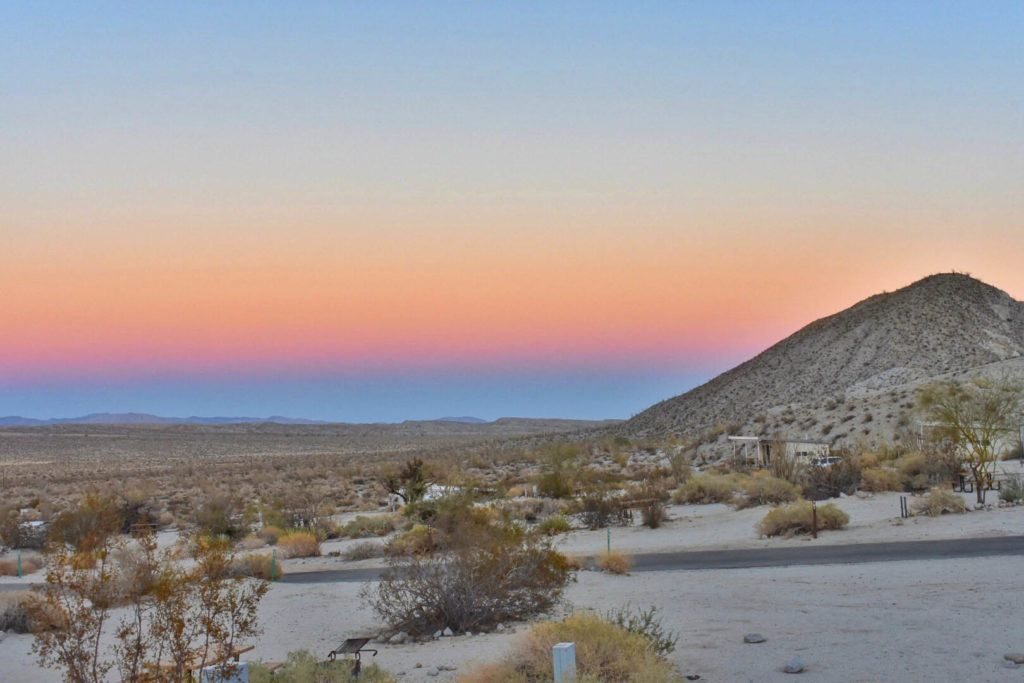 We had never been to this campsite before, and the views of the mountains in the desert were very pretty – especially during the beautiful sunset & dusk skies that we were treated to.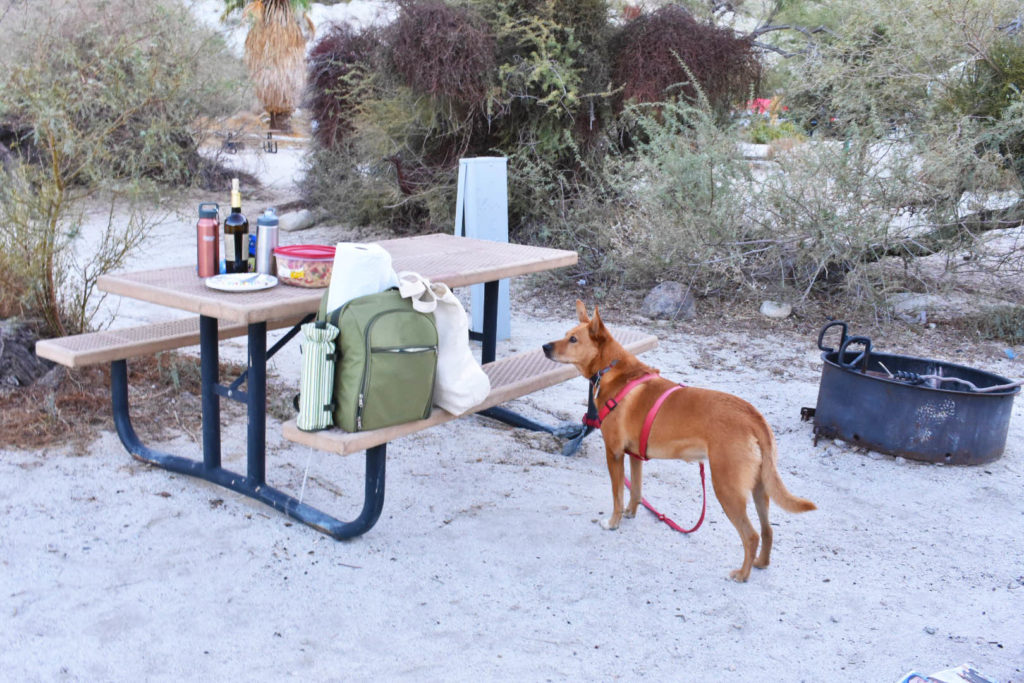 We had gone camping with Harley once before years back and it was a disaster, but we decided to take her with us to see if it'd be better now that she's older. The short answer to this question? No, she's still a horrible road tripper & camper. She was whiney, paranoid, couldn't relax, wouldn't eat, and kept us up all night with her stomach growling like crazy… so needless to say, she'll be kenneled next time we go camping!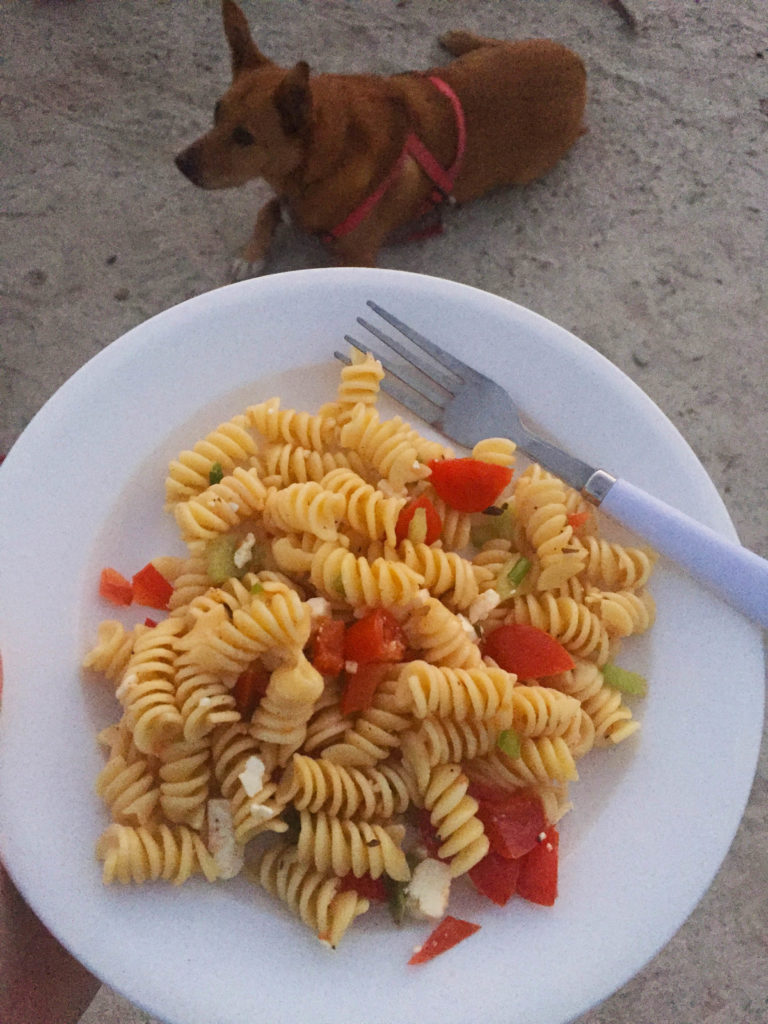 But onto the fun side of things, we spent the night enjoying some good eats that I packed, drinking wine, making vegan s'mores by the fire, and making friends with this little baby mouse that kept running around our campground – I kid you not! He was kind of cute and we nicknamed him Ratatouille.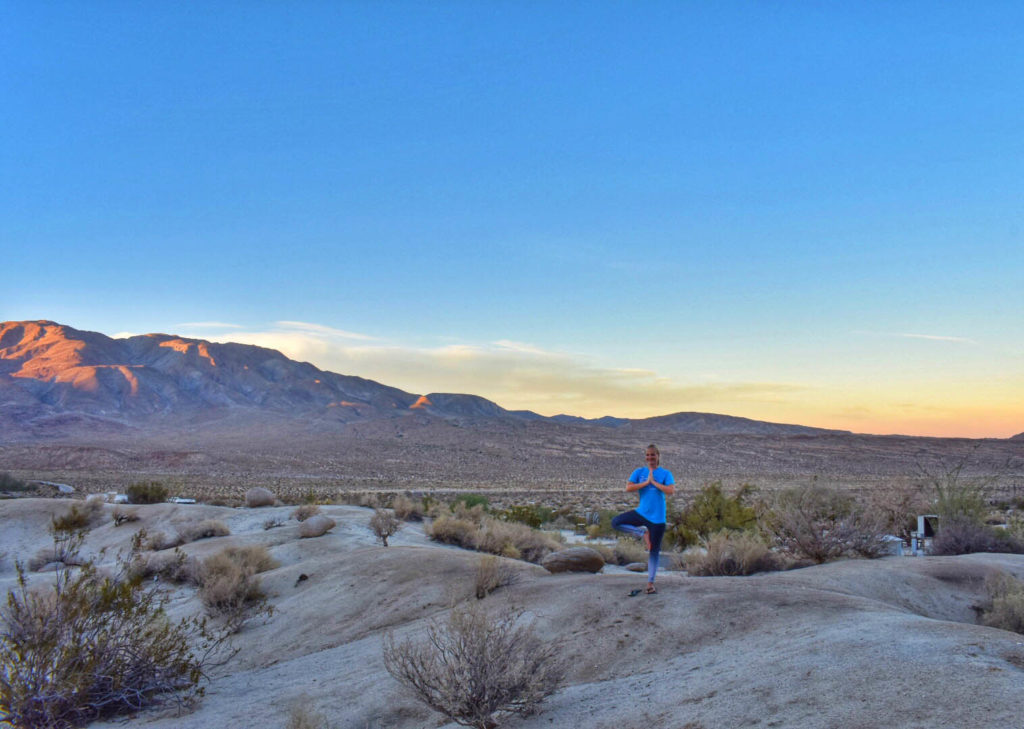 In the morning, we set out to go hiking. Even though dogs are allowed on the campsites in the Anza-Borrego Desert State Park, for some reason they aren't allowed on the trails, so I had scoped out a new hike ahead of time. The plan was to hike to Eagle Rock via the Pacific Crest Trail in the town of Warner Springs.
For anyone who isn't familiar with the PCT, it's a trail that runs the entire length of the U.S. through California, Oregon and Washington. I've hiked pieces of it many times, and it always makes me think of that movie Wild, which is based on a true story about a woman who hikes the PCT in its entirety. Every time I'm on the PCT, I think that as much as I love hiking, I would NOT enjoy doing that 2,600+ mile hiking excursion!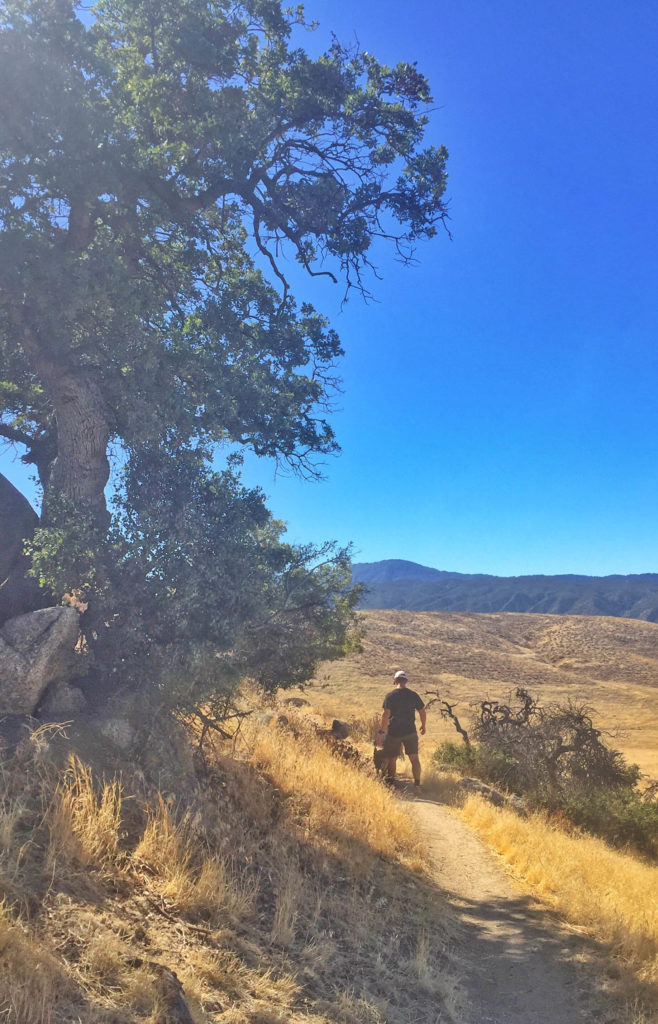 A note to anyone setting out to hike this trail: To get to this trail, put the Warner Springs fire station in your GPS and park across the street from it. At first we had Eagle Rock as our destination, passed the fire station area, drove up awhile, and heard 'You have arrived' while we were in the middle of the road with no parking in site (or even a shoulder for that matter). Looking back, the GPS had tried to take us to the actual rock, and to massively shorten your hike and get right to the rock, we would of had to park probably illegally somewhere & hope we didn't get towed, then hop a fence illegally. So parking by the fire station it was!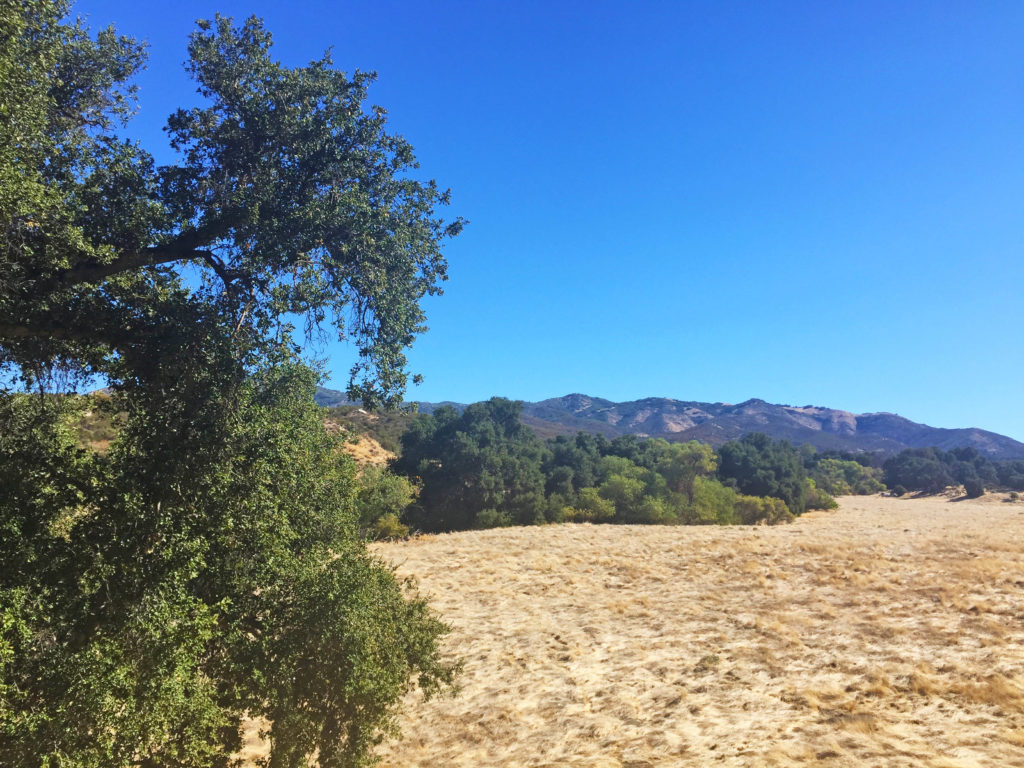 From there, you enter the PCT near the fire station (same side of the road) and start your journey. There were a few hiking groups and lone hikers around, but this trail doesn't seem to be heavily trafficked.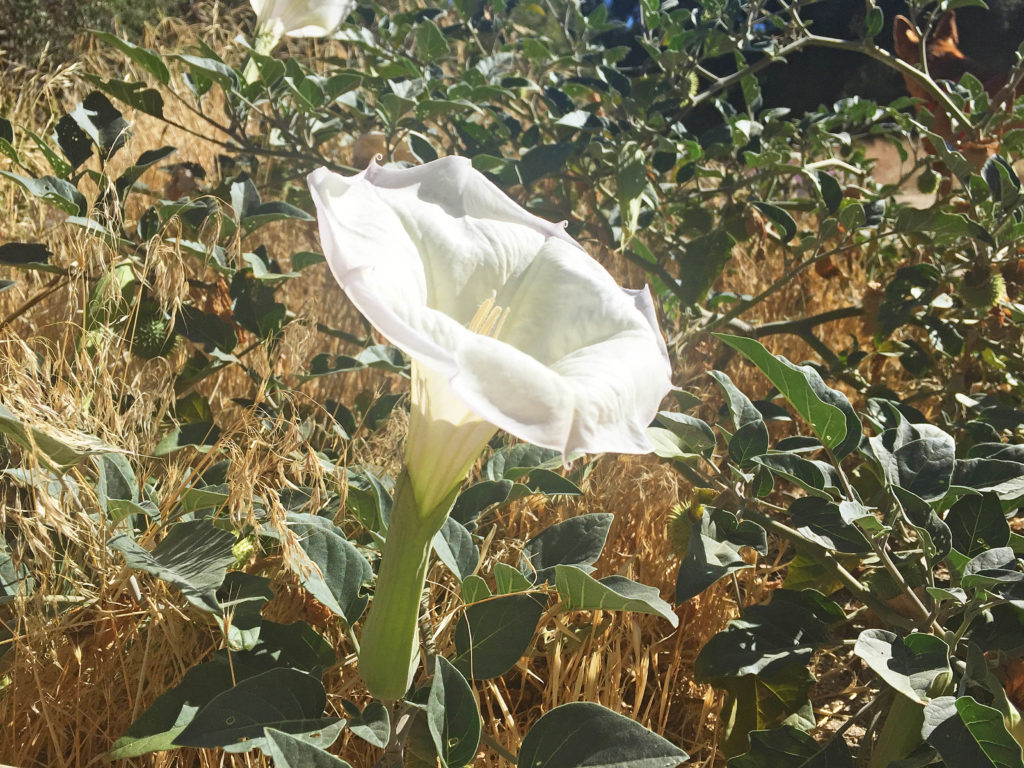 We wound our way through the forest, passing through a couple of gates set up for cattle grazing, and checking out the pretty landscape and flowers. As per usual, the signage wasn't great, but every now and then we'd see a sign to guide us – and sometimes just a PCT marking written in chalk on a rock or tree – and we'd continue on our way. Eventually the terrain became more expansive and desert-like and less tree-covered, and off in the distance we began to see boulders and the area of what turned out to be Eagle Rock itself.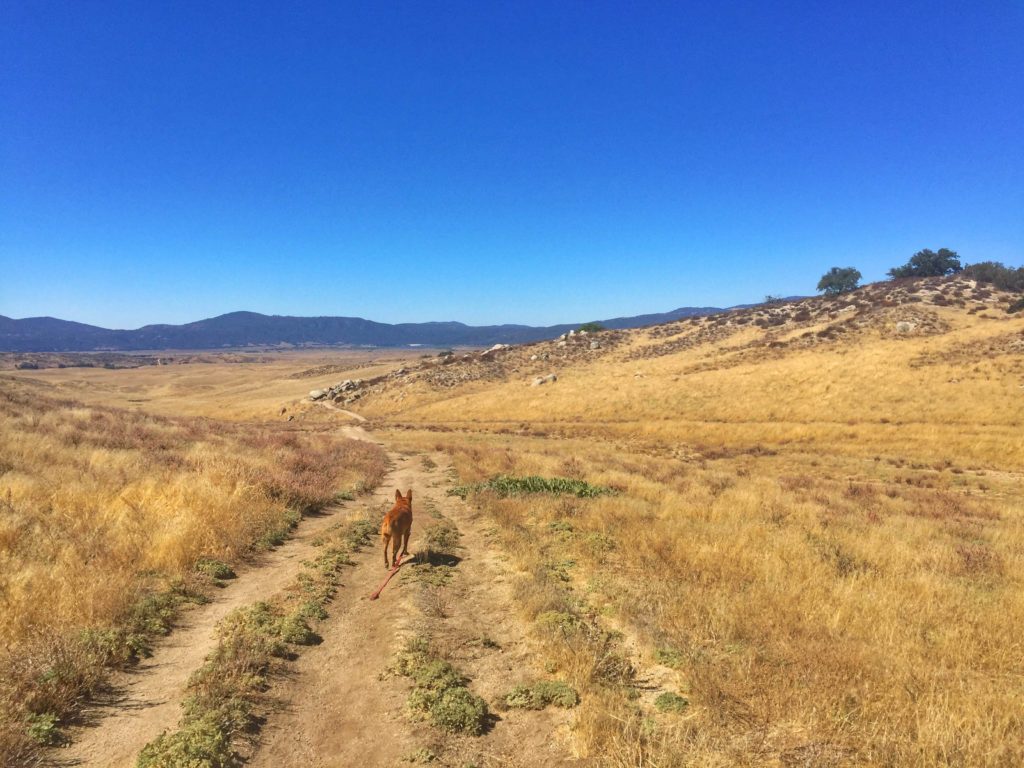 While Harley had been a pain during wine tasting & camping, she's in her element camping & was a trooper throughout the hike. She loves running around trails & is always my little hiking buddy!
There's no missing Eagle Rock once you see it. I don't think I've ever seen a rock more aptly named!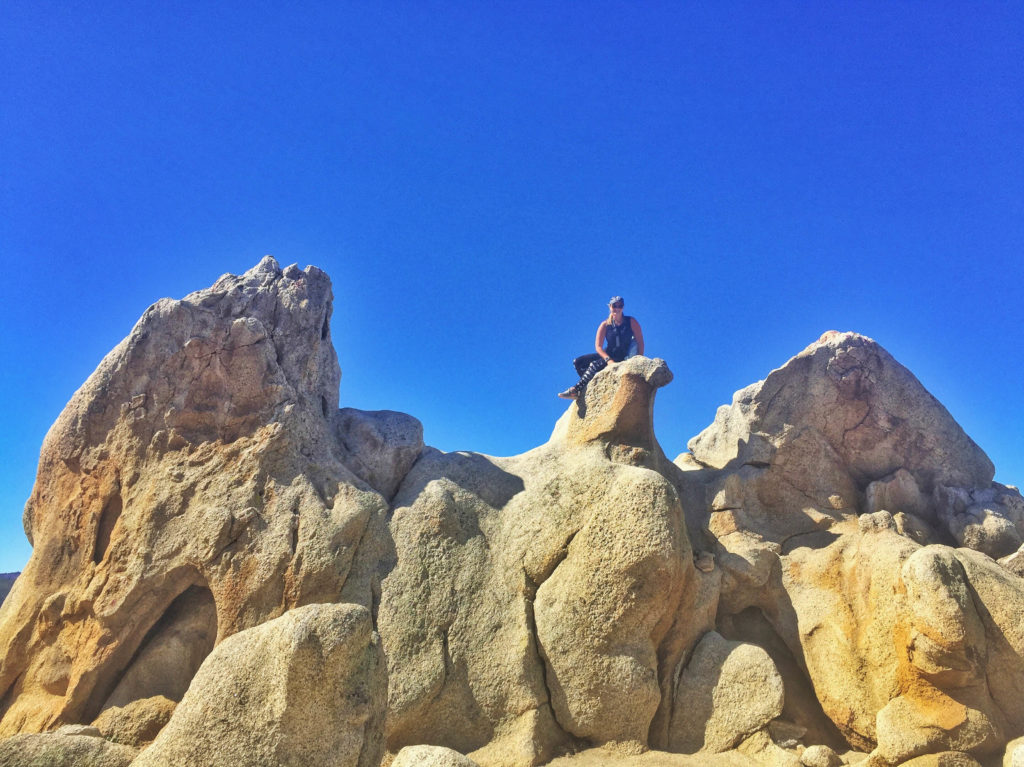 Isn't it so cool looking? 
Once we got to the rock, Adam and I climbed up for some pictures, then we took a break for water, energy bar snacking, & to let Harley rest for a few before heading back the way we came.
A few stats from our hike to Eagle Rock via the PCT:
Distance: 6.5 miles round trip
Elevation gained on the ascent: About 1,000 feet
Time it took us: 2 hours 50 mins
Calories I burned: 1,000
Difficulty: I'd rate it as moderate. There are no really steep or dangerous parts to it, but it does take some endurance.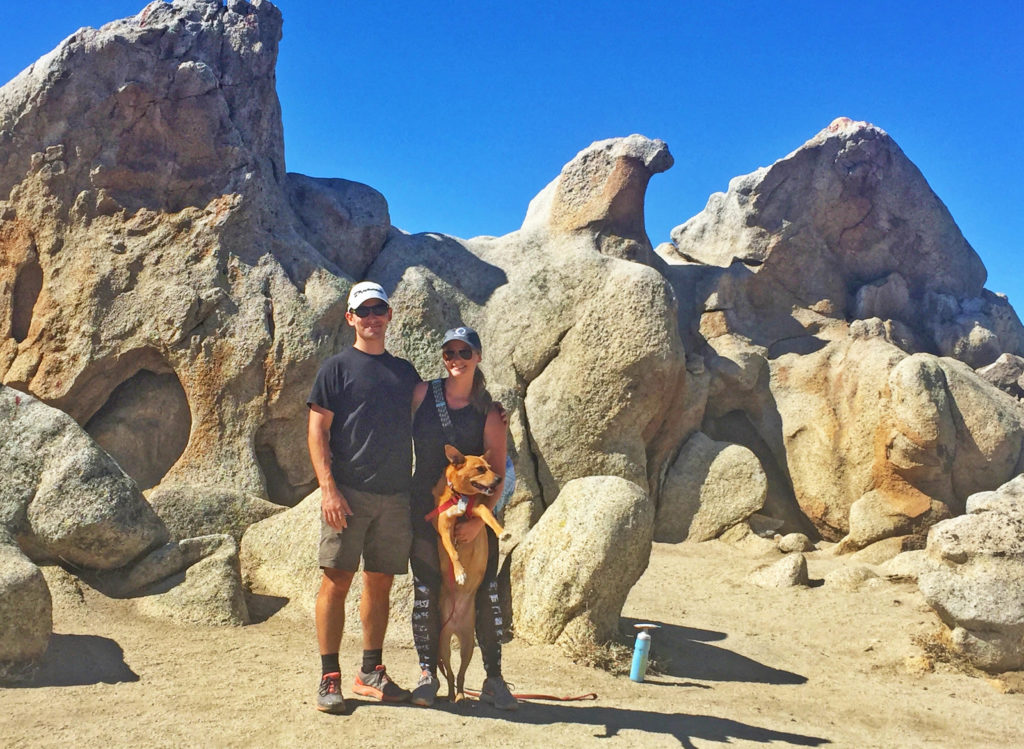 All in all, I enjoyed the hike to Eagle Rock & loved getting to see this neat rock formation. I had put together a seasonal bucket list for autumn, and one of the items on my list was to do 3 new hikes this season. Hiking to Eagle Rock was my first new hike this fall! I also had camping on the list, so I can check that one off too.
Tell me… Are you a fan of camping? Have you ever hiked any part of the PCT? Dog owners, do you take your pets on trips with you or leave them behind?