These flavorful, filling lettuce wraps are made with crispy chickpeas, diced avocado & tomato, & dairy free cheese made from cashews! They're perfect for a low-calorie, nutritious dinner or appetizer. 
If there's one food that I usually recommend to people to eat more of, it's beans. They're so healthy and versatile, and it's so easy to incorporate beans into my dinners. I use black beans in Mexican dishes all the time, but the bean that I probably like the most is garbanzo. There's just one problem: My husband, who I've slowly turned into a black bean eater, isn't crazy about chickpeas.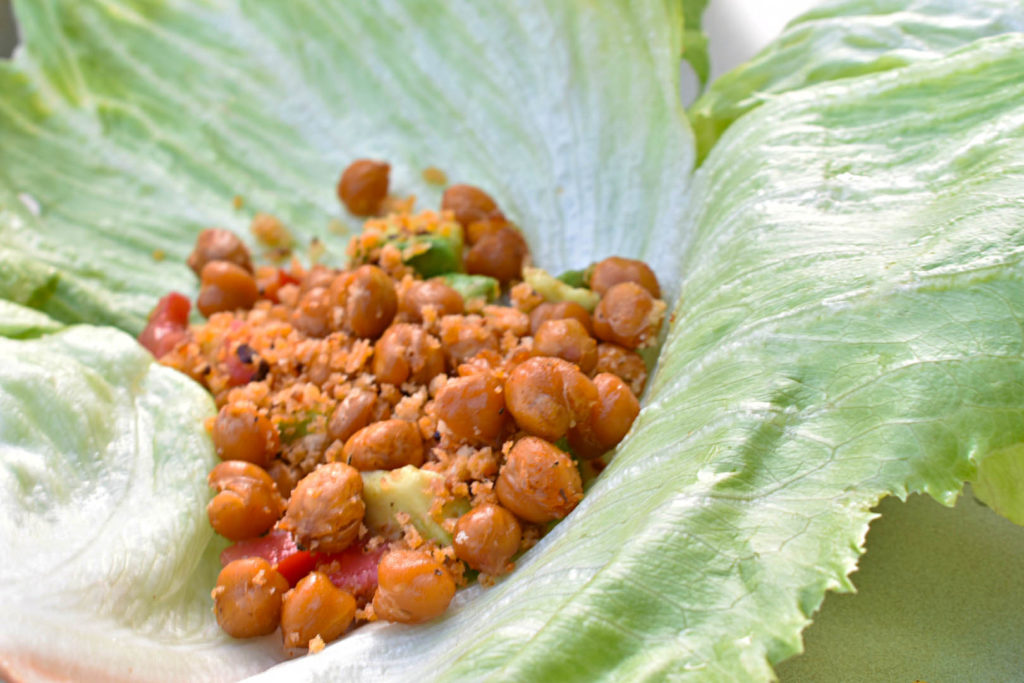 Sometimes I'm sneaky about getting him to eat chickpeas, and I've learned that he likes them in certain ways.
After I typed that sentence, I realized that I sound like I'm talking about a 3-year old child and not my 31-year old husband! Just to clarify, I want him to eat beans because I want to eat them, and I'm not about making separate dinners. 🙂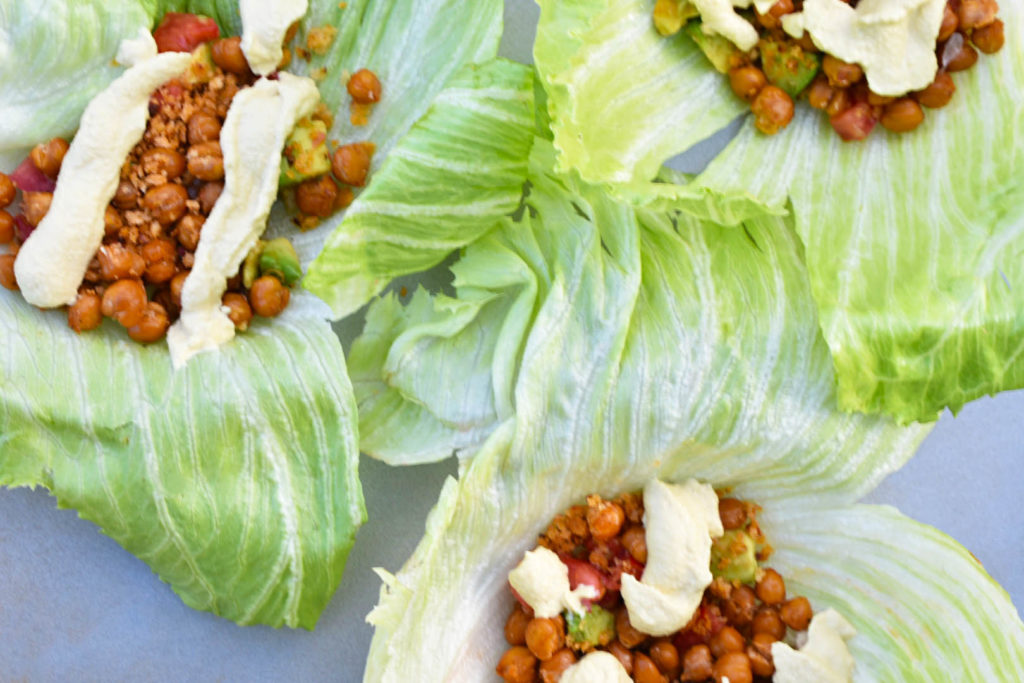 When I first introduced Adam to hummus years ago, I just left out the little detail about it being made from garbanzo beans. By the time he found out, he knew that he couldn't deny that he likes hummus. See, I'm sneaky! 
I'm excited to share today's recipe with you guys, which centers around my favorite bean… but guess what? Despite the fact that these lettuce wraps are packed with garbanzo beans, my husband loves them. I consider that a kitchen success!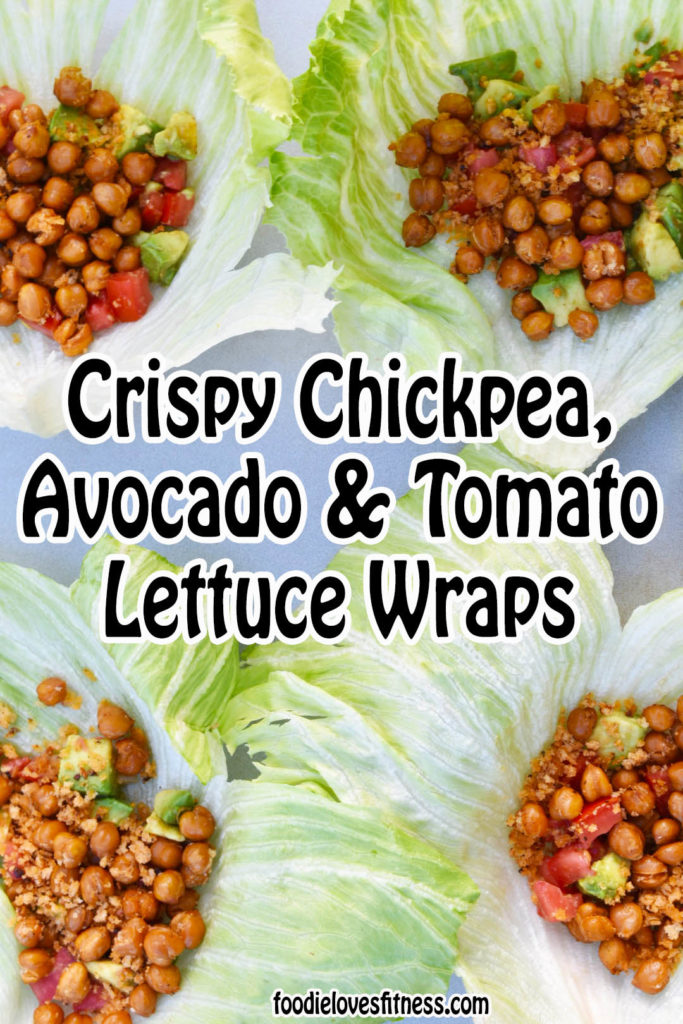 The idea for this recipe came about when I was roasting chickpeas recently, and it dawned on me that crispy chickpeas would be great in lettuce wraps.
Roasted chickpeas are awesome! To make them, first toss canned chickpeas with a bit of olive oil, paprika, sea salt and pepper. Spread them onto a baking sheet and cook for 22-27 minutes, tossing halfway through so that they get evenly crispy. Once the chickpeas get nice and crispy, they're so flavorful and perfect as a healthy snack all on their own.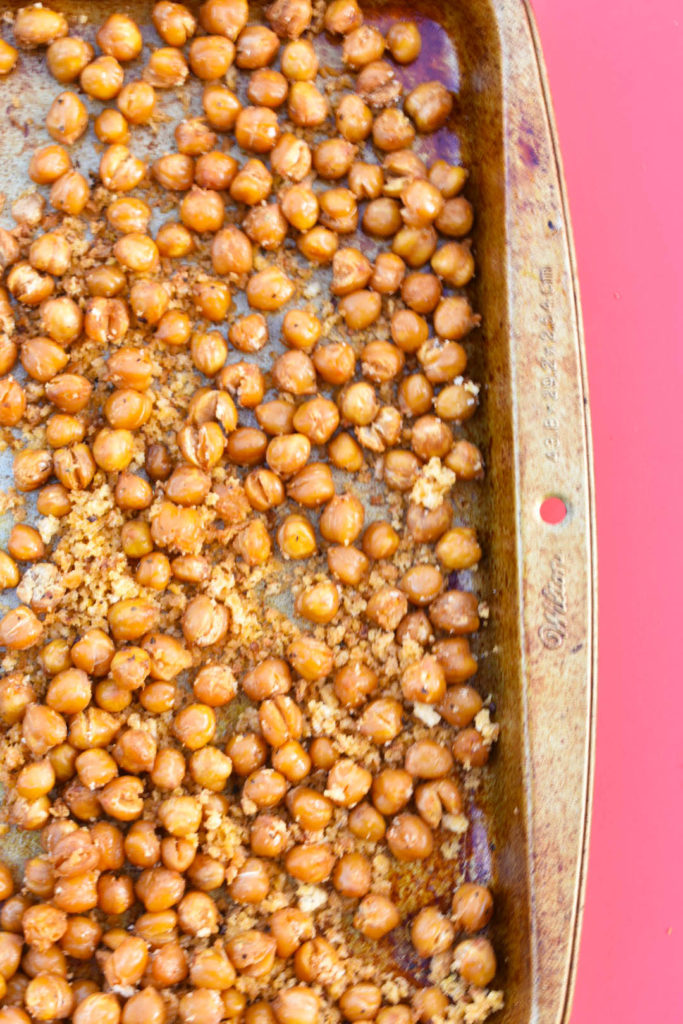 For this recipe, halfway into the roasting chickpea process, we add in some Italian panko breadcrumbs.
While the chickpeas are roasting, dice a Roma tomato and avocado up, and throw them in a bowl.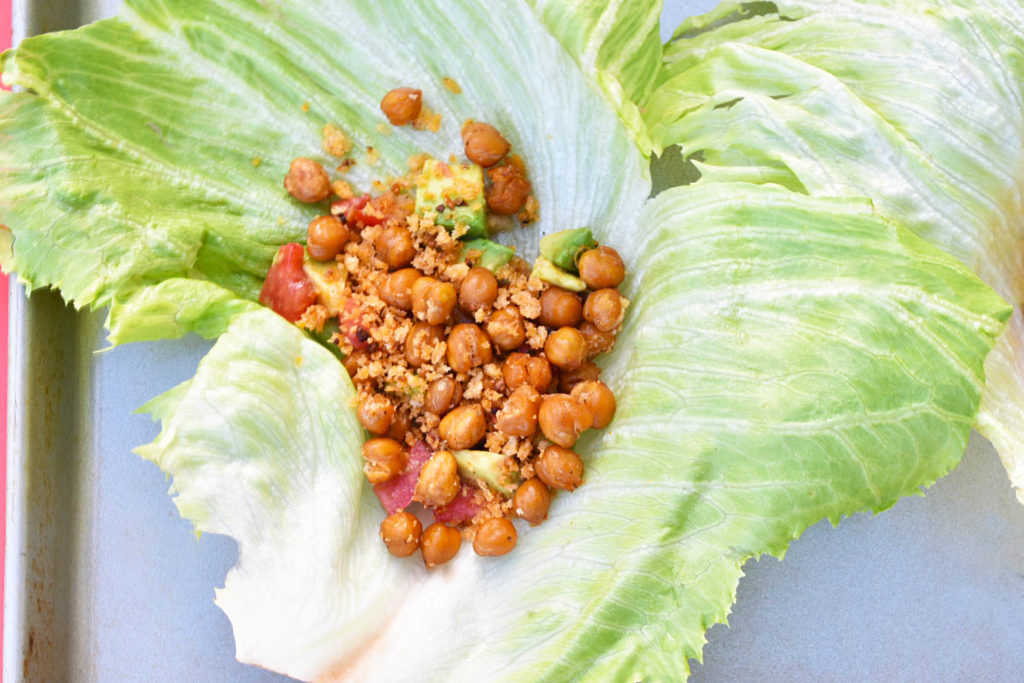 And then it's time to make the nacho cashew cream! I used Sarah's recipe for this, and it only takes a couple of minutes to whip up in the food processor. You just need to make sure to soak the raw cashews ahead of time. If you're making these lettuce wraps for dinner, just throw the cashews in a bowl of water in the morning to sit for the day.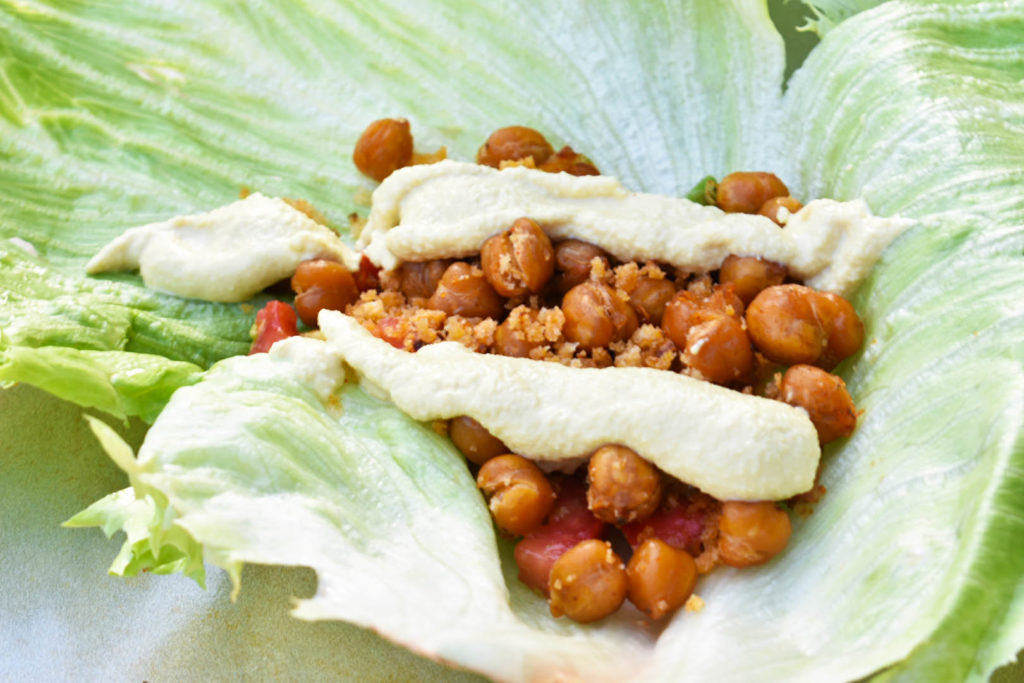 The cashew cream is optional, but it just gives the lettuce wraps an extra oomph of flavor.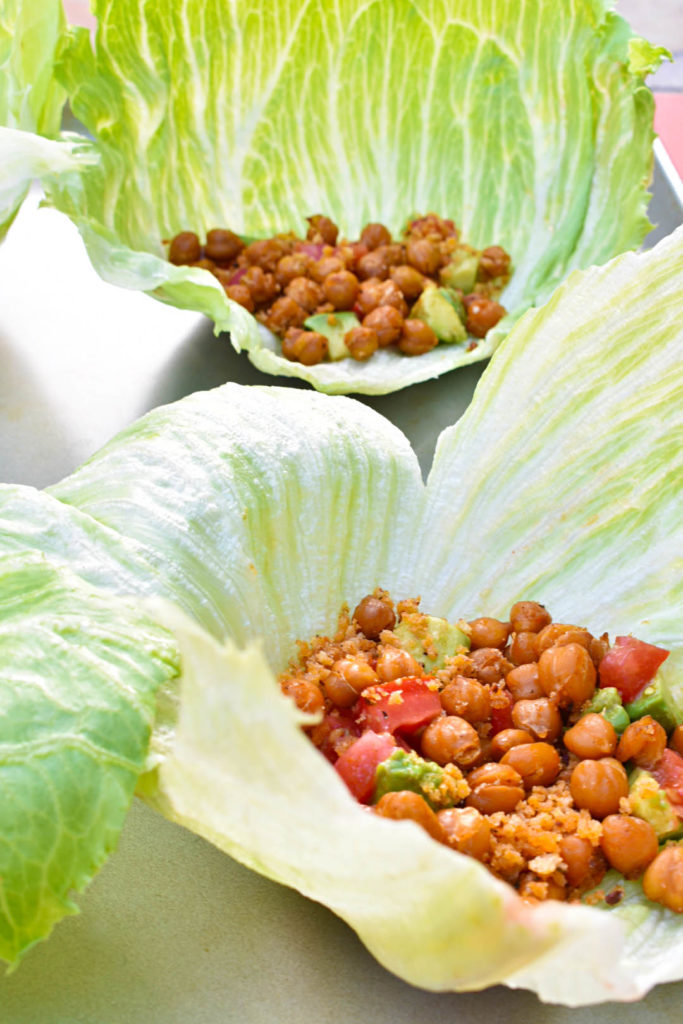 Trust me when I say that these lettuce wraps are a flavorful plant-based meal! They're also nice & filling too, thanks to all of that healthy fiber in the chickpeas and healthy fat in the cashews. My husband commented on how full he was after eating these with me recently. Filling without being really high in calories is the way I like to eat!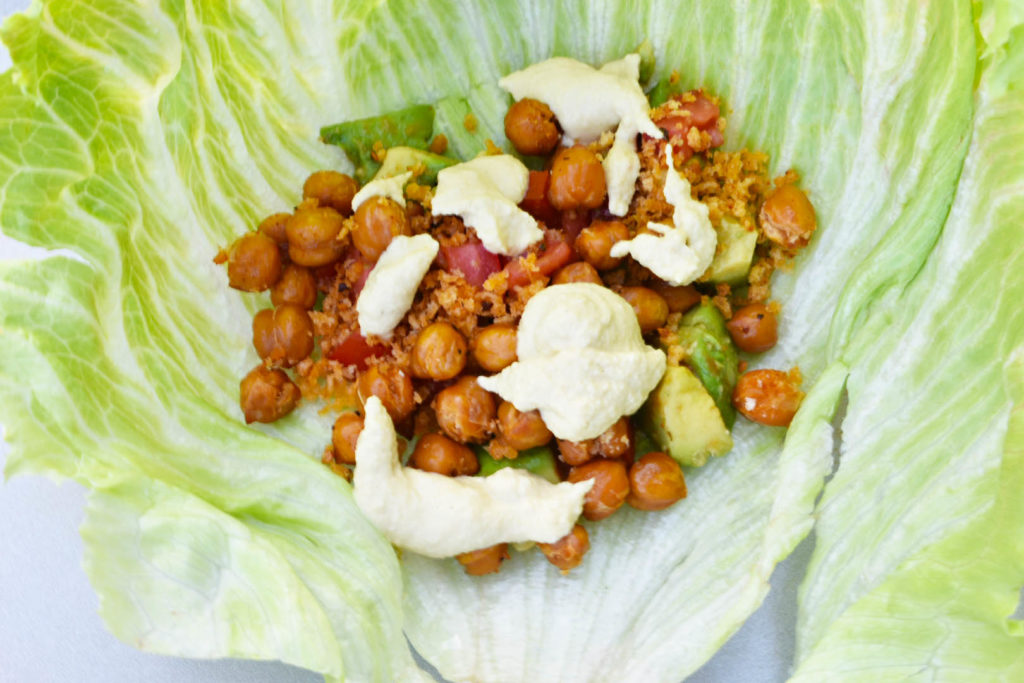 Crispy Chickpea, Avocado & Tomato Lettuce Wraps with Nacho Cashew Cream
Author:
Foodie Loves Fitness
Prep time:
Cook time:
Total time:
Ingredients
1 head of iceberg lettuce
1-15 oz can of garbanzo beans, drained and rinsed
1 medium ripe avocado
1 Roma tomato
¼ cup Italian panko bread crumbs
1 TBSP extra virgin olive oil
¼ TSP paprika
¼ TSP sea salt
⅛ TSP ground black pepper
For the nacho cashew cream
½ cup raw cashews, soaked for at least 6 hours in bowl of water
Juice from ½ medium lemon
2 TBSP nutritional yeast
¼ TSP garlic powder
¼ cup water
Sea salt to taste
Instructions
Preheat oven to 375 degrees. Coat a baking sheet lightly with cooking spray.
Place the chickpeas in a bowl. Drizzle in the olive oil, and sprinkle the paprika, sea salt, and pepper on top. Stir to combine, then transfer the chickpeas to the baking sheet.
Bake for 12 minutes. Remove from oven, add in the panko bread crumbs and a bit more sea salt and pepper, and toss the chickpeas well. Place back in the oven for another 10-15 minutes, until crispy.
Meanwhile, dice the avocado and tomato, and set aside in that same bowl.
To make the nacho cashew cream: Combine the soaked cashews, lemon juice, nutritional yeast, garlic powder, water, and salt (I start out with ¼ TSP and add in more as I taste it) in a food processor. Process until the mixture is smooth. This will take a couple of minutes, and you may need to scrape down the sides a few times.
Once the chickpeas are done baking, transfer them to the avocado/tomato bowl. Toss to combine.
Slice the bottom end of the lettuce head off, and carefully pull off large lettuce leaves, trying not to rip them. You'll want to make around 6 lettuce wraps.
Spoon the chickpea mixture into the center of the lettuce leaves. Spoon some cashew cream onto each wrap.
Fold the lettuce wraps up and enjoy immediately!
Notes
*Cashew cream recipe adapted from Making Thyme for Health.
Nutrition Information
Serving size:
1 lettuce wrap,
Calories:
208,
Fat:
11g,
Saturated fat:
1.5g,
Carbohydrates:
19g,
Sugar:
2g,
Fiber:
5g,
Protein:
7g
Tell me… What's your favorite type of bean? What food(s) do you love that your partner isn't crazy about?