Since I moved to California 7 1/2 years ago (cannot believe it's been that long!), I've become an avid hiker. Hitting the trails offers a workout, stress relief, time in nature, and exercise for my dog all at once.
I've realized that hiking is also a spiritual experience for me. It leaves me feeling centered, grateful, and connected to the earth. I believe in the interconnectedness of everything in life, and hiking seems to always remind me of that. It's also a lovely chance to practice mindfulness. I can only describe it as losing myself for a few hours to really find myself.
Hiking just with my trail buddy, my pup, also gives me time and space to clear my head. There's always so much going on – lots of noise, distractions, and busyness – but on the trails, everything sort of slows down. I begin at the trailhead analyzing something in my life, and by the end of the hike, I have found the answers.
I've lived in a few different parts of San Diego County for most of the time I've been in California, and I've done more than my fair share of hikes in the area. In fact, I've visited the vast majority of local hiking trails! Finding new trails has gotten tougher in the past year or two because I've already explored so many of them.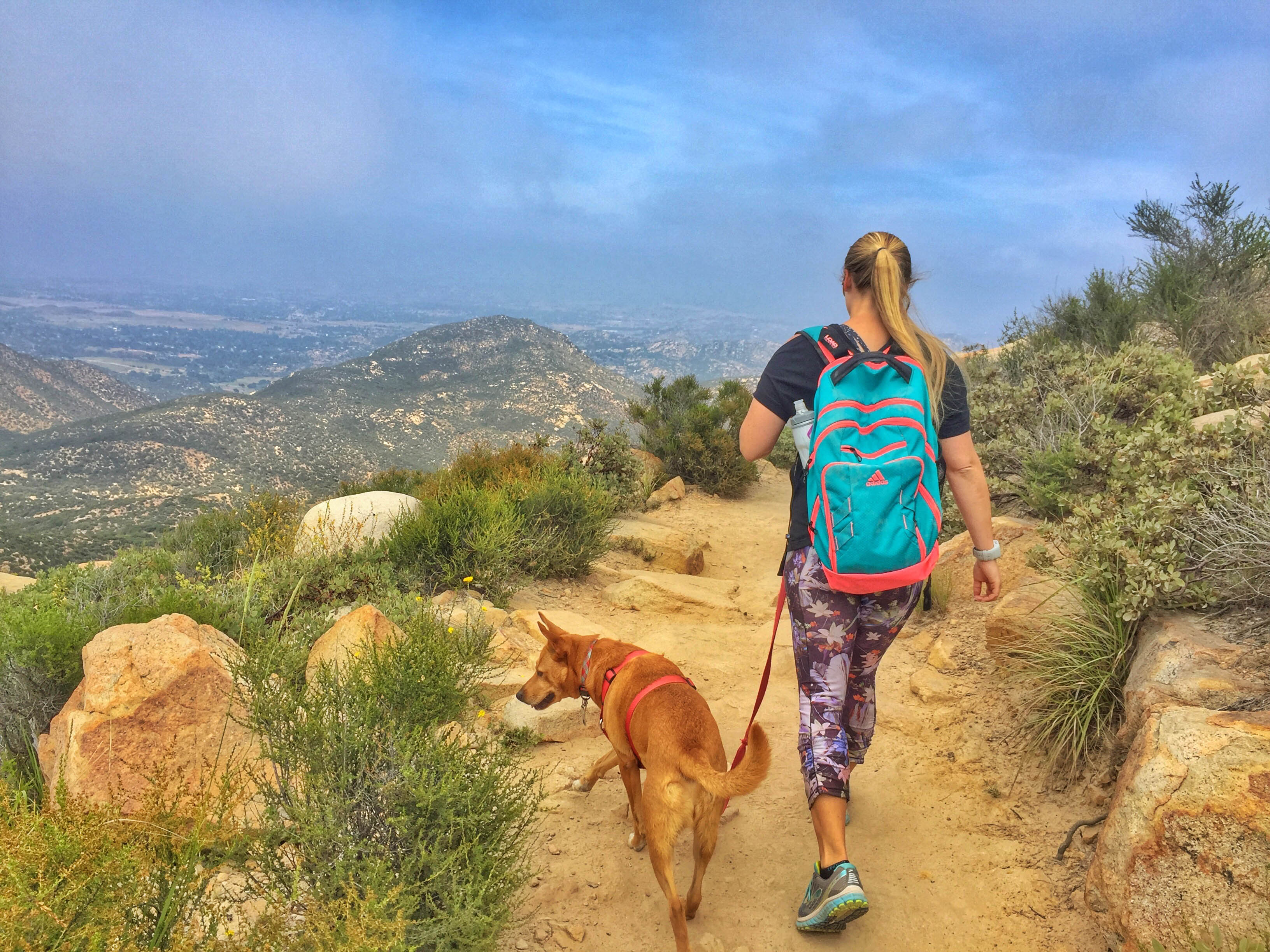 I thought it'd be fun to share a post that compiles my favorite hikes around here. Without further adieu, here are my 7 favorite hikes in San Diego County!
Kwaay Paay Summit at Mission Trails Park. It's only right that I start off my list with one of the first hikes that I really loved in San Diego. This was around the time when Harley was around a year old, and I was looking for fun ways to tire my energetic puppy out. In fact, my first blog post mention of Kwaay Paay was all the way back in 2012 when I first started my blog!
Kwaay Paay is a trail within the beautiful Mission Trails Regional Park. It's about a 90-minute, 2.5 mile out-and-back trail, but don't think that because it's not long, it'll be a breeze…For a bit there it's a heart-pounder! I also like it because it isn't as crowded as some other hikes in the area (like Cowles Mountain). There have been many times when I barely see another soul around throughout the hike.
Iron Mountain. Offering sweeping SoCal views, this trail sits a bit inland in the town of Poway. Iron Mountain is about a 5 1/2 mile hike with a 1,000 ft elevation gain.
I've done this hike a handful of times over the years, and it's a goodie! I actually just recently took my cousin to do this hike when she was in town because it's a great hike that's a very solid workout without being too exhausting. It's also perfect if you want to get out in nature to hit the trails, but don't want to spend your entire day doing so. The hike always takes me 2 1/2-3 hours to complete.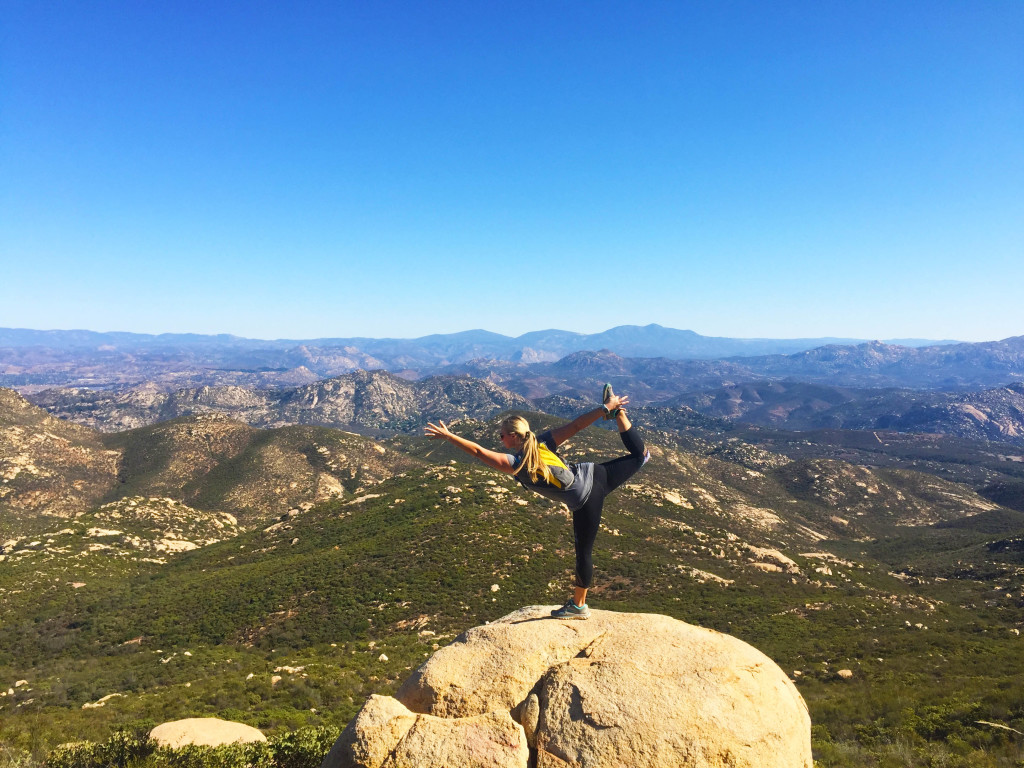 << Check out past Iron Mt hike recaps here and here.
Three Sisters Waterfall Hike. Hidden in rural San Diego County in the inland town of Descanso lies this gem of a hike. To get there, you have to drive through some backroads and it's out of the way for where most people live in San Diego, but it is worth the trip!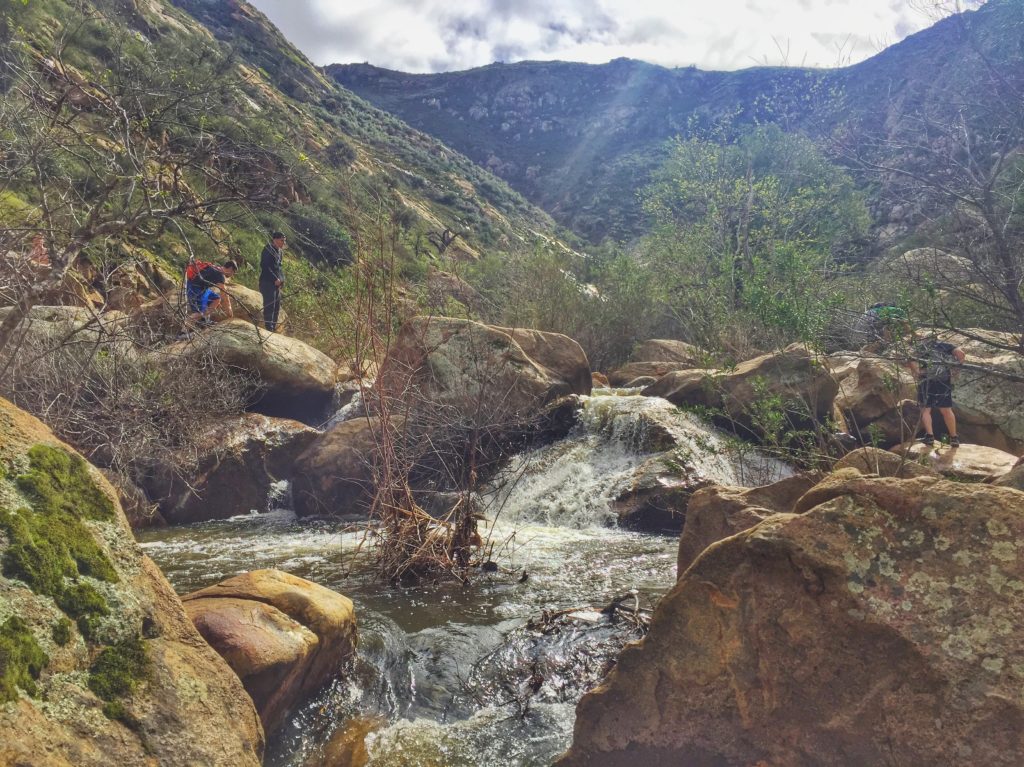 The hike involves lots of climbing, scaling down the mountain, and figuring out how to  maneuver around the waterfalls if there's been a lot of rain (which usually is not the case, but last winter it was!). It's definitely a fun adventure, and takes about 3 hours to complete.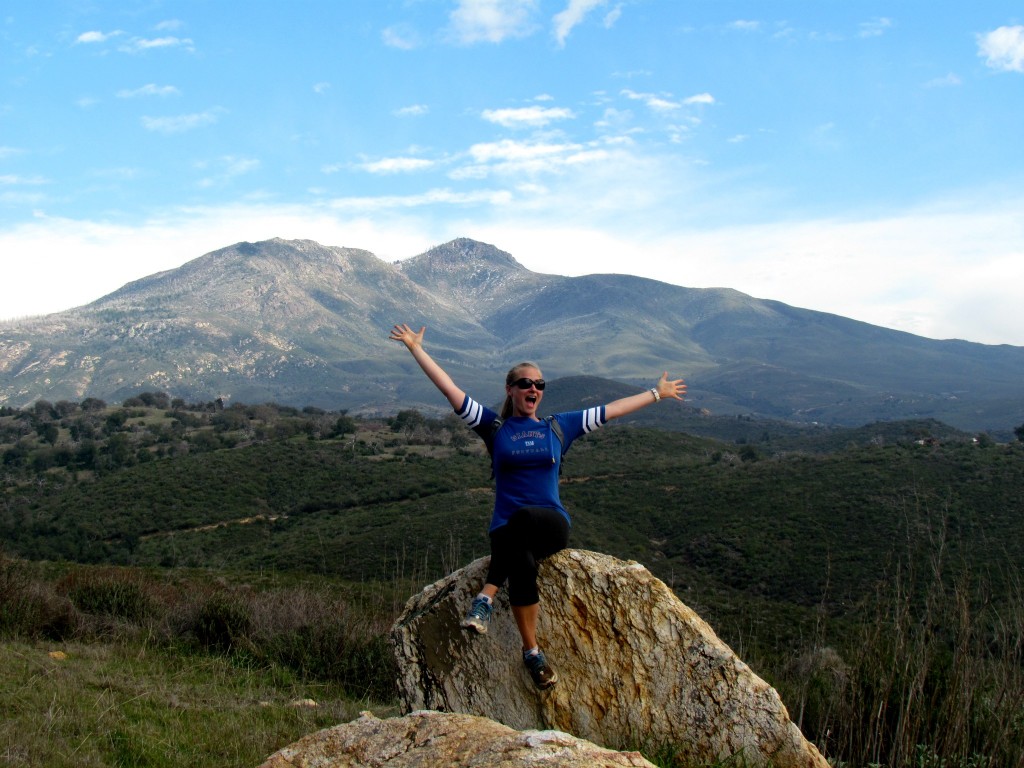 << Check out Three Sisters Waterfall Hike recaps here and here.
Elfin Forest Recreational Reserve. This is one of my go-to hiking spots, and I love heading over there on a Friday evening after work to hike for a few hours! One of my favorite things about this hike is that dogs are allowed off-leash during the week once you get around 30 minutes up on the main trail, called the Way Up Trail. Harley loves running around like a maniac as we hike, and it's easier for me to not have to have her on the leash the entire hike.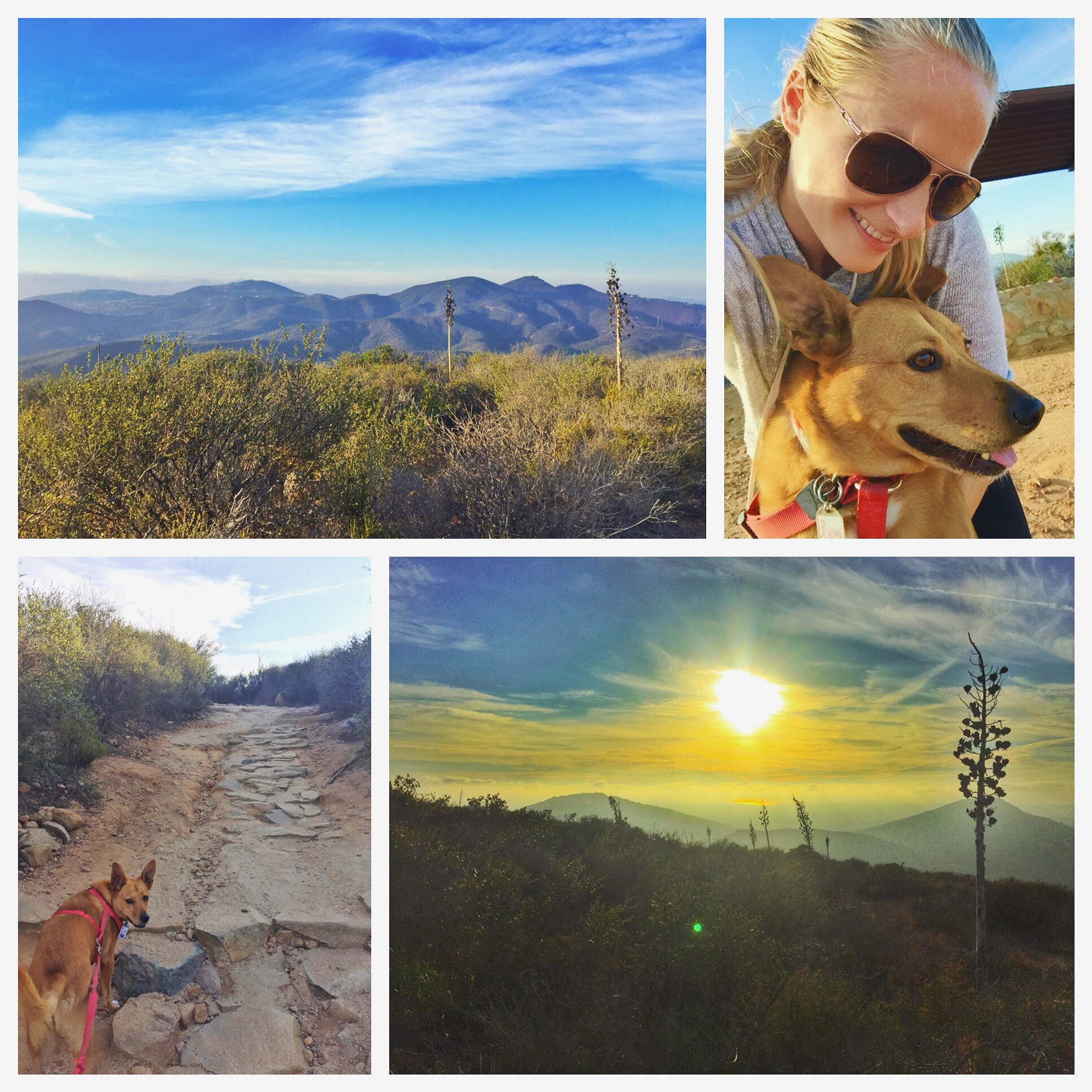 I'd classify Elfin Forest as moderate hiking, but it's a nice workout with pretty views. Once you get to the top of the Way Up Trail, there are a bunch of different trails you can elect to take. I have a few favorite ways, and usually hike for around 2 hours there. The Elfin Forest Reserve has a reservoir that services residents in the area, holding 8 BILLION gallons of water.
<< Read my full review of Elfin Forest here.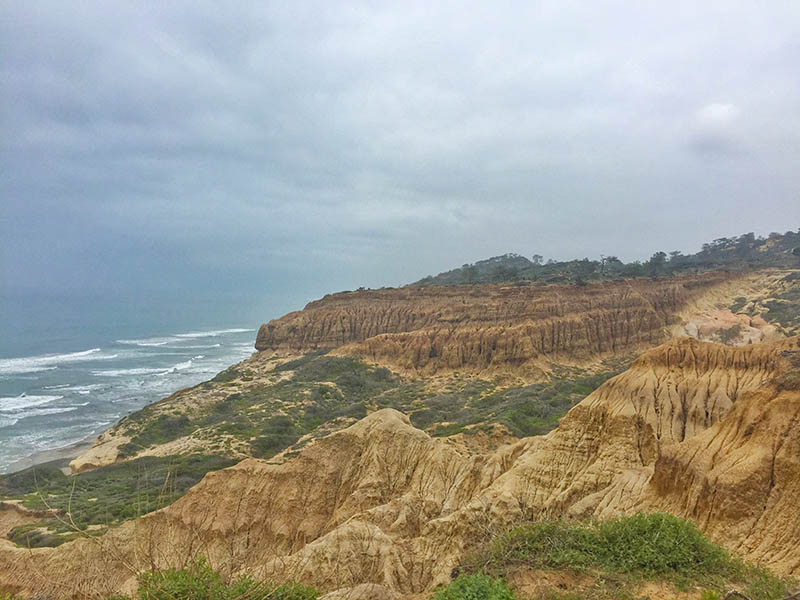 Torrey Pines. If you're looking for quintessential gorgeous San Diego ocean views with somewhat easy hiking trails, head to Torrey Pines State Reserve. I don't go here all that often because dogs aren't allowed (boo!), but every time I visit Torrey Pines I'm reminded of how pretty the area of La Jolla is.
<< Find more info about the trails in Torrey Pines State Reserve here.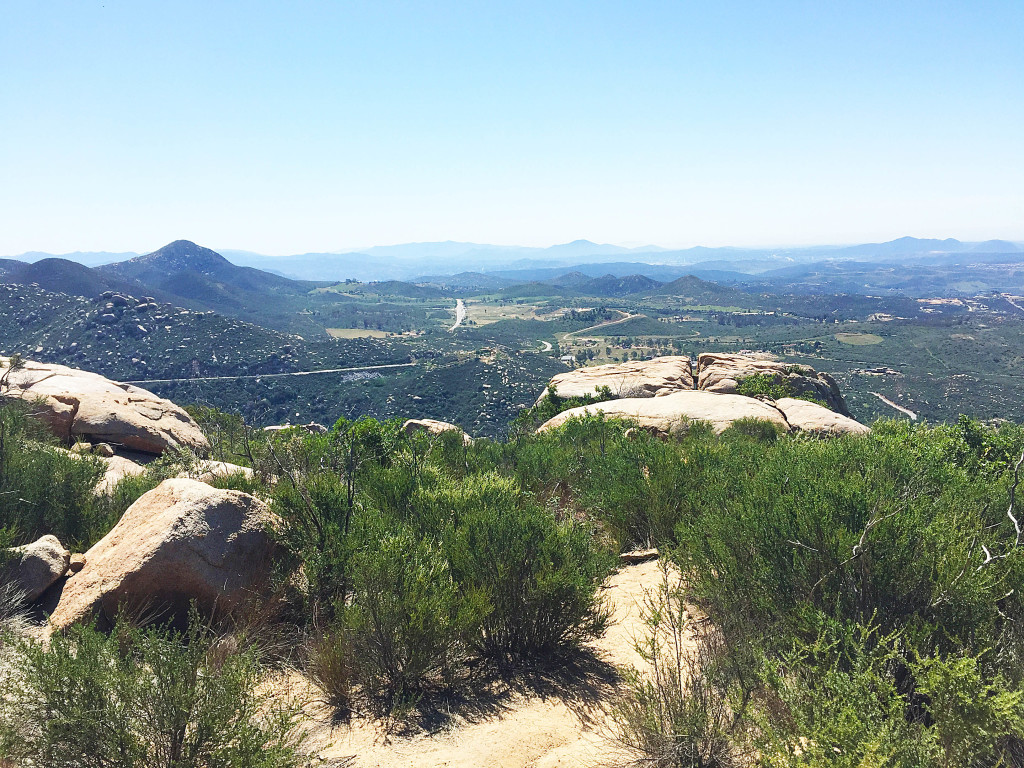 Mount Woodson. Also known as Potato Chip Rock, this hike is a very popular hike in the town of Poway. I've only done it a few times, and it's one of the hardest that I've done in San Diego County – making for a memorable area hike!
The hike usually takes me about 3 hours to complete and wipes me out. I always make sure to pack lots of water and snacks for Potato Chip Rock hikes.
The incline up this mountain is no joke! I wrote in my more recent recap of this hike that my heart rate was constantly around 180 most of the time because the mountain rarely gives you a break to catch your breath. It's just a constant steady incline up, up, up! The nice part about that though, is that once you reach the top, you know it's pretty much all easy breezy back down the mountain… and that part feels awesome.
<< Read my reviews of the hike to Potato Chip Rock here and here.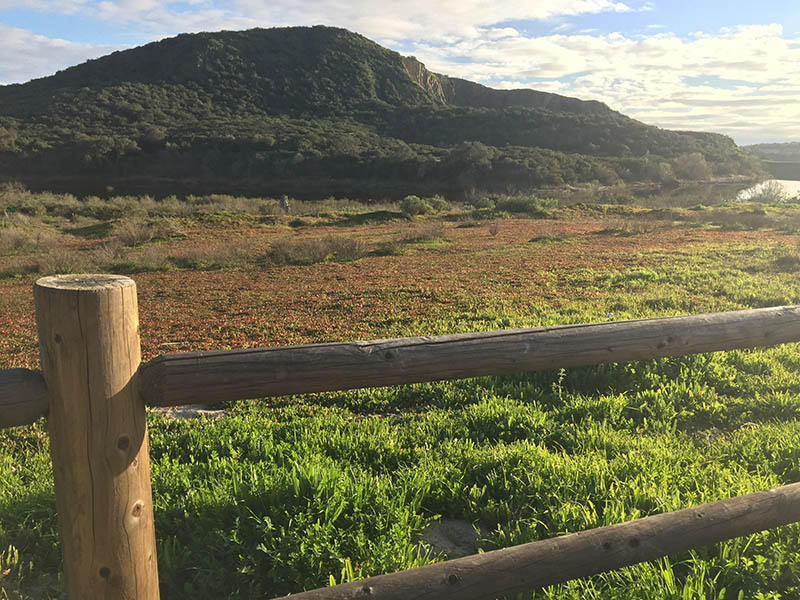 Lake Calavera Preserve. Nestled in the North County town of Carlsbad is Lake Calavera. Hiking up the little mountain and around the lake takes about an hour, making it for a great short workout when I don't have a lot of time but want to hit the trails. The neat thing about this mountain is that it was once a volcano.
Not only is it a fun little hiking area, it's also great for mountain biking. I live nearby so I frequent Lake Calavera weekly!
<< Learn more about Lake Calavera here.
Tell me… Which San Diego area hike do you think you'd enjoy the most? Locals, which of these hikes have you done?