Hi friends!
How was your weekend? Mine was super low-key – which worked out since it was my first weekend home in a month. The San Diego area got a rare weekend full of rain and stormy skies, so I spent a lot of my time taking care of housekeeping stuff for the blog and actually for my house – it's amazing how both my virtual mail and actual mail piles up when I'm out of town! – and in the kitchen baking and cooking.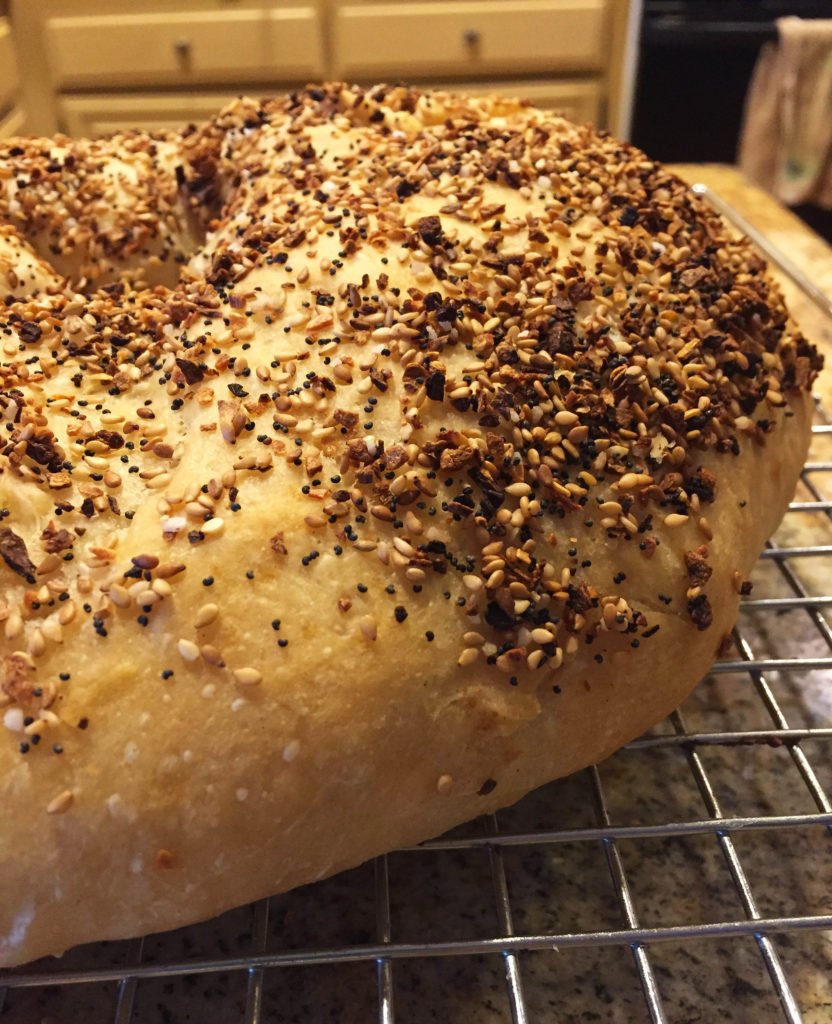 I even made homemade bread, which I haven't done in quite awhile. Making bread from scratch isn't hard, there's just a lot of time waiting for the dough to rise – but, being home doing about half a dozen loads of laundry, it fit in perfectly with my weekend. I decided to sprinkle some everything bagel seeds on top of the dough, and it came out like one giant everything bagel. Kind of awesome!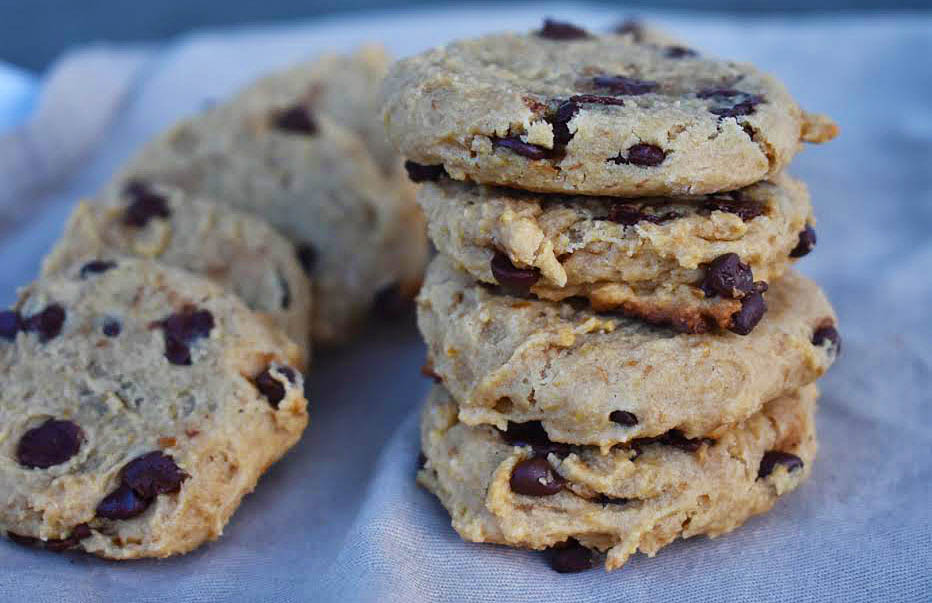 And speaking of baking, today I have a Monday treat to share!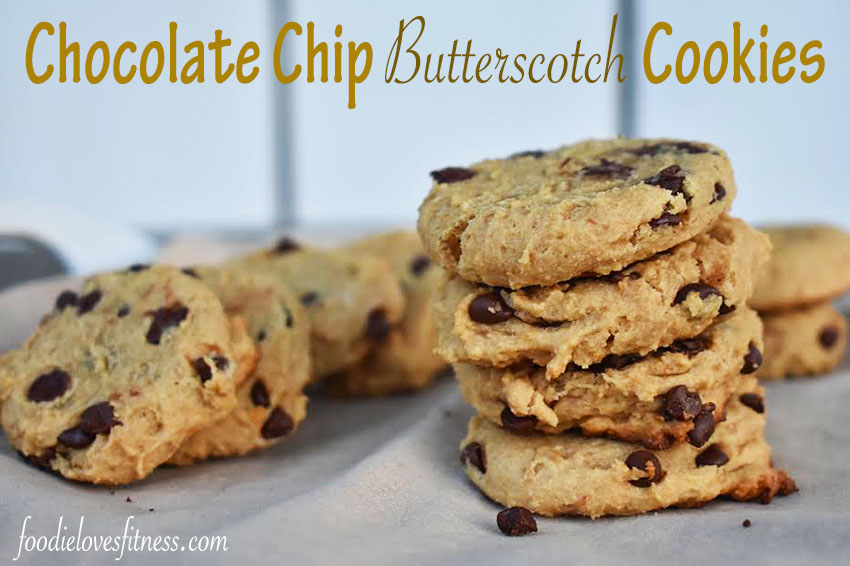 A couple of weeks ago, a few of the women in my life had birthdays. In usual food blogger fashion, I wanted to give them homemade sweets as a little birthday treat.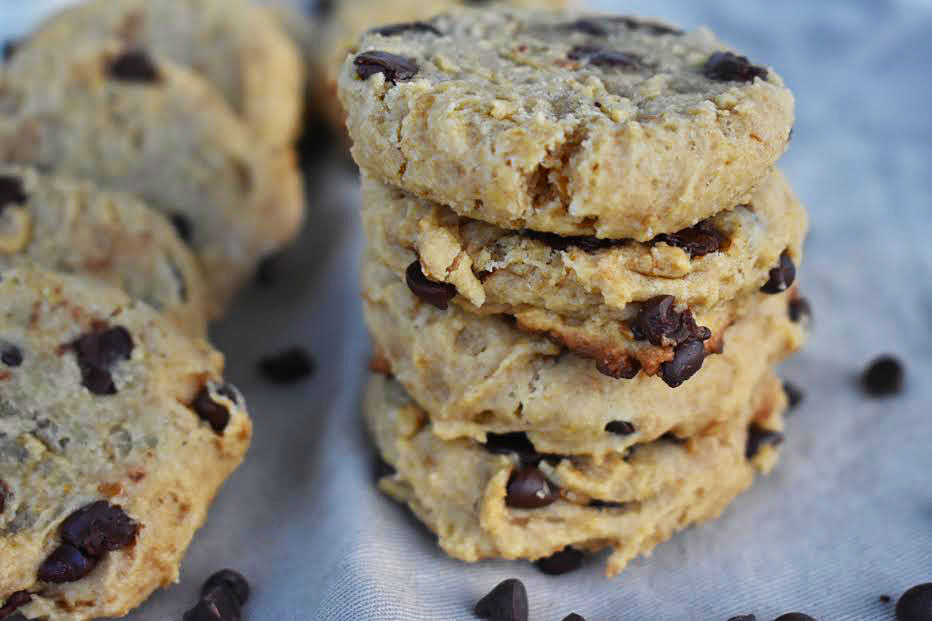 And since I was feeling creative, I wanted to try a new recipe or two. I wound up making birthday cake energy bites, along with these chocolate butterscotch cookies.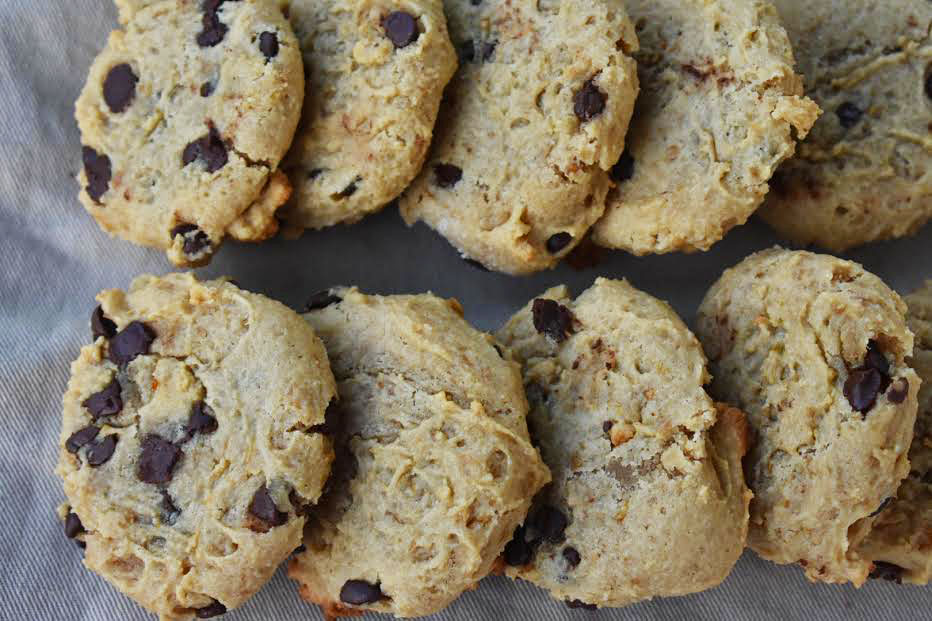 I even brought a plastic container of treats with me in my luggage on my work trip to Vegas to give to my boss, whose birthday was that week, and got the thumbs up on the treats from her. What can I say, I like people to have sweets to enjoy on their birthday!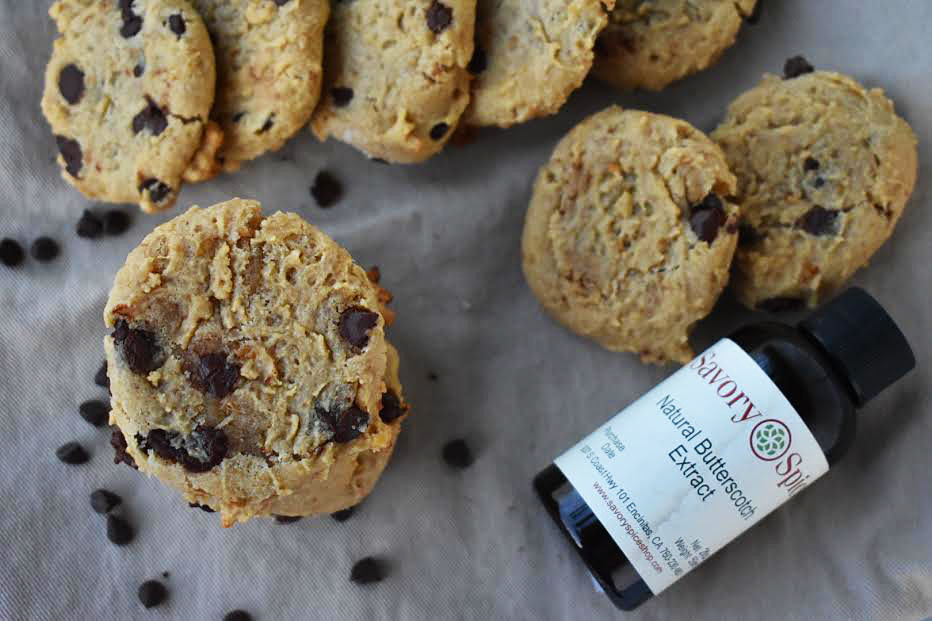 Remember when I recently shared a recipe for chocolate pistachio energy bites and was talking about a spice shop that I had visited and bought some goodies at? Well this recipe uses another find that I picked up that day: butterscotch extract.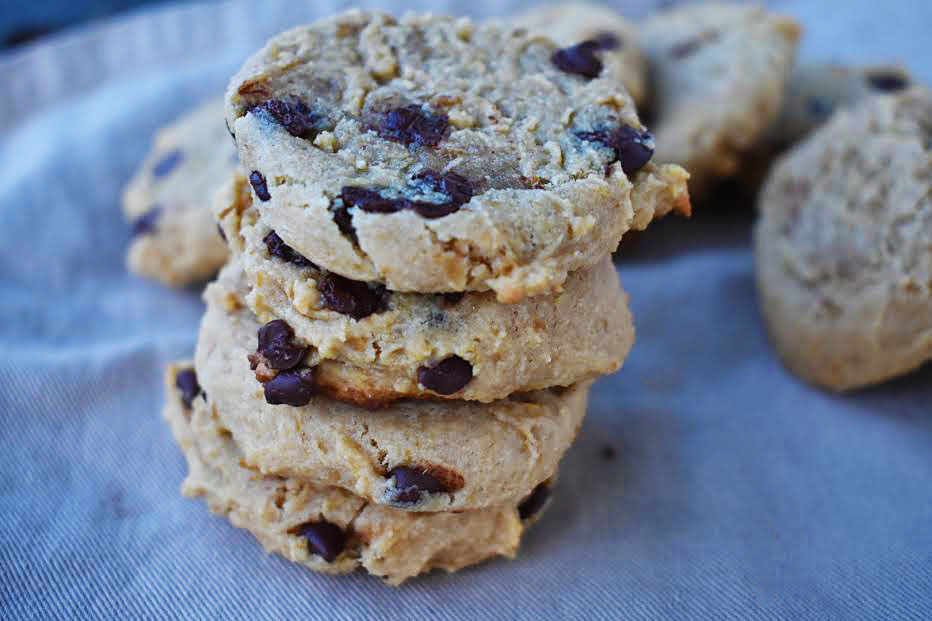 A butterscotch flavor in baked goods is traditionally achieved by combining brown sugar and butter, and sometimes corn syrup, cream, and some other ingredients. I wanted to make these cookies dairy free, so I made them by using some of my butterscotch extract, along with light brown sugar and Earth Balance vegan buttery spread. These cookies don't have any overpowering butterscotch flavor, just a hint of it.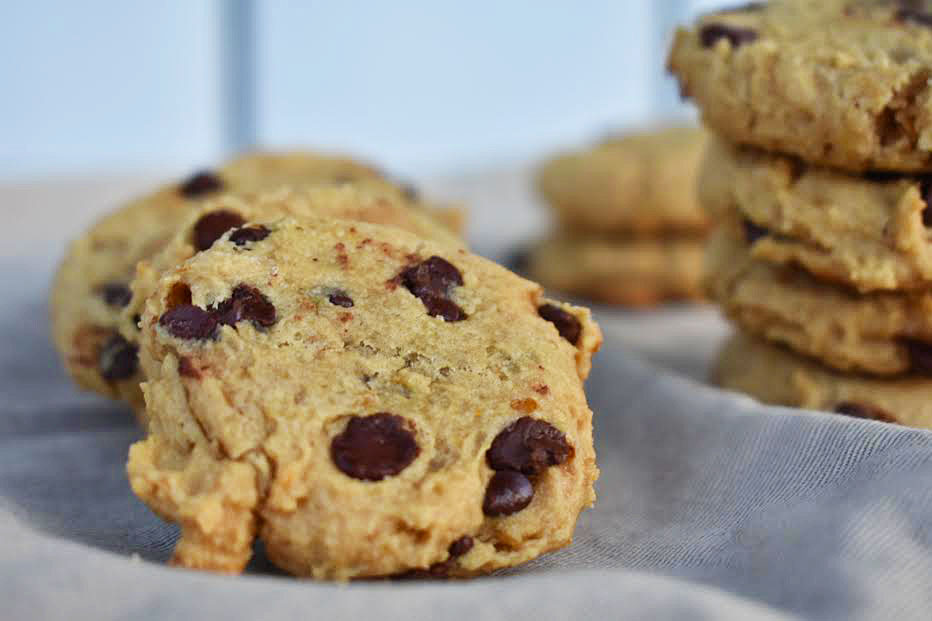 And of course I added mini chocolate chips, because I hold the belief that most baked goods can only get better with some chocolate. Am I right?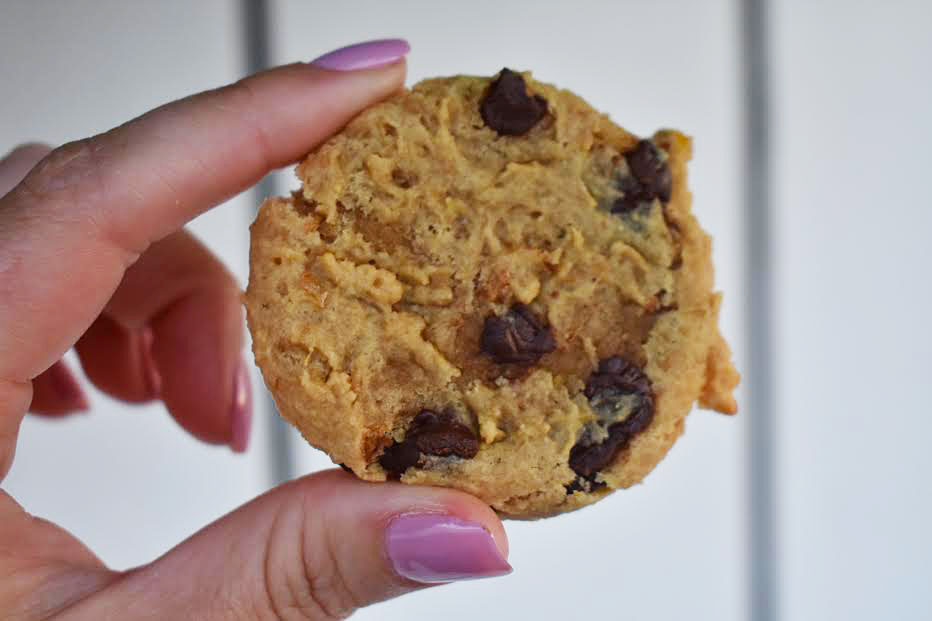 These cookies take a fun twist on traditional chocolate chip cookies, from their butterscotch flavor to the use of almond flour. Try them the next time you get caught by the baking bug for a dairy free dessert!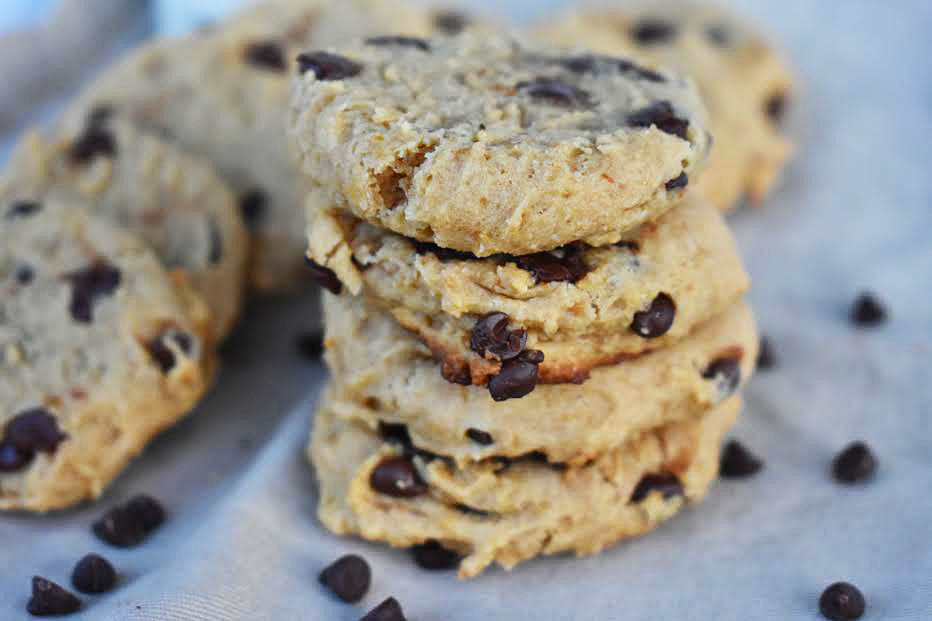 Chocolate Chip Butterscotch Cookies
Author:
Foodie Loves Fitness
Prep time:
Cook time:
Total time:
Ingredients
1 cup almond flour
½ cup all-purpose flour
1 flax egg: 1 TBSP ground flaxseed + 3 TBSP water
½ cup light brown sugar
¼ cup Earth Balance, or other plant-based butter, softened
¼ cup natural apple sauce
¼ cup dairy free mini chocolate chips
2 TSP butterscotch extract
1 TSP baking powder
¼ TSP salt
Instructions
Preheat oven to 350 degrees. Coat a baking sheet with cooking spray.
Make the flax egg by combining the flaxseed and water in a small bowl. Set aside.
Cream the vegan butter and brown sugar with an electric mixer until smooth. Add in the butterscotch extract, apple sauce and flax egg. Beat until combined well.
In another bowl, combine the flours, baking powder and salt. Mix with a wooden spoon, then add in the wet ingredients and stir. Add in the mini chocolate chips and stir until mixed in evenly.
Use a cookie scooper or spoon to form 18 cookies on the baking sheet, flattening them with a spatula or the bottom of a glass. The cookies will not spread much when baked, so you can place them closely together.
Bake for 10 minutes, or until lightly browned. Transfer to a cooling rack and allow them to slightly cool before enjoying.
Nutrition Information
Serving size:
2 cookies,
Calories:
210,
Fat:
14g,
Carbohydrates:
20g,
Sugar:
15g,
Fiber:
2g,
Protein:
4g
Tell me… What the last kind of cookie you ate? Do you bake homemade bread often?