I'm such a sucker for any kind of place where high-quality food is the focus. Farmers' markets. Gourmet food shops. Italian markets. Bakeries. I love it all. It's no secret that I love experimenting in the kitchen, and finding new foods and ingredients gives me inspiration to try new recipes… plus I just love eating food, obviously.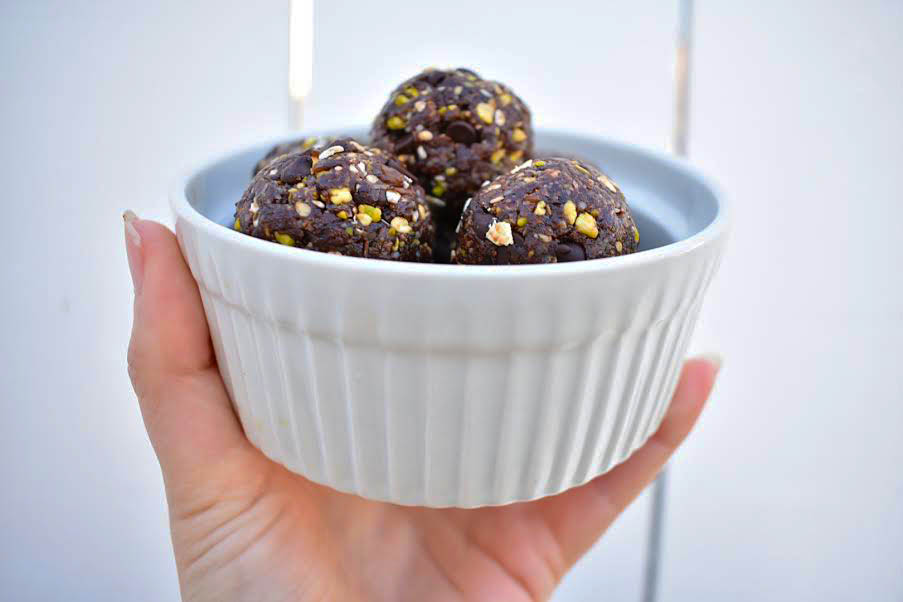 A few weeks ago, I was walking to a Starbucks to work for awhile before meeting a friend for dinner, when I passed by a spice shop. I've seen it before when it was closed for the day, but this time it was open.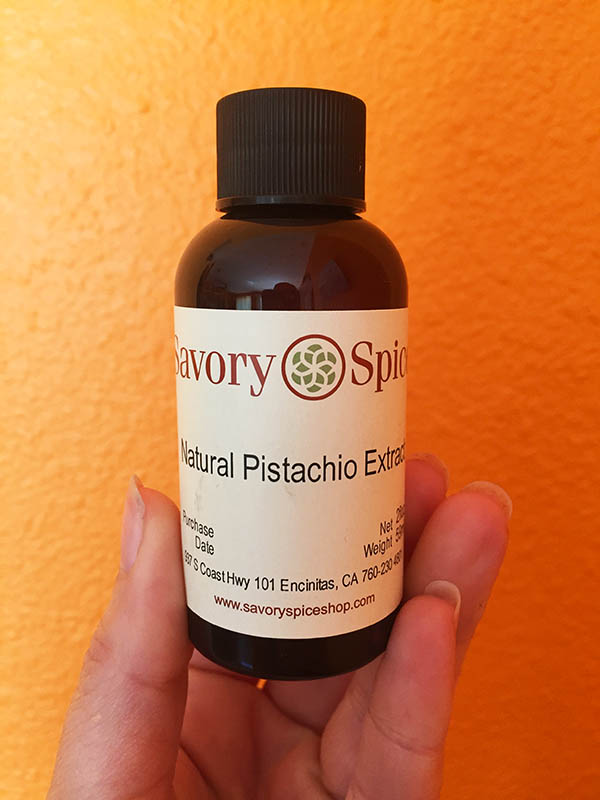 Naturally, I walked in the shop and moseyed around smelling and tasting things. I wound up leaving with some goodies – all that were new to me, with the exception of local cinnamon infused honey (I pretty much buy that whenever I see it!).
For San Diego area locals, the shop is called Savory Spice in Encinitas, and it's super fun to pop into if you're a spice nut like I am!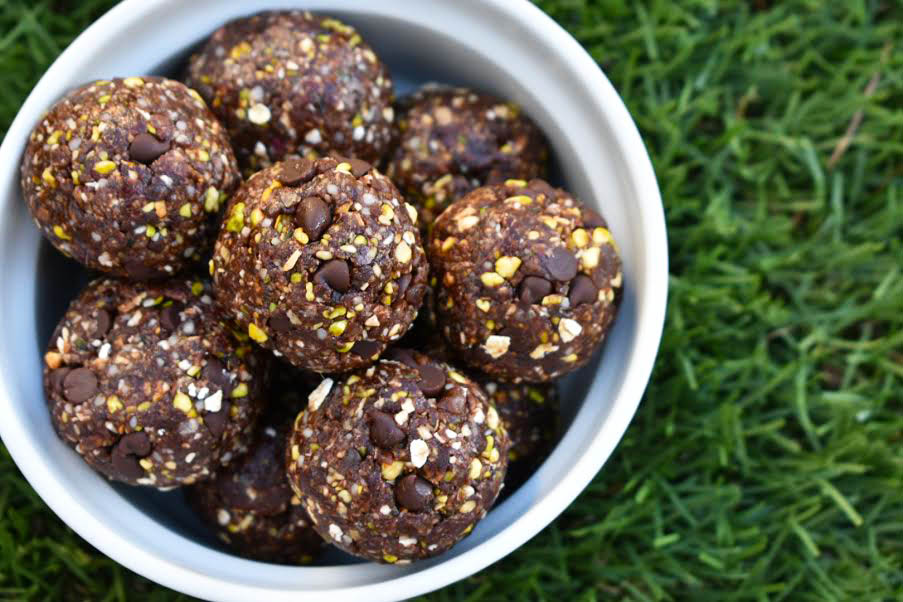 One new-to-me thing that I bought was pistachio extract. I'm a fan of pistachios, but for some reason they're a forgotten nut to me sometimes. I'm constantly all about peanut butter, almonds + almond butter, cashews + cashew butter… but pistachios seem to fall by the wayside. Then I make something with them and am reminded that I dig em.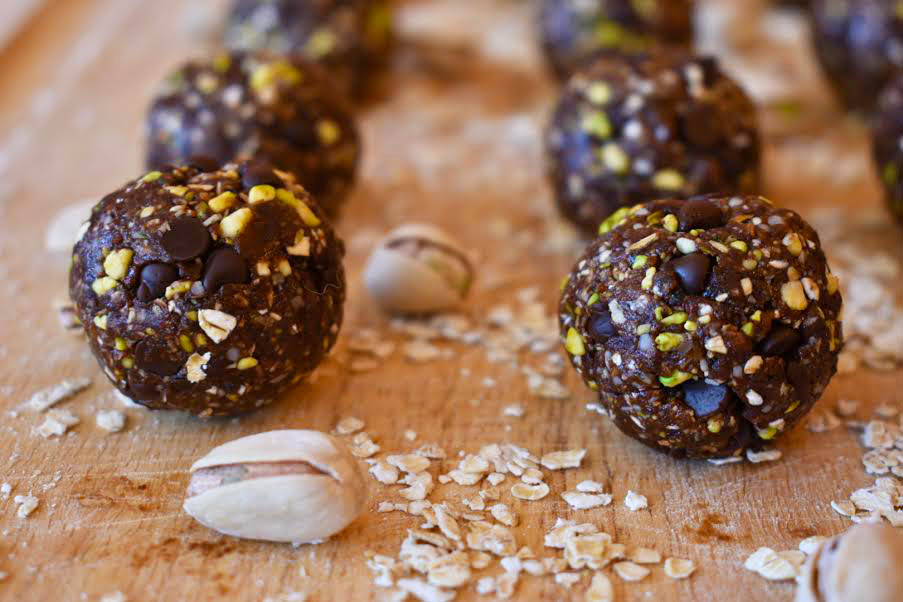 Side note: Is pistachio butter a thing?
….Just Googled it and it is a thing! I've never seen it in stores near me. I think I should try making it sometime soon.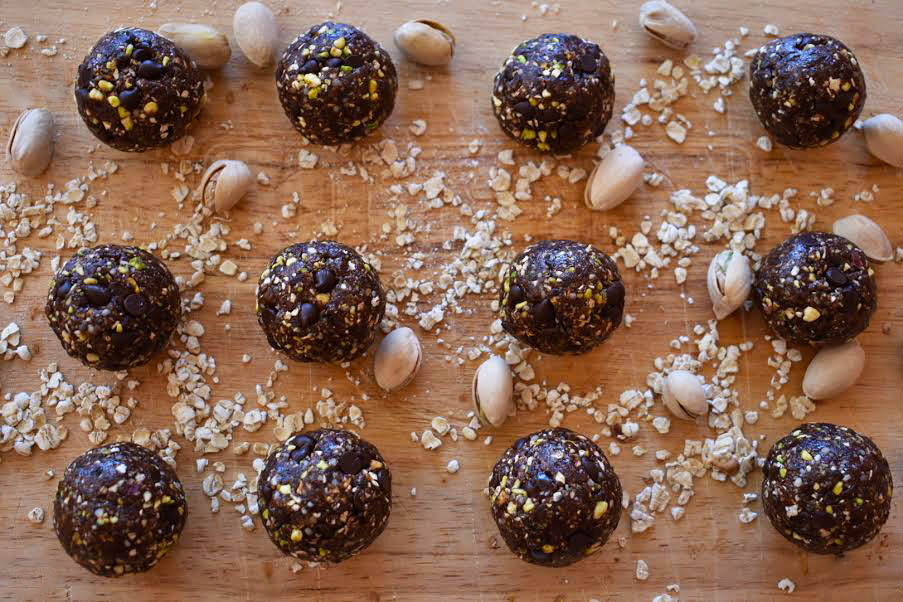 I digress. Any who, I've started playing around with this pistachio extract and I love the nutty flavor it adds to things. That's code for: this is my first pistachio extract recipe but it will not be my last. 😉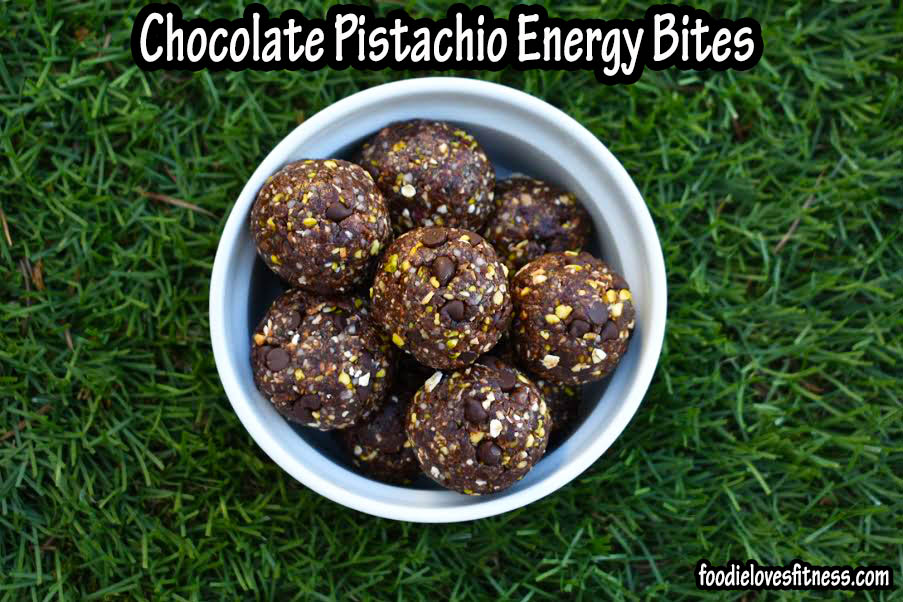 Today's recipe is a healthy, yummy snack that's perfect for a little something sweet, to bring with you on-the-go, or to hold you over before dinner. I've mentioned a few times on the blog that I like to make a batch of energy bites at the beginning of the week to have around for such occasions, and right now just two of these babies are left sitting in a bowl on my kitchen counter for the week.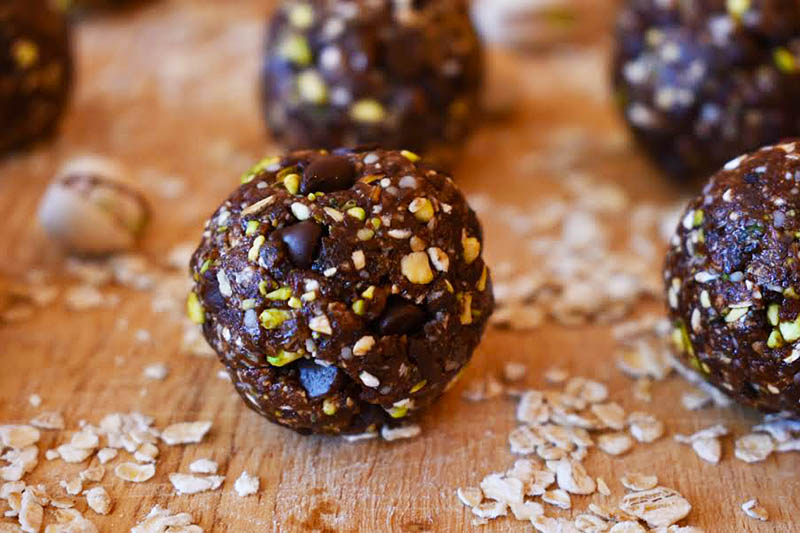 To make the energy bites, simply combine dates, cocoa powder, oats, hemp hearts, and honey with shelled pistachios in a food processor, and of course the pistachio extract gives it that extra nutty flavor.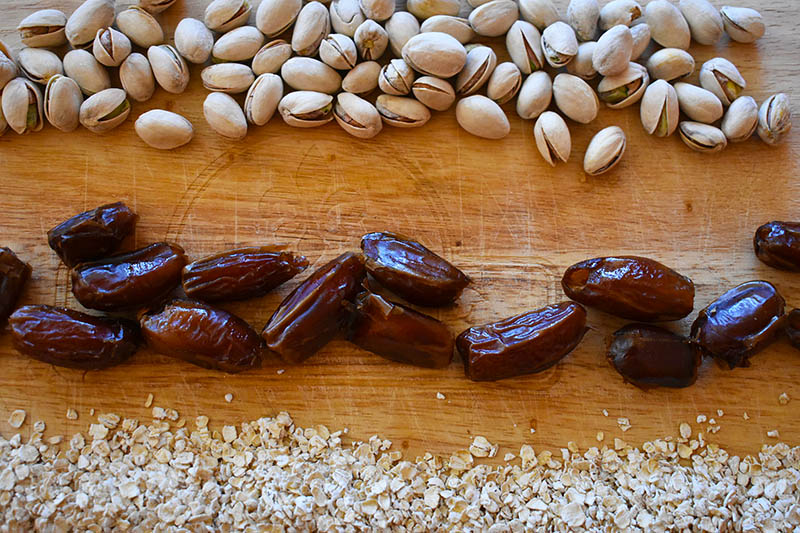 Next, add in some mini chocolate chips, pulse a few more times, and roll them into a dozen balls. That's all there is to it!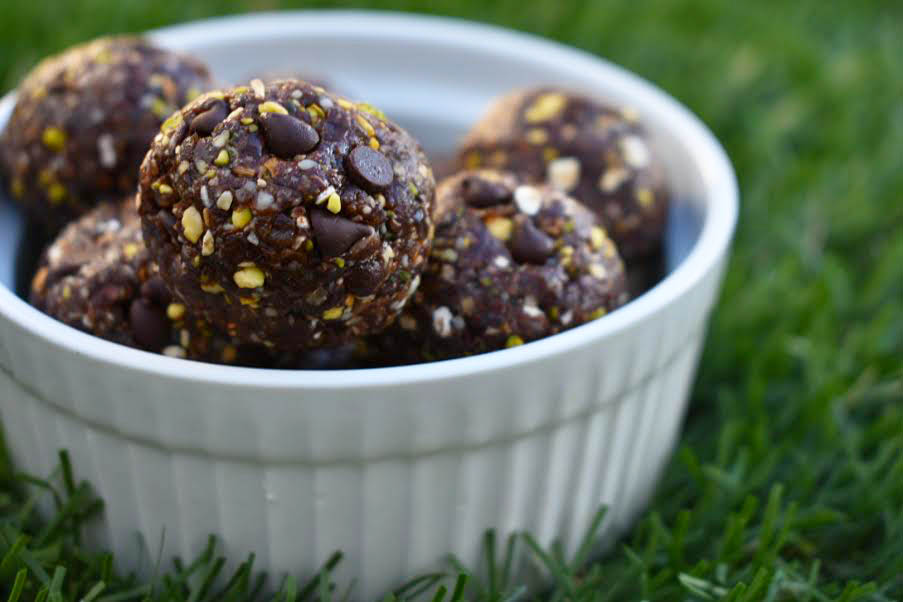 I especially like having snacks like this around when I'm crazy busy, as I feel like I have been lately. I'm traveling all of next week: first to Las Vegas for work, then straight to the east coast for my little brother's wedding festivities, so I'll definitely be whipping up some energy bites to stick in my purse and have with me as a healthy bite!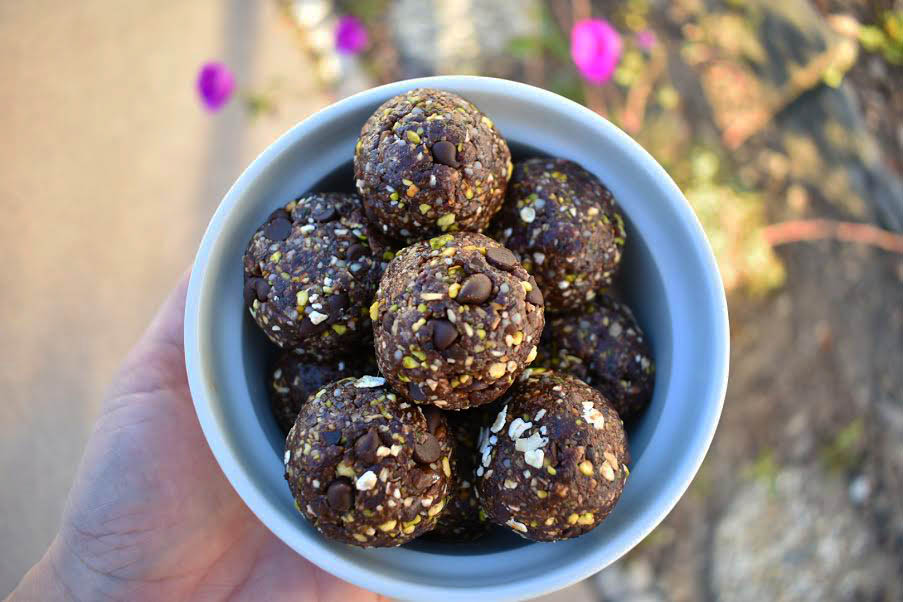 PS – I couldn't resist including a shot of these bites in front of a budding pretty plant in my backyard. I did a lot of work in my backyard last weekend and all of my flowers are blooming like crazy. Everything is looking tidy and gorgeous, and I'm thoroughly enjoying this springtime!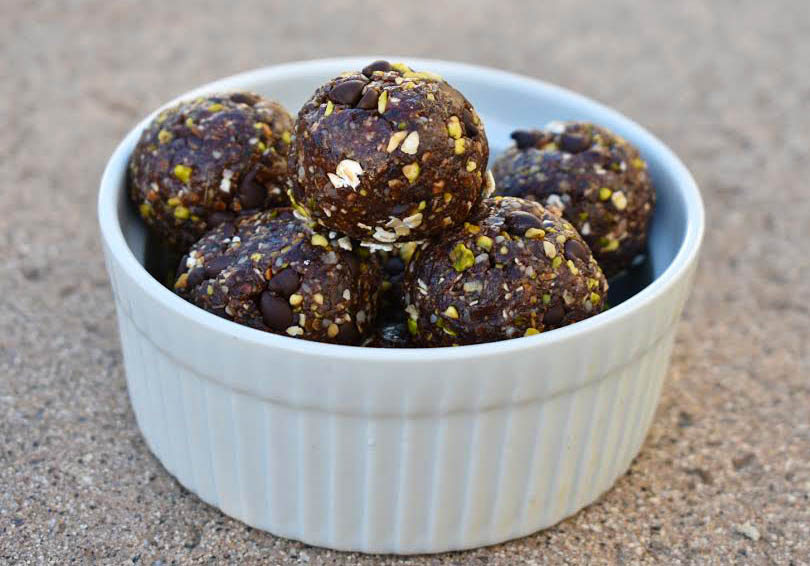 Chocolate Pistachio Energy Bites
Author:
Foodie Loves Fitness
Ingredients
⅓ cup shelled pistachios
⅔ cup dates, around 18
½ TSP pistachio extract
2 TBSP cocoa powder
½ cup dry quick rolled oats
3 TBSP hemp hearts
2 TBSP honey
2 TBSP mini chocolate chips
Instructions
Combine all ingredients except the chocolate chips in a food processor and pulse until it forms a dough.
Scrap the dough down from the sides, add in the chocolate chips, and pulse for just about 10 seconds.
Roll into a dozen round balls, and store in a bowl or airtight container.
Nutrition Information
Serving size:
1 energy bite,
Calories:
100,
Fat:
4g,
Saturated fat:
1g,
Carbohydrates:
16g,
Sugar:
12g,
Fiber:
2g,
Protein:
3g
Tell me… Which do you prefer: cashews, almonds, peanuts or pistachios? Have you ever had pistachio butter? Do you have blooming flowers too?
Random.. I actually dislike peanuts but love peanut butter!