Last weekend, my husband and I decided to seize the holiday weekend and take a quick road trip together. We both have been super busy and have travel coming up, so we welcomed the thought of getting to spend time together in a relaxing setting.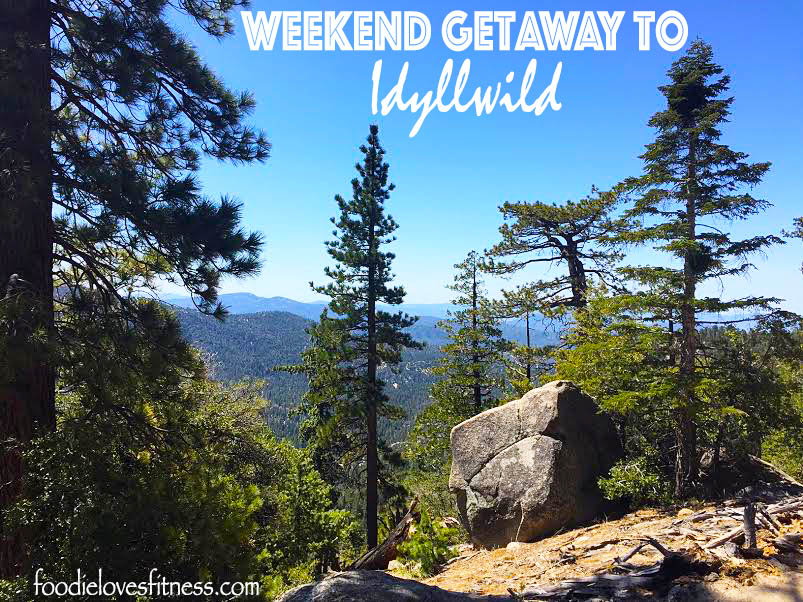 Having done so many road trips around California, I started looking for a place we'd never been to before. I wound up finding a place we had never even heard of called Idyllwild. Located a few hours from busy San Diego life, Idyllwild is a little town nestled in the mountains with a population of under 4,000 people. It sounded like the perfect getaway spot!
Where to Stay.
After doing some research, I booked us a suite at The Grand Idyllwild Lodge. Described as the boutique luxury lodge, the hotel has a modern but woodsy kind of feel to it. It was a a bit pricier than I usually try to find in hotels, but we had a very positive experience there. It's owned by a husband & wife team that live on the premises, and you can tell that they put a lot of care and thought into the lodge.

Idyllwild is the kind of place where most of the businesses are mom-and-pop type of places, which I love. We arrived at the hotel in the afternoon and got settled into our beautiful room – dubbed Suite Ambiance.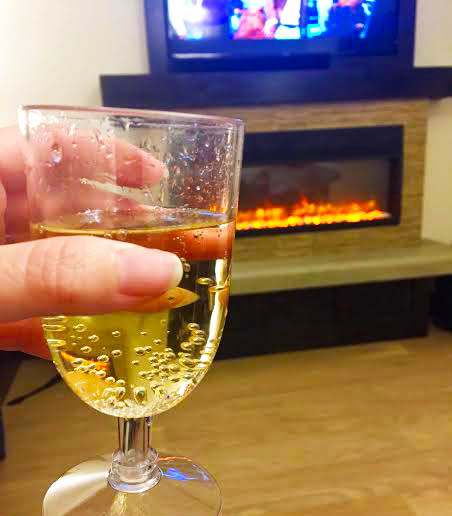 We brought a bottle of champagne with us, which we popped immediately. I also brought some crackers and snacks to nosh on, and we turned on the electric fireplace, enjoyed our bubbly and watched part of a movie. It was one sweet Friday happy hour!
I adored our bathroom at The Grand Idyllwild Lodge, which had a Japanese style soaking tub and dual rain head spa shower. The bathrooms in my house are older, so I get serious bathroom envy where I stay at places with awesome bathrooms.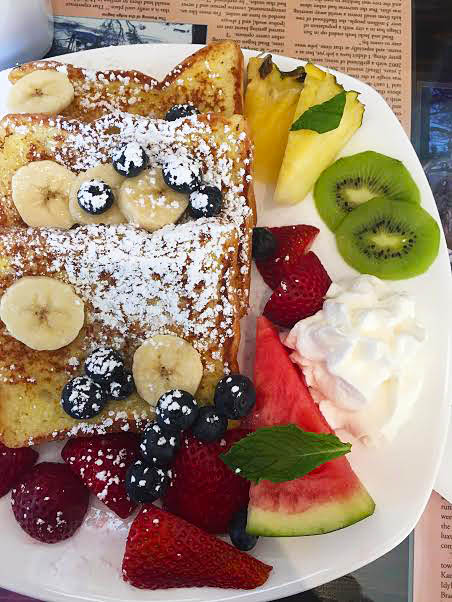 The Grand Idyllwild Lodge also has a small gym and sauna, and guests can enjoy complimentary breakfast every day. We were served French toast with fruit (+ chicken sausage for him) on Saturday morning.
Other accommodation options that caught my eye: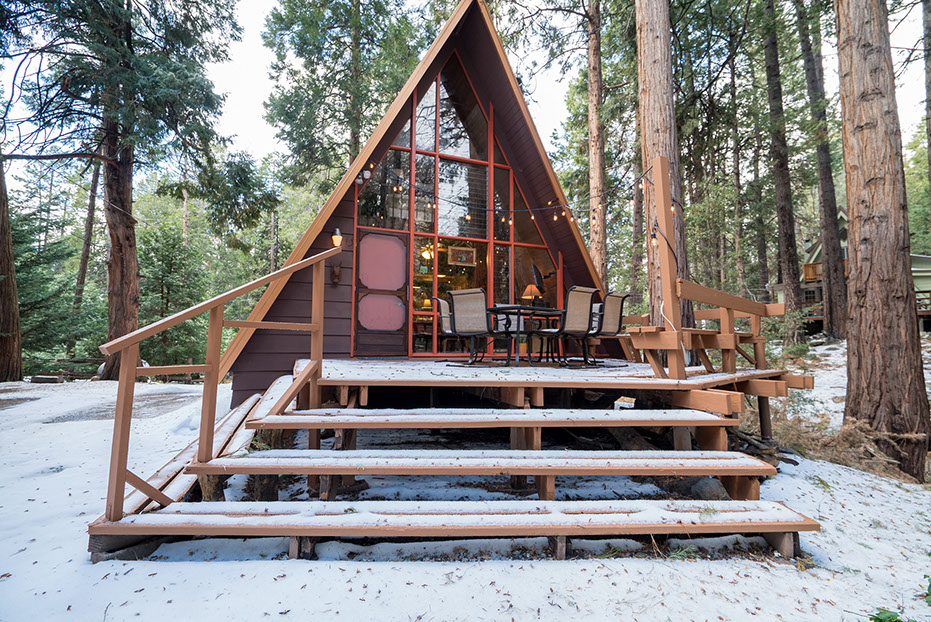 Idyllcreek A-Frame Vacation Cabin. Can we talk about how cute this house is?!
Bluebird Cottage Inn. These little cottages are more budget friendly.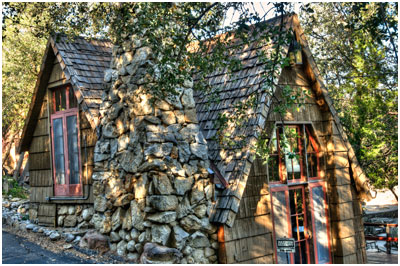 Creekstone Inn. I was intrigued by the above "tiny magical cabin" but Creekstone has a number of rooms plus a few other cabins available.
Where to Drink.
After our hotel room happy hour, we headed out for a second happy hour in town. We stopped at Middle Ridge Winery, a cute sister-and-brother owned tasting gallery (tasting room + art gallery).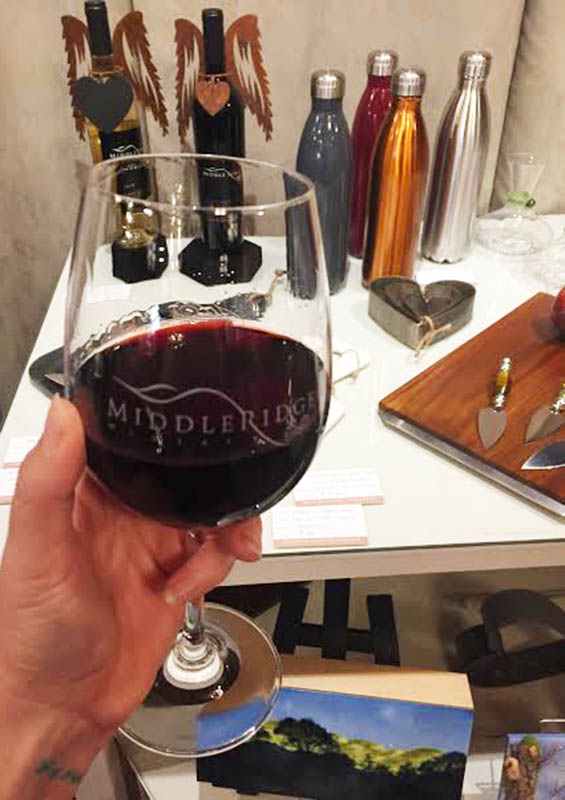 Co-owner Melody was super friendly and quick to share local recommendations. We decided on a glass of wine to split as we meandered around the art gallery checking out the pieces. Middle Ridge seems to do a lot of fun events, and had live music playing when we were there.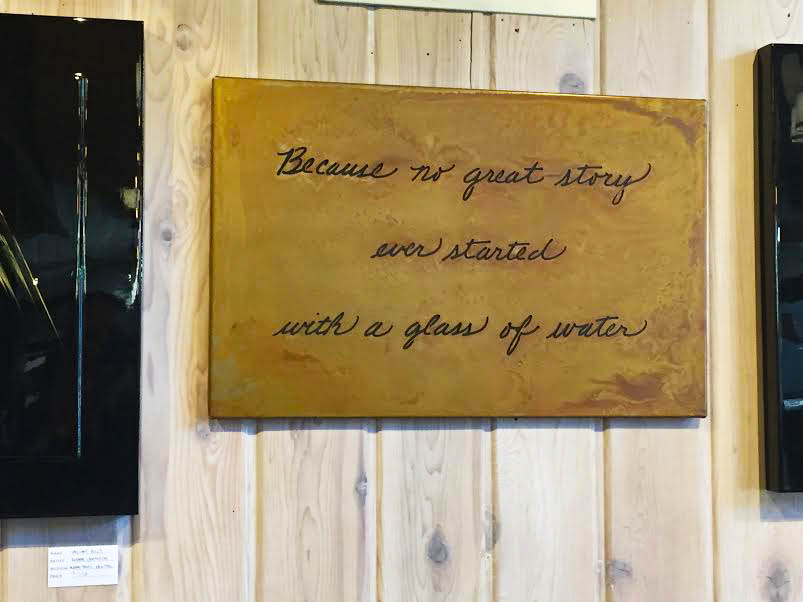 Other options to stop in for a drink or two:
Idyllwild Awhile Wine Shoppe & Bistro. Besides a variety of tapas (which I love!), sandwiches, and flatbreads, the wine shop also serves beer.
Idyllwild Bake Shop & Brew. This place combines two of my favorite things: booze + sweets!
Idyology. (This town really likes its name huh?) This bar + restaurant also has music and games, so it seems like it'd be a fun date night spot.
Where to Eat.
FERRO. As soon as I checked out the menu at FERRO, I knew we had to have dinner there. It's a cozy Italian restaurant with lots of options for health-conscious vegetarians like myself – including the Insalata Di Quinoa Rossa, a salad with quinoa, orange, fennel, pistachios and orange vinaigrette, and vegetable lasagna + risotto.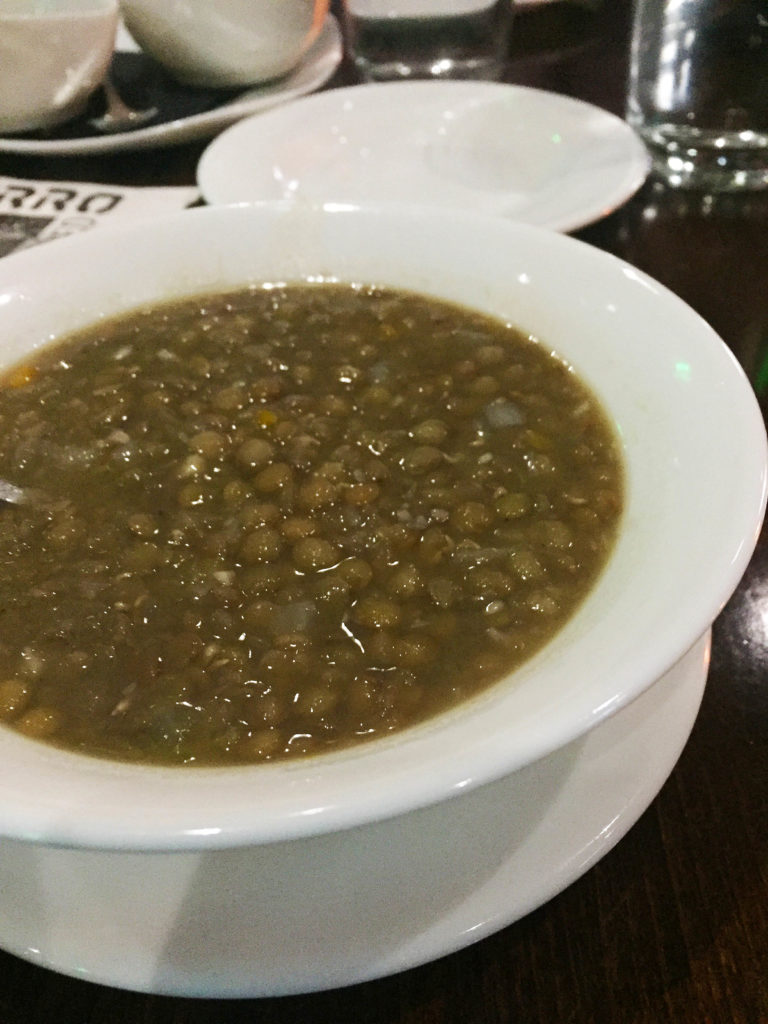 If you go to FERRO, get the bread. This was the advice that Melody at Middle Ridge Winery shared with us, and she didn't have to tell me twice. It was crusty, herby and all kinds of delicious. I dunked some into my above pictured vegan lentil soup.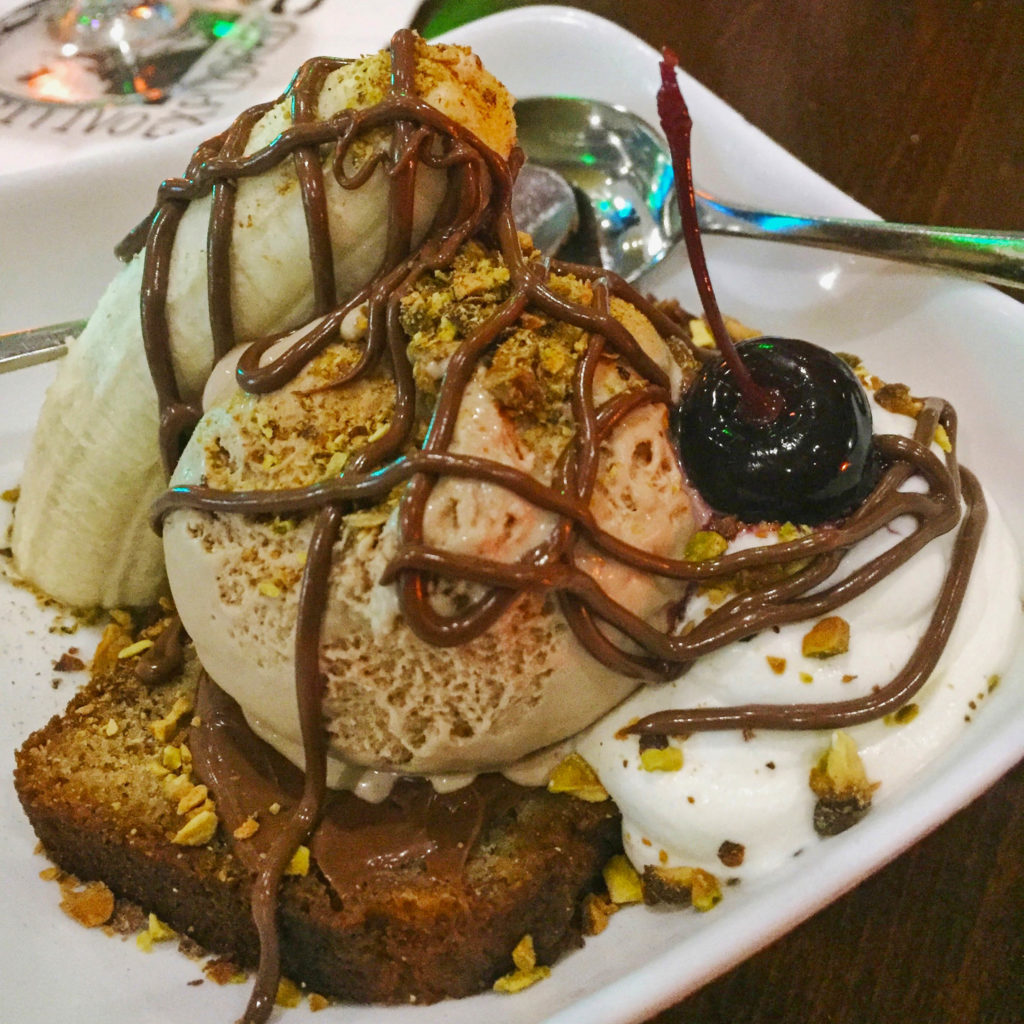 But my #1 pick from dinner at FERRO? Dessert! I ordered a banana bread topped with Nutella, banana, Nutella gelato and whipped cream. Divine. I'd also like to be trying their flourless hazelnut cake with vanilla gelato right about now!
Other food options:
Cafe Aroma. Described as a "mountain eatery with a touch of soul" by the LA Times, Cafe Aroma was completely packed when we drove by. I'm kind of wishing we had thought of popping in to grab a few scones on our way out of town – maybe next time!
La Casita , if you're in the mood for Mexican.
Gastrognome. You can visit for any meal of the day, and their patio is dog-friendly if you brought your pup on your getaway (ours stayed in town at her pet resort).
Where to Explore.
Idyllwild is nestled in the San Jacinto mountains, so there is no shortage of outdoor adventure to be had – whether you prefer hiking, biking, camping, rock climbing, or all of the above. Check out the Idyllwild Nature Center to learn more about the area and chat with the park rangers, who can help you plan out your adventure.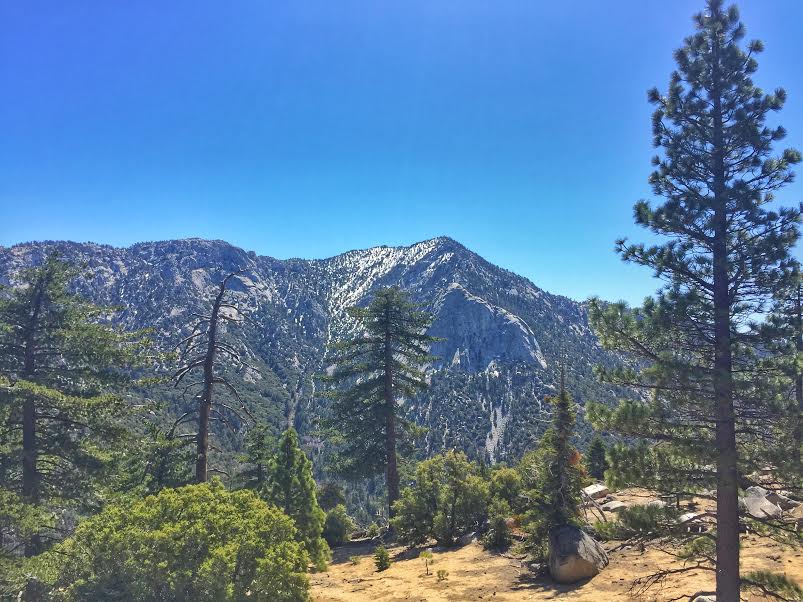 We settled on hiking Deer Springs Trail to Suicide Rock. It's about a 7-mile out-and-back hike with 2,000 feet of elevation gained, making for a good half-day adventure. Mount San Jacinto State Park requires you to get a permit to hike the trail, but it's free and just requires you to fill out your information on a piece of paper that you put in a box.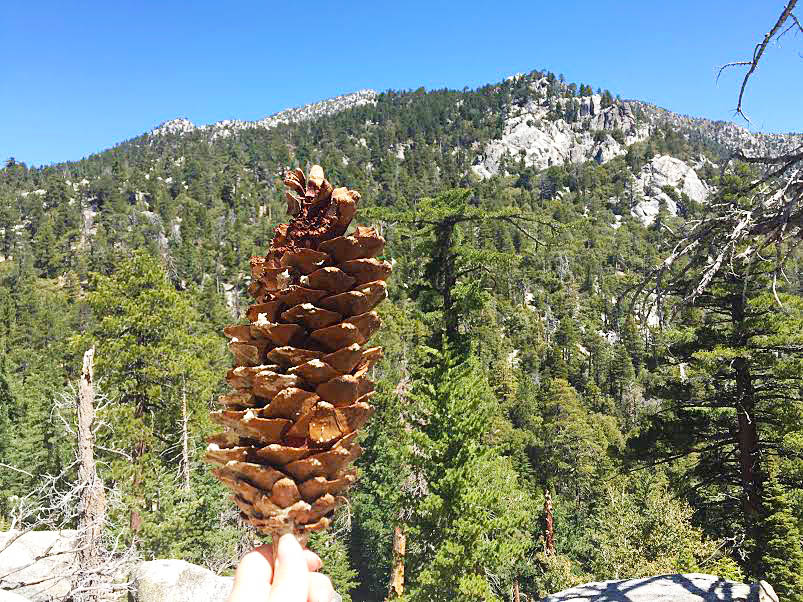 The trail has a steady incline for most of the way up, with gorgeous views of snow-capped mountains (a rarity in Southern California so it makes me excited!) and massive trees and rocks all around.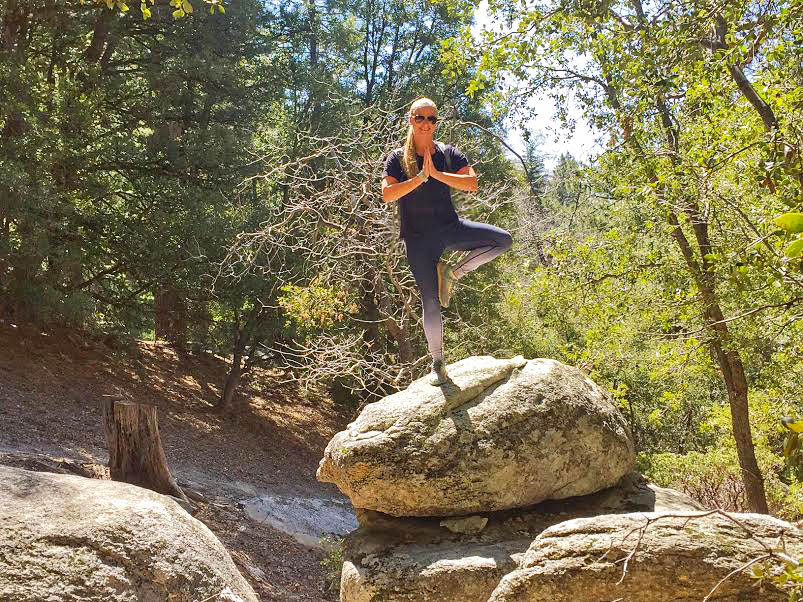 The trail itself has little to no signage, which is a little annoying yet expected when you're an avid hiker. There weren't too many people around, which I can always appreciate on a trail.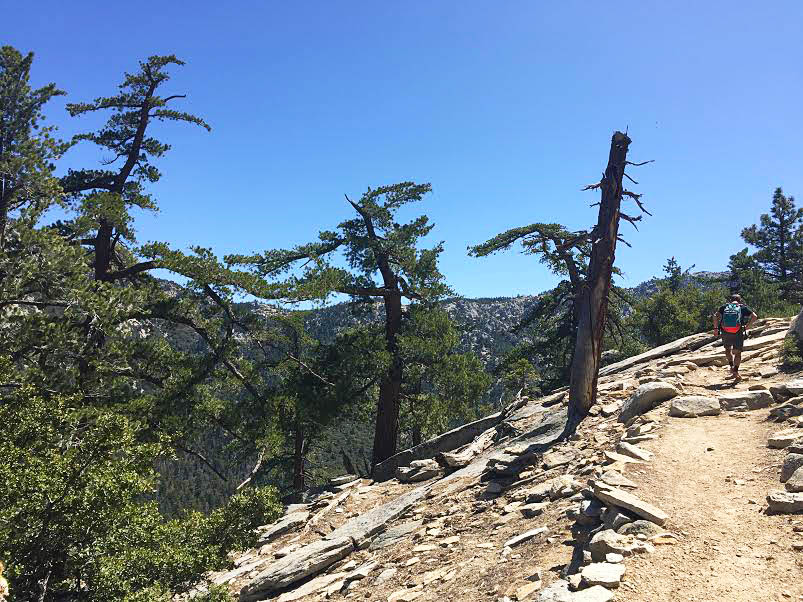 During our hike, the weather was perfect. The air in the mountains was crisp and cool, but the sun was shining bright. Couldn't ask for better hiking weather!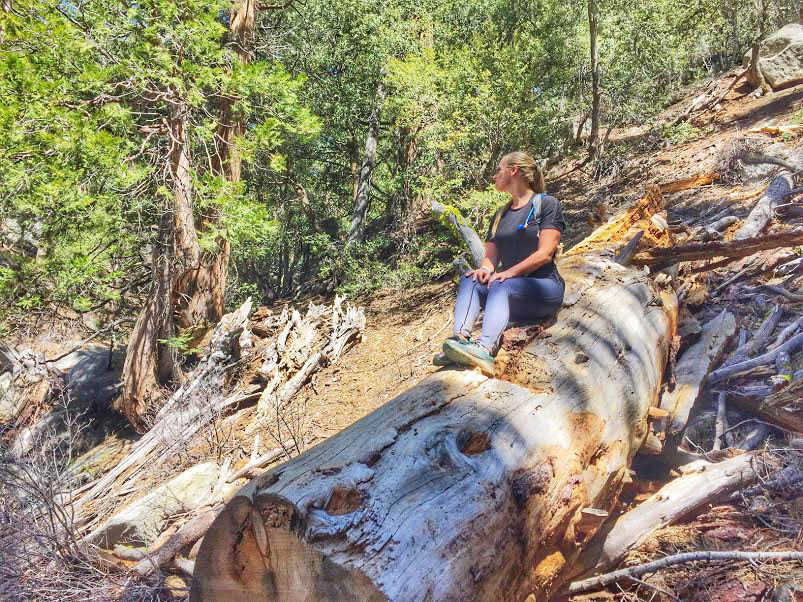 There are a number of trails you can take from Deer Springs Trail, including the Pacific Crest Trail. I would love to hike to the peak of Mount San Jacinto sometime! That hike is pretty intense (18 miles!) and per Modern Hiker, takes somewhere around 12 hours to complete.
I've been itching for an overnight/all day extreme hike lately, and I actually put in a lottery application to hike Half Dome at Yosemite this summer… which was unsuccessful, so maybe I'll be back to hike to San Jacinto Peak sometime this year!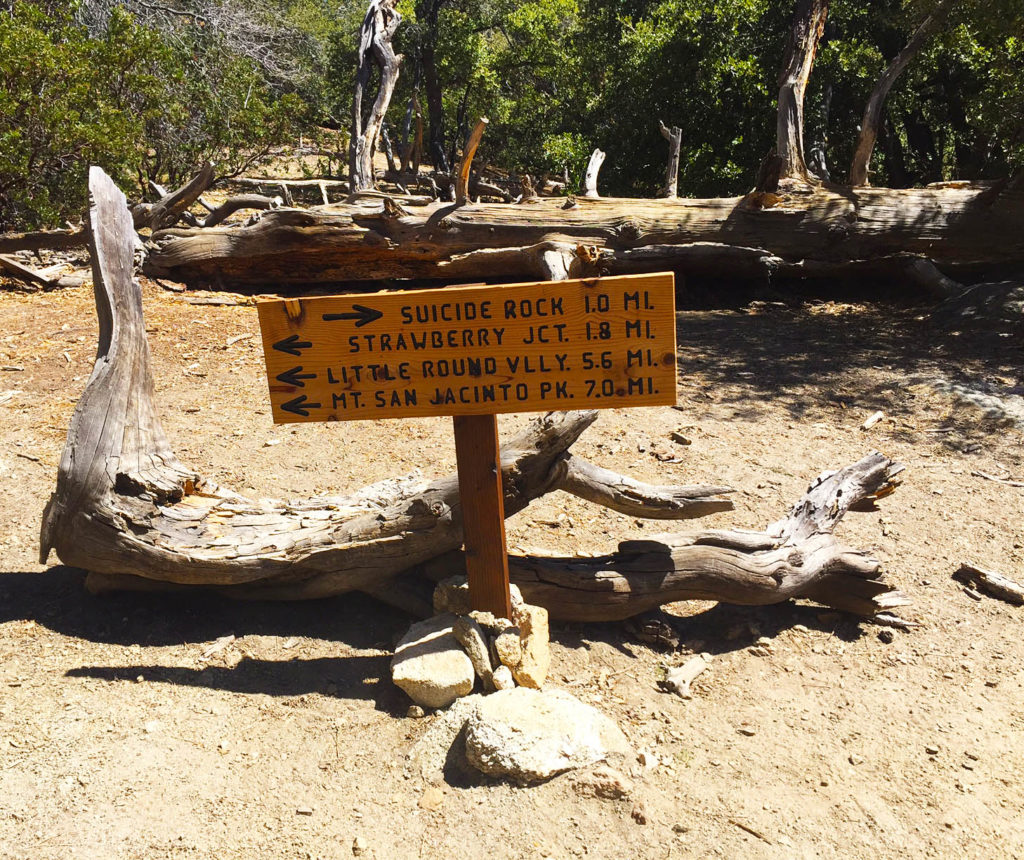 We headed out to the Suicide Rock junction, and made it up to the rock in about 1 hour and 45 minutes. The view up there is breathtaking!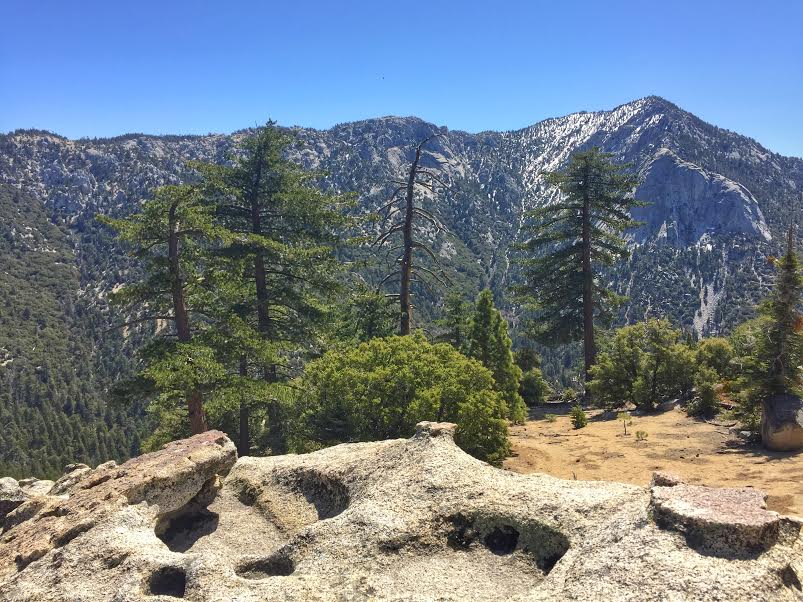 The scenery reminded me a lot of Lake Tahoe, and we took a few moments to soak up the beauty.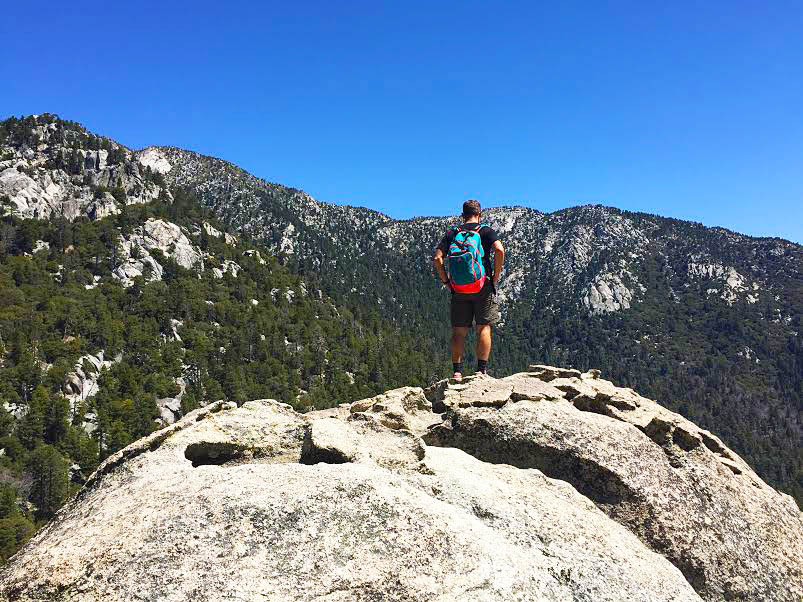 If you're wondering what's up with the name, it's a Romeo & Juliet story of sorts. Legend has it that a Native American princess threw herself off of the rock with her lover, rather than being separated as the tribal chief had ordered them. Intense huh?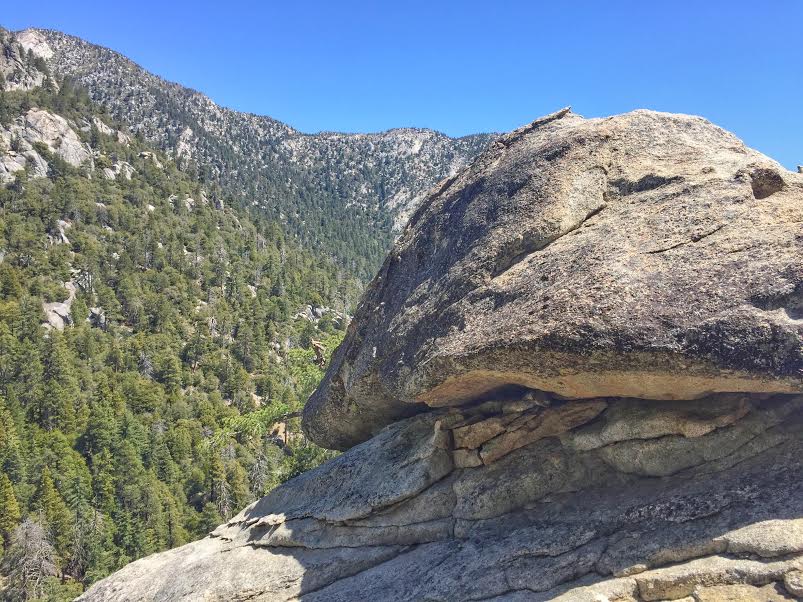 After enjoying the Suicide Rock view, we just took the trail back down the way we came. The trail took us 3 hour and 15 minutes to complete, and I burned a good 1,300 calories hiking – which meant car refueling of lots of water + protein bars & cookies. I always pack lots of snacks when I go hiking!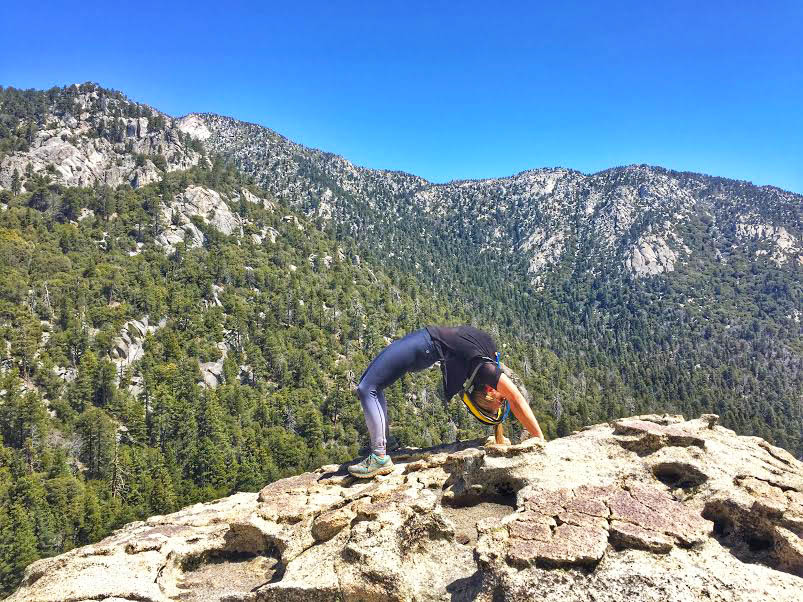 From there, we headed straight back home – my feet aching a bit from the hike, but feeling happy from our perfect little mountain getaway.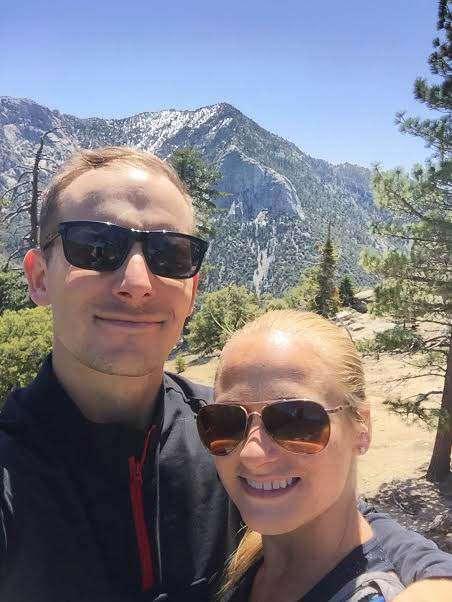 Tell me… When was the last time you went on a road trip? Any upcoming travel plans?