My recent trip to the east coast included more on the agenda than just visiting family – it was also to throw a bridal shower for my little brother's bride-to-be! I'm a bridesmaid in their wedding next month, and I flew in to help celebrate with a bridal shower surprise.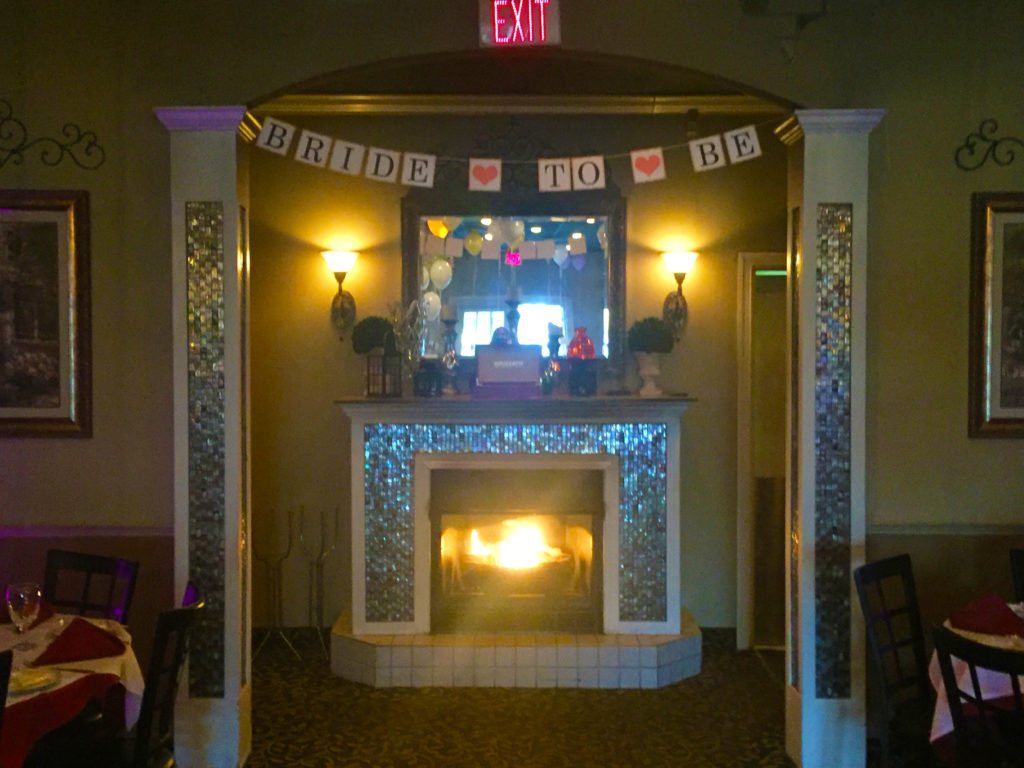 I had fun planning out all of the decorations and little details that went along with their springtime wedding pastel color theme, and today I thought I'd share a few of the fun party ideas that I implemented with the other bridesmaids and my mom.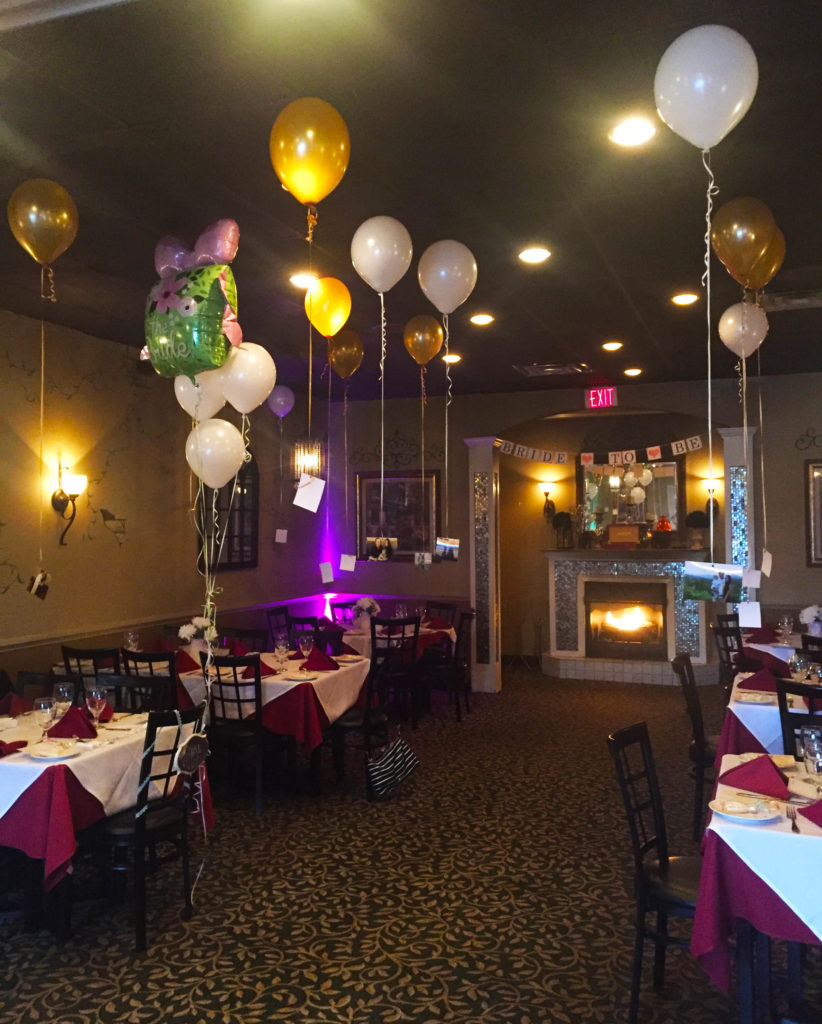 1.) Photo Balloons. I absolutely love doing photo projects, and I know that my soon to be sister-in-law Dez also digs them too… so making photo balloons was one of my first ideas for the party. The basic gist is to attach a photo to each balloon and have memories floating around the party all day for guests to check out.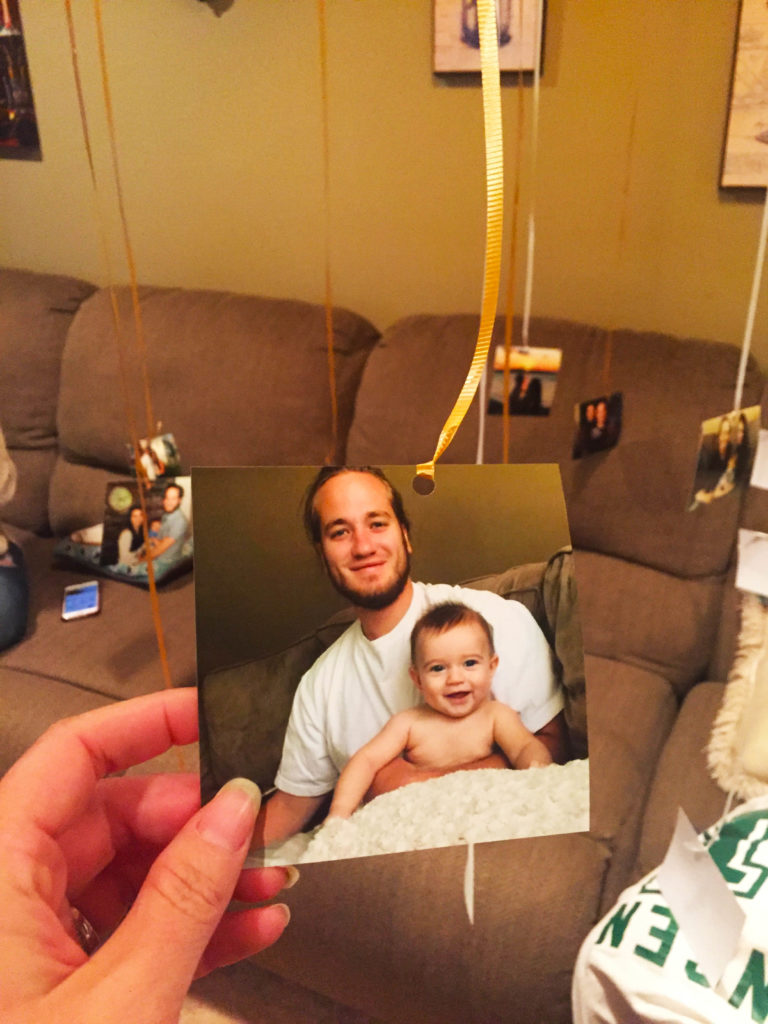 My brother Danny and Dez have a 3-year old boy, so it was fun going back a couple years and including photos from when he was just a baby. I also included shots from when the two of them had just started dating in college, along with some of their first photos as a family.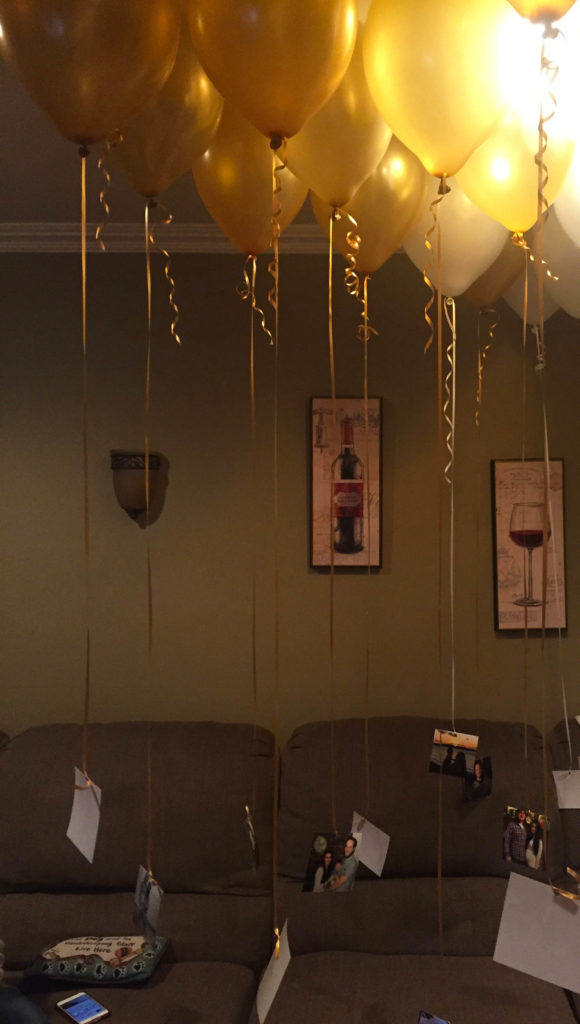 To do this, I ordered 35 photos, hole punched each one, then knotted the balloon strings around each photo. A few of the balloons started sagging, so I had to cut some of the photos to make them a tad bit lighter to fly free. I decided to go with a mix of gold + white balloons, which wound up looking really pretty.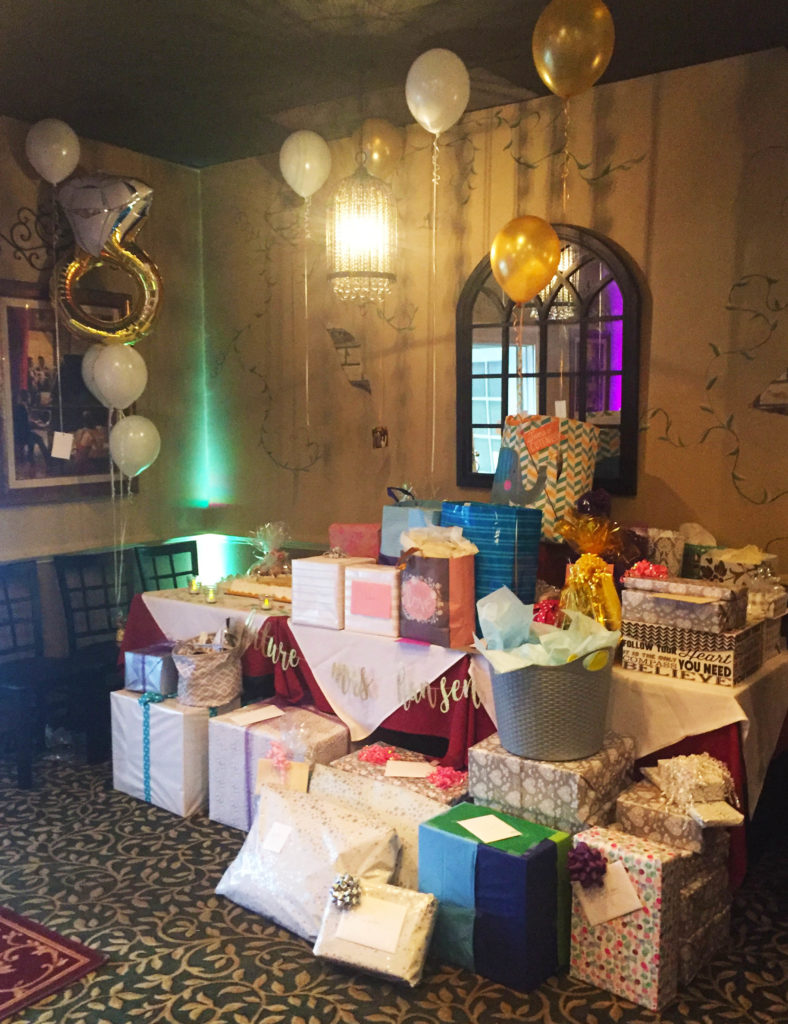 I also ordered a couple of weighted balloon bouquets to place around the room, including a champagne balloon that we put near the alcohol and an engagement room balloon bouquet that we placed near the present table.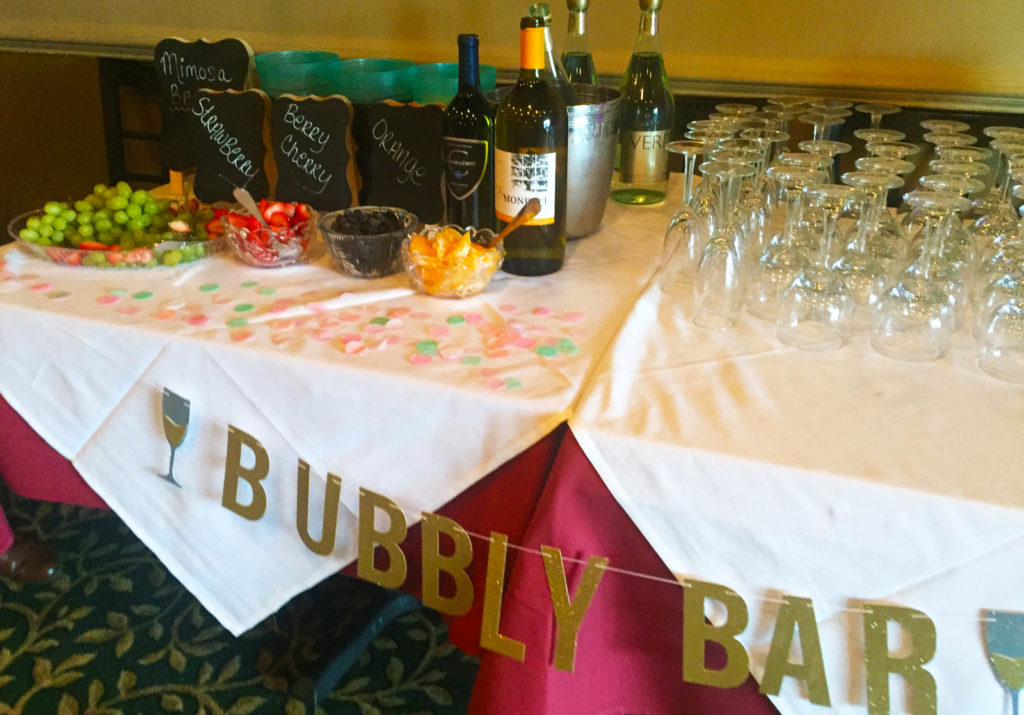 2.) Mimosa Bar. I had seen mimosa bars online of other bridal showers, and was happy to finally have the chance to do my own mimosa bar!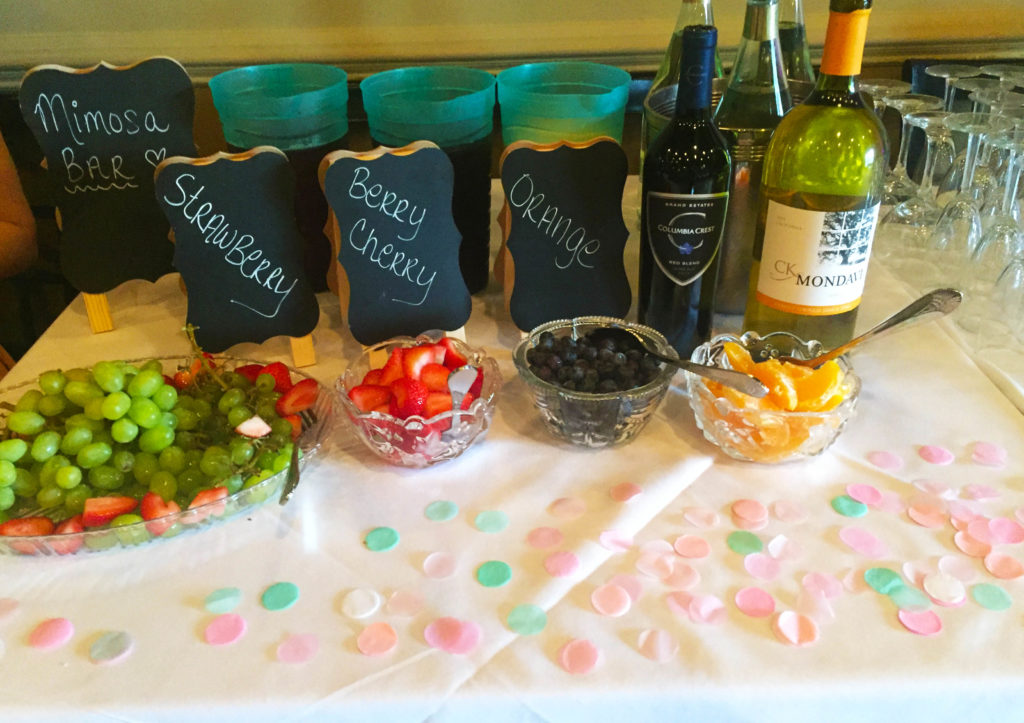 For the mimosa bar, you need a.) champagne, b.) different kinds of juices, c.) a couple of different kinds of fruit. I also bought a 'Bubbly Bar' banner online to hang on the front of the table, along with a large chalkboard sign for a festive bar note + smaller chalkboard signs to label the juices.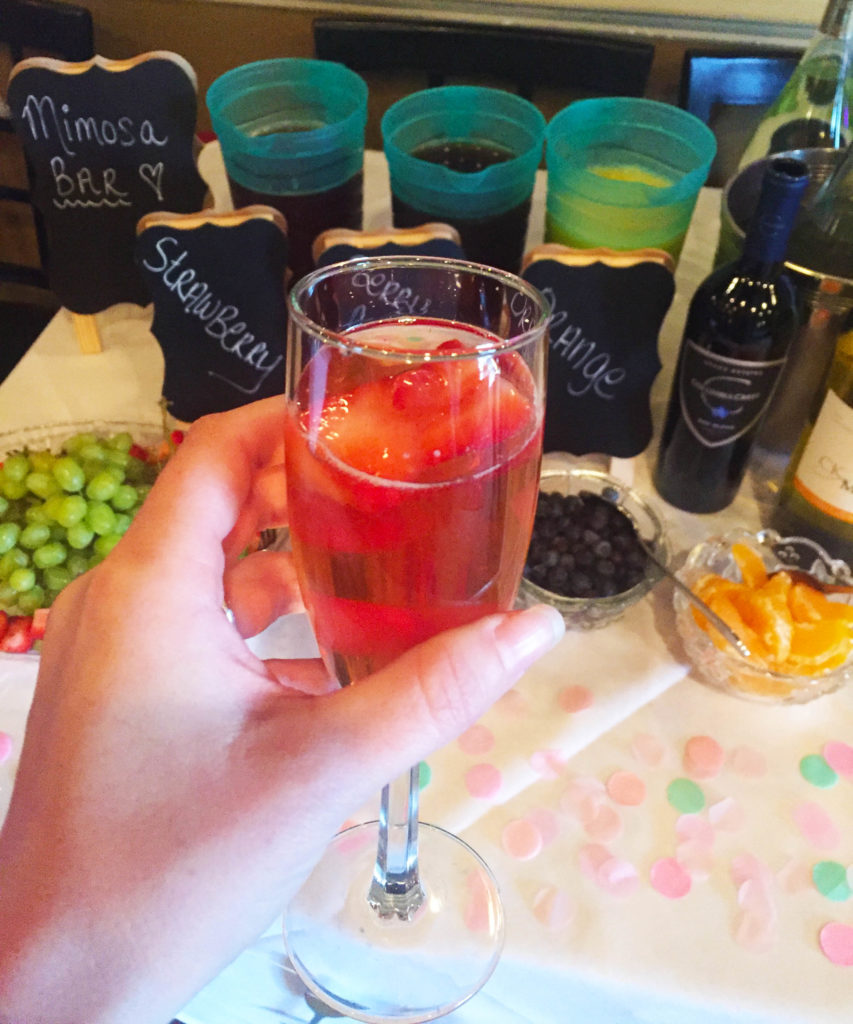 The mimosa bar was a total hit, and I think we went through 5 double bottles of champagne with 40 guests (+ 3 double bottles of white & red wine!).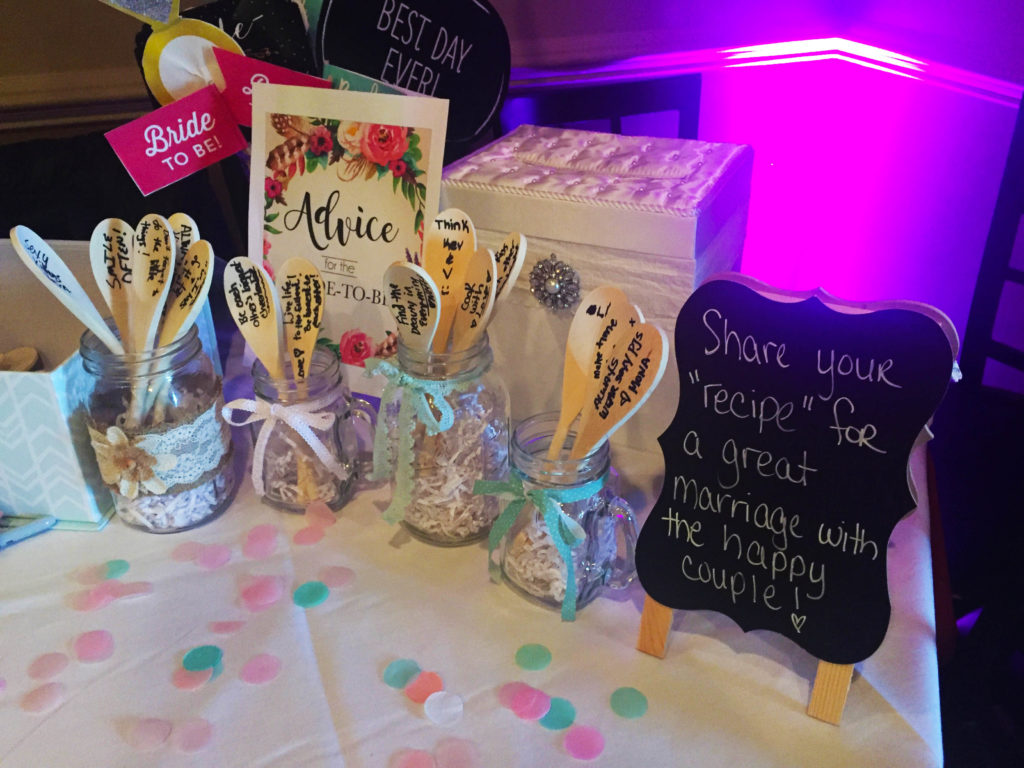 3.) 'Recipe for a Great Marriage' Activity. I found this idea on Sweet C's Designs and immediately loved it. Instead of just doing a typical advice book for the bride, you ask guests to write marriage advice on wooden spoons. You gather the spoons up in mason jars, and the bride can take her advice spoons home as fun kitchen decor or to keep elsewhere in her home.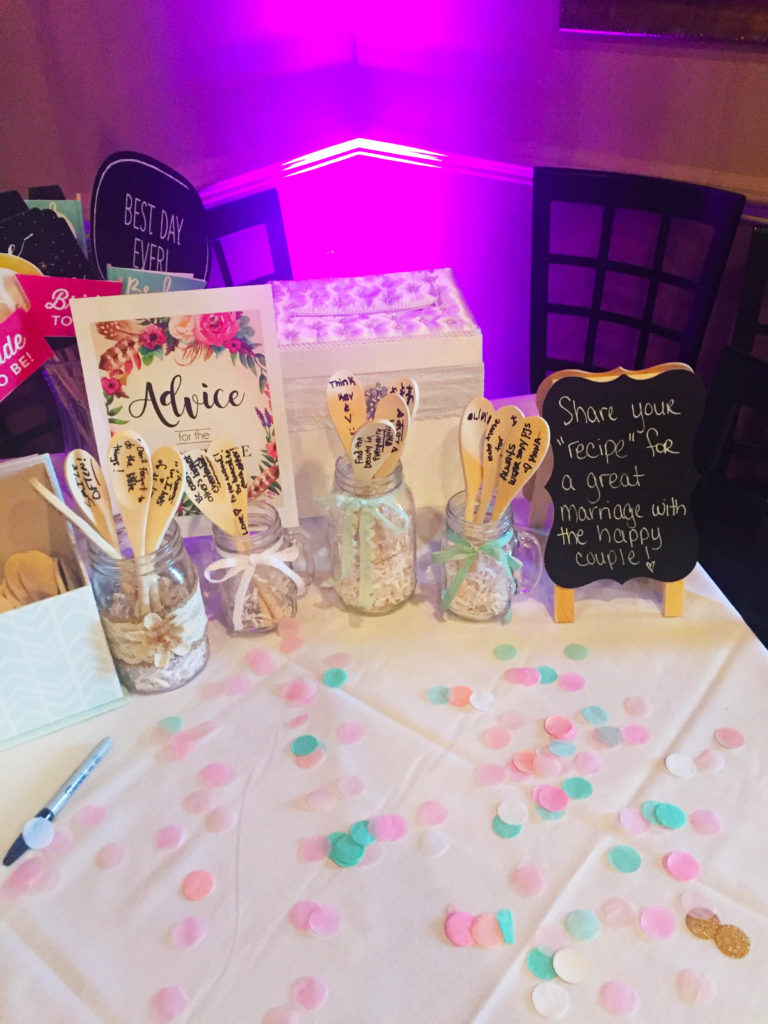 For this activity, you need: a.) bulk wooden spoons – I ordered them on Amazon, b.) a couple of markers, c.) mason jars – I ordered ones with hearts on them on Amazon, then tied ribbon around them to dress it up, d.) signage with directions on what you'd like your guests to do. I used another large chalkboard sign to write instructions on. We also had a large box to keep the blank spoons in.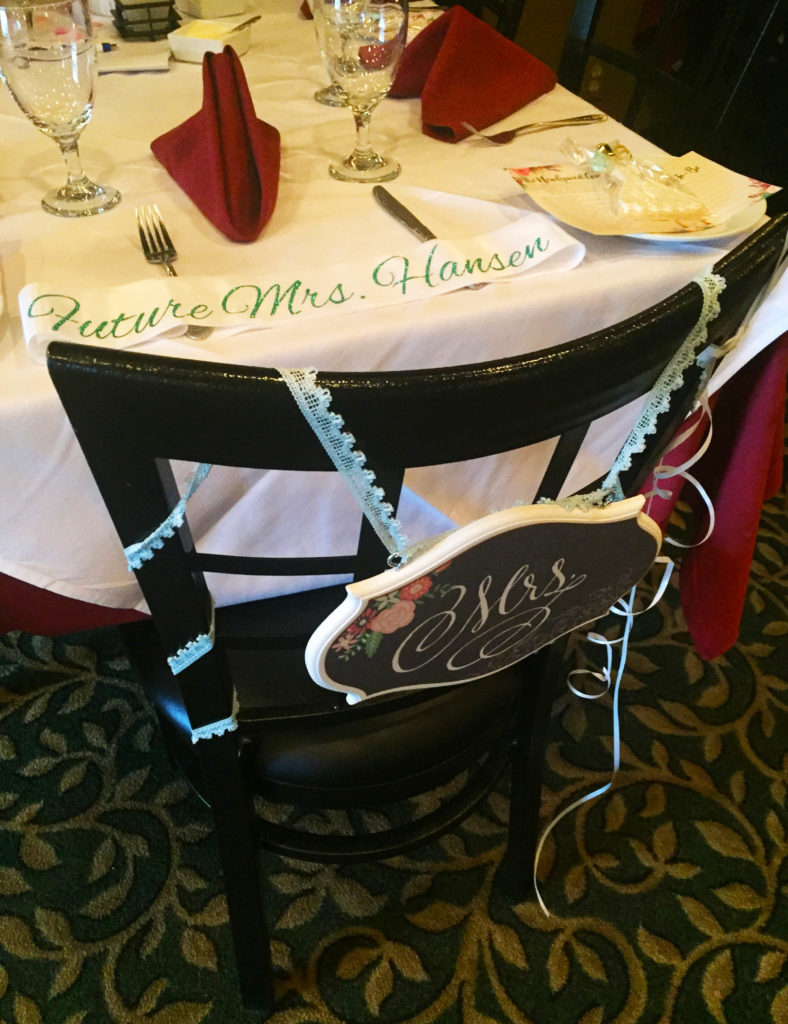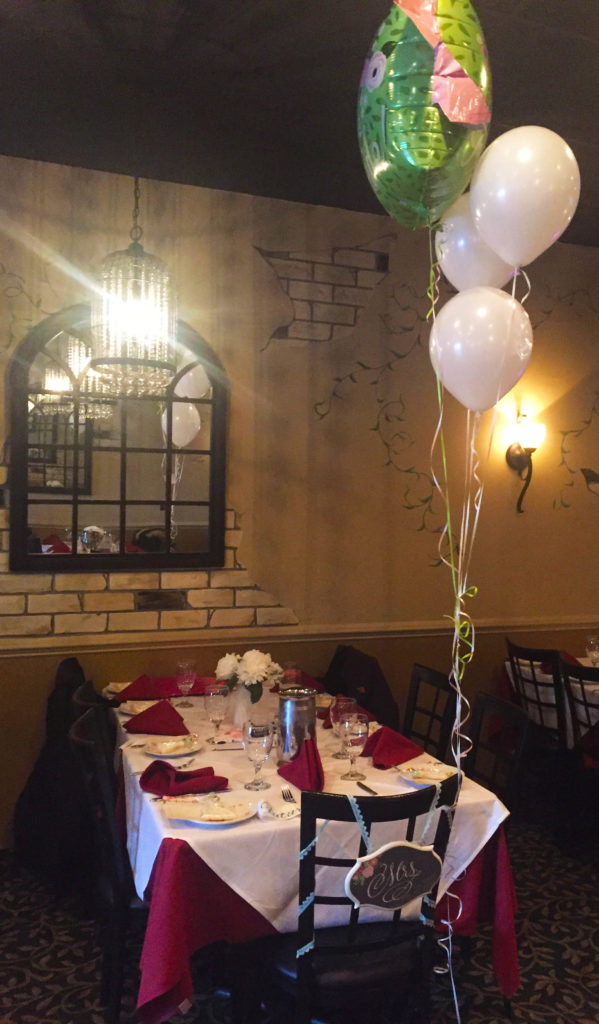 4.) Dress Up the Bride's Chair. Why not make your guest of honor's chair look pretty? I ordered a 'Mrs.' chair sign on Beau Coup, and we tied it to the back on her chair with ribbon. The maid of honor bought a 'Future Mrs. Hansen' sash for Dez to wear that we put on her place setting, and we tied a balloon bouquet to her chair.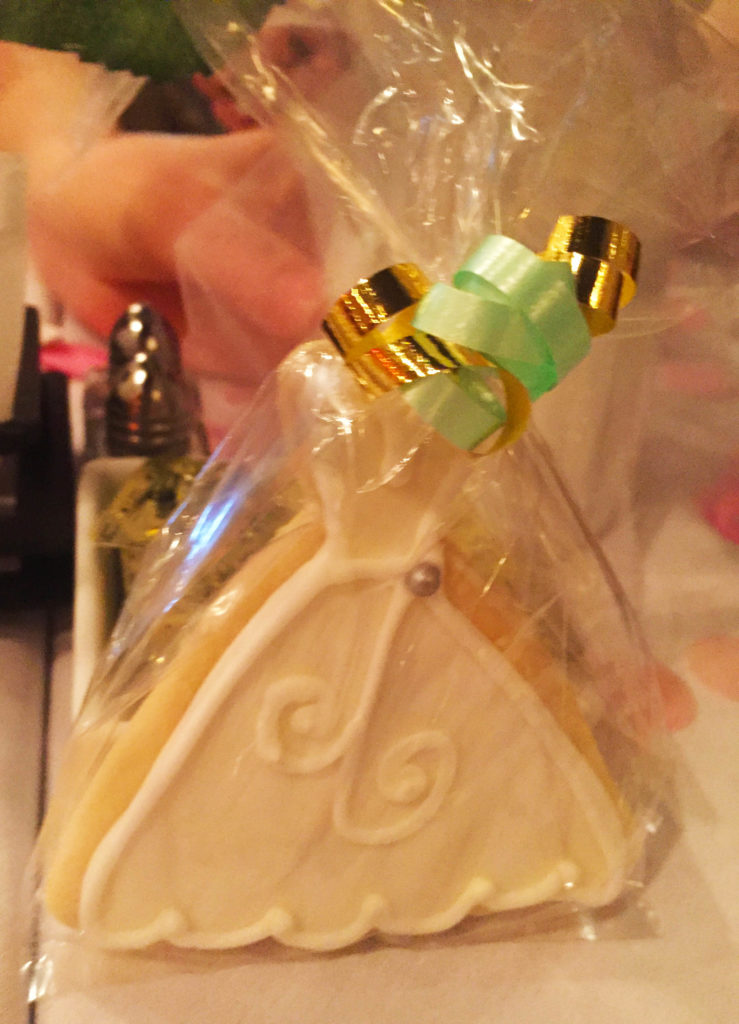 5.) Wedding dress cookie favors. My mom ordered these pretty wedding dress cookies as favors. They were made by a local baker, and were not only cute, they were yummy too!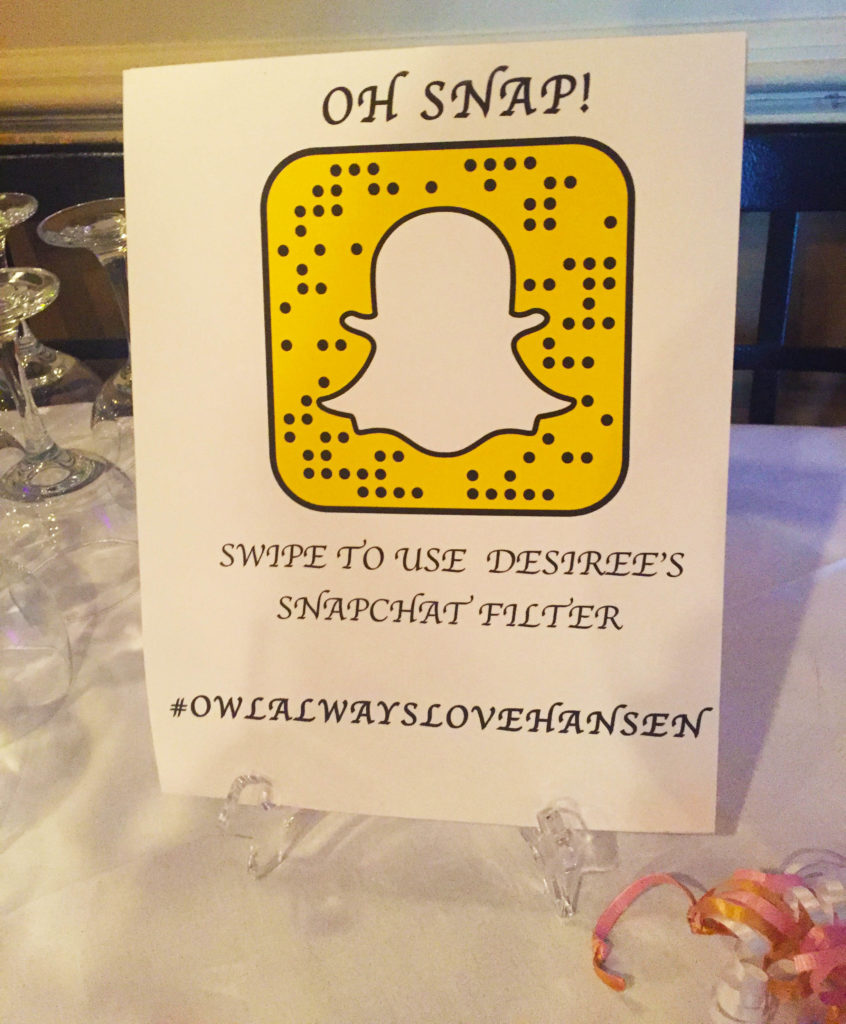 6.) A Party Snapchat Filter. The maid of honor bought a customized Snapchat filter for the bridal shower, which popped up anytime anyone went to post a photo from the party on Snapchat.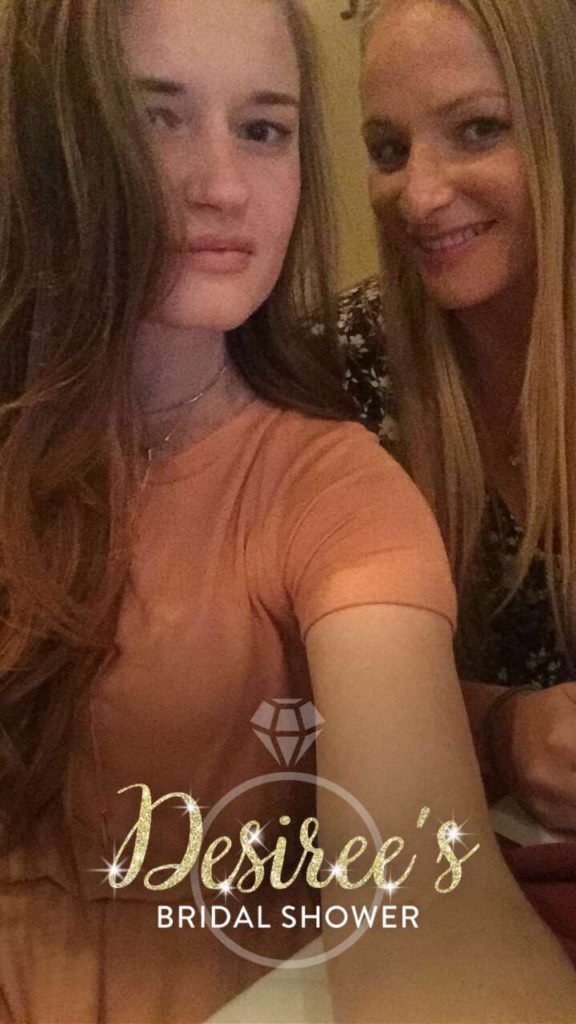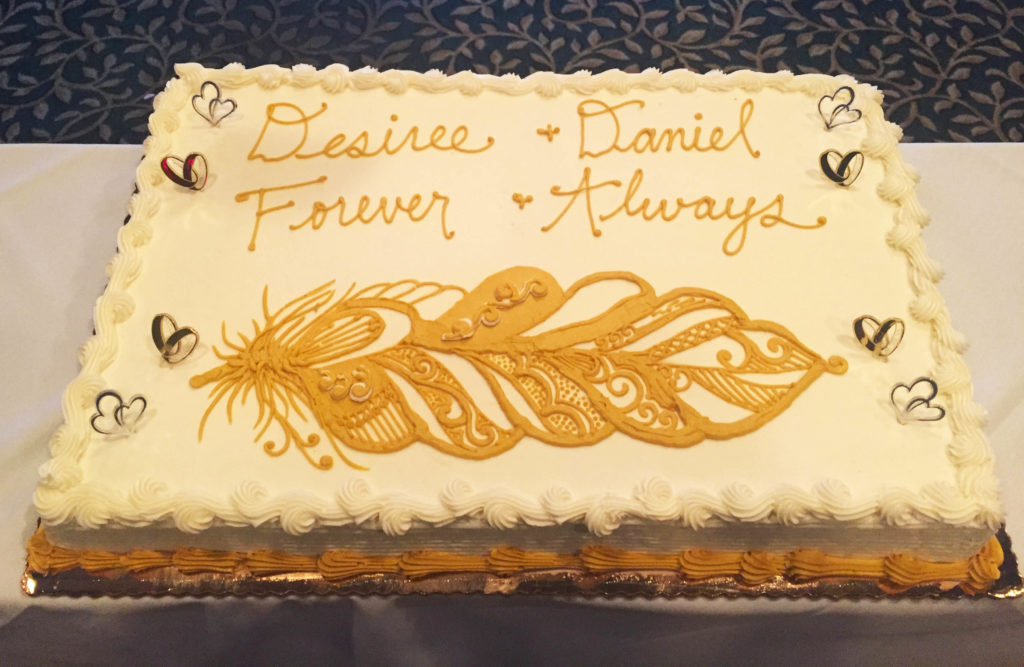 Overall the party went very well, and now we're onto the wedding in just a couple of weeks!
Tell me… Have you ever thrown a bridal shower? When was the last time you were in a wedding?