This is the story about how I tried three times to create a naturally green recipe and totally failed… but came up with two yummy recipes in the process!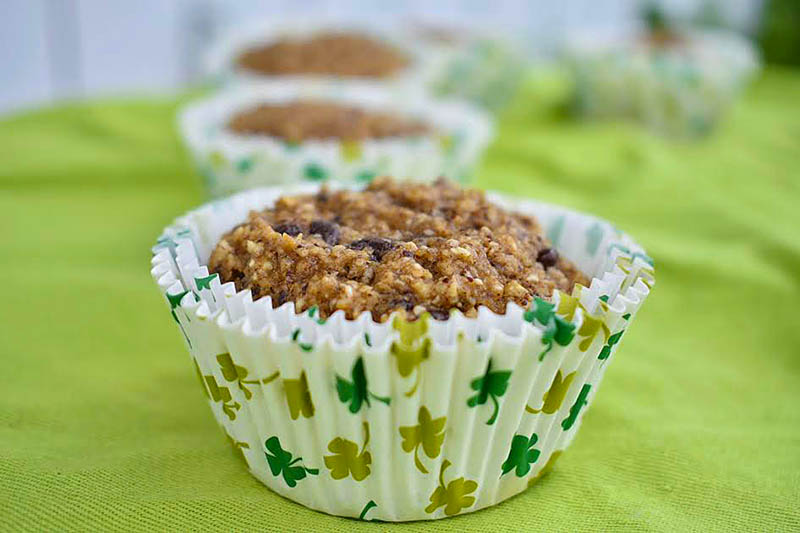 St. Paddy's Day is coming up this Friday, and I was actually thinking ahead a few weeks ago when I decided I wanted to come up with a sweet recipe that had a green hue, sans food coloring.
I first heard that the chlorophyll in sunflower butter can turn baked goods green when it interacts with baking soda/powder when a friend of mine accidentally wound up with a green colored sunflower butter recipe, so my original idea was to make sunflower butter banana muffins. The result? They did not turn green, and they also turned out a bit dry, so it was a no go.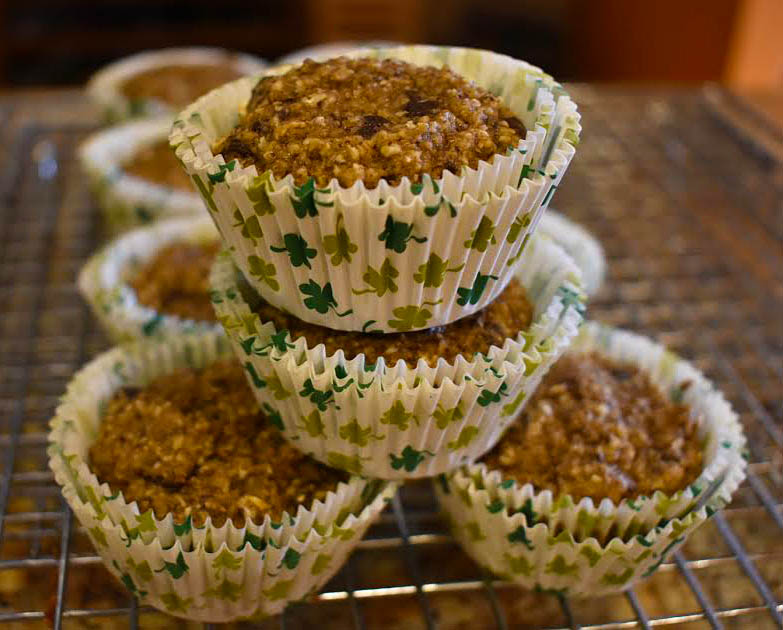 I decided it was possible that because I mixed all of my muffin ingredients together in my food processor, it too vigorously combined the ingredients and broke down the baking soda properties too much to successfully interact with the sunflower butter enough to turn them green. So for attempt #2, I made sunflower butter breakfast cookies that I only mixed by hand until the ingredients were combined.
While the cookies turned out yummy & I'll be sharing that recipe soon, they did not turn green at all. Whomp whomp.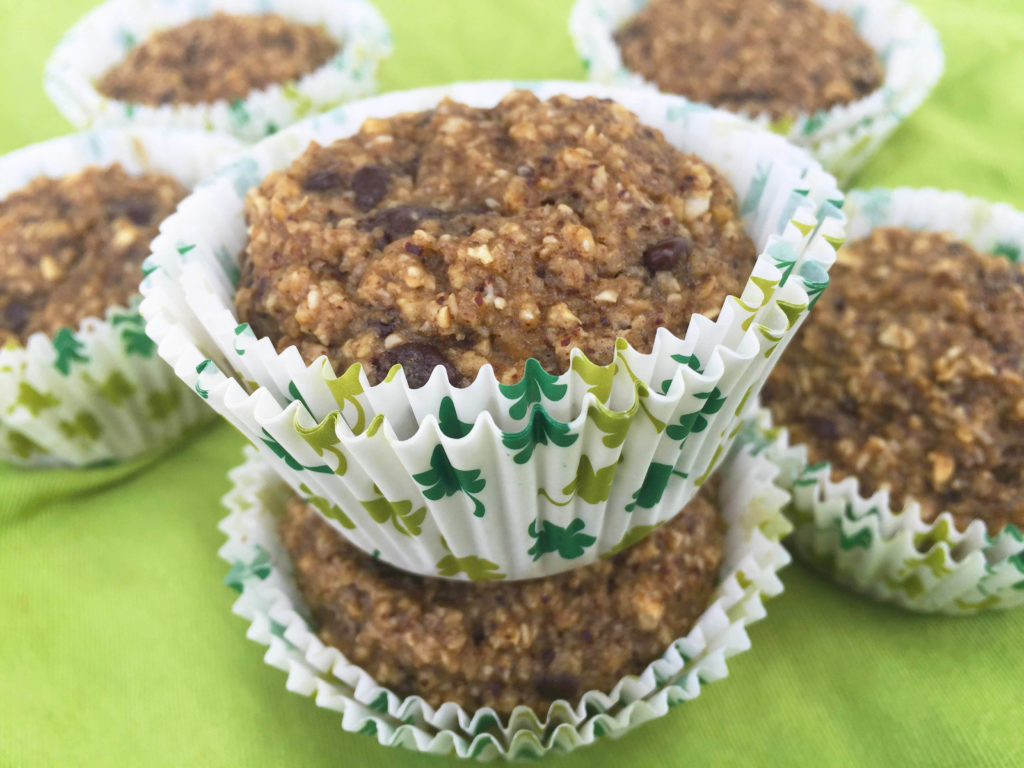 Feeling over the whole sunflower butter idea after two failed attempts, I moved onto another idea: making something with matcha. Matcha is a green tea powder with powerful antioxidant properties and a bright green color.
So for naturally green recipe attempt #3, I made matcha chocolate chip banana muffins. The batter was looking like it may have had a green hue to it prior to baking, but when I pulled them out of the oven, I practically screamed, "NOO, they look normal!"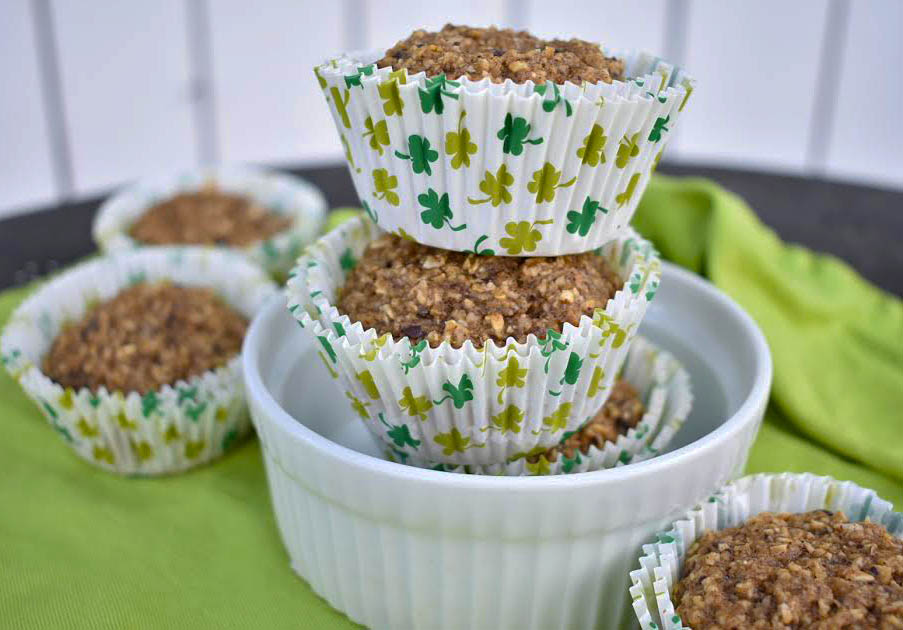 While these muffins aren't green in color, it turns out they're delicious, so I'm sharing the recipe with you today. Made with oats and banana, they have some of my favorite healthy baking hacks – including the use of apple sauce & coconut oil. They're sweetened only with maple syrup, banana and dairy free dark chocolate chips, and the matcha flavor is subtle.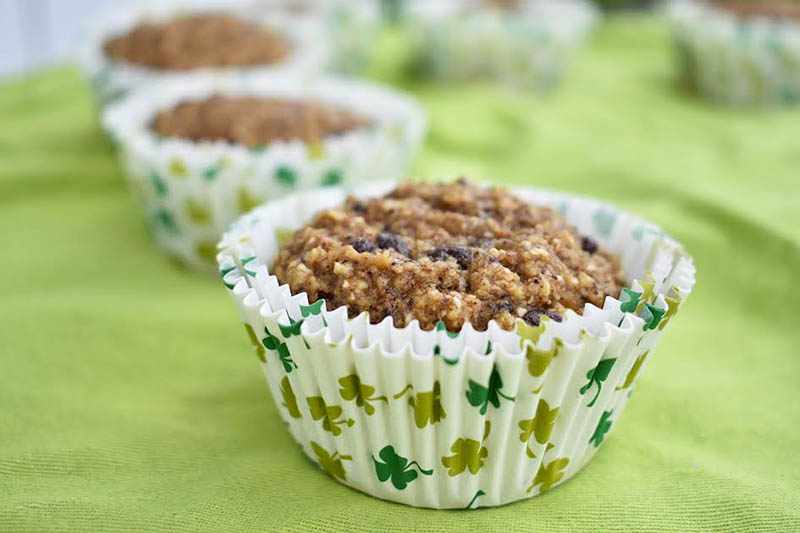 The lesson learned here is that sometimes as a food blogger, things don't go as planned, but it winds up working out in a way you didn't expect it to. I think this is a metaphor for life in general, ya know? Who knew that baking could be so poetic.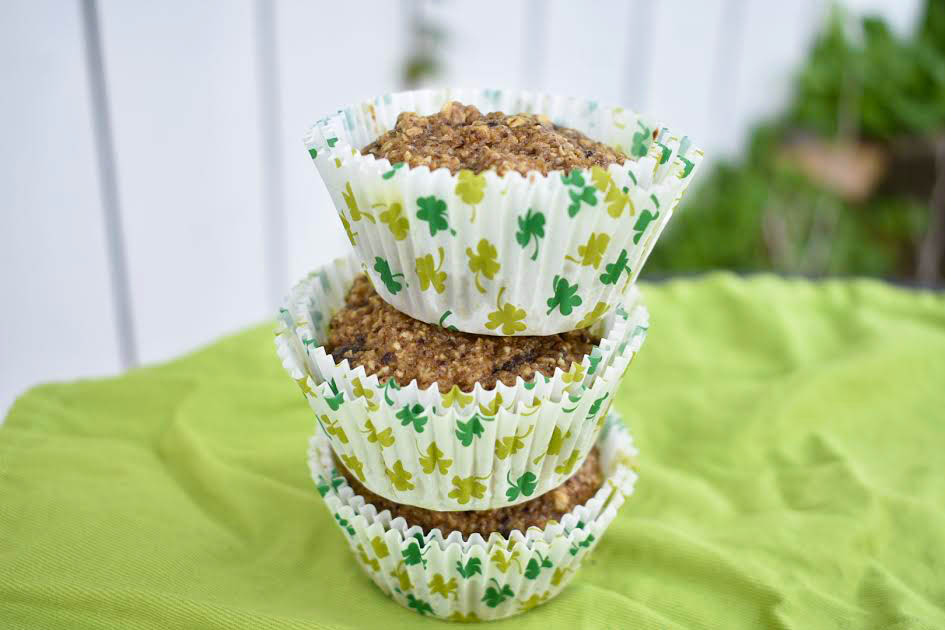 So while I've failed on the green recipe front, these muffins are photographed in St. Paddy's Day muffin cups, so that counts enough as a holiday themed recipe, right?!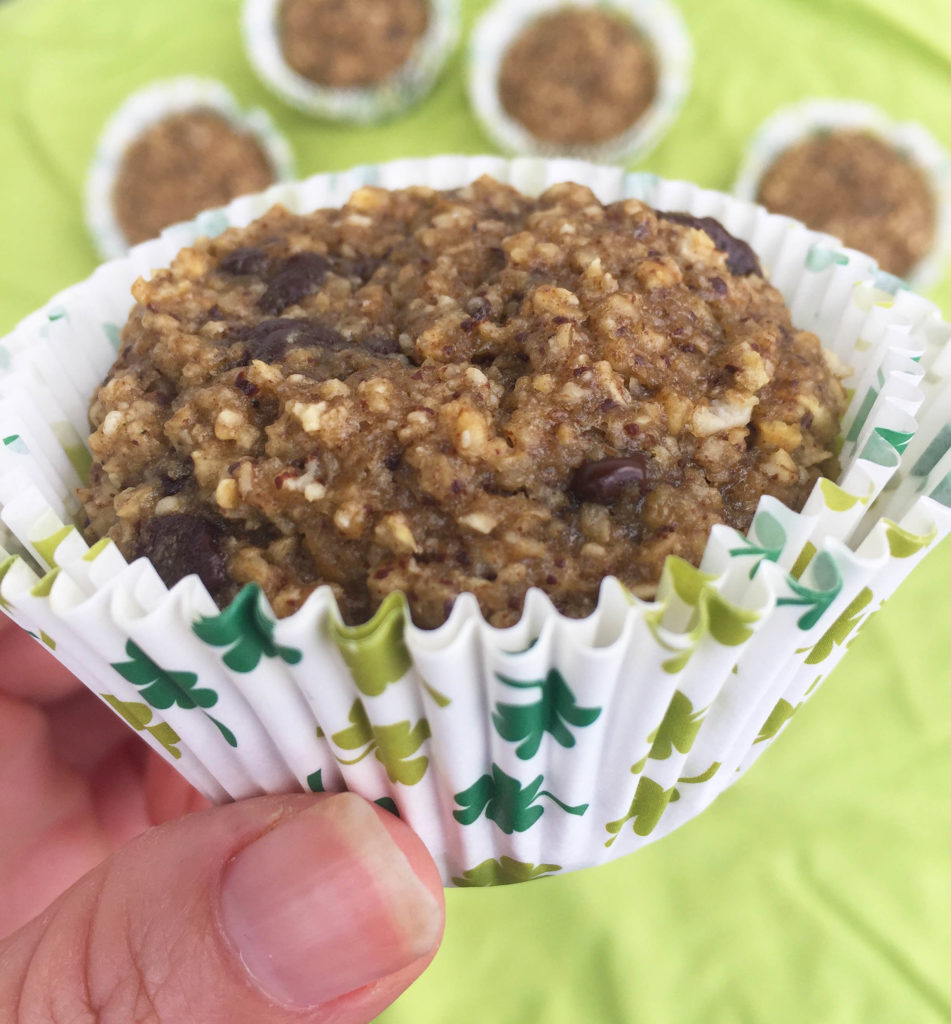 Tell me… Have you ever intentionally tried to turn a baked good naturally green? Do you celebrate St. Patrick's Day?
PS – Don't forget to enter my One Tribe Apparel yoga gear giveaway here!
Healthy Matcha Chocolate Chip Banana Muffins
Author:
Foodie Loves Fitness
Prep time:
Cook time:
Total time:
Ingredients
2¼ cup dry rolled oats
2 medium ripe bananas, broken into chunks
½ TBSP matcha green tea powder
½ cup pure maple syrup
2 TBSP coconut oil, melted
⅓ cup natural apple sauce
⅓ cup dark dairy-free chocolate chips
1 TSP vanilla extract
1 TSP baking powder
¼ TSP salt
Instructions
Preheat oven to 350 degrees. Line a muffin tin with 12 muffin cups.
Combine all ingredients except the chocolate chips in a food processor and pulse until mostly smooth.
Add in chocolate chips, and pulse for about another 10 seconds.
Spoon the batter into the muffin cups evenly.
Bake for 18 minutes, or until a toothpick in the center of the muffins comes out clean.
Allow to slightly cool before enjoying.
Nutrition Information
Serving size:
1 muffin,
Calories:
170,
Fat:
6g,
Saturated fat:
3.5g,
Carbohydrates:
28g,
Sugar:
15g,
Fiber:
3g,
Protein:
3g