Does anyone else just all of a sudden get in the mood for baking sometimes?
The measuring and mixing, pouring and stirring, baking and cooling. The smells of something delicious coming together and the anticipation of taste testing. It's therapeutic to me.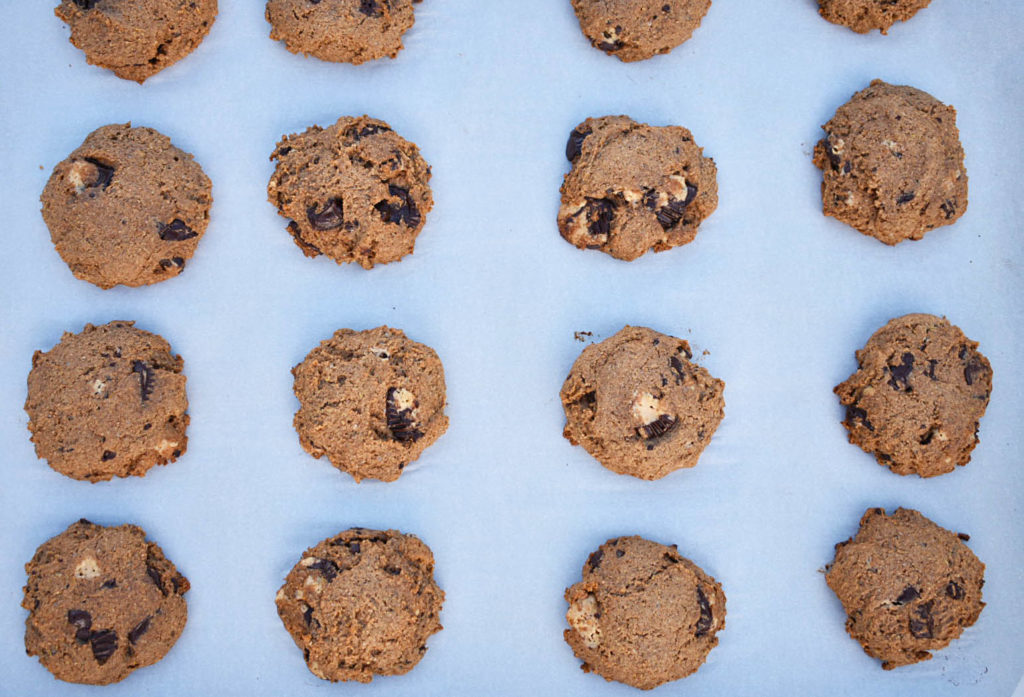 Last week as I was jotting down a bunch of things to nab at the food store and planning out what healthy snacks I'd make this week, I got bitten by the baking bug. And I didn't feel like just following a recipe, I was in the mood for experimenting and getting creative.
Today's recipe is a result of that baking bug. These cookies center around a few of my favorite things: the combination of chocolate + peanut butter & cinnamon.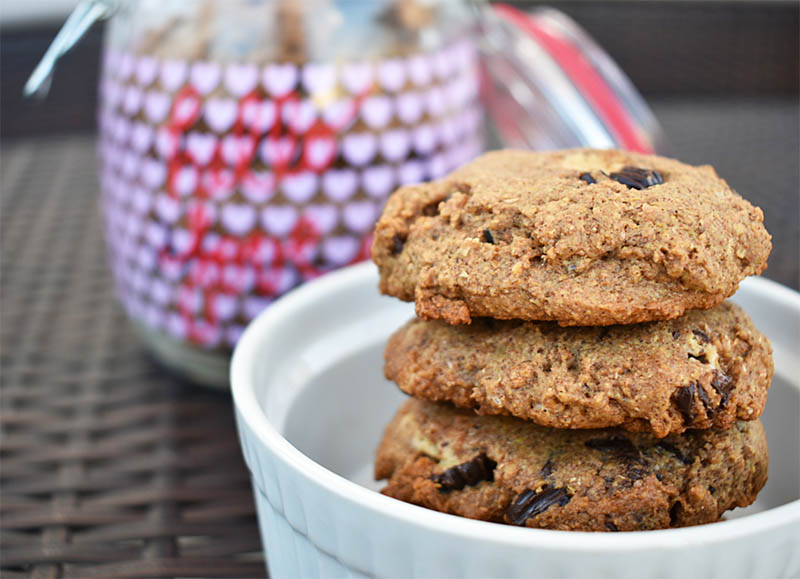 Cinnamon is without a doubt my favorite spice. I'm constantly sprinkling some on my fruit, in my smoothies, and on my toast. It gives meals a bit of something extra, au naturel.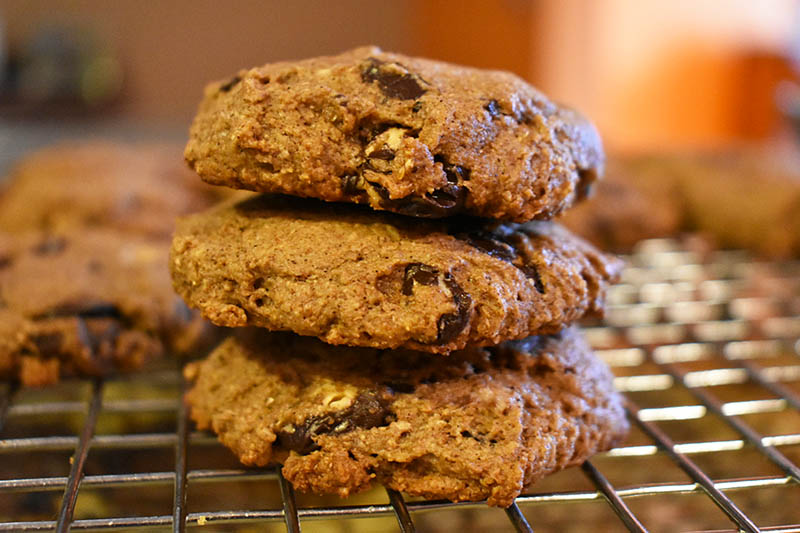 I also love pairing cinnamon with peanut buttery goodness. Cinnamon sprinkled on top of sliced banana, topped with peanut butter. Oats with baked apple chunks, peanut butter & cinnamon.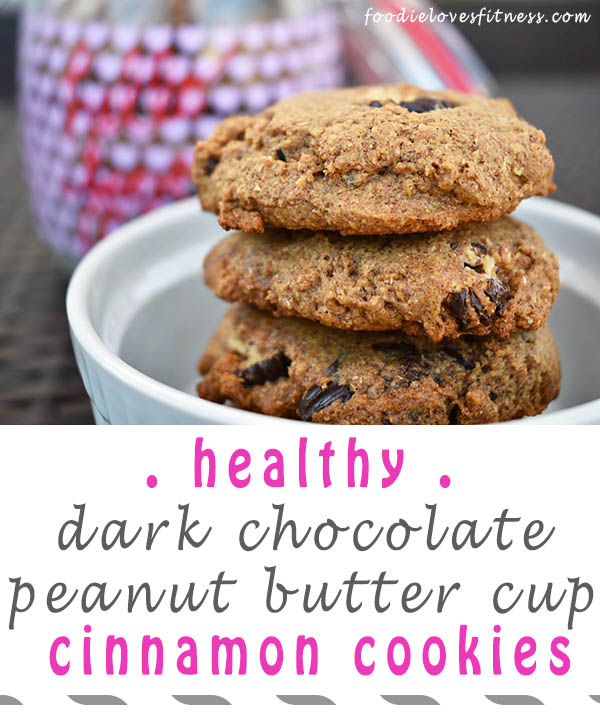 Sweetened with maple syrup, these cookies bring my food & spice favorites together for a healthy snack or dessert. They include vegan baking favorites – Earth Balance and a flaxseed egg – so as long as you use dark chocolate peanut butter cups that contain no milk fat, these cookies are dairy-free. They're cinnamon-y and the texture remind me of mini cakes, making them a snack that I've been munching on often!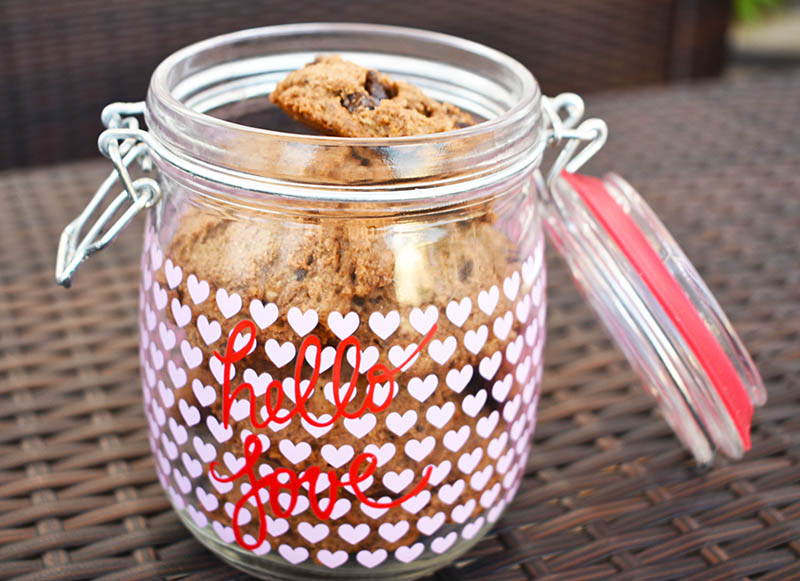 Bake them with love this Valentine's Day week for your sweetie, or make em for yourself any day of the year as a healthy dessert!
Healthy Dark Chocolate Peanut Butter Cup Cinnamon Cookies
Author:
Foodie Loves Fitness
Prep time:
Cook time:
Total time:
Ingredients
1 cup whole wheat flour
½ cup (dairy-free) dark chocolate peanut butter cups, chopped
½ cup pure maple syrup
⅓ cup creamy peanut butter
2 TSP cinnamon
2 TBSP vegan butter, such as Earth Balance, melted
2 TBSP almond milk, or milk of choice
1 flax egg: 1 TBSP ground flaxseed + 3 TBSP water
½ TSP vanilla extract
½ TSP salt
½ TSP baking soda
Instructions
Preheat oven to 350 degrees. Spread parchment paper on a large baking sheet.
Combine the flaxseed meal and water in a small bowl. Set aside.
In a medium mixing bowl, combine the flour, cinnamon, salt, and baking soda.
In another mixing bowl, combine the peanut butter, vanilla, maple syrup, melted butter and almond milk with an electric mixer on low. Add in the flax egg and mix again briefly.
Fold the dry ingredients into the wet ones, and add in the chopped peanut butter cups. Mix together by hand just until combined.
Spoon the batter onto the baking sheet to form 18 cookies.
Bake for 11-13 minutes, or until the bottoms of the cookies are lightly browned.
Transfer to a wire cooling rack and allow to slightly cool before enjoying. Store in a sealed plastic bag.
Nutrition Information
Serving size:
1 cookie,
Calories:
120,
Fat:
6g,
Saturated fat:
2g,
Carbohydrates:
15g,
Sugar:
9g,
Fiber:
2g,
Protein:
3g,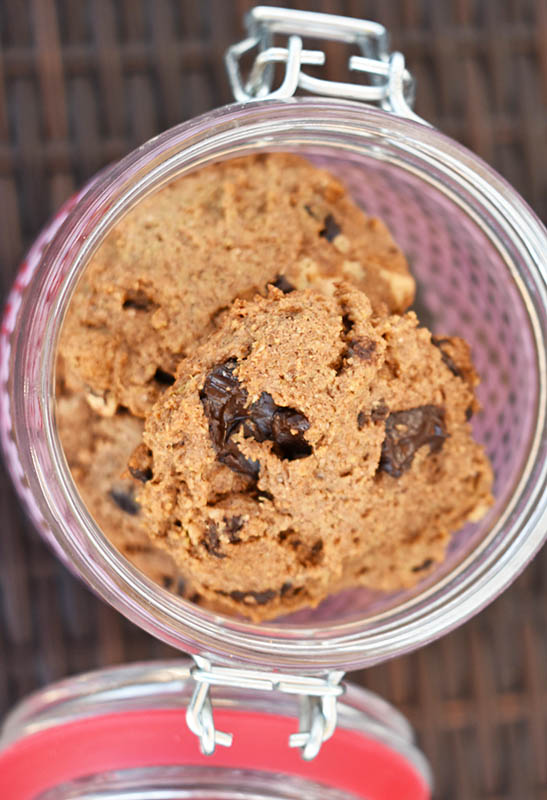 Tell me.. Do you celebrate & exchange gifts for V-Day with your significant other? What's your favorite spice?

My hubby & I keep it pretty simple for the holiday. Having a nice dinner together & surprising him with cookies in a jar covered in hearts is the kind of V-Day that we tend to favor in my house!