This dish takes a twist on a classic Greek salad with the addition of hearty farro! 
After lots of holiday cookie baking and eating, it seems like a good time to focus more on greens, what do you think?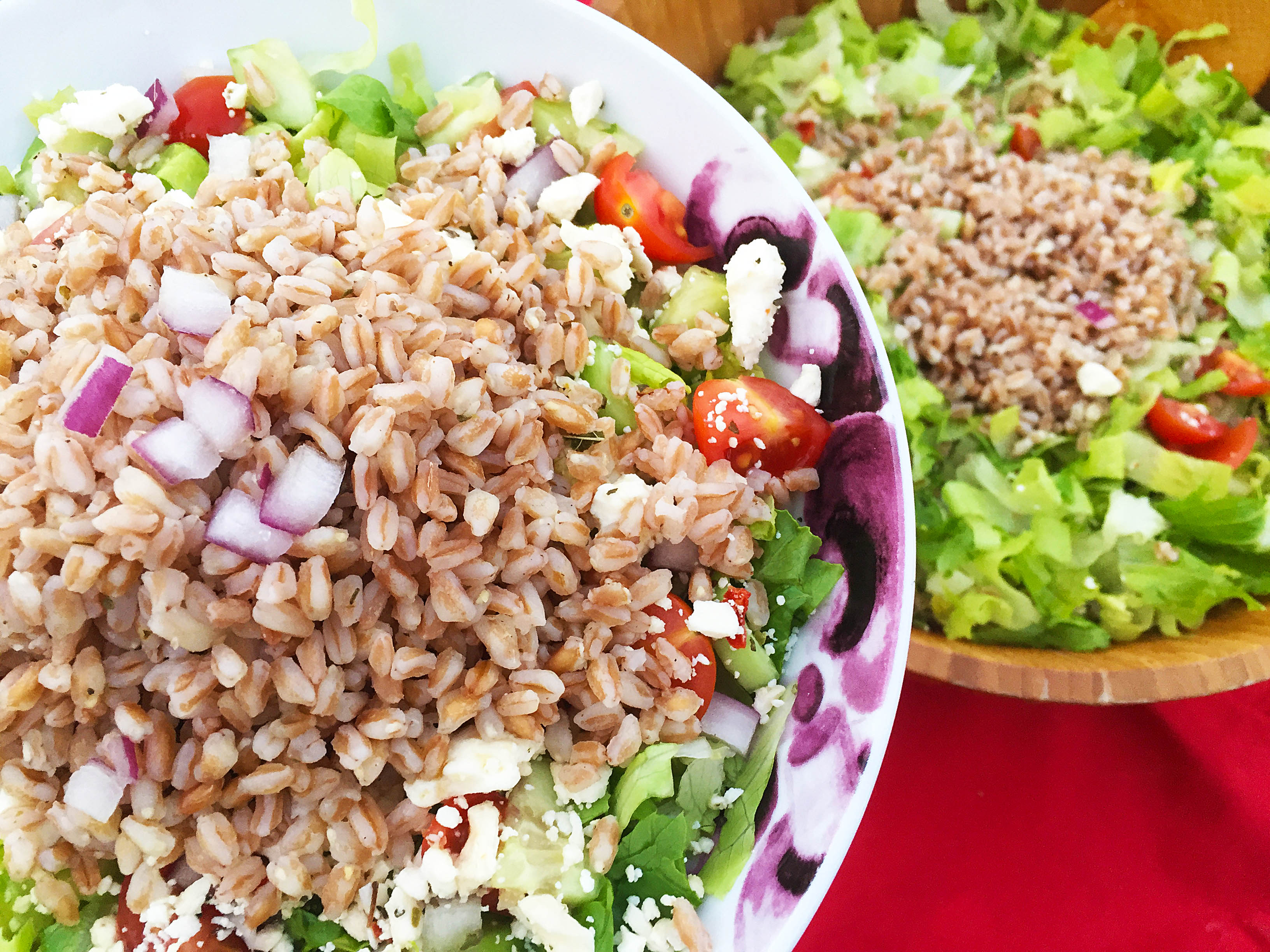 You guys, I haven't shared a salad recipe in way too long. I swear, I eat salad all the time – apparently I just don't get creative and come up with new salad recipes too often. But today salad is making a comeback on Foodie Loves Fitness, and I promise you that this is one delicious meal idea!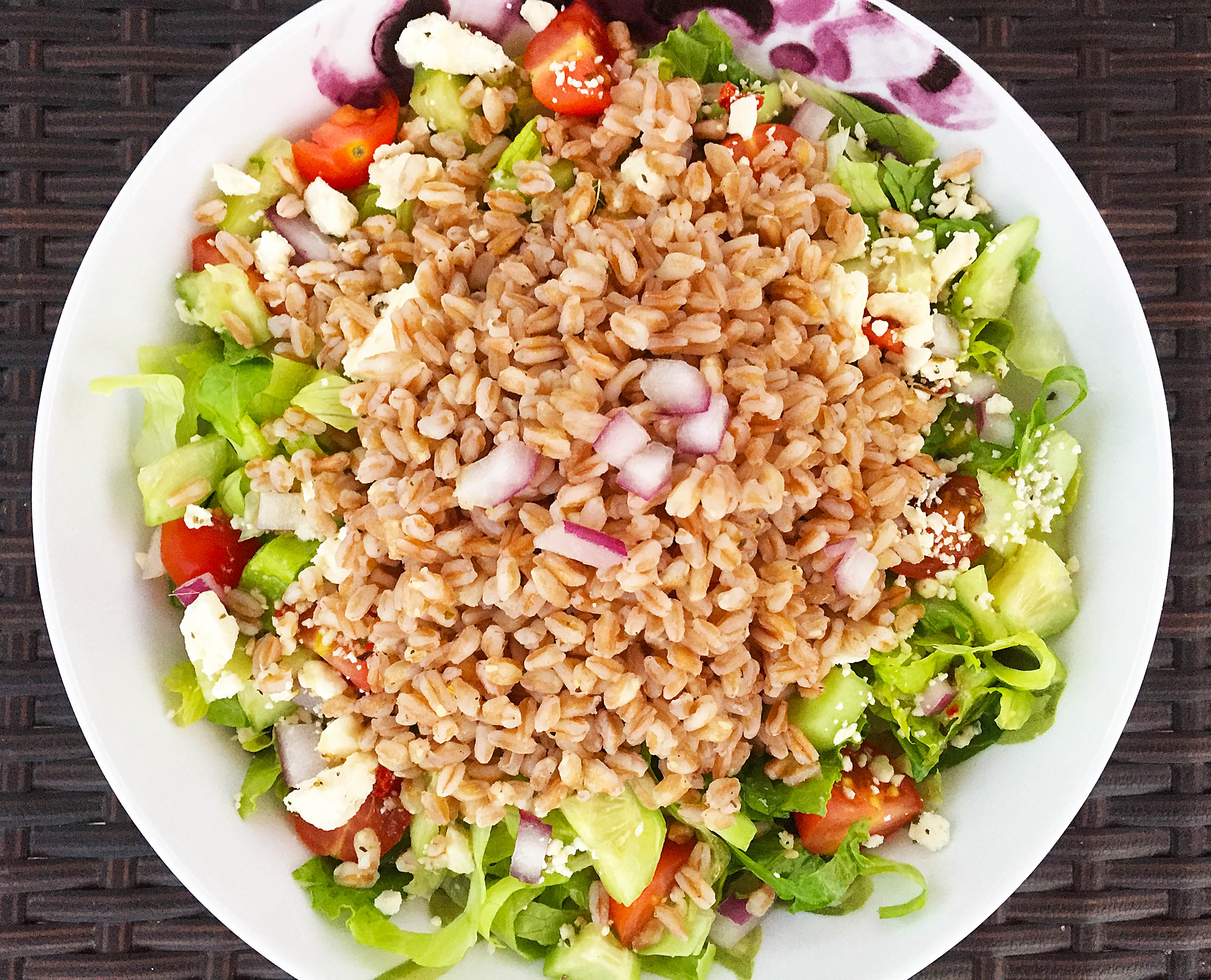 One of my favorite healthy strategies when eating out is to order a salad as an appetizer. It takes the edge off of my hunger, and I wind up eating less of my entree (which is bound to be something heavier) and taking some home as lefties.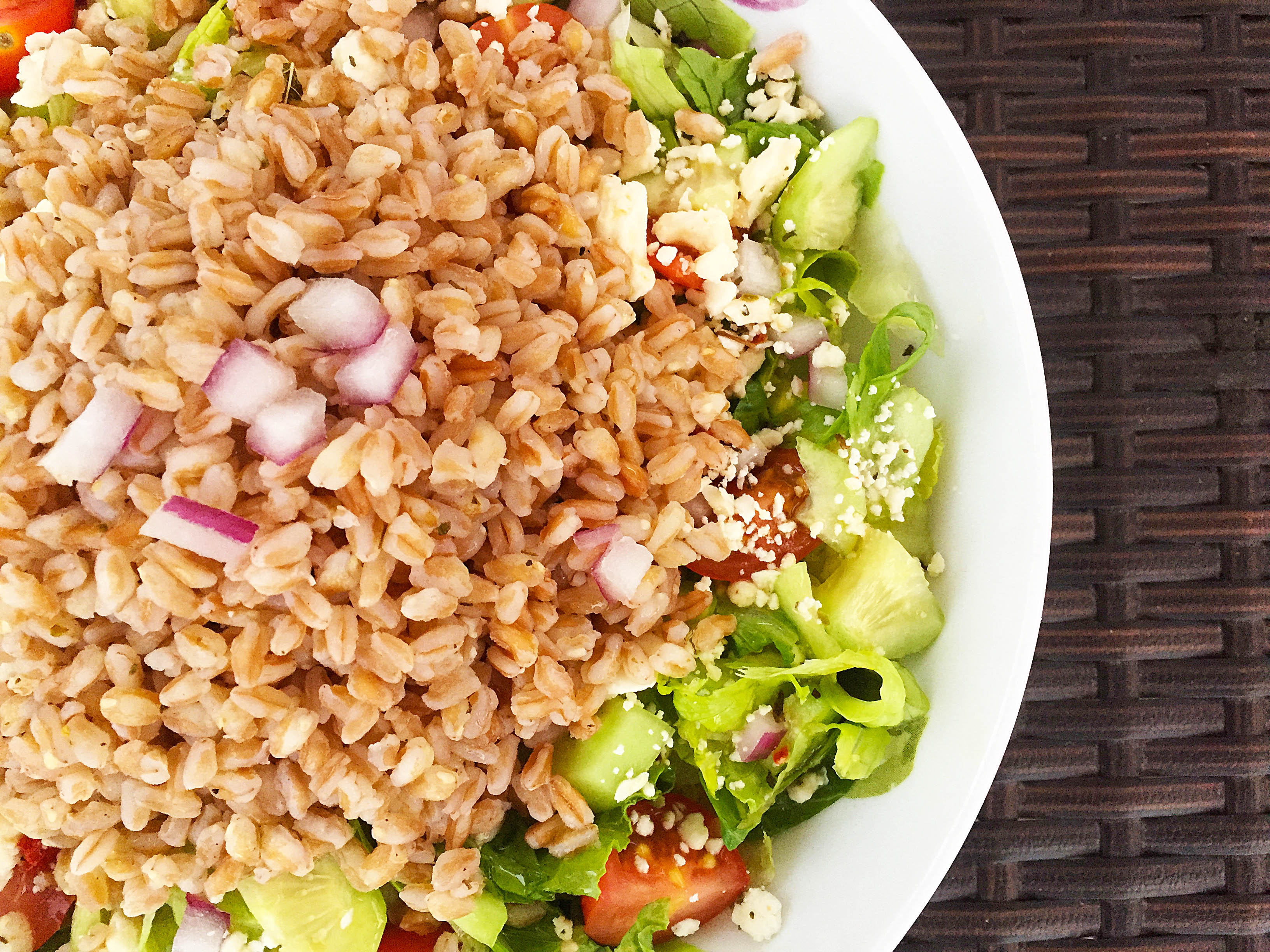 When it comes to at-home salad eating, I definitely have my favorite combos. I often will make a spring greens salad with shredded carrots and avocado, then top it with a black bean burger and cheddar cheese (pretty much this recipe). Greek salad is also one of my favorites.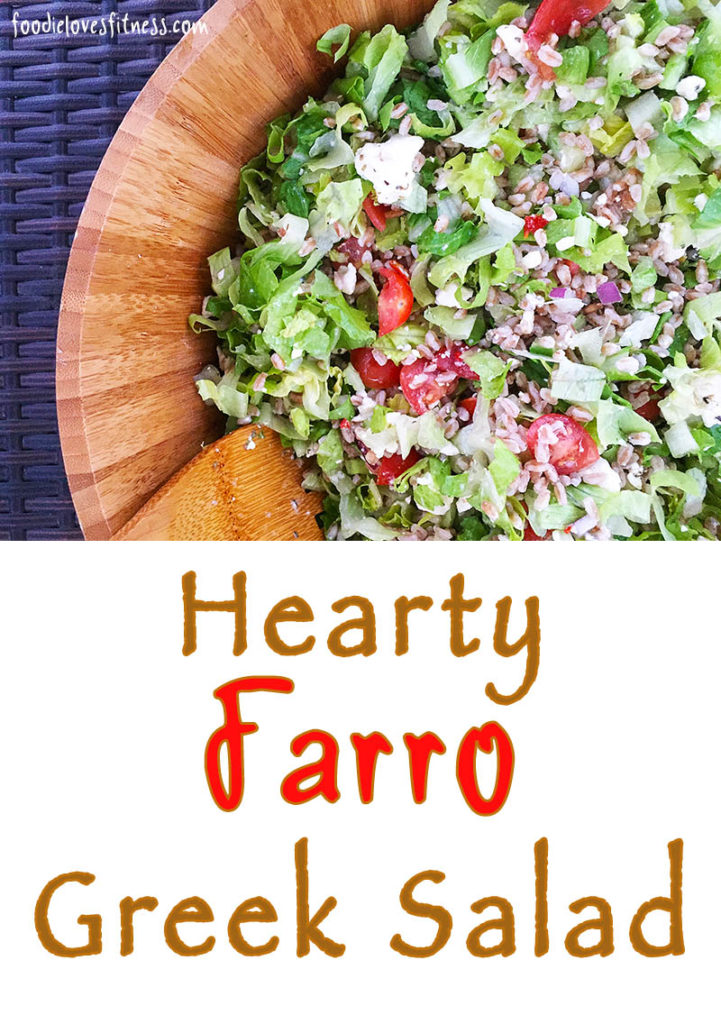 This dish takes a twist on the classic Greek salad. It has all of the awesome ingredients incorporated into a regular Greek salad – including romaine lettuce, tomatoes, Persian cucumbers, feta, and red onion – but with the addition of farro.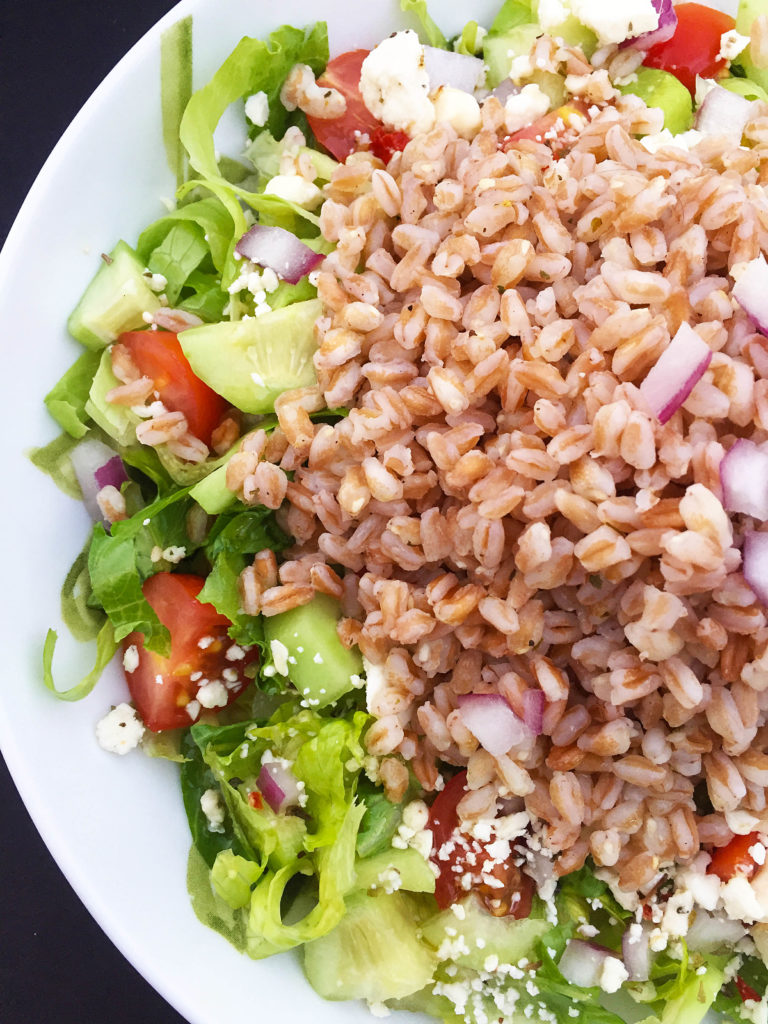 Farro is one of my new favorite grains. Well, it's actually an ancient grain that has been eaten for thousands of years around the world, but it's fairly new to my kitchen for some reason. It's hearty, a bit nutty, and has a lot of nutritional benefits, including being high in protein, fiber and iron.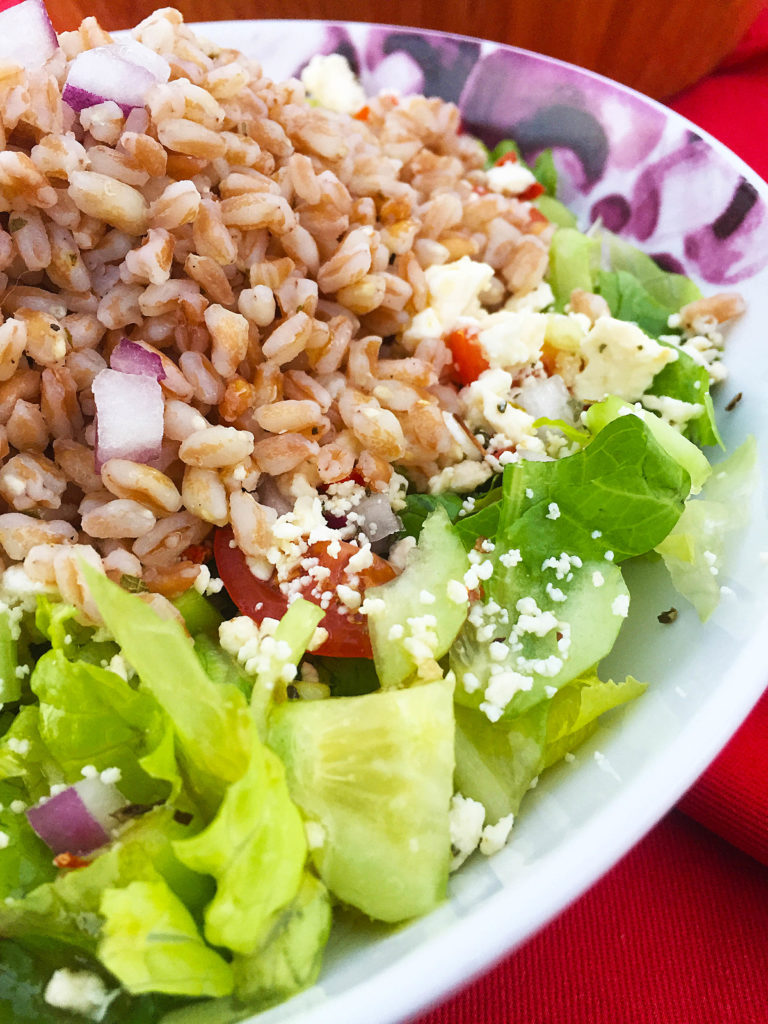 Adding farro to Greek salad gives it more heartiness and makes for one filling, healthy meal. The salad is tossed with a Mediterranean-style dressing of extra virgin olive oil, red wine vinegar, fresh lemon juice and honey.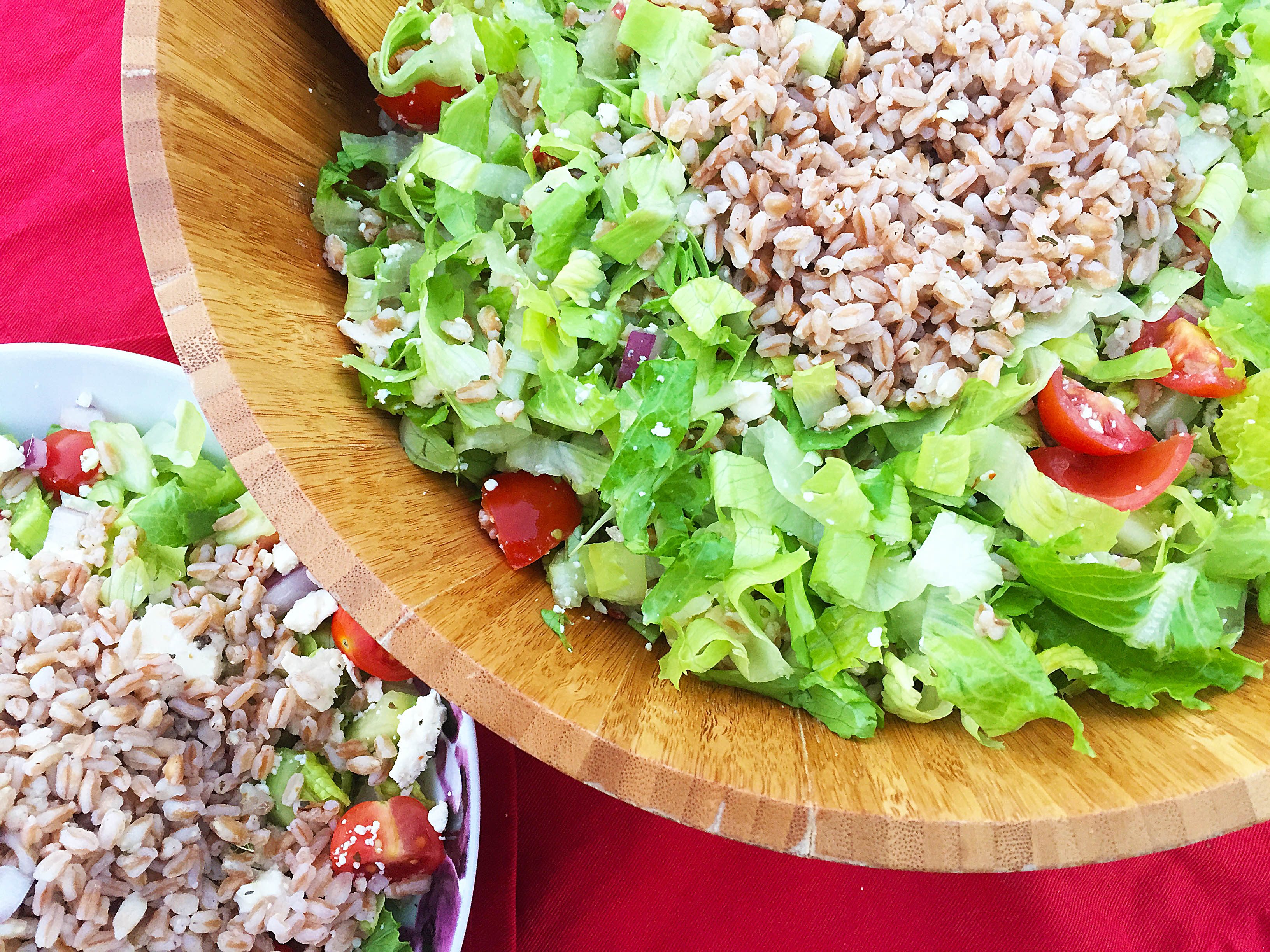 This salad has got lots of flavor, and I can't wait to make it again! Hope that you try it out & love it too!

Hearty Farro Greek Salad
Author:
Foodie Loves Fitness
Prep time:
Cook time:
Total time:
Ingredients
1½ cups dry farro (about 4 cups cooked)
3 heads romaine lettuce
1 cup cherry tomatoes
2 Persian cucumbers
1 cup feta cheese, crumbled
¼ red onion
3 TBSP + 1 TSP extra virgin olive oil
1 TBSP red wine vinegar
1 TBSP fresh lemon juice
1 TBSP honey
¼ TSP oregano
¼ TSP salt
Pinch of pepper
Instructions
Cook farro according to package directions.
Meanwhile, chop romaine lettuce, halve the cherry tomatoes, peel and dice the cucumbers, and mince the red onion. Combine the ingredients in a large salad bowl. Add in crumbled feta cheese.
In a small bowl, combine 3 TBSP of olive oil, the red wine vinegar, lemon juice and honey. Whisk to combine well, and evenly distribute over the salad.
Once the farro is done cooking, remove from heat and add in the remaining 1 TSP olive oil, oregano, salt and pepper. Stir to combine, then allow it to slightly cool before adding into the salad bowl.
Toss everything together before serving.
Nutrition Information
Serving size:
per ¼ of recipe,
Calories:
410,
Fat:
17g,
Saturated fat:
5g,
Carbohydrates:
52g,
Sugar:
7g,
Fiber:
7g,
Protein:
15g,
Cholesterol:
20mg
Tell me.. What's your favorite go-to salad?