Hi friends!
I'm back in California after a lovely vacation in Mexico, so now it's time for a travel recap!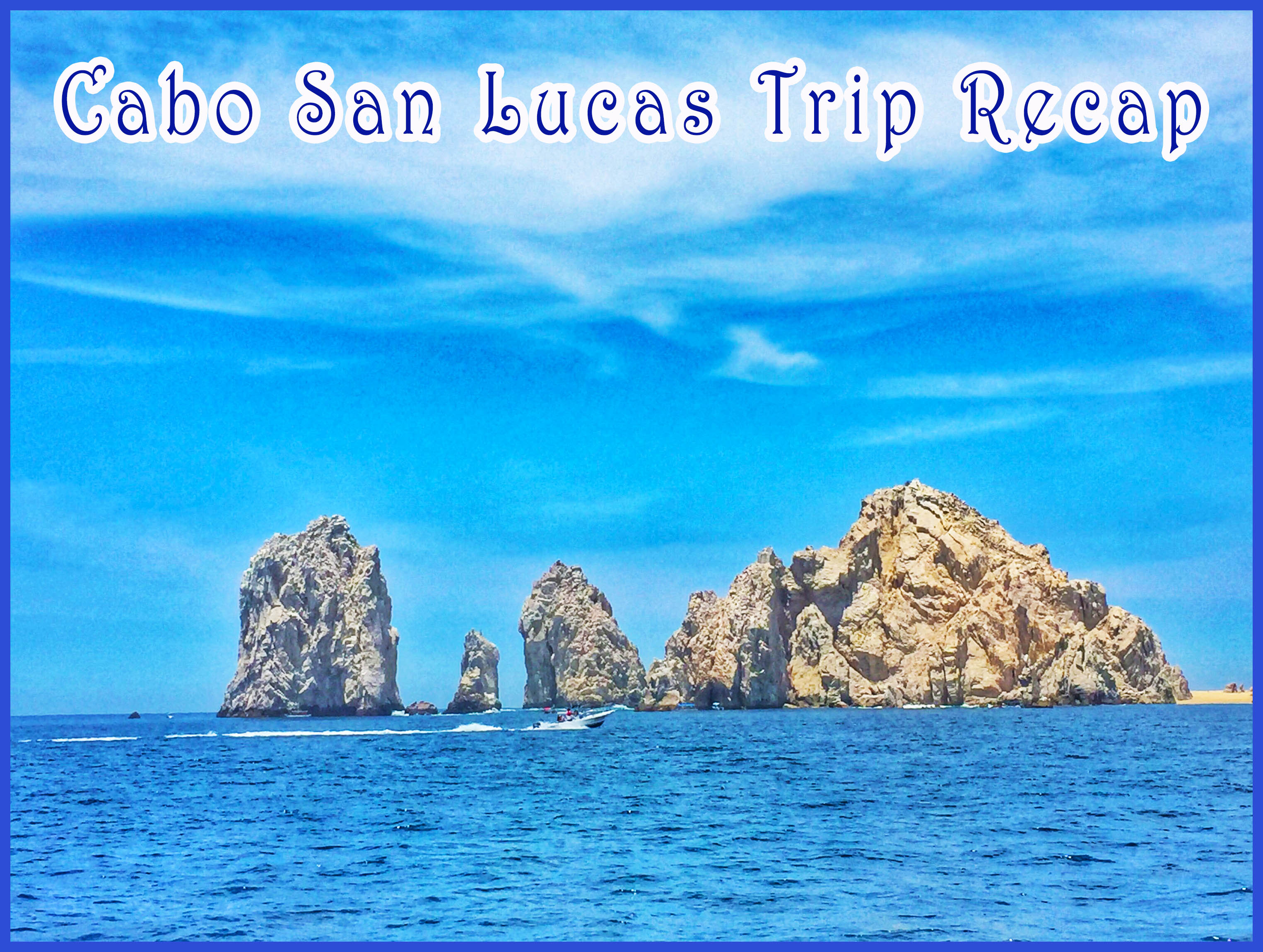 I planned this trip as a surprise for my hubby's 30th birthday. He doesn't actually turn 30 until July, but a trip over Memorial Day worked out well since we both had long weekends off of work. After much debate, I decided on visiting Cabo San Lucas. Adam had only been to Tijuana in Mexico and had never gone on a Mexican vacation, and Cabo was easy for us to get to from San Diego, so it made for a great destination for a 4-day trip!
Located on the southern tip of Mexico's Baja peninsula, Cabo is a 2-hour flight from San Diego.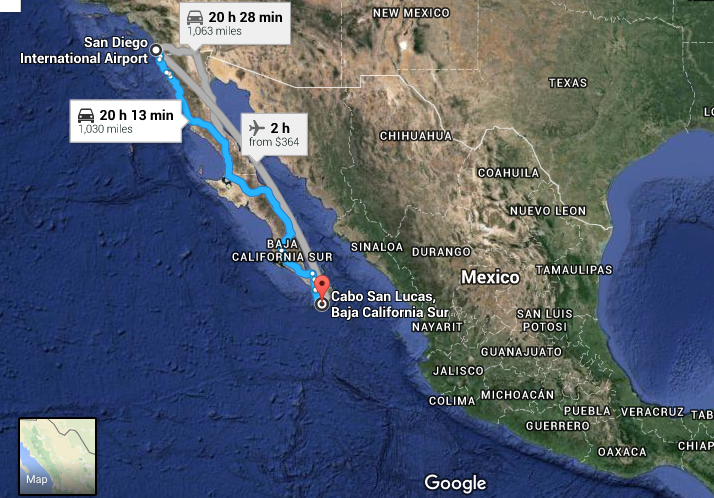 I was able to get us a suite at a Cabo resort called Hacienda Encantada through a timeshare that we own. Sometimes with trading our timeshare with hotels around the world I don't know exactly what to expect, and Hacienda Encantada did not disappoint. It was a gorgeous resort!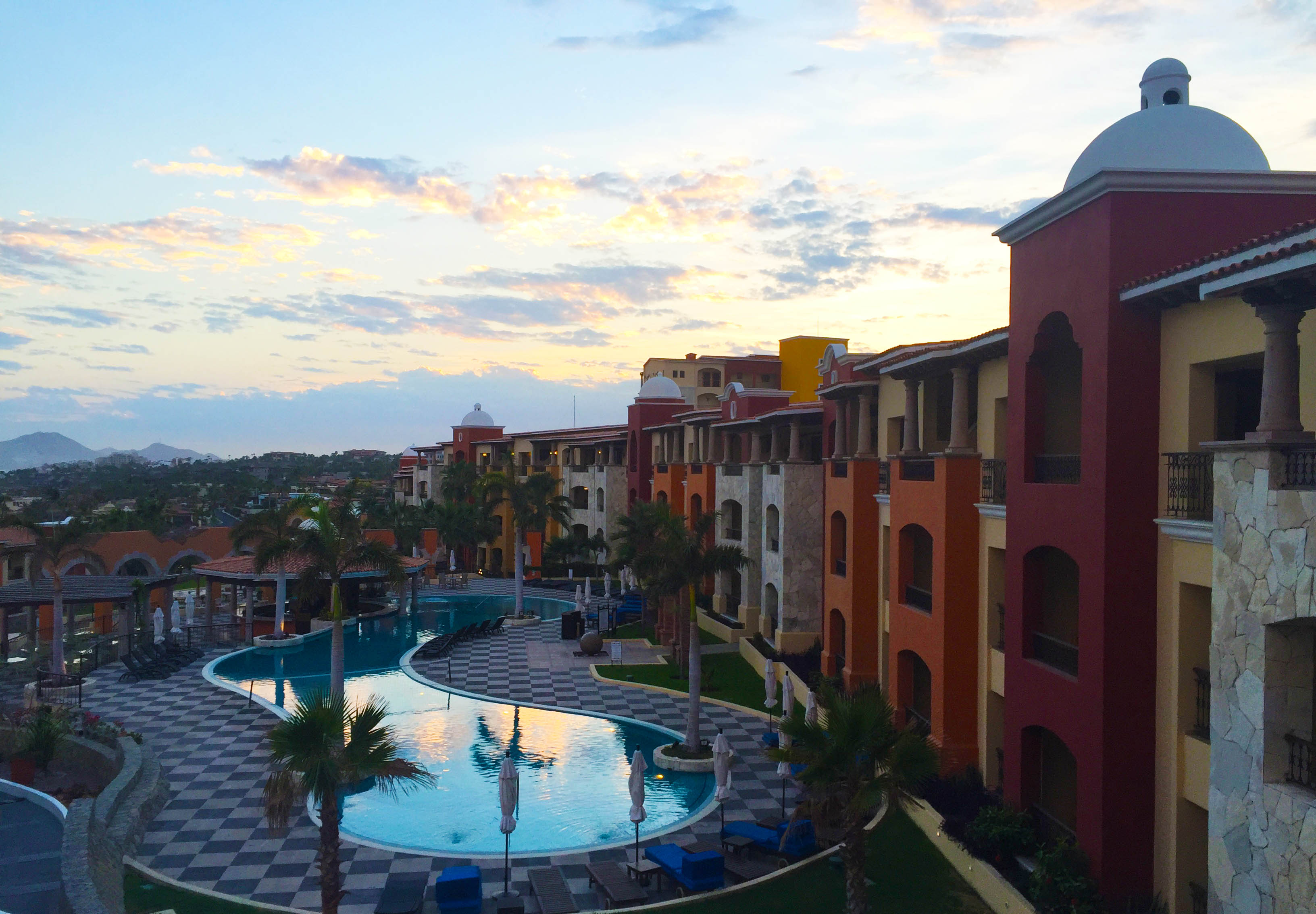 The resort was beautifully maintained, and all of the employees that we came across were very helpful and friendly. The end of May is the start of Cabo's slow season, and the resort wasn't too crowded at all. It was pretty nice because we didn't have to worry about making reservations anywhere early and at times it felt like we had the resort all to ourselves, but the weather was still gorgeous and not yet unbearably hot. The sun was shining the whole trip, and I think it was 88 degrees every day we were there.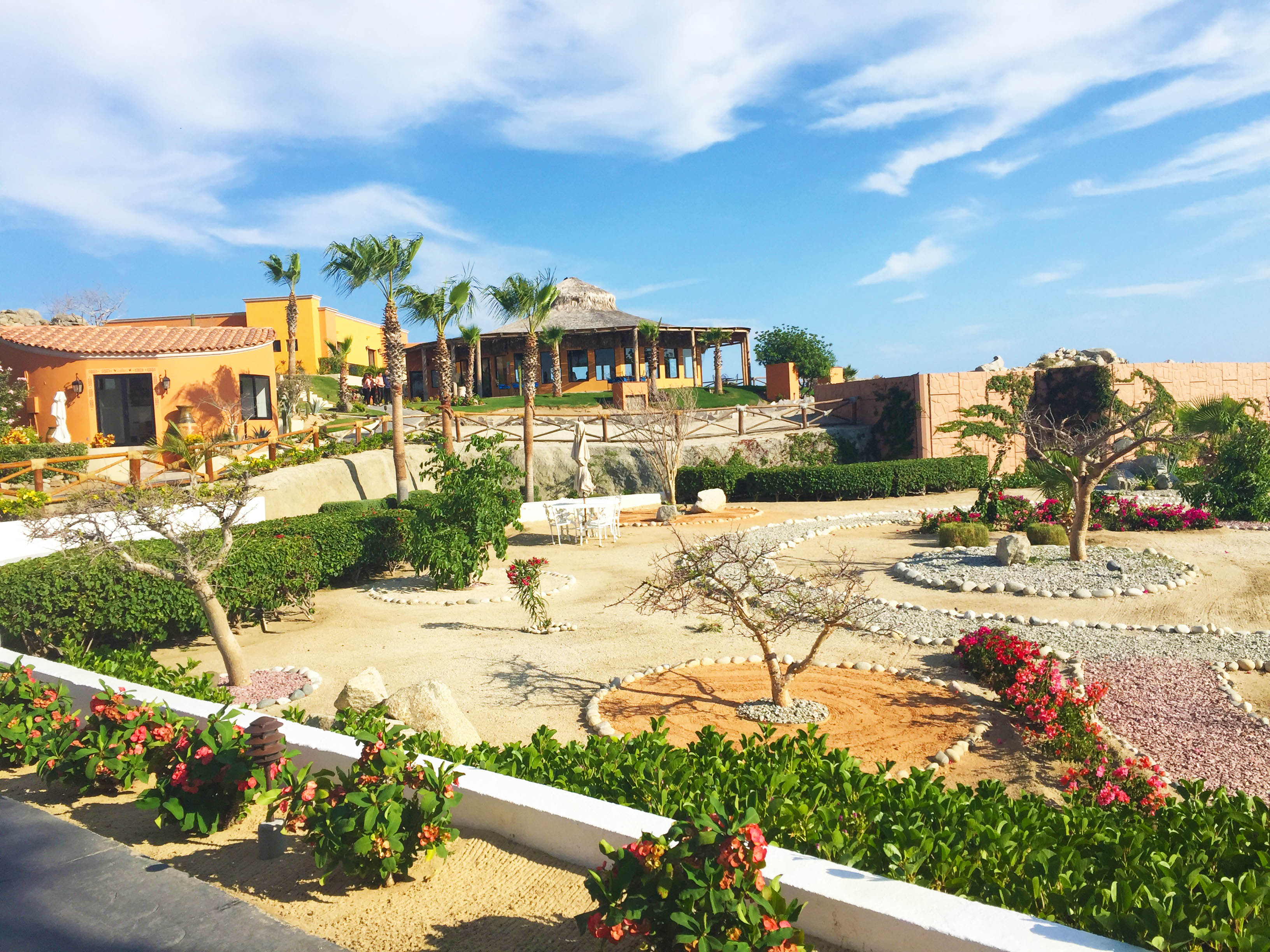 We were happy with our suite, which included a kitchen and living room area. The theme of Hacienda Encantada was a sort of old-school Mexican vibe, but everything was very clean and well-kept.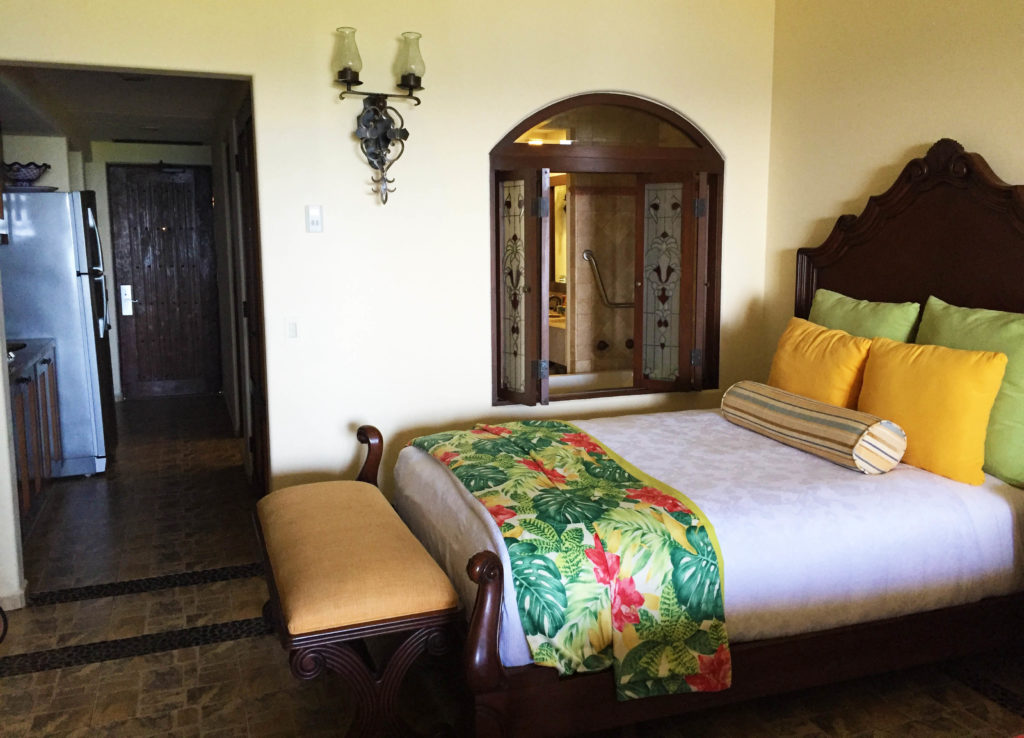 One of my favorite parts was the bathroom, which had a huge shower with pretty tiling. The bathrooms in my house are kind of outdated, so I really appreciate a nice bathroom! I also liked the suite's whirlpool tub, complete with doors that opened up into the rest of the villa.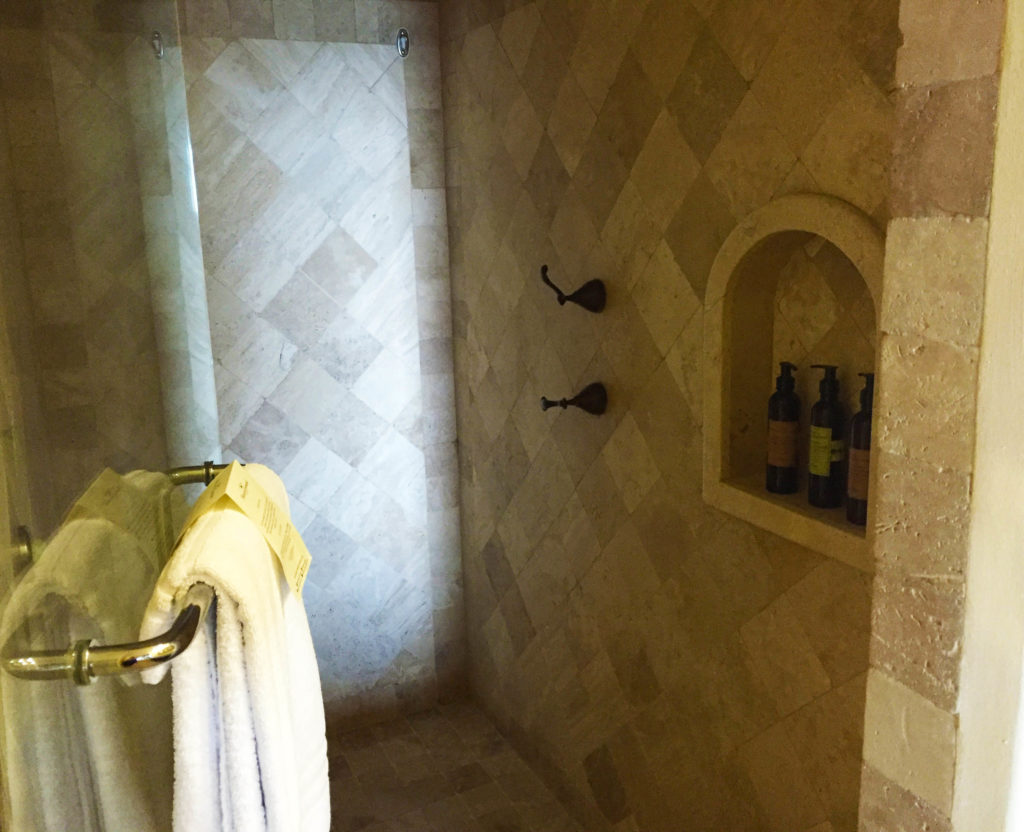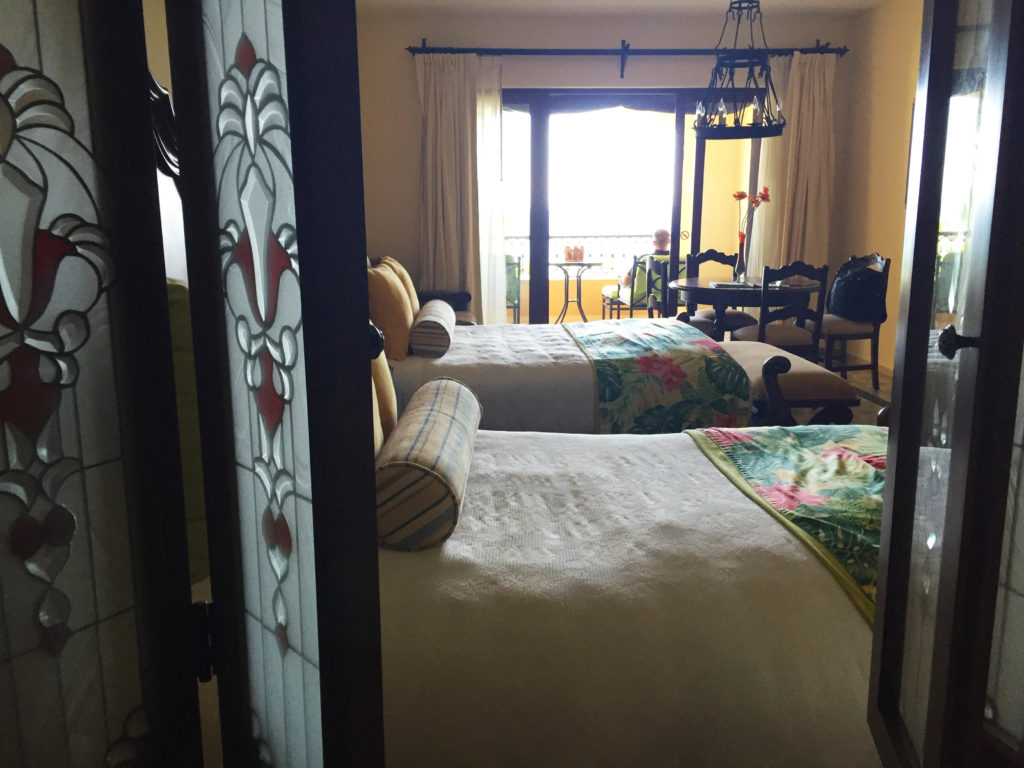 We had a lovely balcony view of the ocean, where I got to practice yoga a few mornings during our trip. It was so peaceful to practice on the balcony to the music of the ocean and birds chirping in the early morning.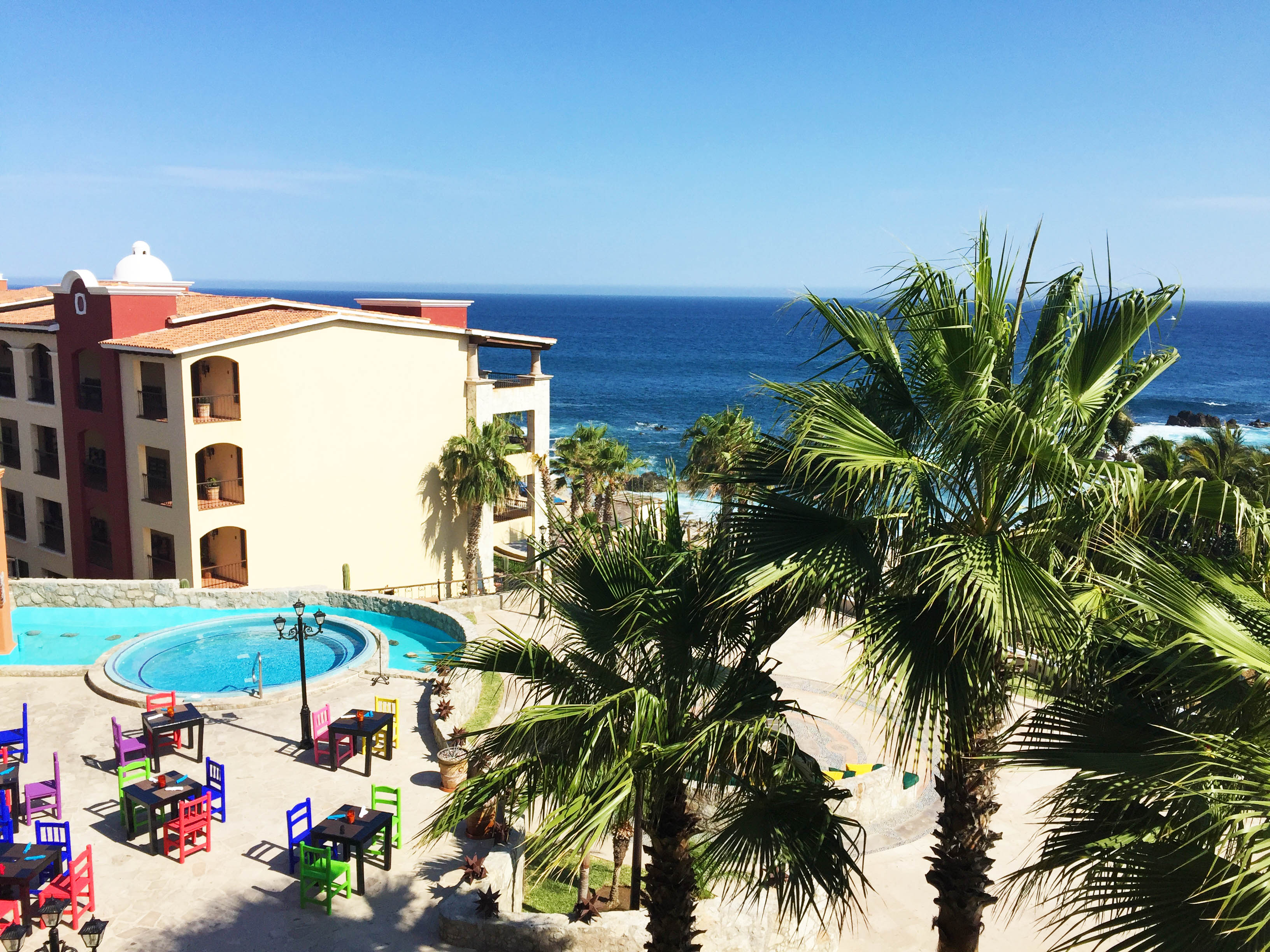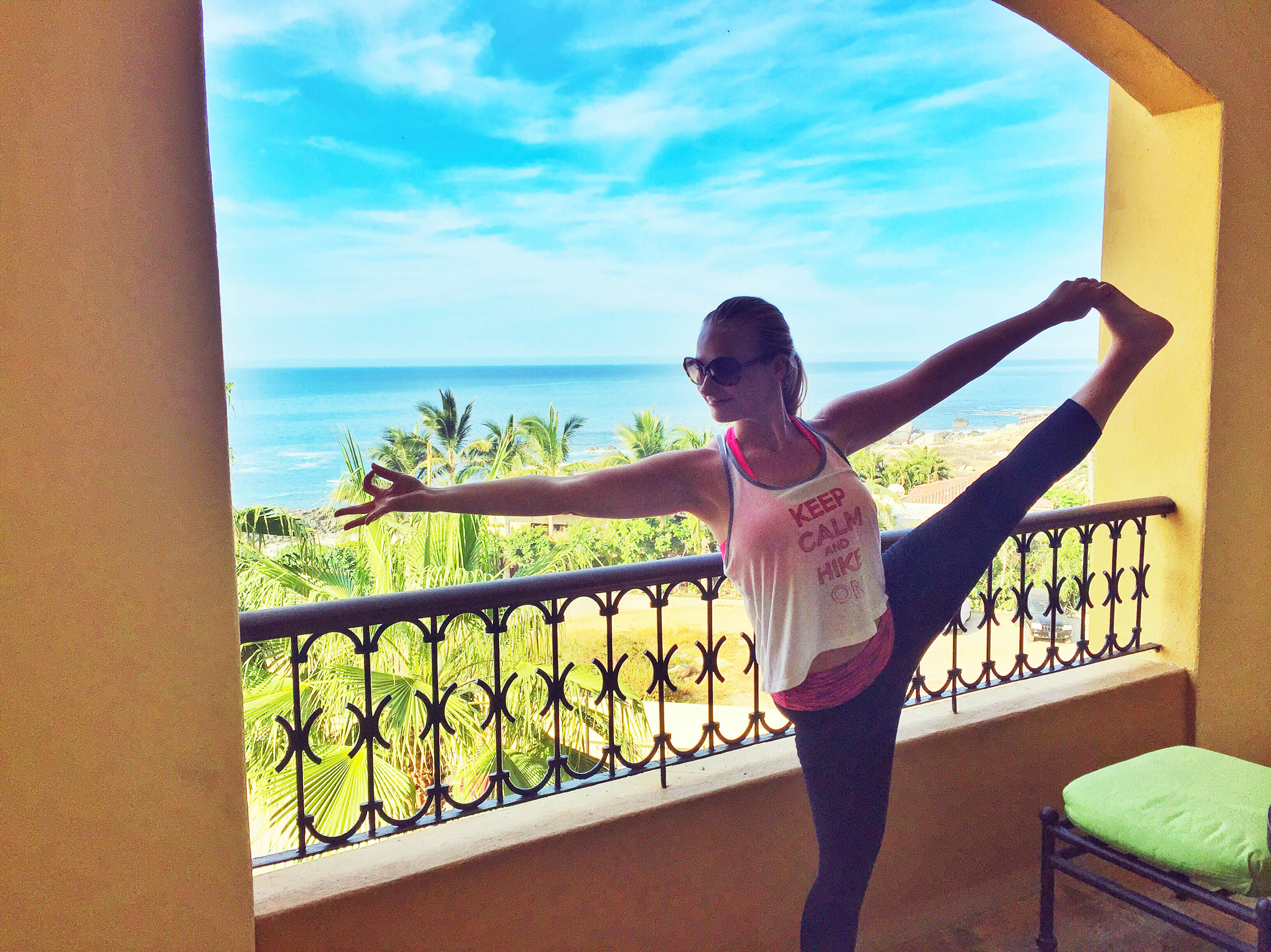 The best part of the resort was their main pool area – which featured an infinity pool, swim-up bar, hot tub and quite an amazing view.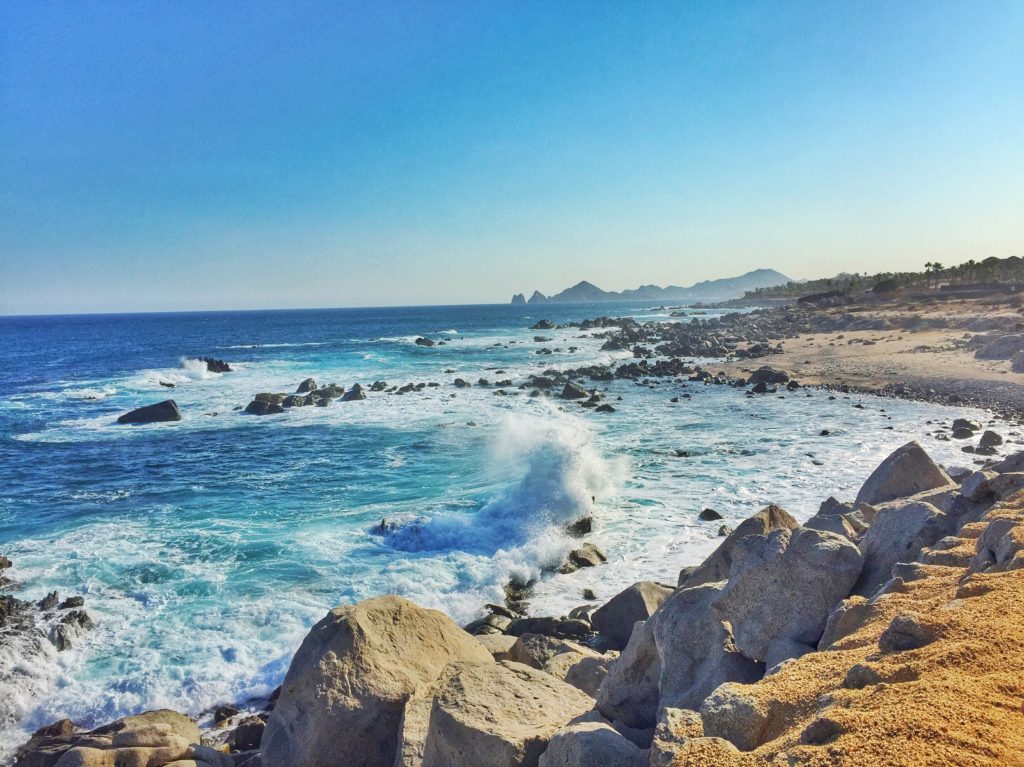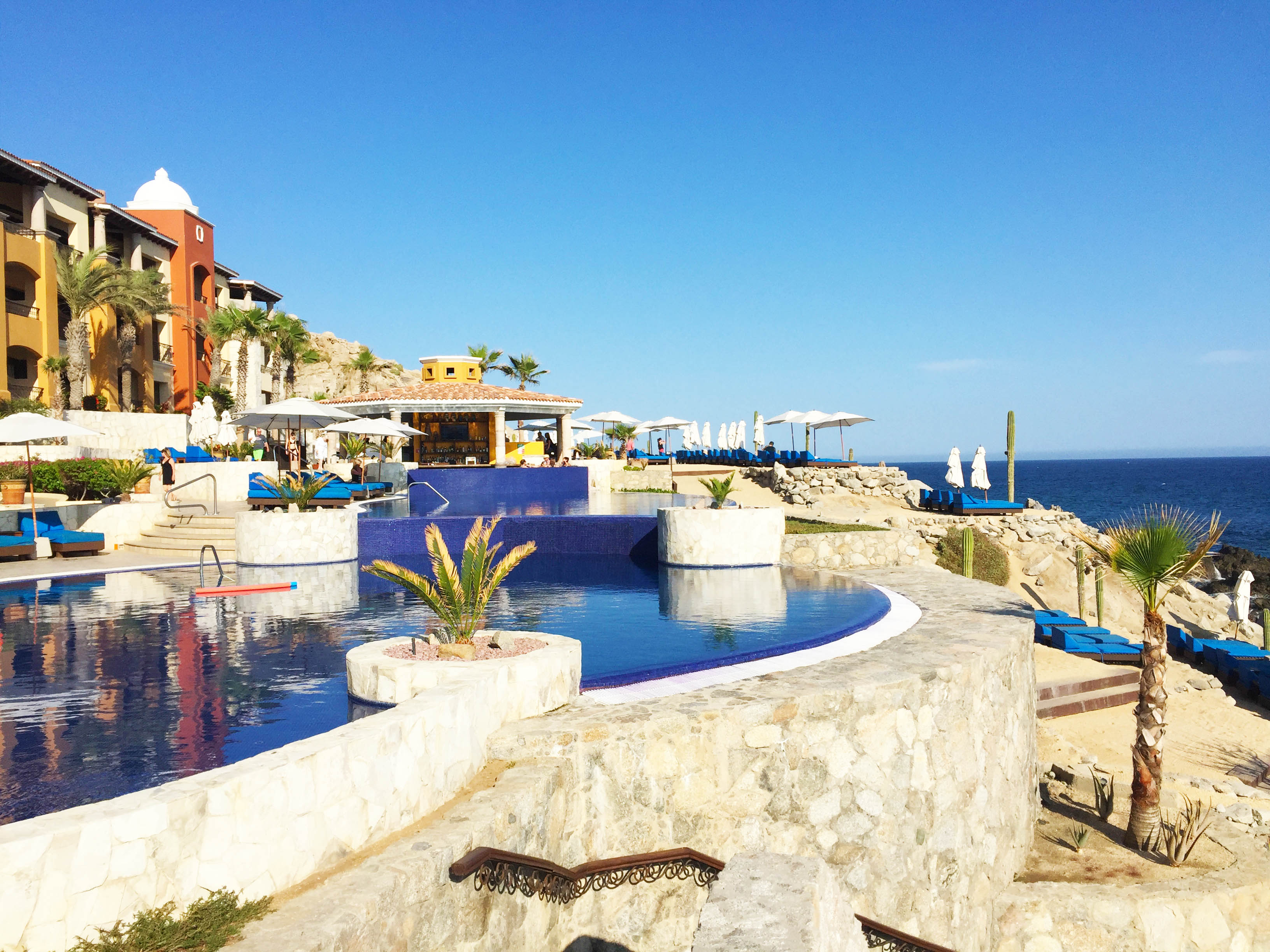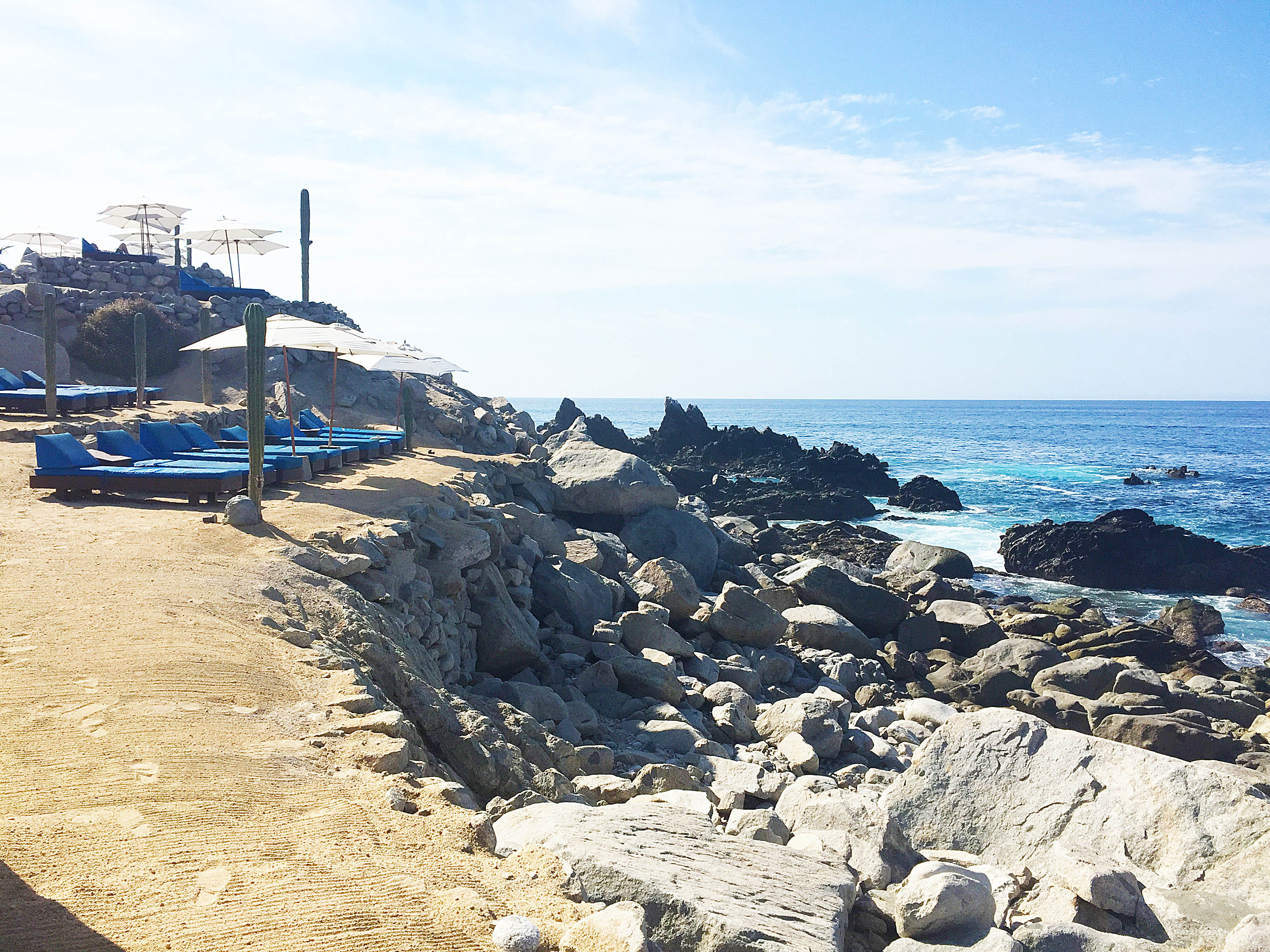 While pretty, the beach next to the resort is very rocky and not a swimmable area. The first morning we took a walk on the beach to check it out more…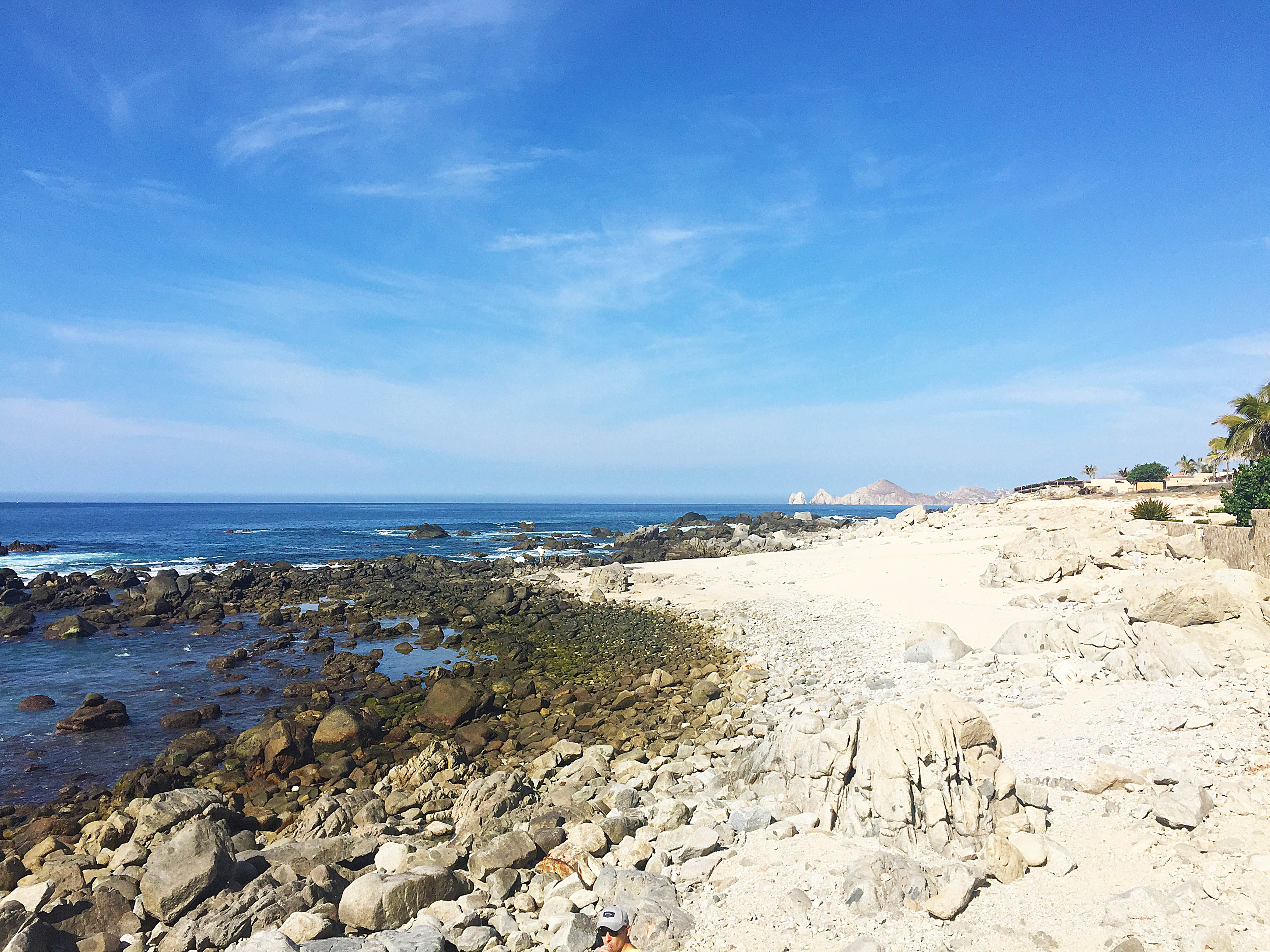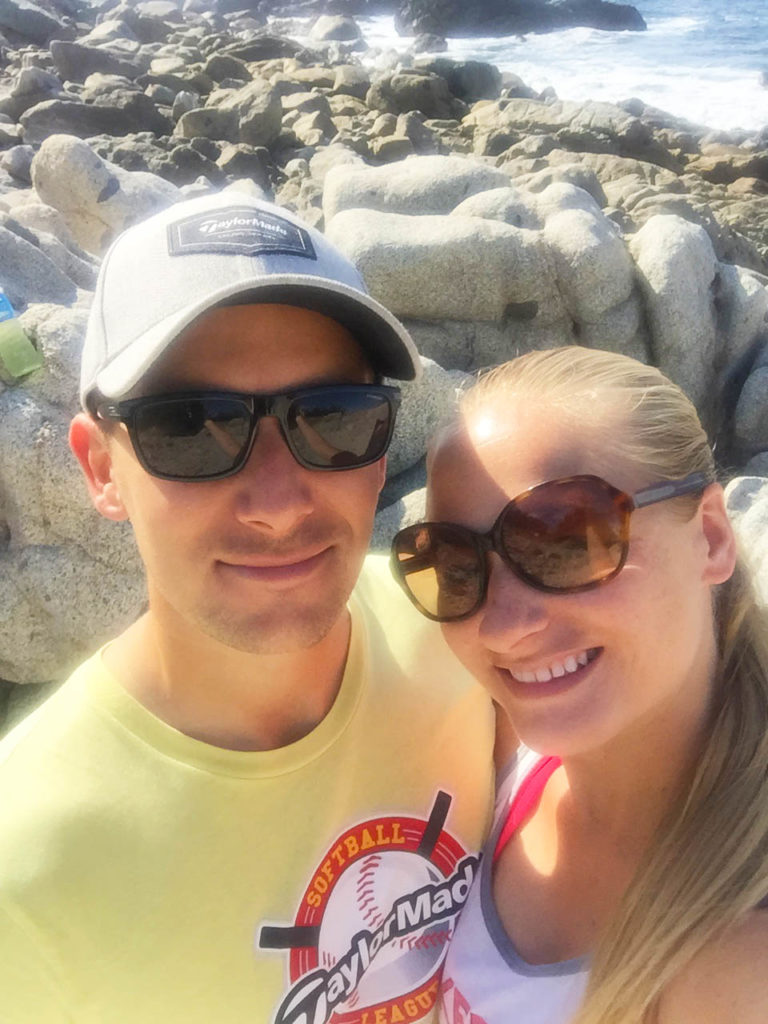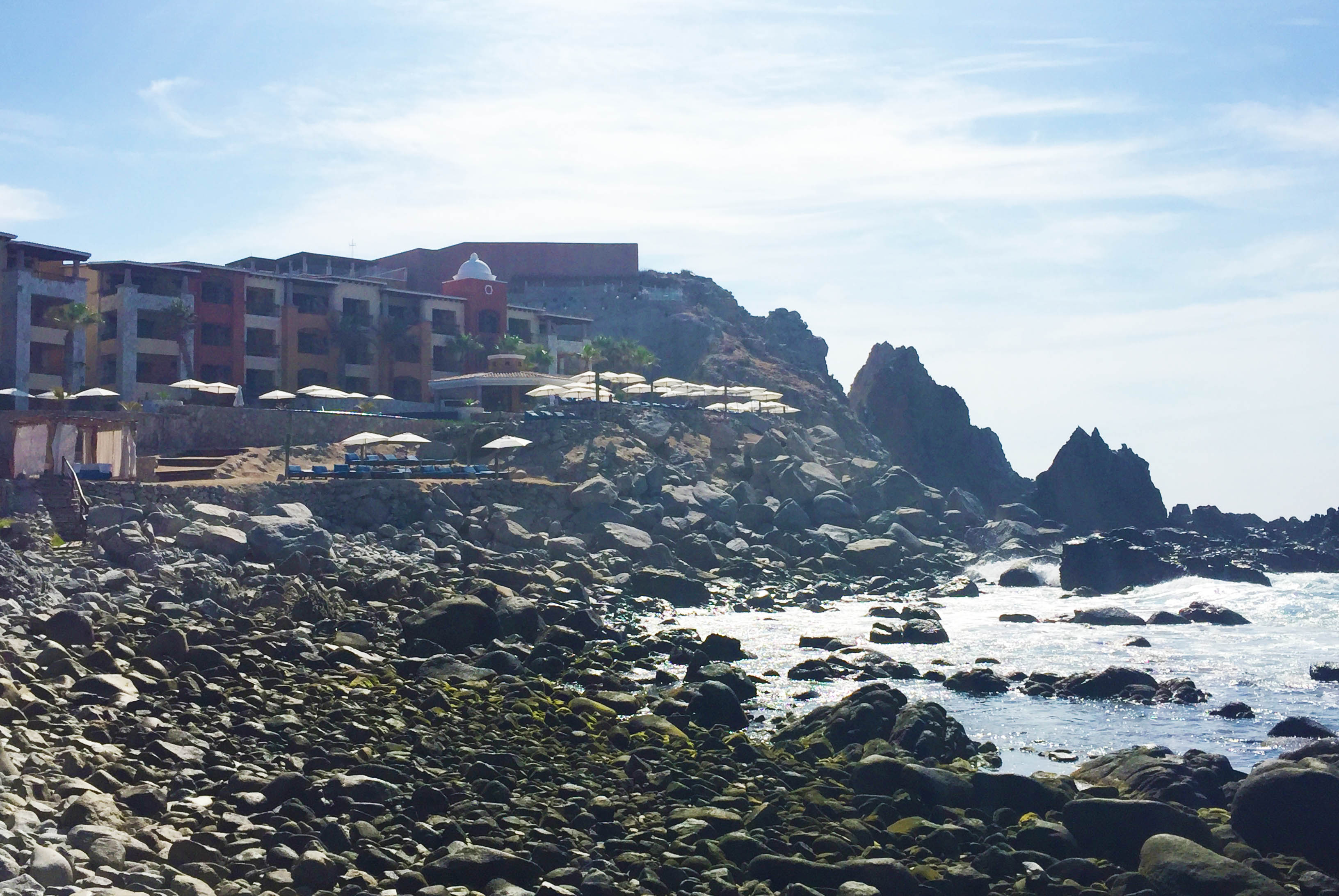 …and obviously strike a few yoga poses: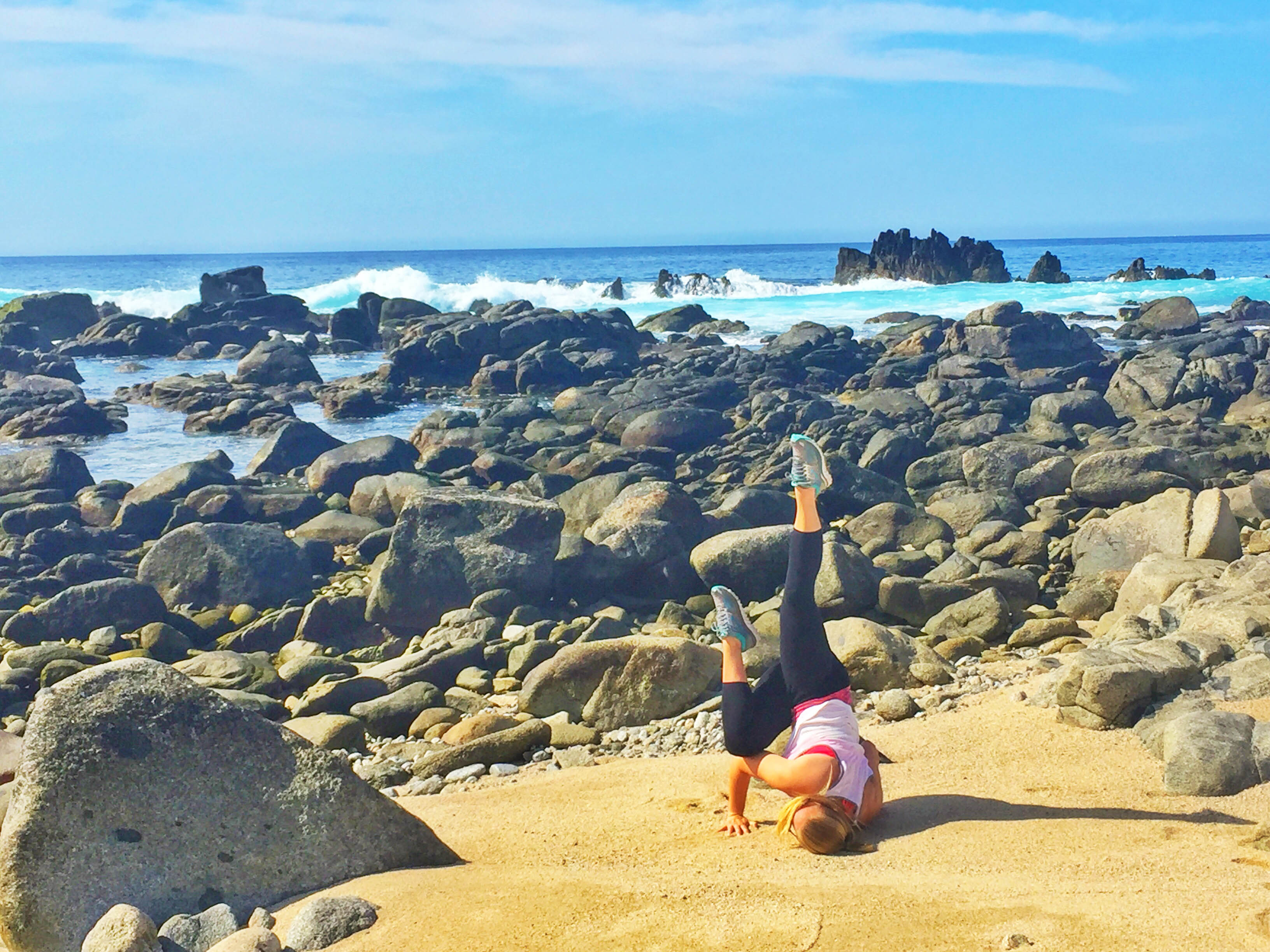 We didn't know beforehand that the beach is an area that we couldn't swim at, so that was a bit disappointing initially, but Hacienda Encantada definitely makes up for it with their poolside situation. The waves really crash into the shore at this spot, and it was mesmerizing to watch as we sunbathed from our cozy poolside lounge chairs.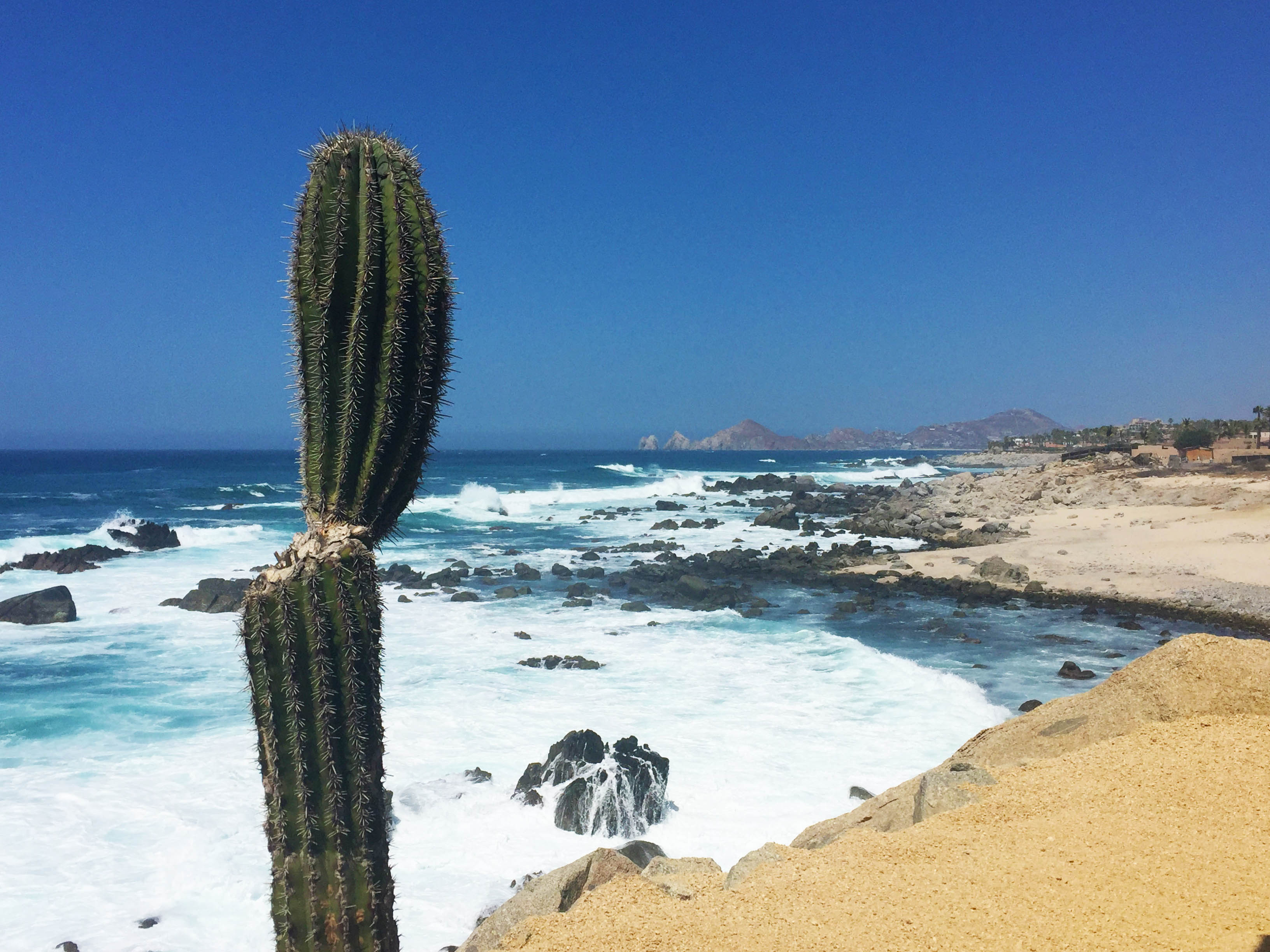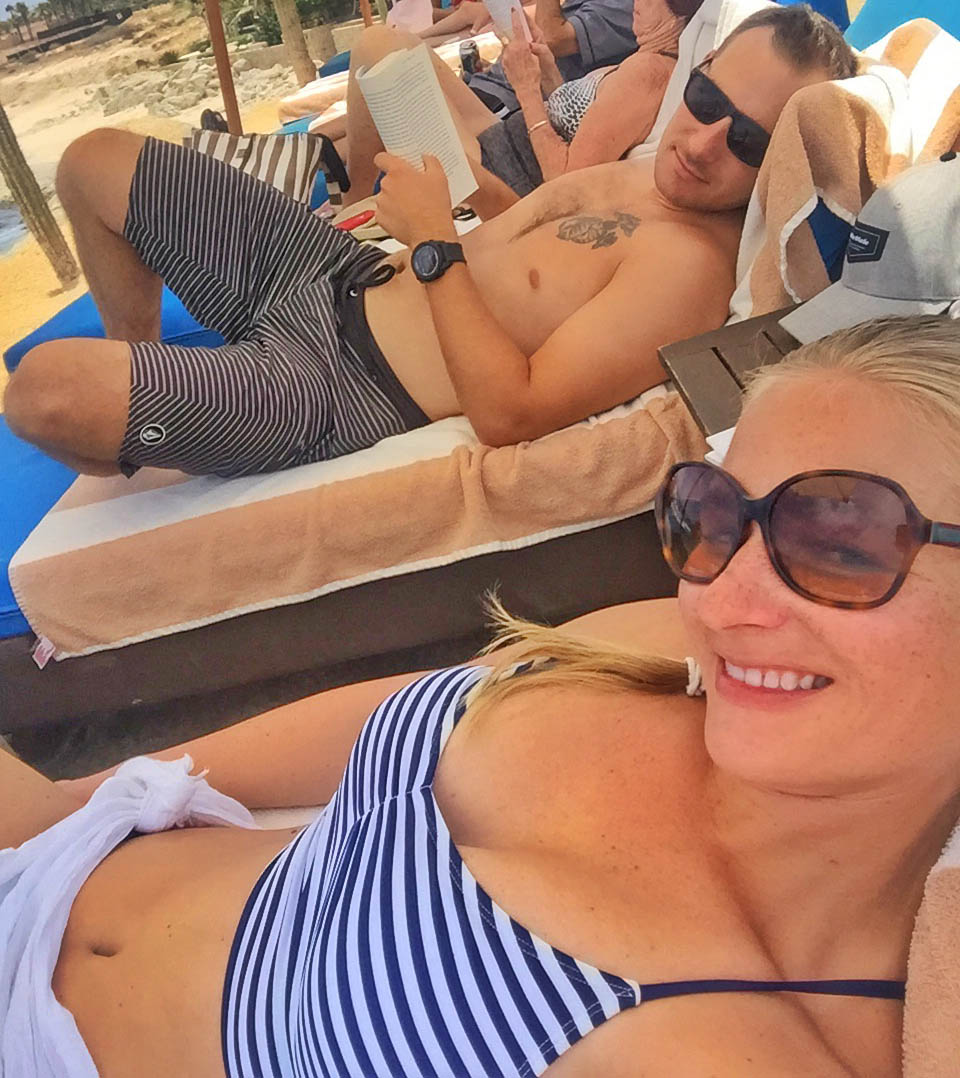 We typically plan vacations that involve lots of sightseeing and action, which I absolutely love, but this trip, the main agenda was to relax. I was psyched at the idea of simply enjoying being in a beautiful place with minimal planning and coordination involved, and our gorgeous view from the resort's pool made for a fantastic place to just chill-out!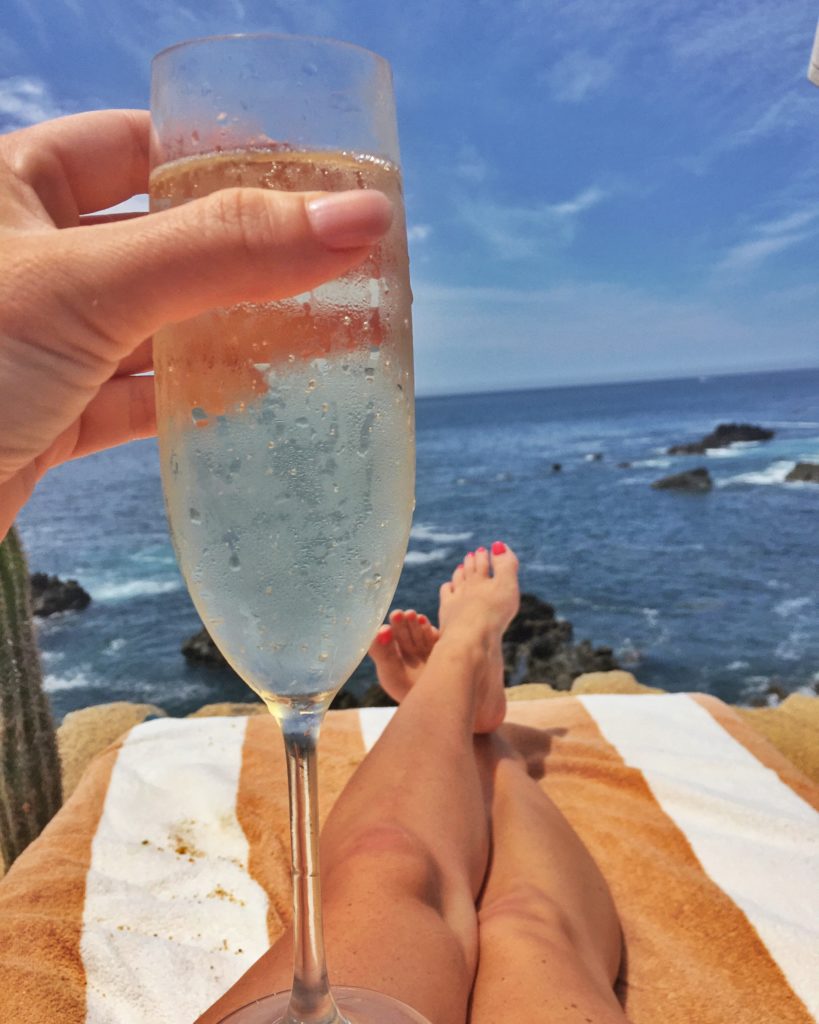 We took advantage of the poolside service and did some day drinking. I did some reading and lots of staring off into the ocean view – mostly from under the shade of our umbrella because my light skin is not made for the Mexican sun. Applying and reapplying SPF 50 just didn't work for me in Cabo, and I'm currently sporting some crazy tan/red lines!
I had always wanted to stay at a resort with a swim-up bar and infinity pool, so we definitely took advantage of it at Hacienda Encantada. There was lots of pool time and fooling around with my GoPro.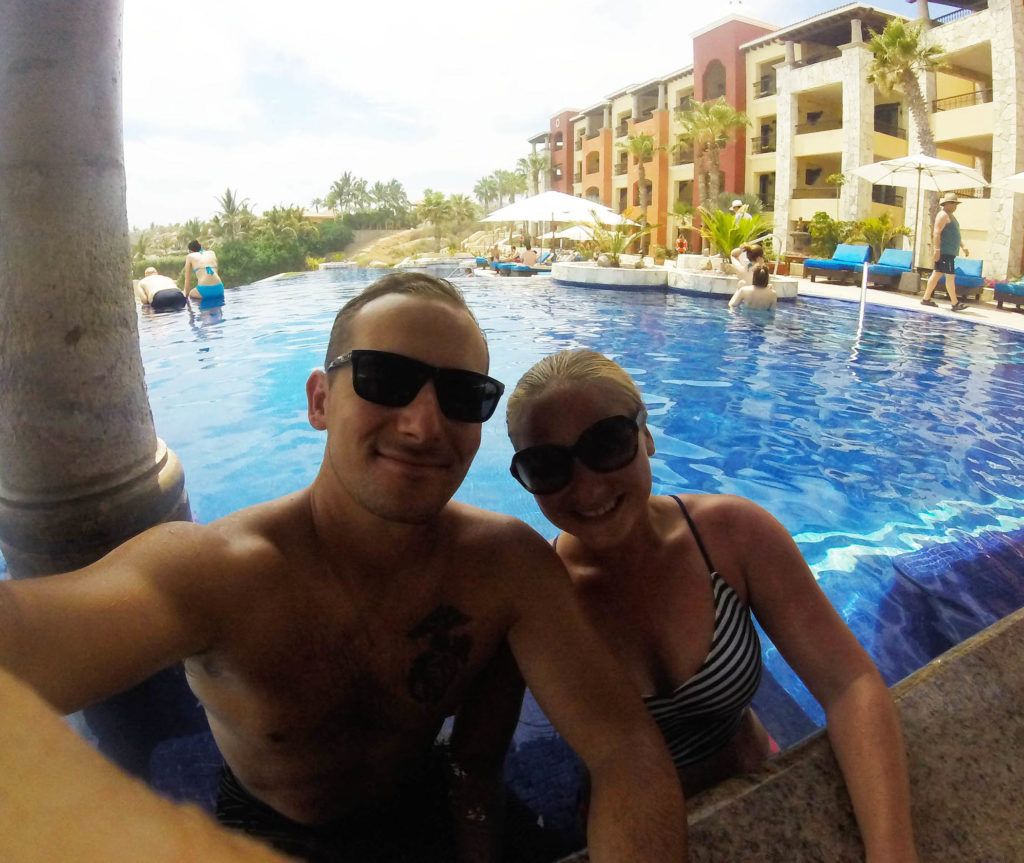 As I mentioned before, the pool area was also great because it wasn't super crowded. We didn't have to worry about getting to the pool really early to get prime seating. I might sound like an old lady saying this, but we kind of liked the quiet!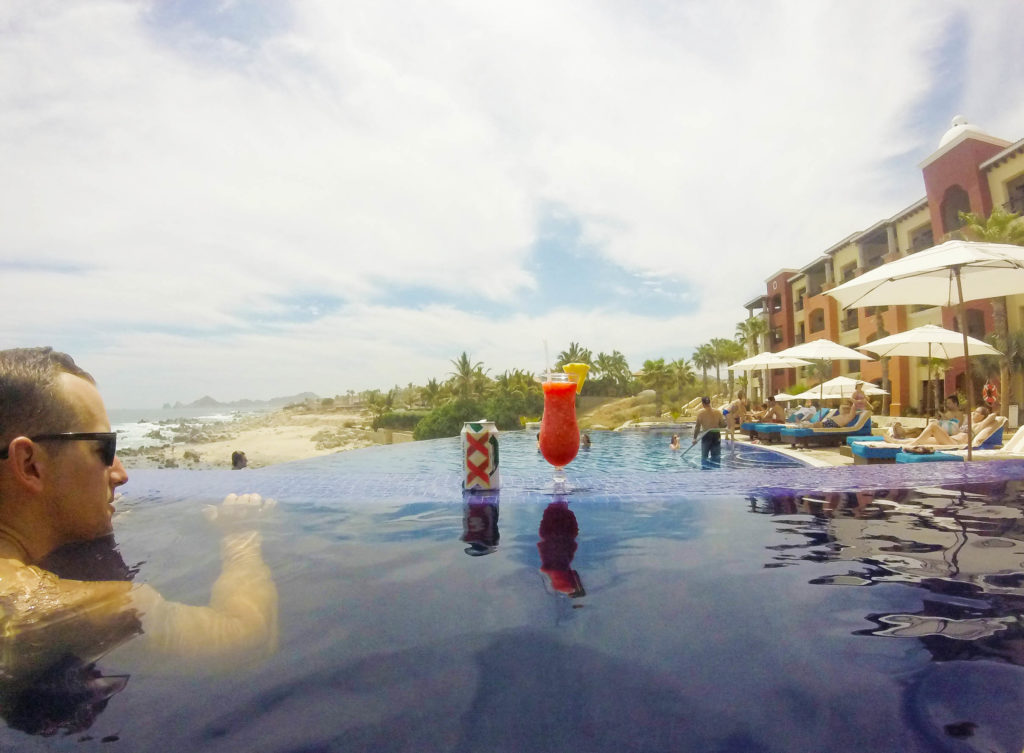 The resort also had a few other pools and hot tub areas, along with multiple gyms. There was one in our building that we visited for a morning workout one day before heading to the pool.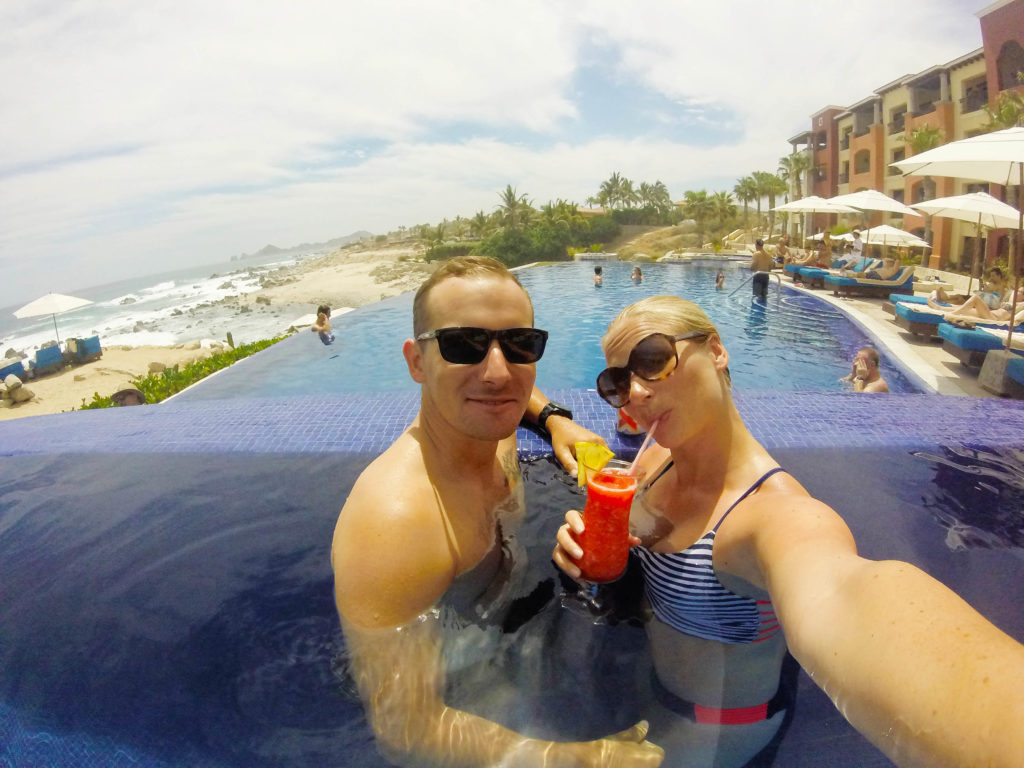 The resort was a bit away from the action of Cabo's downtown area, Marina Fiesta. Hacienda Encantada offers a shuttle ($5 each way per person) every 2 hours to/from downtown, which we took advantage of a few nights to go have dinner and drinks. It takes a bit of coordination to make sure that you catch the shuttle to and from, but it wasn't a big deal. You can always catch a taxi too, it's just pricier.
Hacienda Encantada offers restaurants for breakfast, lunch and dinner. As usual on vacation, we preferred to just eat protein bars and snacks that I had brought with me for breakfast in our suite. We grabbed a bite at the pool bar restaurant for lunch, and then would either have dinner at the resort or head into town. The view from the resort's bar & grill, Los Riscos, is pretty magical (especially at dusk!):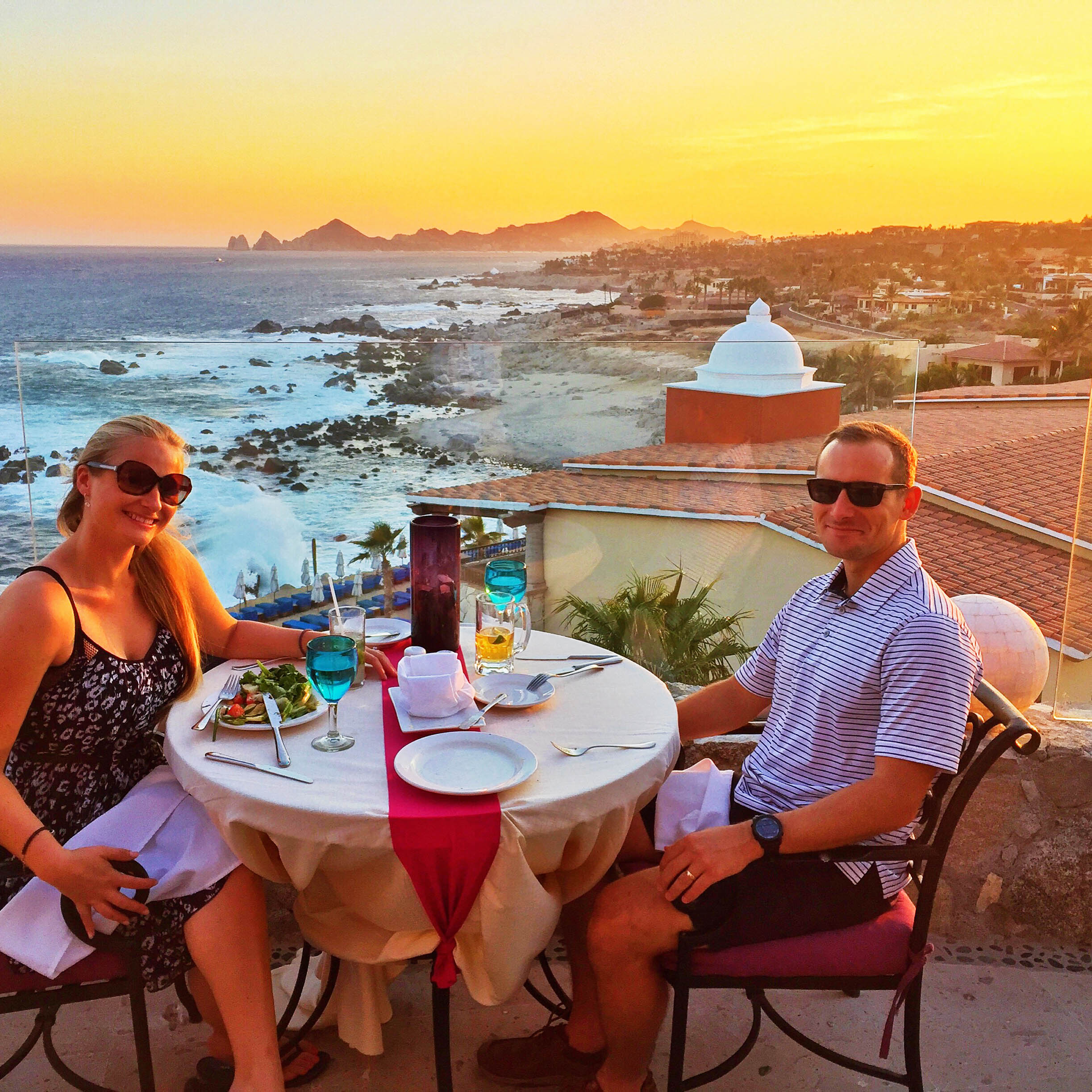 While Los Riscos and an outdoor taco shop are their more casual nighttime eateries, La Trajinera is the resort's more upscale restaurant. We ate there on our last night in town.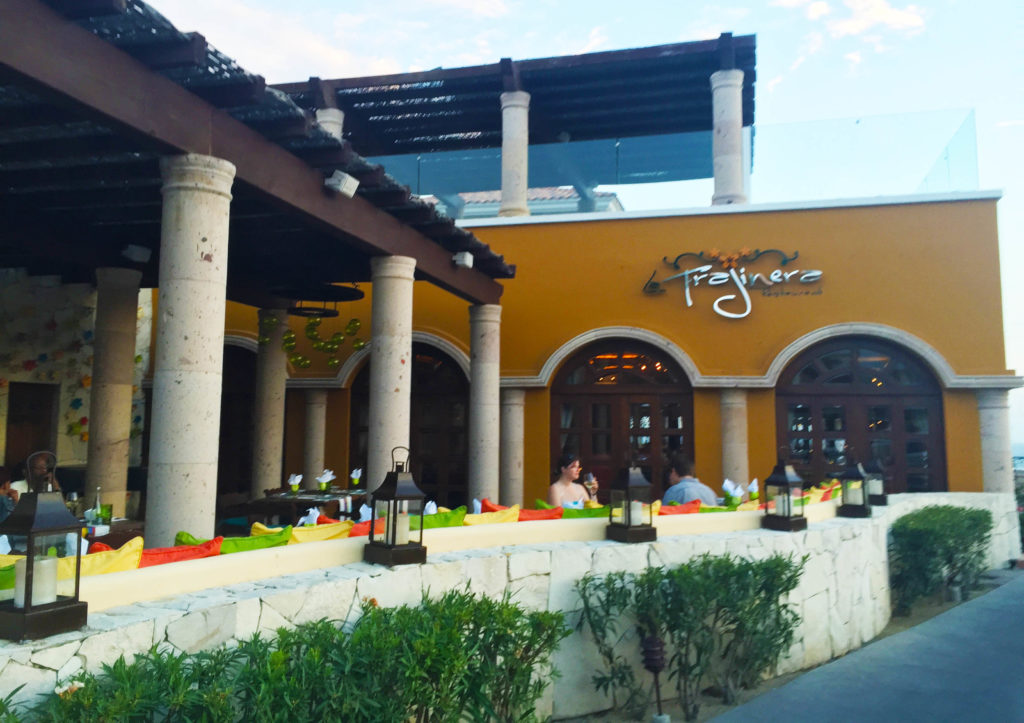 I was disappointed to see that there were no vegetarian entrees available (which is something I'll talk about in another Cabo travel post), but the chef made me a plate of sautéed veggies, Spanish rice and beans that was just the kind of healthy meal I was looking for.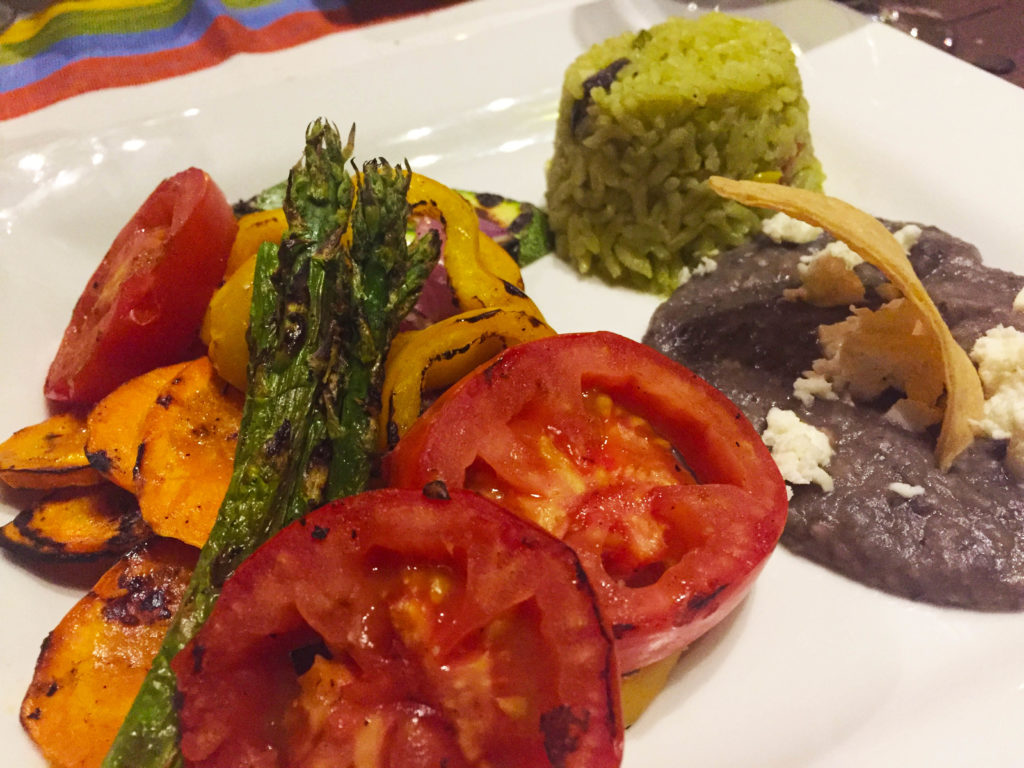 We also enjoyed their chocolate cake and a bottle of wine. The food was decent, but didn't hold a candle to our favorite dinner in Cabo. Stay tuned for a recap of that experience!
On the food front, the resort is about to open a new nighttime restaurant that's an Italian eatery, which I think it could use.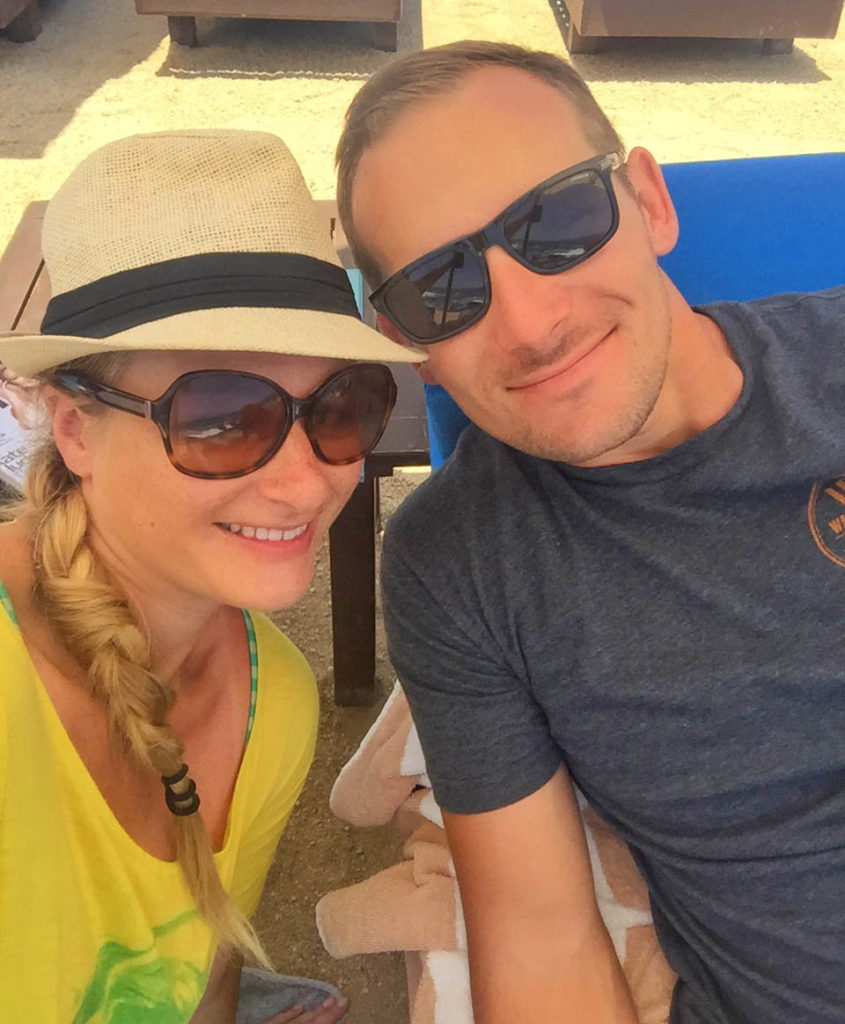 You only turn 30 once and I wanted to do something memorable to celebrate my hubby ending his 20s soon, and I think that Cabo San Lucas was a great way of doing that. All in all, we had a great stay at Hacienda Encantada and a wonderful time together on our Mexican getaway!
Tell me.. Have you ever been to Cabo or Mexico in general? Where are you traveling to next?