Portion control is so important when it comes to eating healthily. You can be consuming all nutritious, delicious food, but if you're eating too much of it, it's going to throw your body off. Besides having an achy stomach, feeling lethargic, and not being able to trim down (if that's your goal), it can even make your brain feel foggy if you overdo it with your portions.
I think it's safe to say that we've all been there in having that uncomfortable feeling in your gut when you've eaten too much. I love to enjoy great food, but I also hate that stuffed feeling that makes me feel uncomfortably full. Like with most things, I think it's all about balance and moderation.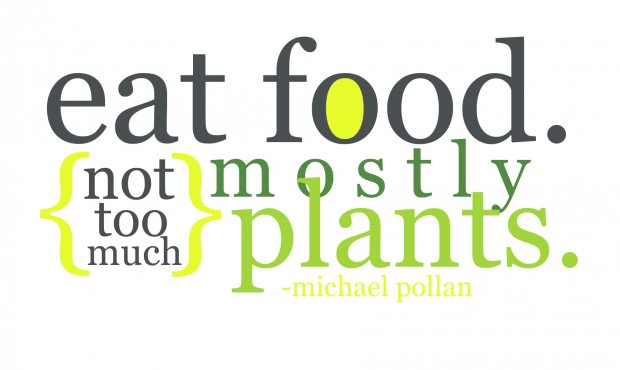 Because of all of this, I make sure to pay close attention to not only what I'm eating, but how much I'm putting in my mouth on a daily basis. While I'm not perfect and I still have times when I overdo it, for the most part, I keep my portion control in check to keep me feeling my best all around. Here are five tips I habitually use to avoid overeating:
1.) Eat on smaller plates & bowls. I've mentioned this one on the blog before, because for me, eating my meals out of smaller dishes really works! If you have nice little appropriate portions on a big ole plate, there's something in your brain that thinks, "That's it?!" whereas if you have the same portions filling up a smaller plate, you subconsciously feel more satisfied and not at all like you're depriving yourself.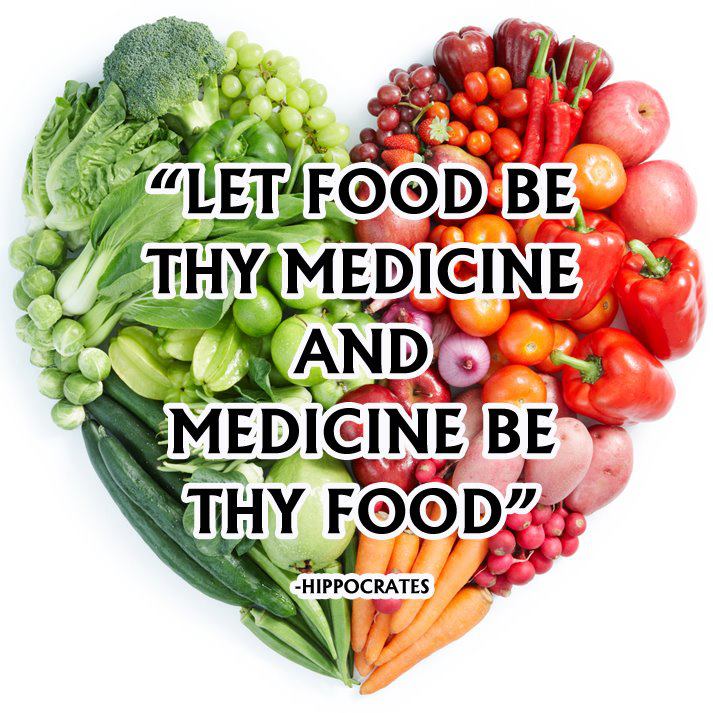 (source)
2.) Eat high-volume foods. By regularly eating foods that are high in volume but lower in calories, like lots of fruits, veggies, and broth-based soups, I fill up on highly nutritious food and reach a point of satiety without eating tons of calories. It's why I love to order a salad first if I'm eating out. Since portions tend to be too big at restaurants, if I eat some greens first, I'm already starting to fill up on the healthy stuff. I'll still have room to enjoy my entree, but I might decide to take 1/2 of it home instead of eating it all at once because I ate a lot of volume with my veggie-filled salad.
3.) Ladies, don't compare yourself to your man…or anyone else. Chances are they're bigger in stature and weigh more than you, so it only makes sense that your man should eat more than you to nourish their larger bodies.
This also relates to seeing how much your friends eat, or even people who post their diet on social media or their blog. One time I read a blog post by a very fit personal trainer that documented what she eats in a day. I was shocked (and pitying myself for a moment) to learn that this very toned woman eats what I consider to be big portions, including a monster bowl of dessert every night. It's easy to get caught up in the comparison trap, but when it comes down to it, her diet would simply not work for me and my metabolism. Don't get caught up in comparing how much you eat to how much other people eat. Focus on what works for your body and when you feel satisfied, as eating is not a competition!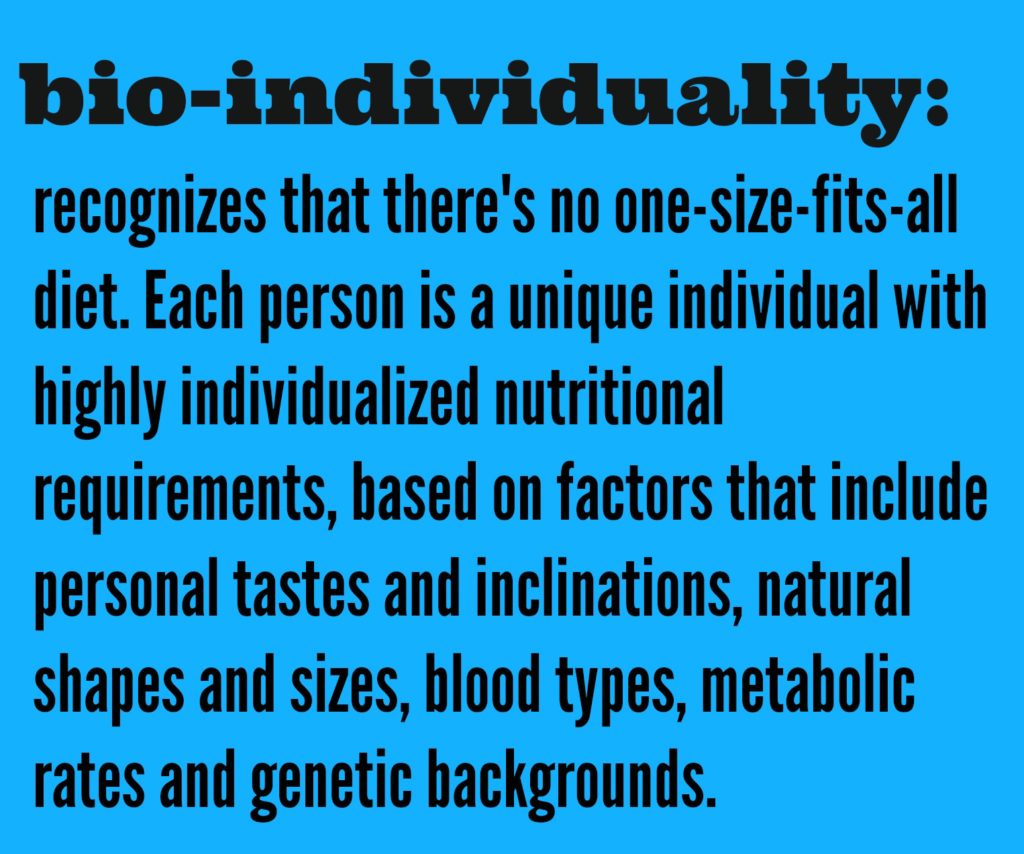 4.) Savor your meal and eat slower. We're probably all guilty of scarfing down a meal when we're starving – I know I do it sometimes – but if you can, it's best to enjoy your meal rather slowly. Savoring your bites and taking moments in between to pause gives your body a chance to digest your food, thus allowing your body to send out those, "I'm no longer hungry" hormone cues to your brain.
5.) End your meal with a little something sweet. I'm sure that any of you with a sweet tooth can relate to this: Every night after I eat dinner, I crave something sweet. I'm no longer hungry, but my dessert loving self wants a little something anyways. While I go ahead and indulge in dessert once or twice a week, the way that I satisfy my sweet tooth on all the other nights is to a.) have a small piece or two of dark chocolate, b.) have some tea, c.) have a piece of candy, gum or sucker…and this is where today's giveaway comes in!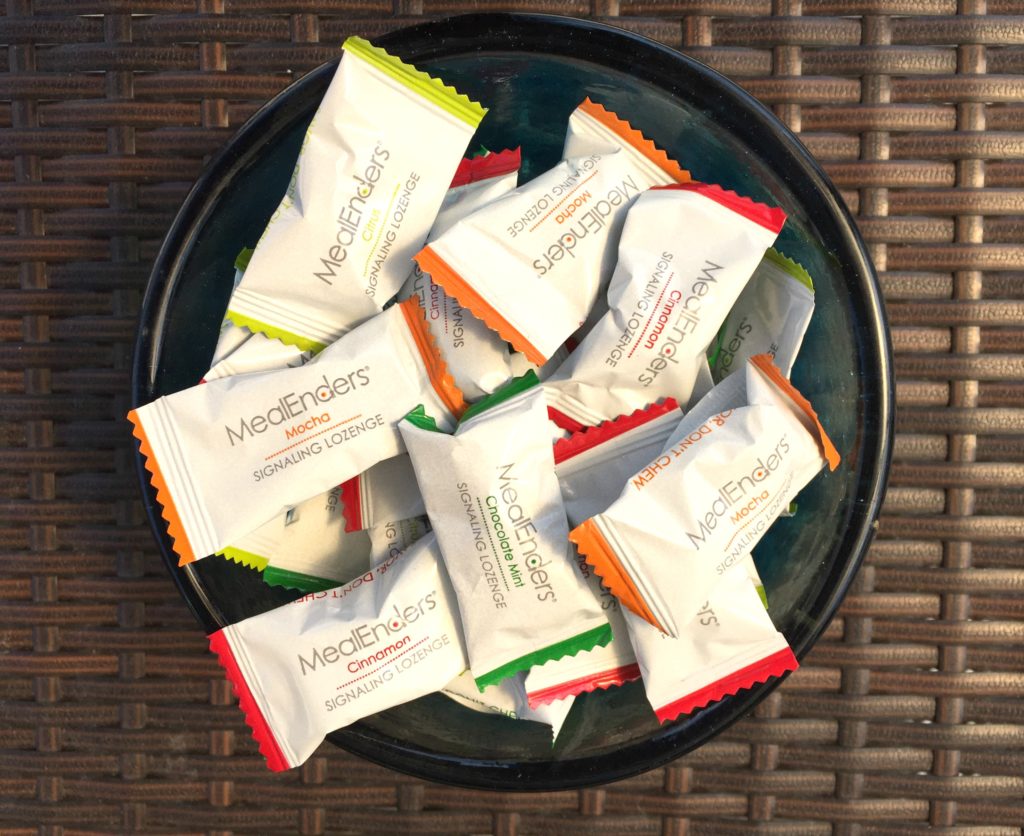 Recently MealEnders sent me some bags of their signaling lozenges. I was interested in trying them out as my option c.) sweet tooth remedy. Designed to help people avoid overeating, MealEnders are low-calorie, stimulant-free suckers that have what's referred to as a duo-sensory taste system, with the two components being a sweet, outer layer, and a cooling/tingling center. The outer layer is said to provide a little taste of dessert while the cooling center of the sucker engages your taste nerve to cue the end of eating.
With 15 calories and 2 grams of sugar per lozenge, MealEnders offers 4 different flavors:
Chocolate mint
Mocha
Cinnamon
Citrus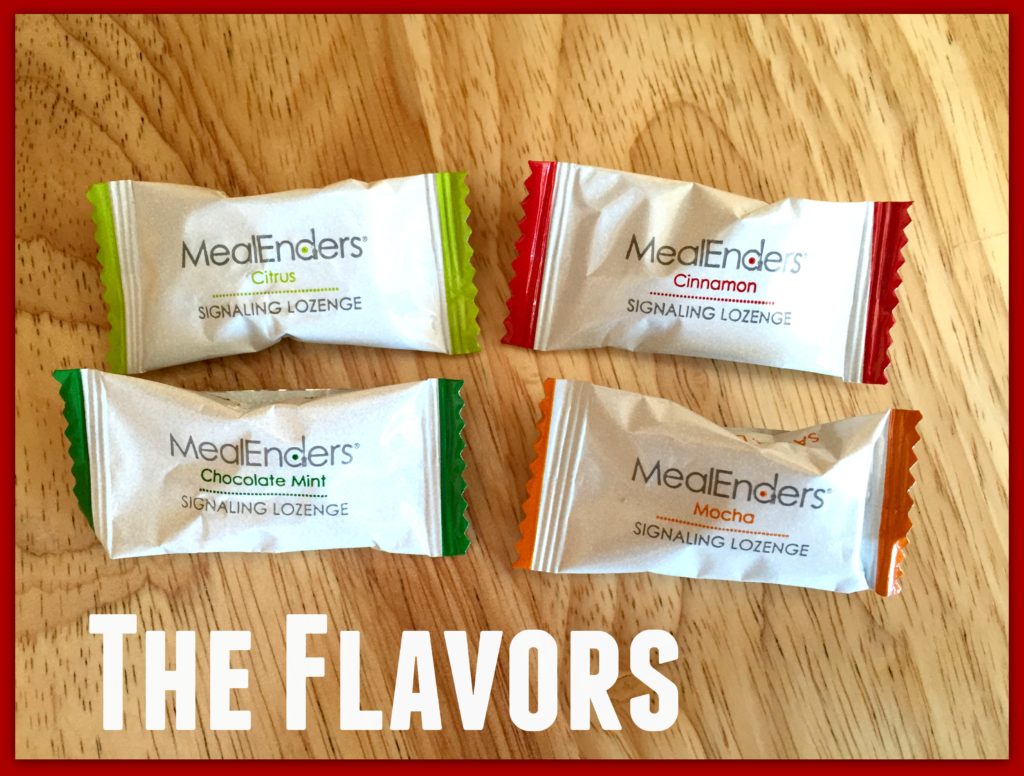 This is no surprise, but my chocolate & cinnamon loving self liked those two flavors the best. I really liked both the sweet part of the lozenges, as well as the cooling center of them, and I felt like it really did clear my palate. If you're trying to break the habit of overeating, inhaling junk food after a meal just because, or reduce your nightly dessert down to more of an occasional treat, MealEnders may be a good antidote for you.
Readers, I'm giving away a 25-piece bag of each of MealEnders 4 flavors to one of you! To enter the giveaway, simply leave a comment below telling me:
Which MealEnders lozenge flavor sounds yummiest to you? or How do you avoid overeating?
You can also tweet about the giveaway or retweet one of my MealEnders tweet for an additional entry. Just leave an extra comment letting me know that you've tweeted!
This giveaway is open to readers in the U.S. only. I'll randomly choose a winner in one week on March 18th. You can check out more about MealEnders via their website, Instagram and Twitter.
*Disclaimer: I was given free product through my partnership with Fit Approach. As always, all opinions expressed are genuinely my own.*