Today I ate breakfast early due to a conference call first thing this AM. Because of this, I found my stomach growling around 11 AM for lunch. I had pizza on my brain… and not just any pizza, leftovers from a new pizza recipe I came up with last weekend!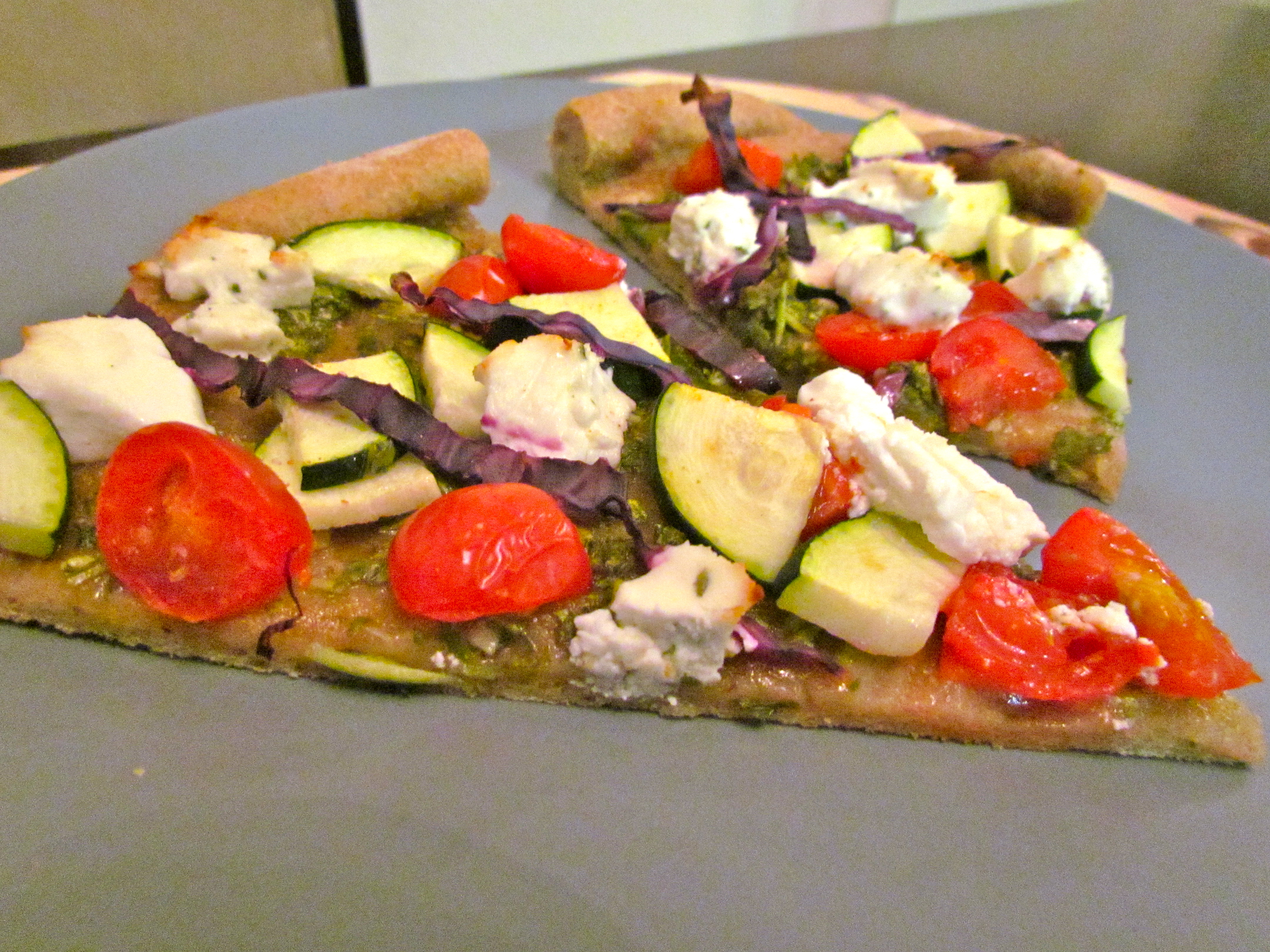 Instead of using tomato sauce as I usually do, I came up with a healthy pesto to spread onto the dough. Though I'm a big cheese lover, I let veggies take the center stage with this tasty pizza.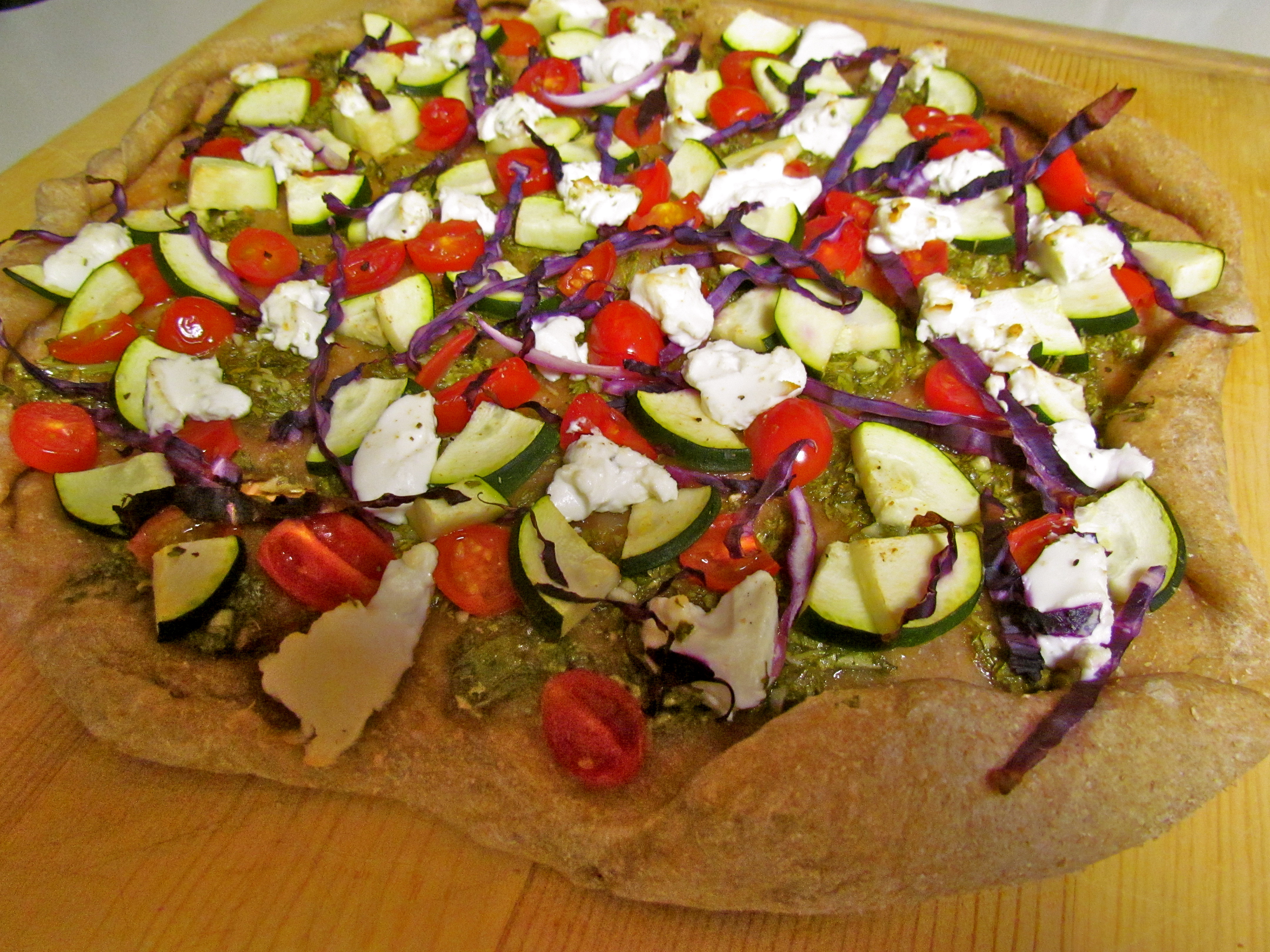 Veggie, Goat Cheese & Arugula Pesto Pizza

Makes 8 slices
Ingredients:
1 ready to bake whole wheat pizza dough (I use Trader Joe's)
2 c arugula
1/4 c fresh basil
juice from 1/2 lemon
2 TBSP olive oil
3 oz goat cheese
1 c zucchini, sliced
1/2 c cherry tomatoes, sliced
1/2 c purple cabbage, shredded
2 garlic cloves
2 TBSP water
salt & pepper
Preheat oven to 400. Roll out your dough on a flour-dusted surface with a rolling pan. Place on a pizza pan (I lightly spray mine with cooking spray beforehand).
In a food processor, combine arugula, basil, garlic cloves, lemon juice, oil, the water, and a pinch of salt & pepper. Pulse until a thin paste forms, then spread onto the pizza crust using a butter knife or spoon.
Evenly place zucchini, tomatoes, and cabbage onto the pizza. If you're using creamy goat cheese as I did, spoon bite-sized chunks onto the pizza. If you're using crumbles, simply sprinkle them evenly on top.
Lightly season salt & pepper on top, then pop into the oven until lightly browned, around 15 minutes.
Per slice: 190 calories, 8 g fat, 7 g protein, 27 g carbs
Where I was on this day… 
Sometimes when I realize the date, I start thinking about what I was doing on that day in past years. Today is the wedding anniversary of my brother and sister-in-law. Here are a few pictures from 3 years ago today: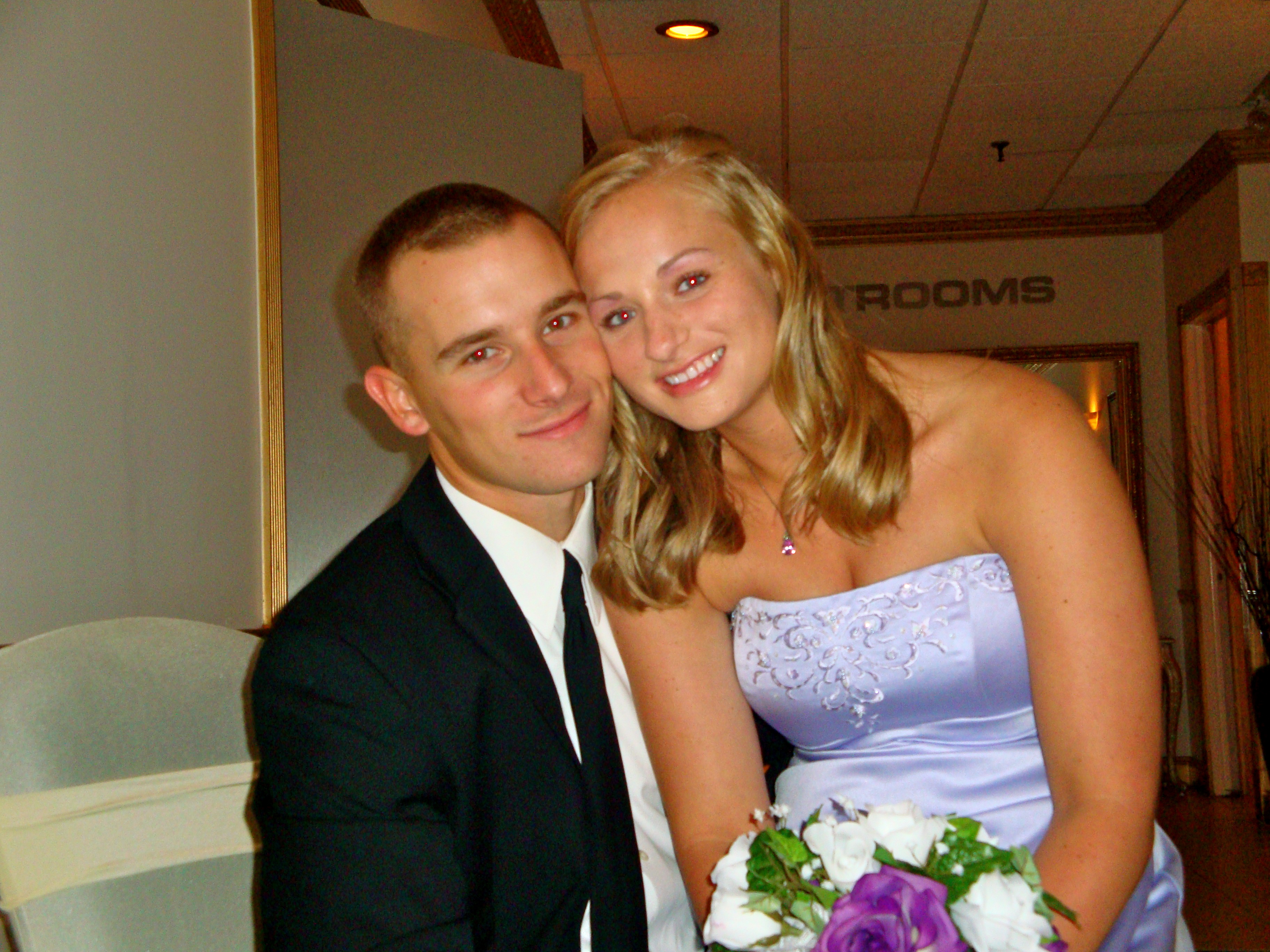 The biggest changes since then: Adam and I were just dating. I obviously didn't know it at the time, but he had already bought a ring and was just waiting for the right time to pop the question. 🙂 I had just finished my degree, and was still living in Jersey. I'm now a military wife, public relations professional, and mother to a very spoiled dog living in California. Plus we welcomed a new addition to my family last year, and I now have a little munchkin of a nephew. So much can happen in 3 years!!
Question: Do you ever think of what you were doing on that date in past years? 
Off to volunteer at the Humane Society!