Hi there! Hope that you're having a fabulous weekend. Happy Easter to all of those who celebrate it! Today I have a healthy living gadget review for you on the Fitbit Flex!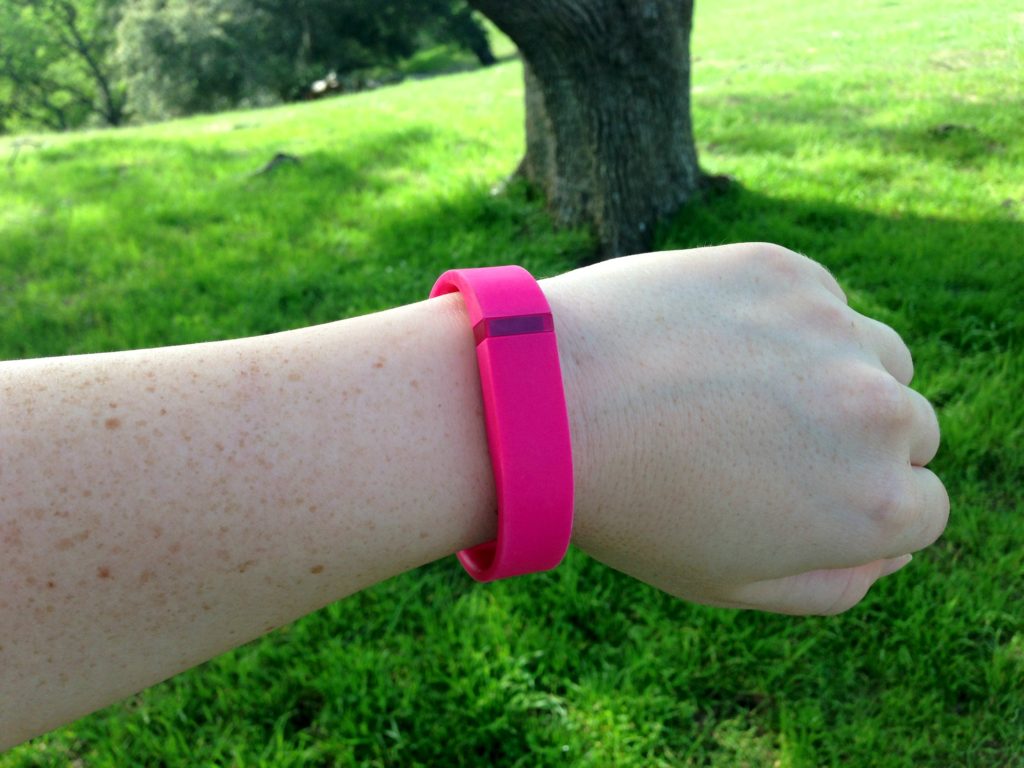 If you're a longtime Foodie Loves Fitness reader, you may remember that I used to have a Fitbit Ultra, which I adored and constantly used (I did a review on it in 2012 here). I used to clip it onto my pants at the waist, which never really was a problem…well, until about a year ago when I went for a motorcycle ride with my hubby, got home, and realized my Fitbit had somehow flung off of me during our ride (whomp, whomp). It was obviously never to be seen again, and while I loved using the tracker, I just didn't feel like buying a new one.
Fast forward to last Christmas. My father-in-law and I had talked about the Fitbit, so we bought him one as a gift, and he wound up giving me one as a present. I was really excited, because naturally I had missed a gadget telling me to get off the couch and get moving if I needed a little extra motivation.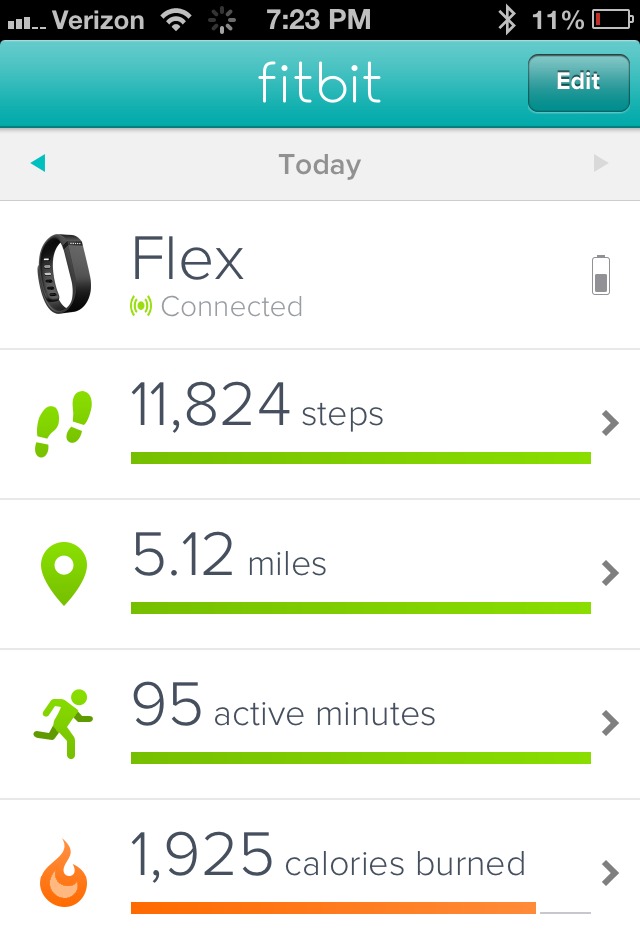 The Fitbit Flex activity tracker measures steps taken, calories burned and distance travelled. Now that I've been using it steadily for a bunch of months, I feel ready to give you the 411 on the Fitbit Flex. So here we go!
Pro: The Fitbit Flex has a simple bracelet design and is pretty easy to use once you learn the basics.
Con: Unlike the Fitbit Ultra I had (which, by the way, they no longer sell – but the Fitbit One on the market is similar), the Fitbit Flex doesn't display all of your stats on the device itself. It simply displays 1 LED light for every 2,000 steps you've taken for the day. At the beginning, I actually really didn't like my Flex because of that. It just seemed like a hassle to have to go on the computer to look up my stats during the day, and I found myself just not doing it much. Until…
Pro: I discovered the Fitbit app on my iPhone! It tells you all of your stats in realtime, and the Flex automatically syncs up to your phone. After figuring this out, I like my Flex so much better!
Con: A few times the bracelet has unhooked and flipped off of me by accident. The last time it happened I was getting out of a taxi at the airport, and I just happened to have noticed it. But given my track record with Fitbit devices, I'm predicting this to be the demise of my Fitbit Flex. Let's hope I'm wrong!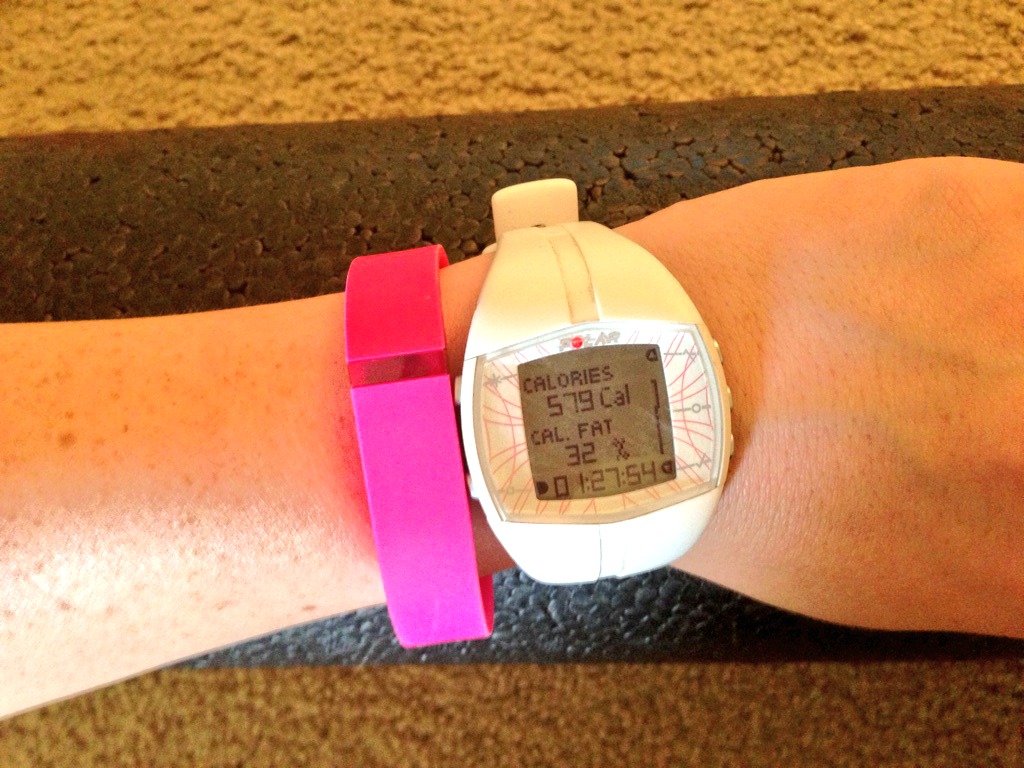 Pro: The Fitbit is pretty good at accurately measuring steps taken in a given day. However…
Con: What it's not good with is gaging most other activities or even calorie burn during walking activities. I can spin for an hour, and according to my Fitbit, I haven't moved at all. I'll go for a 2-hour hike, and while my step count will be awesome, the Fitbit will estimate my calorie burn pretty low. It seems like it can't really distinguish between a walk on a flat surface to a hike with crazy inclines. However, I manually add calorie burn during workouts to MyFitnessPal because I have the Polar heart rate monitor, which provides me with that info (I know, I kind of seem like a gadget nut!).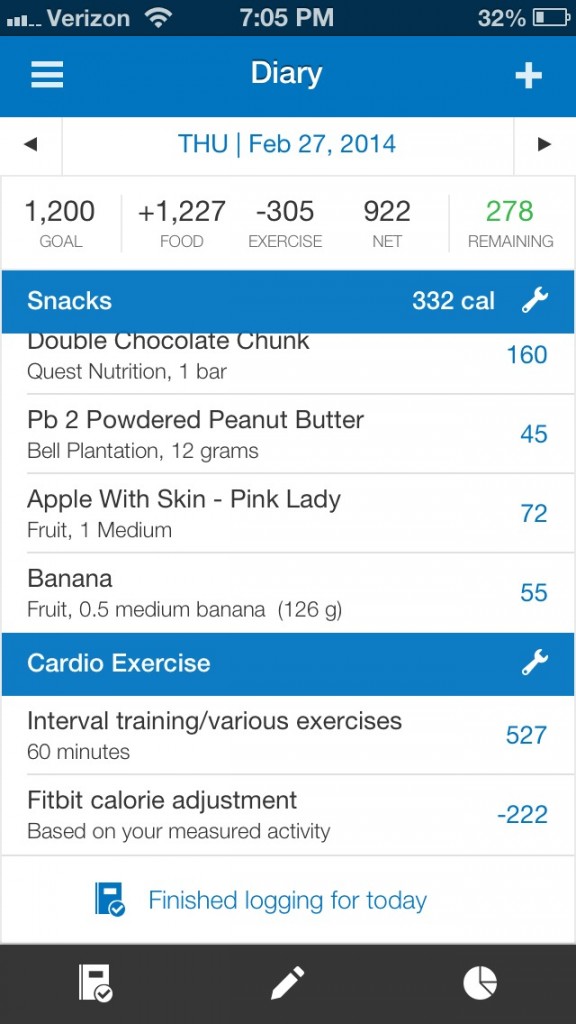 Pro: My Fitbit data automatically syncs up to the MyFitnessPal app I have on my phone where I log in my eats for the day, which on one hand, is neat. On the other hand…
Con: Refer to the con above. It incorrectly gages calorie burn, and then once I manually add the correct number, every time it automatically syncs, it changes my number back to what the Fitbit estimates. I'm all NO! I'm not lying about this Fitbit, I burned 700 calories! Why don't you believe me??
Okay, it's not that traumatic, but MyFitnessPal readjusts daily net calorie goals based on activity and it just bugs me a bit.
Pro: A feature of the Flex that I love is its silent alarm. I set the alarm via my iPhone Fitbit app, and it silently buzzes in the morning to wake me up. I've always gotten startled by ringtones and noises as my wake-up call, and it's so much nicer to be woken up gently by my wrist buzzing. Side note: I always wake up right away, but I suppose if you're a really deep sleeper you possibly could sleep through it.
Pro: You can wear the Fitbit 24/7. It's waterproof, and I really only take it off to charge the tracker.
Con: In my experience, Fitbit products aren't the most durable or glitch-free products out there. With my last Fitbit, I experienced some malfunction issues, and it has been the same thing with my Fitbit Flex. Just a few months after I got it, I was experiencing display issues. However…
Pro: The Fitbit team is awesome at responding to complaints to help you troubleshoot or to send out a new product ASAP. I had a new Fitbit Flex in a couple of days, and so far so good with the new one.
Con: The FitBit Flex also monitors your sleep. I like to check this feature out just to see what it says, but to be honest, I don't trust it or find it to be very reliable. Some nights it'll say I wake up and toss and turn a ton, which is usually true. But some nights I put it into sleep mode while I'm laying in bed watching TV, and the next day, my Fitbit will say I was snoozing for the entire time I was watching Law & Order.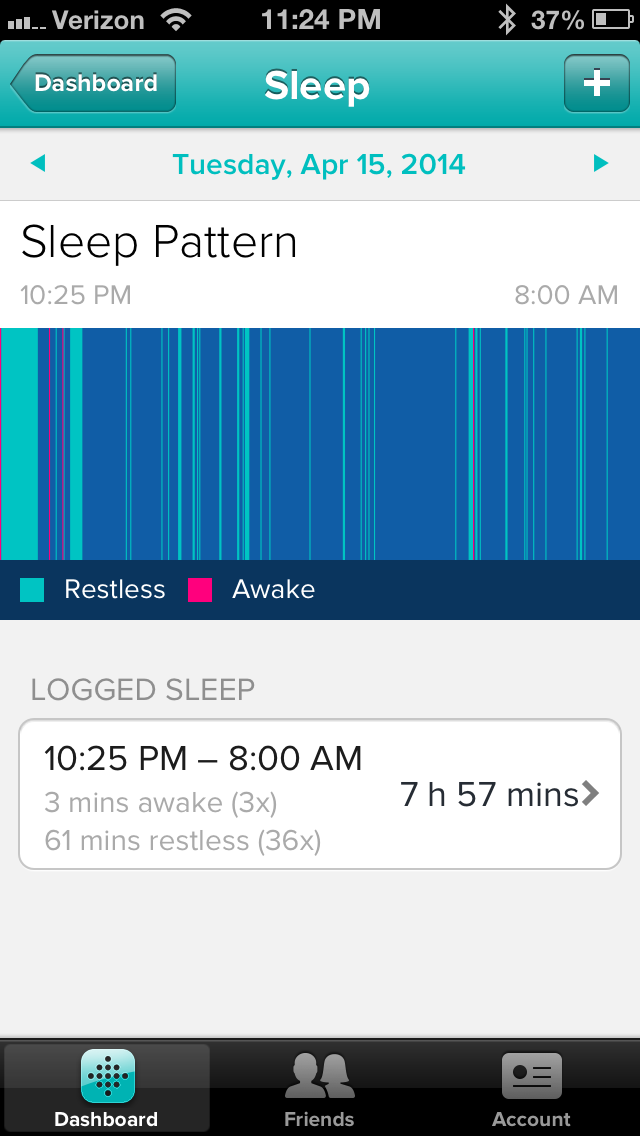 Overall, I think that the Fitbit Flex is a neat healthy living gadget to have. It's a nonchalant-looking bracelet that costs $100 and comes in a bunch of colors. I like just knowing how many steps I've taken because I'm a number crunching kind of gal. Some weeks I'll make it a goal to get at least 10,000 steps each day, since my steps can be around 8,000-9,000 during the week when I tend to be more stagnant working. Here were my stats for the last time I challenged myself to this a few weeks ago:
Sunday – 10,288 steps
Monday – 13,807 steps
Tuesday – 11,094 steps
Wednesday – 17,525 steps
Thursday- 10,189 steps
Friday – 12,103 steps
Saturday – 15,451 steps
One of the nights that week this happened…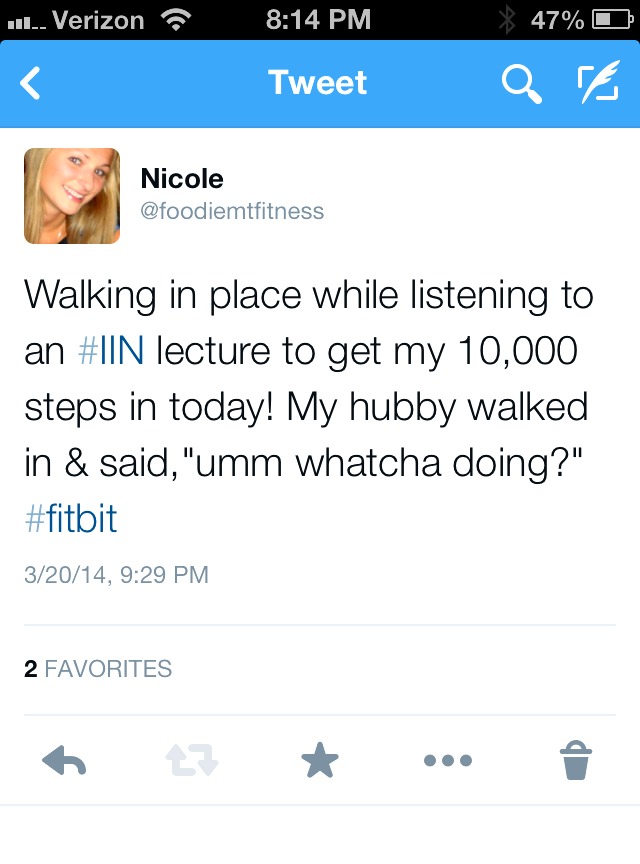 …but hey, I met my goal!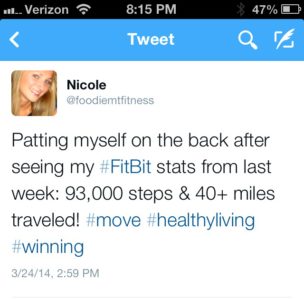 Have you ever used an activity/step tracker?
Do you think that you walk at least 10,000 steps most days?

Print This