When I was in San Diego last week, I made sure to hit a few of my top restaurants in the area. We had a lot of social plans so that we could see all of our friends in town, but one night Adam and I had a cozy dinner date just the two of us at our favorite little Italian restaurant in the city — Arrivederci Ristorante.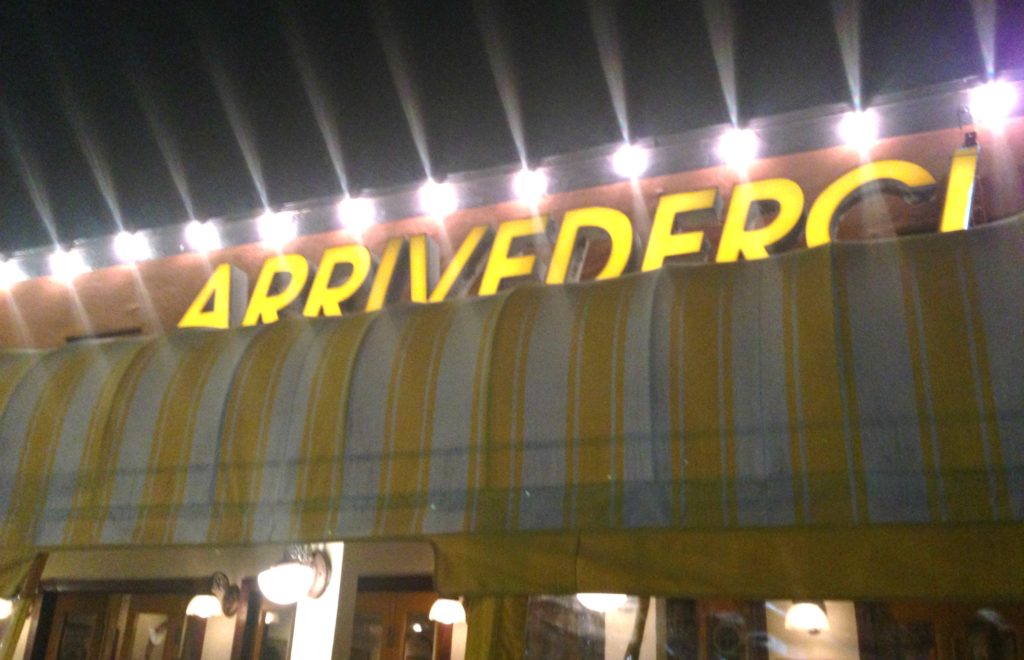 It's the kind of Italian eatery where the man who answers the phone when you call to make reservations says things like, "bellissimo" and "ciao bella."
It's an old school, authentic kind of place… one where their website is always displaying internal errors,  which probably doesn't bother them much because their food speaks for itself.
It's a restaurant located in a quaint space that's constantly bustling with happy diners, their bellies full of pasta and wine.
My home state of New Jersey is full of great little Italian places, and they're a little harder to find in California. The first time I ate at Arrivederci Ristorante, I had a hunch that it'd be my favorite San Diego Italian joint, and it became just that.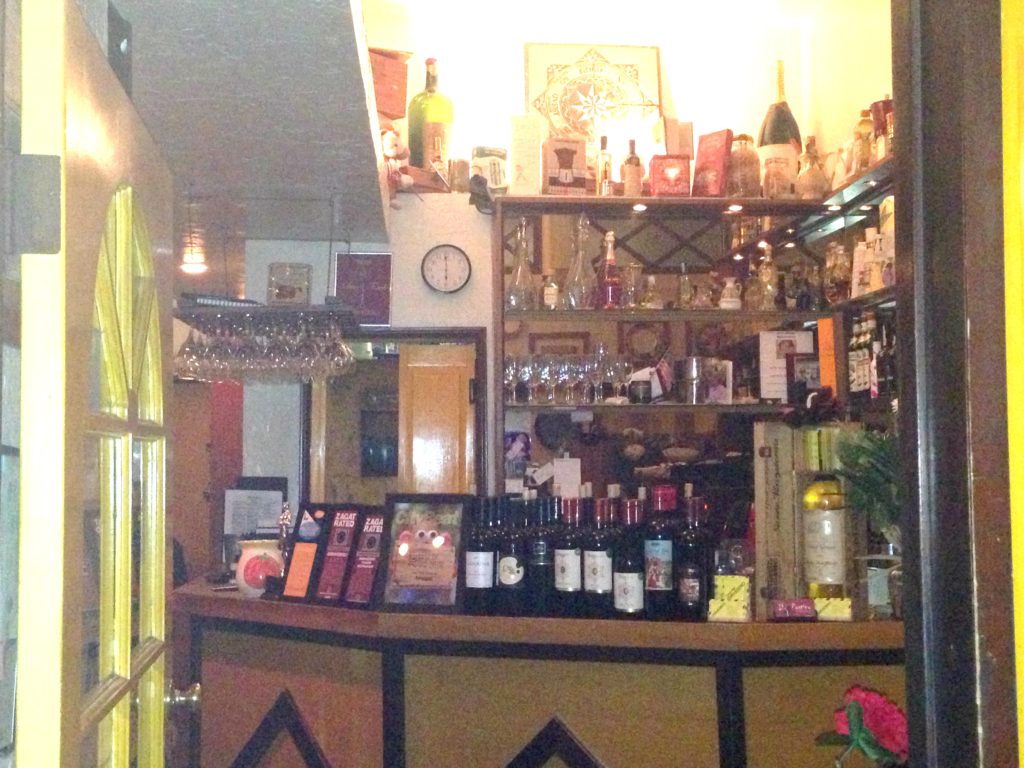 The restaurant is located in the Hillcrest section of town. They refer to their cuisine as nuova cucina Italiana, which they describe as meaning more vegetables, less fat, and no preservatives or artificial seasonings.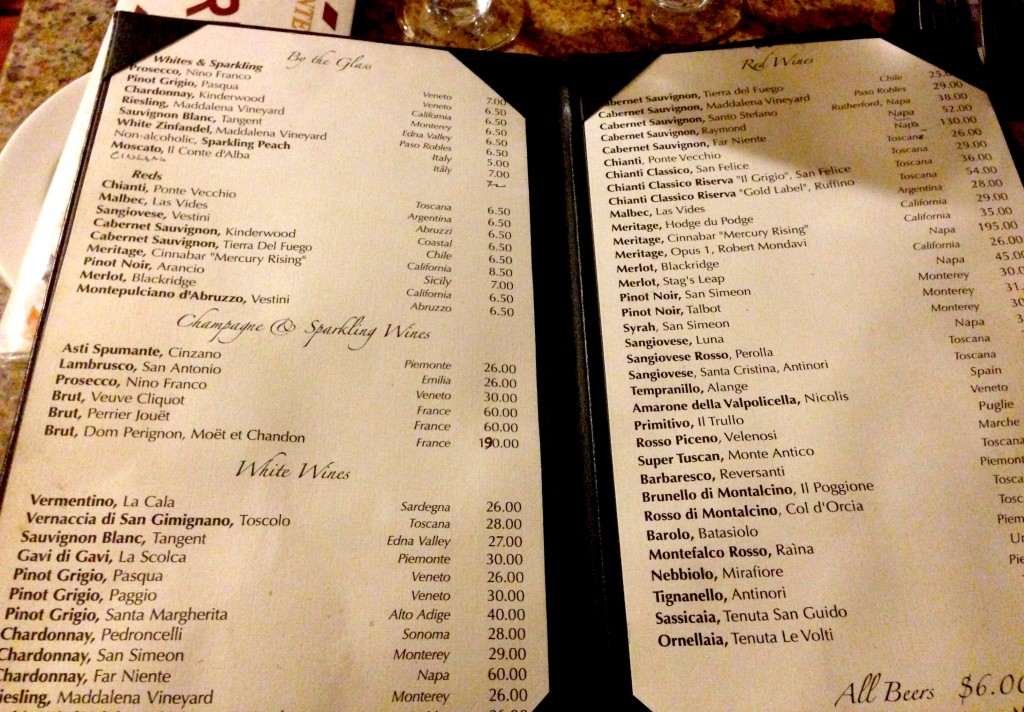 The wine list offers a variety of wine from across California and Italy, with a few offerings from places like Australia and Chile thrown into the mix. They also offer a bunch of types of beer, but wine was (obviously) our beverage of choice to be flowing during dinner!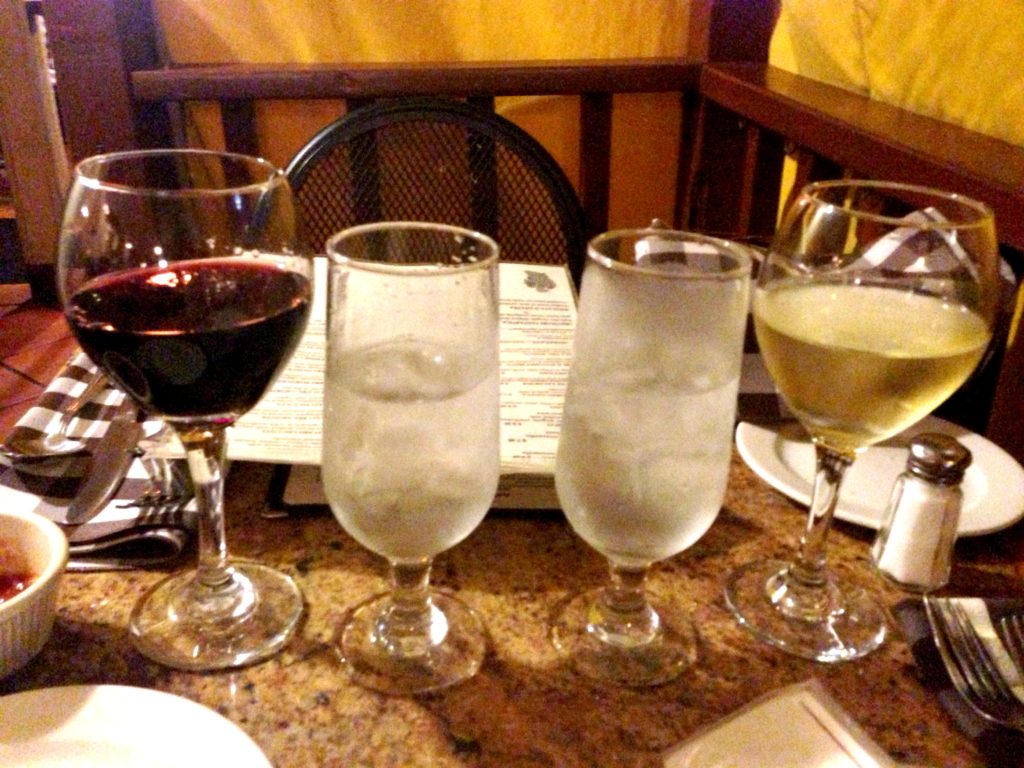 For an appetizer, Adam and I split the trecolori salad, which has radicchio, arucola, Belguim endive, walnuts, goat cheese and house dressing: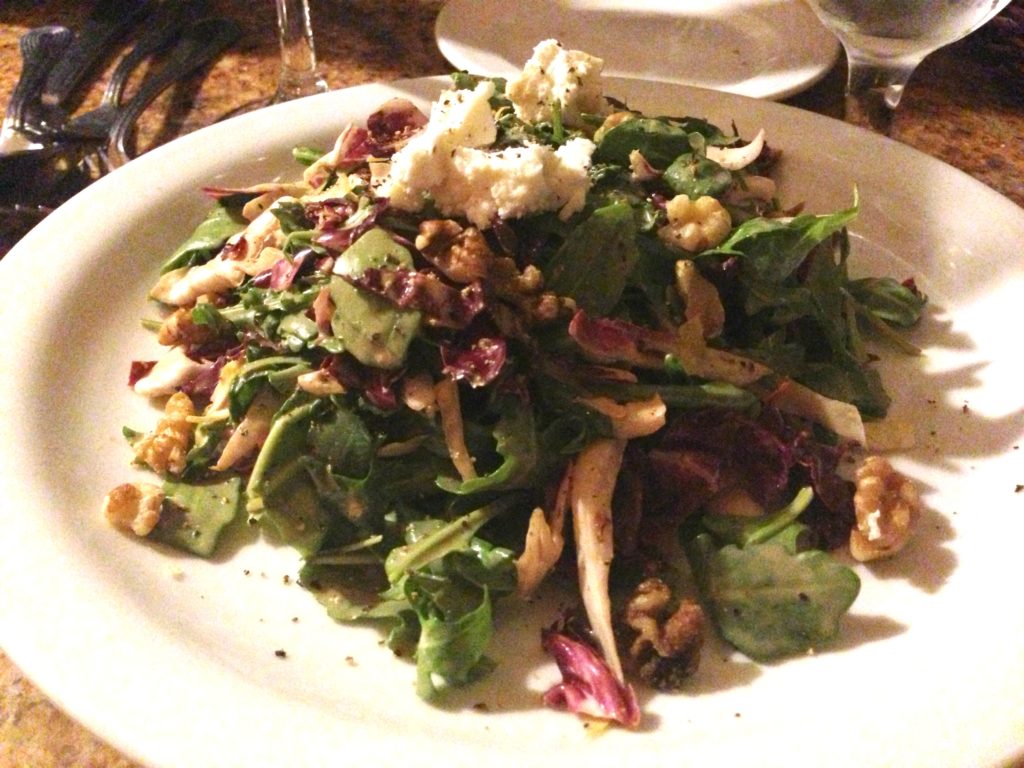 It was really yummy and a perfect appetizer to munch on.
For our main entrees, I ordered ravioli with spinach, tomato, and goat cheese in a white wine sauce. It's listed on the specials menu, which is kind of funny because their specials menu often contains many of the same items, and I've ordered it many times. In fact, I created it at-home with this ravioli recipe.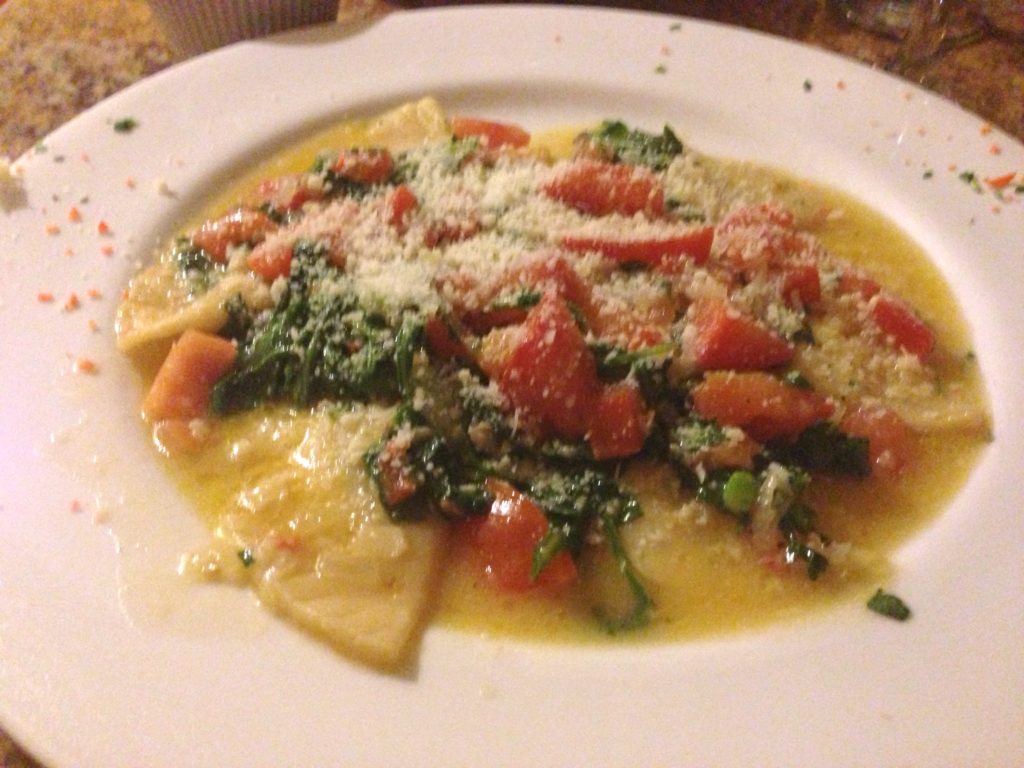 Funny enough, Adam also has a favorite Arrivederci menu item: farfalle pasta with chunks of Alaskan salmon in a pink sauce.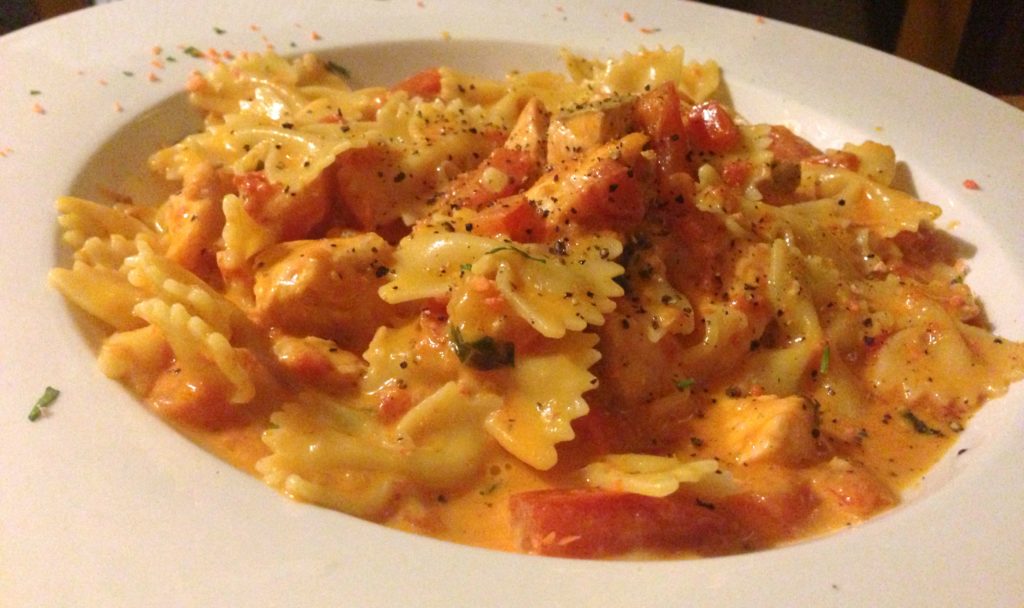 Sure enough, he ordered it last weekend.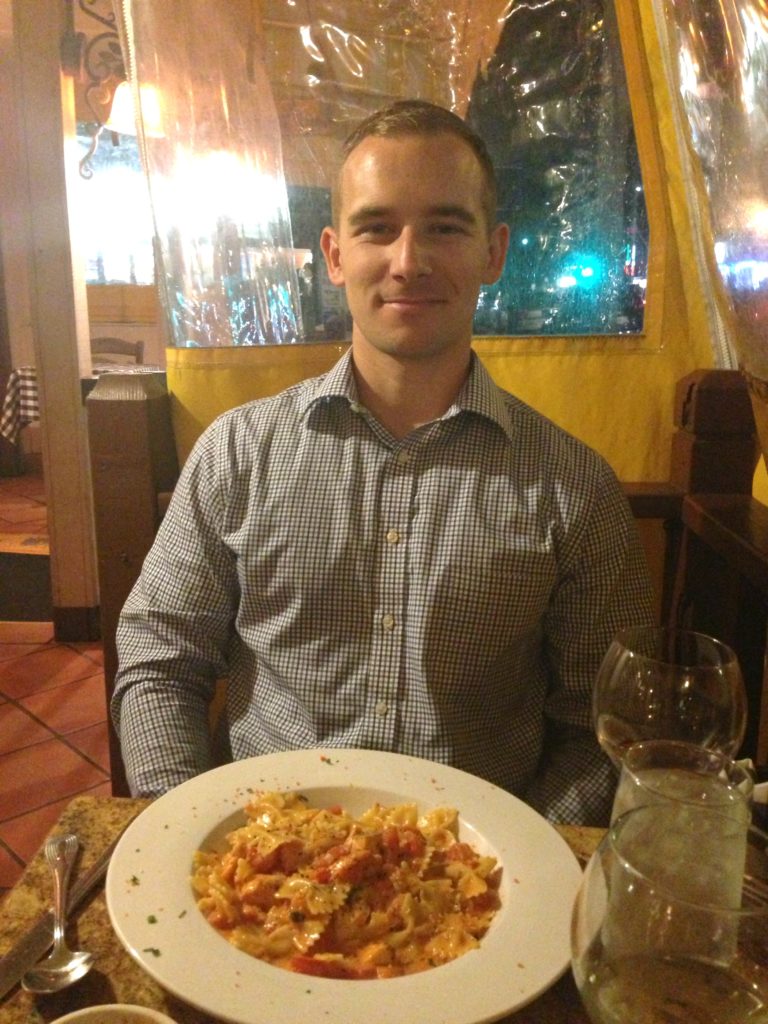 While I've tried a bunch of other entrees at Arrivederci and we play around with ordering different appetizers, both of us always wind up going back to these two dishes. Dinner at Arrivederci was great as always. And like usual, afterwards we walked around downtown and ventured into Whole Foods. It's funny, I love to switch things up and be adventurous, but sometimes I find it nice to have a deja vu of a date of sorts — going to a spot you know you like, eating a dish you know you love, drinking wine you know you're a fan of.
When dining out at a familiar place, do you usually stick to a dish you know you like, or try something new? Share with me your favorite restaurant dish! 

Print This