Well, it's officially summer in the northern hemisphere!
And boy, does it feel like it here in California! Yesterday I went to the beach for a few hours, and with the temperature hitting 90, it was the most umbrellas I've seen at the beach all year. The sun has been feeling super strong, and I'll be seeing days of 80 degrees or higher for the foreseeable future.
I have a non-stop smoothie obsession, and in the summertime, my love for cold blender drinks only heightens. When it's particularly hot and sunny out, I find the most refreshing thing to be watermelon. It's high in nutrients and antioxidants and low in calories!
Side note: I just joined Snapchat (& have no clue what I'm doing!). Connect with me on there @ fitfoodienicole. 
I've also turned my hubby into a watermelon smoothie lover. On Saturday, he and his friend went swimming in the Pacific to practice for an upcoming triathlon event while my friend (my hubby's buddy's wife), her baby, my pup and I went for a nice long walk. On our way home, he said, "Ooooh you know what I want? A watermelon smoothie!"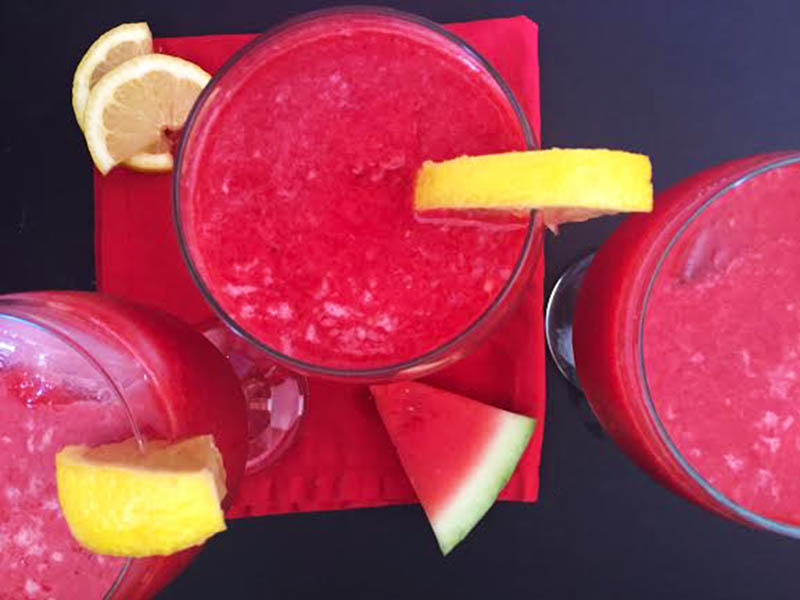 And I couldn't have agreed more. Plus, I happened to have a big watermelon sitting on my kitchen counter waiting to be cut open. Normally I go for our standard favorite – a strawberry watermelon smoothie – but this time, I decided to switch it up and use fresh lemon and frozen raspberries. Aaaahhhh, this refreshing 4-ingredient drink is sure to be a summertime favorite!  Continue reading →