Since I moved to California 7 1/2 years ago (cannot believe it's been that long!), I've become an avid hiker. Hitting the trails offers a workout, stress relief, time in nature, and exercise for my dog all at once.
I've realized that hiking is also a spiritual experience for me. It leaves me feeling centered, grateful, and connected to the earth. I believe in the interconnectedness of everything in life, and hiking seems to always remind me of that. It's also a lovely chance to practice mindfulness. I can only describe it as losing myself for a few hours to really find myself.
Hiking just with my trail buddy, my pup, also gives me time and space to clear my head. There's always so much going on – lots of noise, distractions, and busyness – but on the trails, everything sort of slows down. I begin at the trailhead analyzing something in my life, and by the end of the hike, I have found the answers.
I've lived in a few different parts of San Diego County for most of the time I've been in California, and I've done more than my fair share of hikes in the area. In fact, I've visited the vast majority of local hiking trails! Finding new trails has gotten tougher in the past year or two because I've already explored so many of them.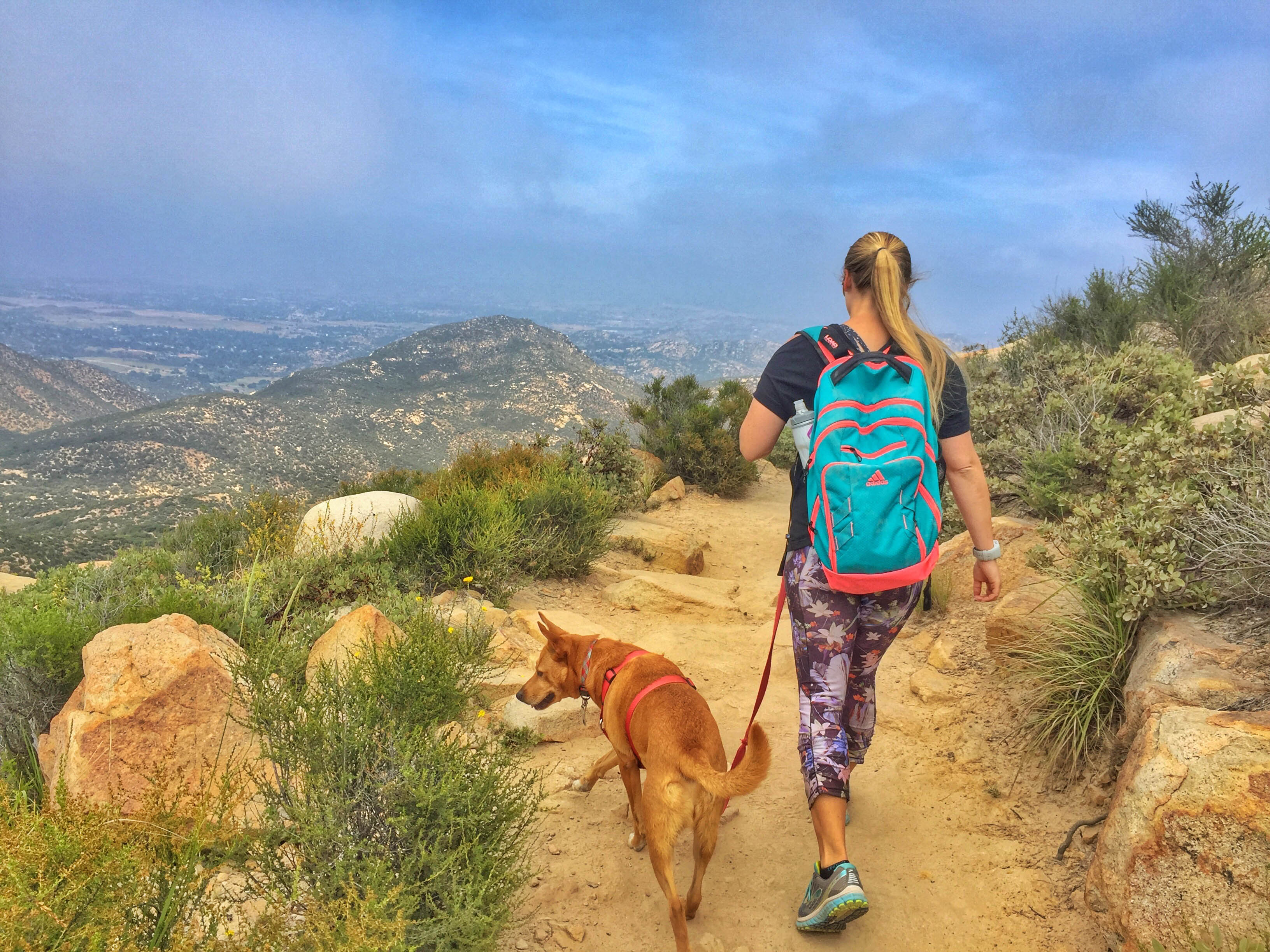 I thought it'd be fun to share a post that compiles my favorite hikes around here. Without further adieu, here are my 7 favorite hikes in San Diego County!
Kwaay Paay Summit at Mission Trails Park. It's only right that I start off my list with one of the first hikes that I really loved in San Diego. This was around the time when Harley was around a year old, and I was looking for fun ways to tire my energetic puppy out. In fact, my first blog post mention of Kwaay Paay was all the way back in 2012 when I first started my blog!
Kwaay Paay is a trail within the beautiful Mission Trails Regional Park. It's about a 90-minute, 2.5 mile out-and-back trail, but don't think that because it's not long, it'll be a breeze…For a bit there it's a heart-pounder! I also like it because it isn't as crowded as some other hikes in the area (like Cowles Mountain). There have been many times when I barely see another soul around throughout the hike.
Iron Mountain. Offering sweeping SoCal views, this trail sits a bit inland in the town of Poway. Iron Mountain is about a 5 1/2 mile hike with a 1,000 ft elevation gain.
I've done this hike a handful of times over the years, and it's a goodie! I actually just recently took my cousin to do this hike when she was in town because it's a great hike that's a very solid workout without being too exhausting. It's also perfect if you want to get out in nature to hit the trails, but don't want to spend your entire day doing so. The hike always takes me 2 1/2-3 hours to complete.