Hi there!
If you haven't yet, don't forget to enter my Bondi Band sporty headband giveaway. It ends tomorrow and doesn't have a high amount of entries, so chances of you winning are good!
Hope that you all had a fabulous weekend. My weekend was great! Let's delve into a recap of it: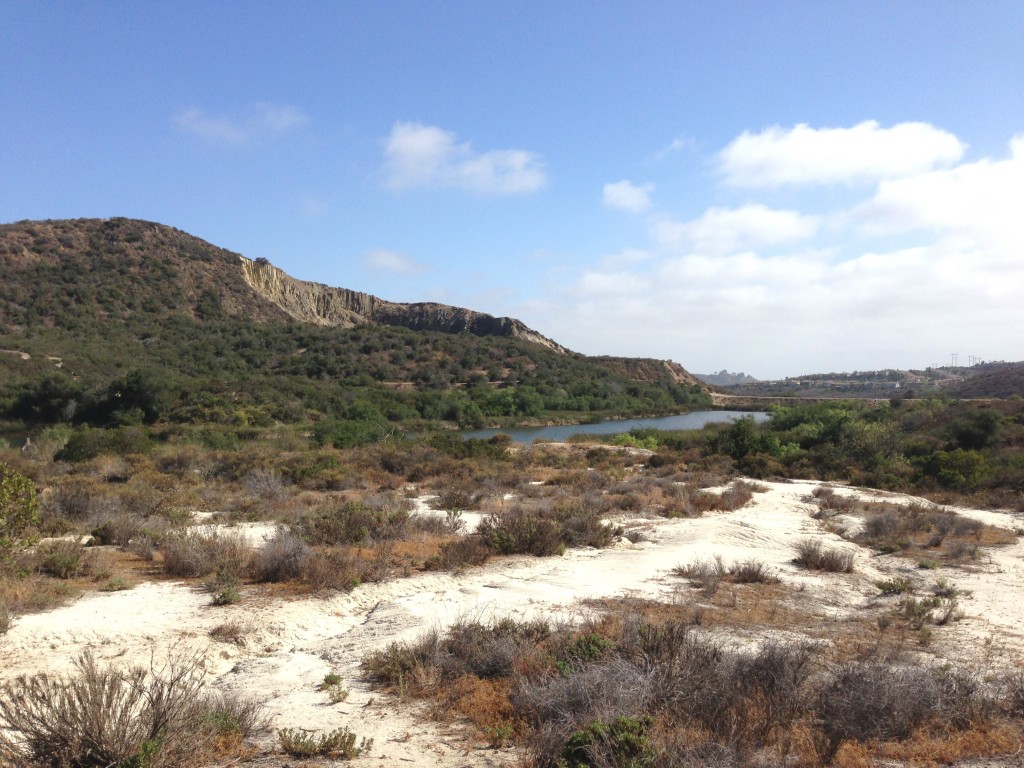 I kicked off my weekend with a hike with Harley at a nearby spot called Lake Calavera Hills Preserve. It's a pretty area, and one pretty unique aspect of it is the 22 million-year-old volcanic plug that's located there: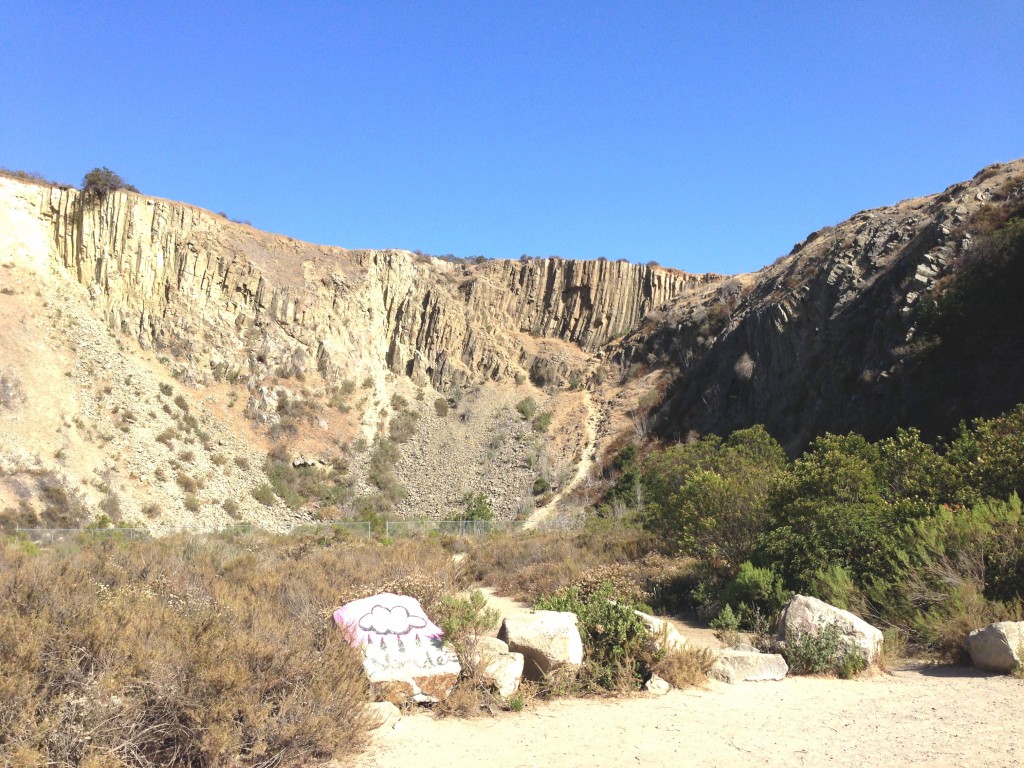 The first time I went hiking here, we saw a rattlesnake. This time, towards the beginning of my hike, a man warned me that he had seen a couple of snakes there that day. Since Harley loves to stick her face in bushes and zigzag around exploring, I felt somewhat paranoid of her getting bit by one. Luckily we were all good, but eeeeek!
At the summit of the mountain, you look down into a field and a nearby high school. Check out this romantic gesture: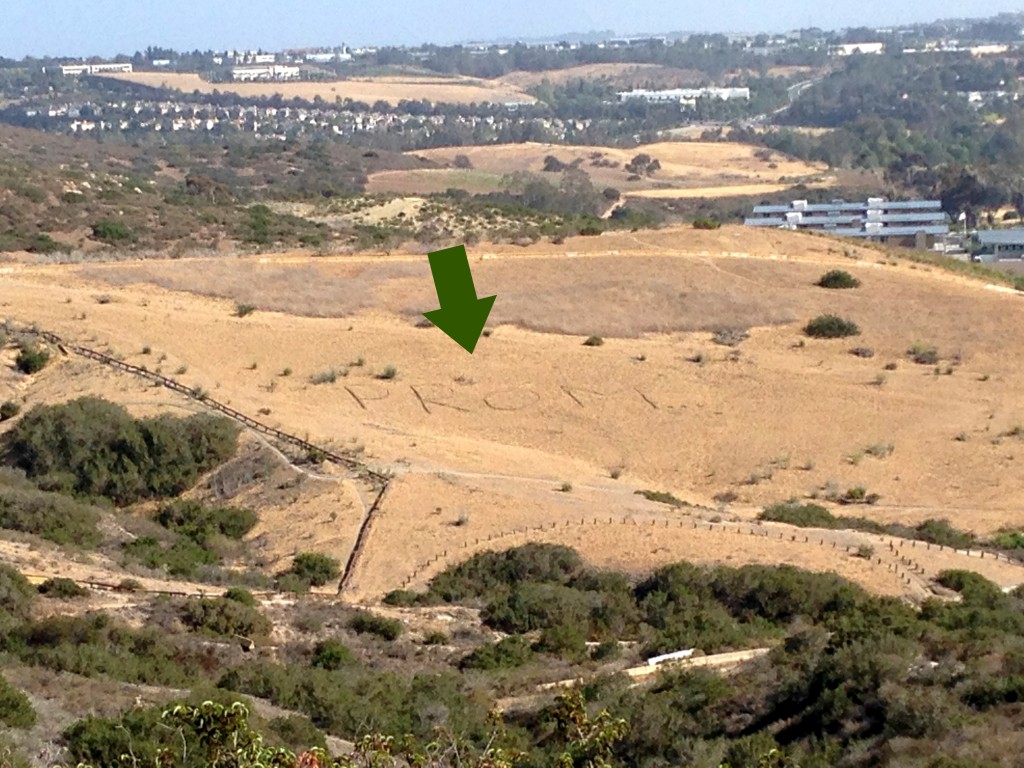 Maybe the bar was set low for me from the boys I dated as a teenager, but spelling out, "PROM…?" into a yellow field is pretty clever for a 17-year old, don't you agree?
At the top of the mountain, Harley laid down in the shade with this ridiculously funny face on and wouldn't move for a couple of minutes: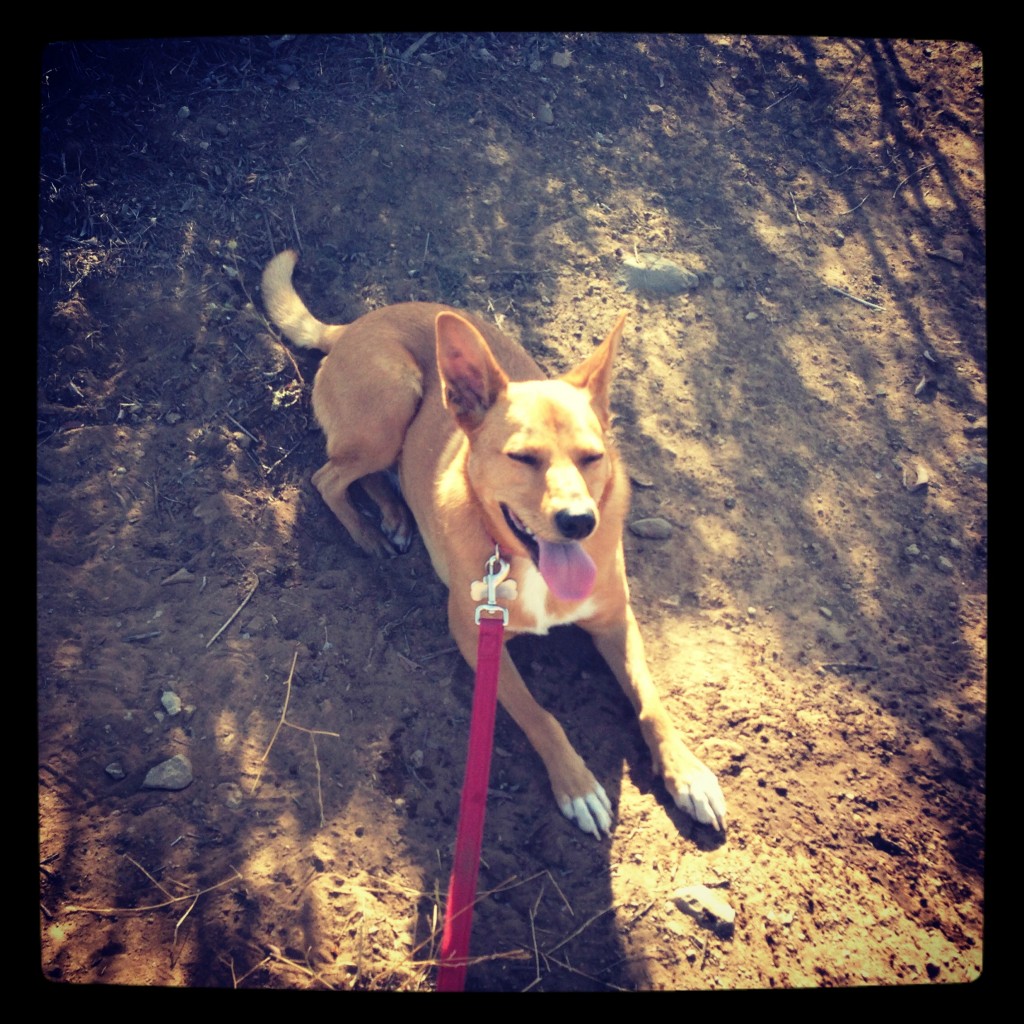 I've been here a couple times since moving to the area. It's a pretty spot but, contrary to Harley's dramatics, it isn't all that challenging of a hike. I'm going to be looking for some new hiking spots coming up.
After cleaning, hanging decor up, unpacking and organizing in my house on Saturday  (Does it take anyone else what feels like forever to get settled when they move?), my hubby and I popped over to the beach for a quick hour of surfing (him) and reading (me).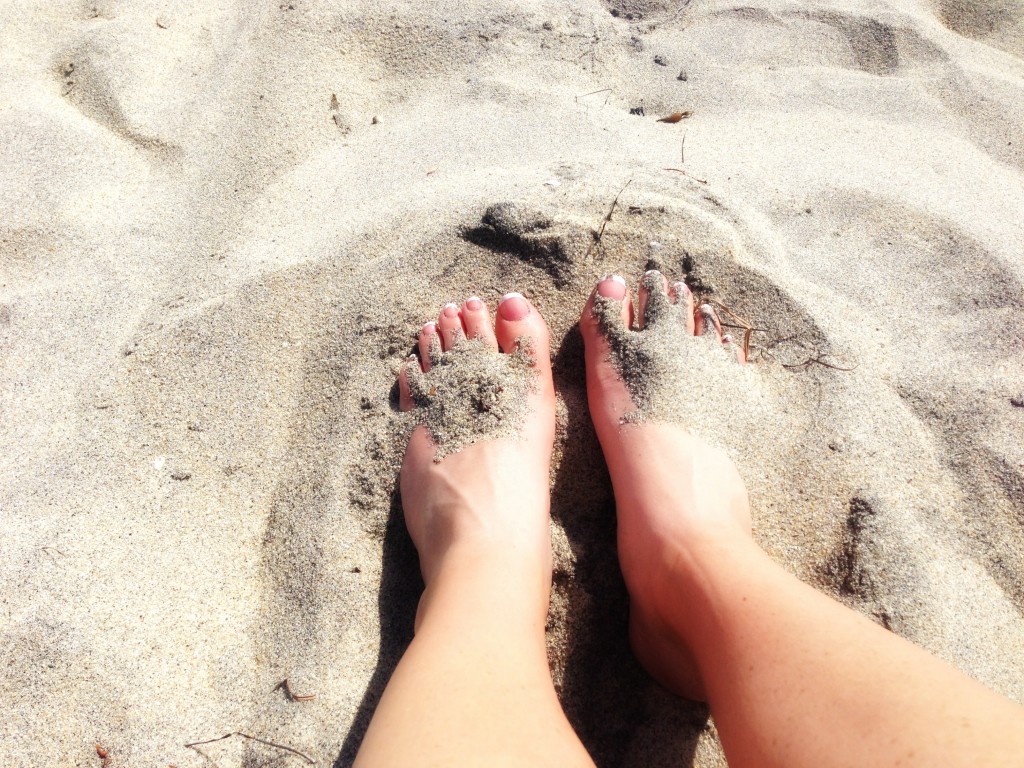 Saturday night we had another couple over for dinner. Leanne was my first friend as a Marine spouse (actually, at the time neither of us were wives yet), and her husband became good friends with my hubby when they were in military training together. Now for the first time ever, we're all living in the same area! It's going to be fun living so close to one another.
I made guacamole for us to nosh on at the beginning of the night (aka my go-to for a super easy, tasty appetizer)…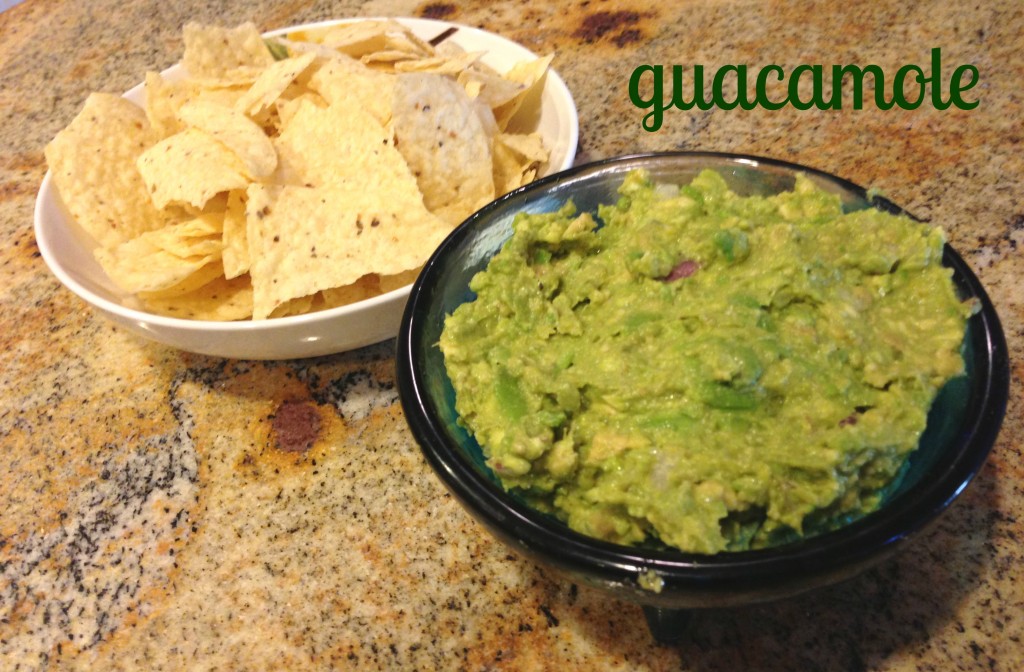 …and for dinner I made two whole wheat pizza pies: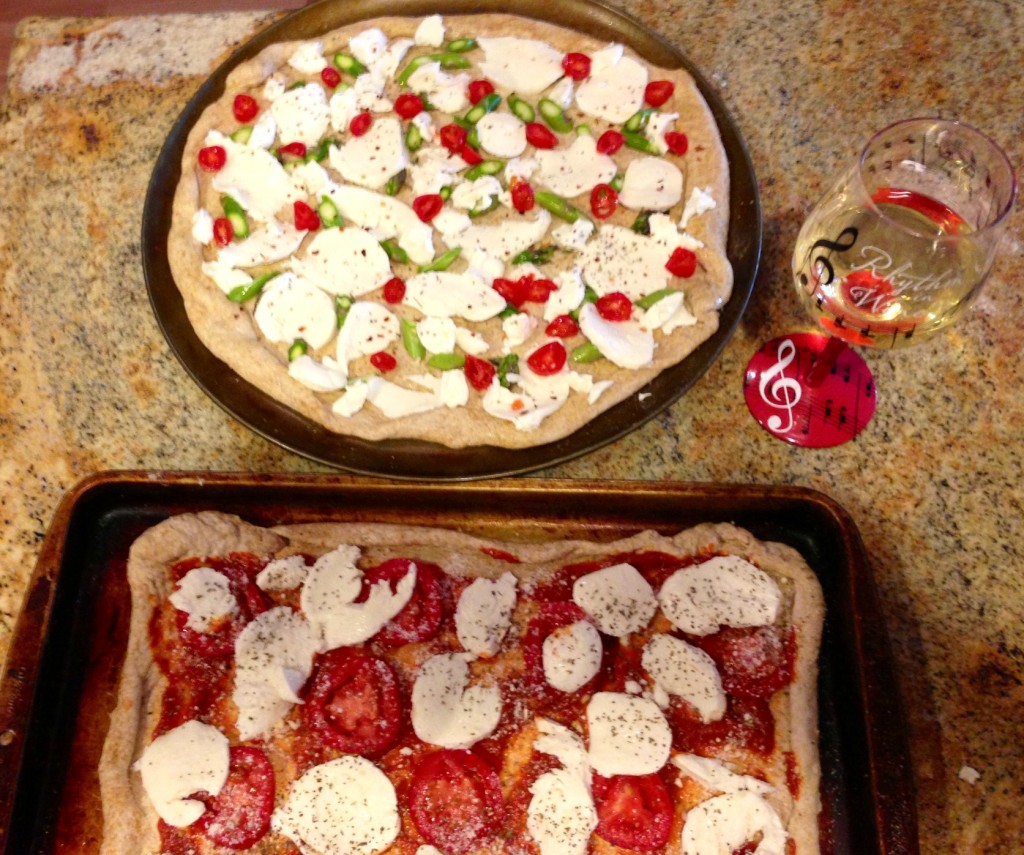 The top pie had mozzarella, ricotta, asparagus, and cherry tomatoes, while the bottom was a classic margherita pizza. Both came out really good! Throughout the night, I had a few glasses of my favorite summertime wine varietal: riesling.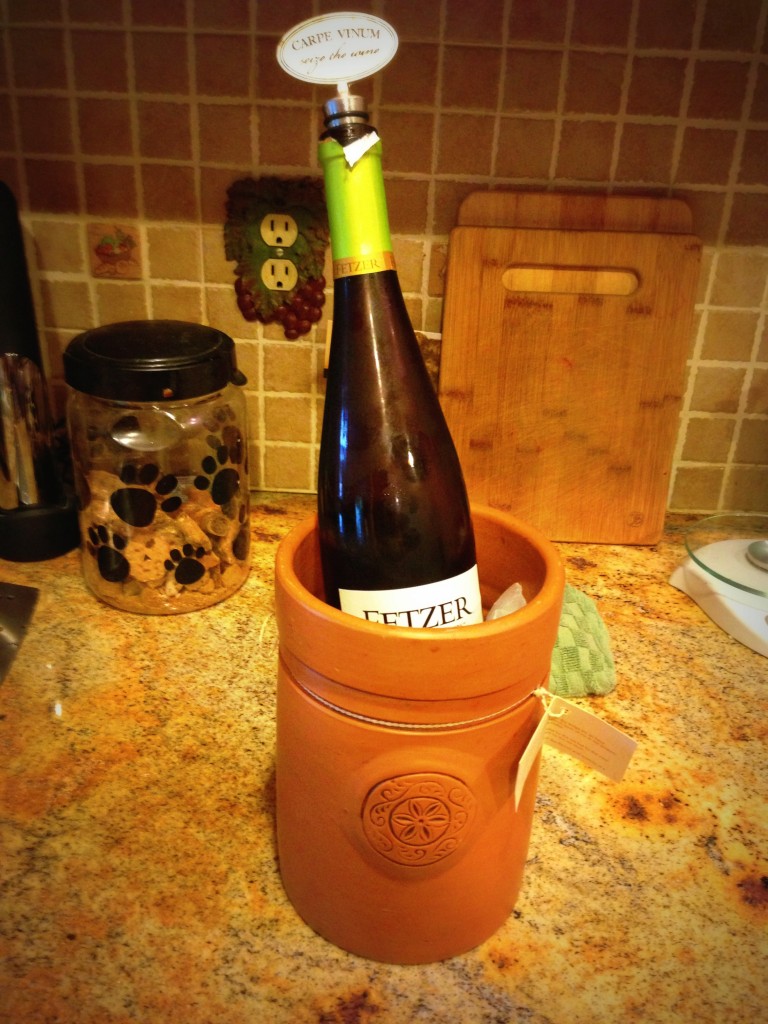 By the way, Fetzer is a brand that makes a crisp, refreshing, low-priced riesling that I buy all the time.
On Sunday, my hubby and I took advantage of the beautiful day and took the pup for a long walk along the coast.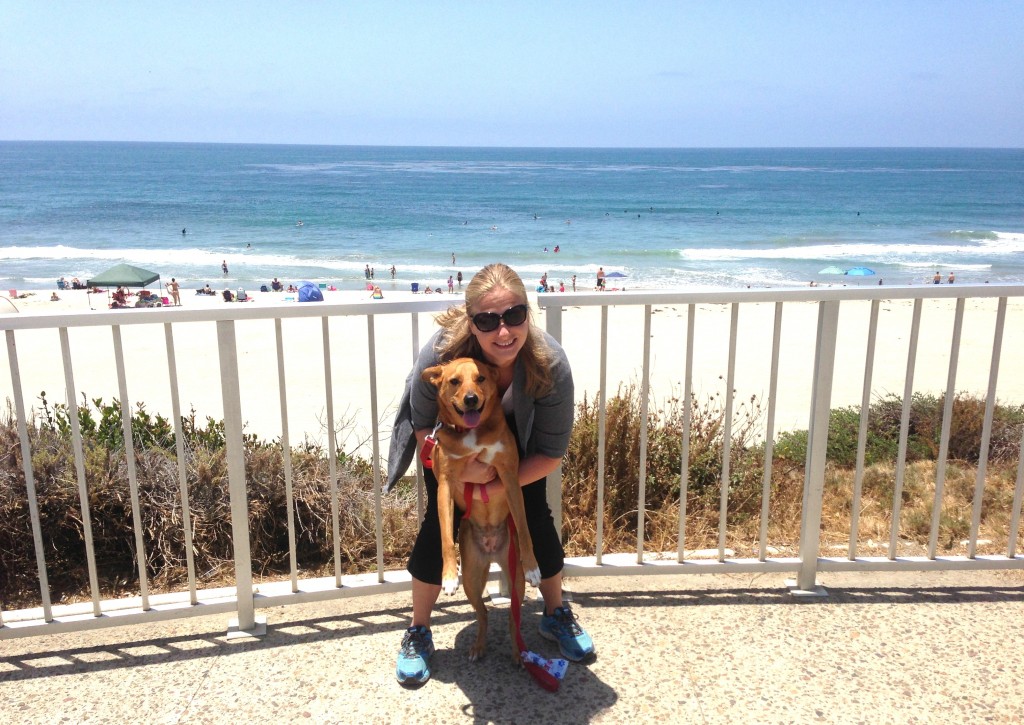 I'm not sure what her deal was over the weekend, but again Harley was acting like she was so exhausted and laying down while we were walking. It wasn't even that warm, and she's only 3 1/2 years old with lots of energy. We joked around that she must have been hungover from having our friends over late the night before. I'm predicting that she is going to be one lazy pup when she gets older!
Towards the end, she laid down in the shadow of a car, and I tried to pick her up and jokingly carry her. Normally she wants nothing to do with being held, but my 50-pound dog tilted her head back and laid there like a happy baby as I carried her… for about 20 steps before I handed her off to Adam. I had tears streaming down my face from laughing at what she looked like. If there's one thing Harley has, it's character. She is such a nut!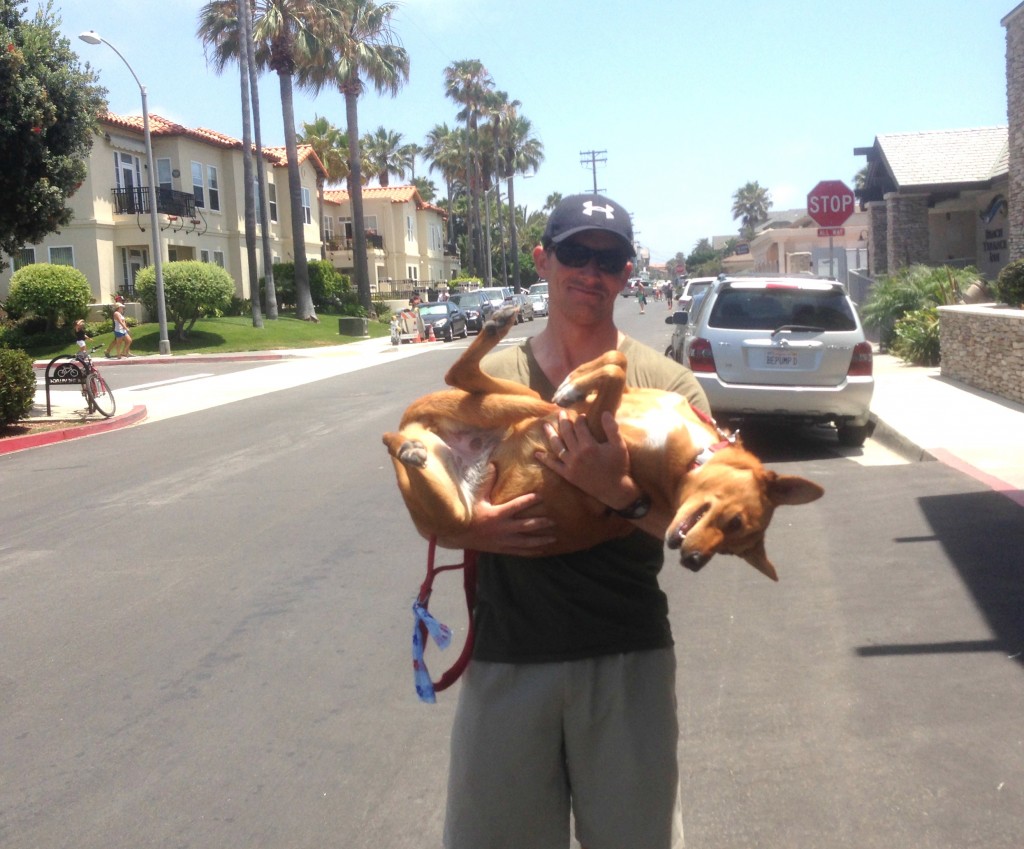 I've never seen this anywhere else, but people in California have strollers for their dogs, which I think is completely hilarious and ridiculous. We were joking that apparently Harley needs a baby stroller now!
Besides the pizza and guac, other notable eats of my weekend included this black bean burger topped with avocado, bell pepper, red onion & shredded Mexican cheese with sautéed zucchini on the side…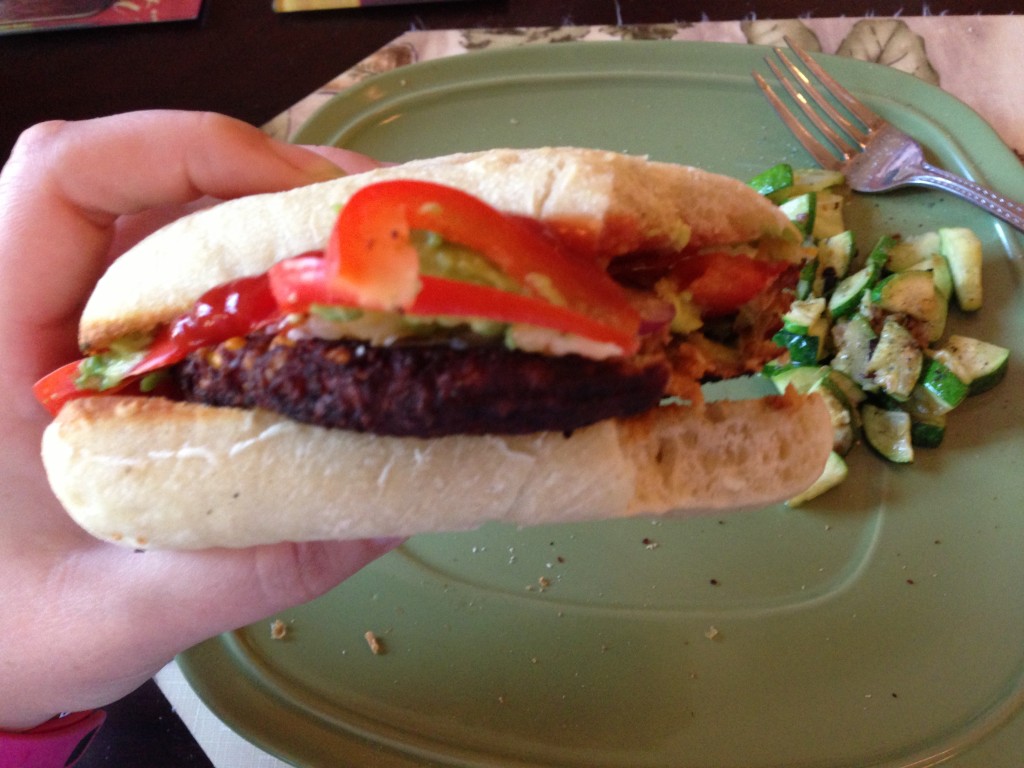 …an English muffin topped with peanut butter, banana, cinnamon, honey & chopped up cinnamon Quest bar pieces…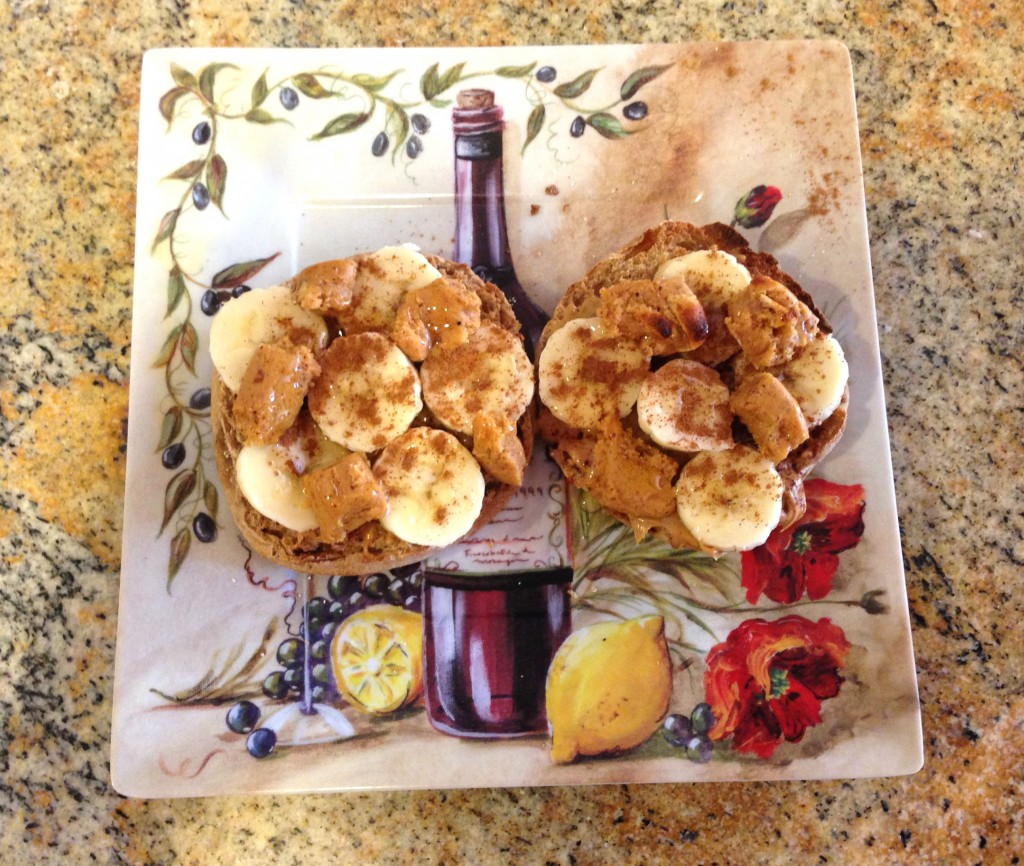 …and trying out Siggi's strawberry & basil Greek yogurt: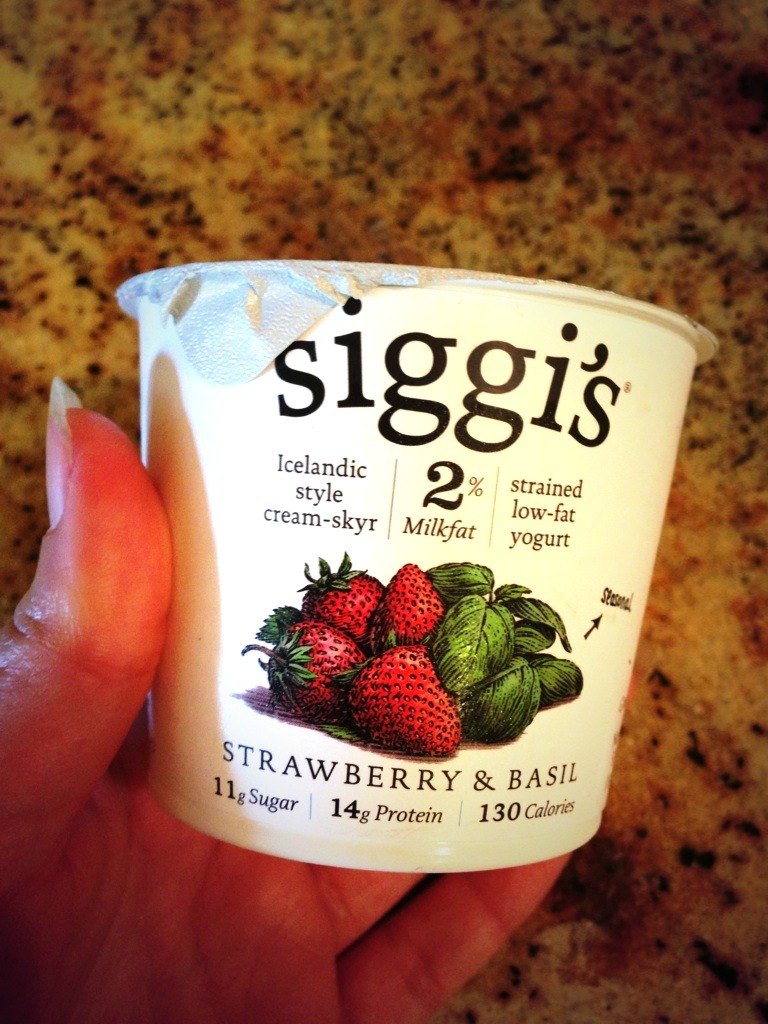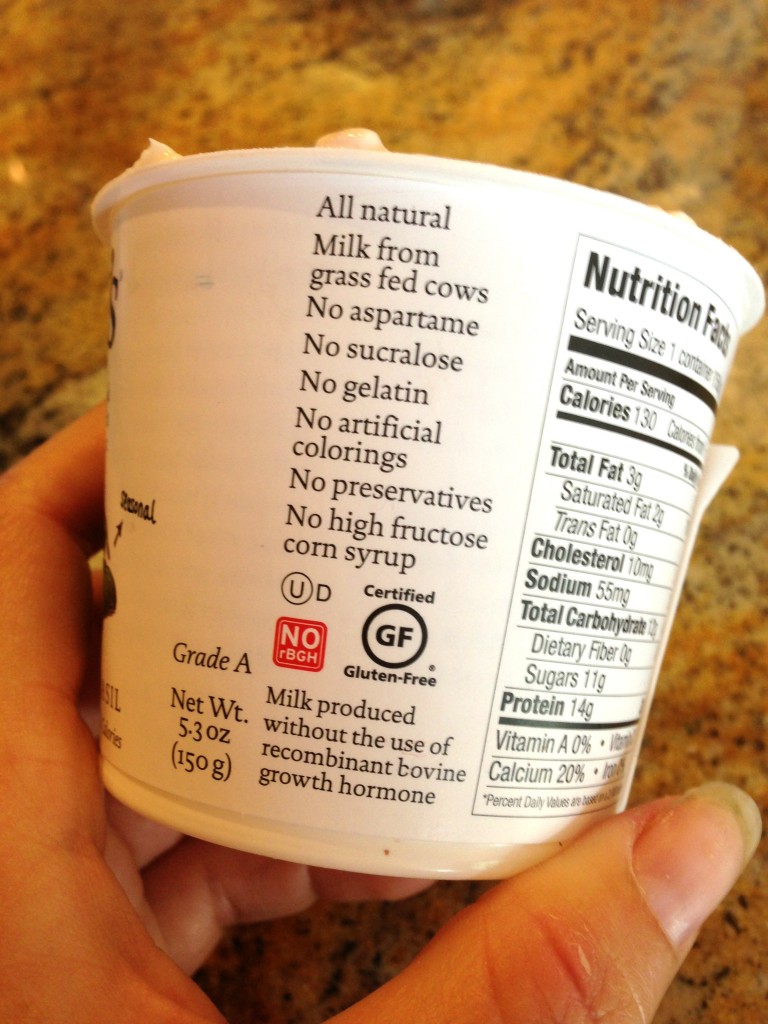 I'm a big fan of Siggi's. Their yogurts are low in sugar but are still sweet enough for me to like them. In a grocery store filled with products containing complete junk for your body, how can I not love a product like this?
There was also kettle corn in my life when my hubby and I went on a movie date to see Chef.
The flick was about this chef who followed his passion for food, cooking, and creating dishes that he loved. There was a lot of meat in the movie (which I obviously am not crazy about), but I loved the underlying message of the movie, and I came home feeling hungry from watching 2 hours of nonstop food on the screen, wanting to either make a second dinner or dessert. We wound up eating dark chocolate chip banana bread at midnight…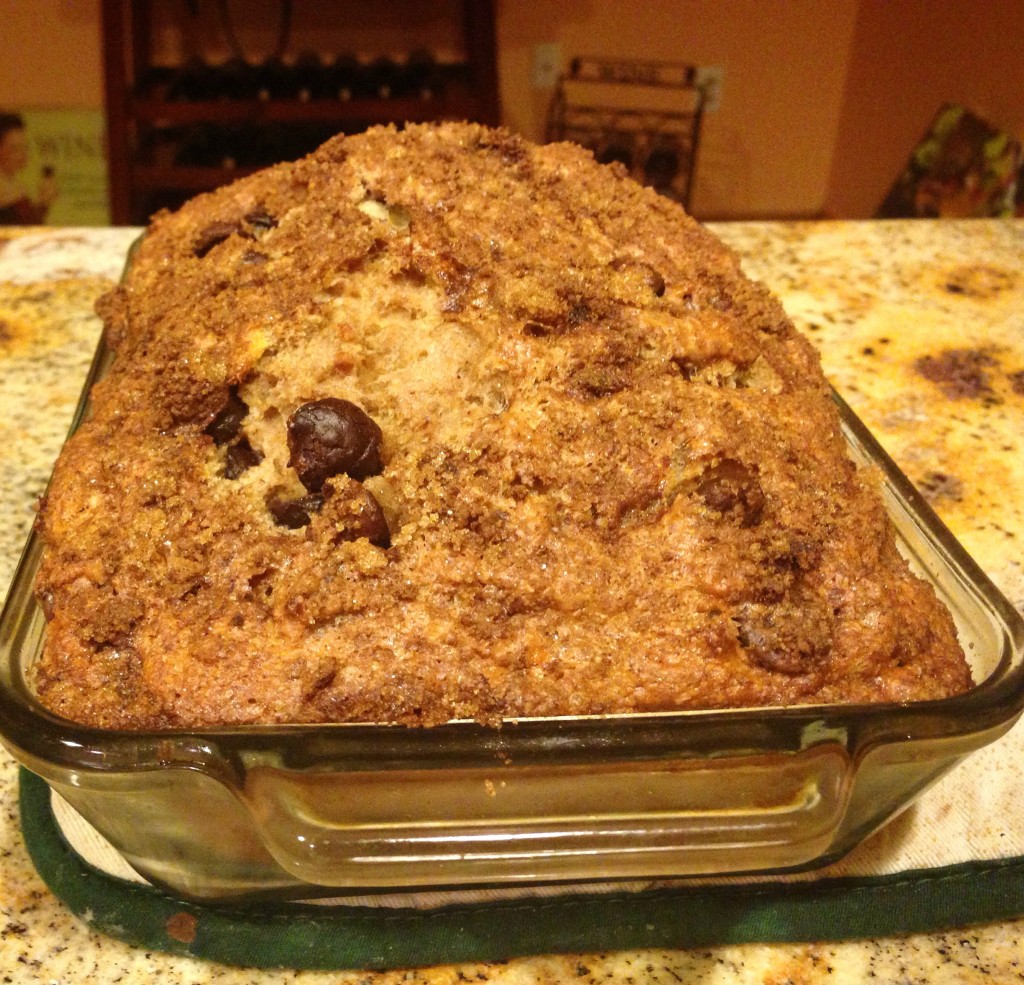 …and had it toasted for breakfast the following morning with glasses of apple/carrot/spinach/orange juice: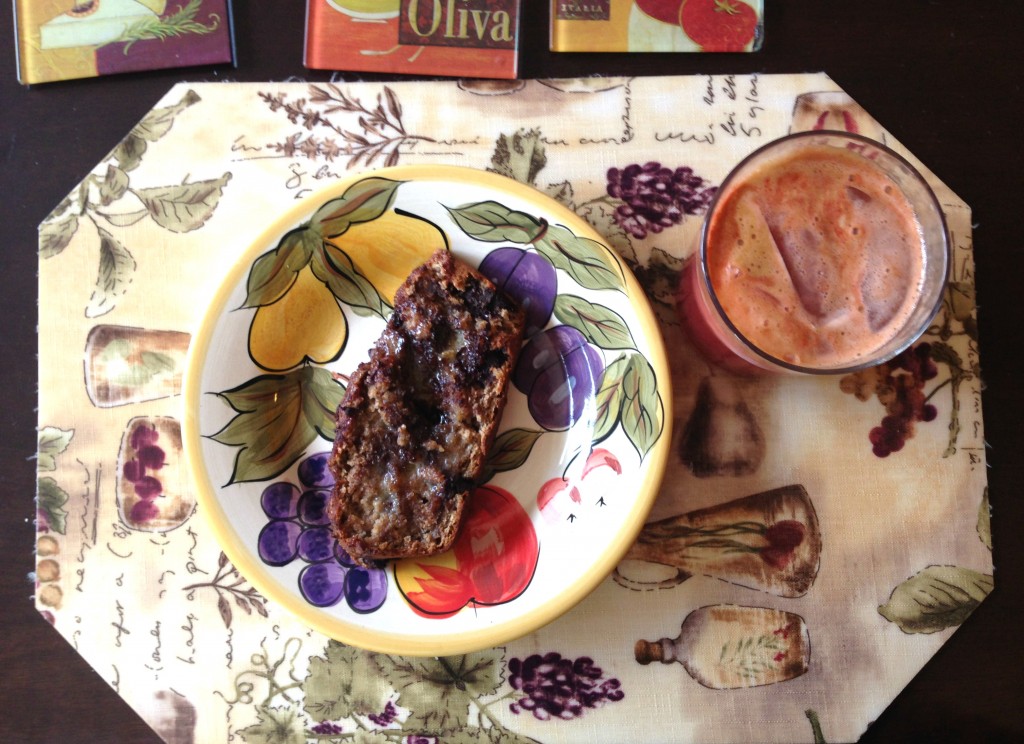 I was just thinking about how I always bring my own snacks to the movies. It's definitely something my mom instilled in me as a kid. She always brings whole bags of popcorn in a big purse! I can remember having a girlfriend in high school who cared way too much what people thought about her, and she was embarrassed when I brought my own snacks to the movies with her once. I mean hey, it's cheaper and healthier, so why not right?
Questions: Do you bring your own movie snacks? If you have a dog, is he/she as dramatic as mine?