"People who love to eat are always the best people." – Julia Child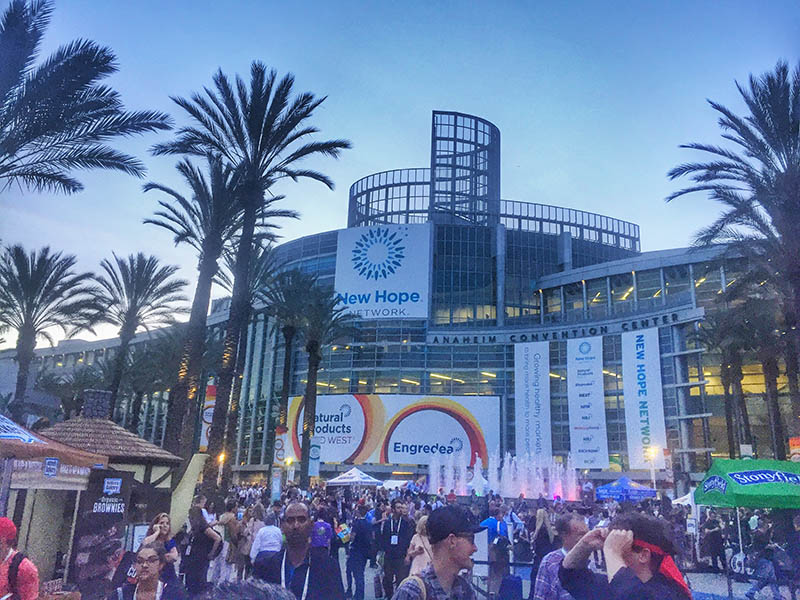 Last week I got to attend an expo where healthy food and conscious foodies collide: Natural Products Expo West. It's an awesomely overwhelming show with every kind of food producer you could possibly imagine – from things you'd expect like protein bars, nut butters, and salad, to things you probably have never thought of, like brand new products that have never been sold before. There's no shortage of yumminess, and brands are eager to have you sample their latest products. I sound like Captain Obvious saying this, but I love attending Expo West!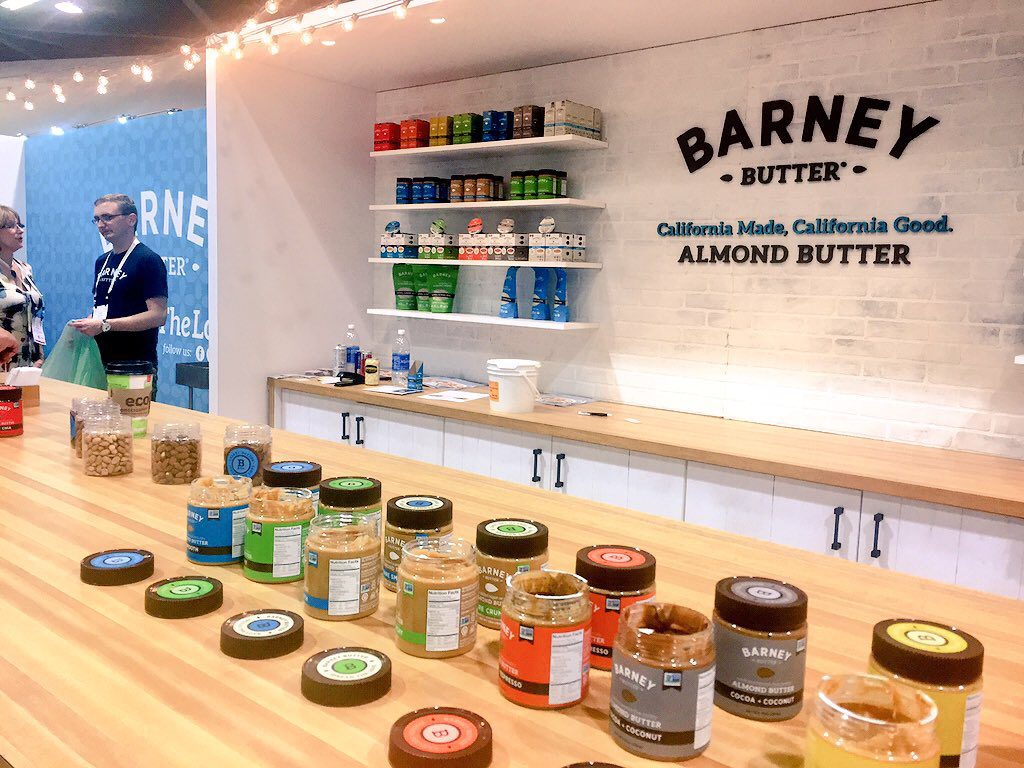 Today I thought it'd be fun to dive into 15 things that stood out to me at the show. Let's get to it!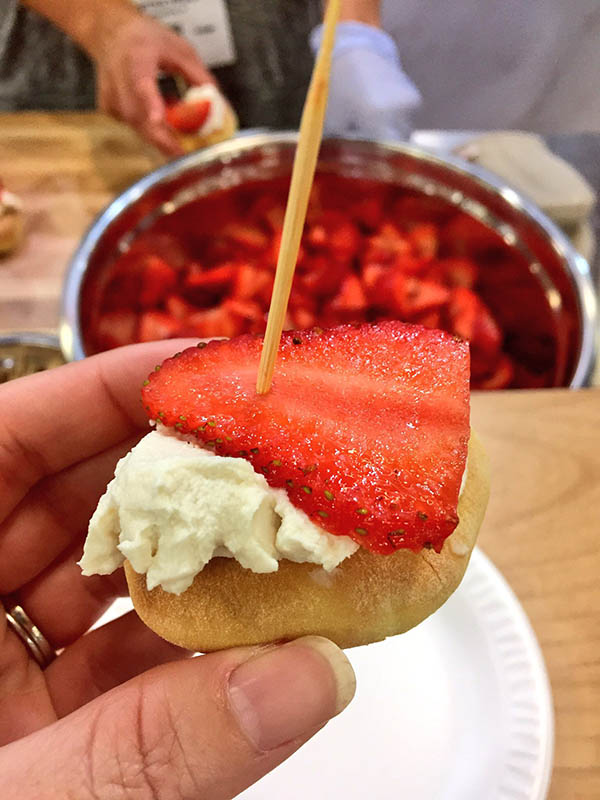 1.) Vegan food has gotten more delicious. Even as a vegetarian myself who eats vegan the vast majority of my meals, I used to shy away from some veganized products because they just didn't taste that good to me. Well, that has changed, as brands are perfecting the art of meat & dairy-free food! Daiya's vegan cheeses have gotten tastier and more melty, and I also liked their caesar dressing. Ozery Bakery introduced vegan brioche buns that were fabulous.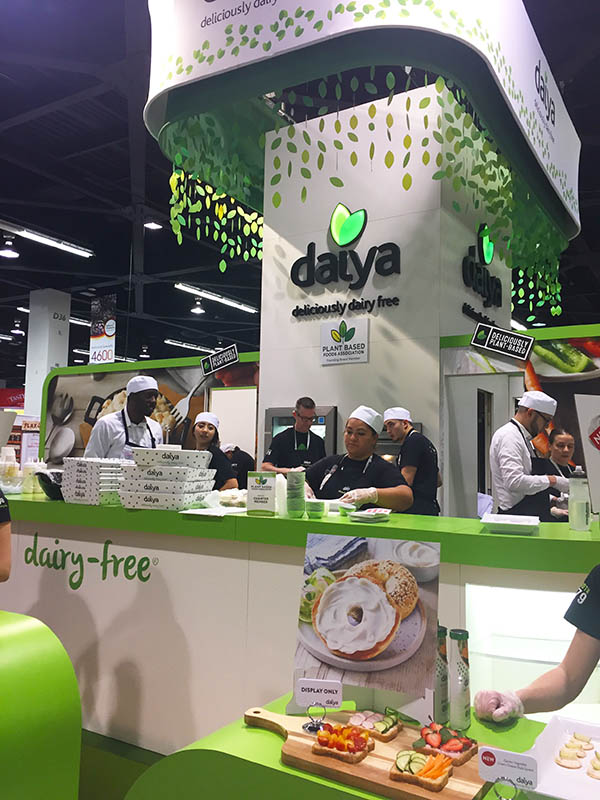 And Kite Hill is doing dairy-free deliciously too. I've bought their yogurts before so I already knew that I liked them, but I tried a bunch of their cream cheese spreads at the show… and trust me when I say that you wouldn't even miss the dairy if you spread it on your bagel.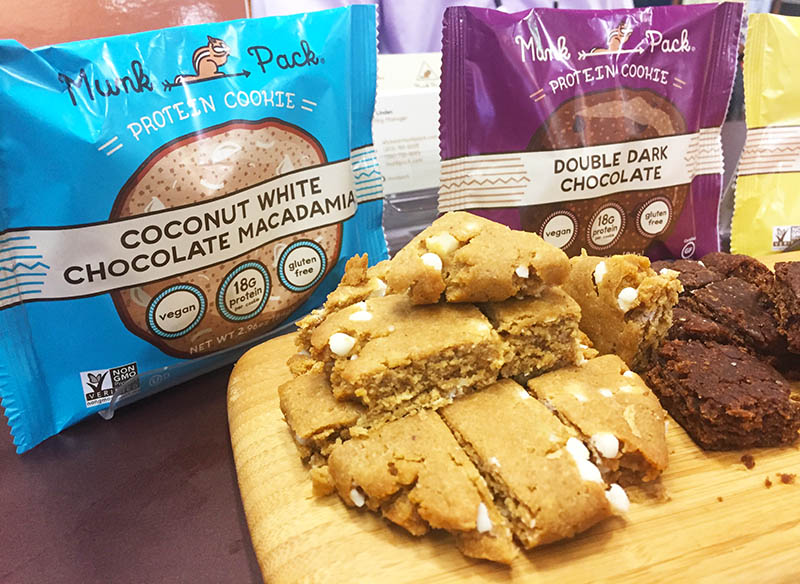 2.) Protein cookies are big right now. And I am not complaining about that! I like eating cookies and I like making sure I eat enough protein since I lead such an active lifestyle, so why not combine the two? Munk Pack came out with 4 tasty vegan, gluten free, non-GMO certified protein cookies flavors.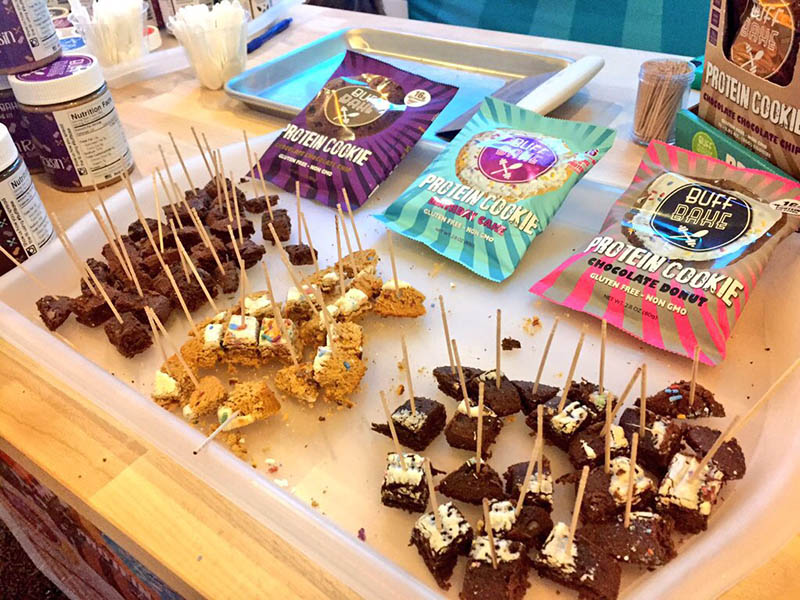 I also got to try Buff Bake's protein cookies, and their chocolate donut flavor was my favorite.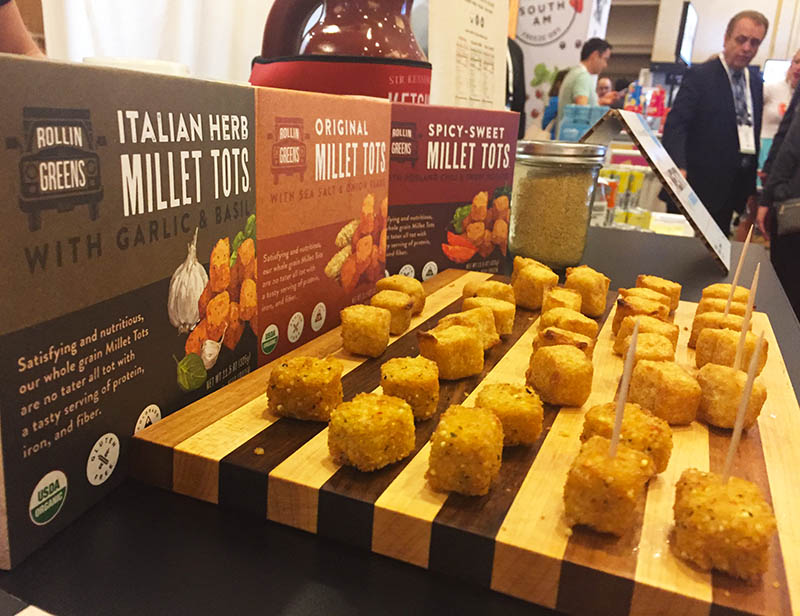 3.) Millet tots. For two days of the show, I was working at the booth of Rollin' Greens with a blogger friend of mine, Laura. Since they're doing something unique (& tasty of course!) in the market, I had to include them in this rundown. Rollin' Greens is a Boulder-based company that puts their own healthy twist on tater tots, making them with the ancient grain of millet instead. They have their original flavor, and recently came out with two new flavors: an Italian herb + a spicy-sweet combo. Healthier takes on comfort food is one of my favorite things to create, so I love what Rollin' Greens is doing!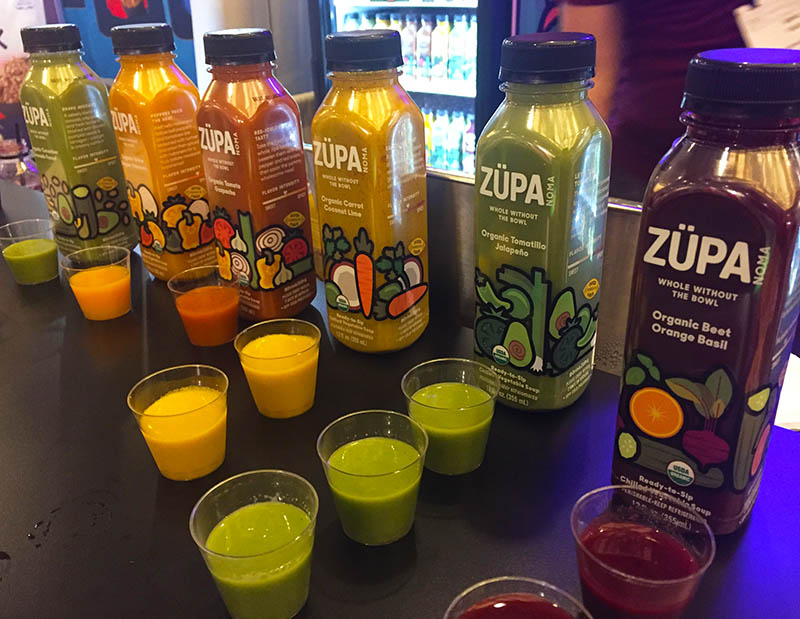 4.) Cold soup bottles are the new green juice. Okay, I actually don't know if I should take it that far, but know that soup in a bottle is a thing now. One company doing it is ZÜPA NOMA. I'll admit, I wasn't sure what I'd think of the soups… but in trying their flavors, I was pleasantly surprised to really like them! Their tomato gazpacho was full of fresh flavor, and I would totally buy soup bottles to drink on-the-go and get my veggies in.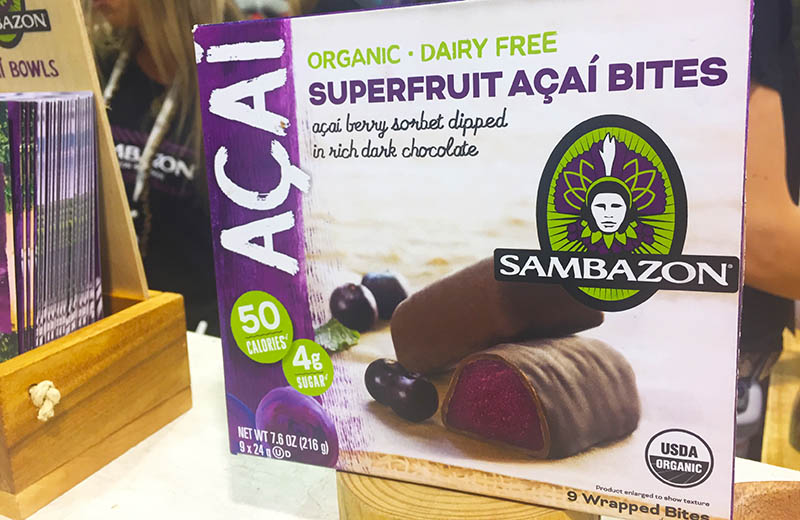 5.) Sambazon's new chocolate covered acai bites are delicious. Sambazon makes frozen acai packs that you can buy to make your own acai bowls at home, along with other acai products, and at the show they unveiled a new product: chocolate covered acai bites. They're awesome, and I'll definitely be buying them when I see them in stores!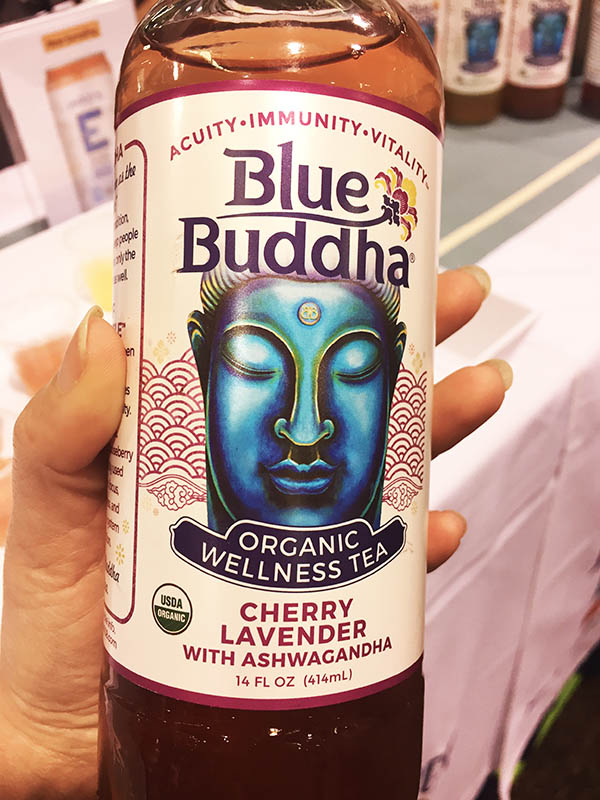 6.) Tea with maitake mushroom powder is a thing. At the show I sipped on some organic tea from Blue Buddha that was made with ashwagandha extract and maitake mushroom powder. Sounds a little odd, but tastes good I swear! The company focuses on the tradition of using plants and herbs to help keep people healthy for thousands of years. The antioxidants from maitake mushroom help support a healthy immune function, while ashwagandha has been shown to relieve stress and increase mental focus. I'll drink to that!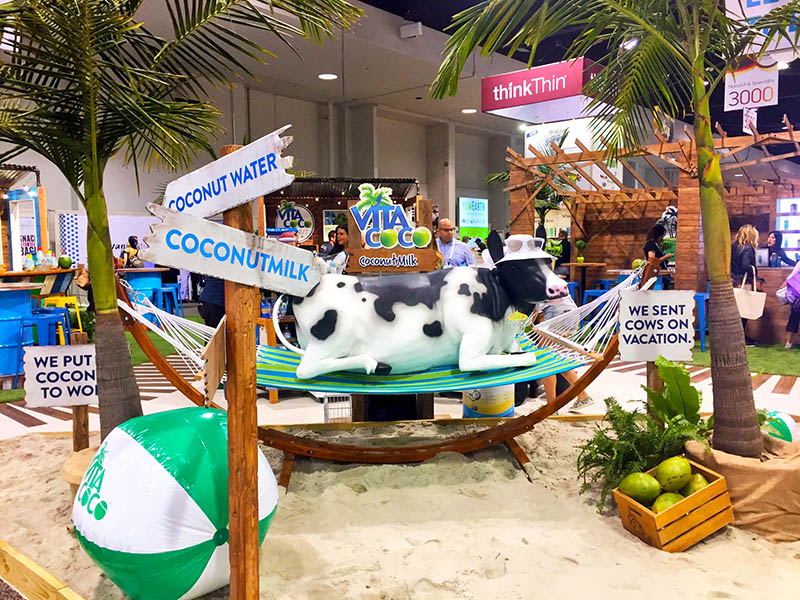 7.) Vita Coco gets the most clever booth award from me. Vita Coco makes coconut-based water, milk and oil products, and their Expo West booth had the awesome above pictured display of a cow on vacation. I also thought their tagline, "Tastes like no udder" is pretty clever!