"The sun, with… planets revolving around it… can still ripen a bunch of grapes as if it had nothing else in the universe to do." – Galileo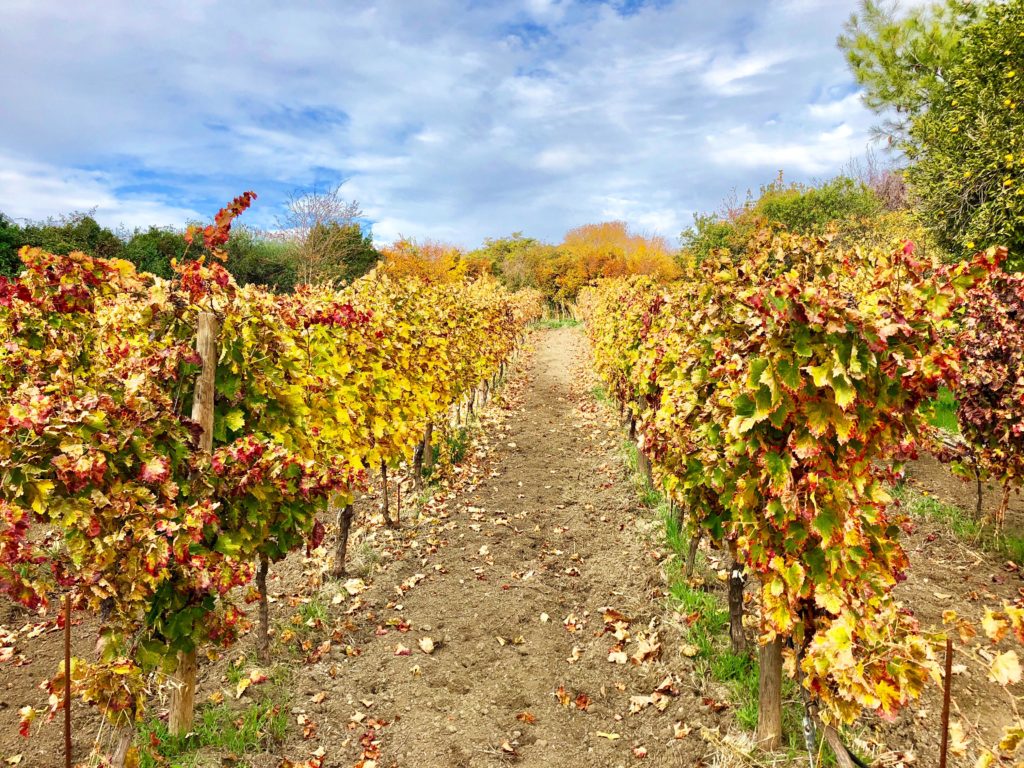 One of my favorite days on my recent vacation to Spain was when I went on a trip to the country's southern wine country area of Ronda with Tannin Trail. I absolutely love visiting wine country whenever we can, wherever we are, so it was a no-brainer part of our vacation to venture out of the city to Ronda. Tasting different wines, discovering more about the winemaking process, and learning about wines of the world is so much fun, and I've never met a wine region whose beauty I'm not enamored with.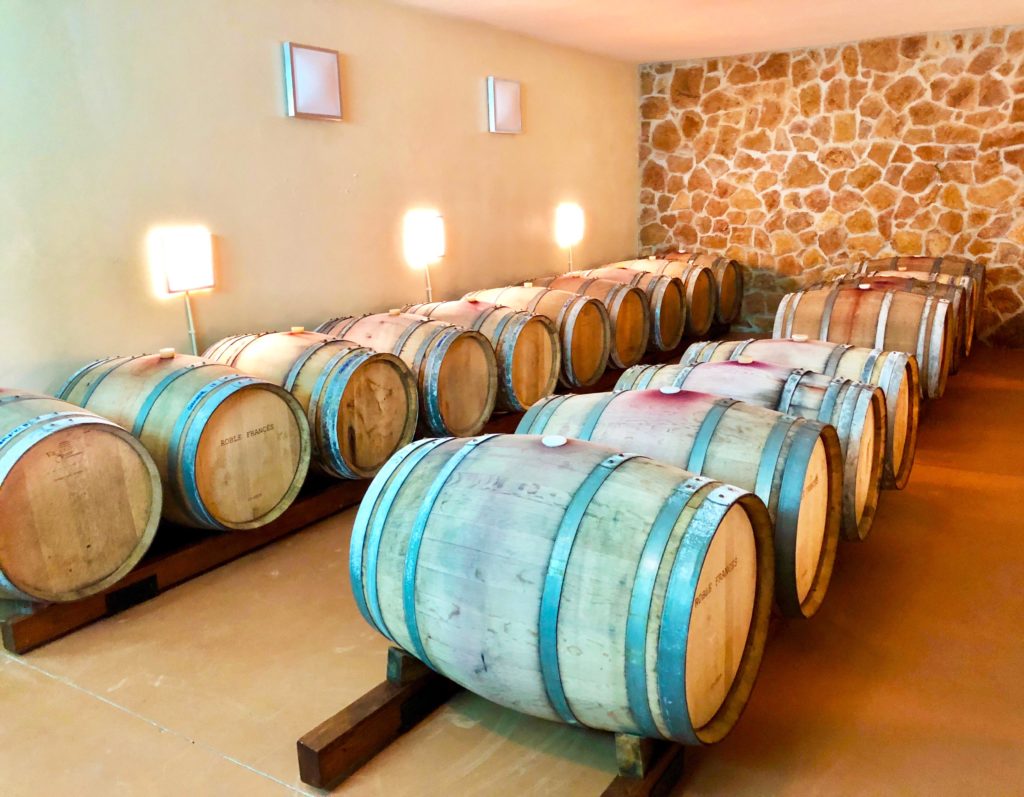 On the morning of our wine tour, Tannin Trail's co-owner Kelly picked us up right on time at our hotel. It was convenient to have transportation right from our resort, because we stayed a bit away from things and had to keep taking the train to places throughout our vacation there.
We were joined on the tour by a newlywed couple, keeping the group nice & intimate. I like a small group atmosphere for wine tours, & Tannin Trail always keeps their tours at 8 people or less.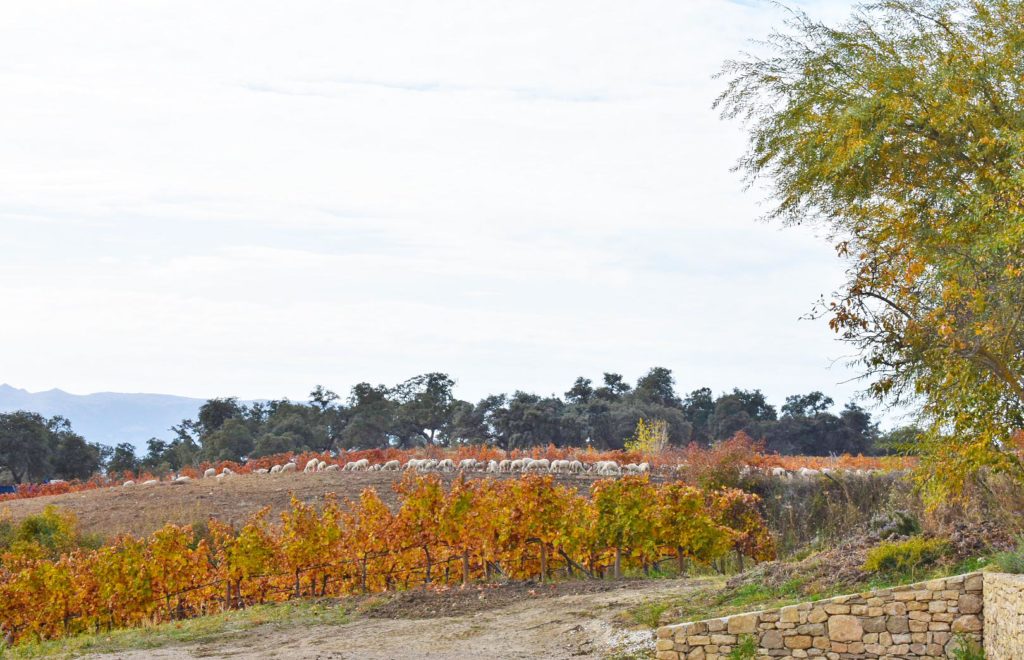 We drove straight from our resort in Mijas Costa to the town of Ronda. It was a steep, winding ride full of beautiful countryside, and in around 90 minutes, we arrived at our first stop: Kieninger Winery.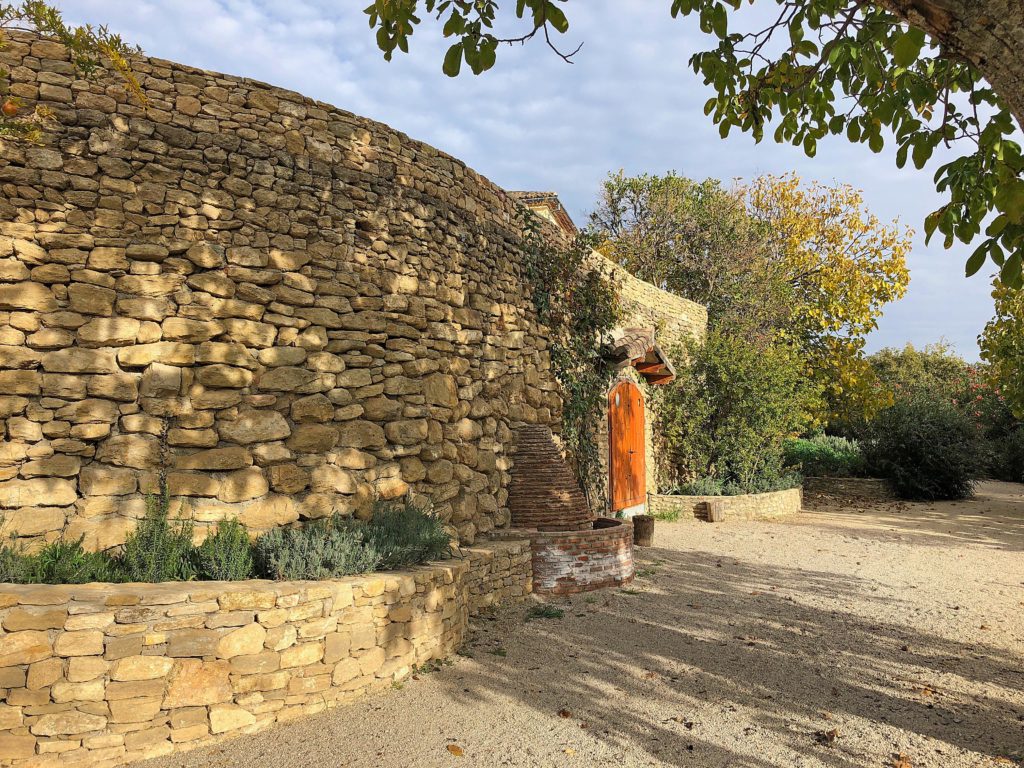 Kieninger is a charming boutique winery, & I immediately loved it. As we pulled up, the winery dogs ran out to greet us, including a rambunctious, lovable puppy named Blanco.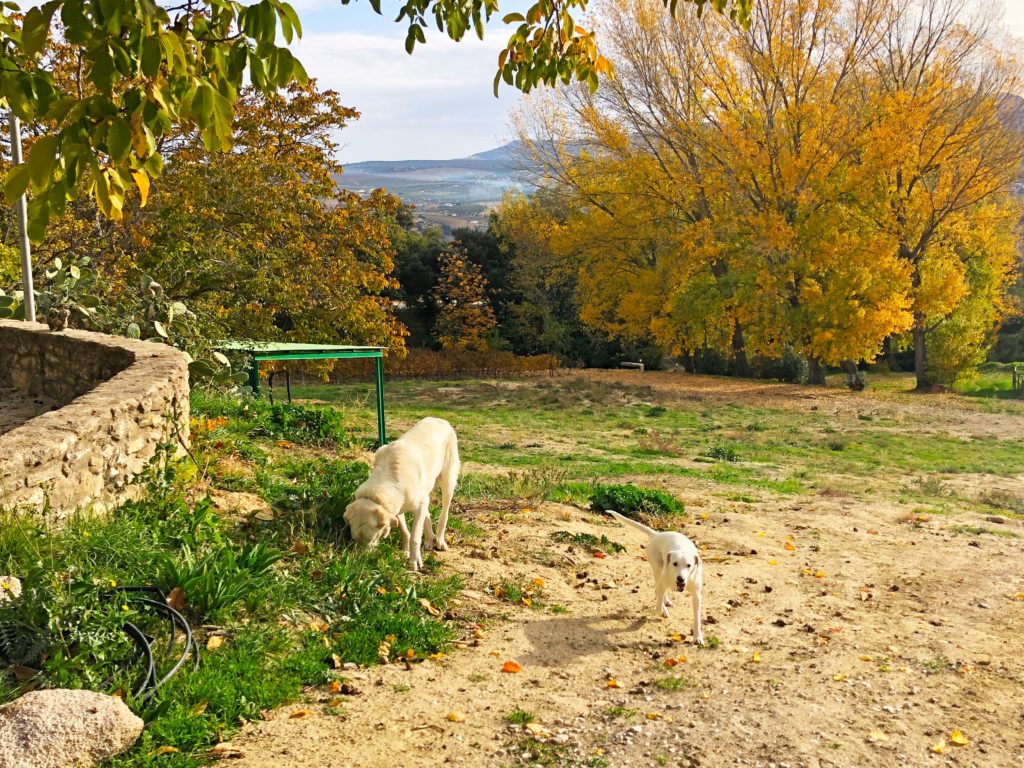 We visited Ronda wine country at the perfect time, when the leaves were bursting with colors of autumn. It was late November, and I was told that it was unusual for the leaves to still be bright and beautiful on the trees as they were. We lucked out!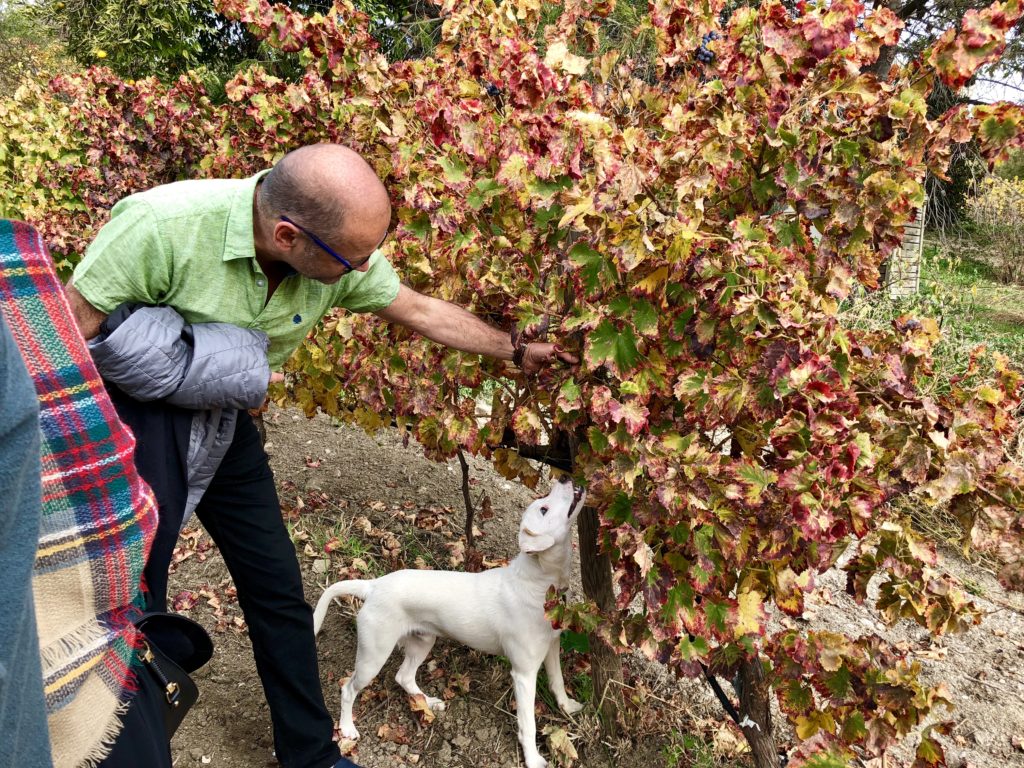 Kieninger's Austrian owner, Martin, spent time giving us the full tour of his winery. He talked about the winemaking process at his winery – which is "ecological" (what we'd call organic) not for the sake of putting it on a label or branding the wine as such, but because that's how he believes the best wine is made. No pesticides, herbicides or insecticides have been used at Kieninger since he first planted grapes in 2000.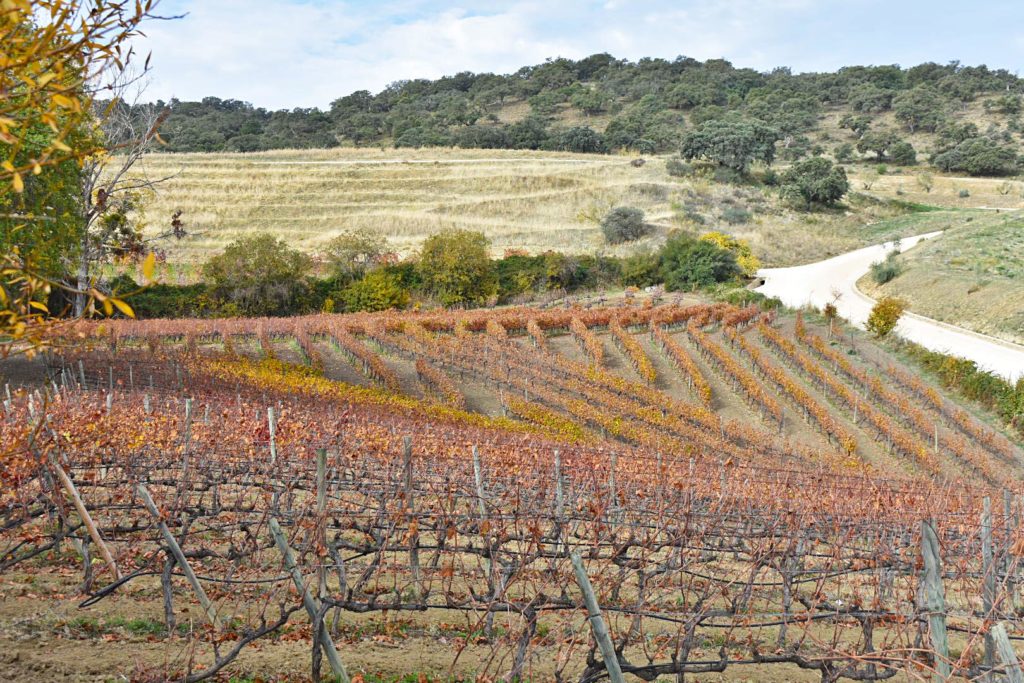 In addition to putting a lot of love into his winemaking, Martin fosters the growth of other kinds of organisms on his property, like blueberry and rosemary plants. The winery is surrounded by stone oak trees that are 300-400 years old, and he's built his winery with sustainable architecture.
After the tour, we were led into the wine tasting room – which was pretty much the coolest little cave to taste wine in. We noshed on some goodies like cheese, nuts, and dried fruit (Martin's own fruit that he dried himself, of course) as we began tasting wine together.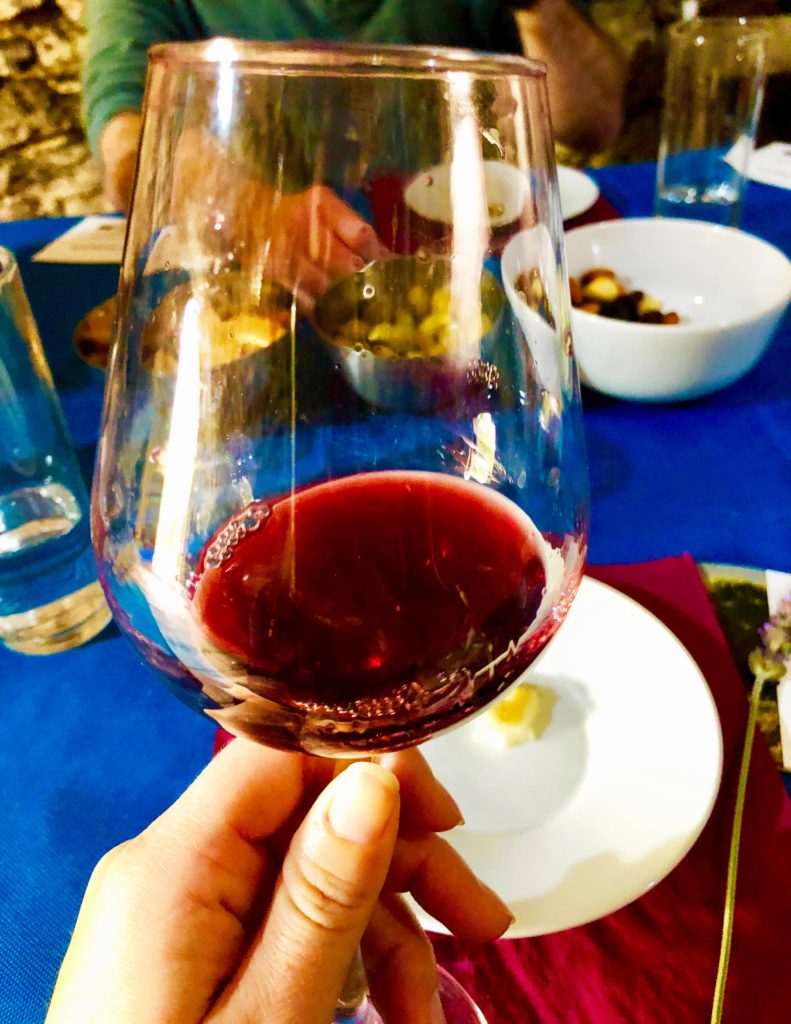 Kieninger makes some more popular red varieties like cabernet franc, merlot and pinot noir. Since Martin is Austrian, he also makes wine varieties from his native country, which I thought was neat. He names his wines after family members, and we tried a wine named after his son, Maxx, which is a blend of two local grapes: garnacha tinta and tintilla de rota.
Kieninger makes about 10,000 bottles a year, & you can tell that the winery is Martin's passion. I loved the wine, loved the atmosphere, and could have easily sat in that adorable wine cave sipping wine all afternoon.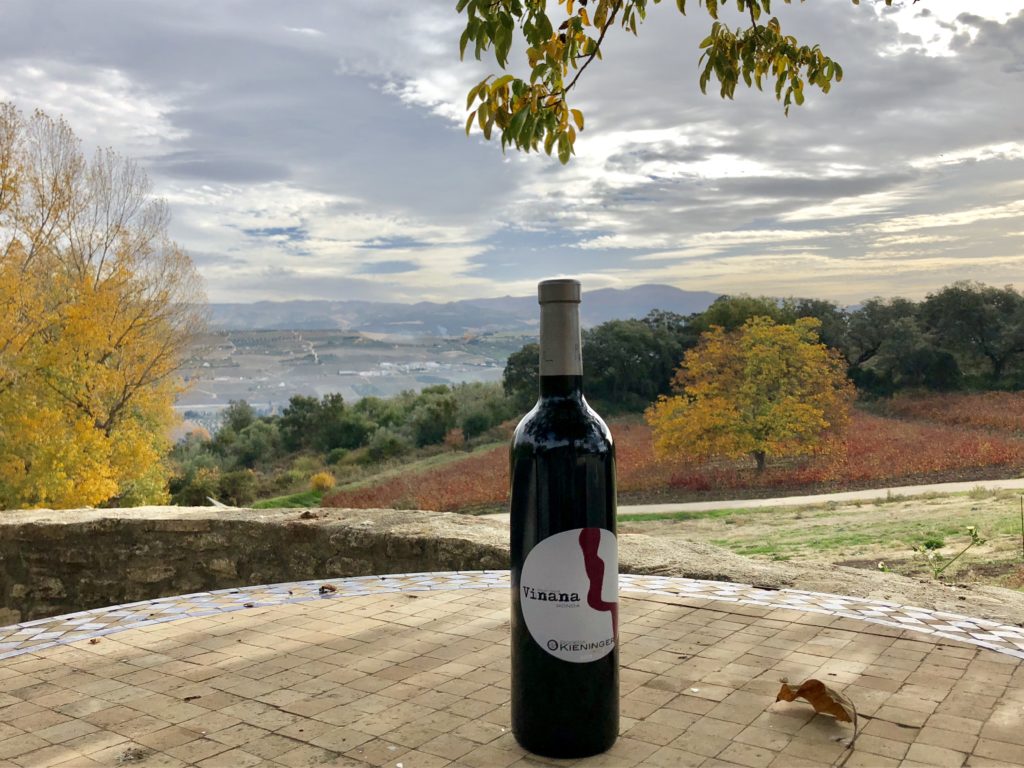 But it was time to go, so we went our merry way with a bottle of wine (I'm kicking myself that I didn't buy at least one other bottle to shove into my suitcase!) and said so long to the guard dog pups and the lovely Bodega Kieninger.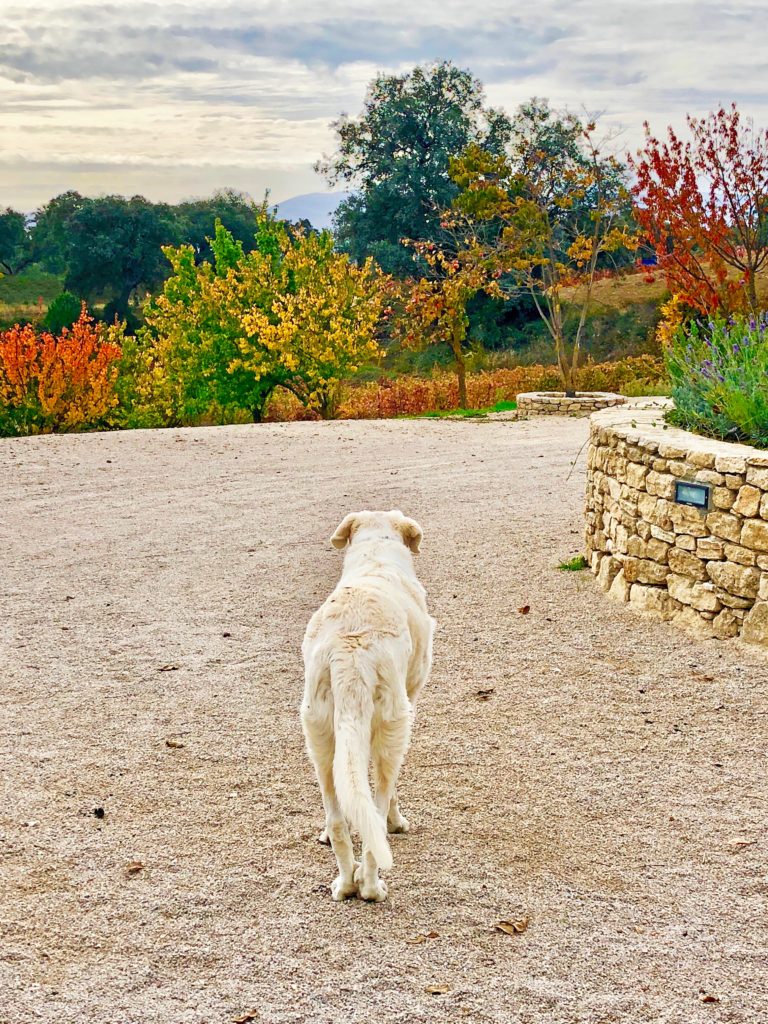 In chatting with Kelly en route to our next stop, I asked him about the process that Tannin Trail has gone through to pick the wineries that would be regulars on their tours. He said that they had tried every winery in the Ronda area (not a bad gig huh?) and created a list of favorites, which has since been further narrowed down. On any given wine tour, you're putting your trust in the wine tour company to choose wineries that will be the best experiences & are best representative of the region, & I really enjoyed visiting Kieninger.
Our next stop was free time in the mountaintop town of Ronda. When planning the tour, we had the option to either go to a third winery or visit Ronda, but when Kelly's wife Vanessa shared with me that the city is stunning, I knew I wanted to see it for myself. She was not exaggerating, Ronda is one of the most picturesque towns I've ever been to!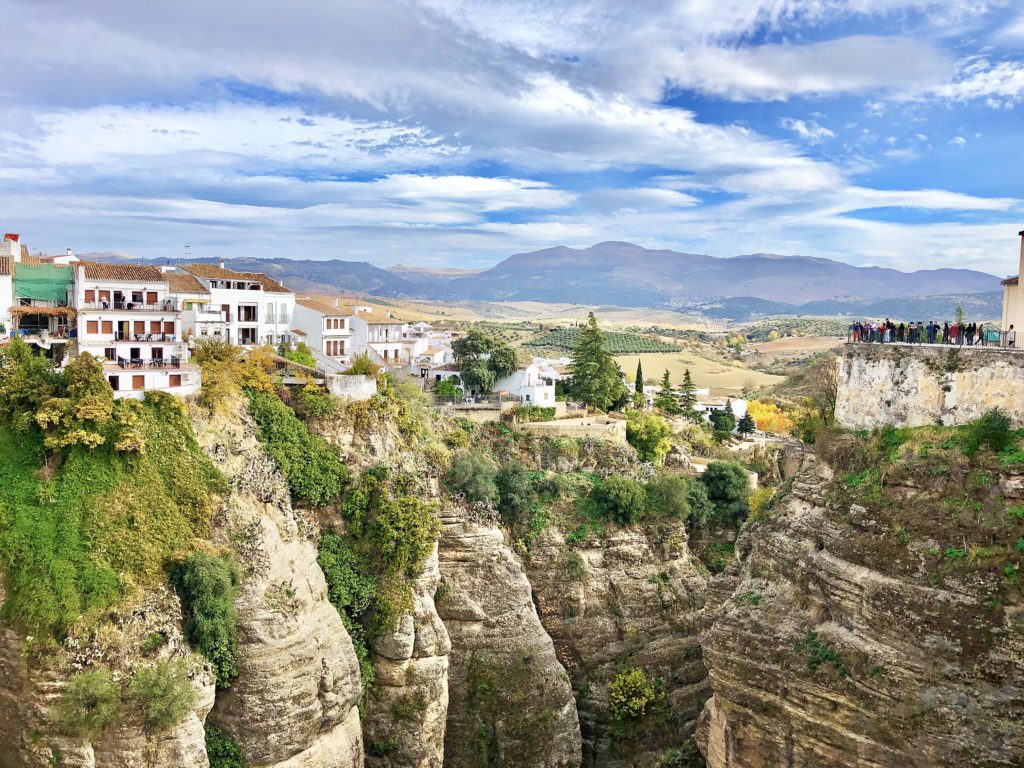 "I have sought everywhere the city of my dreams and I have finally found it in Ronda." – Rainer María Rilke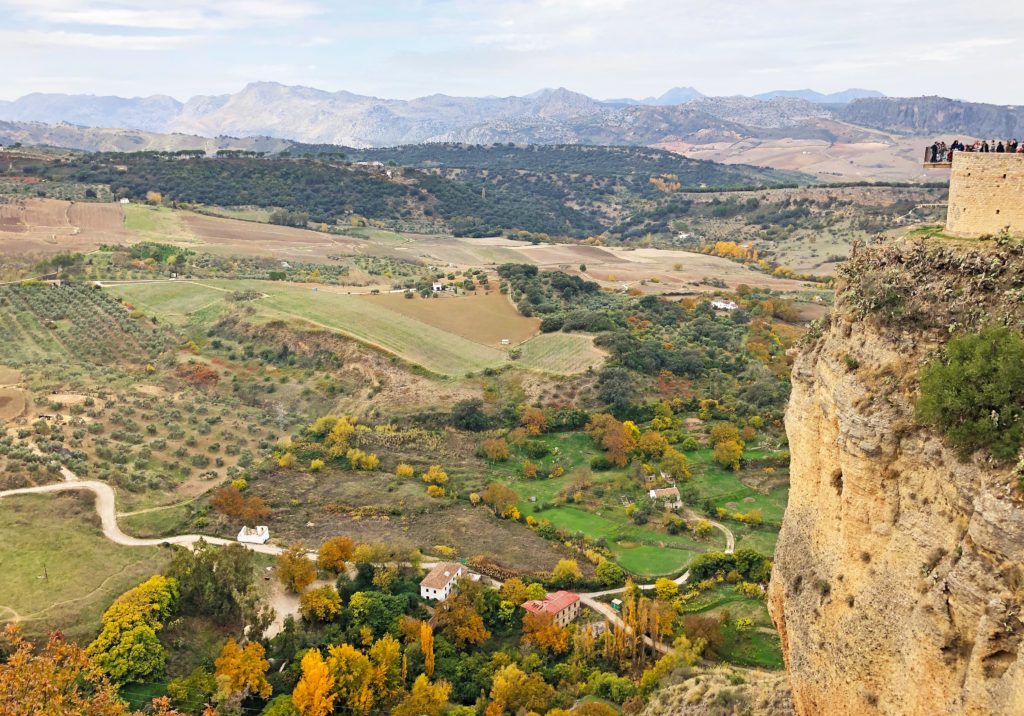 First settled in the sixth century BC, Ronda is an amazingingly beautiful town dramatically set above a deep gorge. We were there on such a nice, mild autumn day, & we walked around sightseeing & taking in the views for the entire 2 hours of free time we had there. I would love to go back to Ronda one day & spend some time hiking around the gorge.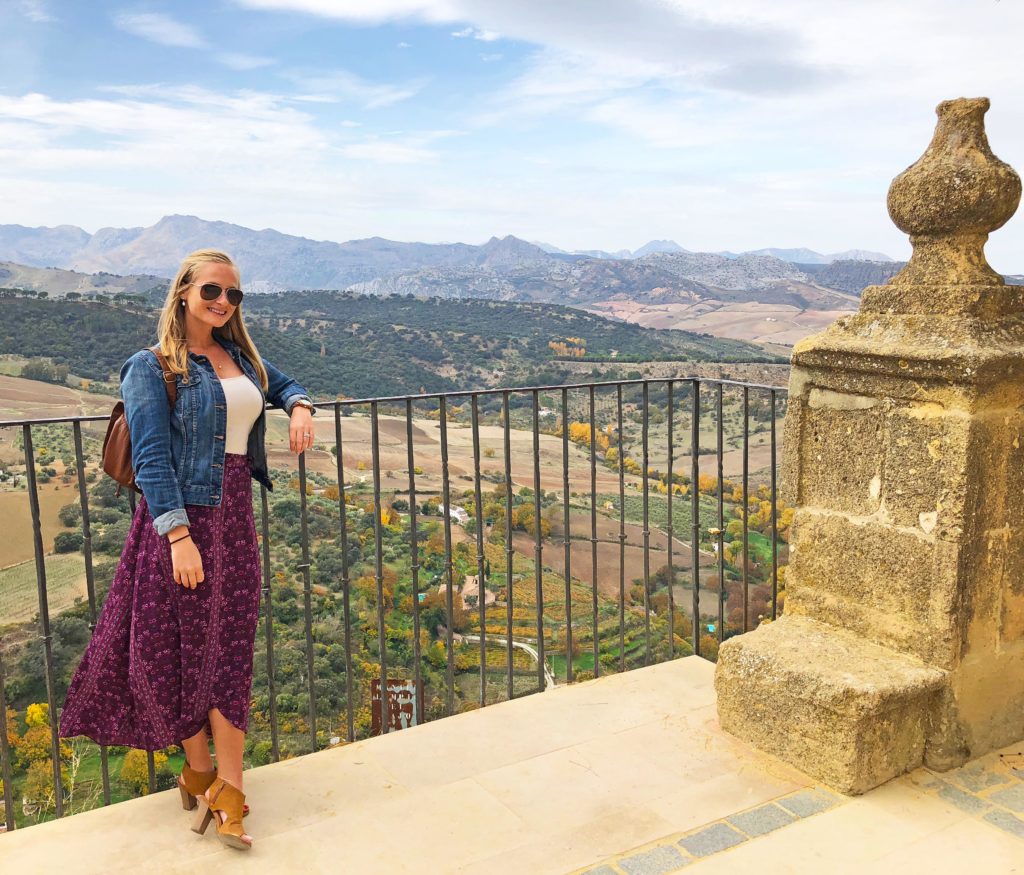 Pictures seriously don't do it justice, but here are some other shots that we captured: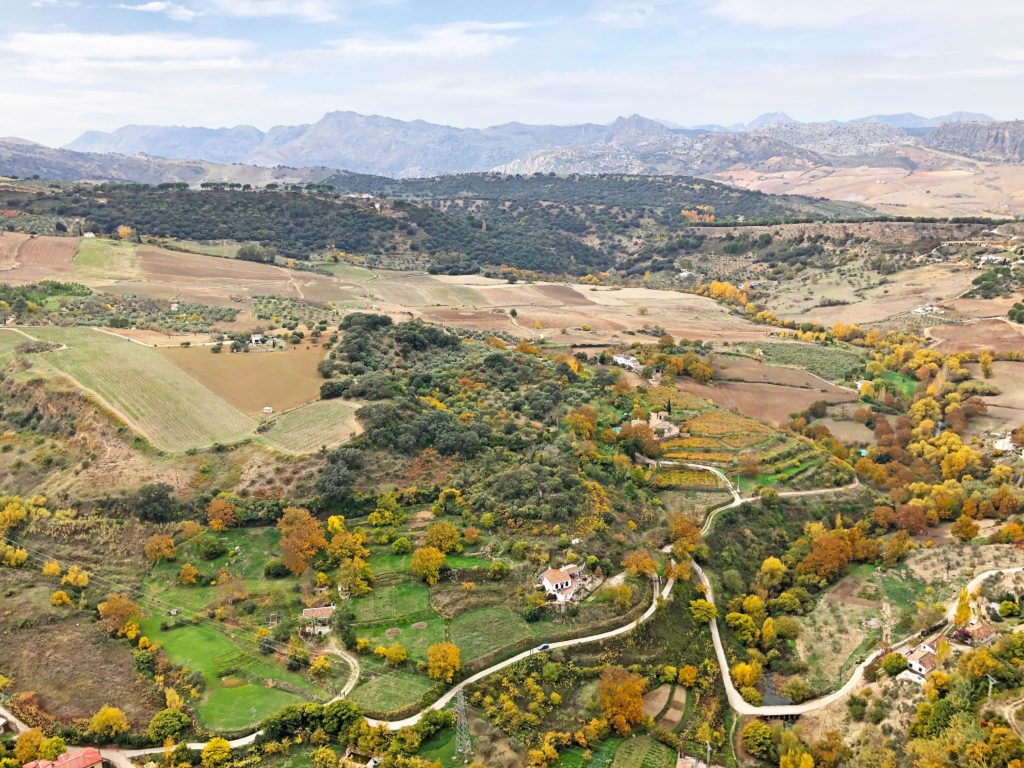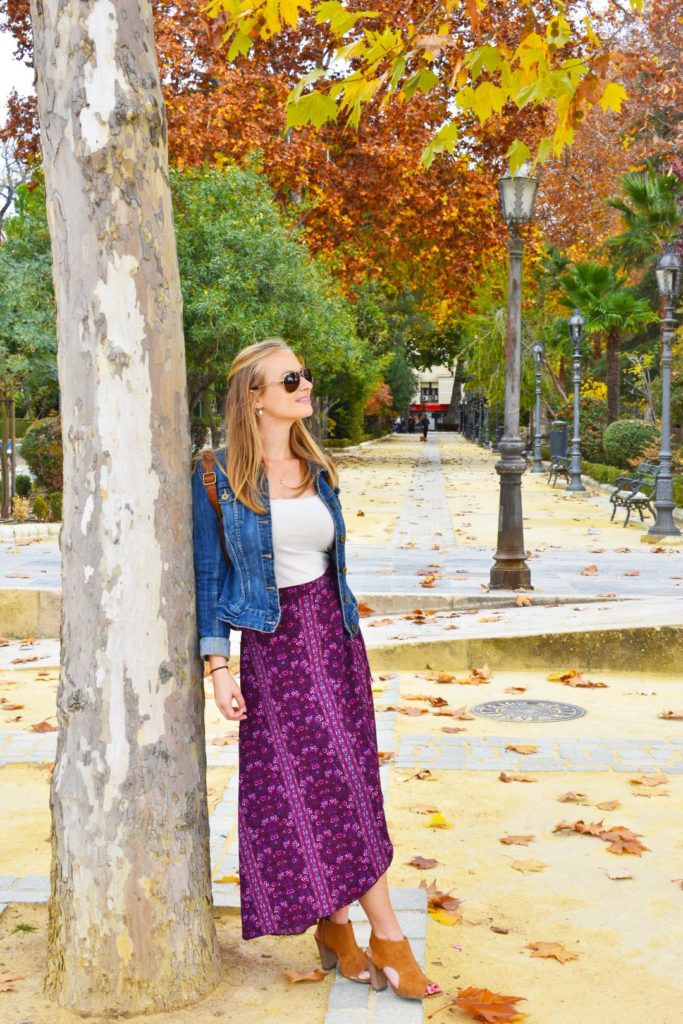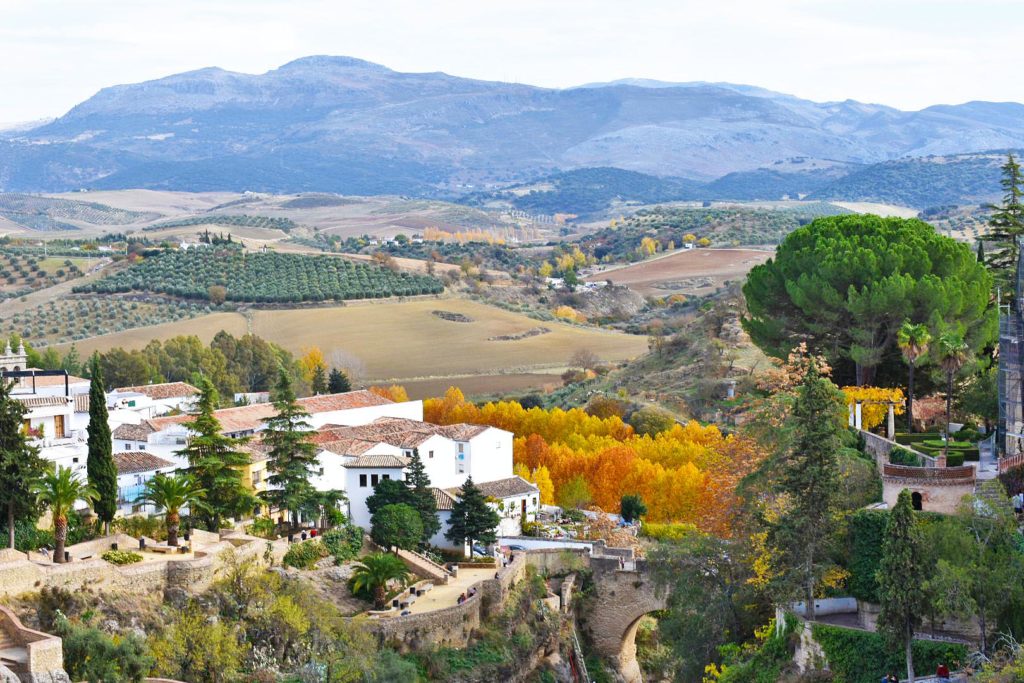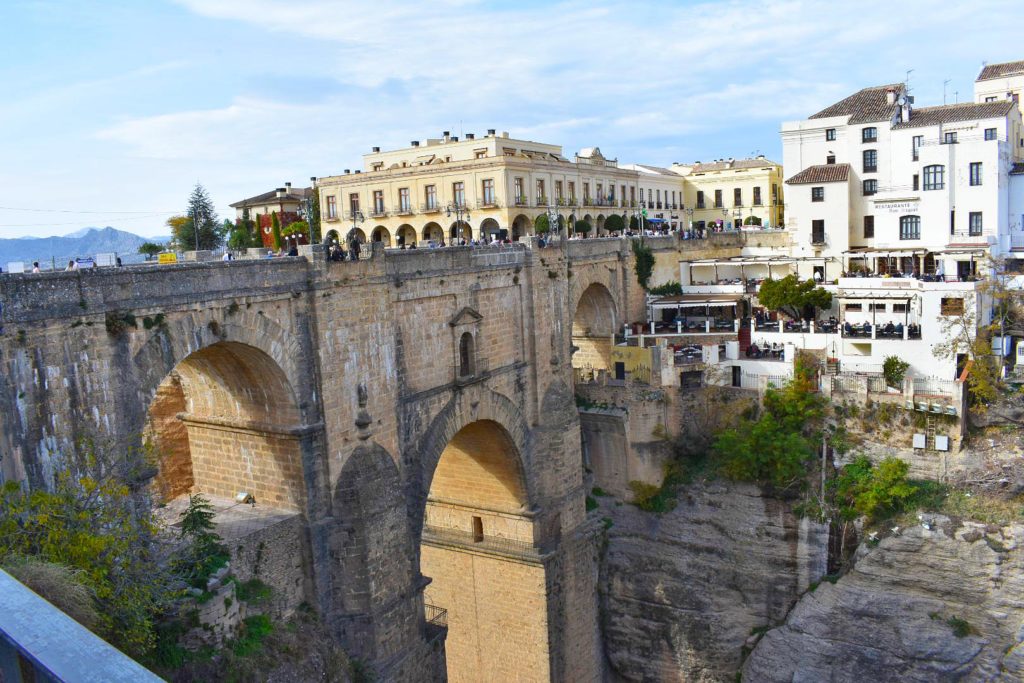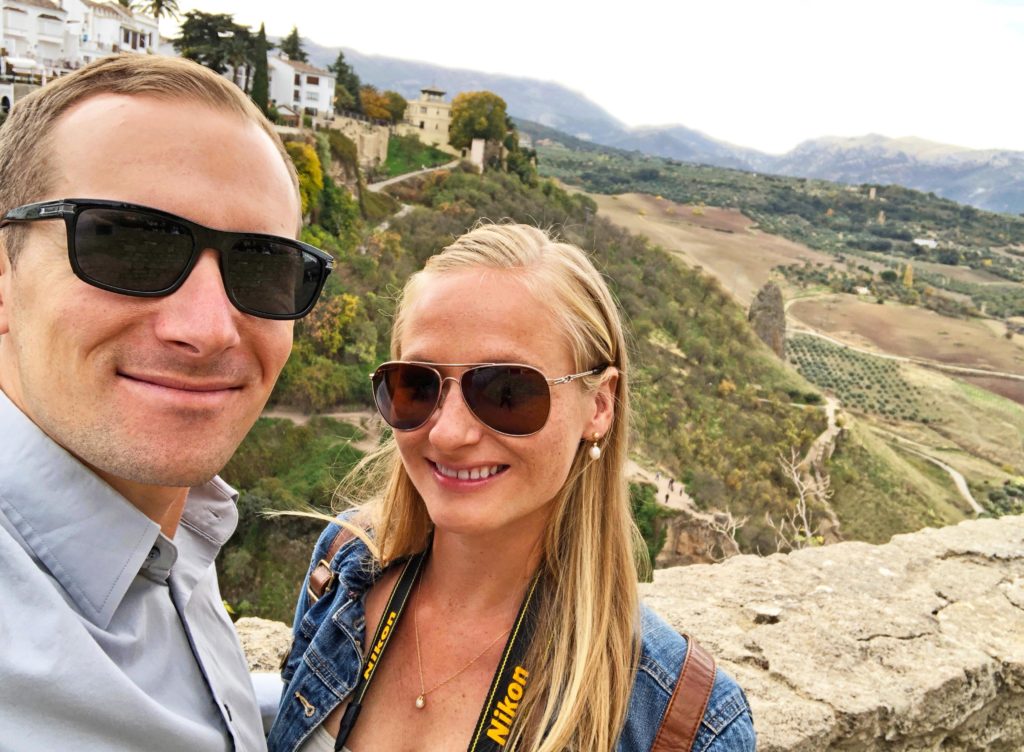 I could have stared at the views all day long! After a little dose of Ronda, Kelly picked us back up so that we could head to our second winery of the day: Joaquin Fernandez Winery– an organic vineyard that sits 700 meters above sea level and offers gorgeous views of Ronda.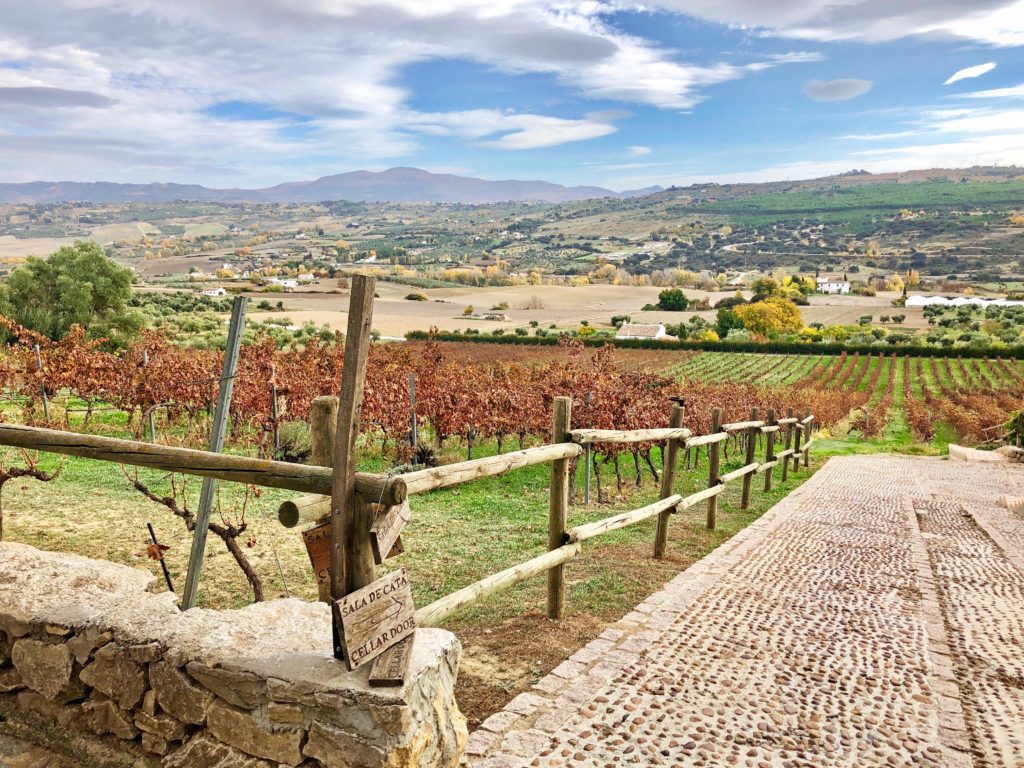 First, we did a guided vineyard tour to learn more about Joaquin Fernandez's winemaking. The winery first planted grapes 18 years ago with four varietals: merlot, syrah, grenache and cabernet sauvignon. Because of the winery's altitude,  they experience cooler nights and great wine growing weather. The winery produces about 50,000 bottles a year.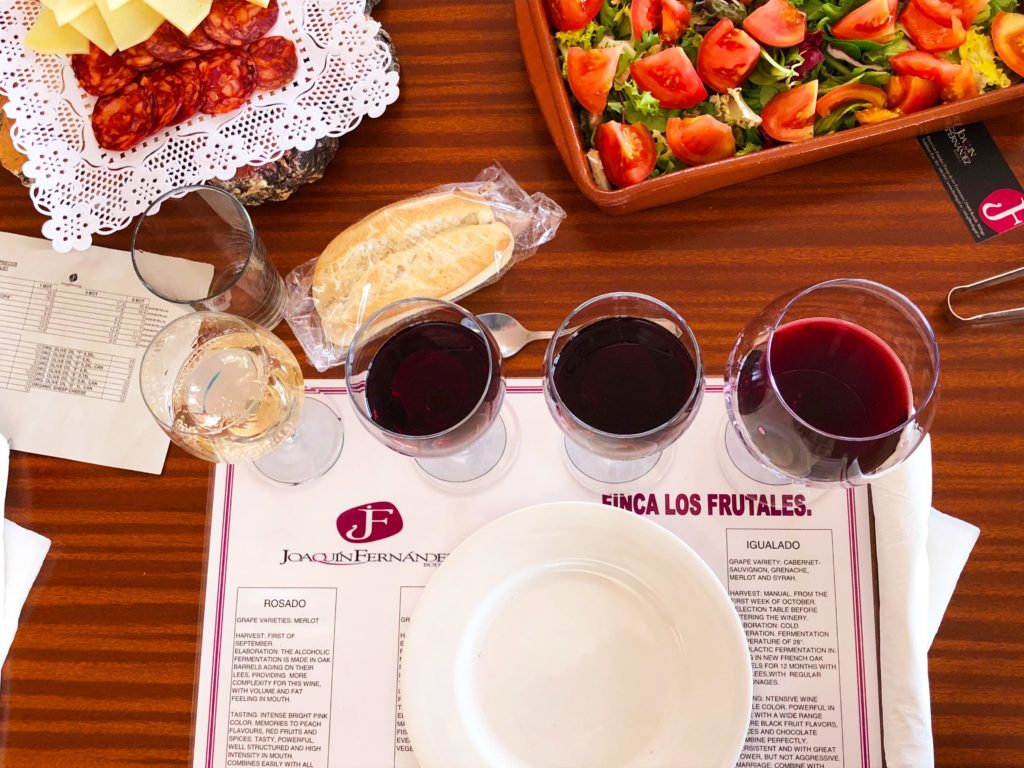 Then, we settled into a table on the patio to taste the wines and eat some lunch. It was a family affair at the vineyard, with the owner running around entertaining guests and cooking at the outdoor oven, and his son giving us the tour. On this particular day, there was a celebration full of food & wine for all of the workers who harvested the grapes earlier in the year.
One of my favorite wines at Joaquin Fernandez was called Igualado – a blend of all four of their grape varietals.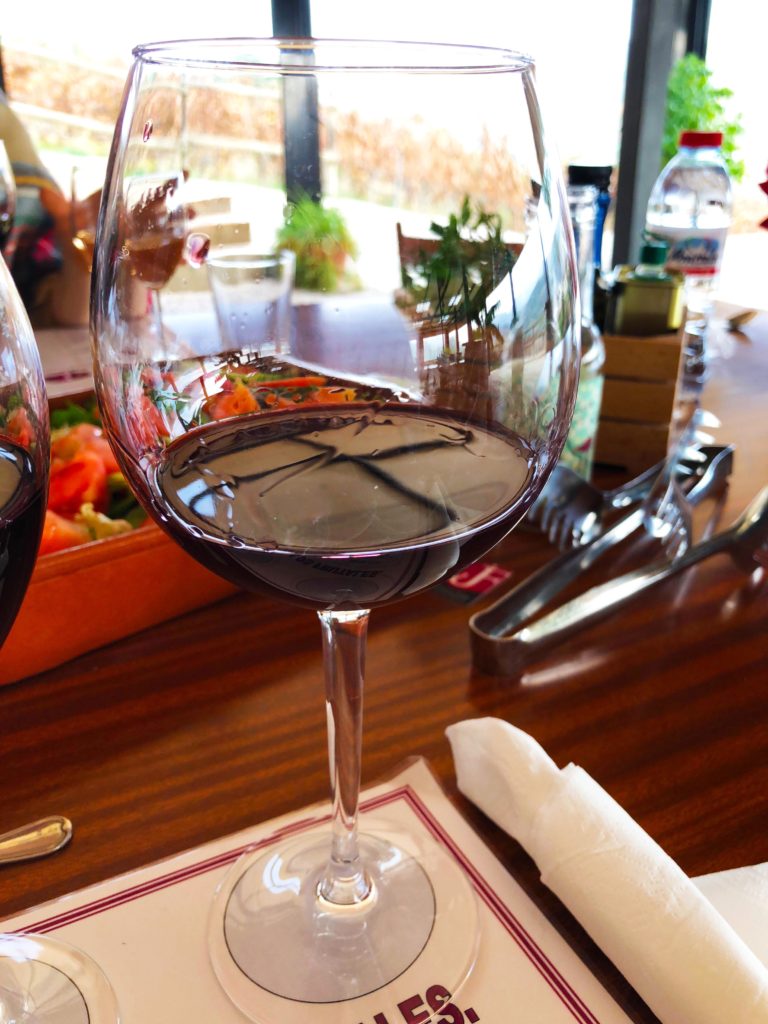 During lunch, we all sat and chatted as we enjoyed the food, wine & atmosphere. The rest of the group ate seafood paella, while I had some grilled veggies – all freshly prepared. The owner didn't speak English, but he came over and asked if I liked my food as he refilled my wine glass with a smile.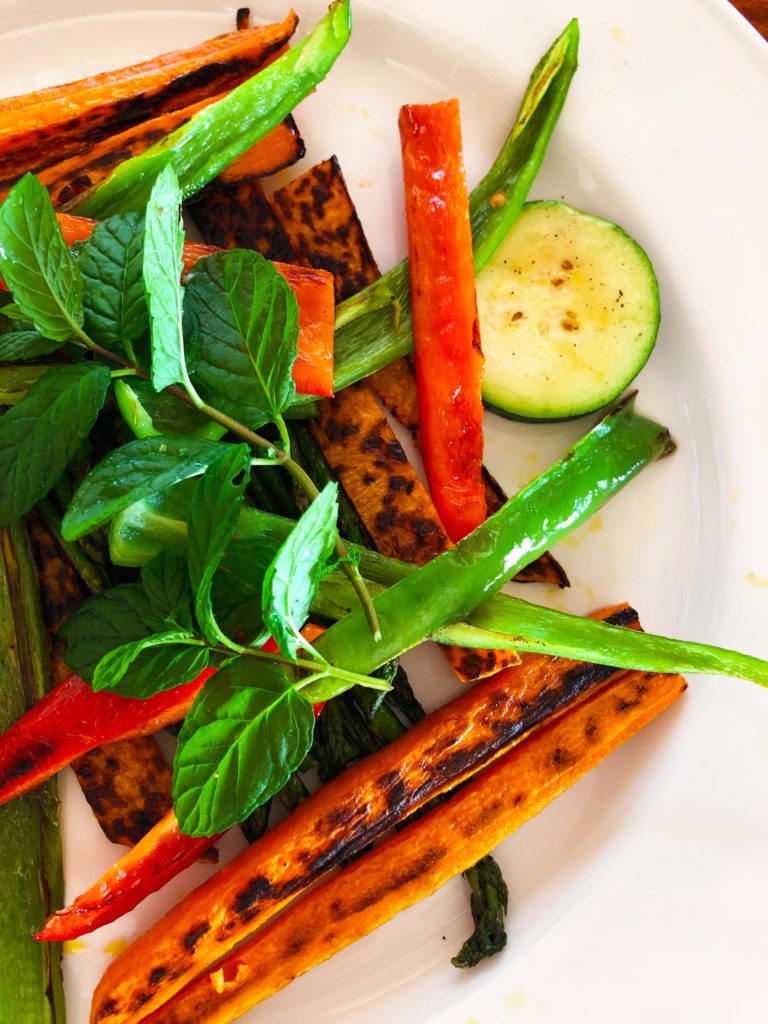 Tannin Trail's co-owner Kelly accompanied us throughout our winery visits, and was there to answer any questions and provide insight into winemaking in Spain. He's from South Africa and has lived elsewhere in Europe, so my husband and I enjoyed picking his brain about everything from how he started the business, to what it's like raising kids in Southern Spain.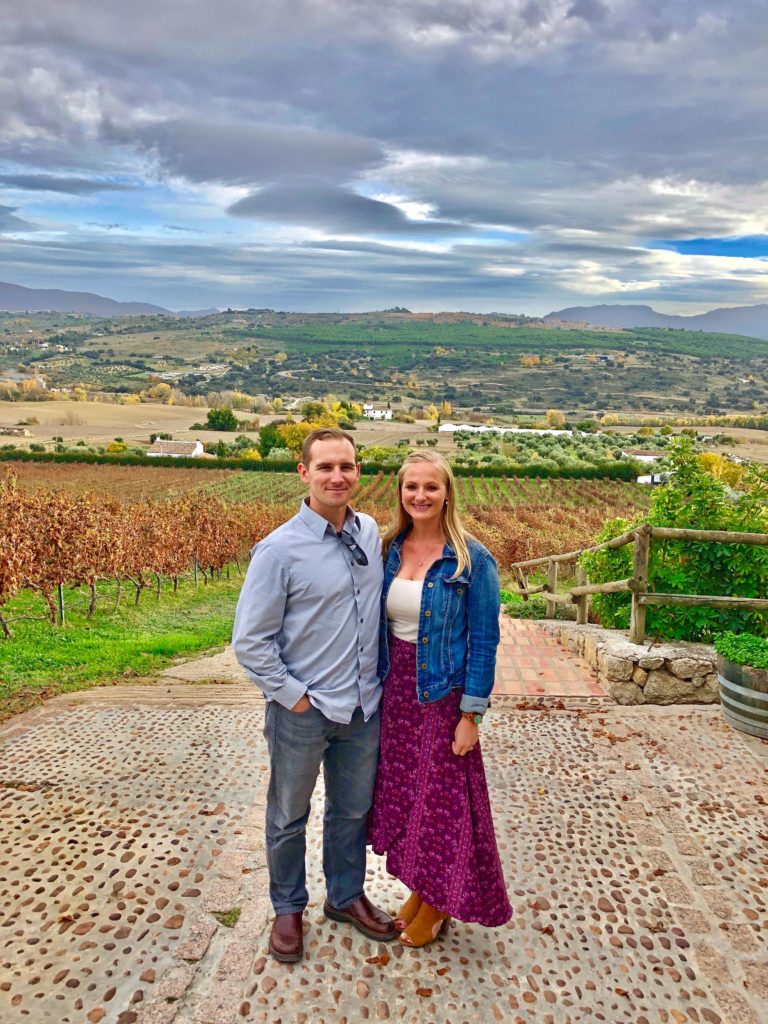 While it was so relaxing to sit outside at Joaquin Fernandez and sip wine, once we finished up with our meal, it was time to head back to our resort. I was so glad to have gotten to experience wine country, and happy that we booked a wine tour with Tannin Trail. I loved both of the wineries that the tour took us to, and Ronda is a magical place that we wouldn't have otherwise visited had it not been for the tour.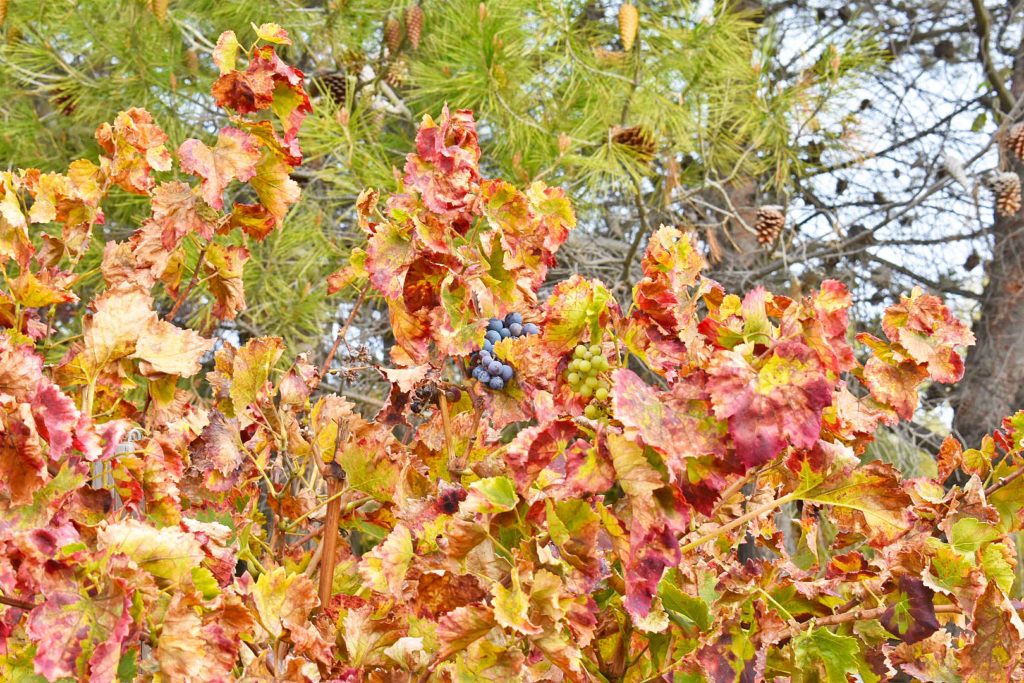 Our tour ended with a sweet gesture: As Kelly dropped us off at our resort, he gifted us with a package of local olive oil, paella seasoning and sweet paprika – in honor of it being Black Friday as he put it (Yes, Black Friday exists in Spain too!). All in all, I had a wonderful time wine tasting in Ronda. It was a day that I won't forget, & recapping it for you all made me nostalgic to be back there!
Tannin Trail also hosts an olive oil tour & tasting, which I would have liked to do as well. After all, olives are one of the three pillars of the 'Mediterranean Triology', alongside grapes & bread… & I'm a fan of all three! Check out Tannin Trail's website to learn more about their wine & olive oil tasting, cooking & craft beer tours.
Tell me… Have you ever heard of/been to Ronda, Spain? What's one of your favorite memories from recent travels that you've done? 
Disclaimer: Tannin Trail provided me with a complimentary wine tour. As always, all opinions expressed are genuinely my own.