Happy 2018 friends!
I hope that you all had a wonderful holiday season. Between traveling to Florida for my father-in-law's wedding, then flying up to the northeast for Christmas with family, then heading home to the west coast for New Year's, I had an awesome, whirlwind Christmastime. More on that later, but today we are rewinding a bit to recap another part of my recent trip to Spain: learning about the local gastronomy in the southern city of Malaga via a cooking class with Spain Food Sherpas.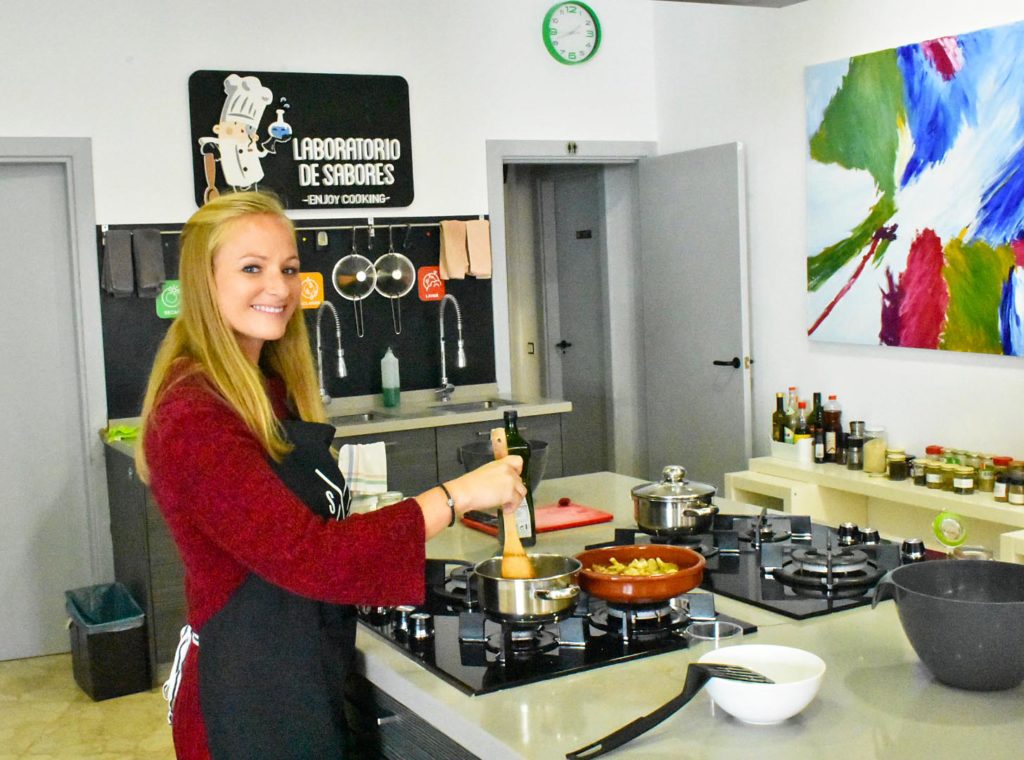 For awhile, I had participating in an international cooking class on my bucket list, so the day that I took a tapas cooking class with Spain Food Sherpas was a special one. I was extra excited because I adore tapas, and I woke up that morning looking forward to learning more about Spanish food culture.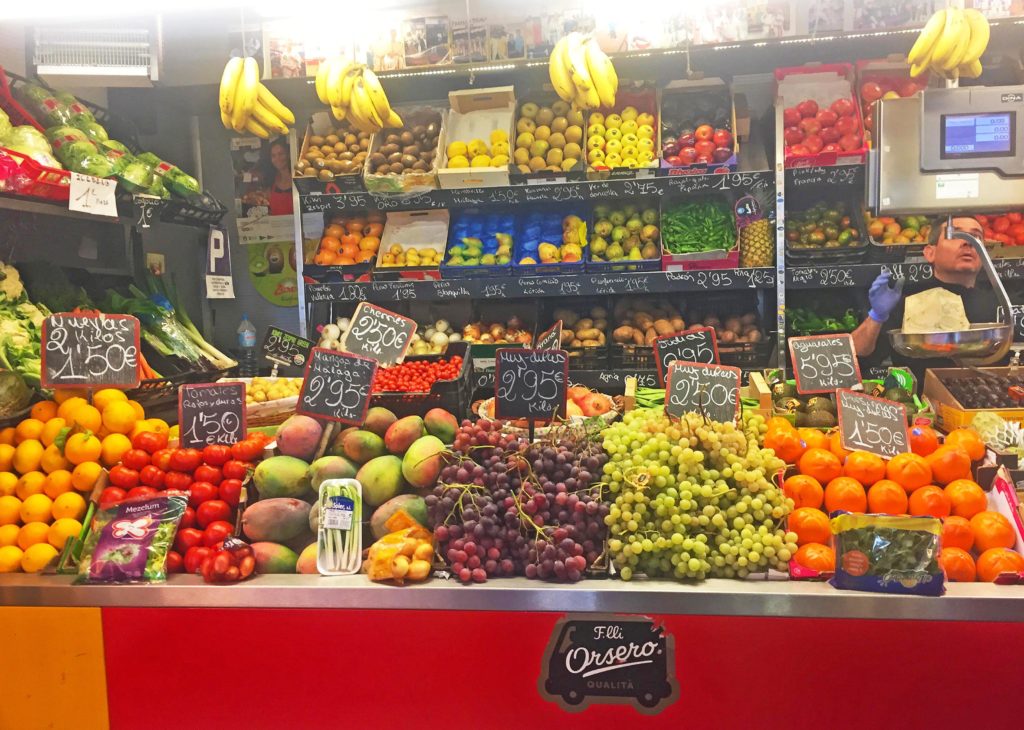 We met up with our tour guide Simone, and began the day with a walk around Malaga to the Atarazanas Market, where we picked up some ingredients for our cooking class. I'm a huge fan of local markets and visit them as often as I can both when I'm traveling and when I'm home in San Diego, so I loved checking out Malaga's market. It offers an abundance of fruits, veggies, cheeses, fish & meat.
Like so much of Malaga's sites, Atarazanas has a long history. The building was originally a shipyard that was created in the 14th century. Today, the market's mural commemorates its history as a ship building site.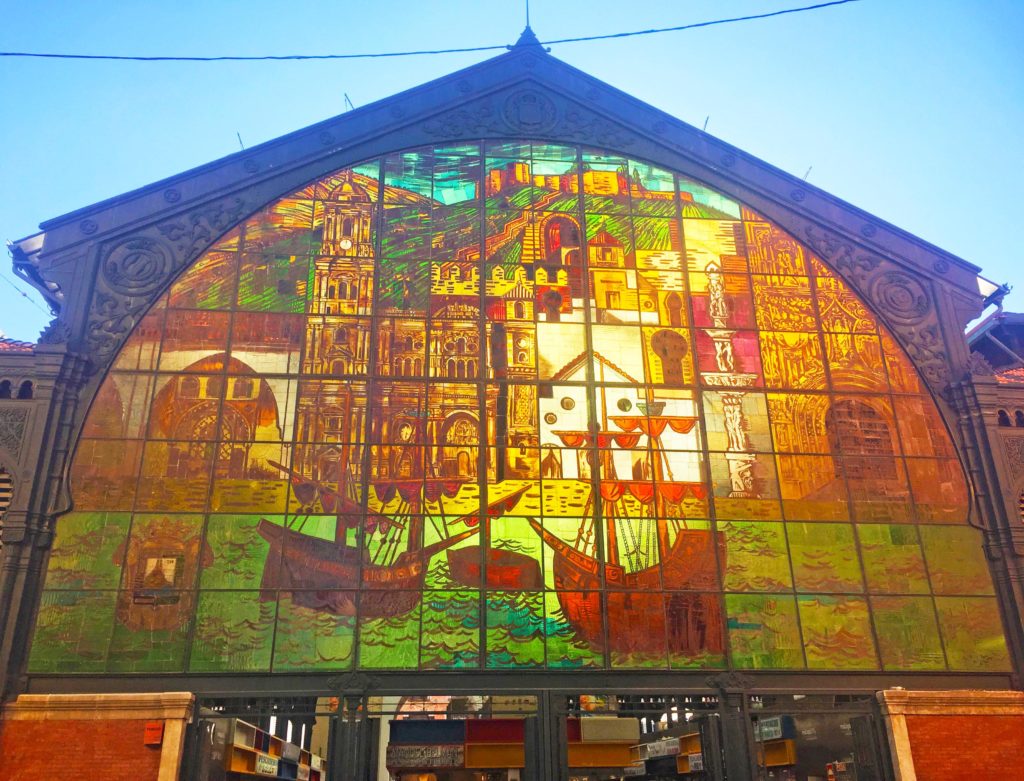 Fun tidbit: The stalls in the Atarazanas Market are passed down from generation to generation. 
After the market, we headed to Spain Food Sherpas' beautiful kitchen, where we would spend the rest of the tour learning how to make traditional Spanish tapas.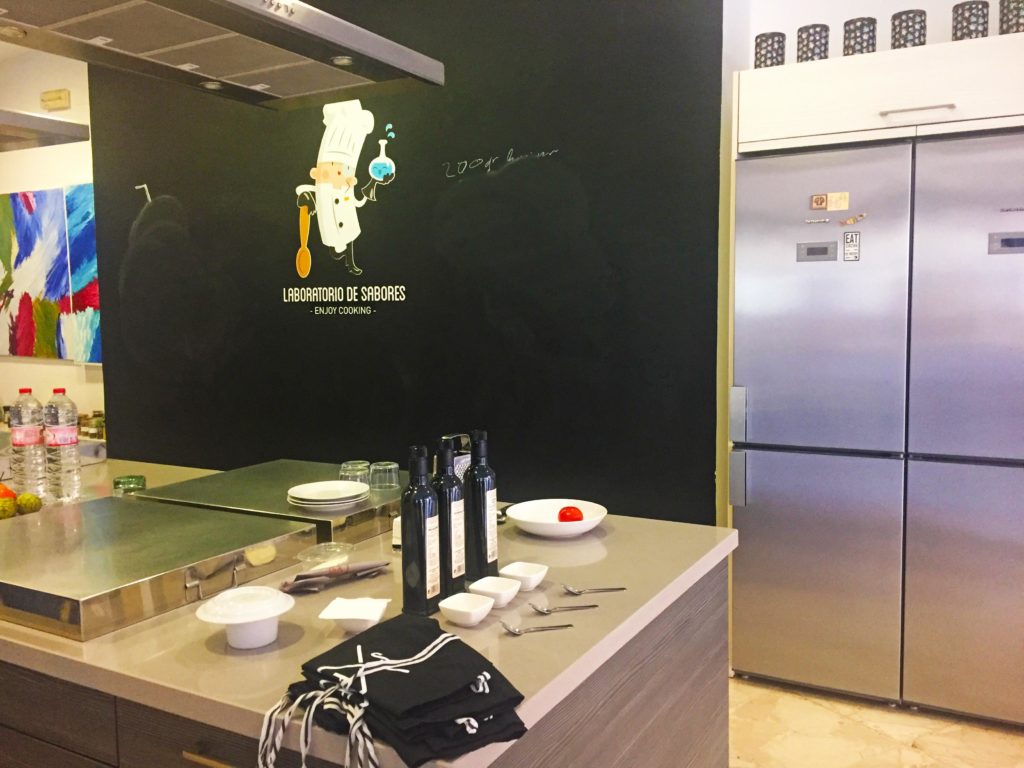 We started the cooking class by tasting local olive oils and learning a trick that I'm planning on using at home: making a fresh tomato bread simply by rubbing the tomato in a cheese grater, then slathering it onto fresh bread with olive oil and salt.
Throughout the class, I enjoyed getting to hear about the cooking traditions of the region. Simone translated for the local chef, although between her friendly, slow Spanish and gesturing of what to do next, I understood most of what she said.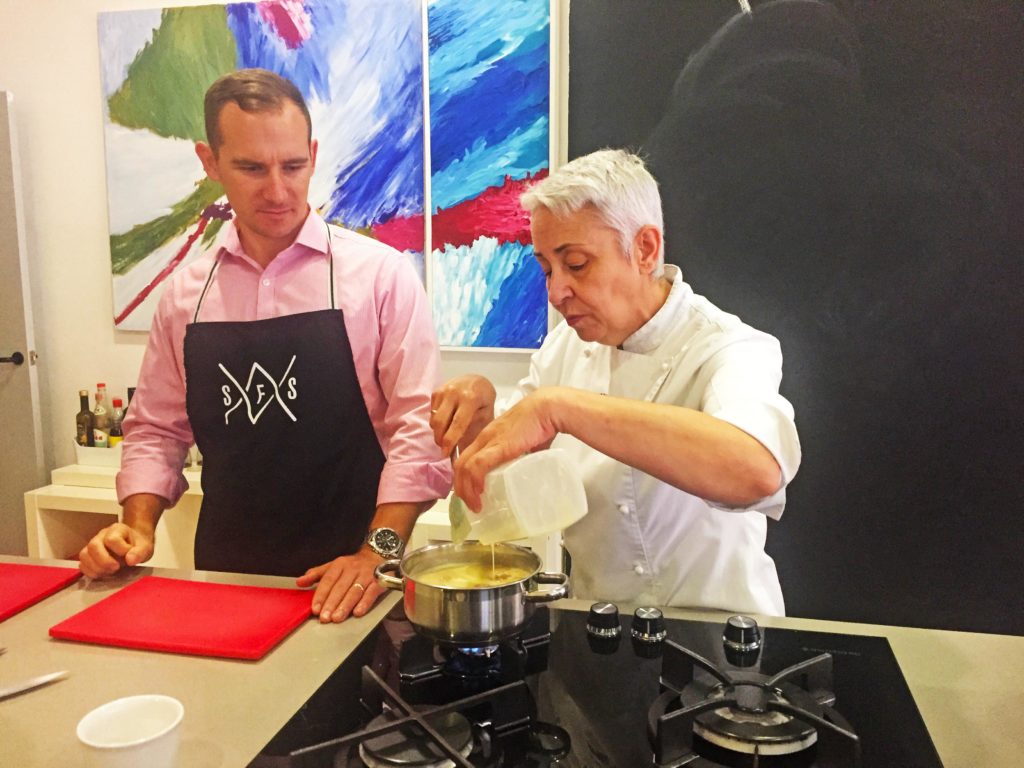 We learned that the gastronomy in Malaga is all about simple, locally grown ingredients. They love using lots of seasonings and olive oil, and the chef kept encouraging me to pour a little bit more oil into my skillet.
I was so happy that Spain Food Sherpas accommodated my vegetarian diet with no problem, while at the same time teaching my husband to cook a few fish dishes that are popular in Spanish gastronomy. The tapas we cooked included a mushroom dish (prawns for him), Malaga style salad with oranges and olives (his included salted cod), Spanish potato omelette, and my favorite recipe that I'm sharing with you today with my own twist, spinach porrilla.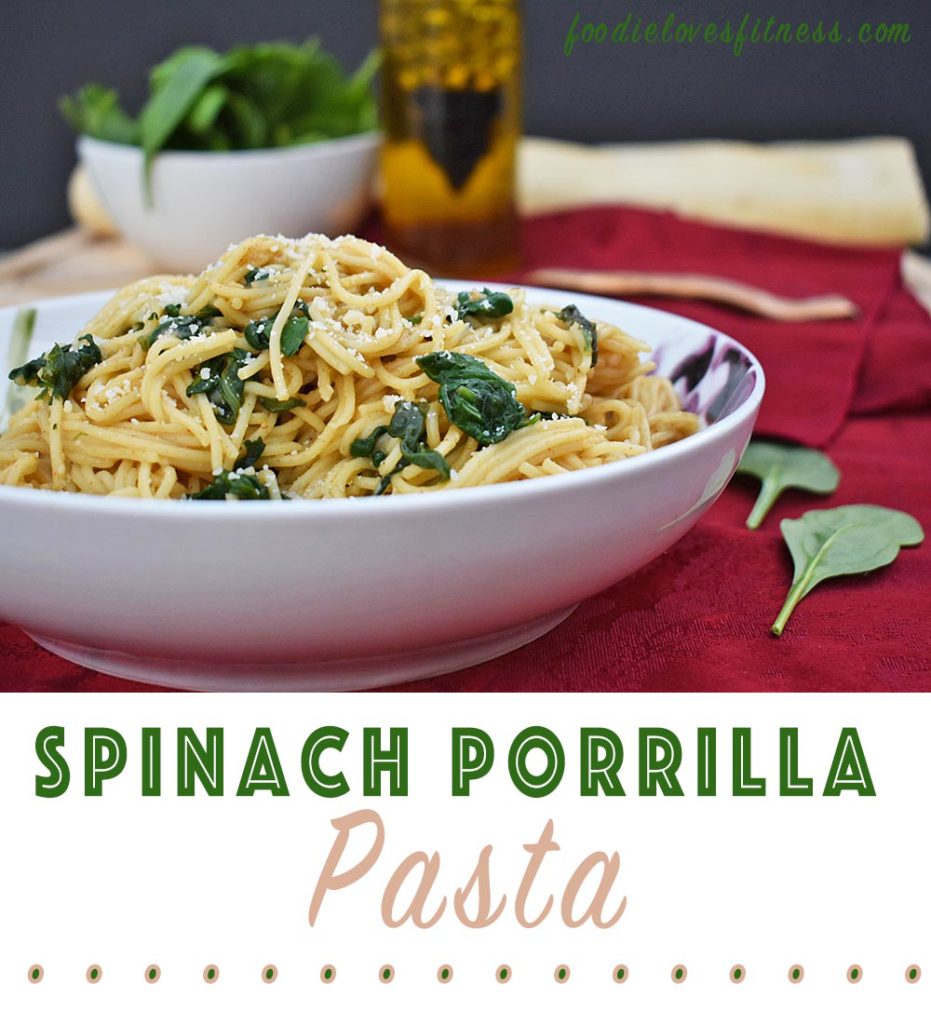 Spinach porrilla is a simple, flavorful dish that gives you your fill of greens for the day. But what I love the most about it is its unique sauce ingredient: bread.
To make the sauce, we first lightly fry the bread in garlic, onion and olive oil. Then we transfer it to a deep cup or bowl, add vegetable broth, sweet paprika, and cumin, and use an immersion blender to mix it all into a smooth sauce.
(Immersion blenders are an amazing kitchen tool! My husband, who had never used one before this cooking class, was pretty impressed by it.)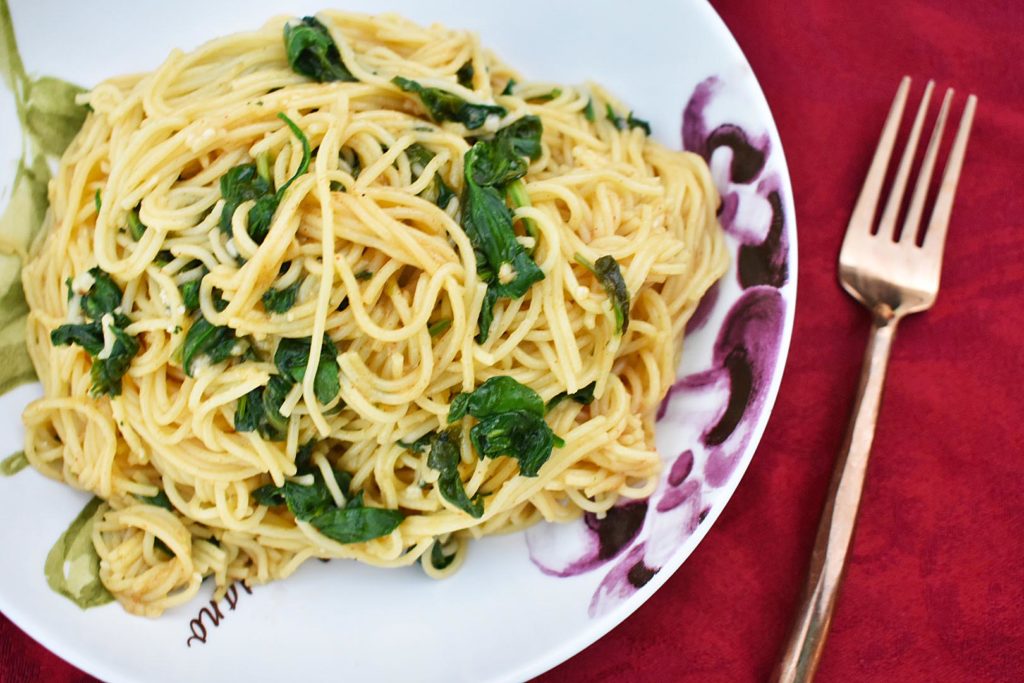 Next we sauté the spinach in a bit of olive oil. Once it's wilted, we add in the sauce mixture and let it simmer for 5 minutes, or until thickened.
At the cooking class, we made spinach porrilla to eat as a side dish, but I decided to share it with you all as a main event pasta dish. To do so, we just cook the pasta according to directions, then toss it with the spinach porrilla at the end just before serving.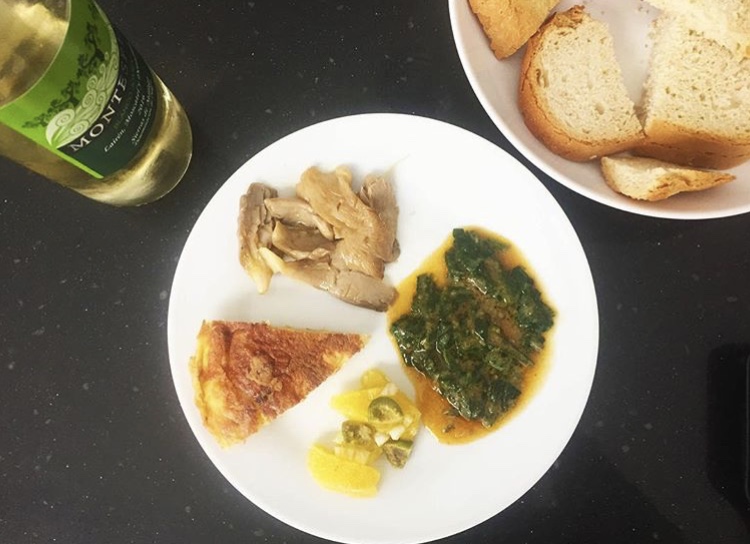 After we finished cooking all of the tapas, we sat down and enjoyed the fruits of our labor, some local wine, and an awesome day with Spain Food Sherpas. In keeping with the theme of simple & delicious, for dessert we enjoyed some local fruit.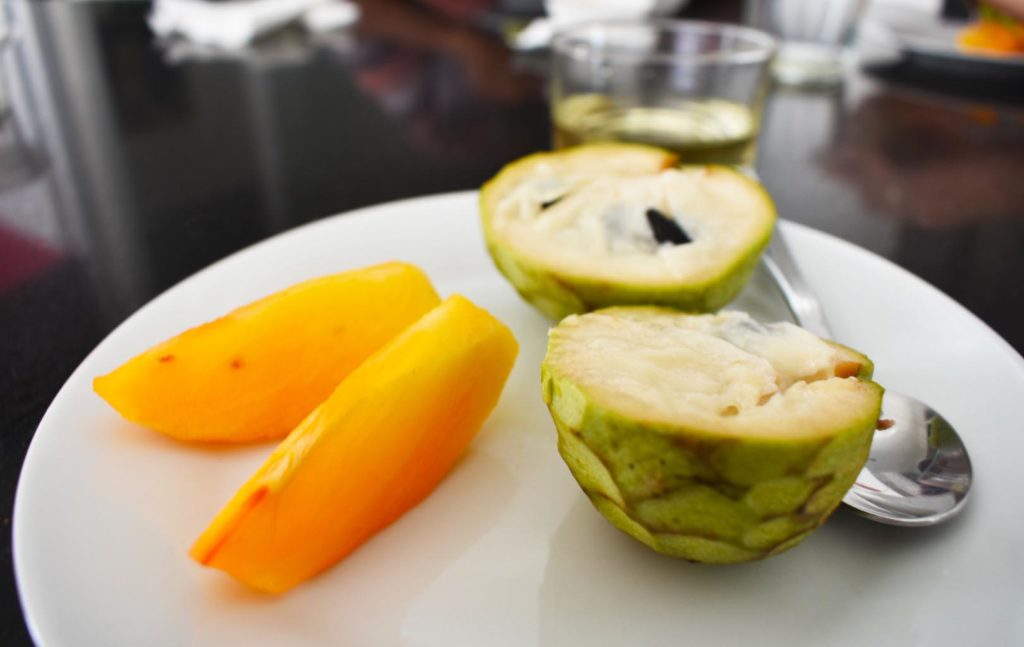 All in all, I had a wonderful time doing the tapas cooking class with Spain Food Sherpas, and it's an experience that I won't forget. I would love to do another food tour with them whenever I get the chance to visit Spain again. After all, their paella cooking class & Granada food tour both sound right up my alley! For more info, check out their Malaga food tours and cooking classes.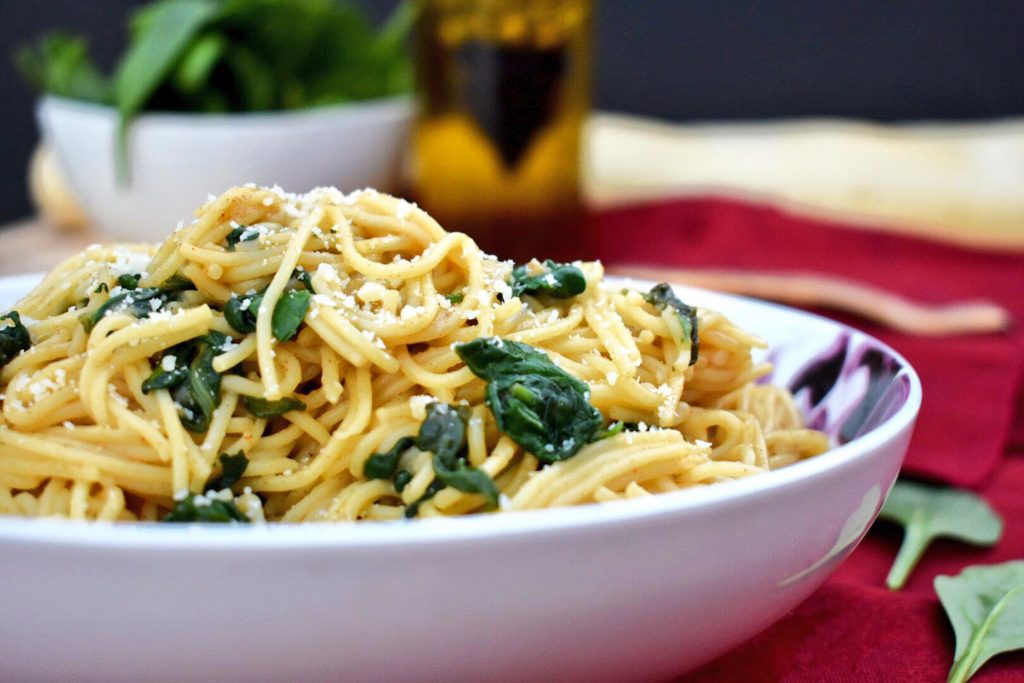 I hope that you try this spinach porrilla recipe out and enjoy it as much as we do!

Spinach Porrilla Pasta
Author:
Foodie Loves Fitness, Adapted from Spain Food Sherpas
Prep time:
Cook time:
Total time:
Ingredients
1 pound pasta (I use angel hair here)
10 cups packed spinach
1½ cups vegetable stock
A 2-3 oz hunk of fresh bread
1½ TBSP extra virgin olive oil
½ onion, diced
2 garlic cloves, minced
1 TSP paprika
1 TSP salt, plus more to taste
½ TSP cumin
Grated parmesan cheese to taste, optional
Instructions
Cook the pasta according to directions.
Meanwhile, warm ½ TBSP olive oil in a skillet. Add the garlic and onion, and cook for a few minutes until lightly browned. Add the bread and cook on each side until browned.
Place the bread, onions and garlic in a deep cup or bowl. Add in the vegetable stock, paprika, salt and cumin. Use an immersion blender to mix everything until smooth. Set aside.
Roughly chop the spinach. Warm the remaining 1 TBSP of olive oil. Add in the spinach and cook until wilted. Add in the vegetable stock mixture, and simmer for 5 minutes, or until thickened.
Once the pasta is cooked and drained, transfer it back into the pot. Pour the spinach porrilla on top, season with more salt if needed, toss to combine, and enjoy immediately.
Check out the other posts that I've shared from this trip so far:
Tell me… Have you ever done an international cooking class? Do you have a favorite Spanish tapa? 
Disclaimer: Spain Food Sherpas provided me with a complimentary cooking class. As always, all opinions expressed are genuinely my own.