"The world is a book, and those who don't travel only read a page."
A couple days ago I got home from a long vacation in Europe with my husband, and I have so much to share with you! This vacation was the kind of travel that's tiring and adventurous – a trip that as usual, made my pangs of wanderlust stronger, particularly as I sat in my thoughts during a long 11-hour flight from London to LA.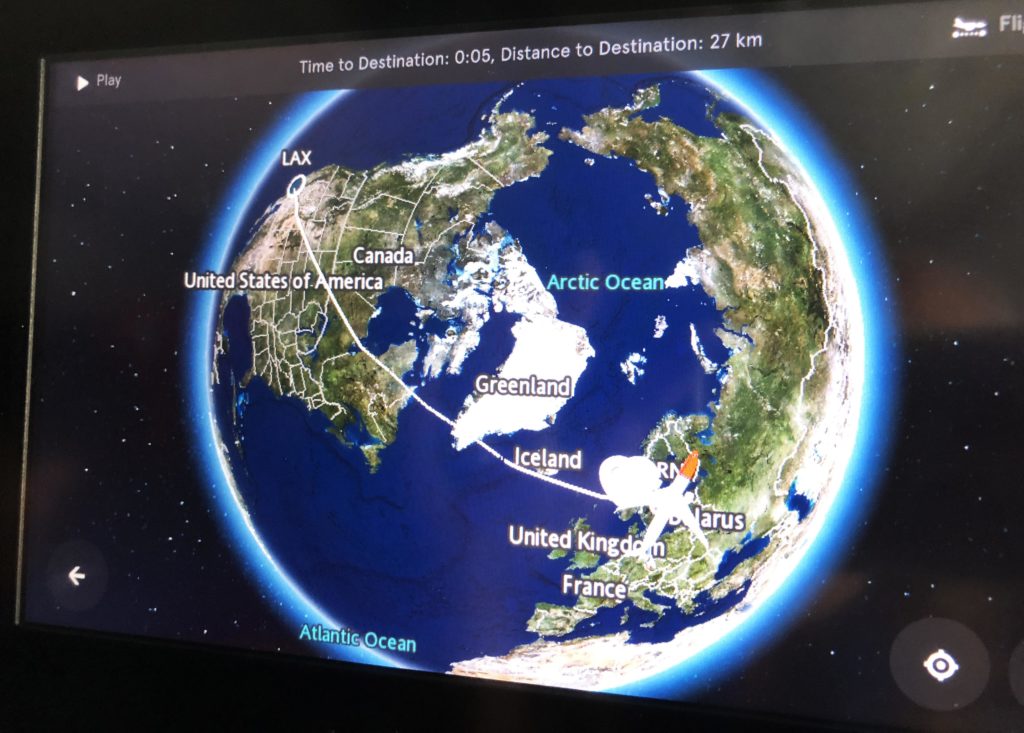 We covered 4 cities in 3 new countries on this trip, the first of which was Stockholm. A stop in Sweden was an add-on to our plans to see Spain. Once I started looking at flights and saw that there was a long layover available in Stockholm, I was intrigued. It wasn't even a much cheaper flight option, but I had never been to any of the Nordic countries and have wanted to see Stockholm, so an 18-hour layover sounded appealing. It would give us a chance to just get a taste of Sweden to see what we thought, so I went for it.
I landed in Stockholm exhausted from getting a max of 2 hours of sleep on my redeye out of the U.S., but feeling excited to explore. We only had the afternoon and night to see Stockholm, and since it's late autumn, the sun set in the city that day around 3 pm.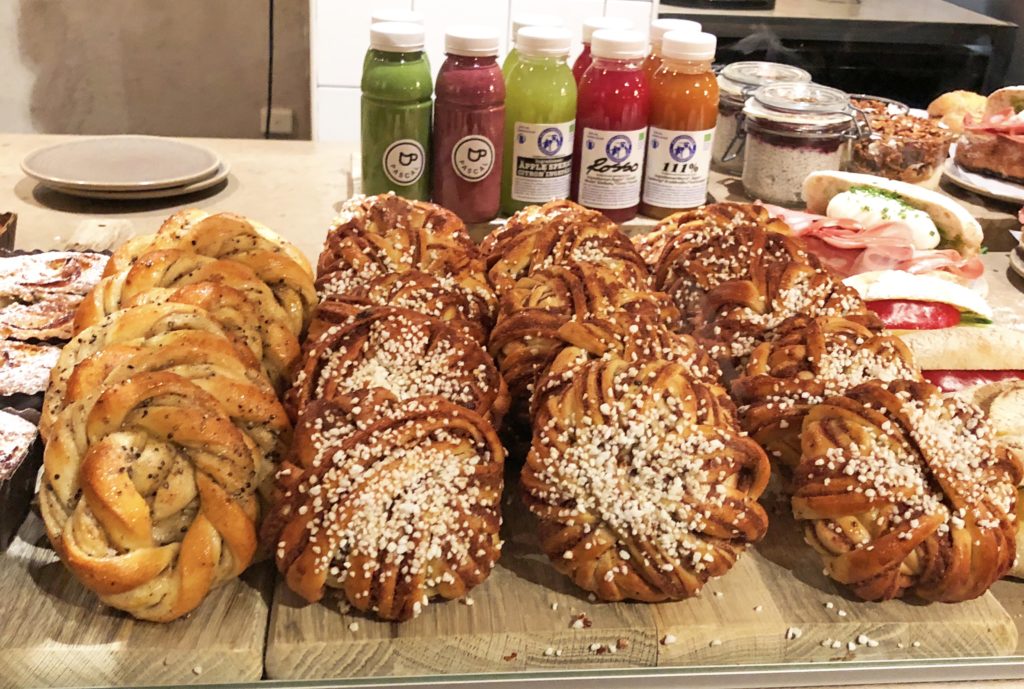 I had done some research beforehand to pick out a couple of restaurants and areas to check out. First, we dropped off our luggage at our hotel and walked to Cafe Pascal – a coffee shop I had read about somewhere included in a list of the best places in the city for cardamom rolls. The café was a cute, cozy spot full of people sipping on their lattes and chatting.
After being promised that their barista makes the best hot chocolate in the city, I ordered one while Adam ordered an expresso. We also got a cardmom bun and cinnamon roll to split, and we settled into a little table next to a window.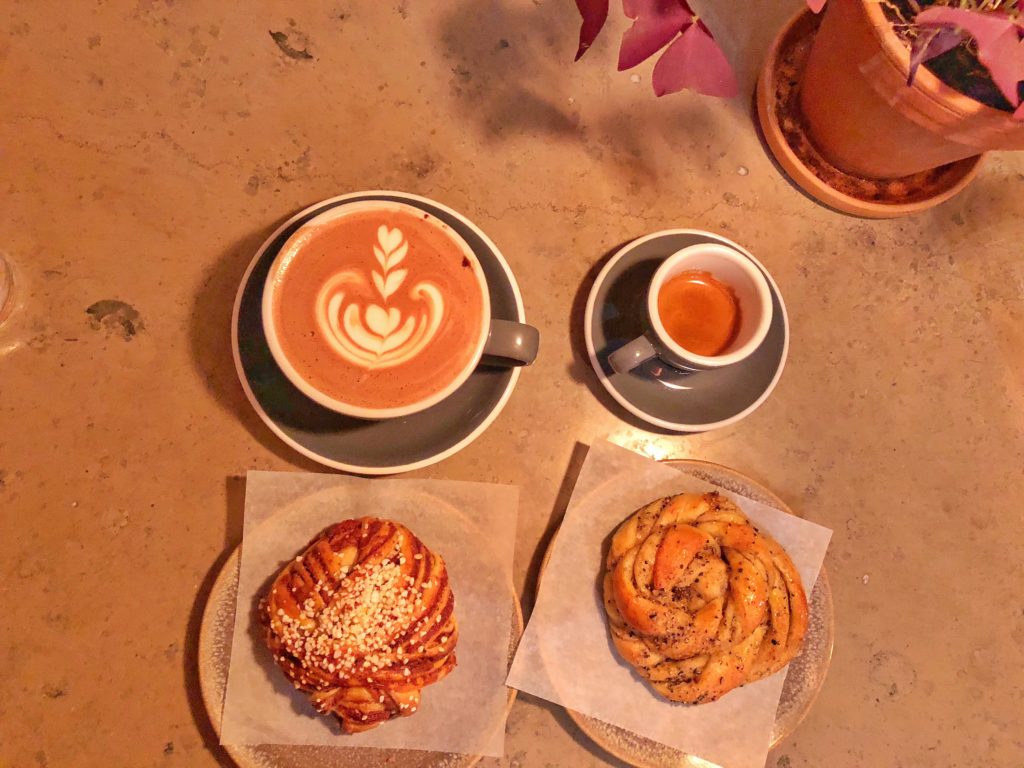 I'd never had a cardamom bun before. It was doughy, just the right amount of sweet, and bursting with fall spice. We devoured it along with the cinnamon roll, and they didn't lie, my hot chocolate was pretty damn tasty. A dose of sugary energy was just what we needed to push on to explore.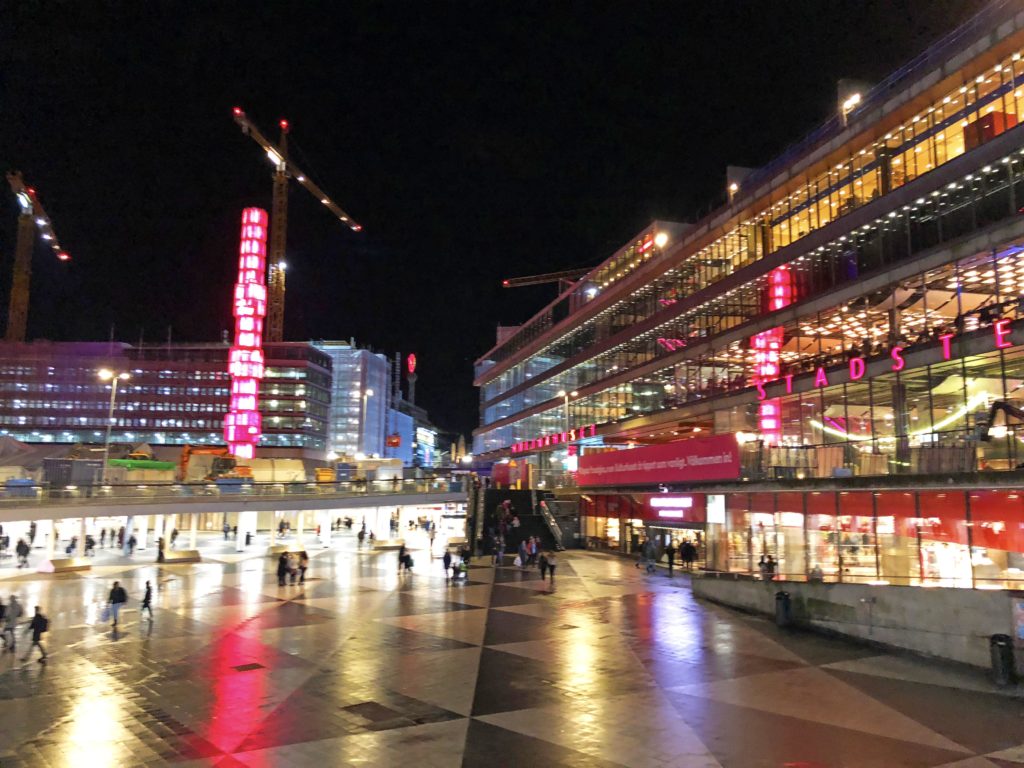 After relaxing at the café, we walked around a ton to get in some sightseeing. First we ventured around Drottninggatan – aka Queen St. It was a bustling area with lots of people walking around shopping. Besides stores, there are also a lot of restaurants and cafes in the area.
The sun setting so early is a funny phenomenon when you aren't used to it. Between the 9-hour time change and the dark, chilly air, it felt like 10 pm, not 4 in the afternoon.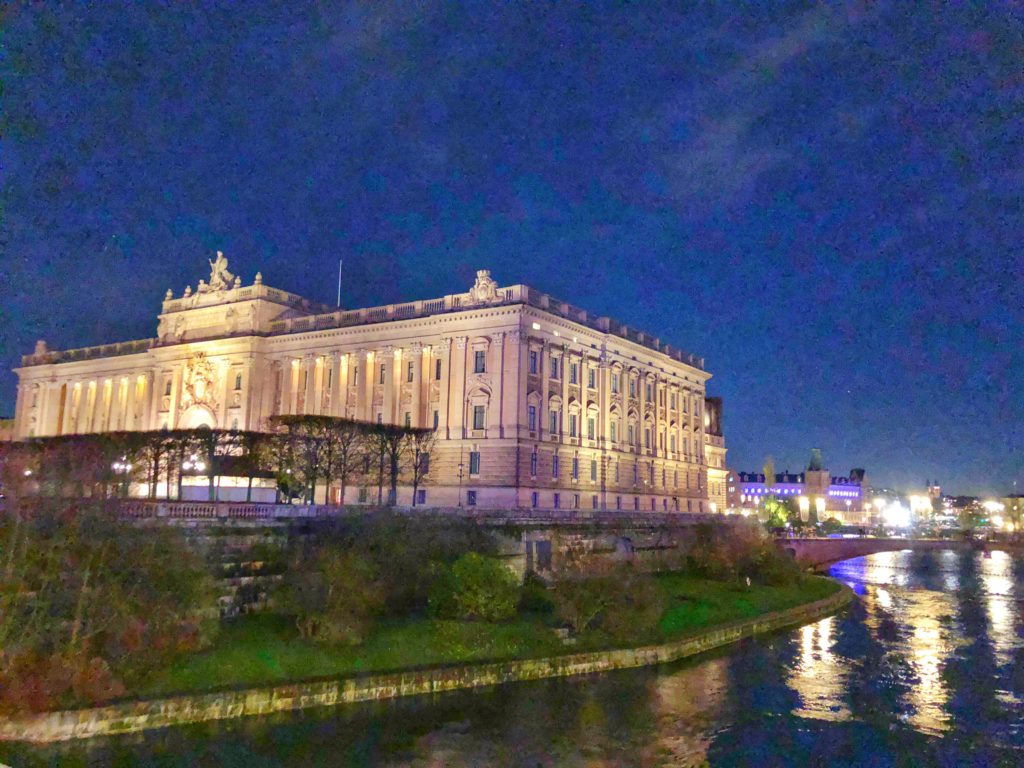 Next, we walked over to Kungliga Slottet, the Royal Palace. Even in the dark late afternoon, the massive palace was impressive looking. Featuring Italian Baroque architecture, the Royal Palace is the official residence of the Swedish monarch, and has over 600 rooms! They're open for tours to the public, but they were closed by the time we got there. I'd love to check the palace out more the next time we find ourselves in Stockholm.
The Royal Palace is located in Gamla Stan, the Old Town section of the city. Gamla Stan is where Stockholm was founded in 1252, and it was a neat area to walk around.
My favorite section of Gamla Stan was Stortorget – the oldest square in the city. I quickly fell in love with the picturesque area's narrow winding cobblestone streets, dimly lit restaurants, and brightly painted historic buildings. I felt like I was in a different world. As an American, I feel like I can really appreciate how European cities have such long, storied histories and an Old World kind of feeling to them.
And speaking of history, I later learned that Stortorget was the scene of a bloodbath in 1520, when 82 people were beheaded by a Danish king who had just conquered the city.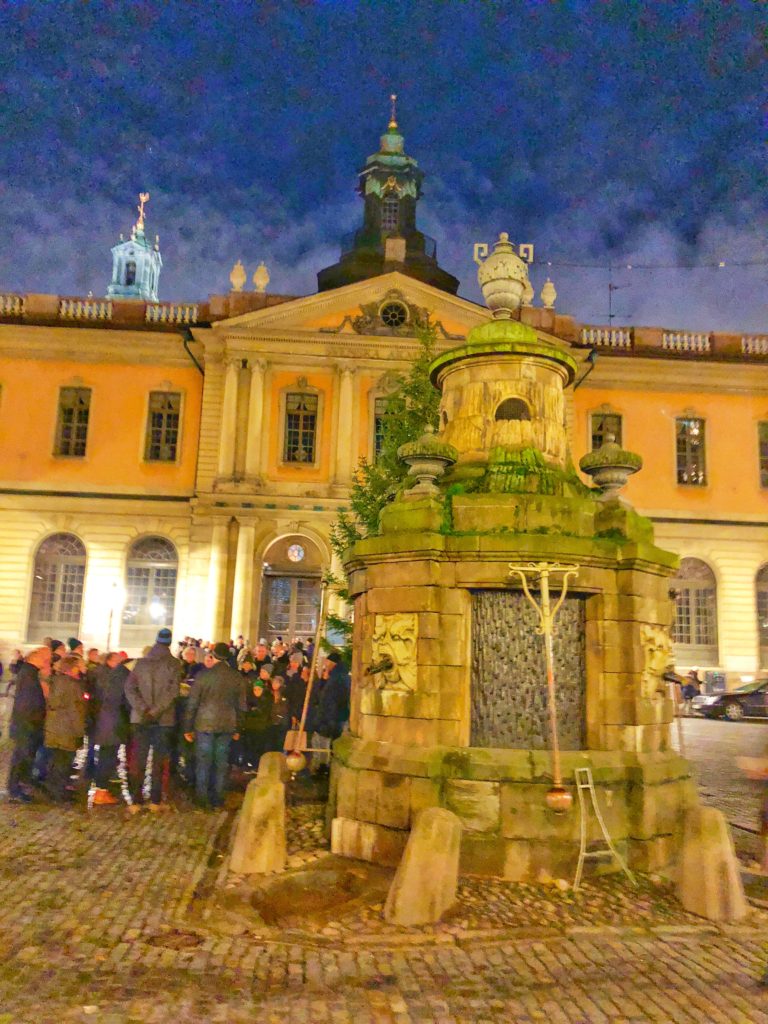 In the center of the square lies a monumental well. Ever since the Middle Ages, a well has stood at the center of Stortorget, marking the center of Stockholm. Behind the well is the most impressive building at the square, the former stock exchange building, the Börshuset. Today the ground floor is home to the Nobel Museum.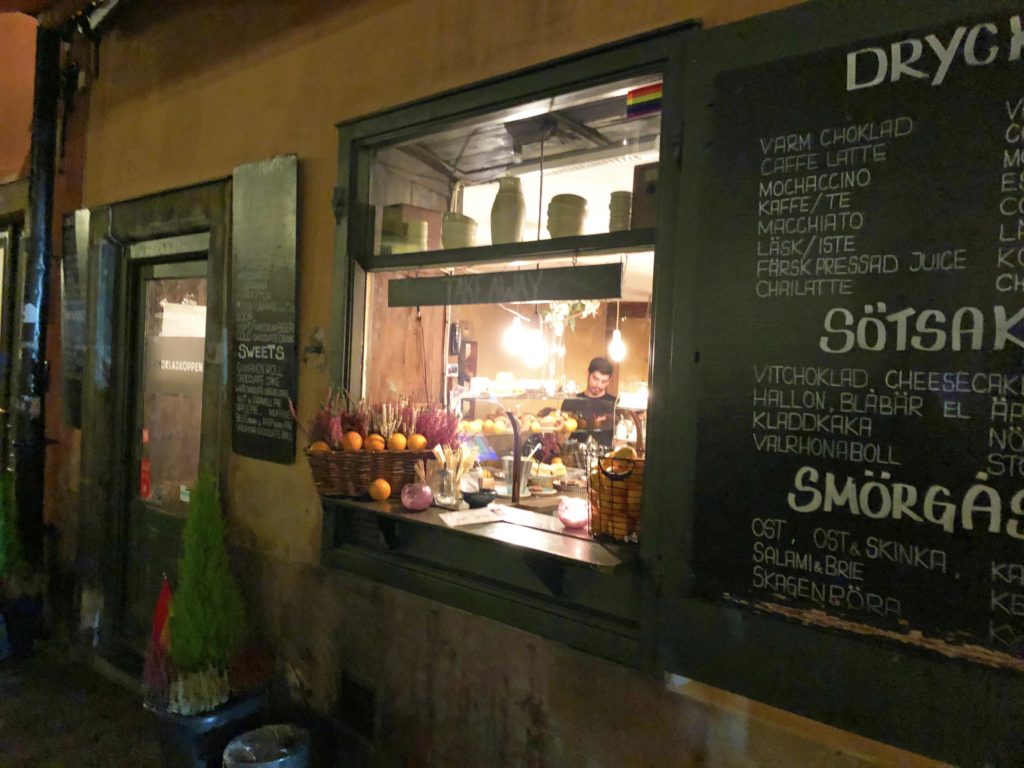 I wanted to stop into Pharmarium, a restaurant and bar located right in the square, after reading that they make really interesting cocktails. But unfortunately the restaurant was packed with people, and at this point, we were famished for dinner. I had written down a couple of healthy restaurant names, but none of them were in walking distance, so we settled into a random Italian restaurant with inviting ambiance – but only after looking at menus at several Swedish restaurants that had literally nothing vegetarian to offer. No Swedish dinner for us this time!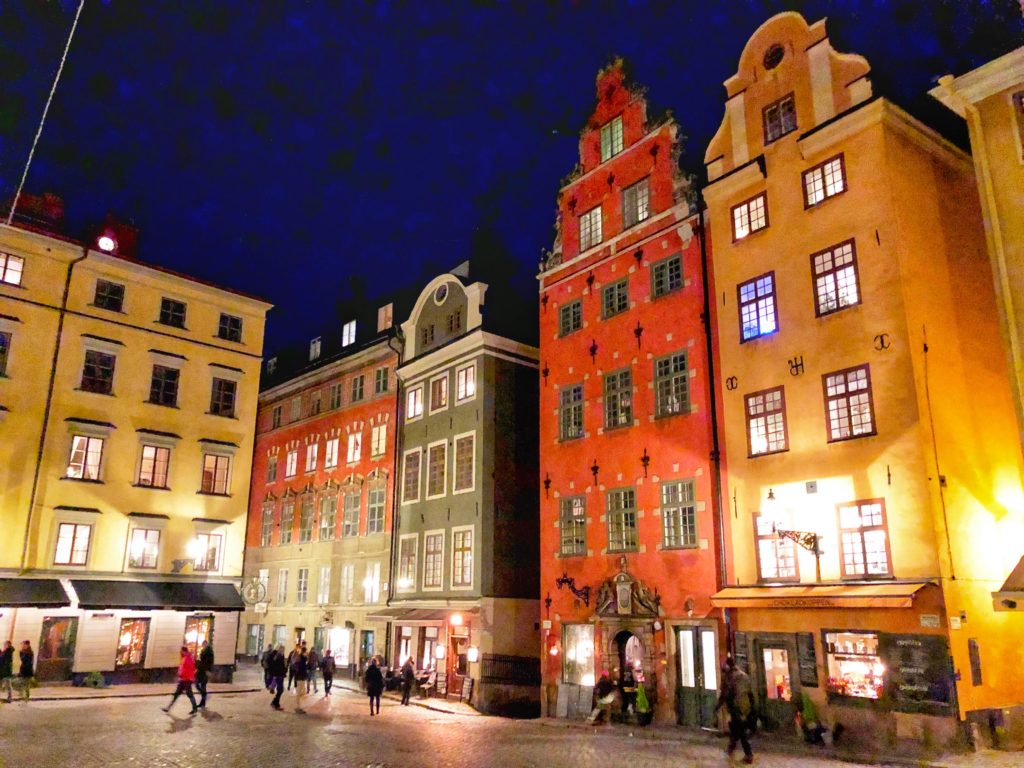 We strolled back to our hotel, passed out for a few hours, and then were both wide awake from 1 AM on (Jetlag is a joy). The next day we headed back to the airport for a 4-hour flight from Stockholm to Malaga, Spain, and while we only were in Stockholm for a quick taste of Sweden, it left a great impression on both of us. I'm now adding a trip to Sweden, Norway and Denmark on my bucket list. I may not have gotten the chance to enjoy a drink at Pharmarium this time, but I'll be back for that cocktail – and for soaking up much more of Stockholm!
A few restaurants, bars & activities that I still have on my Stockholm list include:
Tell me… Have you ever visited Stockholm? What's the most north you've ever been? 
For me, Sweden was it!