"The best six doctors anywhere, and no one can deny it, are sunshine, water, rest, and air, exercise and diet." – Wayne Fields
---
I'm happy to say that I've been killing it lately with my workouts. It's been a busy few months of exercise, and today I want to share some recent sweat session highlights!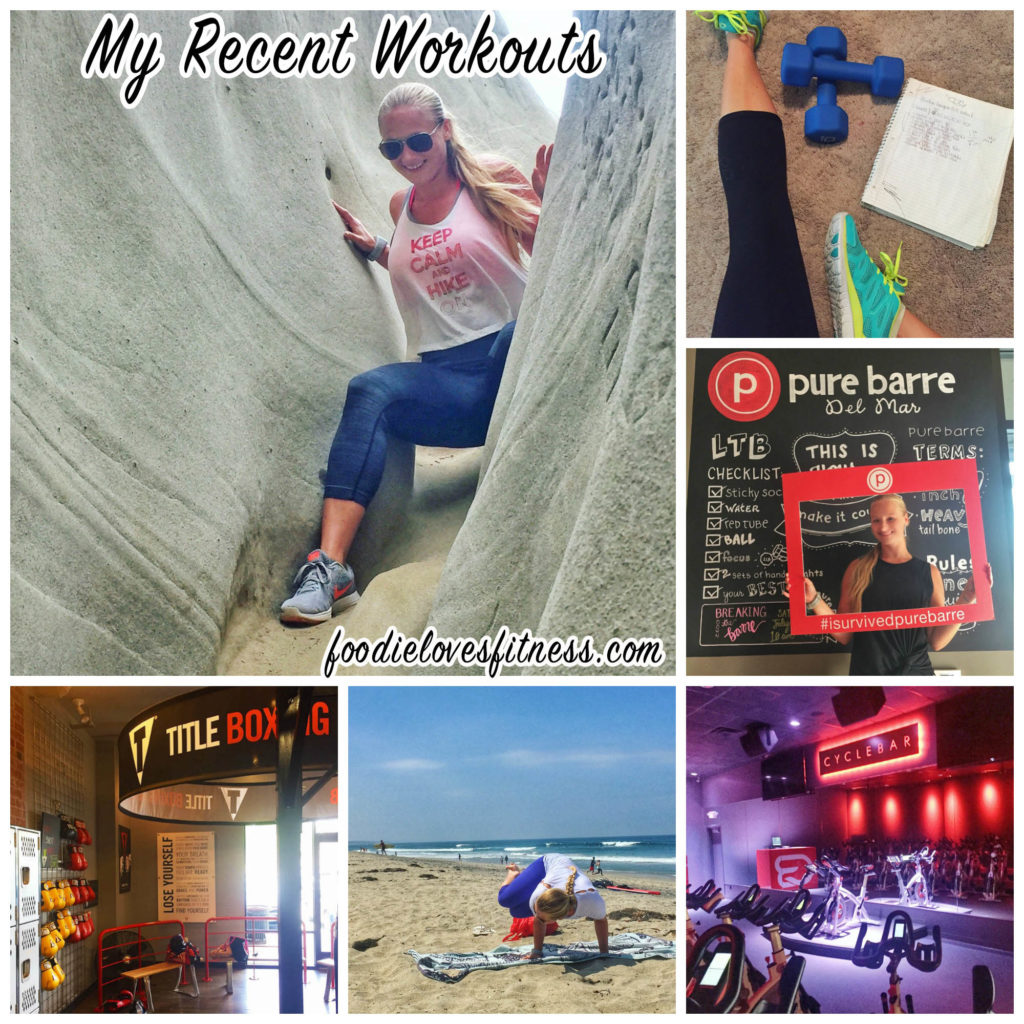 One studio I've gotten to take some classes at lately is Ashley Lane Fitness, and it's reminded how much I love cycling combo classes. The adorable Hillcrest studio offers cycle + barre & cycle + sculpt classes, and they are so much fun!
If you're looking to do strength training & cardio in one shot, I highly recommend doing a combo class. It's also nice for those of you that get bored easily in your workouts, because by the time you're starting to think, "Whew, I'm sweaty! Wonder how long we've been at this?" you switch to the next segment of the class.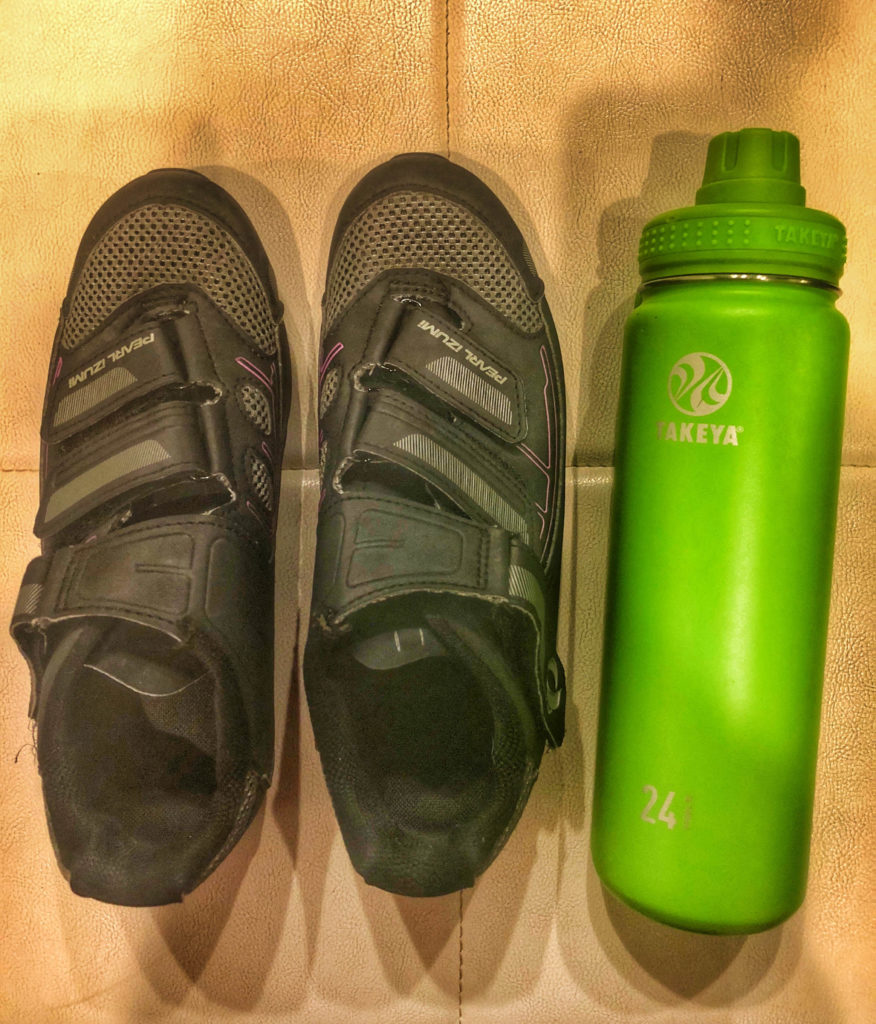 Ashley Lane also offers yoga and regular sculpt & cycling classes, as well as a 'Butts & Guts' class that I'd love to try. The studio also does fun themed rides.
Speaking of which, San Diego locals, I'm planning on going to their November 9th 90's Ride event at 5:30 pm. Join me if you love cycling & jamming out to 'NSync as much as I do! 😉 First time customers can get a free class using the code foodielovesfitness.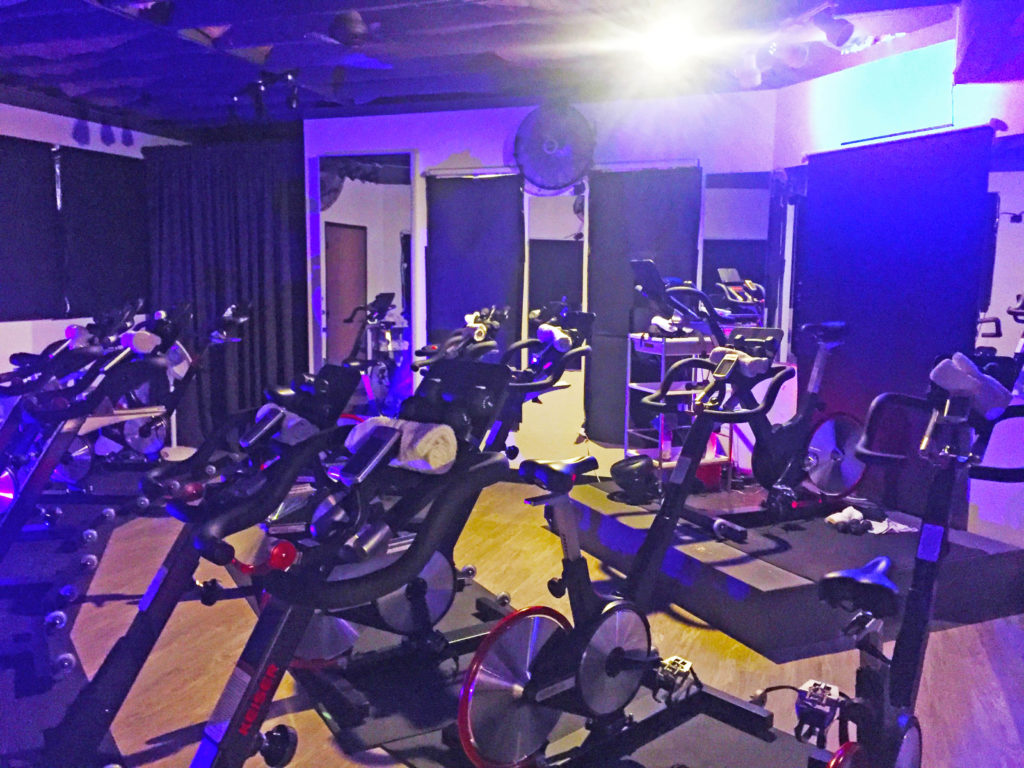 A fitness event that I went to recently that was a lot of fun was an outdoor yoga class with Sadie Nardini at the MindBody BOLD Conference. I've been doing Sadie's online yoga classes for years, and it was cool to get to meet her in person and do some yoga together. She's a badass yogi with a not so conventional style of yoga, so if you're not a big fan of yoga classes you've done in the past, I suggest checking her out. Her class style is kind of funky and different, and I think it's just a way to have fun with yoga and not take it so seriously. My friend Anisha – who is not a regular yogi – joined me at the class and loved it!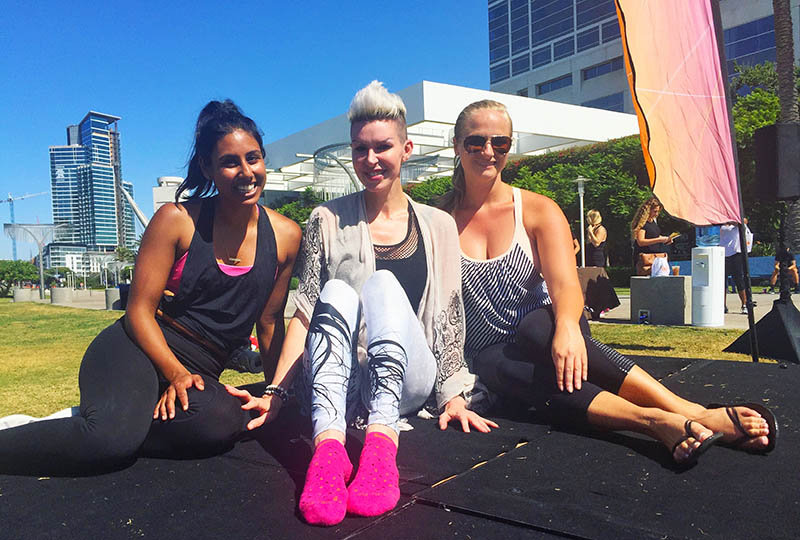 Anisha, Sadie and me post-class
At-home workout wise, I've been coming up with some new routines to keep things fun. I've been using my new equipment that the Rep Fitness folks sent me a lot. It's amazing how many moves you can come up with to do with a kettlebell and medicine ball! I've also been using my 15-lb dumbbells a lot. I like to do high reps and a lot of strength + cardio moves (i.e. bicep curls with stationary lunges), and it's a challenge to do a lot of those moves with my new heavier dumbbells, versus the 10-lb dumbbells I was using before.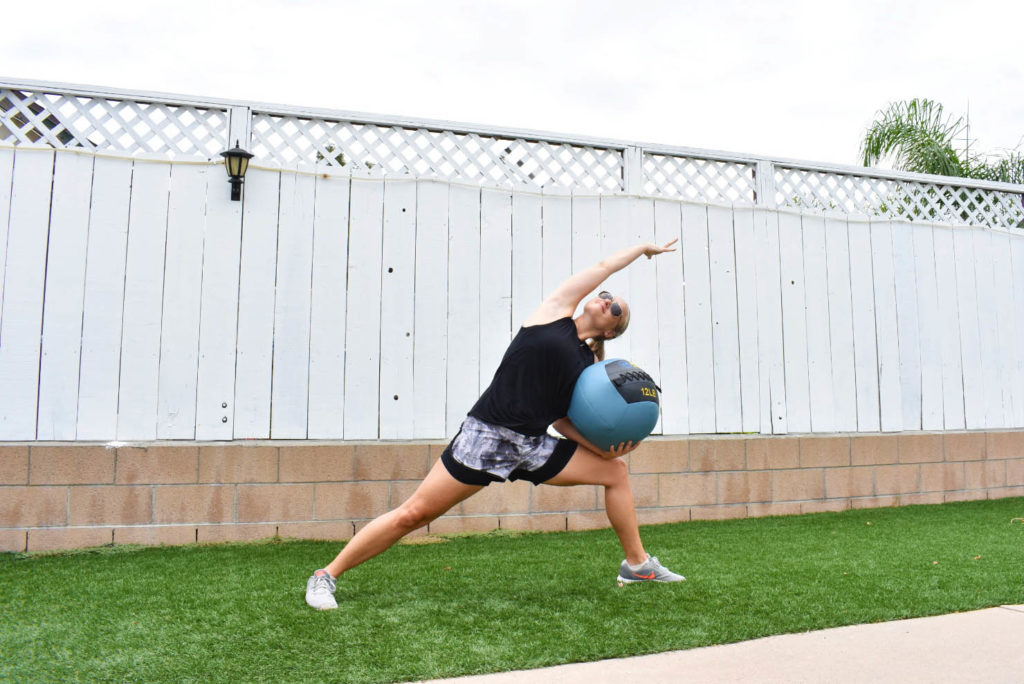 << Check out my 10-move medicine ball workout. >>
I've also been putting in a lot of miles on my bike trainer lately, and will often either do morning cardio following some yoga, or evening cardio incorporated into a strength training routine. Cycling seems to be a form of cardio that works well for my body, so it's been my go-to these days.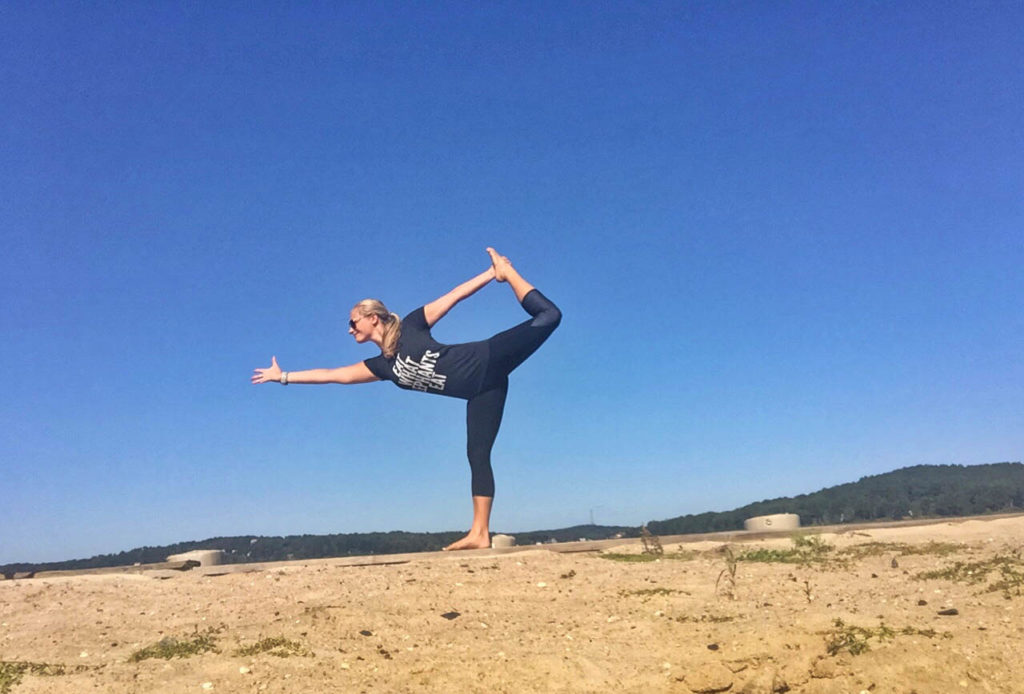 I spent half of September on the east coast visiting family, and even though things were super busy and I wasn't in my normal routine, I still made it work and managed to squeeze in regular workouts. I got creative and exercised on the beach at my family's shore house a bunch of times, which was a nice change of pace. There were a few days where I literally used almond milk containers as kickboxing weights! When there's a will, there's a way, right?
After taking a hiatus from hiking due to summer heat, in recent weeks I've been back on the trails more when the weather is nice. Besides heading to my favorite local park, I've also done a few new hikes lately – including my hike to Eagle Rock along the PCT during my recent camping weekend.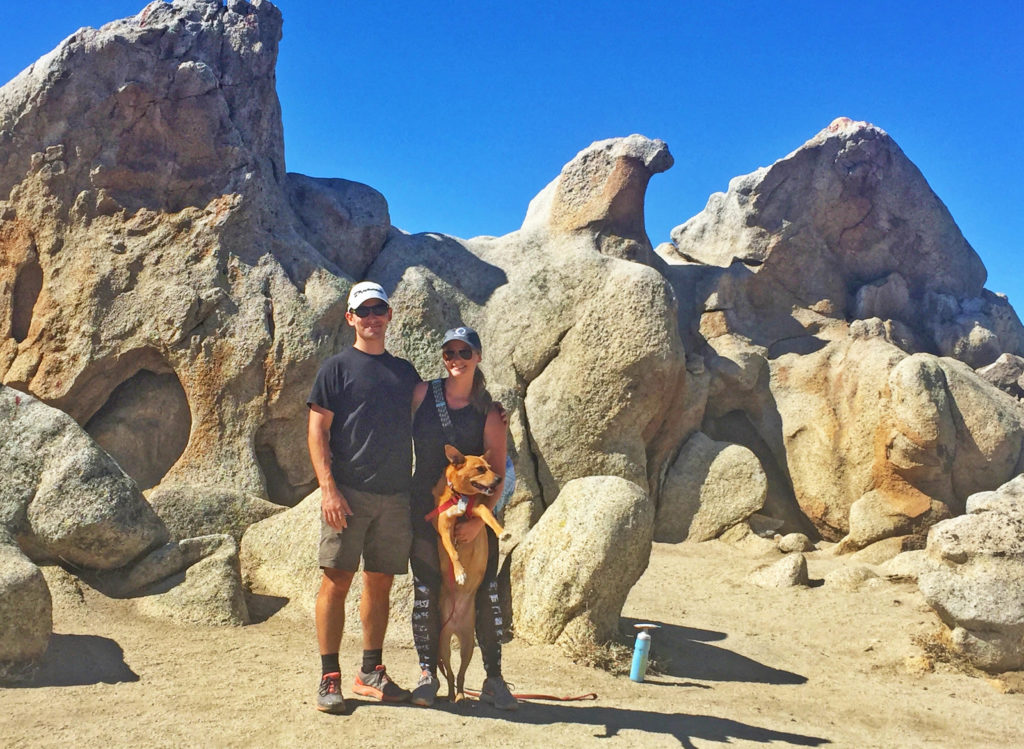 It's been an action-packed few months of fitness, and I'm looking to keep the momentum going to round out my year! A few fitness goals that I have moving forward are:
1.) Incorporate more HIIT into the mix. I love HIIT workouts and have been doing them here and there, but I want to make them more of a regular priority in the weeks to come. I think they're so effective, and I recently came up with a new HIIT routine that I'll be sharing on the blog sometime soon.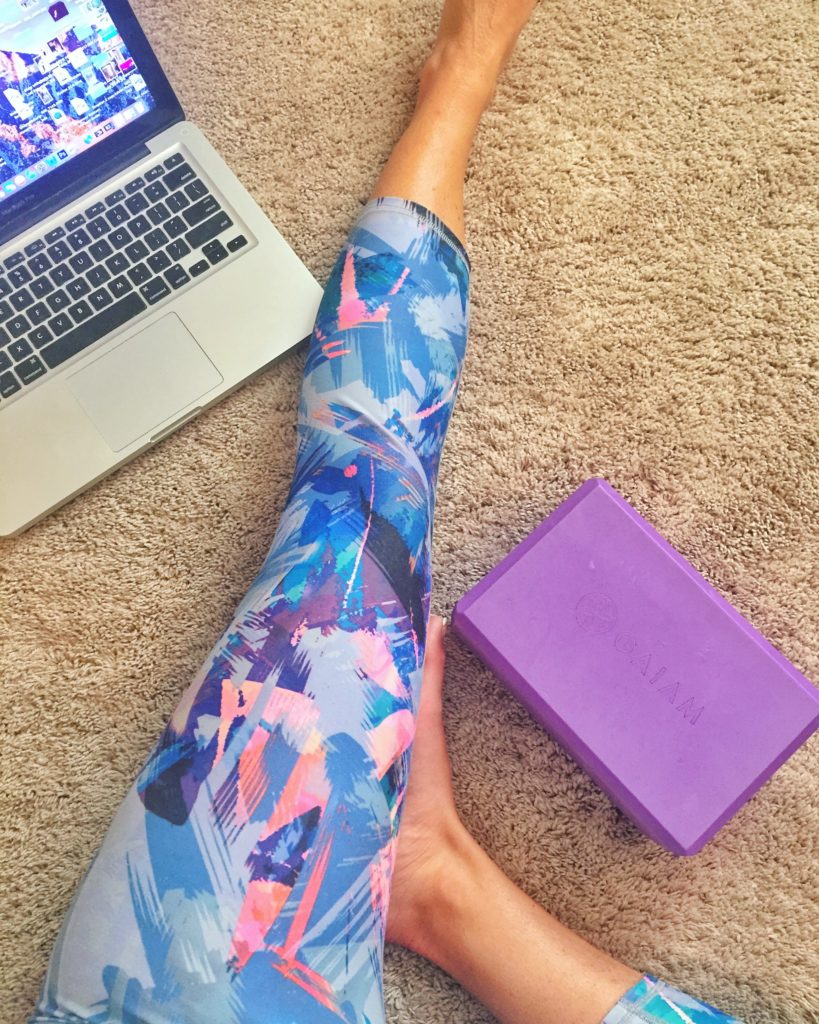 2.) Stay super active while traveling the remainder of the year. I want to make sure that I fit in exercise while on a couple trips I have coming up. My workouts are definitely different when I'm not in my normal routine, but as long as I'm breaking a sweat just about every day, I'm happy!
<< Check out my post about exercise mantras that I hold while traveling. >>
3.) Try new hiking trails. I came up with a list of things I wanted to do this autumn, and trying three new hiking trails was on there. So far I've explored two new trails, so I have at least one more that I want to hike. I'm thinking of hiking Spain's Caminito Del Rey on vacation next month – How cool/slightly terrifying does this hike look?!
Tell me… What's the best workout you've done lately? What are your current fitness goals?
---
Disclaimer: I've been provided with complimentary classes/product by a few of the brands mentioned in this post. As always, all opinions expressed are genuinely my own.