"The best things in life are on the other side of your fear." 
This is the quote I was repeating in my head last weekend, as I dangled my legs over the side of a plane from 13,000 feet in the sky. Earlier that day I was feeling mostly excited, but at this moment, I was feeling mostly terrified.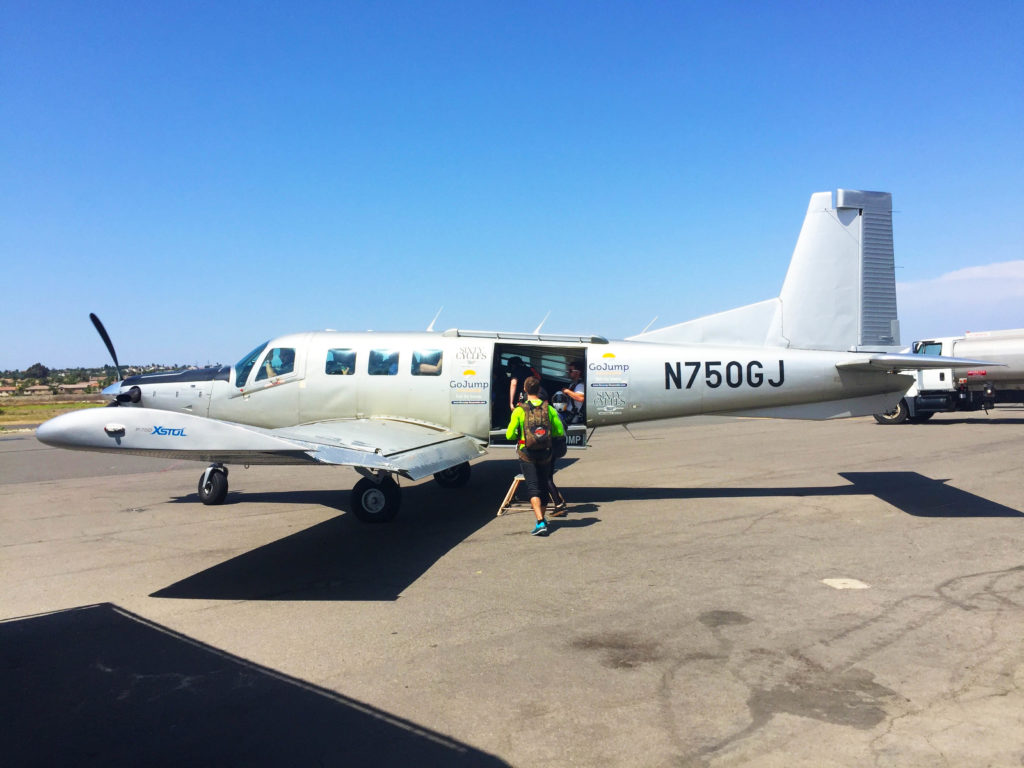 Just go for it. Adrenaline pumping, I refused to look down at that second, but I took a deep breath and let go, backflipping into the air with my tandem instructor. We went flying – literally – out of the plane and into the sky…. and then, stillness.
I could barely catch my breath, but I had my eyes wide open as I tried to take in everything about that moment. I gazed out at the Pacific Ocean – the ocean that I've marveled at every time I go for a coast walk, to practice sandy yoga, have a sunset picnic, or just relax soaking up the sun for the past 7 1/2 years. I had never seen it from this vantage point, unobstructed from an airplane window (though once I got to see it from a hot air balloon).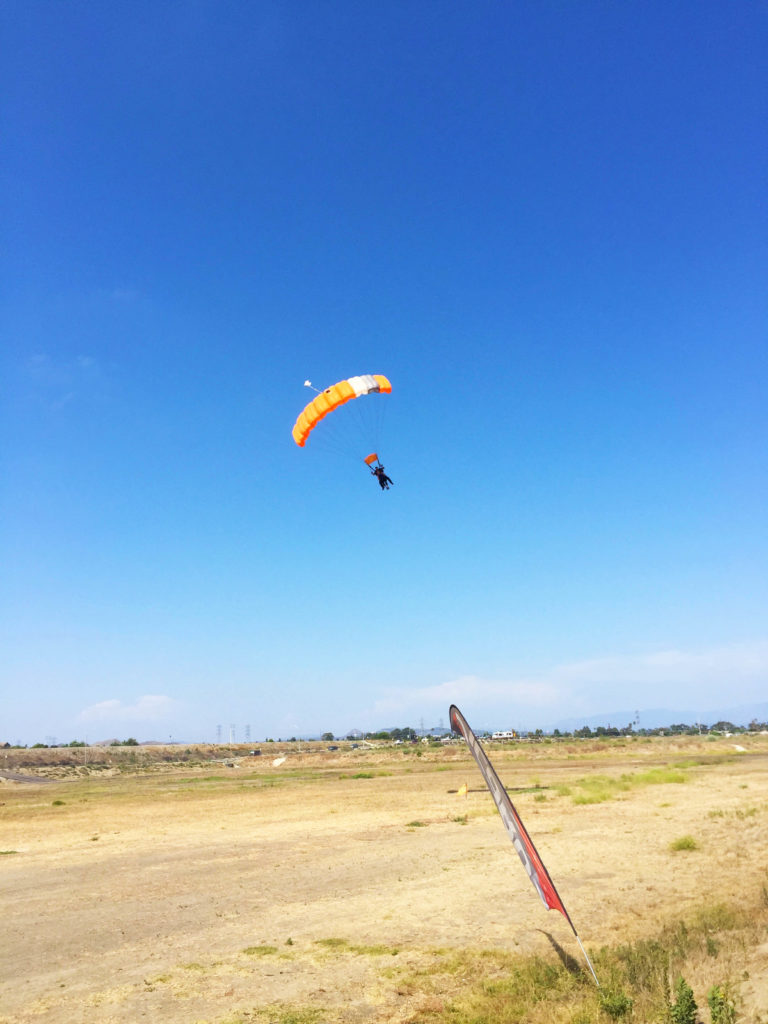 The clouds were pillowy in the sky, looking like cotton candy that I wanted to reach out and touch. As I looked around, I couldn't stop smiling. It was just so beautiful, so amazingly serene. I felt such clarity. I can only describe it as feeling pure joy. I have butterflies in my stomach just reliving those moments in my mind.
My husband and I had gone skydiving our first birthdays together a decade ago on the Jersey shore. We decided that this year, we'd do skydiving trip #2. I like to think that while we're older and wiser, we're still a bit wild! Now we've glided in the sky in the state that we both grew up, as well as the state that has truly become our second home. This time we even got to drift towards one another to say hi.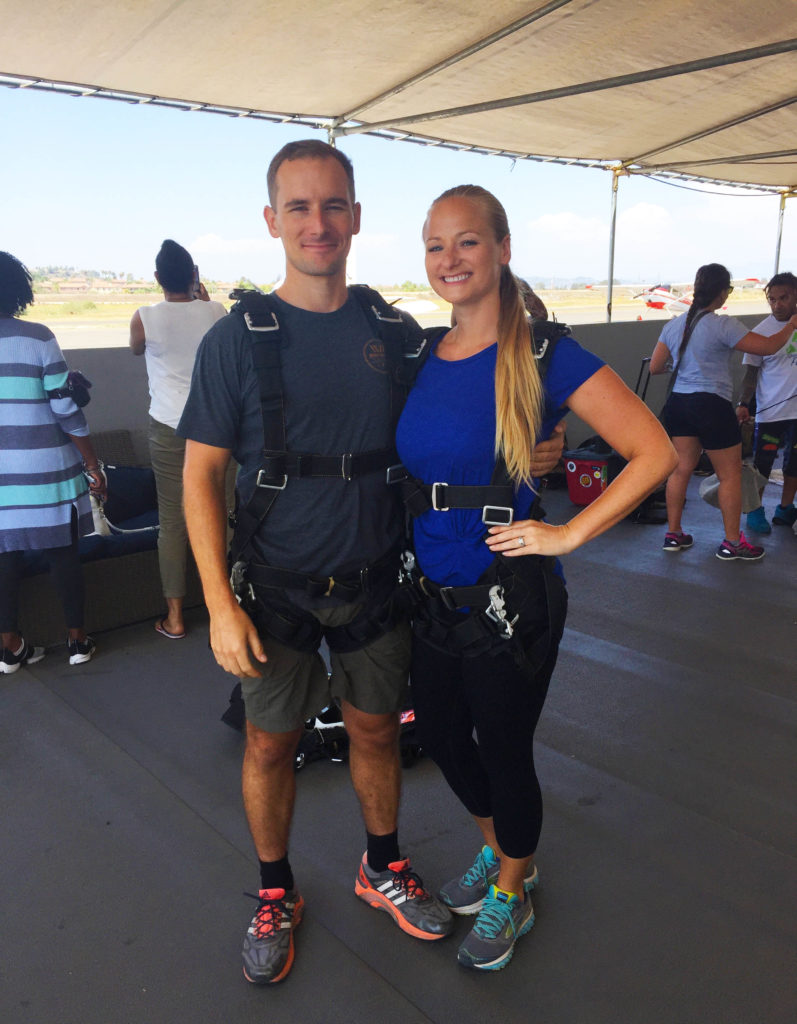 To psych myself up for skydiving last Saturday, I watched this Will Smith video where he talks about conquering fear (and specifically, conquering your fear of skydiving):
Facing your fears, whether it's a fear of going out on a limb (figuratively or literally), being alone, swimming in the ocean, facing rejection, or a million other possible things, we all have fears. But the good stuff is when we get out of our comfort zones and face whatever those fears are. A lot of the time, the things that make you nervous are the things you should do. One of the most amazing feelings in life is when we conquer those fears, and realize that the best things are on the other side. The best things in life are ours for the taking, if we only have the courage to go for them.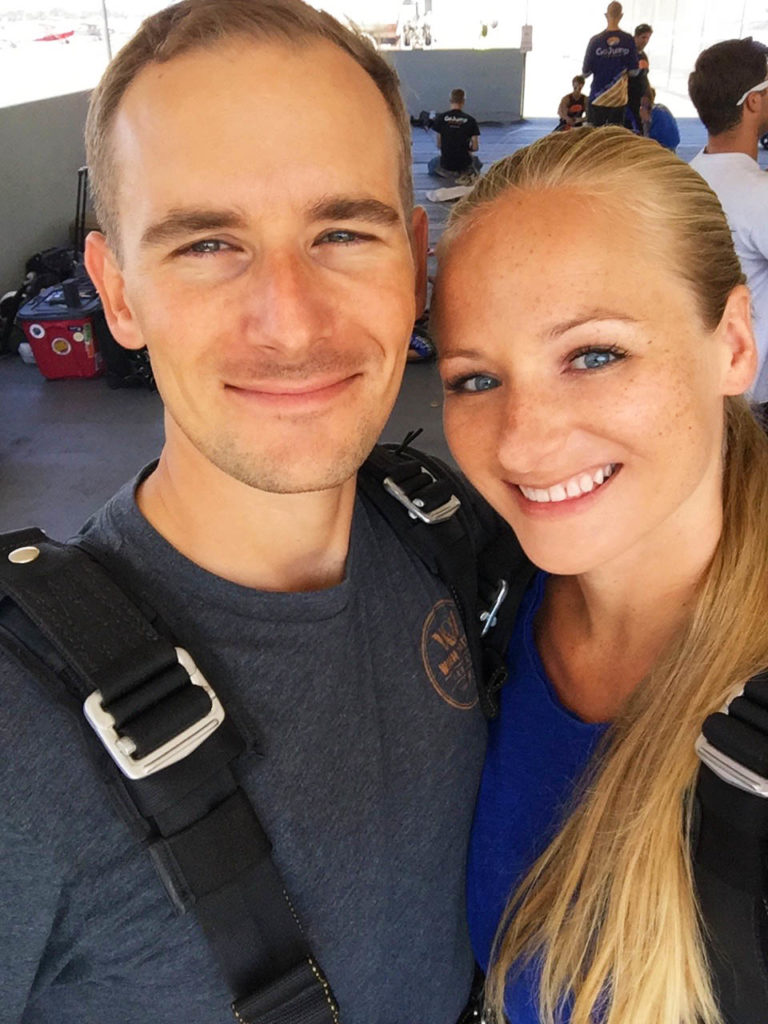 I have a big birthday coming up this weekend, and it's made me reflect on where my life is. I'm honestly pretty happy with where I'm at, and I really believe that a lot of that has to do with taking chances, prioritizing doing more of what I love, and living an authentic life.
From skydiving to mountain biking, going for exciting new job opportunities, moving to brand new places & seeing the world, and going on treacherous hikes to rock climbing excursions, I think that my 20s have been filled with lots of fear facing, endorphin pumping experiences – though there's nothing I know of that gives you a natural jolt quite like skydiving. I'm not going to lie, I could stay at 29 forever. But I know that my 30s will be just as exciting because I'm consciously going to keep making decisions to get out of my comfort zone. I'm excited to see where life takes me!
My next adventure? I'm heading to Portland today to celebrate the big 3-0, where my husband and I are looking forward to exploring the outdoors, eating A LOT of good food, and trying some Oregon pinot noir! Follow me on Instagram to follow along on my adventures.
Tell me.. Have you ever gone skydiving? What's a fear that you've faced recently?