One of my favorite things to do in the summertime is hang out in my backyard in the evening with my husband, while we listen to relaxing music coming through my patio speakers with glasses of refreshing white wine in hand, while munching on an easy appetizer dinner and laughing at our pup running around chasing her ball like a nut.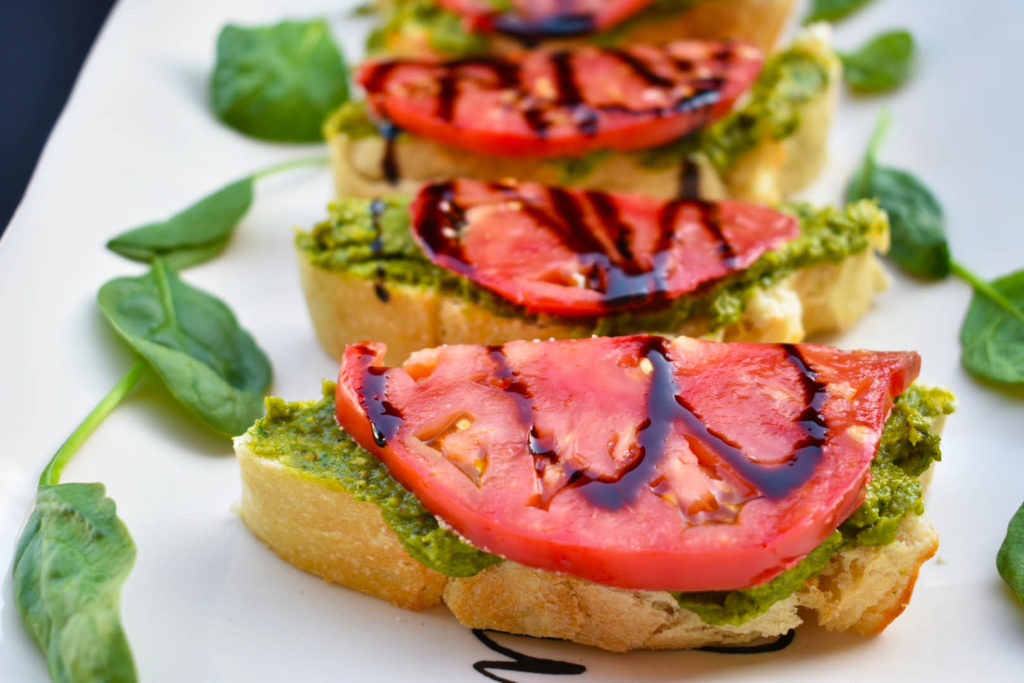 With temperatures steadily in the 80s and the sun blaring strong every day in the San Diego area for quite awhile, my house has been on the warmer side lately  – which means I don't necessarily feel like turning on my oven or sweating over my stovetop to make dinner… or putting all that much effort into meal prep for that matter.
We've thought about getting air conditioning, but just when I'm over feeling hot in my house and want to see about getting it installed, it cools down and my house usually feels nice throughout the fall, winter and spring. So, here we are, 3 years into living in this house, and we don't have AC. I'm thankful for ceiling fans, my pool, and air conditioned places that I can work like Panera!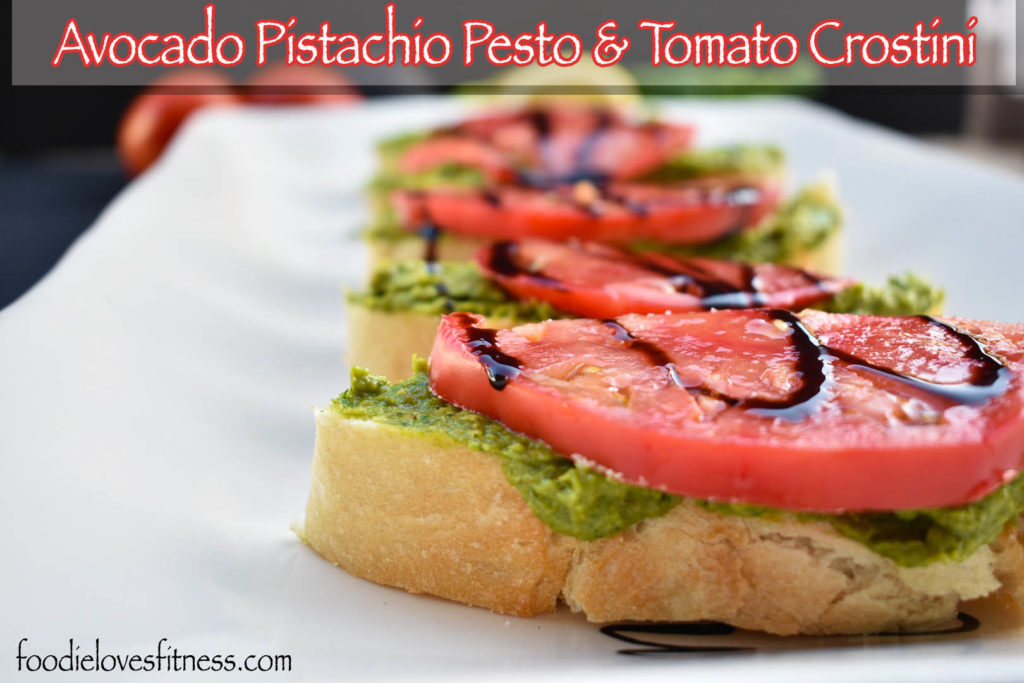 This recipe was born out of me wanting a new crostini recipe in my wheelhouse that uses fresh produce and herbs and features a fun take on a classic pesto. This pesto incorporates in-season avocado, baby spinach, pistachios, fresh lemon, nutritional yeast, and basil from my garden.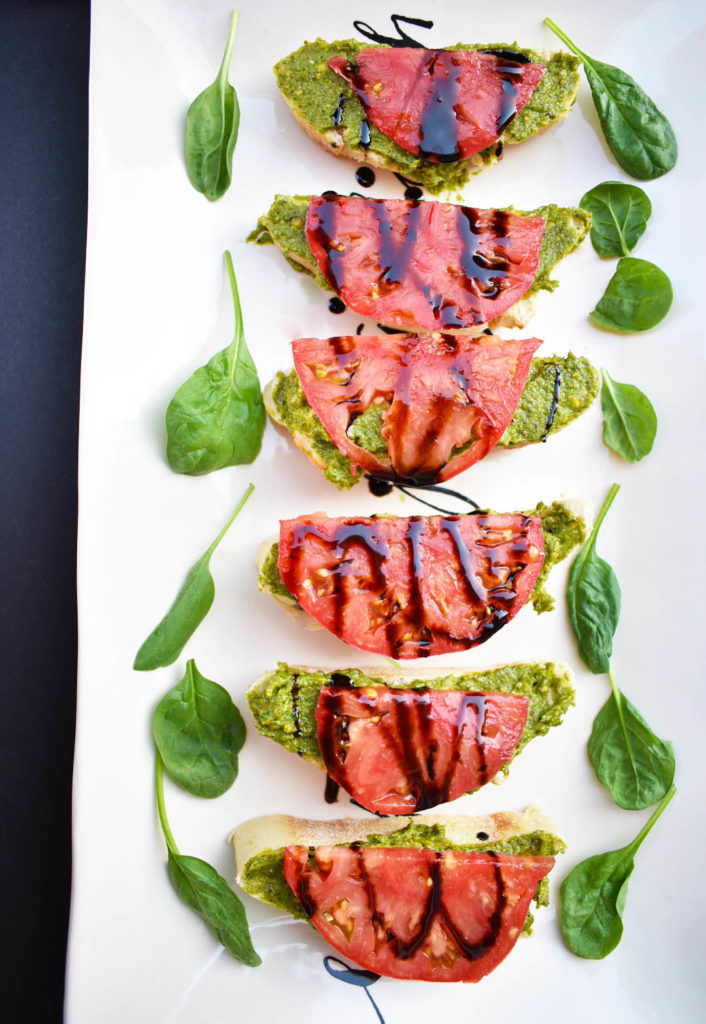 It also uses a touch of sea salt plus just a clove of garlic. I don't like pesto too garlicky, but if you're a garlic lover, add in more to fit your taste.
The pesto has so much going on, the meat lovers in your life won't even notice that these babies are meat and dairy free!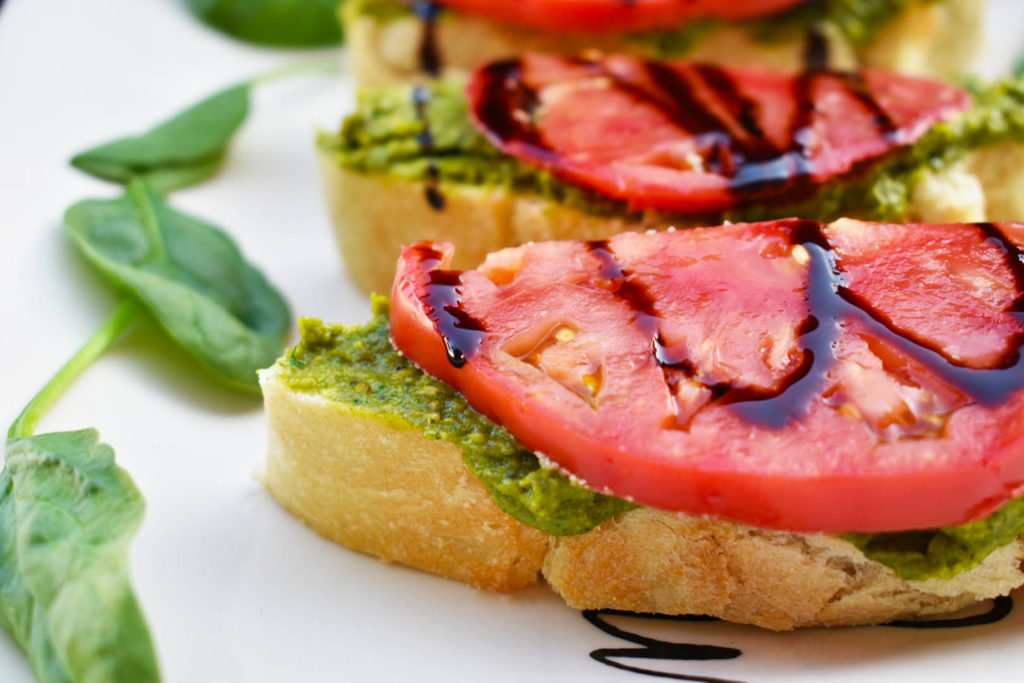 Besides the fact that I adore healthy appetizer dinners, especially this time of the year, this flavorful recipe can be whipped up in 15 minutes flat – giving you even more reason to love it.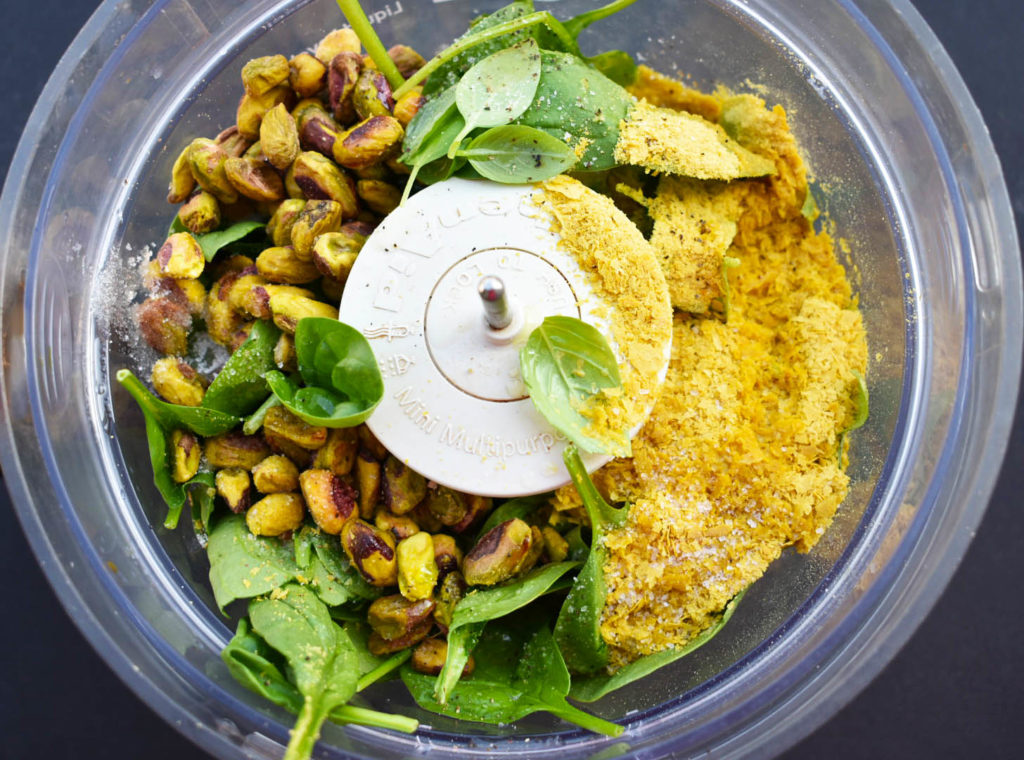 To make it, slice up a French loaf and toast it in the oven. While that's cooking, whip up the pesto in the food processor. Spread the pesto on the crostini slices, and add sliced tomato on top.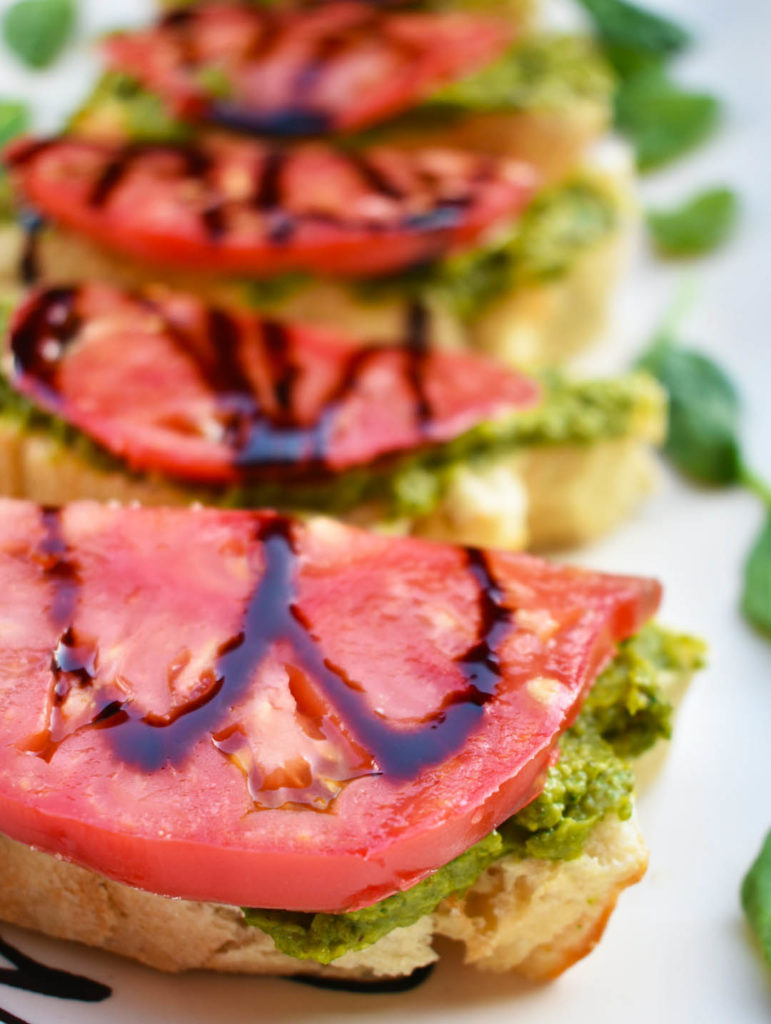 And just like that, your appetizers (or dinner if you're like me & love apps for dinner) are ready to be enjoyed!

Avocado Pistachio Pesto & Tomato Crostini [vegan]
Author:
Foodie Loves Fitness
Prep time:
Cook time:
Total time:
Ingredients
12 oz French/Tuscan loaf, or any kind of thick bread
1 vine ripe tomato, thinly sliced
½ medium avocado
3 TBSP extra virgin olive oil
½ cup fresh basil
1 cup baby spinach, packed
½ cup shelled pistachios
¼ cup nutritional yeast*
1 clove of garlic, quartered
Juice from ½ medium lemon
¼ TSP sea salt, plus more to taste
Pinch of pepper
Balsamic glaze, for drizzling
Instructions
Preheat oven to 375 degrees. Slice the bread loaf into 7 slices. Place on a baking sheet, and toast in the oven until lightly browned, about 7 minutes.
While the bread is cooking, prepare the pesto: Combine the avocado, olive oil, basil, baby spinach, pistachios, nutritional yeast, lemon juice, garlic, sea salt and pepper in a food processor. Pulse until well combined and mostly smooth. You may need to scrape down the sides once or twice to get everything well incorporated.
Once the bread is done cooking, transfer the slices to a serving dish. Spread the pesto onto the bread.
Place the tomato slices onto the crostini, sprinkle seat salt on top, and drizzle the balsamic glaze. Enjoy immediately!
Notes
*You can sub in grated parmesan cheese if you choose.
Nutrition Information
Serving size:
1 crostini,
Calories:
210,
Fat:
8g,
Saturated fat:
1g,
Carbohydrates:
29g,
Sugar:
2g,
Fiber:
3g,
Protein:
7g
And before I go, I wanted to share that I'm doing a giveaway on Instagram this week for a month's supply of Siggi's yogurts! It's running 8/1-8/8, so head over to
my Instagram page
to enter.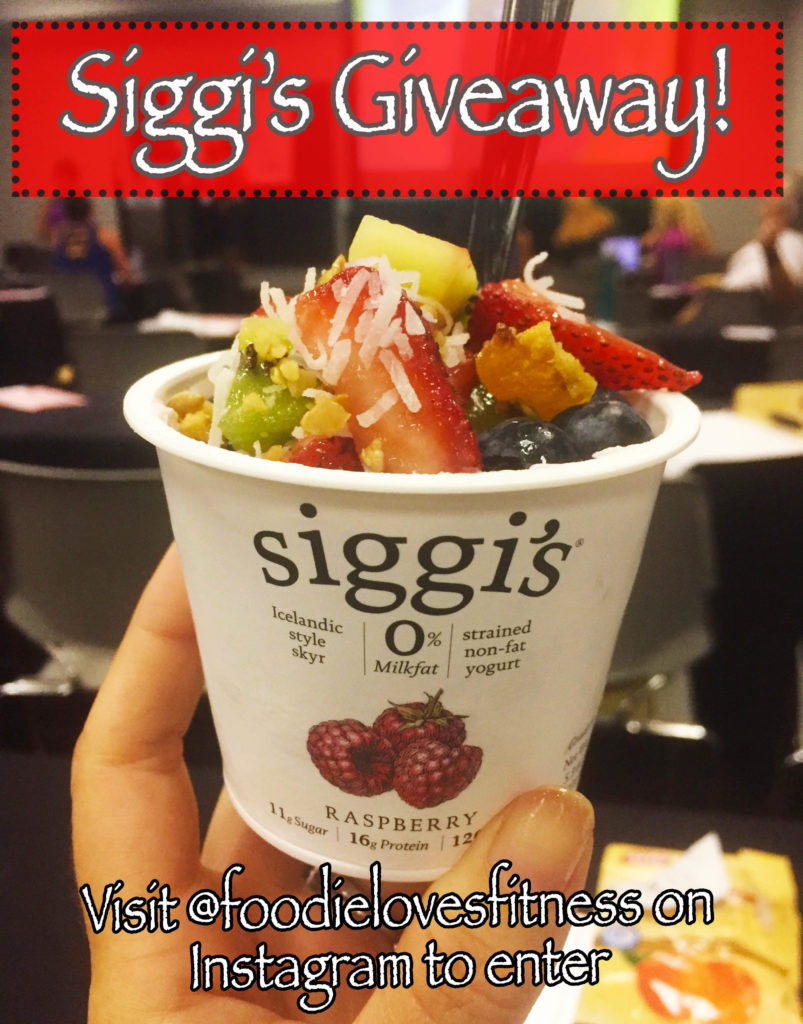 Tell me… What's your all-time favorite appetizer?