Sometimes around this time of the year I get a little overzealous about all of the summertime fruit that's in peak season. I eat a ton of fruit, but I wind up getting excited and buying more fruit than even I can eat before it gets too ripe.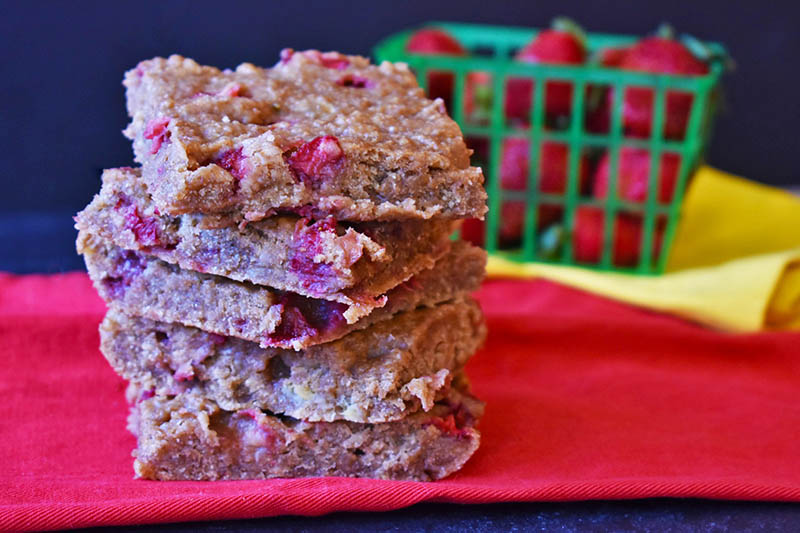 Case in point was a few weeks ago, when I found myself driving past a strawberry farm stand while out running errands. I simply had to pop in and buy not one, not two, but three pints of strawberries (it was a buy more kind of deal!)… after I had just nabbed a big bag of cherries and a yuuuugggge container of blueberries, on top of my usual banana and apple purchases.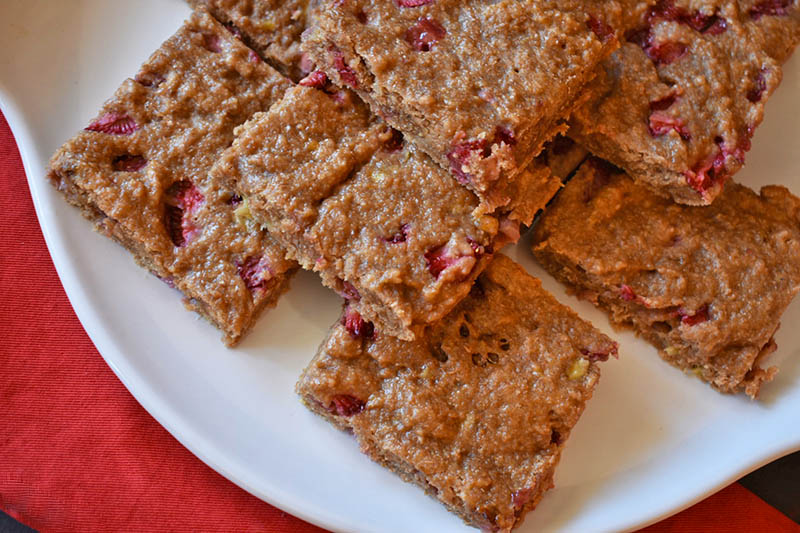 For the next few days, I ate lots of fruit: threw some on top of smoothie bowls, in my cereal, mixed in with yogurt, on its own as a healthy dessert… but I couldn't eat all of the fruit fast enough.
So, I did what any good baker would do and I started coming up with ways to use some of the fruit in baked goods… hence today's recipe!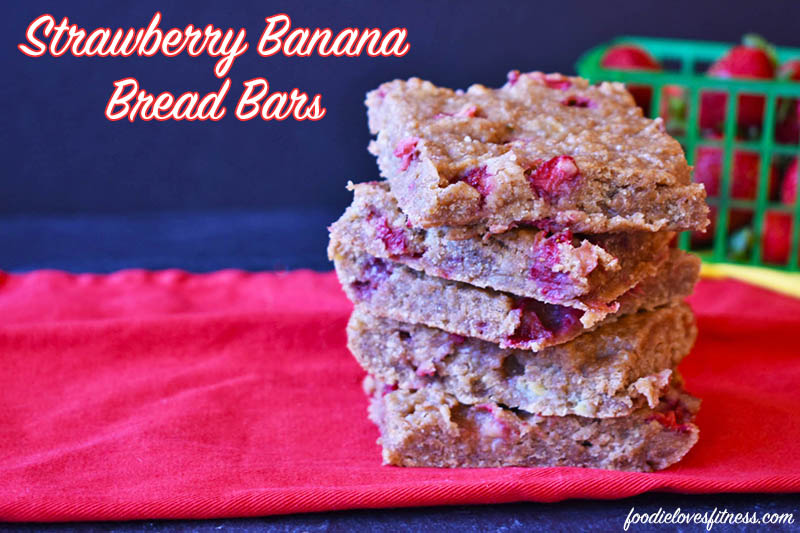 These strawberry banana bread bars make for a nice light breakfast, snack or dessert. Featuring diced fresh strawberries and mashed banana, they're a great recipe to whip up in the summertime while berries are at their sweetest!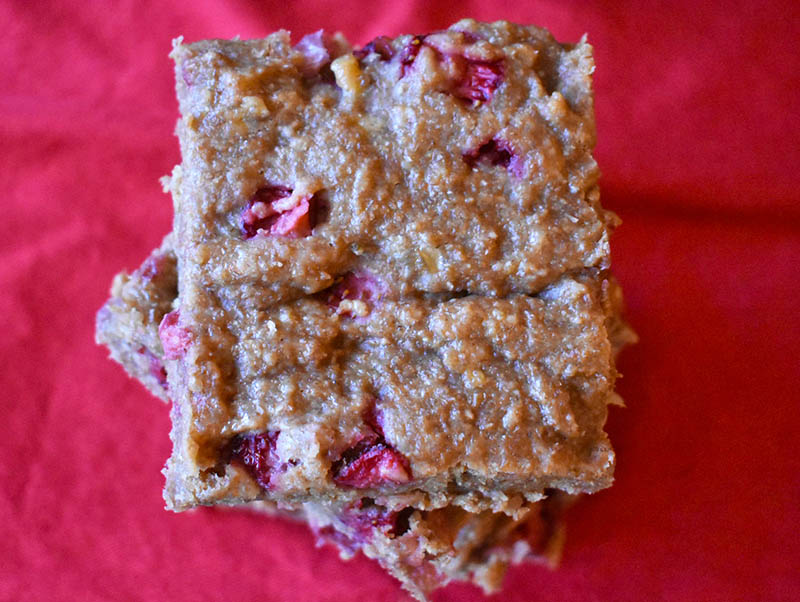 Do you guys go overboard on your fruit buying this time of the year? Or am I the only one? At least it tends to result in some delicious baked goods in my kitchen!
Strawberry Banana Bread Bars [vegan]
Author:
Foodie Loves Fitness
Prep time:
Cook time:
Total time:
Ingredients
2 ripe bananas, mashed
1 cup strawberries, diced
2 cups whole wheat flour*
¾ cup almond milk
1 TSP apple cider vinegar
½ cup brown sugar
¼ cup Earth Balance buttery spread*
2 TSP vanilla extract
½ TSP salt
1 TSP baking powder
Instructions
Preheat oven to 350 degrees. Spray an 8x11 baking pan with cooking spray.
Combine the almond milk and apple cider vinegar in a small bowl. Set aside.
Place the whole wheat flour in a large bowl. Add in the salt, brown sugar, and baking powder. Stir briefly with a wooden spoon.
Add in the mashed banana, vanilla extract, melted butter and almond milk mixture. Stir well, and fold in the strawberries.
Pour the mixture evenly into the pan. Bake for 20-25 minutes, or until the bread is lightly browed and a toothpick comes out clean in the center.
Allow to slightly cool before cutting into 12 bars and enjoying.
Notes
*Gluten free flour can be subbed for whole wheat flour, and regular butter can be used if you don't mind dairy.
Nutrition Information
Serving size:
1 bar,
Calories:
153,
Fat:
4g,
Saturated fat:
1g,
Carbohydrates:
28g,
Sugar:
9g,
Fiber:
3g,
Protein:
3g