Somehow it's been a few months since I've talked about my workout routine, but today I'm sharing what my sweat sessions have been like lately!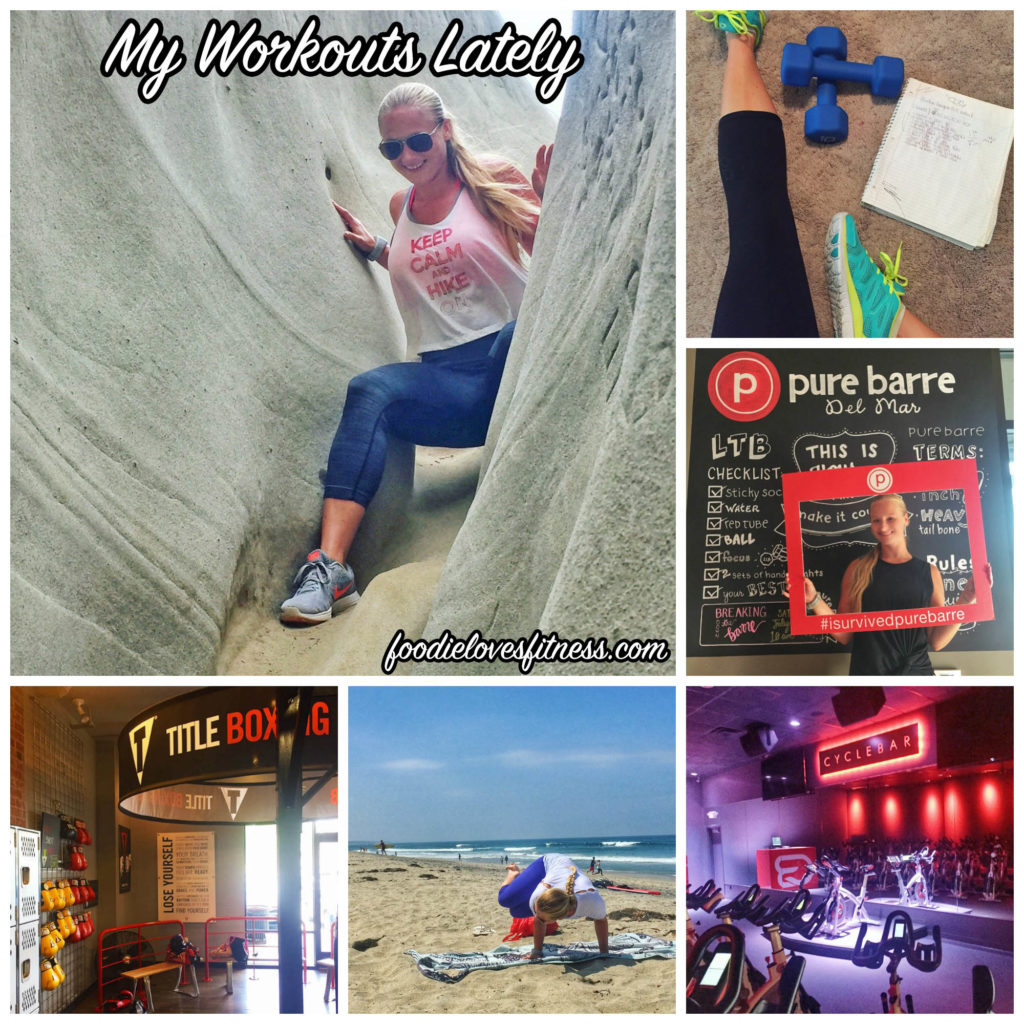 Lately I've had a good mix of at-home workouts, outdoor workouts and studio classes. One studio that I've taken classes at a couple of times over the past month is Pure Barre Del Mar. I had taken a break from barre after a foot injury last year, but when the folks at Pure Barre invited me to try out their studio, I felt like it was a good time to try it out again.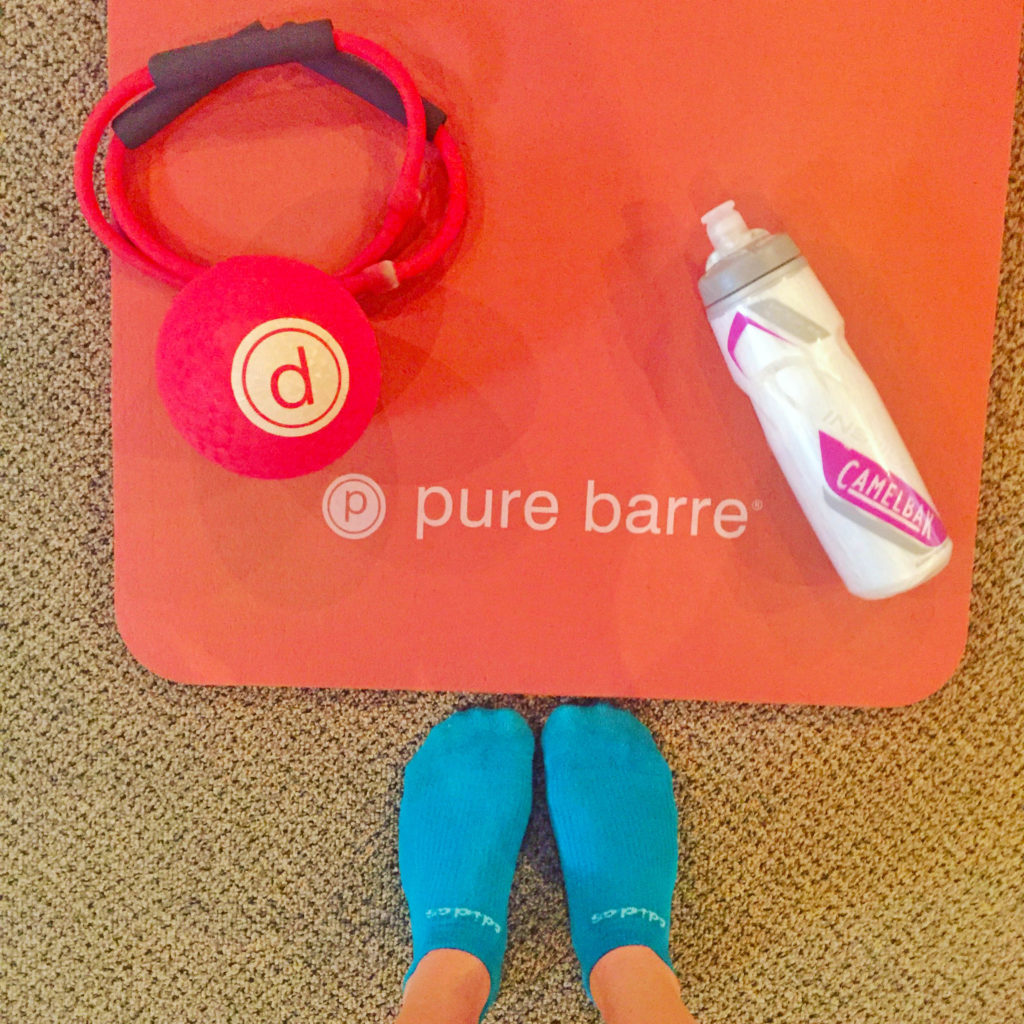 I've tried a lot of different barre styles – including  Xtend Barre, The Dailey Method, and Bar Method (I compared the three styles awhile back here), but Pure Barre in particular was new to me. I found Pure Barre classes to really work little muscles that generally don't get targeted as much. After each class, I drove home with my glutes and legs tingling and feeling fatigued from the work I put in. Don't let the fact that it's low-impact exercise that uses tiny weights fool you, conditioning at Pure Barre is no joke!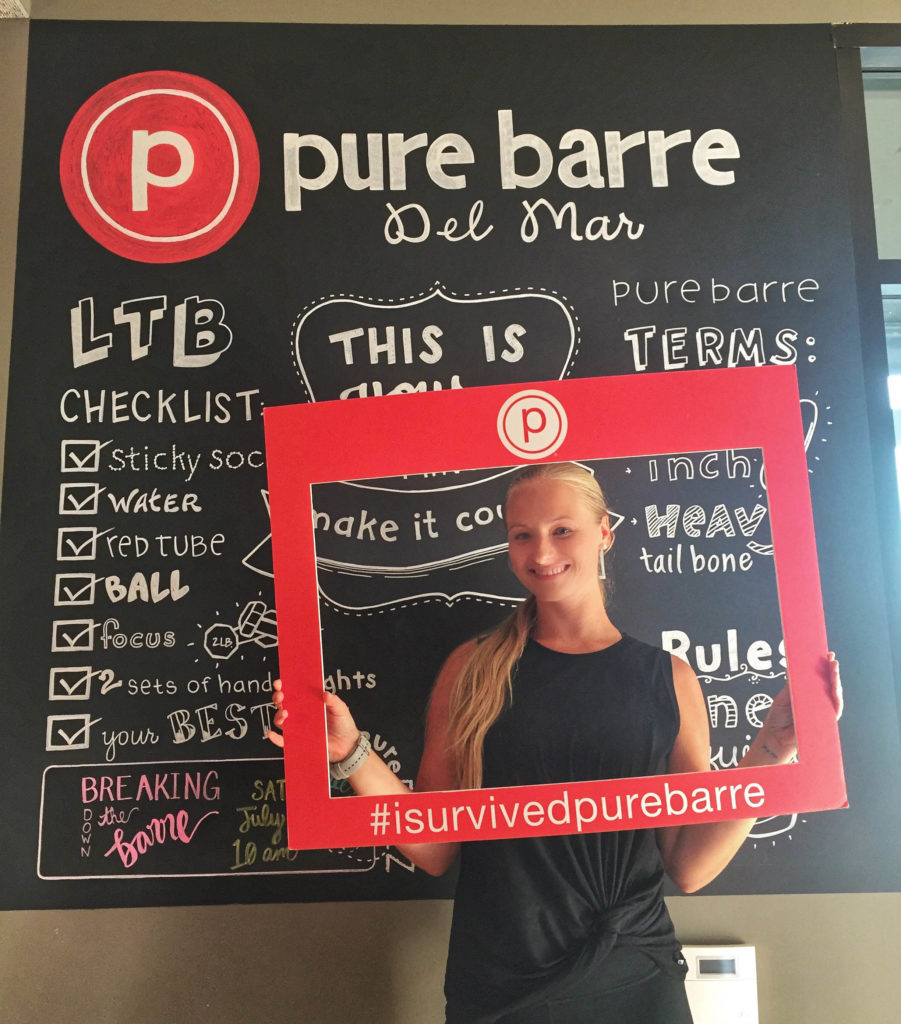 The classes are also pretty fast-paced, so you don't get bored or have time to zone out. While I wouldn't want to do barre all the time, I could definitely see myself taking a weekly Pure Barre class.. and eventually mastering the art of the 'tuck' and knowing more of what I'm doing!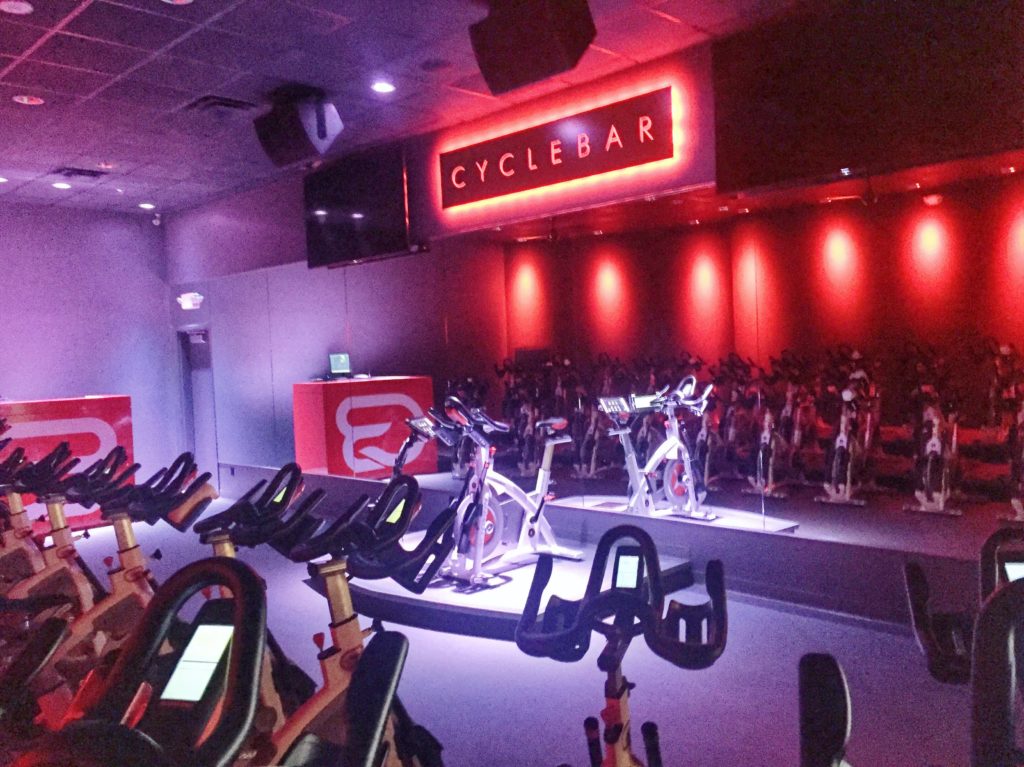 Another studio I visited for the first time recently was the newly opened CycleBar Hillcrest, where I met Laura for a class. These sort of hip, high-energy cycling studios keep popping up in the San Diego area, and it's no secret as to why… People love them, including myself! The atmosphere is club-like and I burned a ton of calories pushing myself to go faster and work harder in higher gears than I normally do when spinning on my own.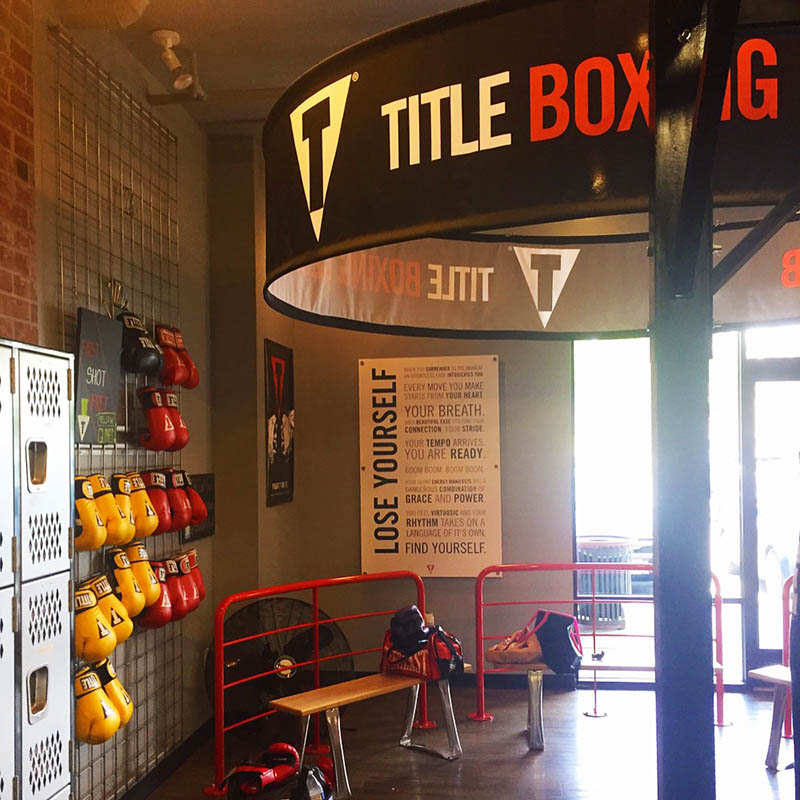 I've also been back to boxing at TITLE Boxing Club in Carlsbad a couple times, and those workouts are intense! Boxing is one of the hardest workouts I've ever done.
One thing I've noticed is that I like boxing classes more when a lot of different combinations are done, rather than the instructor adding onto the same combination over and over. It makes the workout go by faster if I'm having to constantly think about what I'm doing and stay engaged. The last class I took at TITLE Boxing did more of the latter, so I'm curious what the next class will be like.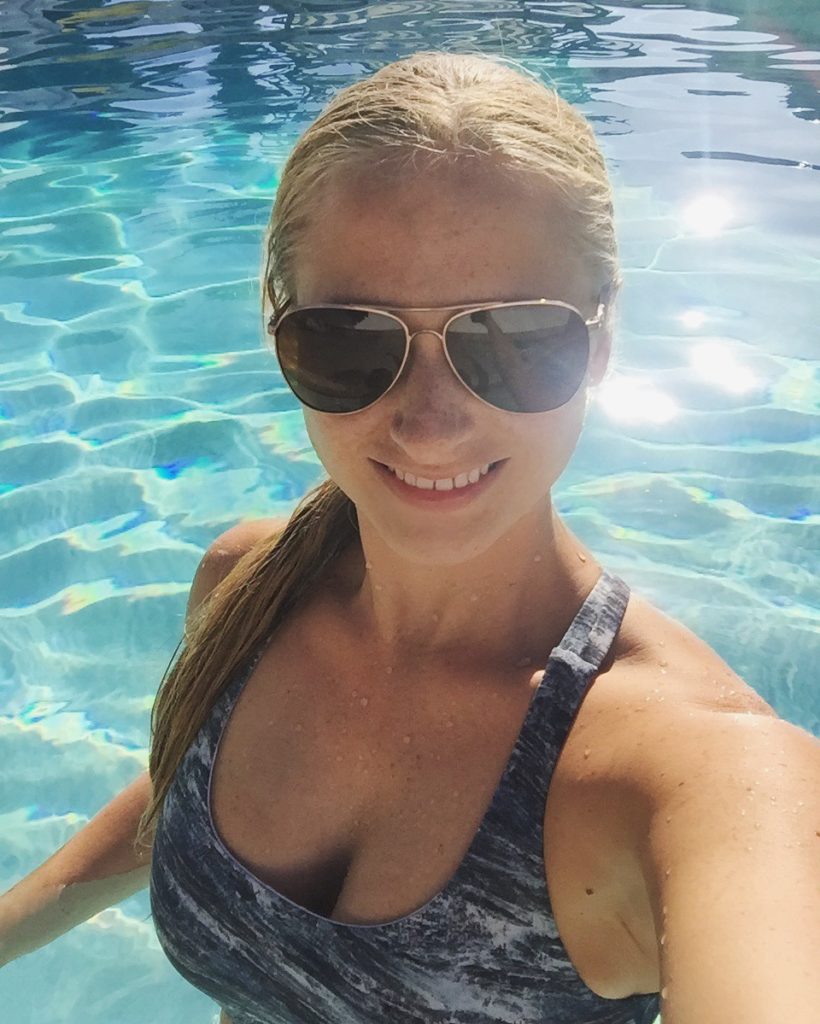 At home, I've been doing a lot of cardio boxing classes (check out my favorite at-home kickboxing workouts here) and doing laps in my pool. I've also been getting cardio in on my bike trainer often. I like to do strength training + cardio combo workouts, like the below cycling + strength training workouts of threes. It keeps things interesting!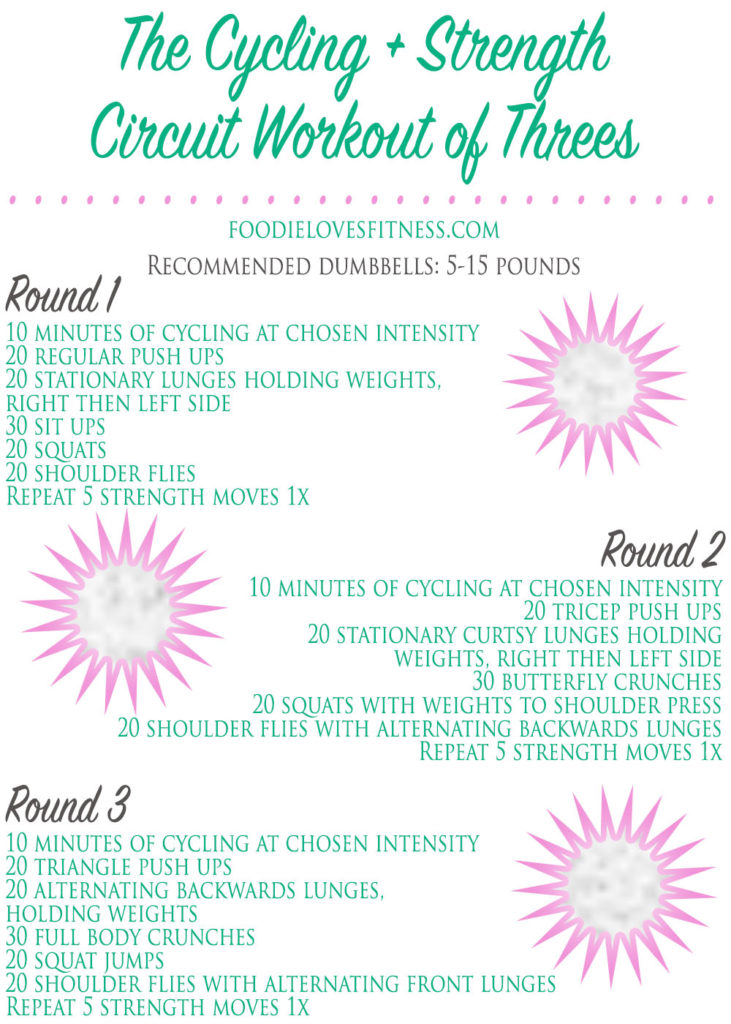 Unfortunately once the San Diego summertime really hits, the idea of heading inland for some nice long hikes kind of goes out the window. My pup does not enjoy 95 degree weather, and I can't say I blame her! Harley's been getting exercised a lot with long beach walks, where the breeze from the ocean keeps her nice & cool.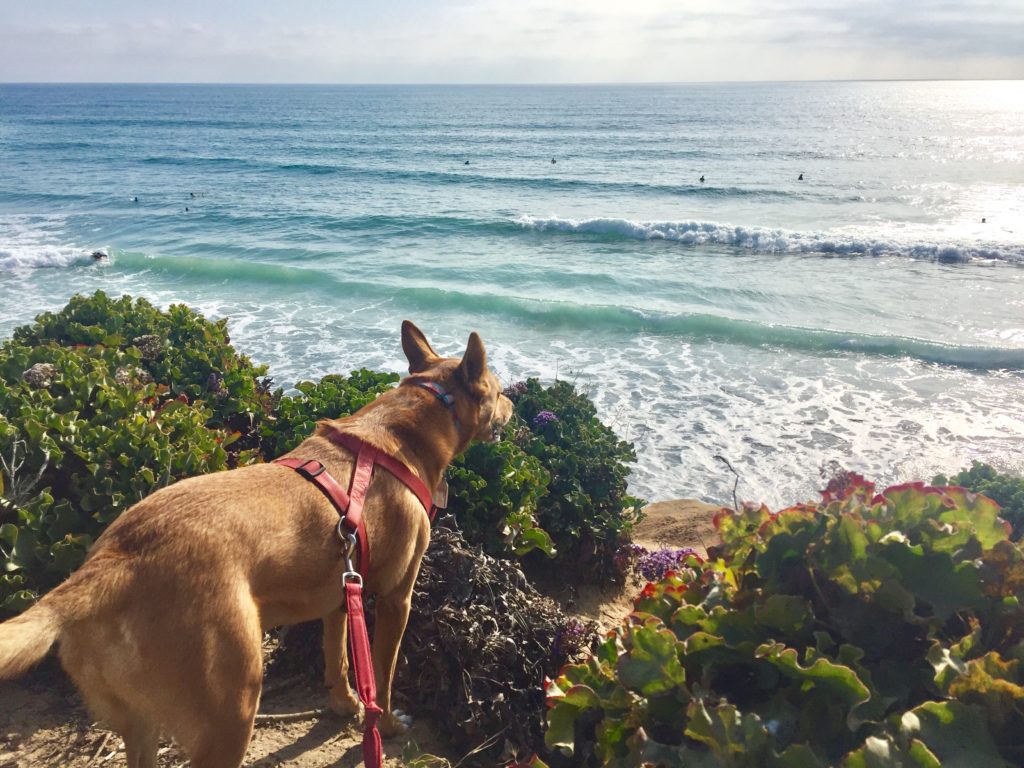 Hiking-wise, I've been staying close and doing a quickie hour-long loop at my favorite Carlsbad park once or twice a week… though last month Harley and I did take my cousin to hike Iron Mountain when she visited before the temps heated up.
My hubby and I did get to check out a new hike recently on the coast called the Ho Chi Minh Trail – and come autumn when the weather cools down a bit, I'm sure I'll be hiking a few new trails. After all, I am forever on the hunt for new trails to explore!
A few weekends in a row, I've gotten to the beach first thing in the morning to practice yoga. Starting my day off with yoga at the ocean always puts me in such a relaxed, happy mood – plus I love how empty the beach is early in the day, besides some surfers and runners also getting their workouts in.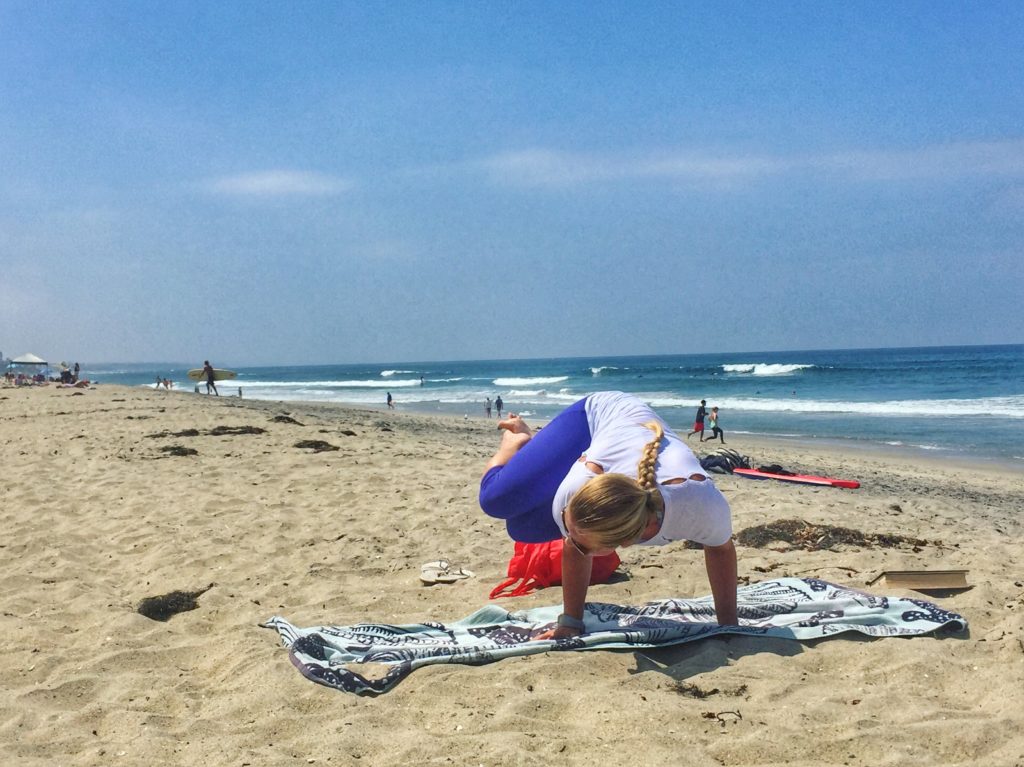 What's Next  
As for looking ahead to what my workouts will be like in the upcoming weeks, I'm excited for some workouts while traveling. First up, I'll be in Vegas next week for Blogfest & IDEA World. In my experience, the workouts are always fun & interesting at this conference!
Next month, I have a trip planned to the Pacific Northwest, and I definitely have an outdoor workout on my agenda there. I've been researching hikes in the area, and there are so many options, it's been hard to narrow it down! I'm really looking forward to exploring there.
At home, I want to keep going with this nice balance I have going on of doing a lot of different types of workouts. There's no shortage of fun studios to try out in the San Diego area! I've been wanting to get back to Yoga Sculpt classes, so that's on my list. If the weather in the 80s keeps up, there will many more laps in the pool for my foreseeable future. I don't have air conditioning, so my pool and daily smoothies are what cool me off!
Tell me… What fun workouts have you been doing lately? Have you ever tried Pure Barre? Any fellow bloggers going to IDEA World? 
Disclaimer: While I was provided with complimentary fitness studio classes, as always, all opinions expressed are genuinely my own.