Hi friends!
Things have been quiet over here this week… because my real life has been hectic!
The past week has been a whirlwind, between getting through the busiest time of the year for my publicist job, celebrating a friend's birthday locally in San Diego (with a private Pilates class & smoothie hangout!), then packing, getting organized, and setting off to Las Vegas for work. Last night I flew from Vegas to New Jersey, where we are in the midst of wedding busyness leading up to my brother's wedding this weekend. So, as you can imagine, there has been a lot happening in my world.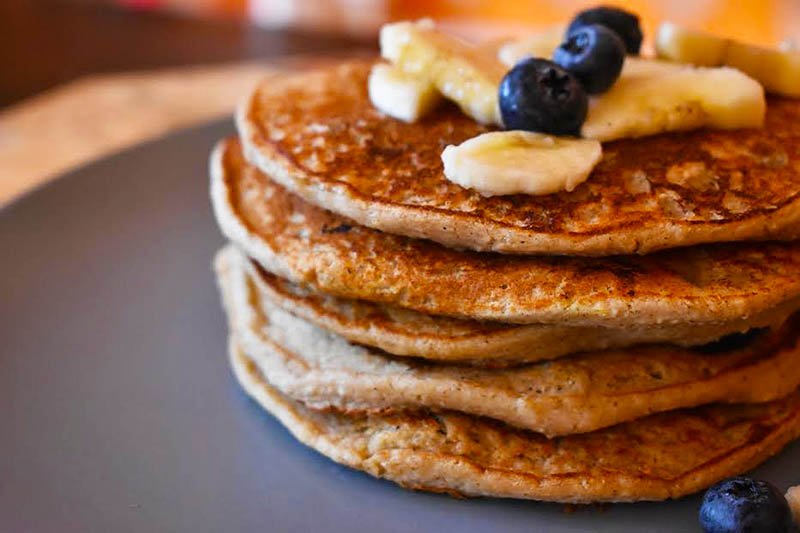 BUT! Today I'm back to share one of my favorite recipes. It's a goodie!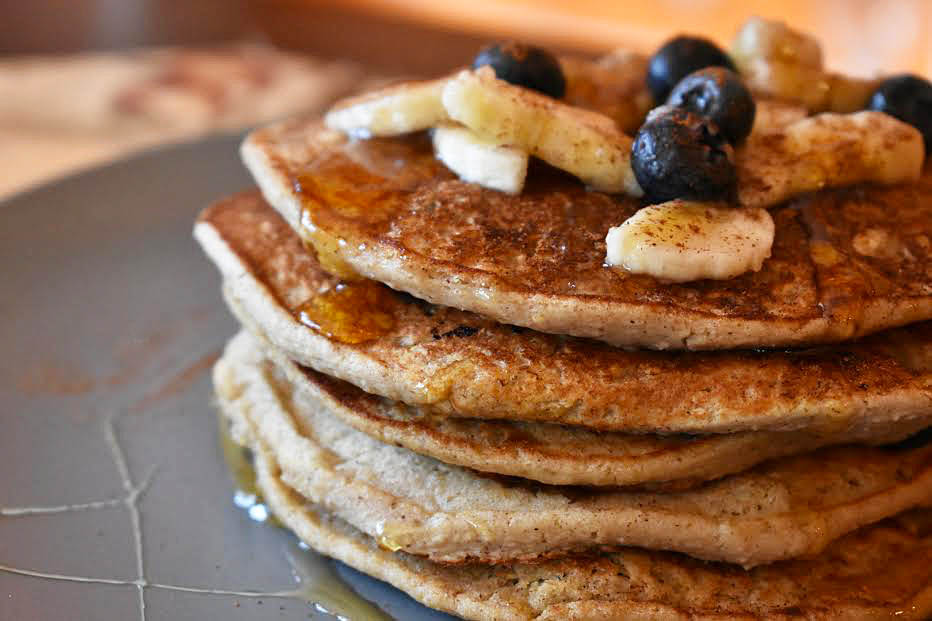 Pretty much everyone that knows me well knows about my love for pancakes. They're my favorite fancy breakfast, hands down.
I've shared some very yummy pancake recipes on the blog before, but today's recipe takes the [pan]cake.
See what I did there?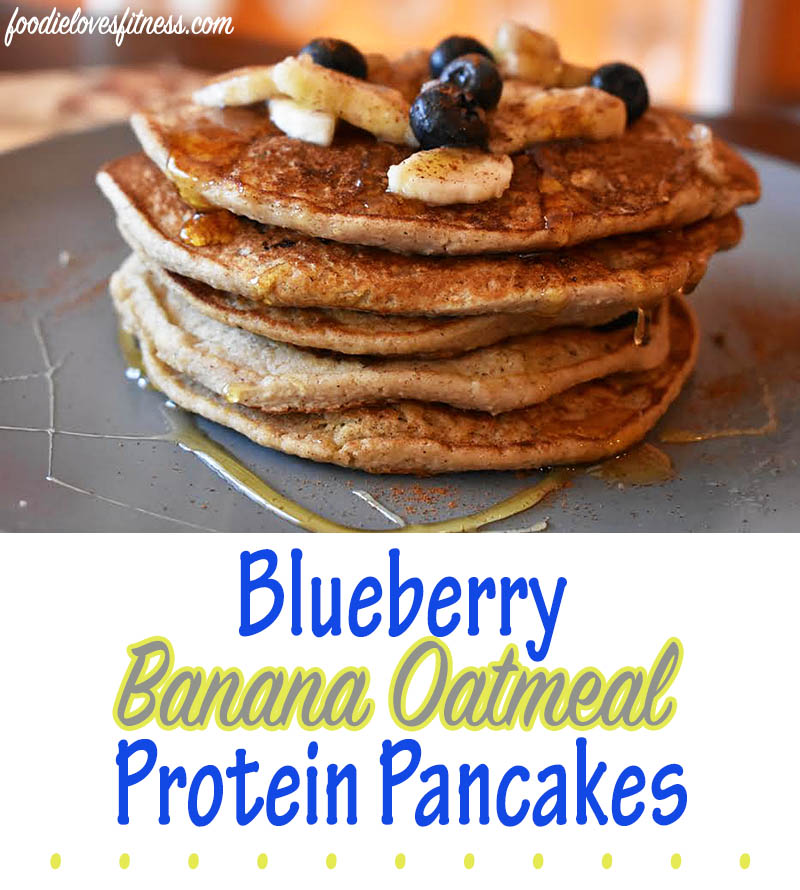 I actually shared a variation of these pancakes on the blog a couple years ago, but since then, my batter recipe has evolved a bit. Over the last few years, I've made these pancakes so many times, I can make them with my eyes closed. Sometimes I change them up a bit, subbing in chocolate chips for blueberries or topping them with strawberries, but the basic batter combination always remains the same:
Oats. Vanilla protein powder. Banana. Almond milk. A pinch of salt, cinnamon, stevia, vanilla extract and baking powder. And that's all there is to it!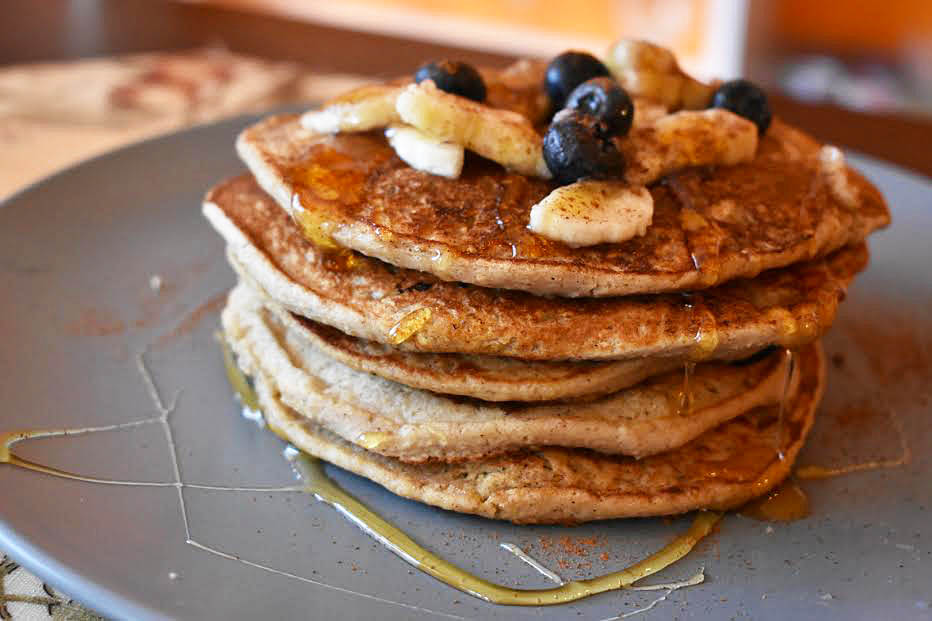 These pancakes are super easy to whip up, and I always have these ingredients in my kitchen, so I make them at least once a week. Sometimes I have them for lunch or dinner, because I'm all about having breakfast any time of the day! Who's with me?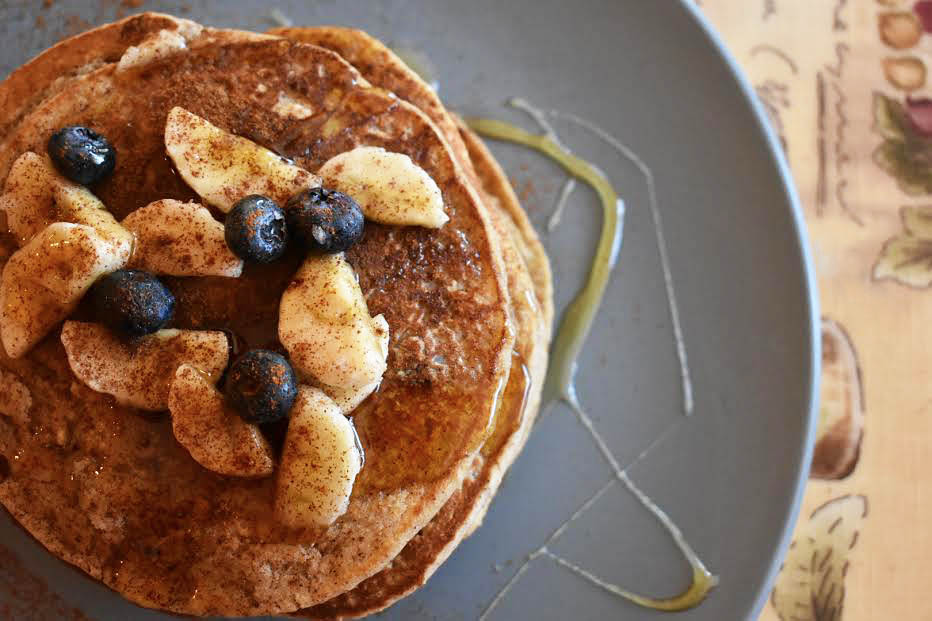 I love incorporating oats into my pancakes as a hearty fiber boost. As always, just make sure you use certified gluten free oats if necessary.
I tend to top my pancakes with local raw honey and cinnamon, but use whatever pancakes toppings you prefer. Maple syrup or almond butter are great vegan options!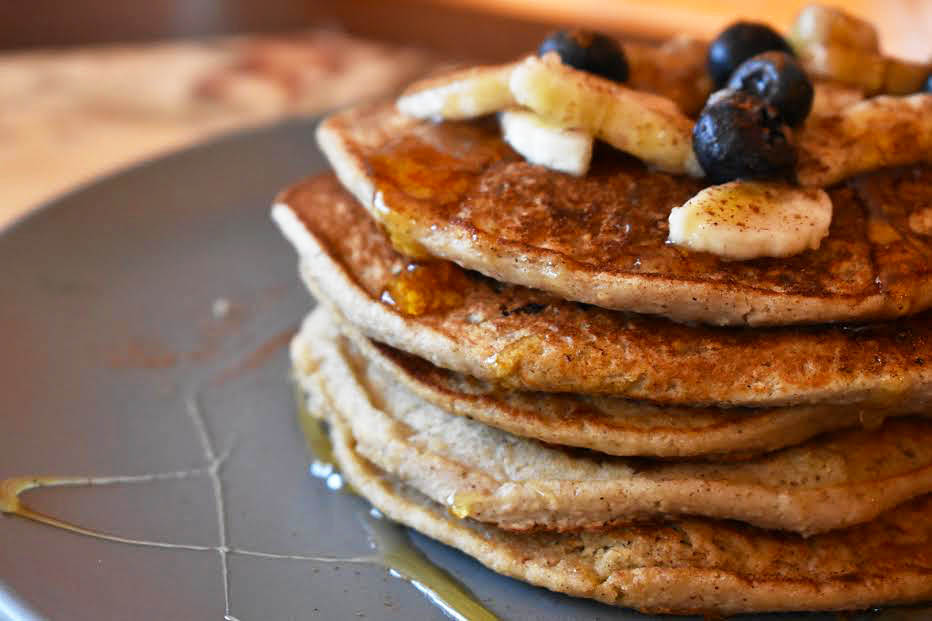 If you don't do protein powder, you can easily sub it out for your favorite kind of flour: all purpose white, whole wheat, almond flour, gluten free flour, I've tried it all with these pancakes.. and they all work just fine!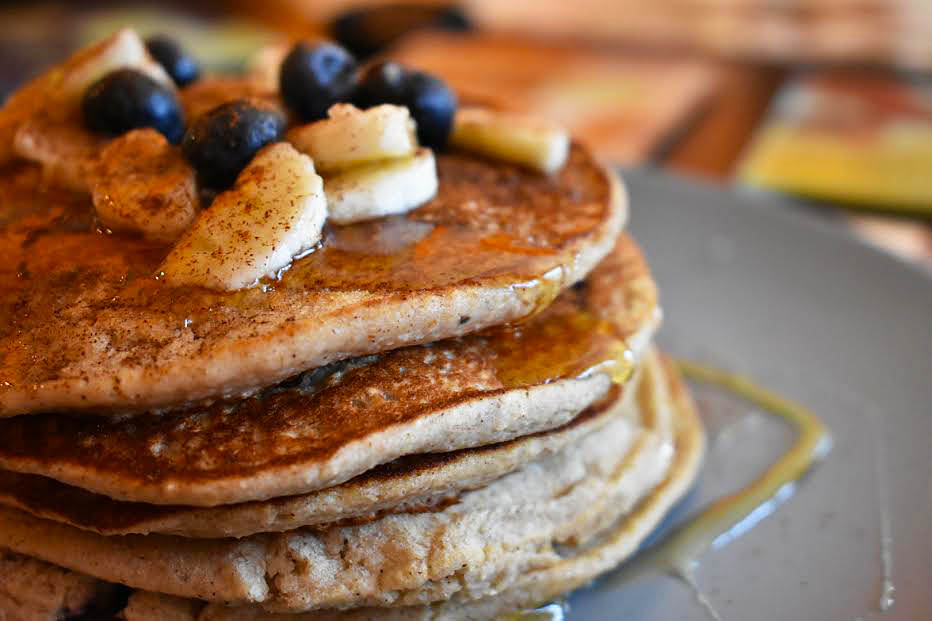 Blueberry Banana Oatmeal Protein Pancakes
Author:
Foodie Loves Fitness
Prep time:
Cook time:
Total time:
Serves:
6 medium pancakes/2 servings
Ingredients
1 medium banana
1 cup dry oats (I usually use quick rolled or old fashioned)
1 scoop/around 30g of plant-based vanilla protein powder
1 cup unsweetened vanilla almond milk
½ cup blueberries
¼ TSP cinnamon
½ TSP baking powder
1g stevia, or a touch of sweetener of choice
¼ TSP vanilla extract
Pinch of salt
Instructions
Combine all ingredients except the blueberries in a food processor or high powered blender. Pulse just until combined and mostly smooth - do not over process.
Warm a griddle over medium low heat. Coat with cooking spray. Pour half of the batter onto the griddle, forming 3 pancakes.
Place ¼ cup of blueberries onto the pancakes as they're cooking. Once lightly browned on the bottom, around 3 minutes, flip the pancakes over and cook on the other side. Repeat this process with the second half of the batter.
Top your flapjacks with your favorite pancake toppers, i.e. maple syrup, honey, butter, sprinkled cinnamon, etc., and enjoy while they're warm (Leftovers stay good stored in the fridge for quite awhile!).
Nutrition Information
Serving size:
3 pancakes,
Calories:
290,
Fat:
4g,
Carbohydrates:
44g,
Sugar:
13g,
Fiber:
6g,
Protein:
19g
Tell me… What's your favorite "fancy" breakfast?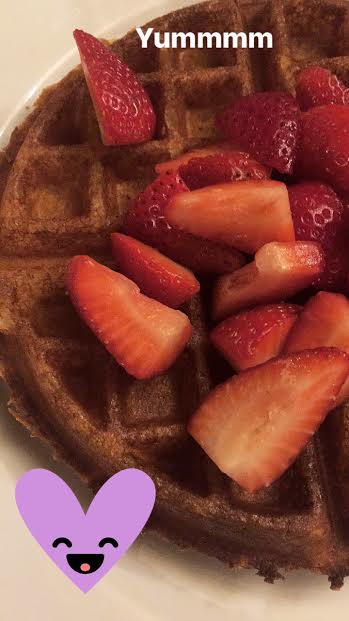 PS – I had this bomb waffle yesterday in Vegas. Strawberries on waffles = the best!