Sometimes keeping it simple is the best.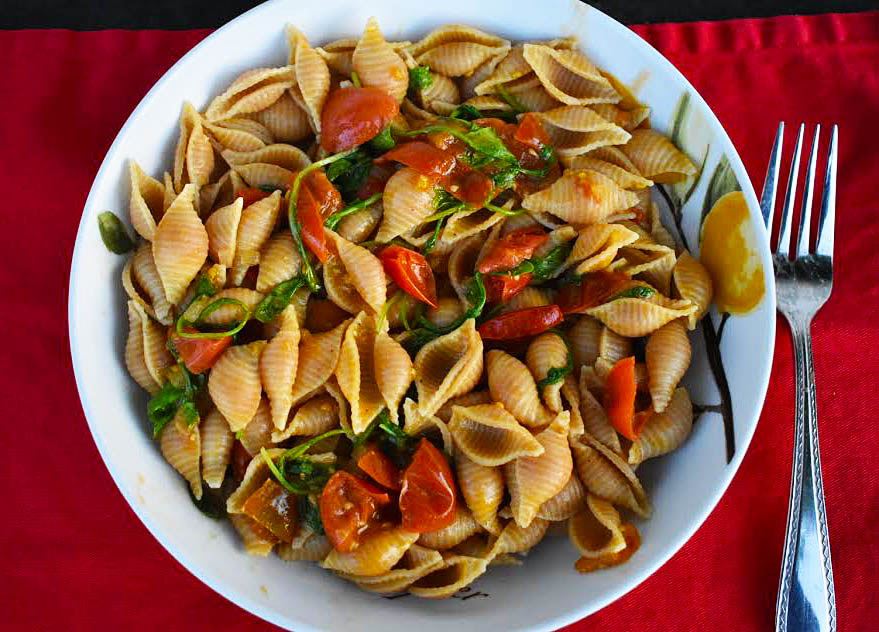 Every Easter when I was growing up – and really, almost every other holiday – my family would go over to my grandma's for a big family get together. I've talked about my amazing grandma before, but she loved to cook for everyone – and she pretty much always overdid it with how much food she made.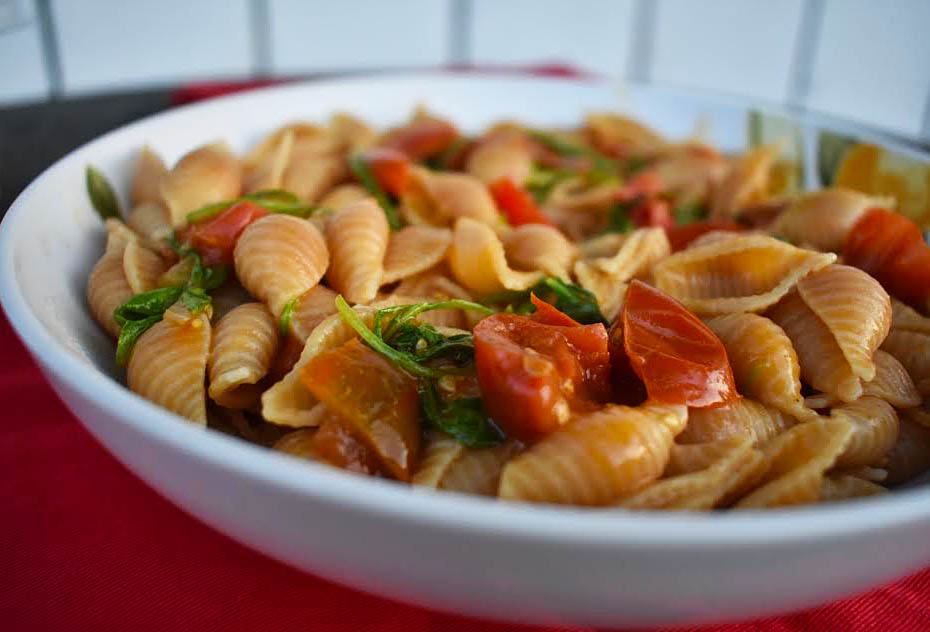 There would be a ridiculous amount of dishes for everyone to enjoy. From a giant antipasto salad and homemade breads, to a gigantic spread for the main course, to probably half a dozen desserts, complete with her annual bunny-shaped Easter cake, my grandma always spent days preparing. She also always made me eggplant parmigiana because I loved it (and later on, I developed an allergy to it, probably from eating it too much!).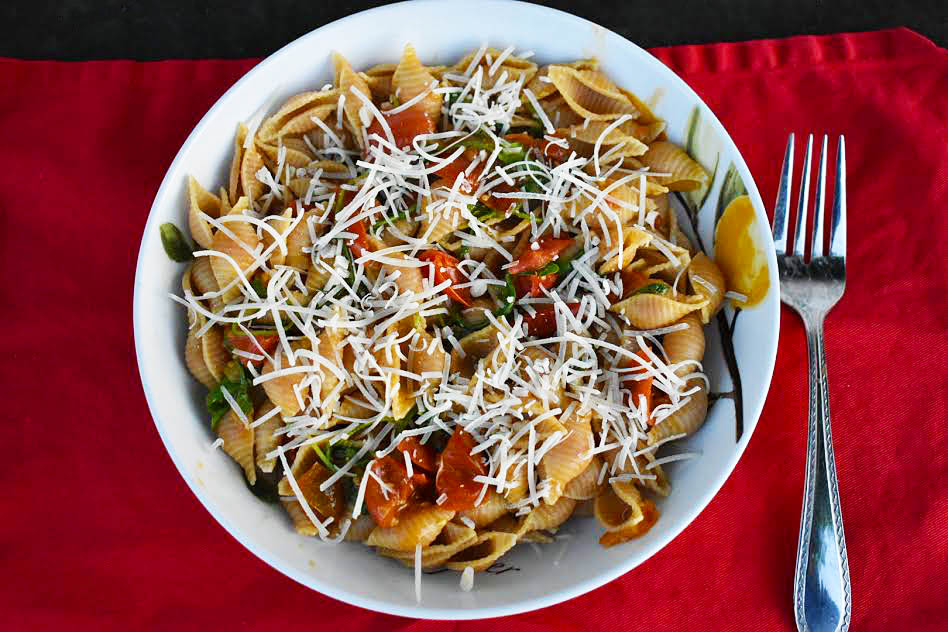 One type of dish that my grandma made for holidays was a simple pasta. It was usually designated as a go-to for the picky eater kids in my family, but everyone typically wound up scooping some onto their plates. She would often make a cavatelli pasta with just a homemade tomato sauce. It was maybe her most simple dish, but we all ate it every time.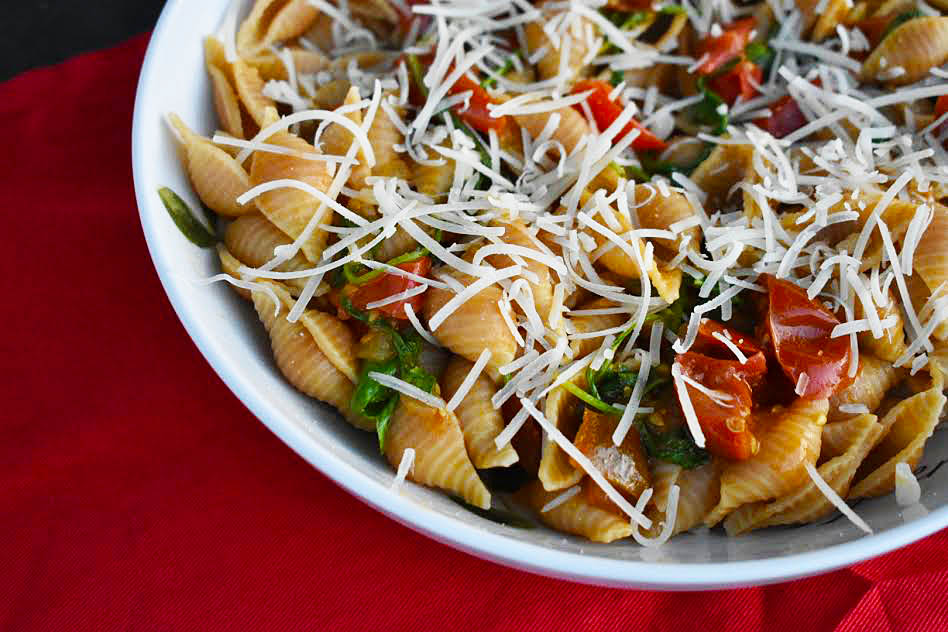 Today, in honor of the upcoming holiday and my grandma, who we lost just about three years ago and I miss so damn much, I wanted to share an easy pasta dish. This one comes together in 30 minutes or less, and the stars of the sauce are heirloom cherry tomatoes and wild arugula.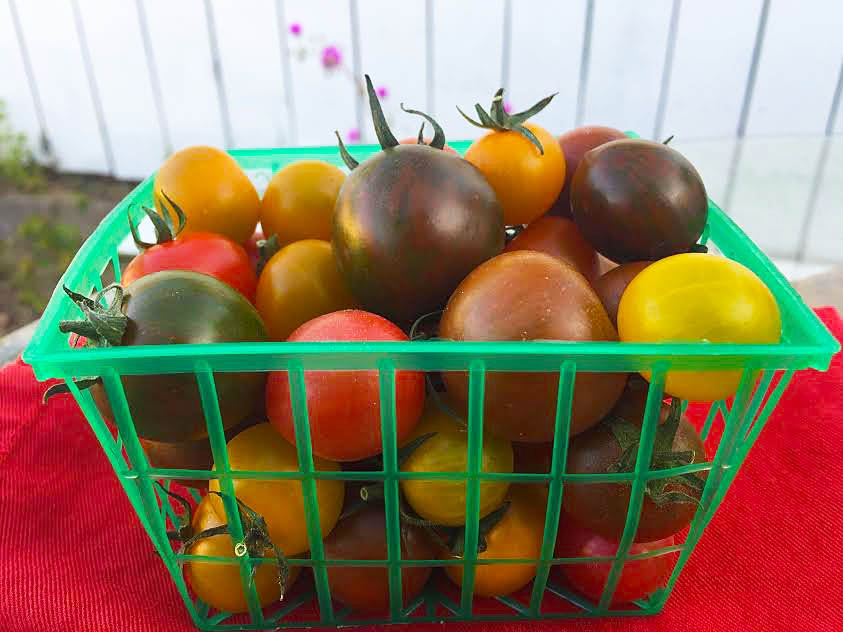 You can top your pasta with nutritional yeast or plant-based shredded cheese to keep it vegan, or parmesan cheese if you prefer. Or, you can enjoy it as is. It's healthy and flavorful; it's homemade simplicity at its best!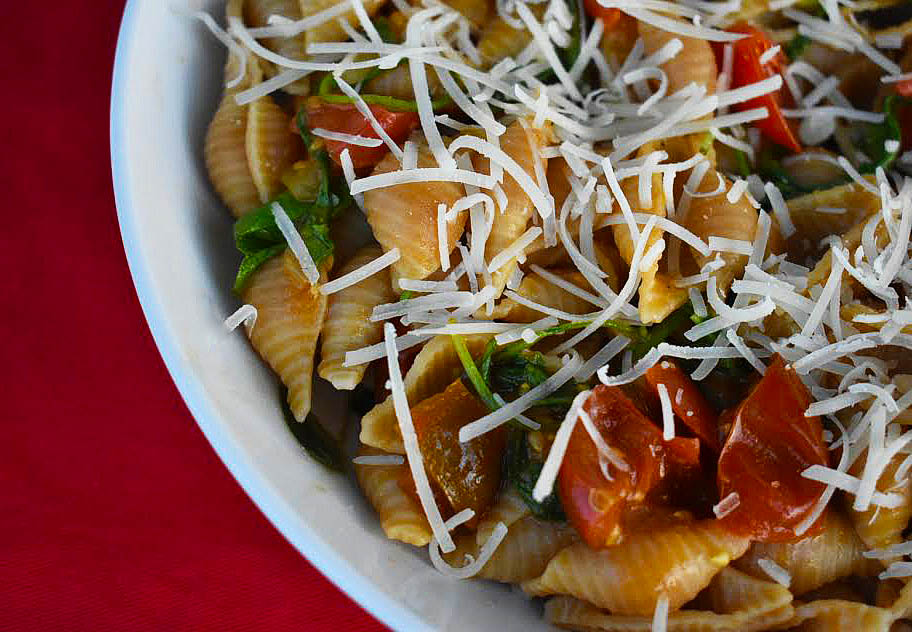 And if I've (hopefully!) put you in the mood for more pasta, check out my latest recipe for Shape, orzo caprese pasta salad with pine nuts & spinach.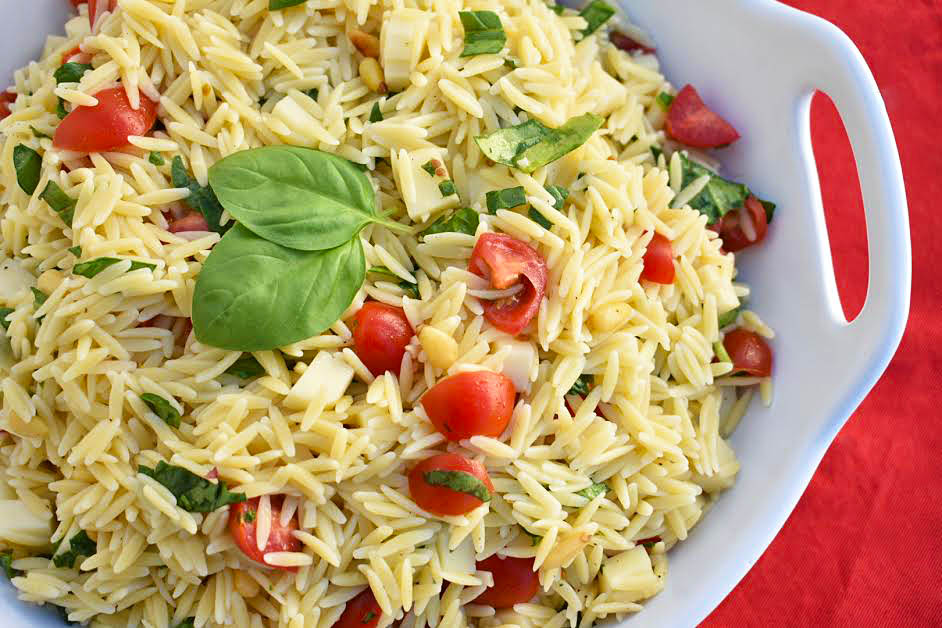 The dish includes all the stars of a typical caprese salad—mozzarella, tomato, and basil—and combines them with orzo pasta and a light, fresh dressing of olive oil, fresh lemon juice, and white balsamic. Throw some toasted pine nuts into the mix for some crunch, along with some nutrient-packed baby spinach, and you're ready to go in 20 minutes flat. I predict that I'm going to be making it all spring & summer long!
Pasta Shells with Easy Arugula Cherry Tomato Sauce
Author:
Foodie Loves Fitness
Prep time:
Cook time:
Total time:
Ingredients
1 lb medium pasta shells (I use whole wheat), or other short shape pasta
2 pints cherry tomatoes (I used heirloom here)
4 garlic cloves
3 cups packed arugula
¼ cup + 2 TBSP extra virgin olive oil
½ cup white cooking wine
1 TSP salt
½ TSP lemon pepper (regular pepper works too, and you can add in fresh lemon juice for a bit of a lemon kick)
Favorite pasta topper: shredded/grated parmesan cheese (vegetarian) or nutritional yeast or plant-based shredded cheese to keep the dish vegan
Instructions
Begin to cook pasta al dente according to directions.
Meanwhile, mince the garlic and quarter the cherry tomatoes.
Warm the cooking wine in a large saute pan over medium low heat. Add garlic to the pan, cooking until lightly browned.
Add in the olive oil and cherry tomatoes. Increase the heat a bit to medium, and cook until the tomatoes are tender, around 8 minutes. Add in the arugula, lemon pepper and salt. Cook until arugula wilts, tossing often.
Once the pasta is done cooking, drain it, then return to pot.
Add arugula tomato sauce to the pasta, tossing to combine well. Serve immediately with nutritional yeast or cheese of choice on top.
Nutrition Information
Serving size:
⅙ of recipe, around 2 cups,
Calories:
425,
Fat:
15g,
Saturated fat:
2g,
Carbohydrates:
60g,
Sugar:
6g,
Fiber:
4g,
Protein:
11g
Other grandma recipe tributes:
– Crispy Zucchini Parmigiana Sandwiches
– Gram's Anadama Bread
– Baked Maple Cinnamon Apples & Sweet Potatoes
– Veggie Pappardelle Bolognese
– Apple Dapple Pancakes
Tell me… Who's celebrating Easter this weekend? Any recipes that remind you of a grandparent?
Since moving cross-country away from my family a bunch of years ago, I honestly don't really celebrate Easter much. This weekend my hubby and I will be going on a little getaway together, so I'm looking forward to that!