As with most food bloggers & writers, I love to bake and cook for loved ones. Whenever we have guests in town, I enjoy feeding them well. A lot of the time when I meet up with girlfriends, I'll bring them some of my latest kitchen creations to try. I show my love for people by making them nutritious, delicious food.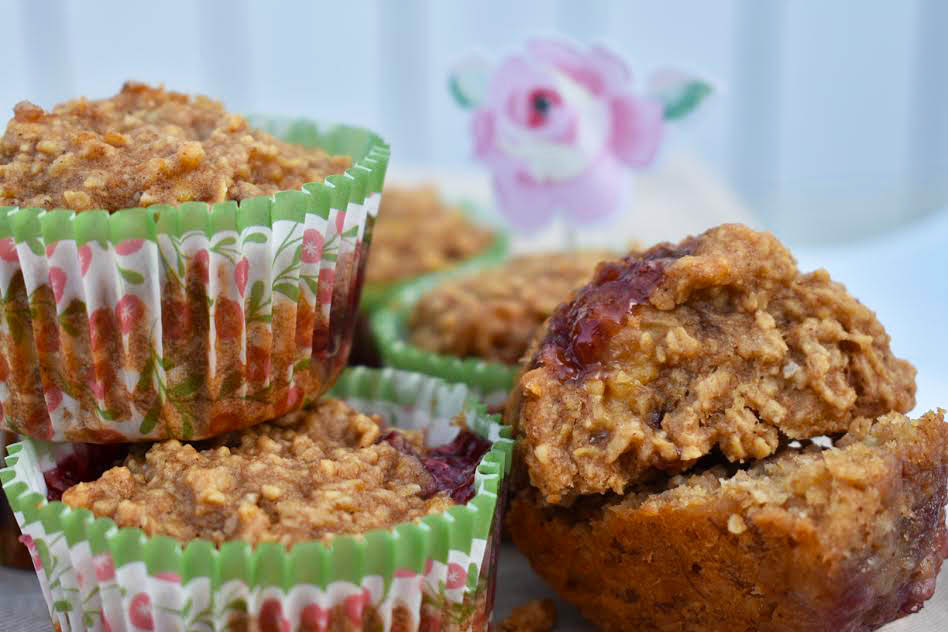 When I stay at my parents' house in Jersey, it's fun to make snacks, dinners, and desserts for everyone to enjoy. A few weeks ago when I was there, I was a little off of my Chef Nicole game because I was under the weather, but I still whipped up some yummy recipes for them.
One night I made creamy spring veggie & asparagus puree soup for dinner, because I knew my mom would dig it (She did!).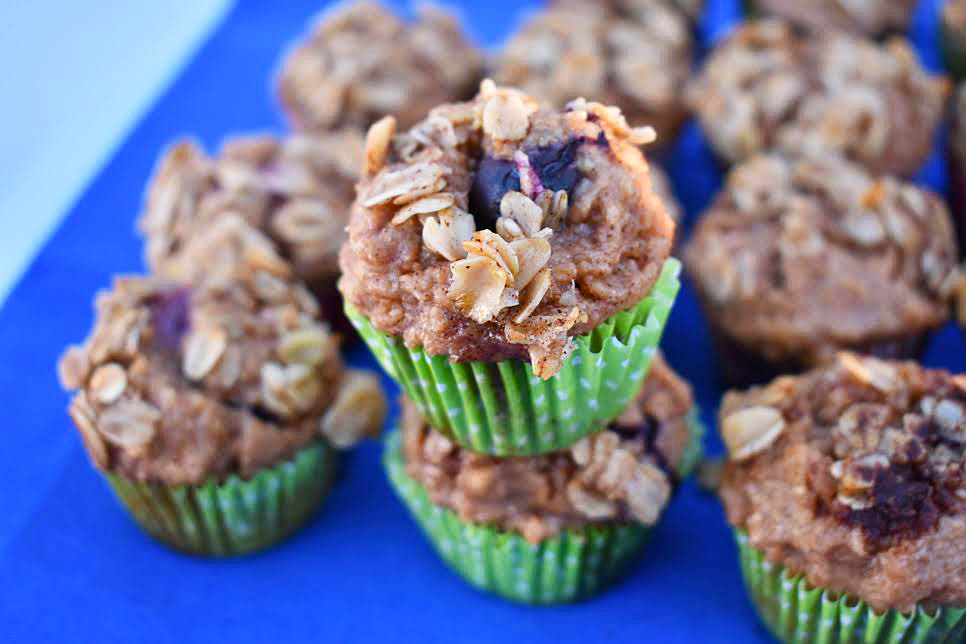 I also made my most recently published Shape recipe, blueberry banana Greek yogurt muffins.
Continuing with the blueberry theme, I also made bluebery oatmeal chia bars one morning – except when I took the baking dish out of the oven, I mistakenly placed it on a burner that was on low heat….and then left it there for hours. I was in the kitchen the whole time and didn't even smell the bars and pan burning because my sinuses were all congested! It actually worked out well because my dad loves burnt things. They wound up being super dry, but he was a fan of them anyways…so it was only half a kitchen fail!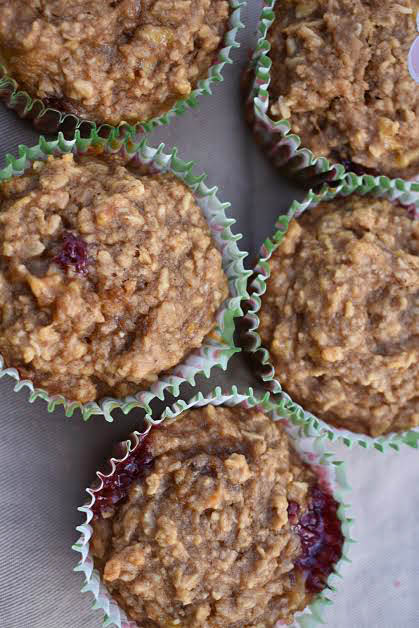 Another muffin recipe that I decided to make were peanut butter & jelly banana muffins. I first shared the recipe on here years ago when I was a newbie blogger, and I hadn't made them in quite awhile. My dad loves PB & J (and so do I!) so I thought he'd like these. I always like having muffins, bars, or energy bites around as a healthy snack, and we all snacked on these muffins throughout the week.
My baking has definitely evolved over the years, so I changed around a few of the ingredients. I constantly use oat flour instead of regular flour nowadays, so I swapped some of that + almond flour for the regular flour I originally used to make these muffins with.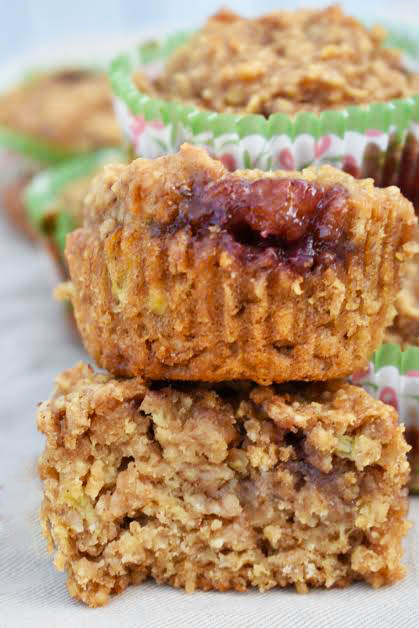 I also used coconut oil instead of butter – which gives the recipe some added healthy fat, and also makes the muffins dairy free. You can use whatever flavor of fruit preserves you prefer. For this batch, I made half with raspberry and half with grape (my hubby's jelly of choice). You get that nice little jelly center by spooning muffin batter into the cup, followed by a nice little spoonful of preserves, and then another few spoonfuls of muffin batter. Bake it for around 18 minutes, and BOOM you've got PB&J, in muffin form.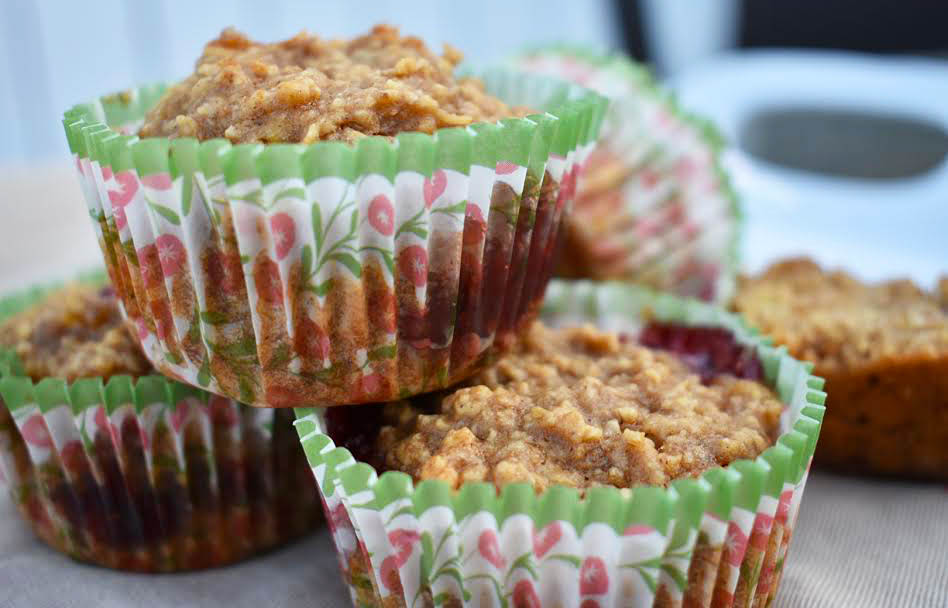 These muffins are a great little snack for the PB & J lover, and I think that kids will love em too. I'm sharing a few of these muffins today with a girlfriend of mine who's a mom, so hopefully her kiddo will like them as much as I do!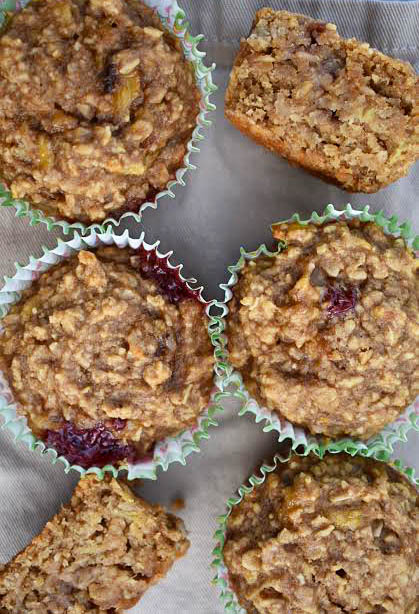 PB&J Banana Muffins
Author:
Foodie Loves Fitness
Prep time:
Cook time:
Total time:
Ingredients
1½ cups dry oats
½ cup almond meal
2 medium ripe bananas, mashed
½ cup peanut butter
⅓ cup almond milk, or milk or choice
¼ cup light brown sugar
¼ cup your favorite flavor of fruit preserves
2 TBSP coconut oil
½ TSP cinnamon
¼ TSP salt
1 TSP baking powder
1 TSP vanilla
Instructions
Preheat oven to 350 degrees. Line a muffin tin with muffin cups.
Combine the peanut butter, brown sugar and coconut oil in a small saucepan over low heat, stirring often until melted together.
Meanwhile, place the oats in a food processor and pulse until it's mostly ground. Transfer to a mixing bowl.
Add in the almond flour, bananas, almond milk, cinnamon, vanilla, salt and baking powder. Pour the peanut butter mixture into the bowl, and stir everything together with a wooden spoon.
Spoon 2 heaping spoonfuls of muffin batter into each muffin cup. Spoon about 1 TSP of fruit preserves into each muffin cup, then spoon the remaining batter into each cup.
Bake for 18 minutes, or until the muffins are lightly browned. Slightly cool before enjoying.
Nutrition Information
Serving size:
1 muffin,
Calories:
200,
Fat:
11g,
Saturated fat:
3g,
Carbohydrates:
22g,
Sugar:
10g,
Fiber:
3g,
Protein:
5g
Tell me… Are you a PB&J fan? What "kid" food or combo do you still love?