Hi friends!
I have been down for the count with a killer ear infection + upper respiratory sickness. It's a major bummer because I've gotten sick the last couple of times that I've visited Jersey to spend time with family, despite my nonstop rubbing of essential oils and drinking of green tea. I almost never get sick otherwise, and I think it's the combination of a cross-country flight (the woman next to me was coughing the entire time!), going nonstop making plans with family & friends, the weather change, being around my adorable but very germ-y nephews, and drinking wine multiple days in a row. So, now I'm back home in Cali, resting up this week and taking it easy so that I can get back to normal.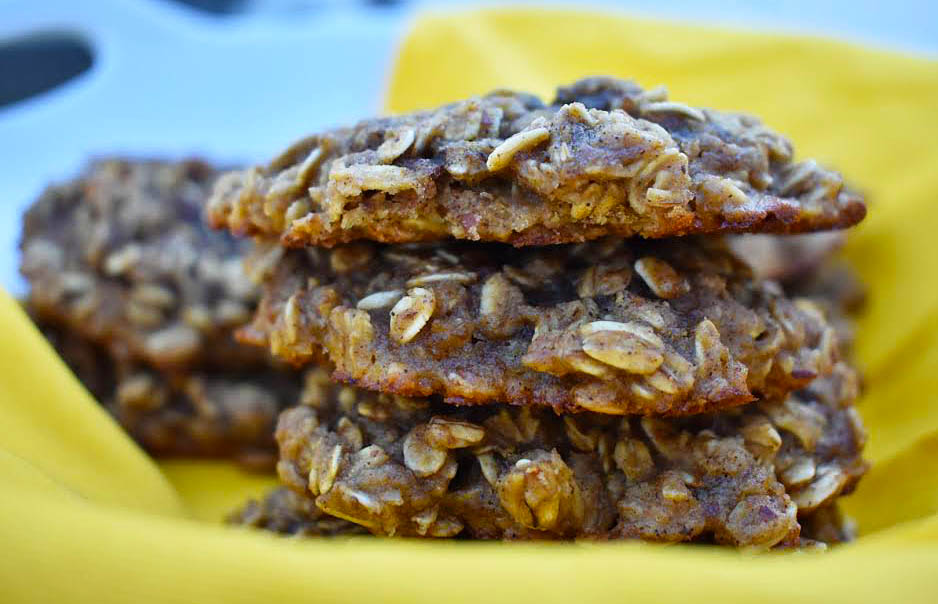 But let's talk about something more fun… like cookies! Breakfast cookies that is.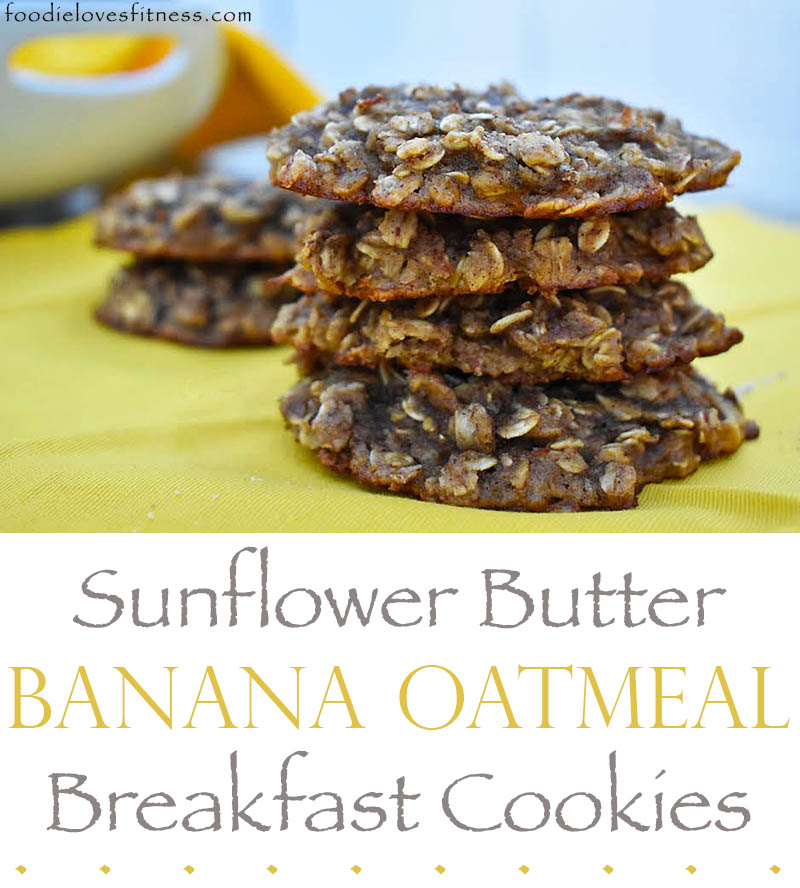 These sunflower butter banana oatmeal breakfast cookies were my second failed attempt at a green sunflower butter recipe for St. Paddy's Day. The base of these normal colored cookies are rolled oats and almond meal. They're sweetened with mashed banana, honey and apple sauce. You can sub in maple syrup to make them vegan as well.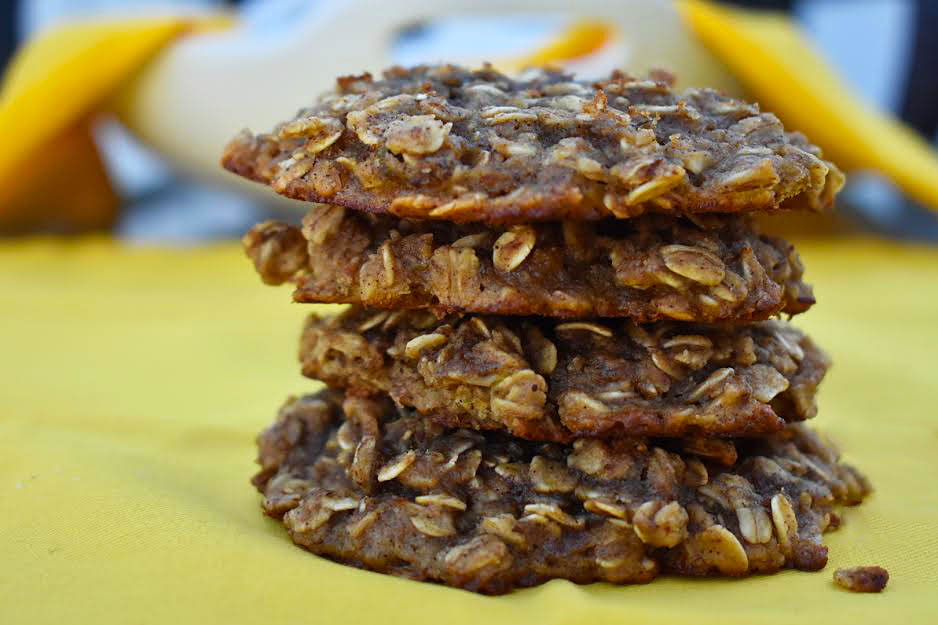 These healthy, soft-baked cookies go well with your morning coffee or tea, and are a good-for-you cookie to munch on at any time of the day!
Sunflower Butter Banana Oatmeal Breakfast Cookies
Author:
Foodie Loves Fitness
Prep time:
Cook time:
Total time:
Ingredients
2 cups dry rolled oats
½ cup almond meal
1 medium ripe banana, mashed
⅓ cup sunflower butter
1 TSP cinnamon
¼ TSP salt
1 TSP baking powder
⅓ cup honey
⅓ cup apple sauce
2 TBSP almond milk
Instructions
Preheat oven to 350 degrees. Coat a large baking sheet with cooking spray.
Combine the sunflower butter and honey in a small saucepan over low heat, stirring often until melted together.
Add in the cinnamon, banana, apple sauce and almond milk. Stir to combine.
In a bowl, combine the rolled oats, almond meal, cinnamon, salt and baking powder.
Pour the sunflower butter mixture into the oat mixture, stirring with a wooden spoon until evenly combined.
Spoon the batter onto the baking sheet, forming 12 cookies. Cook for 10 minutes, or until the cookies start to brown.
Transfer cookies to a wire cooling rack to cool down before enjoying.
Nutrition Information
Serving size:
1 cookie,
Calories:
170,
Fat:
7g,
Saturated fat:
1g,
Carbohydrates:
23g,
Sugar:
12g,
Fiber:
3g,
Protein:
5g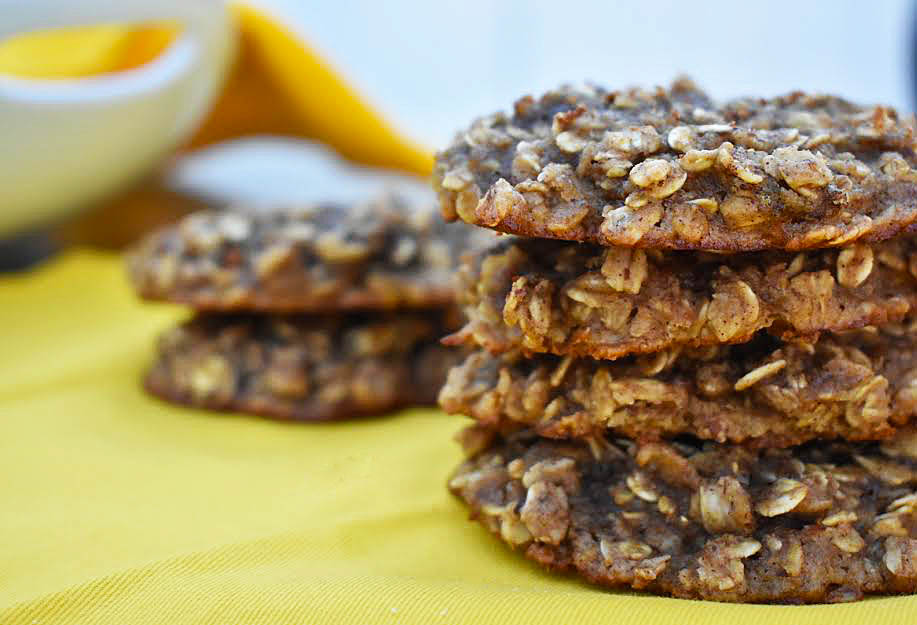 Tell me… Have you tried sunflower butter yet? Have you been sick recently?