Hello, hello!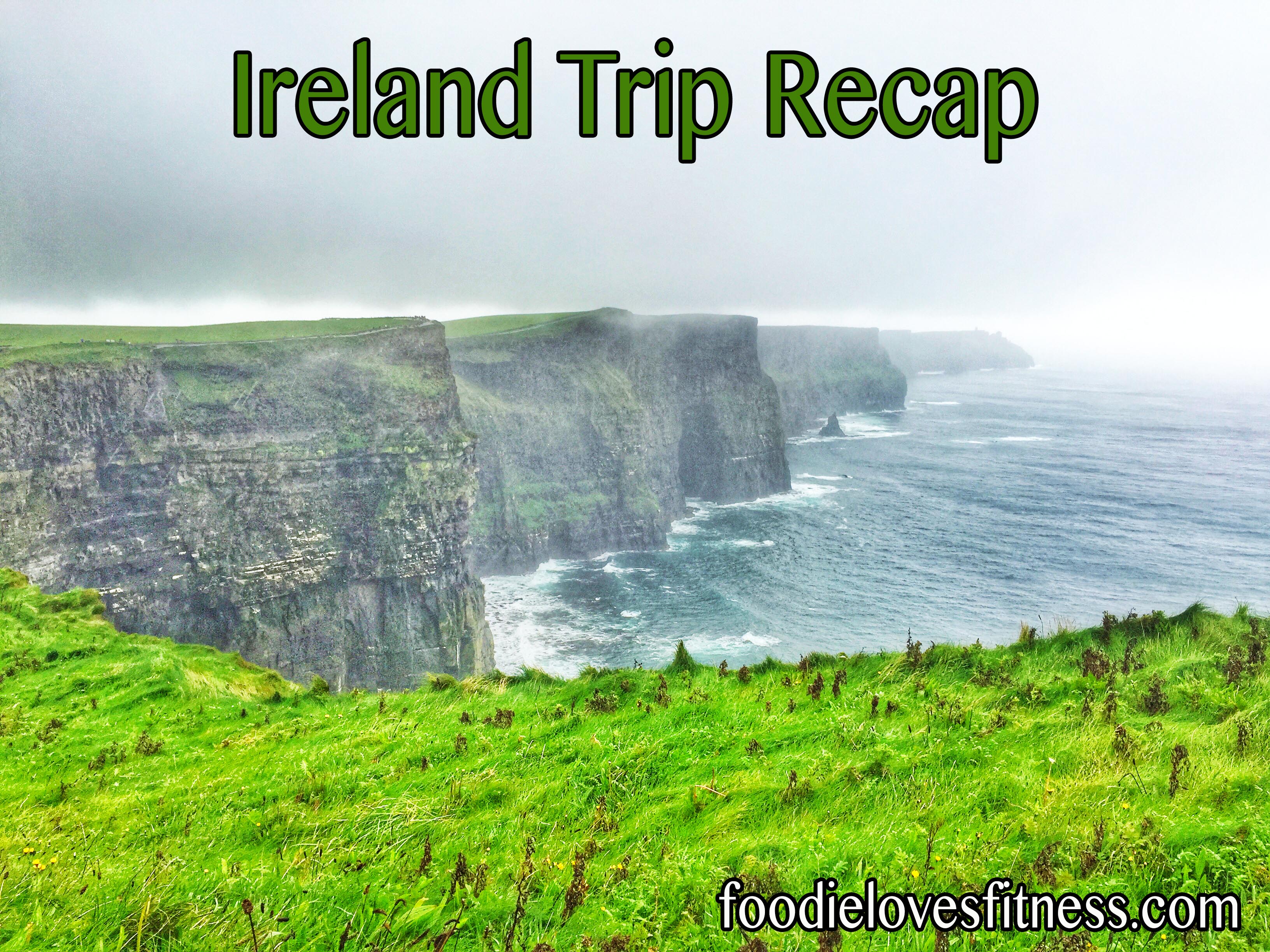 Last week I talked about my favorite adventures in Dublin on my recent trip to Ireland, and today I'm back to share a guide to vegetarian eating in Dublin.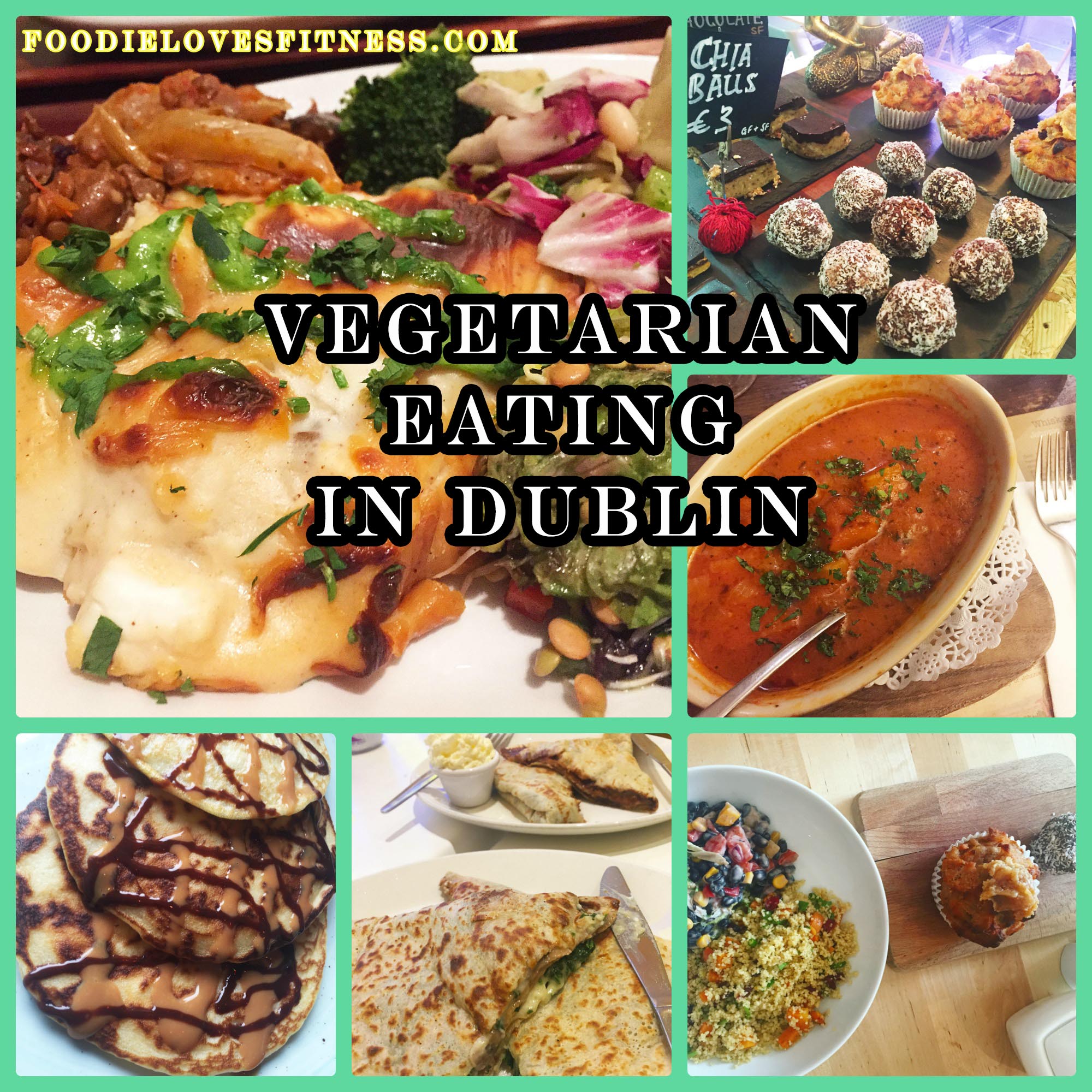 I initially didn't have very high expectations for plant-based eating in Ireland because I know that the traditional Irish diet is very meat-and-potatoes-ish, and also because of my previous experiences in meat heavy European countries like Austria and Germany.
But when I started doing research on eating vegetarian in Dublin, I found that healthy eating in general is becoming more popular in Ireland. I did not have a problem coming up with a list of restaurants to potentially dine at, and I thought that I'd share some recommendations for where to eat veg in Dublin. Here are my favorite meals that I enjoyed in Dublin!
Cornucopia. I learned from my Lonely Planet travel book that Cornucopia is recognized as Dublin's best-known vegetarian restaurant. I ventured there with my parents and sister one night, and it did not disappoint!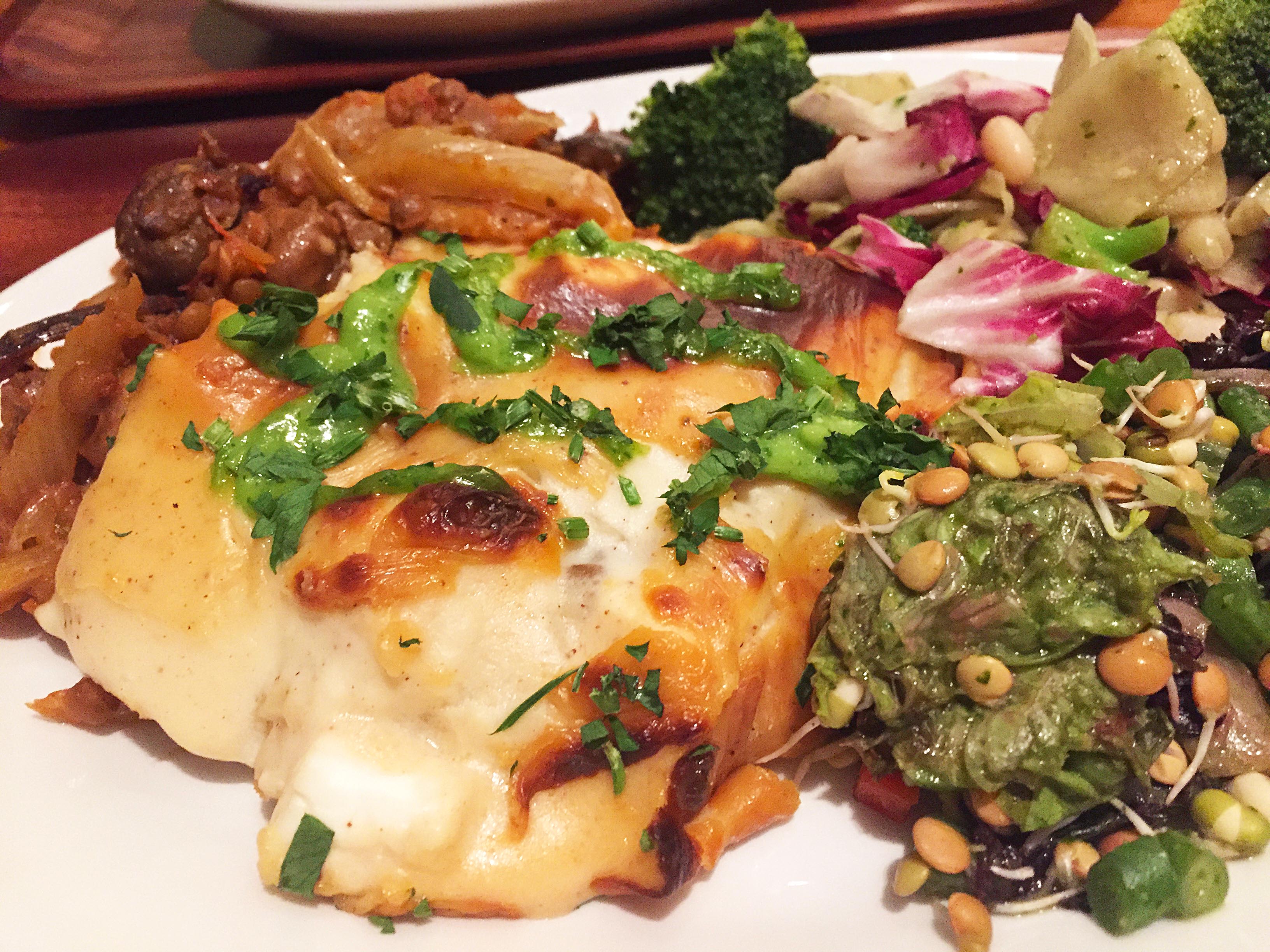 Placing an emphasis on locally grown & organic ingredients, Cornucopia offers lots of wholesome options – from salads and sandwiches to a variety of hot dishes like red onion, leek and sundried tomato polenta cakes with mushroom sauce. The salads weren't your standard boring classics either: they were items like bulgur, fennel, chard and cherry vine in a green chilli vinaigrette.
We were all starving, so we just mixed and matched a bunch of hot dishes with different salads, then dug in and shared all of our plates. I could not even tell you what the below & above pictured dishes actually are, but everything was fresh and flavorful!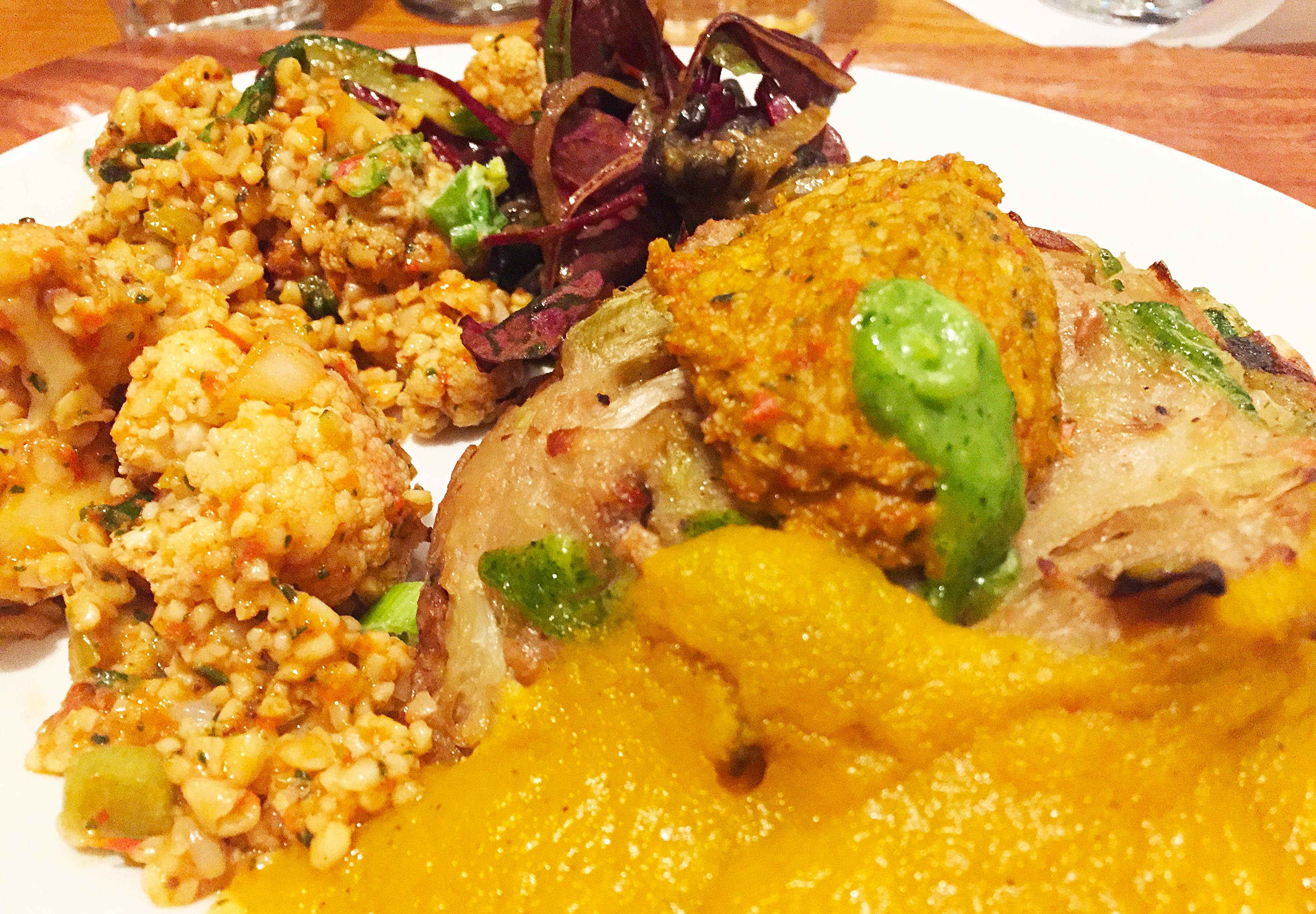 The restaurant has a ton of seating and is located in the heart of downtown Dublin.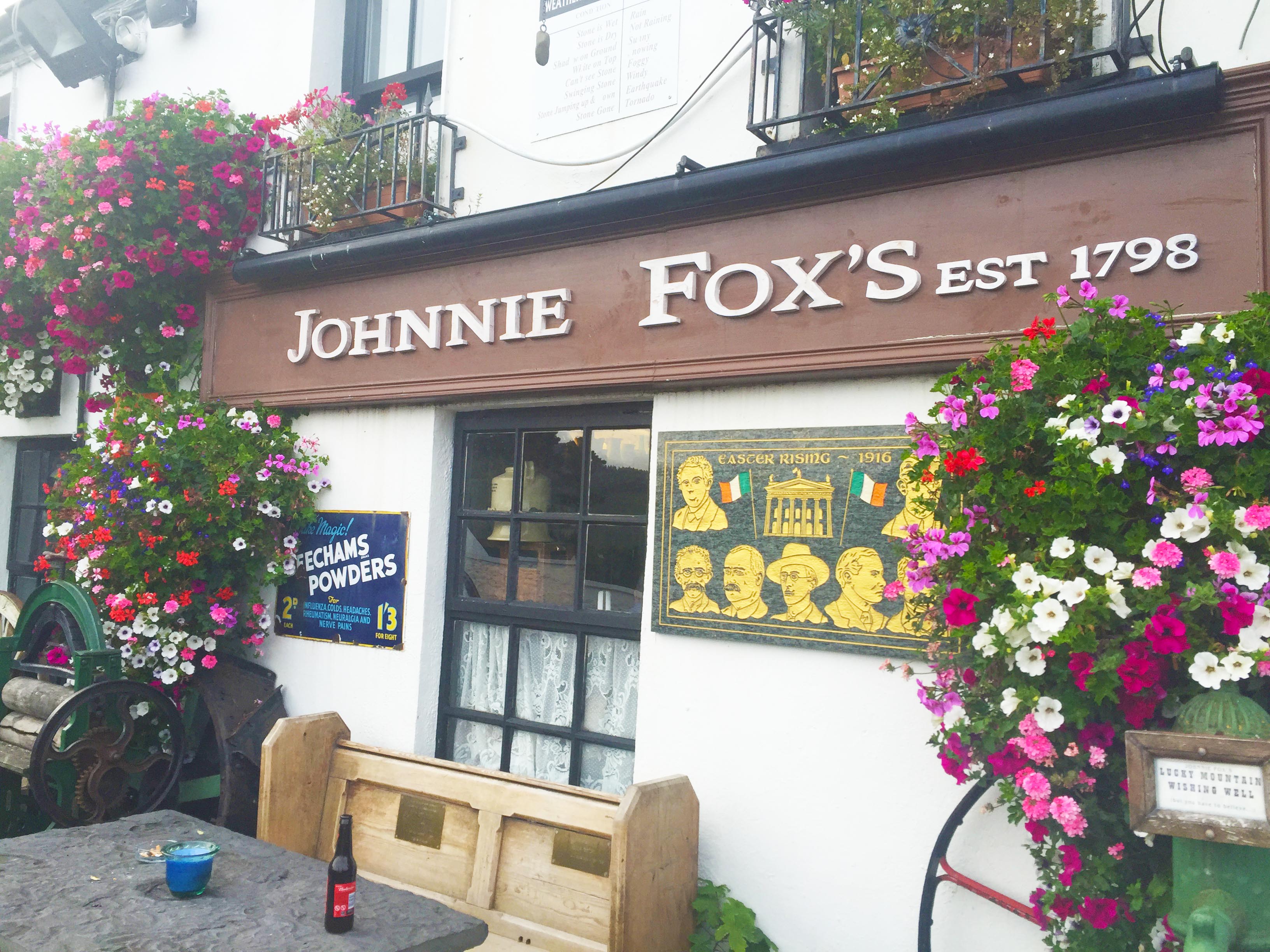 Johnnie Fox's. The very first night in Ireland, we ventured maybe half an hour out of the city to one of Ireland's oldest traditional pubs called Johnnie Fox's. Situated in Glencullen on top of the Dublin mountains, it's famed for being the highest pub in the country.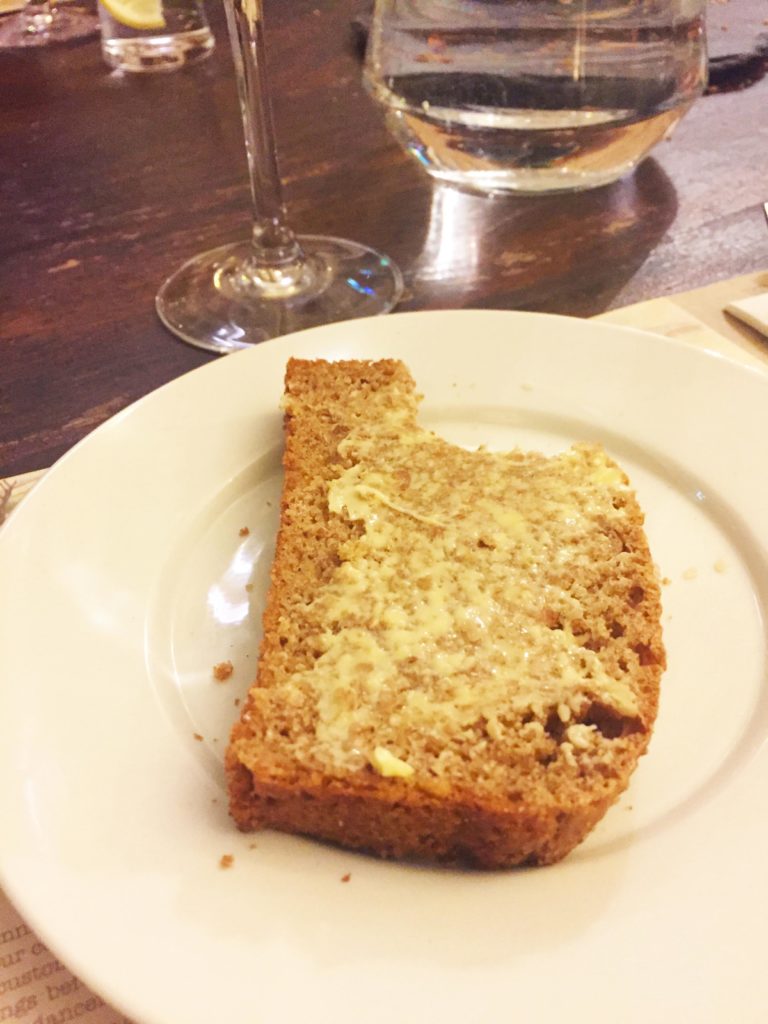 Johnnie Fox's was my first experience with the deliciousness known as Irish bread. I'm a sucker for yummy bread, and whoa, it's so good — grainy, fresh, and just wholesome tasting. This turned out to be a theme in Ireland: awesome fresh bread everywhere!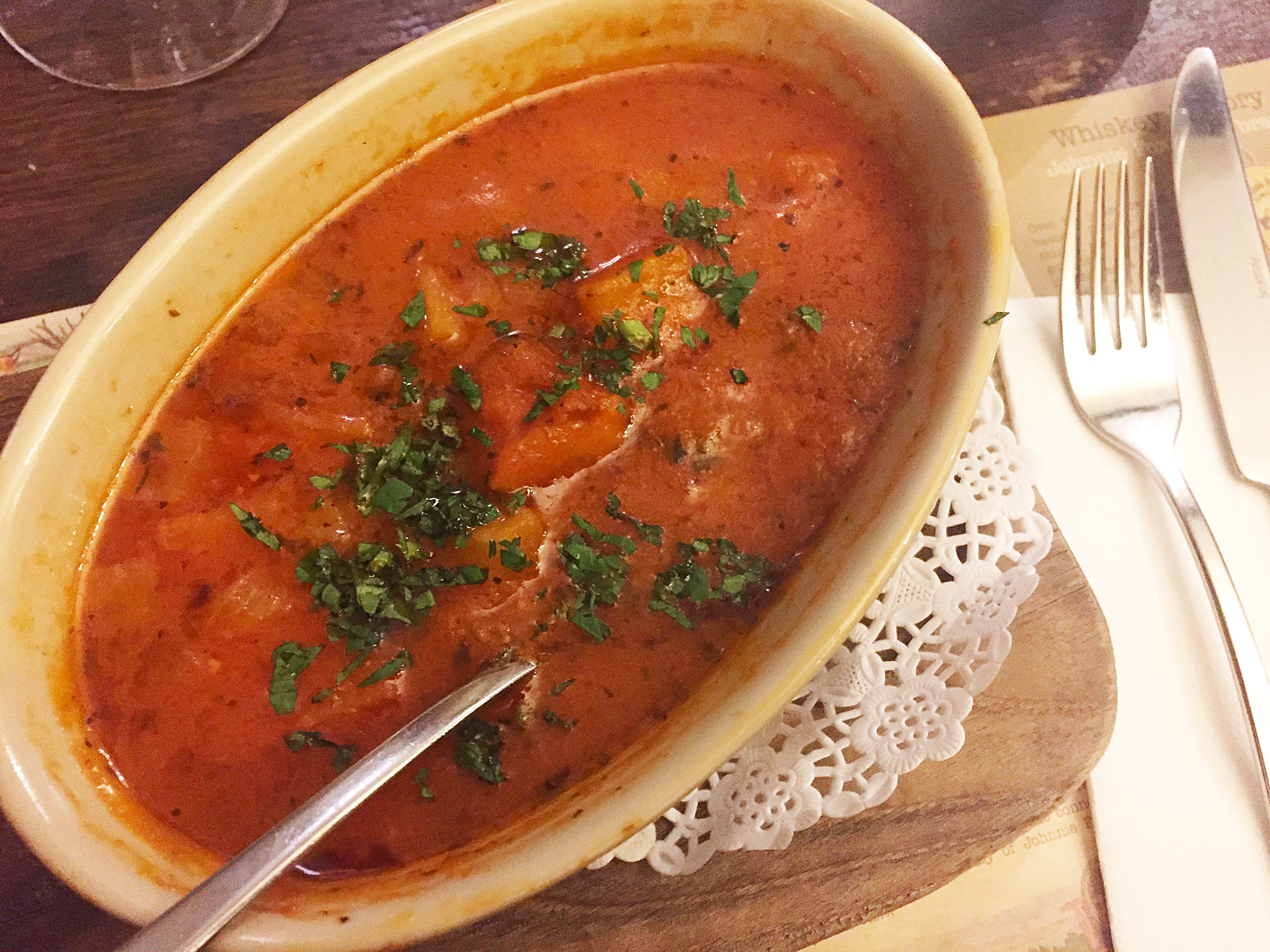 Most of the menu is not vegetarian, but the couple of items they offered that were veg-friendly sounded awesome. With my sister on the trip who's also a vegetarian, it was nice to just split meals with her a lot and get to try multiple items. At Johnnie Fox's we ordered their vegetable lasagna + the above pictured bean & veggie stew. Both were delicious, and tasted even better after a day of not really eating real food & just snacking while traveling!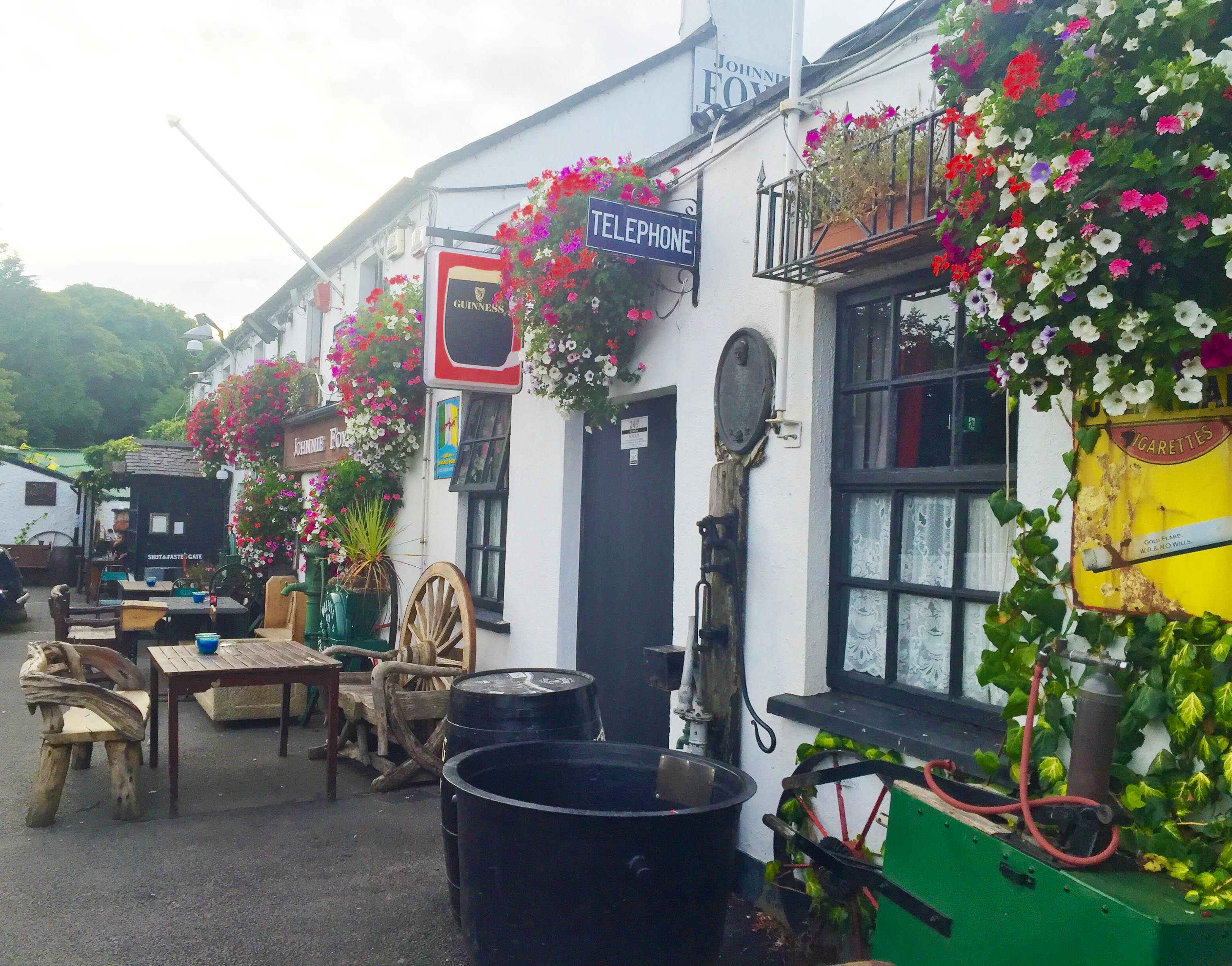 They play traditional Irish music every night at Johnnie Fox's and do live dancing + music shows some nights, but unfortunately we didn't go on a live show night, and were all too exhausted from traveling/jetlag to stay for the live music. If I find myself back in Dublin, I definitely would like to head back to Johnnie Fox's for a good meal & some Irish music!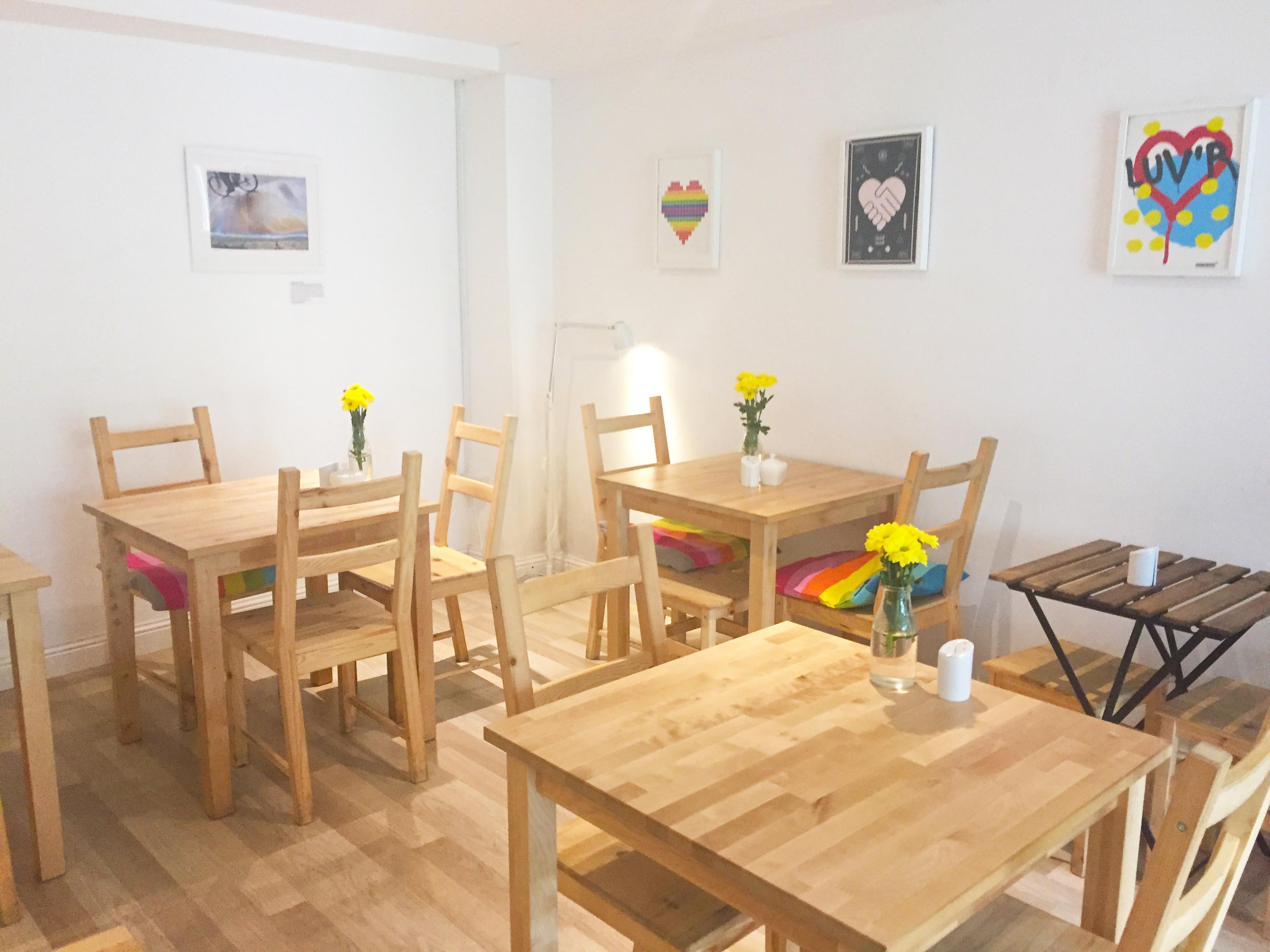 HappyFood at YogaHub. My morning plans one day in Dublin were to take a yoga class at the YogaHub studio, then have some brunch at its vegan cafe, HappyFood.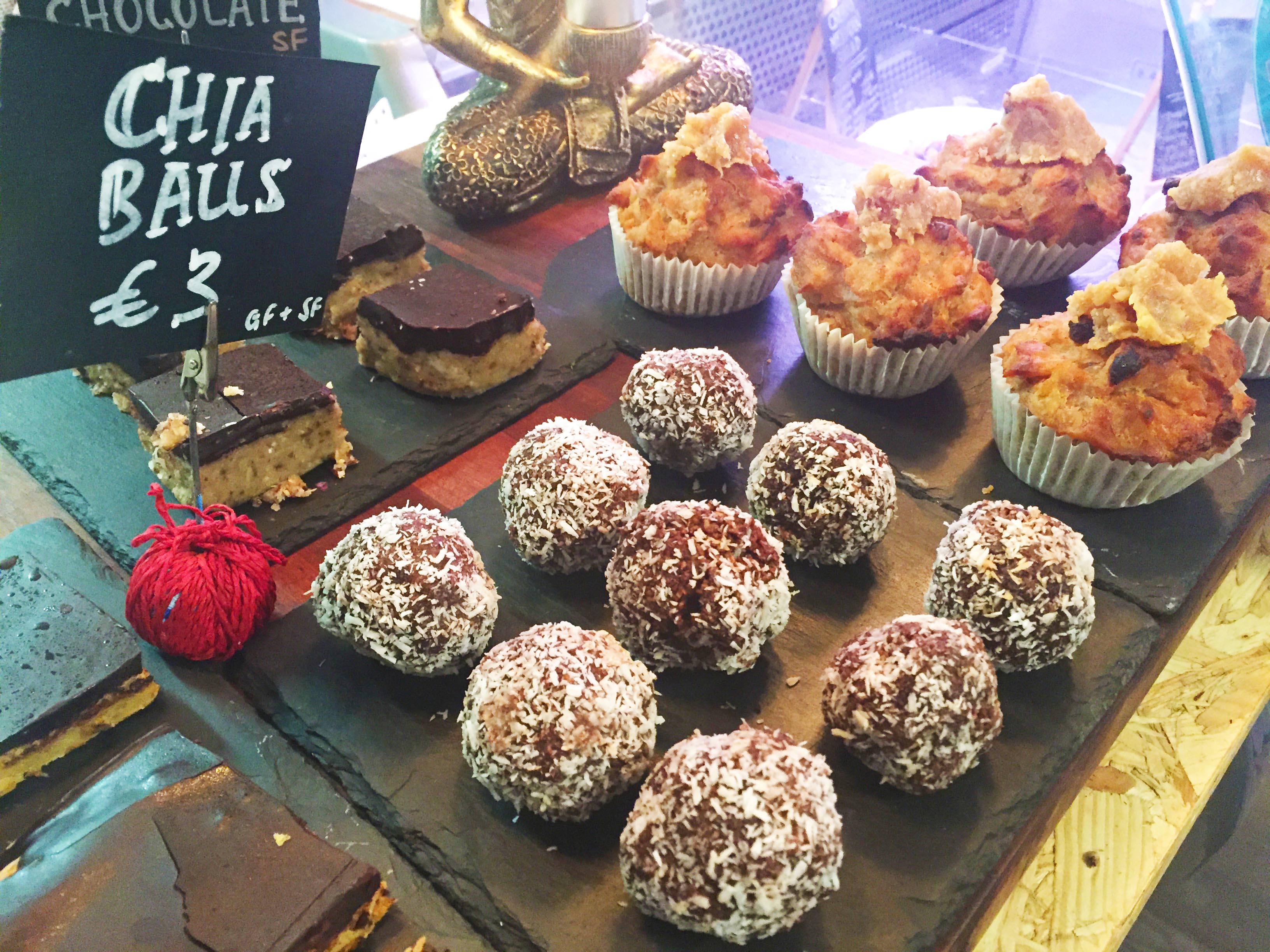 I had scoped out local yoga studios beforehand, and one of the reasons why I chose YogaHub was because I wanted to try its vegan restaurant. With my boozy Dublin nights out with my family, sweating it out in yoga + some healthy food was just what I needed.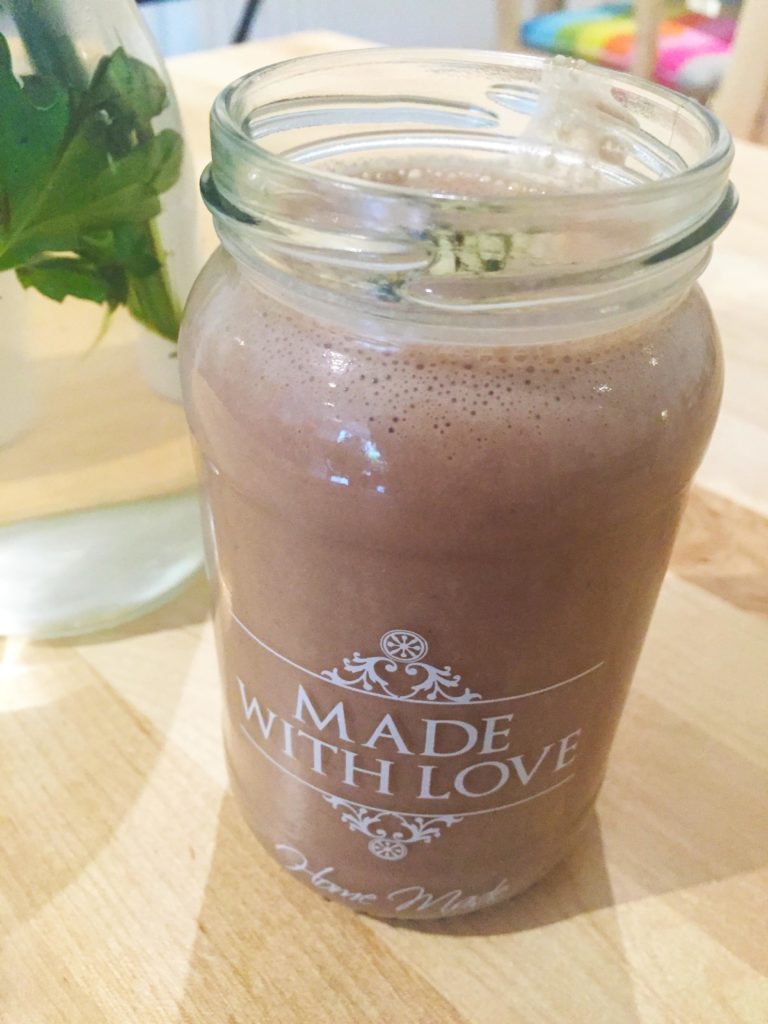 Though it was a little weird at the beginning because the employee there claimed they were closed from serving hot breakfast items and hadn't opened for lunch yet  – it was 11:15 and their sign said that they stopped serving hot breakfast at 11:30 – we were able to order smoothies and dishes that were in the display. I was momentarily bummed because their menu looked awesome, but we were not disappointed with our selections.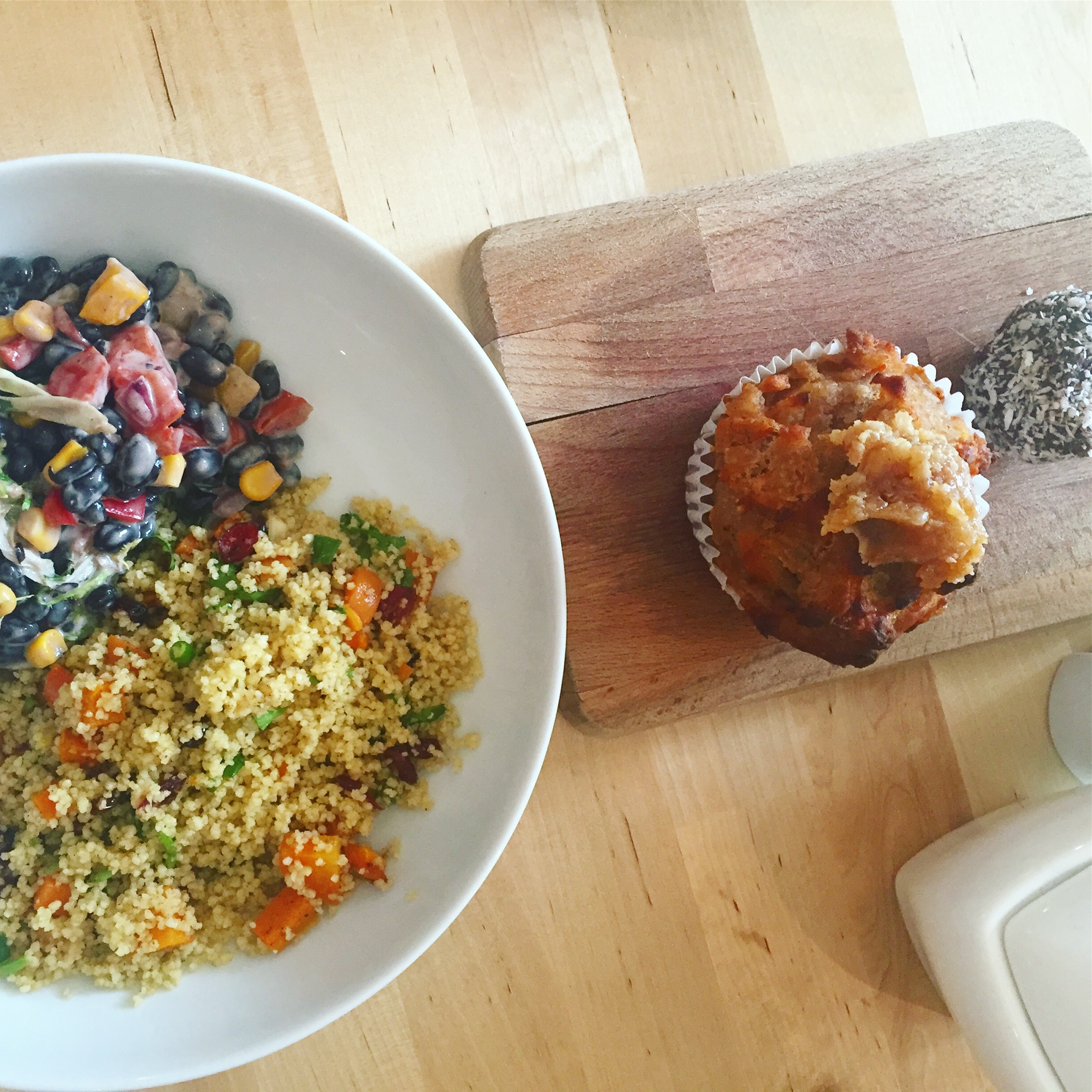 I ordered their Cookie Monster smoothie, which contained peanut butter, hemp, almond milk, cocoa & banana. My mom, sister and I also got a couple of their salads, a muffin, and a chia ball to split.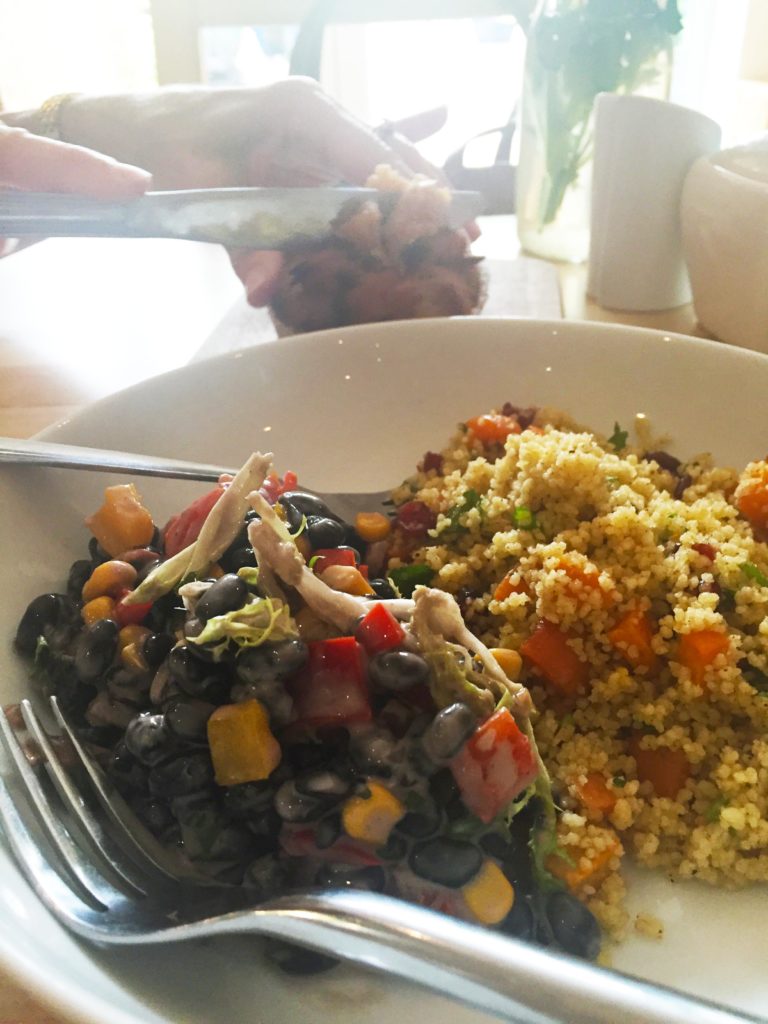 The dishes contained lots of fresh herbs + tasty beans and grains, and the chia ball was like a raw brownie. So good!
Lemon Crepe and Coffee Co.  One day on vacation, my sister decided she was in the mood for crepes… and it doesn't take much to convince me to go on the hunt for crepes! Turns out Dublin has a bunch of places that focus on the wonder known as crepes, and we journeyed over to Lemon Crepe and Coffee Co. The cafe was a cozy little spot in the middle of downtown Dublin.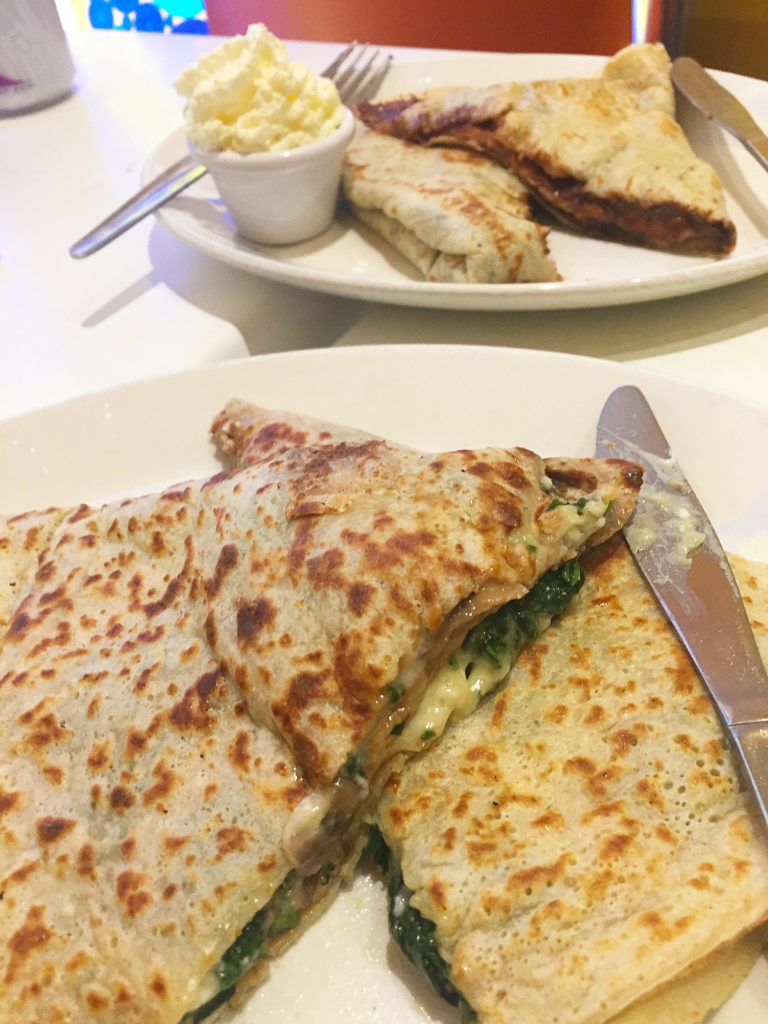 Lemon offers a large menu of freshly prepared crepes, sandwiches, omelettes and pastries. My sister and I went for one savory (which had spinach, mushrooms, cheese) crepe + one sweet one (banana + nutella, obviously) to share.
These crepes totally hit the spot! It was a rainy, cold day, so it was fitting to also enjoy hot chocolates with our crepes. My Uber app wound up malfunctioning afterwards and neither one of us had any Euro left (it was the end of our trip), so we wound up having to walk back a few miles to our hotel in the rain… but it was worth it for those crepes!
Taste! Cafe. On my last day in Ireland when my family left for the airport earlier than me, I ventured around solo for the morning, and found myself at a cute, homey restaurant called Taste! Cafe for some pancakes.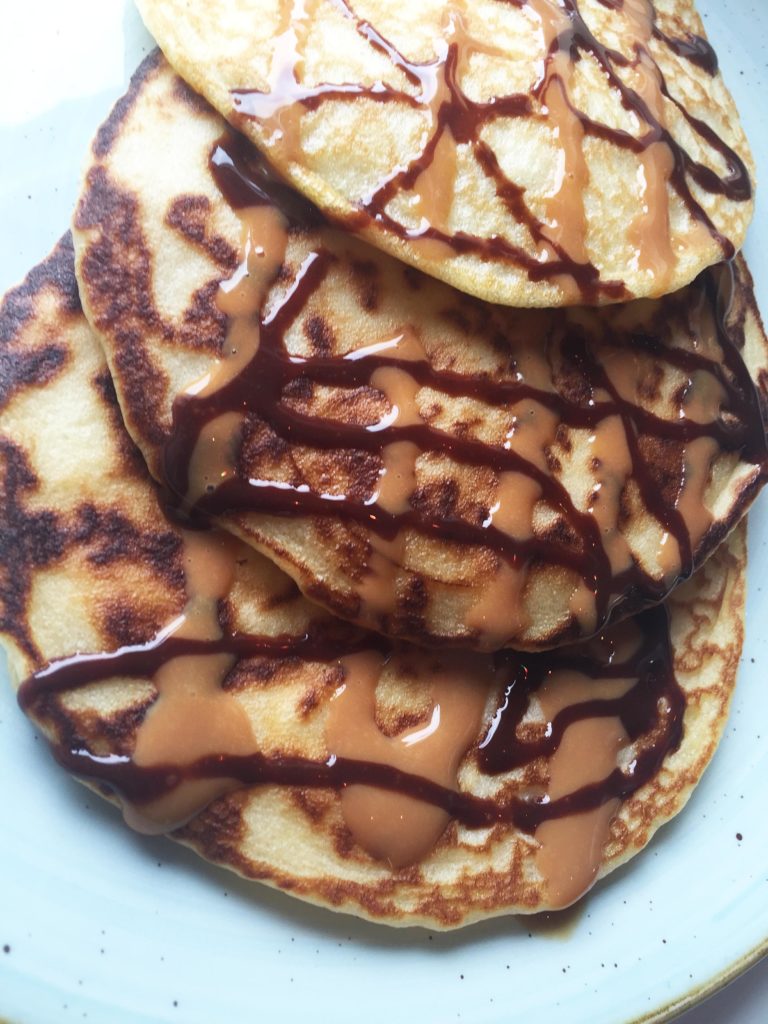 Open for all three meals, the cafe has options for meat eaters and vegans alike, from wraps and sandwiches to omelettes and pasta. Their dinner menu offers vegetarian options like wild mushroom and sautéed leek risotto and house made falafel with sweet potato salad.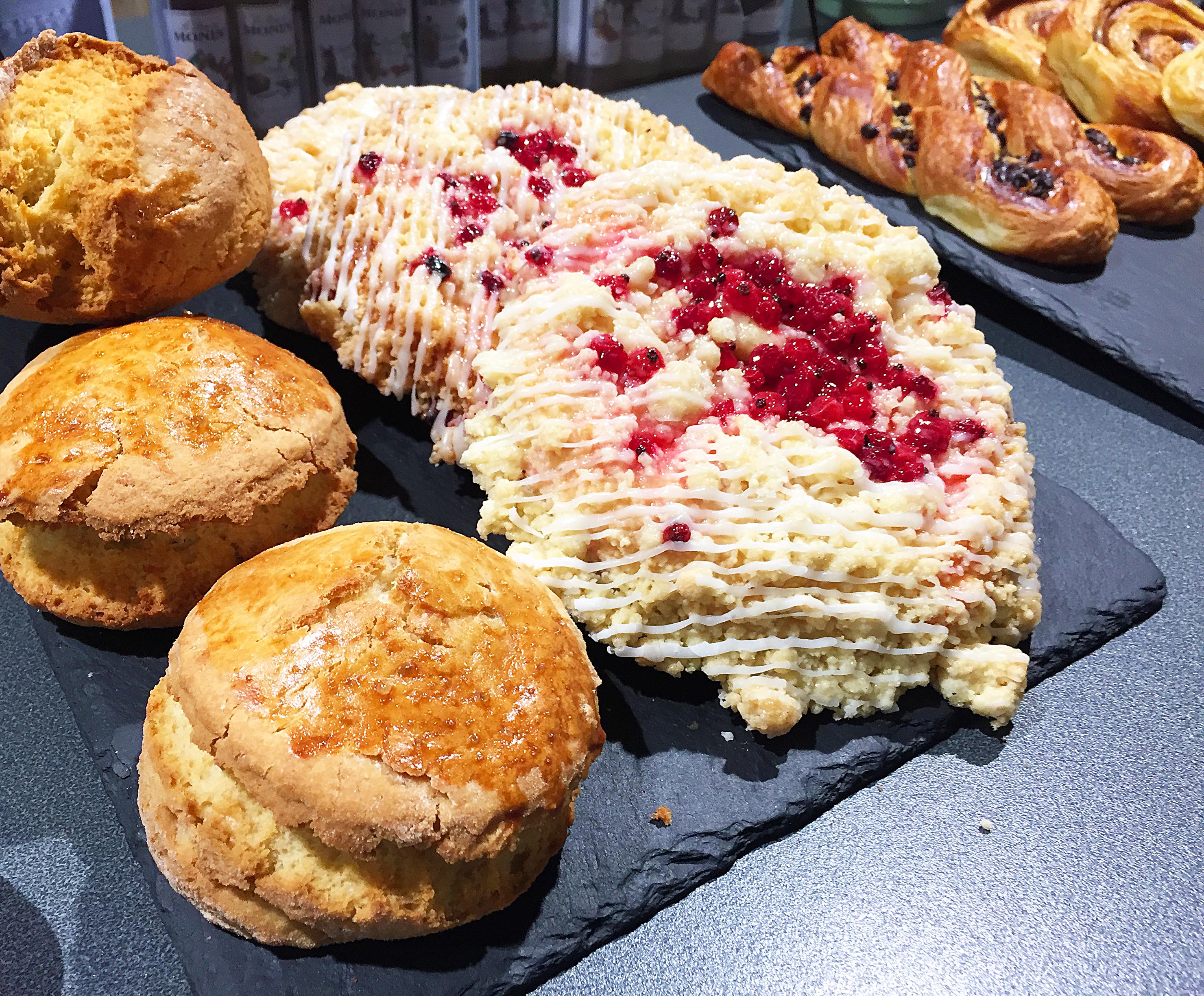 Something I noticed around Dublin and Ireland in general was the presence of delicious looking baked sweets everywhere. I didn't get to try as many as I should have (!), but I love that everything seemed fresh with locally made ingredients.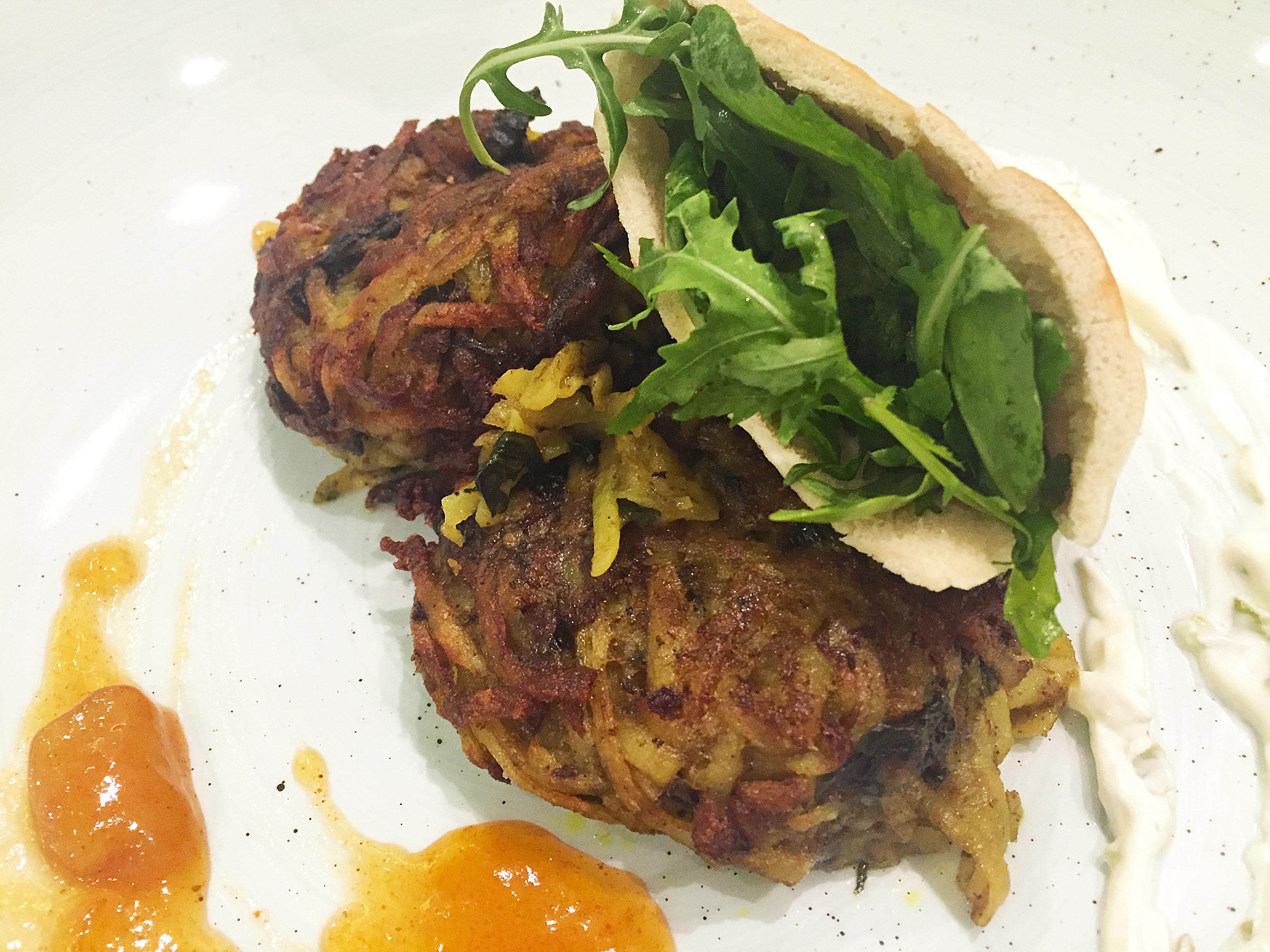 While I did a good amount of research to find plant-based restaurants beforehand, I did also eat at random places a couple of times as well. And I found that most of the time, there were vegetarian options like veggie sandwiches and salads available. Even at the football banquet I attended at our Dublin hotel, the vegetarian option (pictured above) was an interesting curried potato cake dish instead of being something plain and boring. Overall, I was happy with my vegetarian eats in Ireland!
A few restaurants that I missed out on that may be of interest:
Govinda's – an Indian-influenced beans-and-pulses place that has three branches in the city centre
Blazing Salads – a Dublin deli that offers a California-style salad bar {which is why I didn't jump at the chance to eat there – I can get California-style food where I live in California 🙂 } along with smoothies and pizza
Cinnamon Cafe – a family owned cafe that offers healthy vegan friendly salads and soups, like Thai veg curry + Moroccan lentil
---