Hola!
While I'm in Mexico eating what's sure to be an abundance of guacamole, today I'm sharing with you a recipe that revolves around the illustrious avocado, but isn't really Mexican-themed…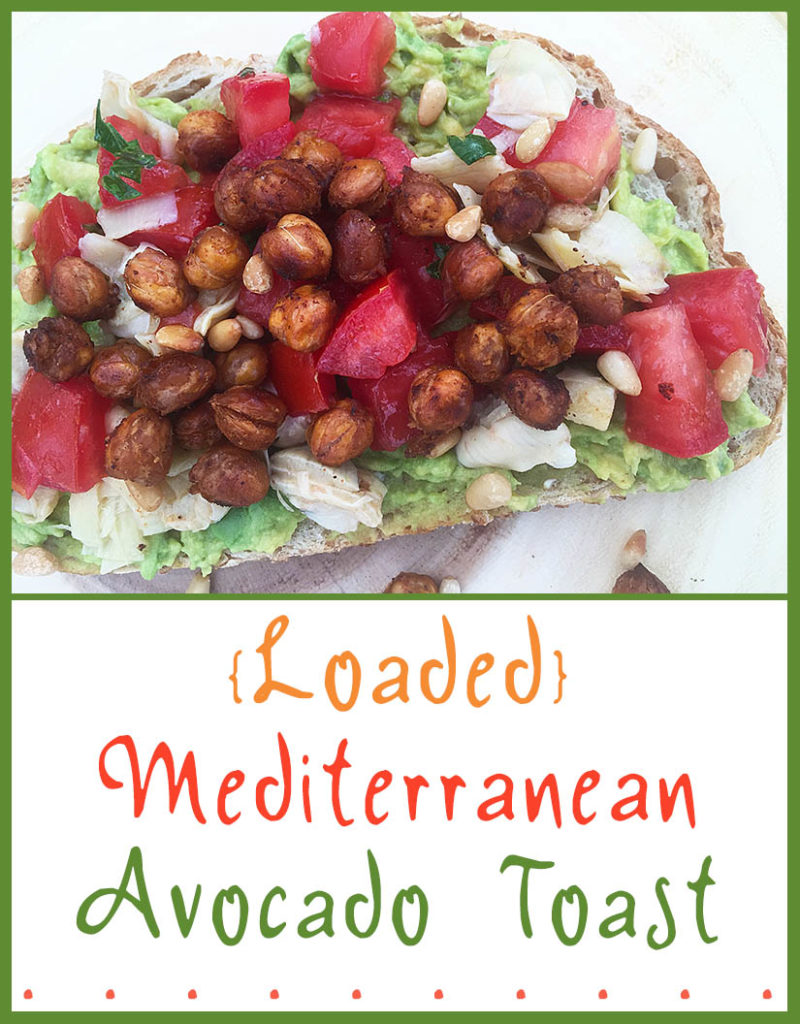 I'm blessed to have my husband for many reasons – one being that he'll try whatever dish I put in front of him.
Whoa, when I typed that I just realized that I totally sound like my mom, who loves that A will eat (& usually enjoy) almost anything. She loves when we visit and he eats her leftovers!
But I mean, what type of cook doesn't like having a loved one around that'll try all of their creations?  Even though A isn't a vegetarian himself, he's open to trying my many vegan and vegetarian dish experiments without complaint. That's why when I received a rare critique from him recently that I was making Mexican dinners a little too much, I got my act together and got a little bit more creative in the kitchen. I believe his exact words were:
"Babe what's for dinner tonight? Quesadillas? Enchiladas? Perhaps some tacos? [smirk]"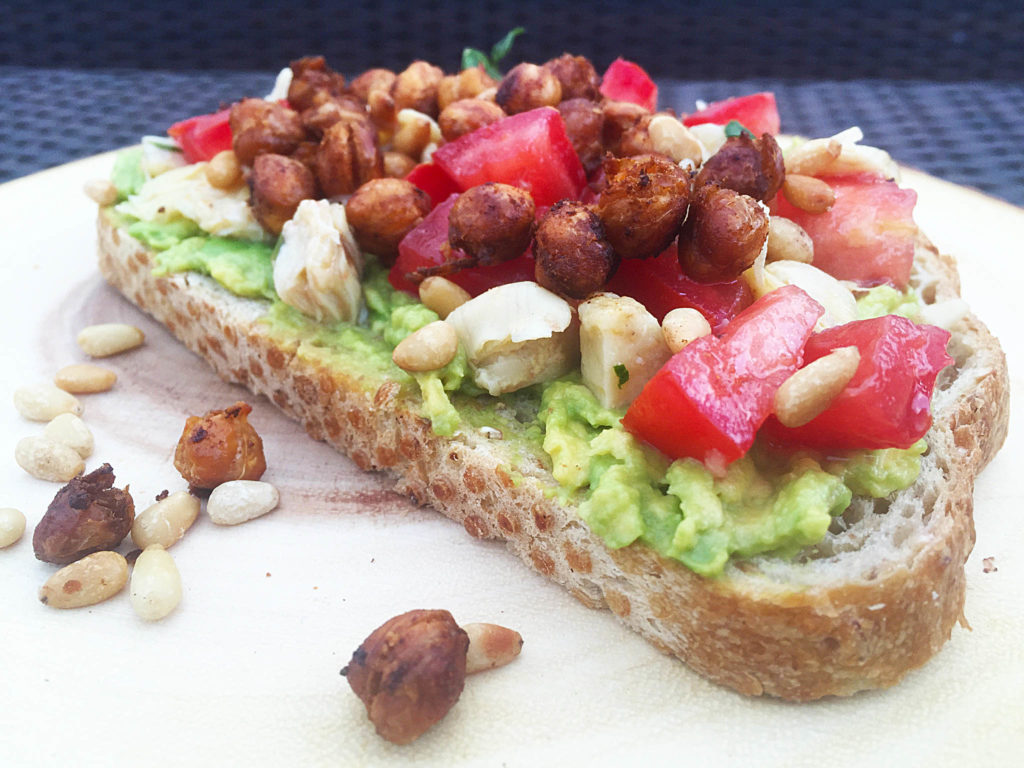 Enough said hubby! I definitely had been relying on my go-to Mexican dinners a lot, and since we had an upcoming trip to Cabo San Lucas planned, I didn't want him to go to Mexico already feeling over Mexican food. So, recently I toned down my love for Mexican food and started making more of my other beloved cuisines – mainly dishes with Italian and Mediterranean flairs.
Recent dinners that have gotten big thumbs up include linguine with asparagus in a white wine lemon sauce, homemade pizza and rosti potatoes with spinach & feta. And then there's today's recipe: the ultimate avocado toast.
It's no secret that I love avocado. An abundance of the ripe fruit is one of the reasons why we'd been eating so many Mexican dinners. For this recipe, I decided to take avocado toast to the next level. It's simple, it's nutritious and it's definitely delicious.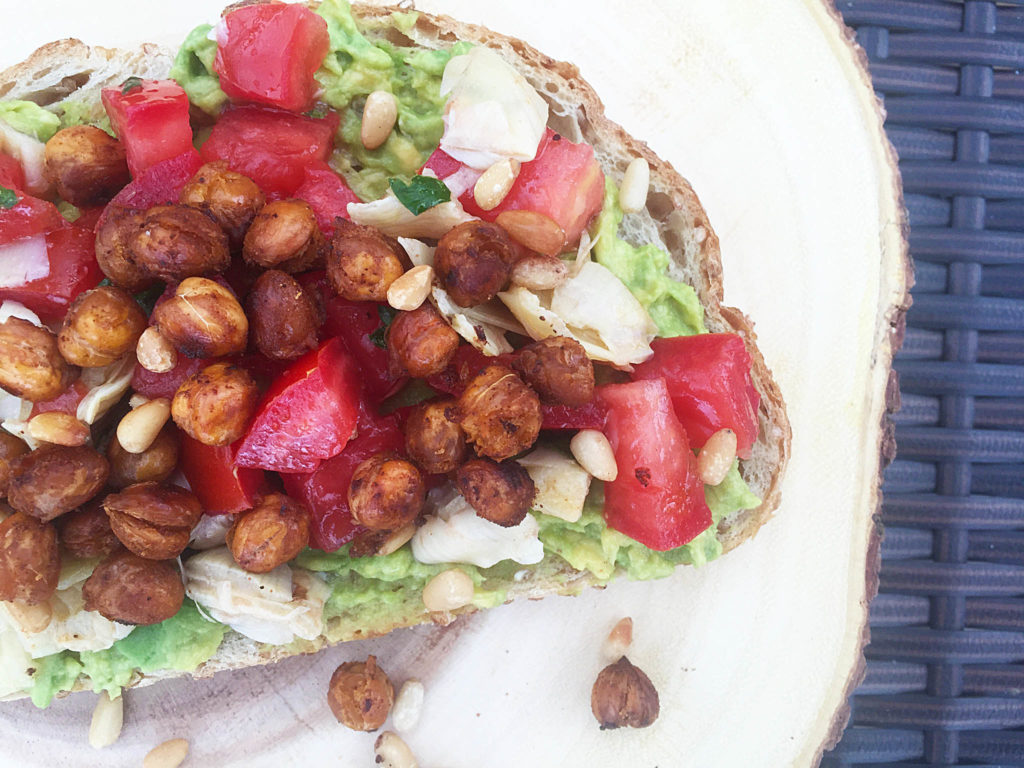 To make it, we toss canned chickpeas with some olive oil and spices, then throw it into the oven to get all nice and crispy.
Meanwhile, we chop some artichoke hearts, Roma tomatoes, and herbs up and combine them in a bowl. I like to use artichokes that are marinated in oil to give the mixture some extra moisture.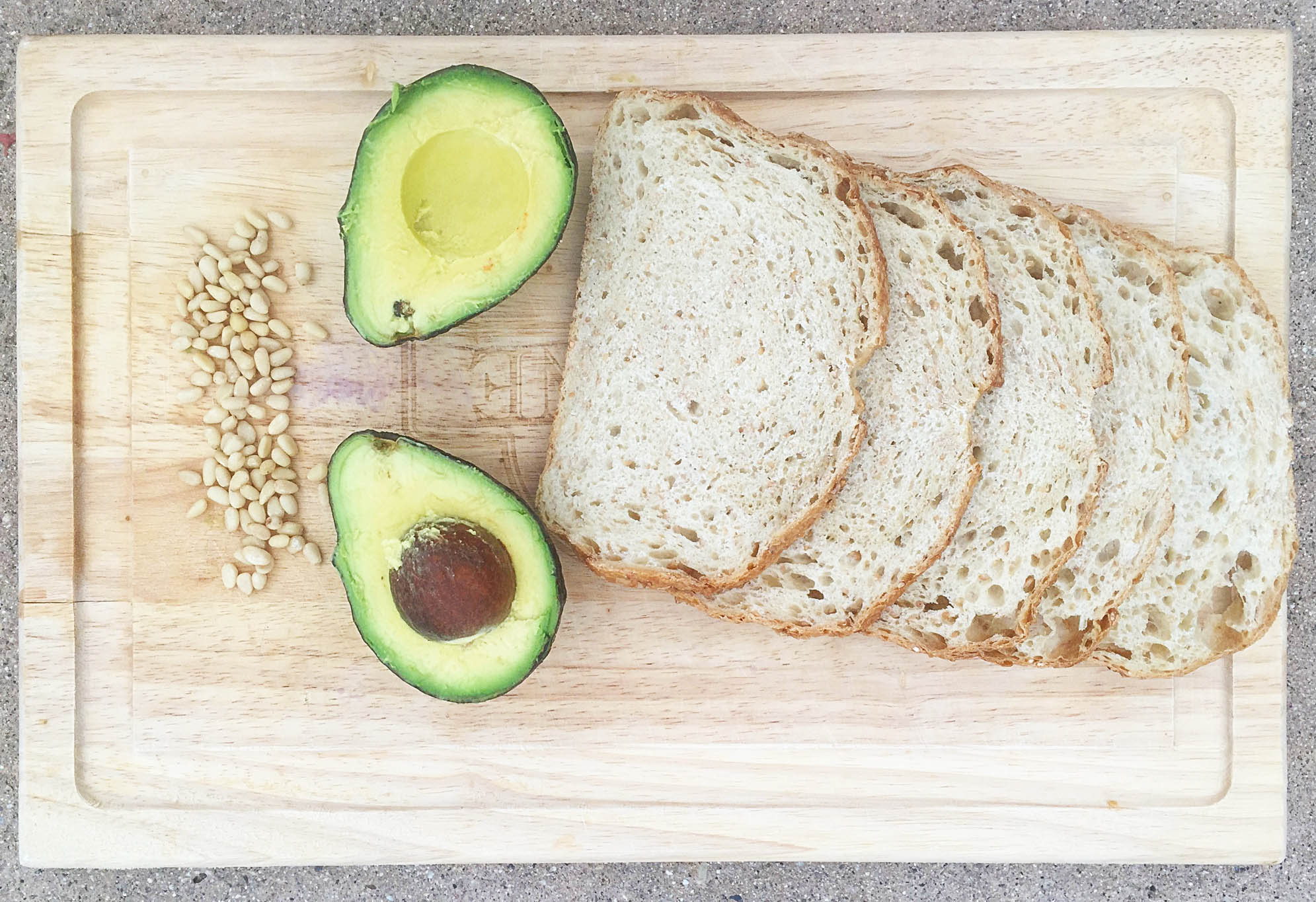 We then toast our bread. I like to use slices of sourdough bread for this, but you can use whatever you prefer.
Next, we mash the avocado, and add in some fresh lemon juice and sea salt. BEST.COMBO.EVER.
We spread it around on the toast, add the artichoke mixture, and top it with the crispy chickpeas and some toasted pine nuts.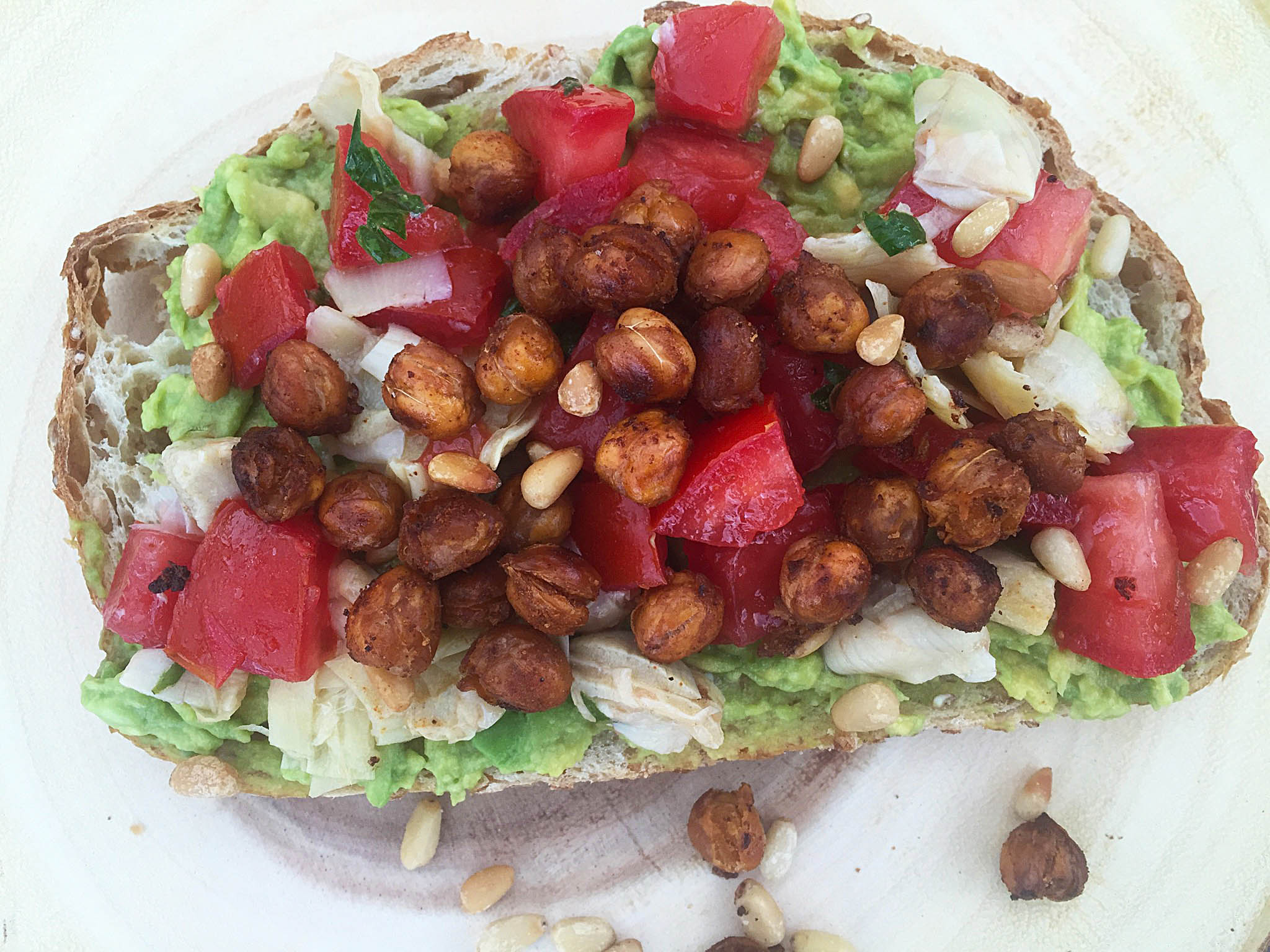 And that's it! I love that it's easy to make but also seems a little fancy schmancy. It makes for a great lunch and we've also eaten this for dinner, but I would also totally have it as a savory breakfast. Bottom line: This avocado toast is SO GOOD!

Loaded Mediterranean Avocado Toast
Author:
Foodie Loves Fitness
Prep time:
Cook time:
Total time:
Ingredients
4 slices of sourdough bread, or whatever type of bread you prefer (use gluten free bread for a GF version of the recipe)
1 medium ripe avocado, pitted
1 cup garbanzo beans, drained and rinsed
2 Roma tomatoes
½ cup jarred artichoke hearts, preferably ones marinated in oil
2 TBSP pine nuts
2 TBSP extra virgin olive oil
1 TBSP chopped fresh basil
1 TBSP chopped fresh parsley
1¼ TSP sea salt, divided into 1 TSP & ¼ TSP
Juice from ¼ lemon
½ TSP paprika
Instructions
Preheat oven to 400 degrees.
Toss garbanzo beans with the olive oil, paprika, and 1 TSP of sea salt. Spread onto a baking sheet and place in the oven to bake for 10 minutes. Flip the beans over with a spatula, and return to finish cooking until browned and crispy for another 5-10 minutes.
Meanwhile, chop the artichoke hearts and Roma tomatoes and combine in a small bowl. Add in the chopped parsley and basil, and toss the mixture together. Set aside.
Place the bread slices in the toaster, and cook until lightly browned.
While the bread is toasting, mash the avocado with a fork. Squeeze lemon juice on top, and sprinkle the remaining sea salt. Mix together well.
Place the pine nuts in the toaster to lightly brown (Be careful, they cook fast!).
Spread the avocado evenly on top of the toasted sourdough slices. Spoon the tomato mixture onto each slice. Spoon the crispy chickpeas onto each avocado toast, and sprinkle the pine nuts on top.
Enjoy!
Nutrition Information
Serving size:
1 avocado toast slice,
Calories:
350,
Fat:
17 g,
Saturated fat:
2 g,
Carbohydrates:
42 g,
Sugar:
3 g,
Fiber:
8 g,
Protein:
10 g
Tell me…  Do you ever go overboard with eating Mexican food too often like I did? What's the latest dish you've made that's gotten a big thumbs up in your household?