Last year when I shared a recipe for cinnamon baked apple & peanut butter oatmeal, I proclaimed that it'd probably be the only hot oatmeal recipe that I ever post since I'm not a huge oatmeal bowl fan. However, what I've realized is that I love to use oats all the time in recipes.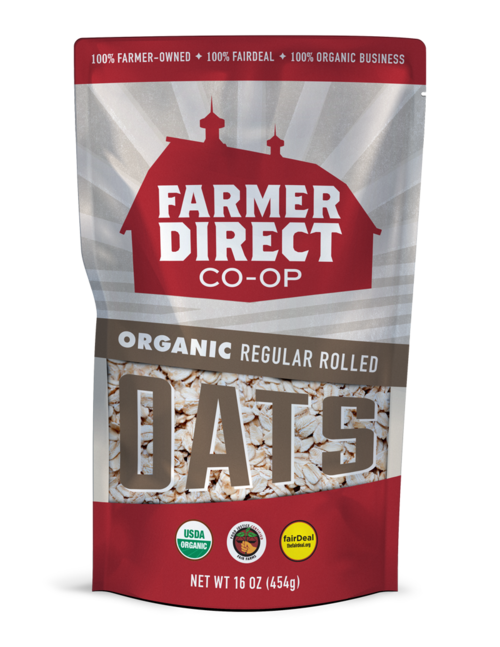 I love what a great source of fiber oats are, which definitely keeps my belly fuller for longer. When people come to me and ask how they can add more fiber into their diets, guess what one of the foods is that I always tell them to eat more of? OATS!
They're a staple in my kitchen, and there have been countless recipes incorporating use of them on the blog – including PB & J oatmeal crumble bars, oatmeal walnut hemp energy bites and dark chocolate peanut butter banana oatmeal cookies, to name a few. And today I have another yummy oat-centric recipe to share with you: blueberry chia oatmeal bars!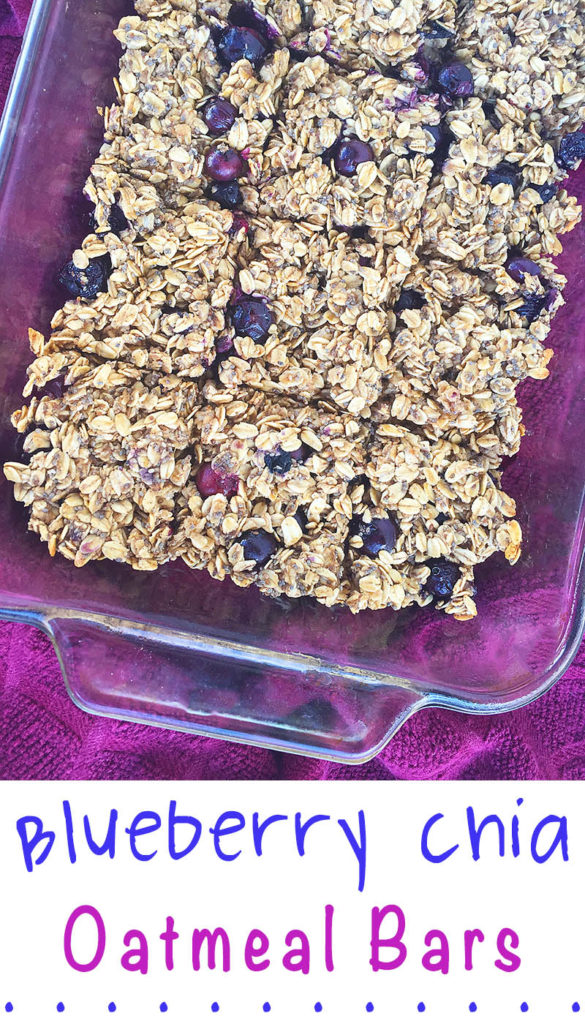 Recently I received a package of goodies from the folks at Farmer Direct Co-op – a farmer-owned, fair deal, organic producer of grains, legumes and oilseeds based in Canada.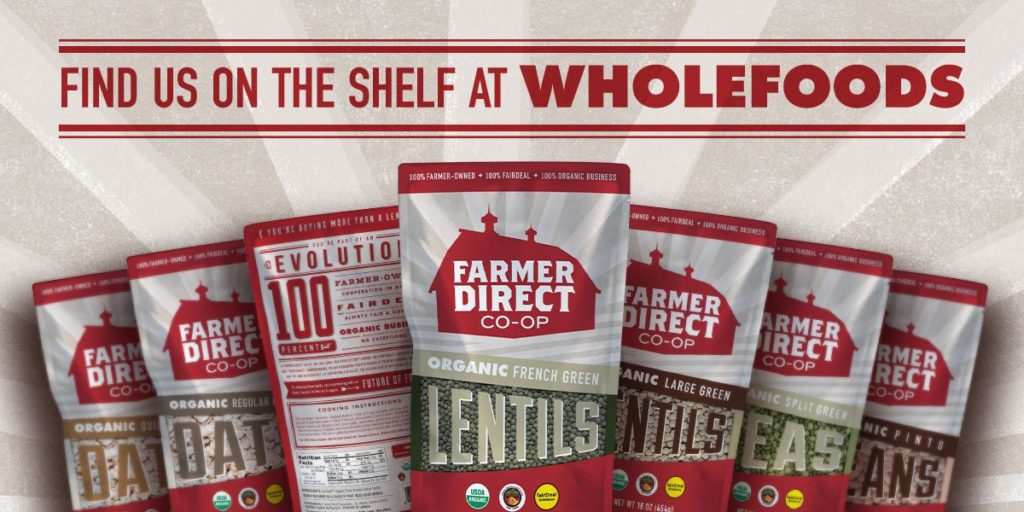 They're actually the only company in North America to combine farmer ownership, domestic fair trade and organics under one brand, which makes them pretty awesome in my book! One of their sister brands is Organic Valley, whose milk I buy for my husband every week to feed his love for chocolate PB protein shakes.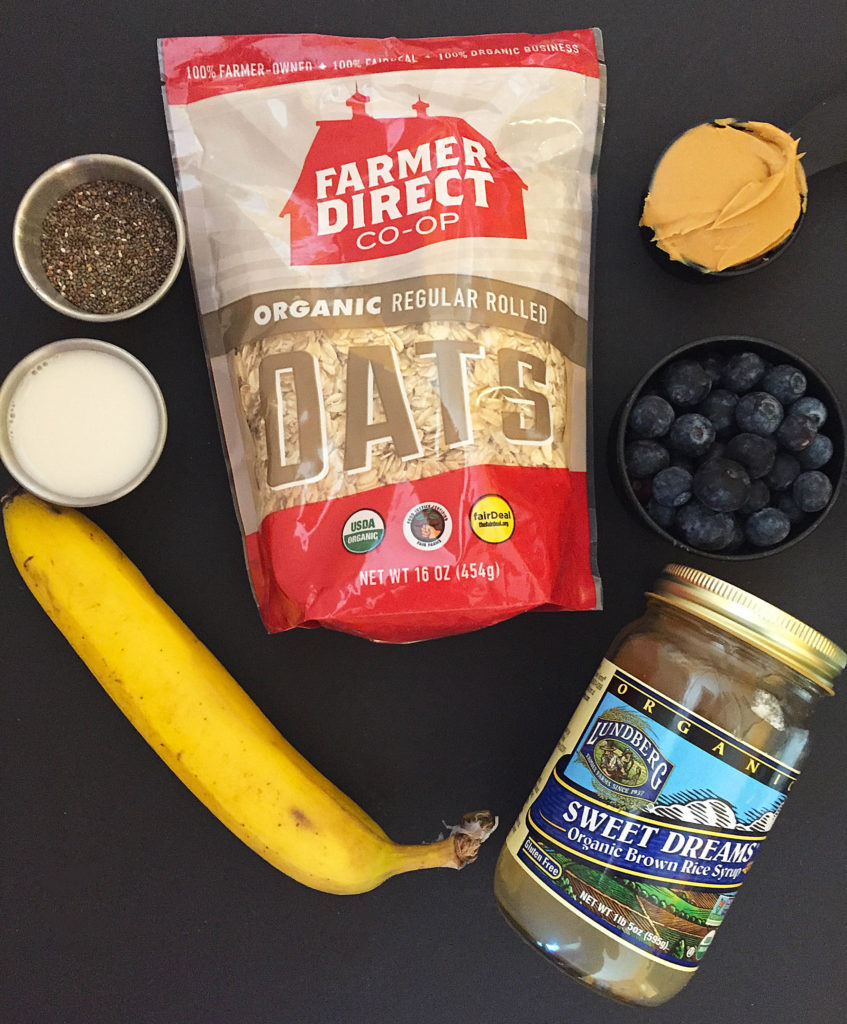 To make these bars, I combined Farmer Direct Co-op rolled oats in a bowl with (also fiber-rich, as well as omega-3 dense) chia seeds, while melting organic brown rice syrup and peanut butter together on the stove.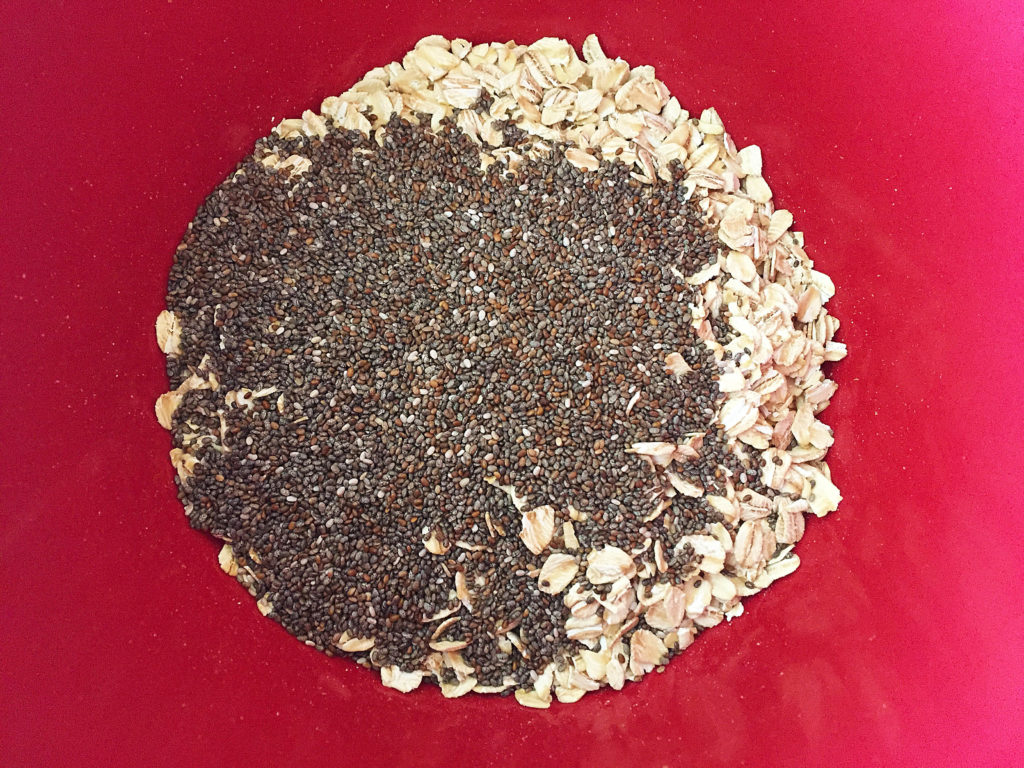 Next, I combined mashed banana, almond milk, cinnamon, vanilla and salt into the saucepan of peanut buttery goodness, and poured the mixture over the oats.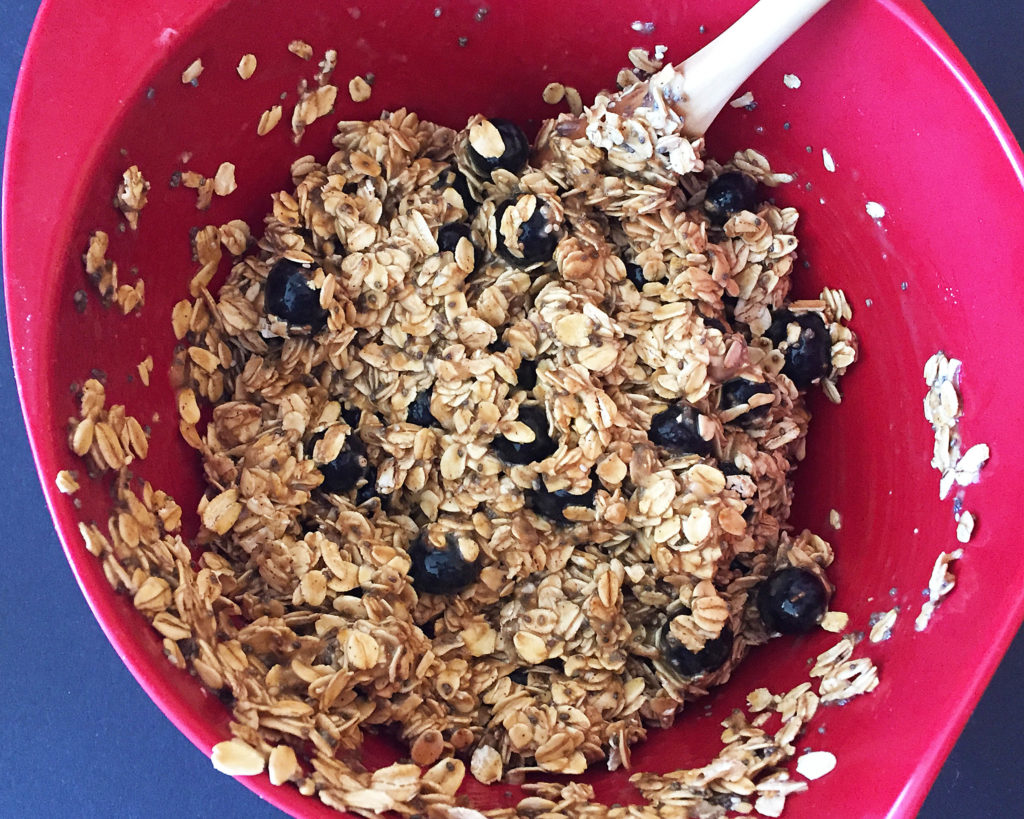 I added in fresh blueberries, mixed it all together, and poured it into a baking dish…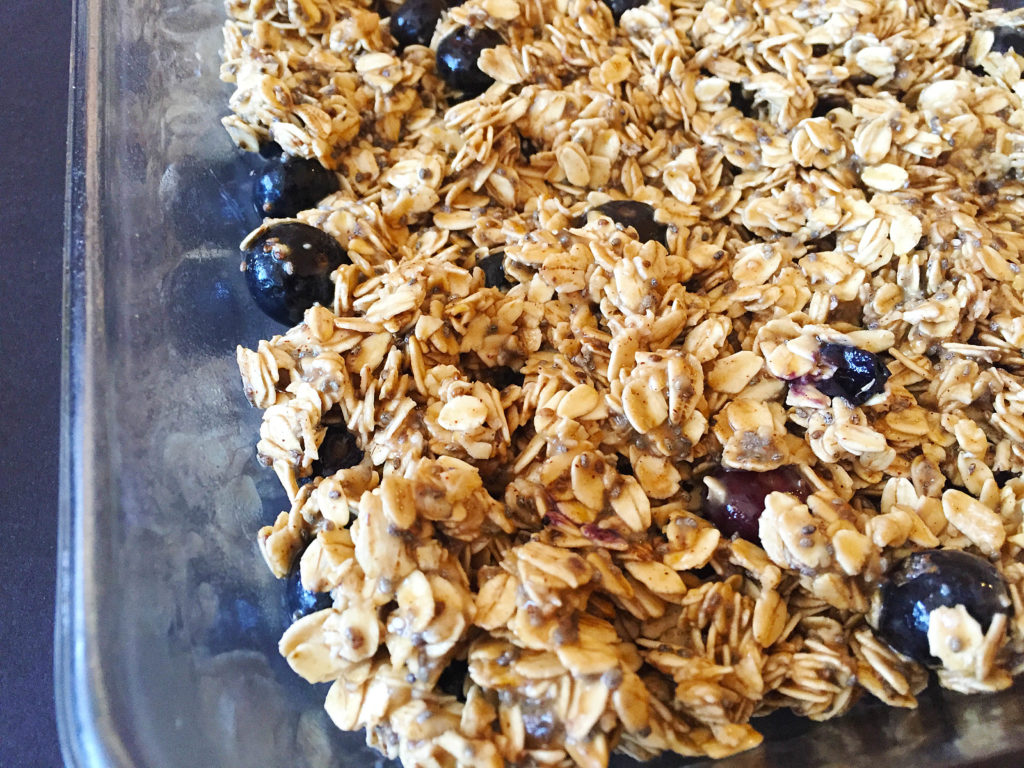 …and baked it until the oats became lightly browned and the blueberries were bubbly and juicy.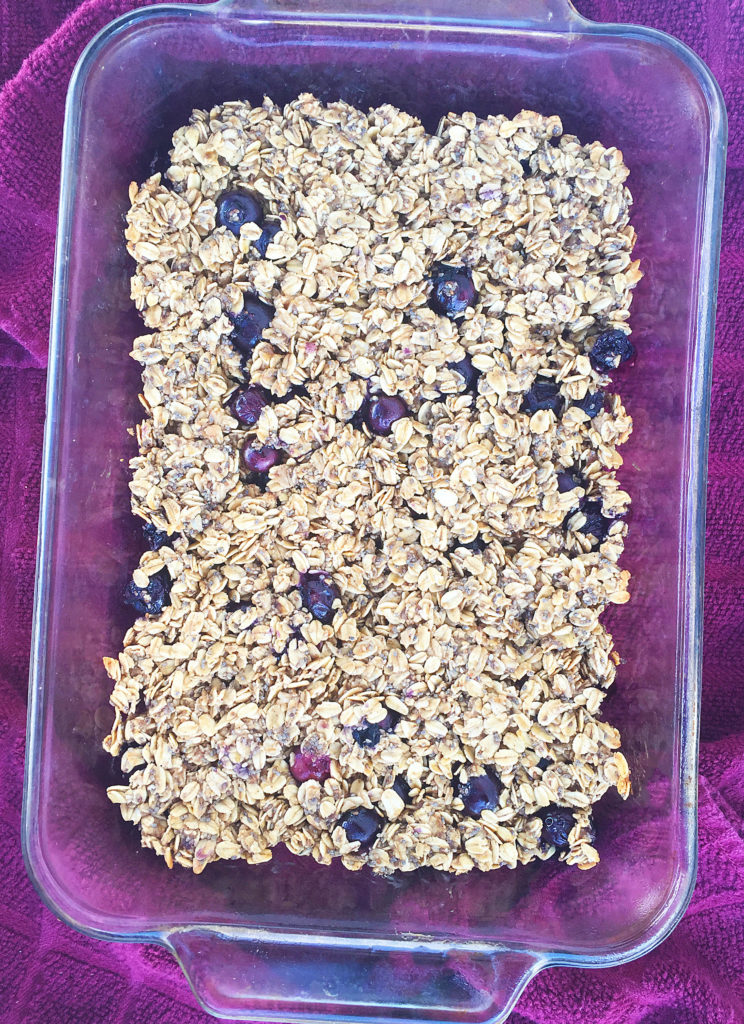 Whip up this recipe on a Sunday morning and voila, you have breakfast for the whole week! These bars are also great as a mid-day snack or healthy dessert.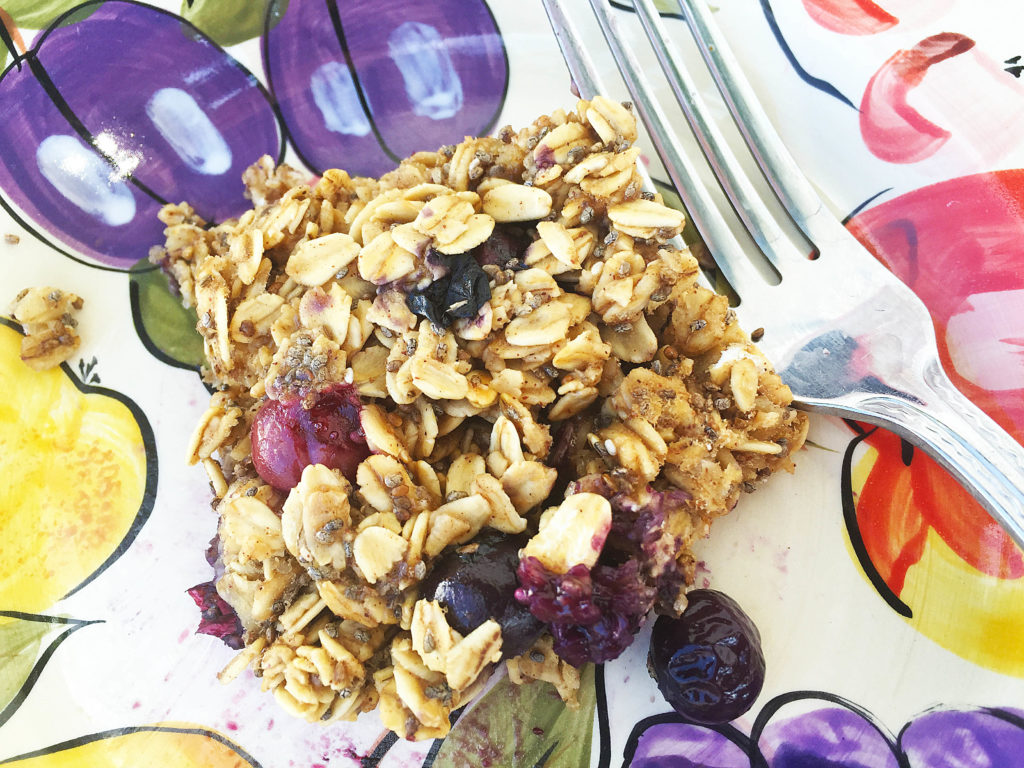 Blueberry Chia Oatmeal Bars [vegan, gf]
Author:
Foodie Loves Fitness
Prep time:
Cook time:
Total time:
Ingredients
3 cups Farmer Direct Co-op regular rolled oats
1 medium ripe organic banana, mashed
⅔ cup organic blueberries
¼ cup organic creamy peanut butter
¼ cup organic brown rice syrup
¼ cup organic almond milk
3 TBSP organic chia seeds
1 TSP vanilla extract
½ TSP cinnamon
½ TSP salt
Instructions
Preheat oven to 375 degrees, and coat an 8x11 baking dish with cooking spray.
Combine the peanut butter and brown rice syrup in a small pot over low heat, stirring often as the mixture melts.
Meanwhile, combine the oats and chia seeds in a mixing bowl.
Add the mashed banana, almond milk, cinnamon, salt, and vanilla to the melted peanut butter mixture, stirring to combine well.
Pour the peanut butter mixture over the oats/chia seeds. Mix together with a wooden spoon. Fold in the blueberries.
Transfer the oat mixture to the baking dish, spreading evenly and pressing down into the dish with the wooden spoon.
Bake for 20 minutes, or until the oats are lightly browned and blueberries are bubbly. Allow to slightly cool before cutting into bars.
Notes
*While none of these ingredients contain gluten, Farmer Direct Co-op regular rolled oats are not certified gluten free, as they are manufactured in a place where wheat is present.
Nutrition Information
Serving size:
1/12 of recipe,
Calories:
170,
Fat:
5 g,
Carbohydrates:
26 g,
Sugar:
7 g,
Fiber:
4 g,
Protein:
5 g
Farmer Direct Co-op has been supplying Whole Foods with bulk bin items for years, but their packaged products are launching in Whole Foods stores this Saturday, May 14th  – which is also World Fair Trade Day – so look out for them on your next grocery trip!
Tell me… Do you eat oats more conventionally as a hot breakfast, or do you use them more in your baking/cooking as I do?