Oh springtime, how I adore you. Gazing at all of the colors outside lately instantly puts me in a good mood. My rose bushes have been blooming like crazy, and every time I step into my backyard and see new flowers blooming, I practically squeal with delight. What can I say, I'm a dork nature lover! It'd be nice if my sinuses didn't hurt every day from my allergies bugging out this time of the year, but I'll focus on the good parts of spring here…
…which leads me to today's post: a recipe ode to the lovely springtime!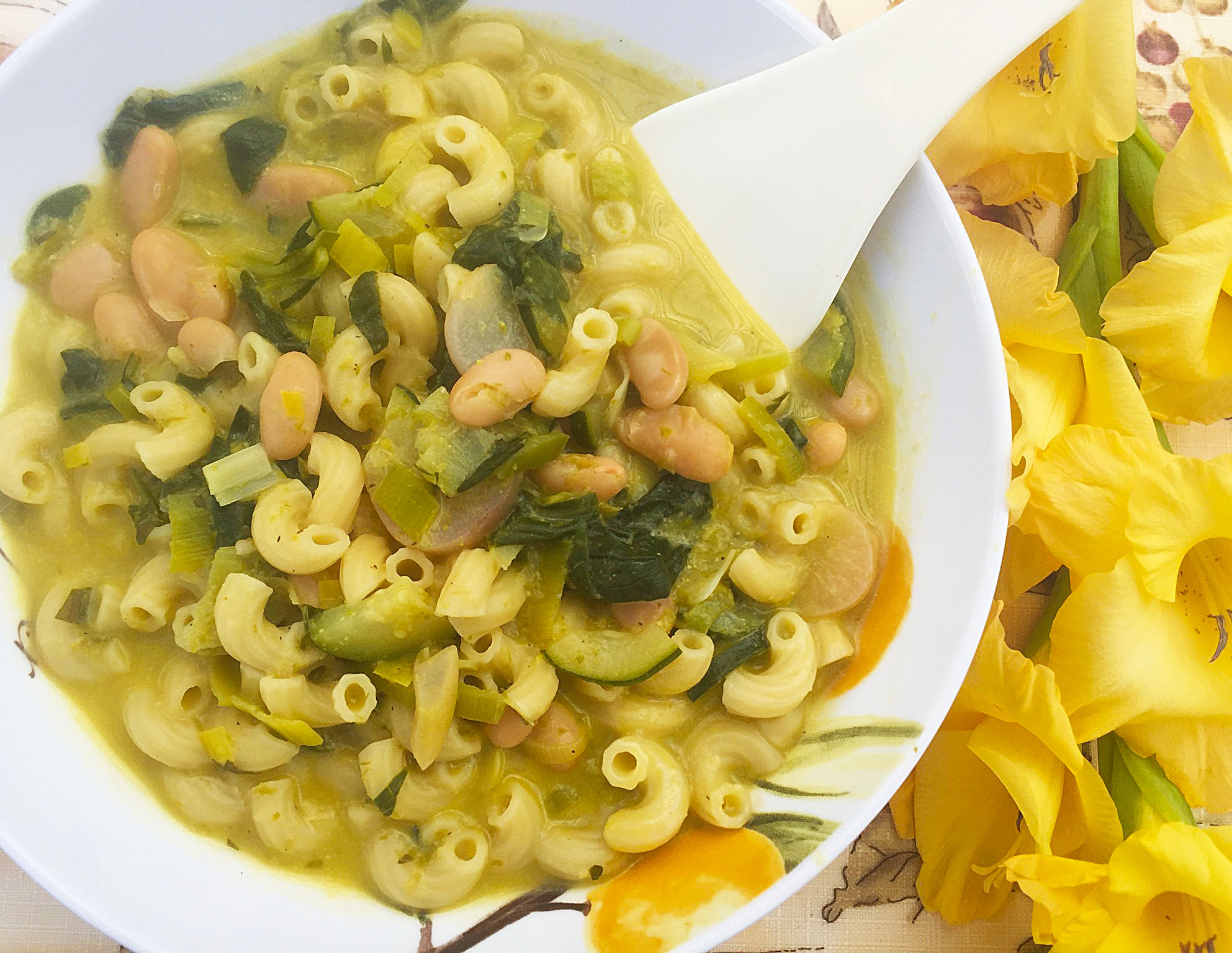 I know I've said it before, but I just love soup. It's such a great way to throw a ton of veggies and goodness into one filling, nutrient dense meal.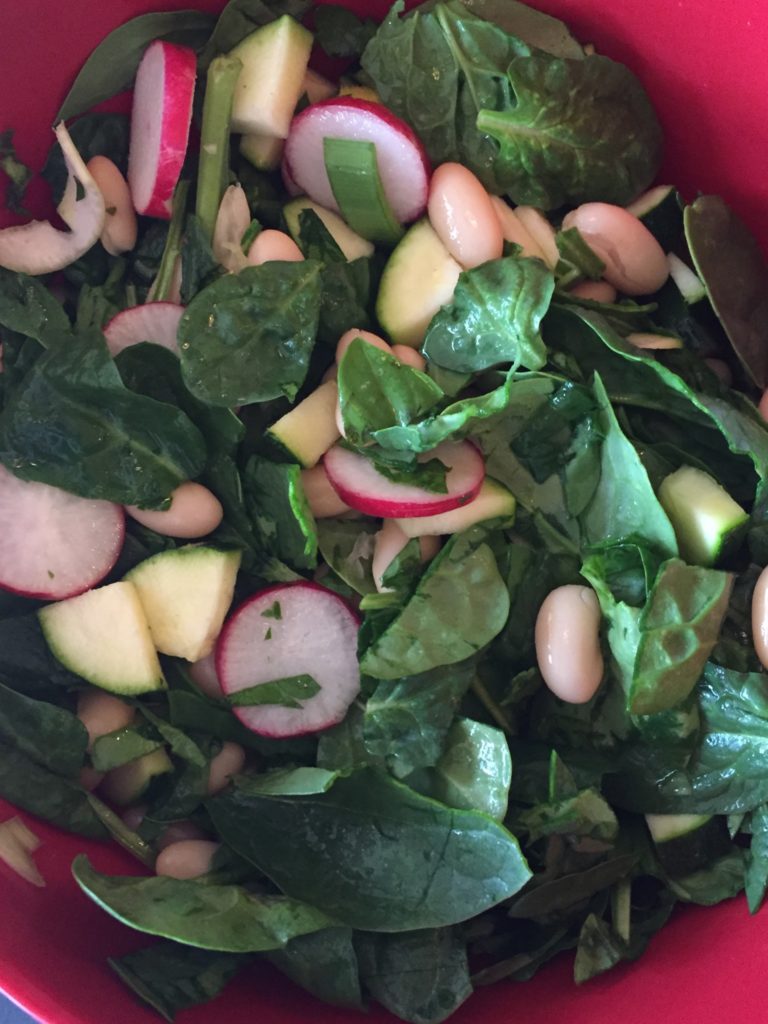 For this recipe, I incorporated a lot of different veggies. I used some herbs from my garden and played around with a few veggies that I don't cook with all that often – including radishes. I really liked using them…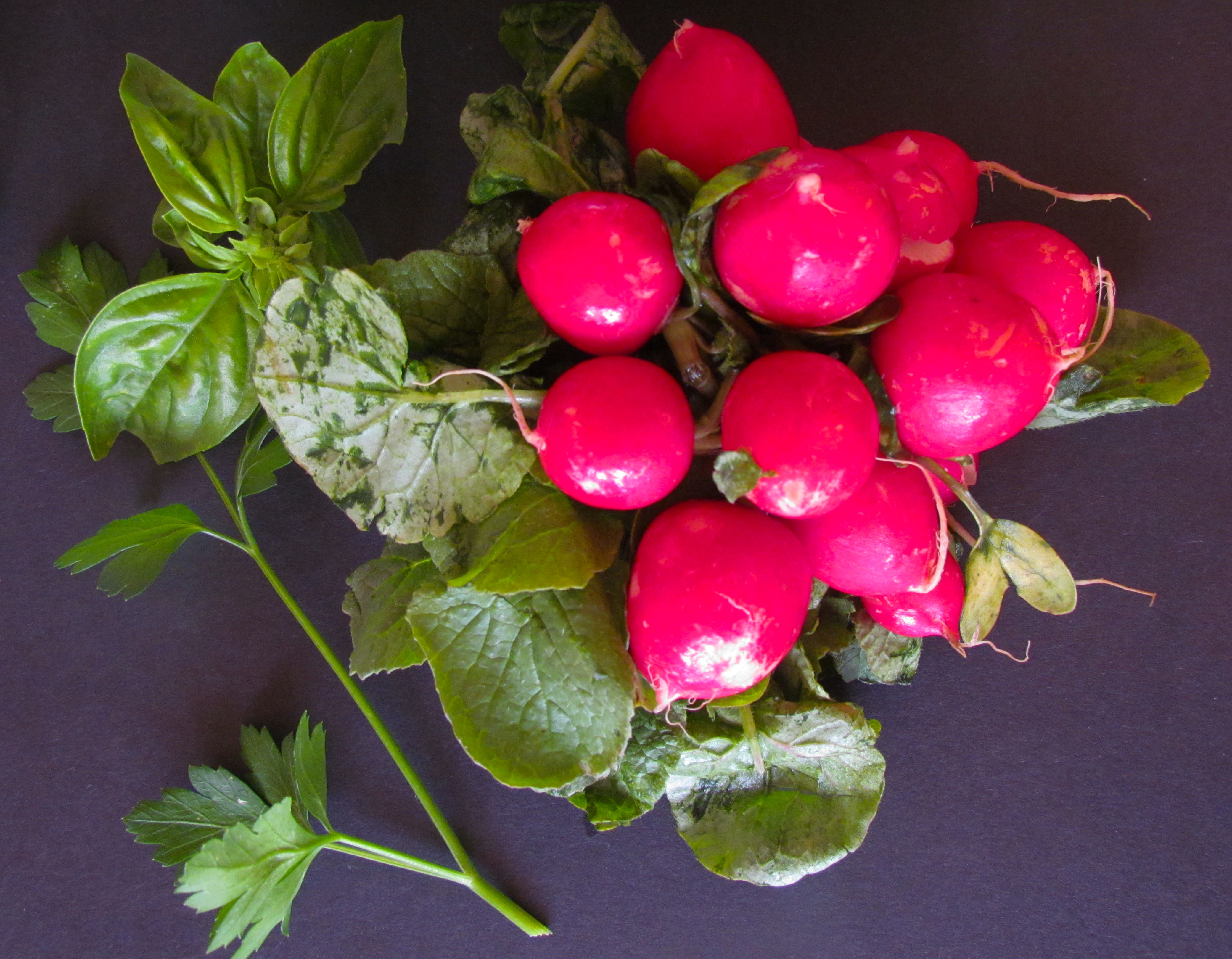 …and check out that vibrant color! So pretty.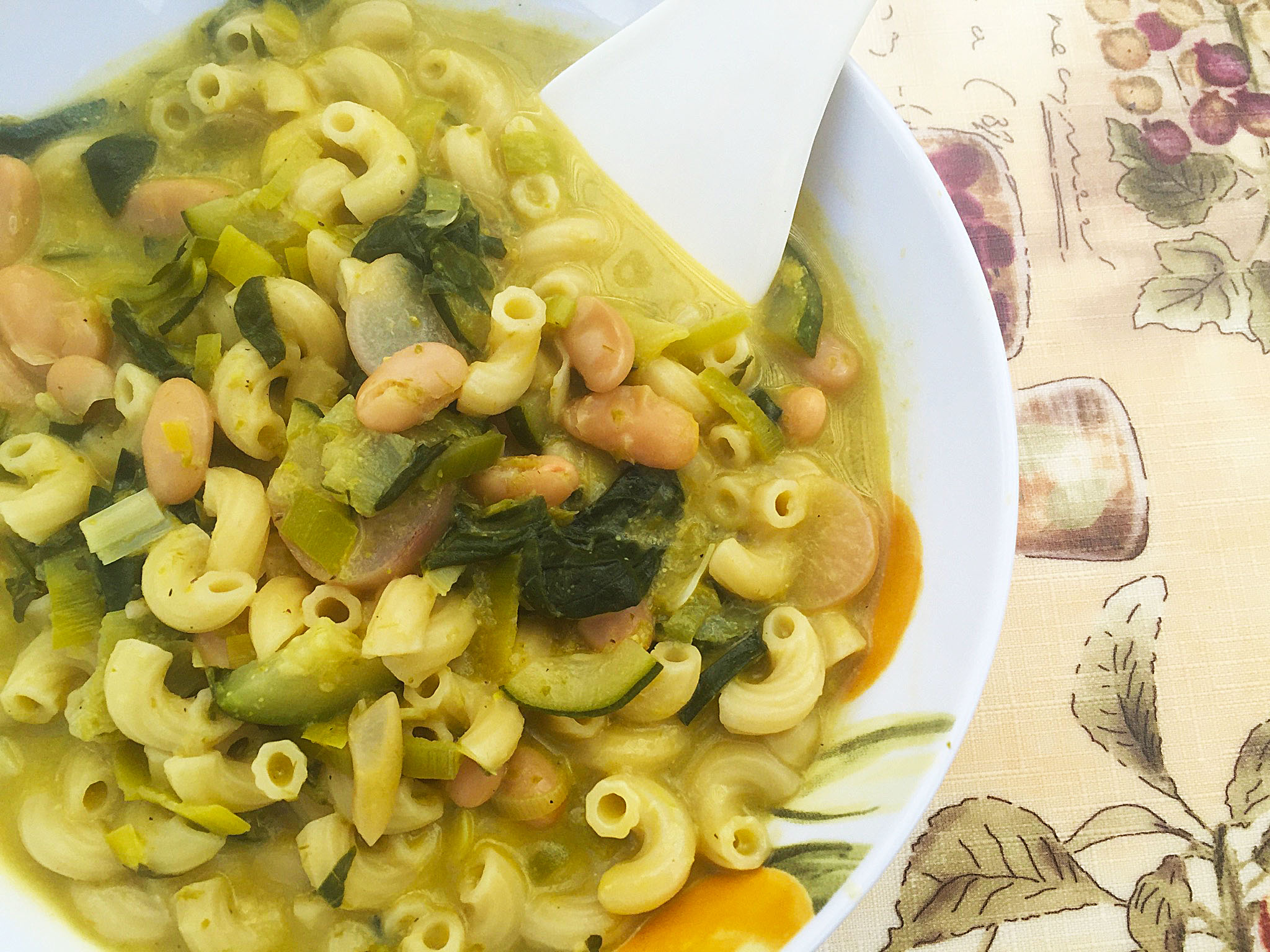 You may be wondering, so what's the deal with the soup being green? 
Well my friends, the broth of this soup is an asparagus puree! First, you simmer the asparagus until tender, then throw it into the food processor with coconut milk and fresh lemon, then cook all of the veggies and pasta in the puree, along with some vegetable broth.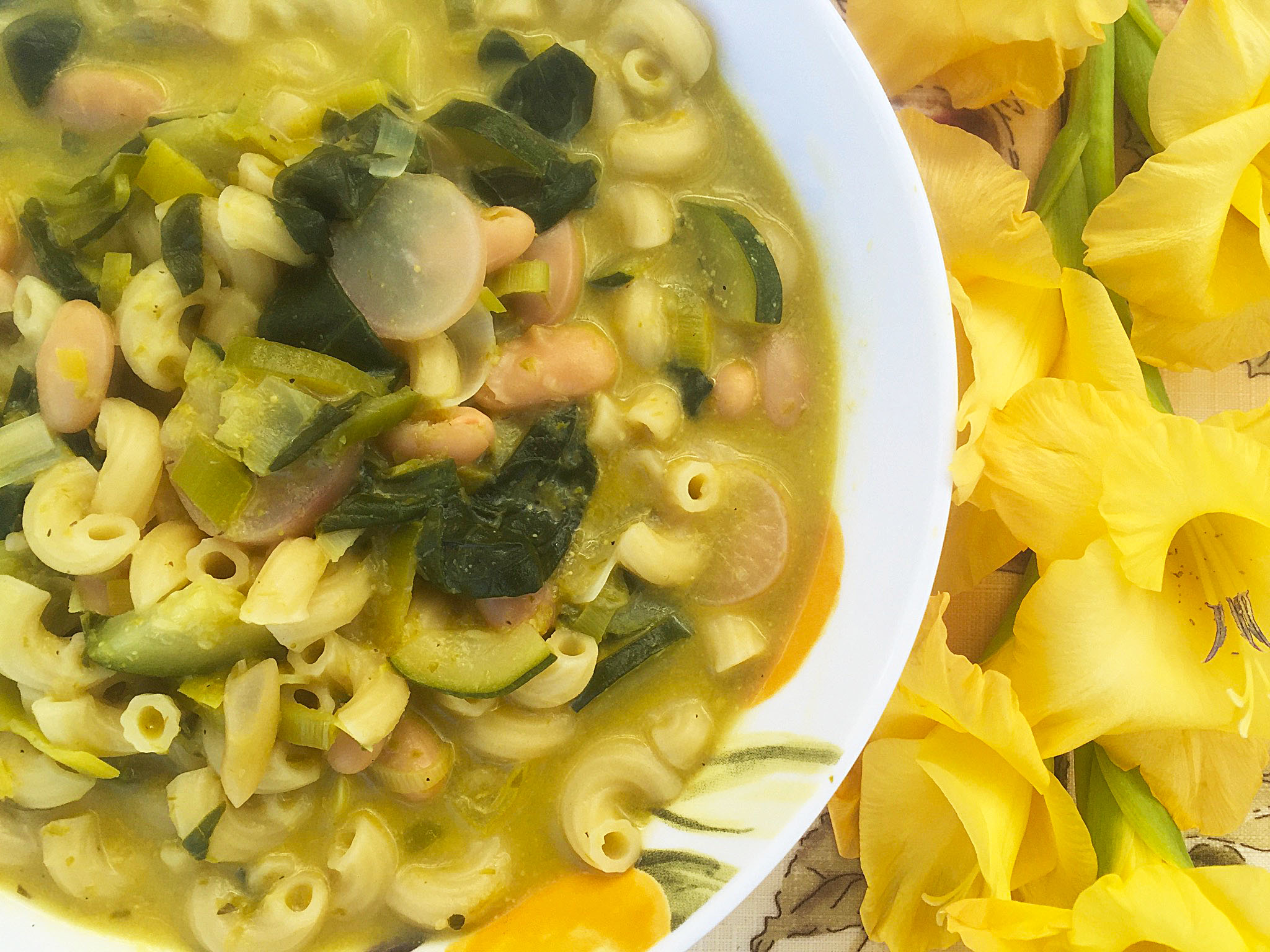 When I came up with this recipe, I wasn't sure if the asparagus puree would really work well… but fortunately it came out a success! The coconut milk gives the soup a Thai curry feel and nuttiness to it.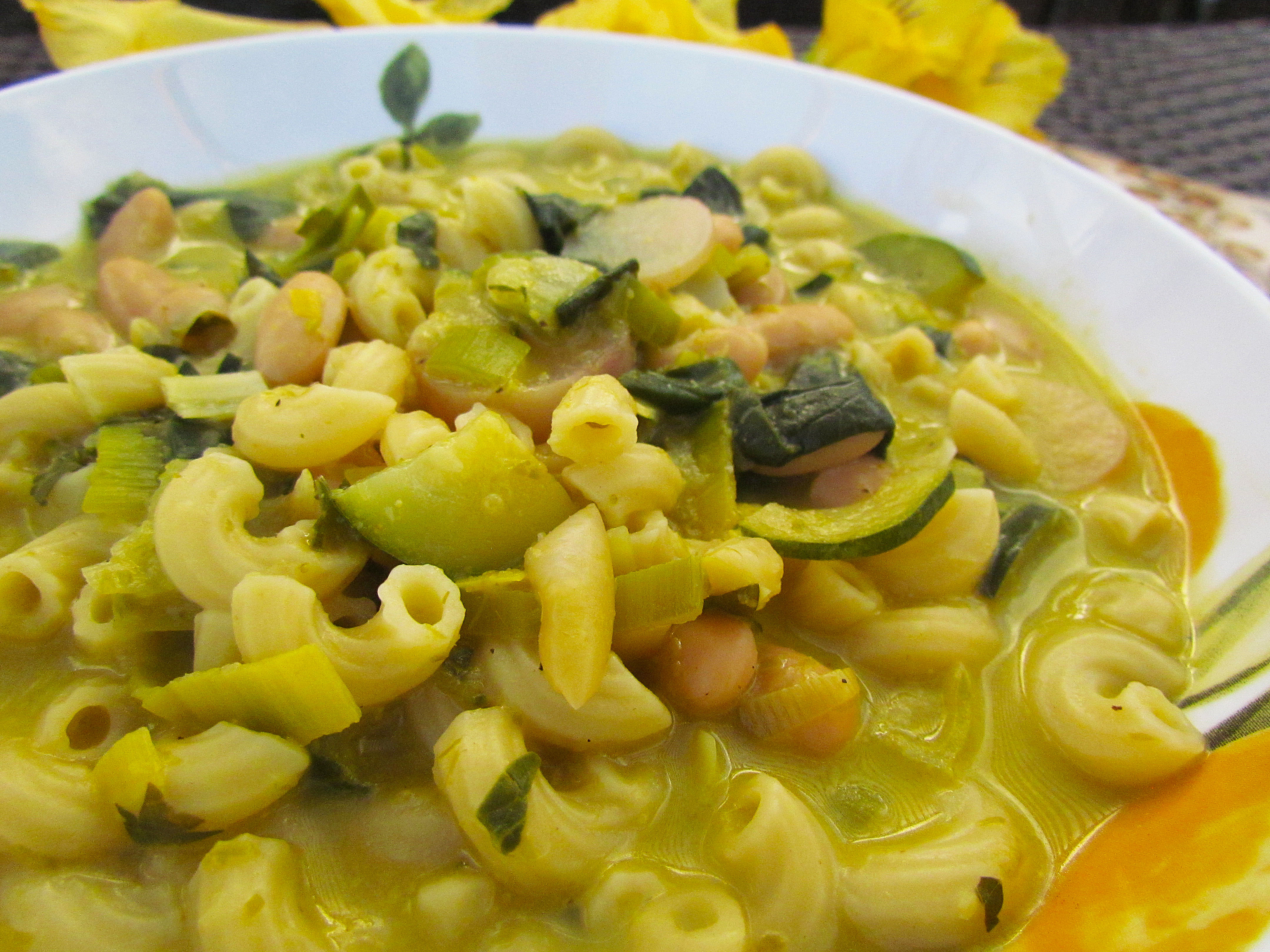 Between all of the nutrient dense veggies, fiber-rich beans, fatty coconut milk (which is good for you!), and elbow pasta, this soup is filling. One medium/small-ish sized bowl had me feeling nice & full. Providing the body with its daily dose of veggies at less than 300 calories, this soup is a winner!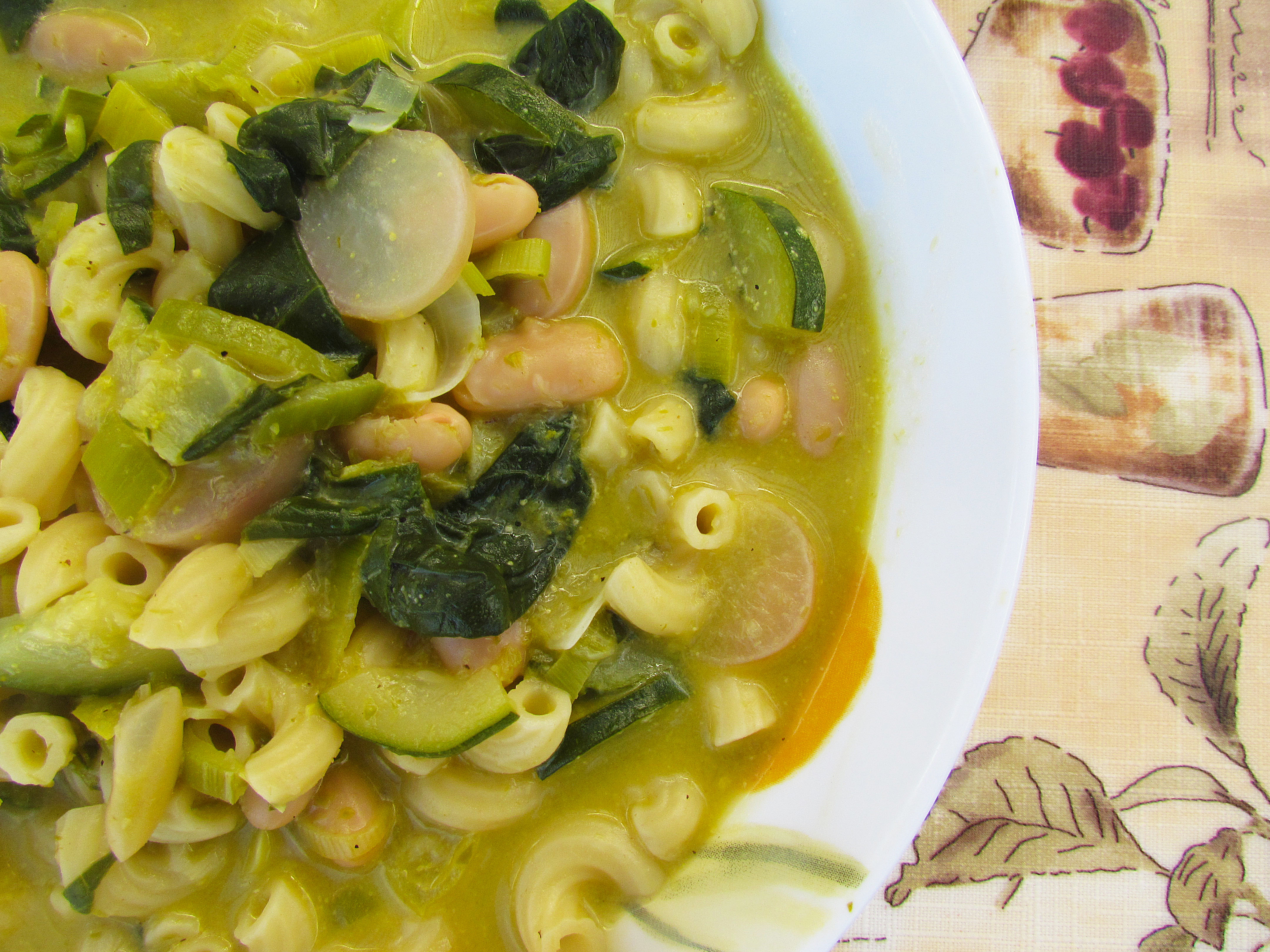 I hope that you give this soup a try this spring!

Spring Veggie, Pasta & Asparagus Puree Soup [vegan]
Author:
Foodie Loves Fitness
Prep time:
Cook time:
Total time:
Ingredients
4 cups vegetable broth
1 medium bunch of asparagus
6 oz/1½ cups of elbow pasta, or other short shaped pasta
1-13 oz can coconut milk
½ cup radishes
2 cups packed baby spinach
1 leek
1-15 oz can cannellini beans
1 medium zucchini
½ Vidalia onion
¼ cup fresh herbs (I used basil + parsley)
Juice from ½ lemon
Salt & pepper
Instructions
In a large pot, warm ½ cup of the vegetable broth over medium heat.
Mince the onion and add it into the pot. Trim the asparagus, then cut the stalks into thirds. Add to the pot, and lowly simmer for 10 minutes or until the asparagus is tender.
Meanwhile, slice the radishes, leek, and zucchini, and roughly chop the spinach and herbs.
Once the asparagus is done cooking, remove from heat and transfer into a food processor. Add in the lemon juice and coconut milk, and pulse until the mixture is pureed. Return back to pot.*
Add in remaining vegetable broth, all of the chopped veggies, beans and pasta. Add in ½ TSP salt and ¼ TSP pepper. Bring to a boil, and simmer for 15 minutes, or until tender, stirring a few times.**
Ladle the soup into bowls, and enjoy while it's warm!
Notes
*You can use an immersion blender instead of food processor if you own one.
**If the veggies & pasta are tender, but the soup isn't as thick as you'd like it to be, simply turn off the heat and leave the soup pot covered for a few minutes. The soup will thicken as it sits.
Nutrition Information
Calories:
280,
Fat:
11 g,
Saturated fat:
8 g,
Carbohydrates:
36 g,
Sugar:
4 g,
Fiber:
5 g,
Protein:
9 g
Tell me.. What's your favorite springtime veggie?