Hi friends!
Happy Memorial Day weekend to all of my readers in the U.S.! I am really looking forward to a couple of days home with my hubby. We don't have too much on the agenda, which is great since last weekend we were away in Palm Springs, and next weekend I'll be in Miami celebrating my best friend's bachelorette party (can't wait!), so I'm hoping to have some fun out and about in San Diego and a pretty low-key holiday weekend.
I had planned on doing a last recap of my DietBet today, but then I realized that it's almost Memorial Day and I had shot a recipe on red, white & blue dishware earlier this week that would be great to whip up for a small holiday gathering…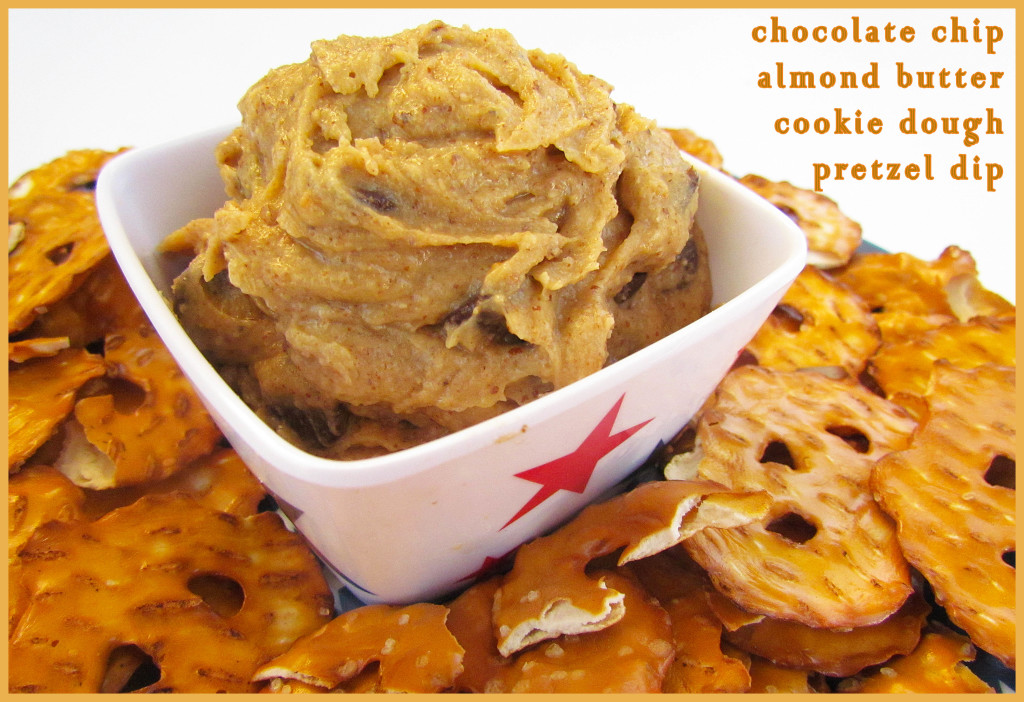 …so, this deliciousness seemed more appropriate today instead! Plus, Fridays seem like the best days to gush over desserts, do you agree?
Before I get to that, I just wanted to take a moment to acknowledge the reason for Memorial Day. Lately there have been some sad military incidents, including Marines that were stationed at Camp Pendleton just a few minutes from my house who died in a helicopter crash while flying in Nepal, as well as Marines dying in a crash during training in Hawaii. Every time I hear about all of this madness with ISIS, I get a sick feeling in my stomach. I hug my Marine extra tight and thank the universe that all of our close Marine friends are alive and well. I can't imagine living in the midst of a major war when American military personnel were being taken from us left and right – what's happened in recent years is scary enough!
And so, I just want to send love out to everyone who has lost a loved one who was serving our country. It's so easy to just be happy for a day off of work and look at Memorial Day as party time and the start to summer, but I hope that you take a moment to express gratitude for those in the armed forces who have passed away.
Moving onto a happier topic….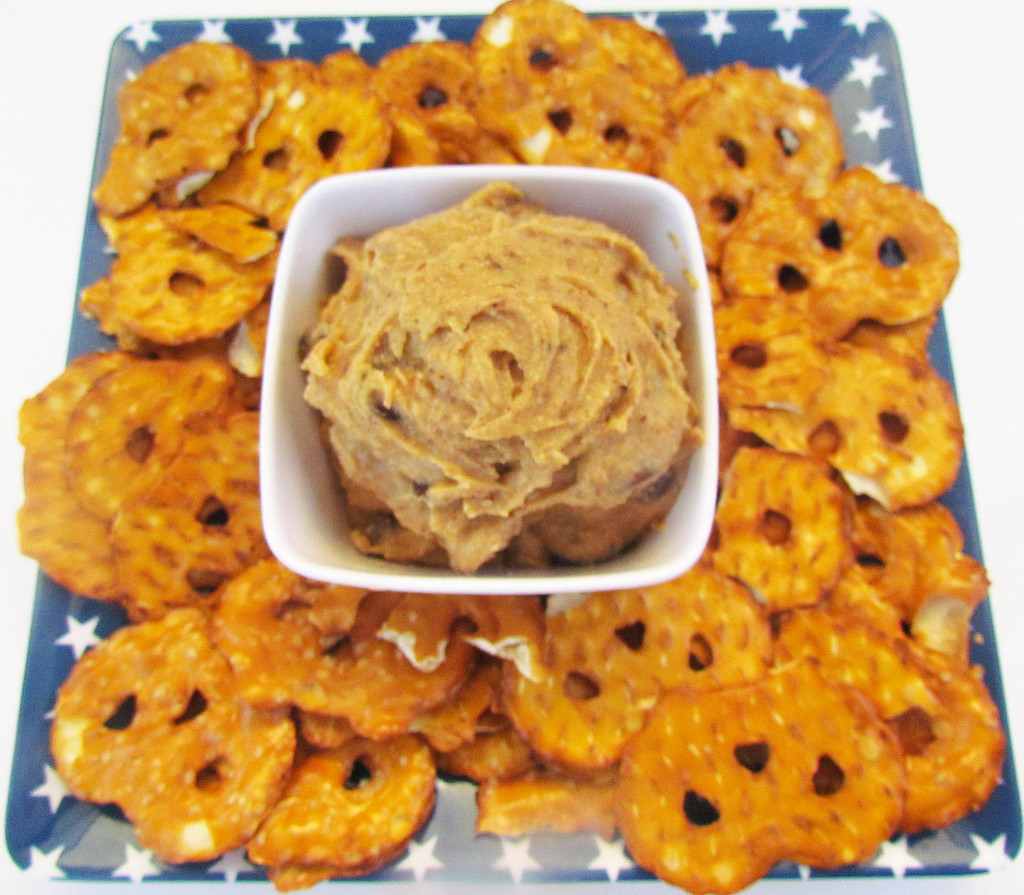 Helllloooo chocolate chip almond butter cookie dough pretzel dip! How's that for a mouthful?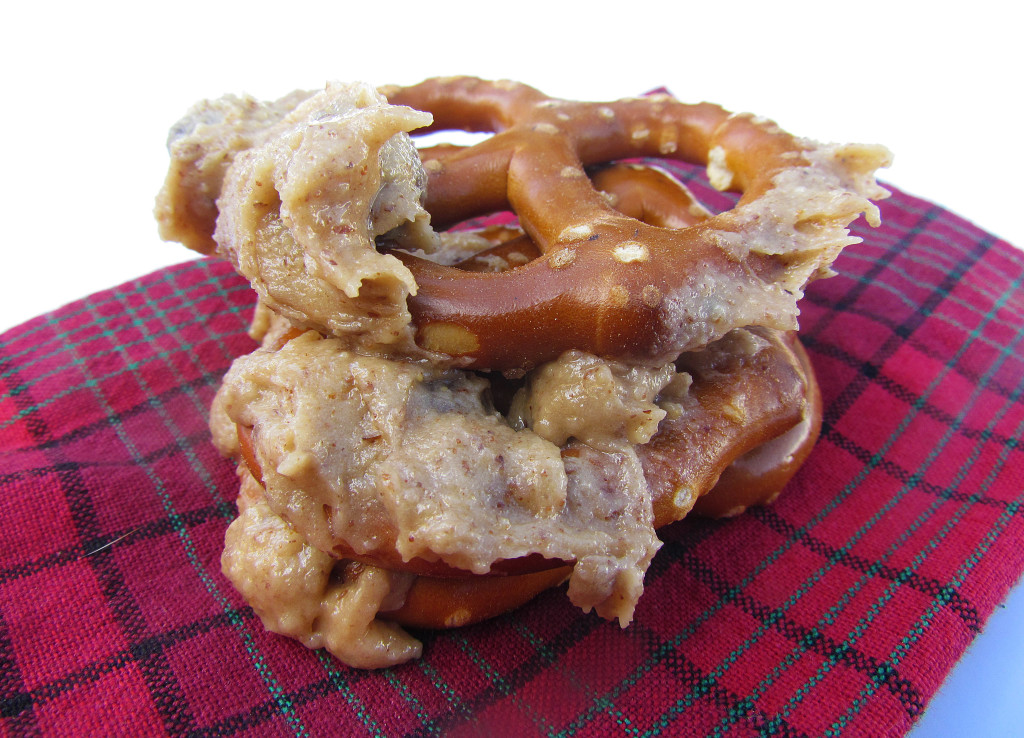 I'll totally admit it, once in awhile I just get the urge to buy a pre-made tub of chocolate chip cookie dough and eat the raw batter with a spoon. Usually when this happens, I'll just whip up some type of homemade cookie dough recipe, eat a bunch couple of spoonfuls as I'm making it, then not even want the cookies once they're baked.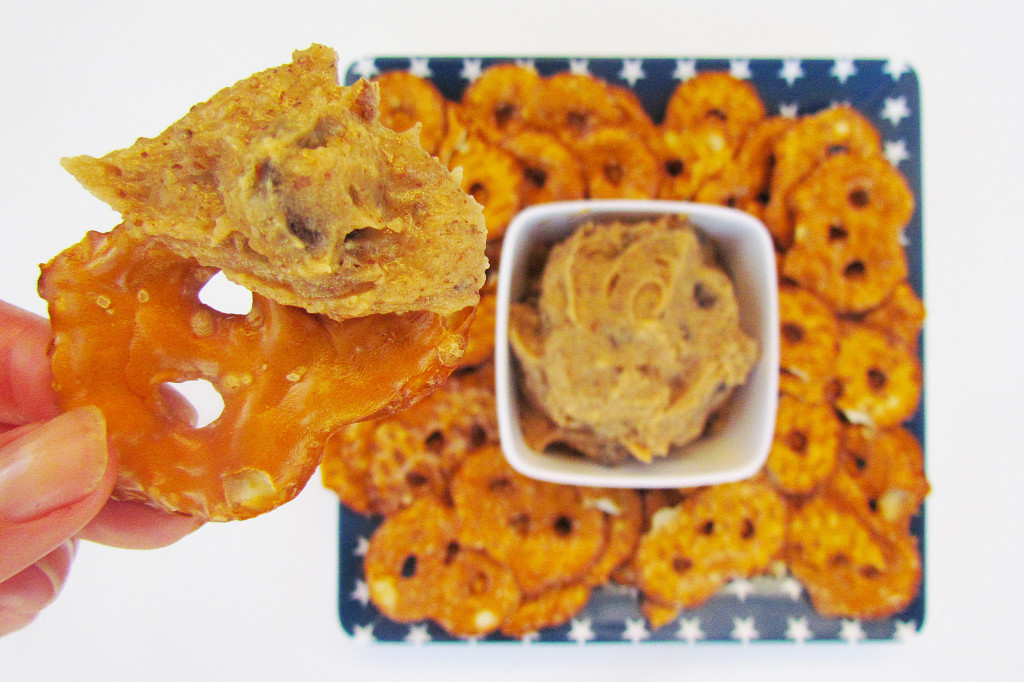 And so, it dawned on me the other day that I should come up with a cookie dough that isn't meant to be cooked at all – rather, one that is fully intended to be eaten in its raw form, not just snuck-in mouthfuls as you're making the cookies.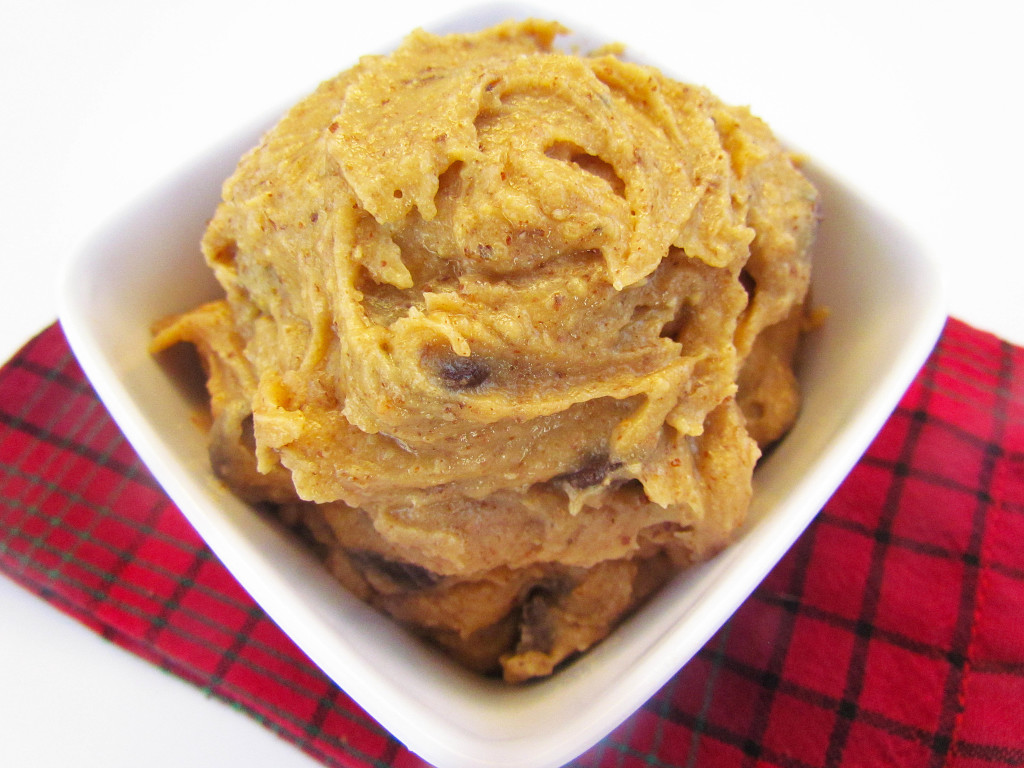 I used Almond Breeze's Almondmilk Hint of Honey Vanilla in the recipe to make the cookie dough more dip-like and less crumbly. Blue Diamond recently sent me some of this almond milk flavor to try out. I'm obsessed with their almond milk already, and since I'm equally obsessed with putting honey in and on every meal I eat, I knew that this flavor would be a winner in my book.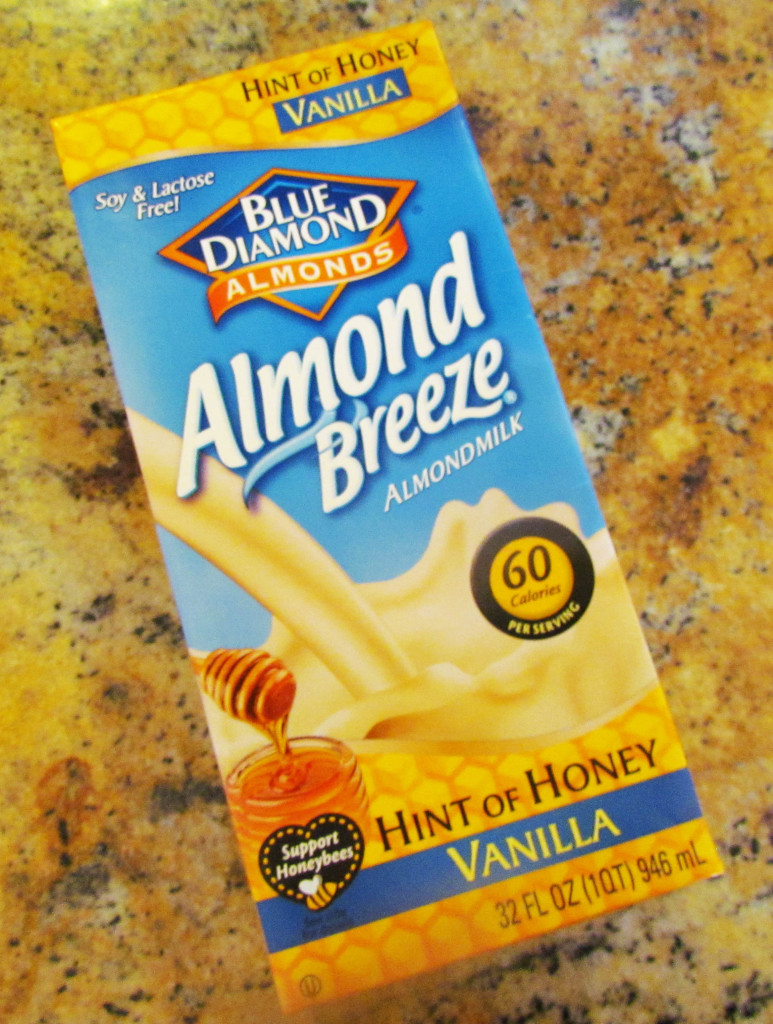 I decided to use pretzels as dippers to make it a sweet & salty combo, because I'm a big of desserts that incorporate something salted. Yes, there are things like butter and sugar in it, and no, it's not the healthiest recipe I've ever posted, but my philosophy is that diet is all about moderation. 🙂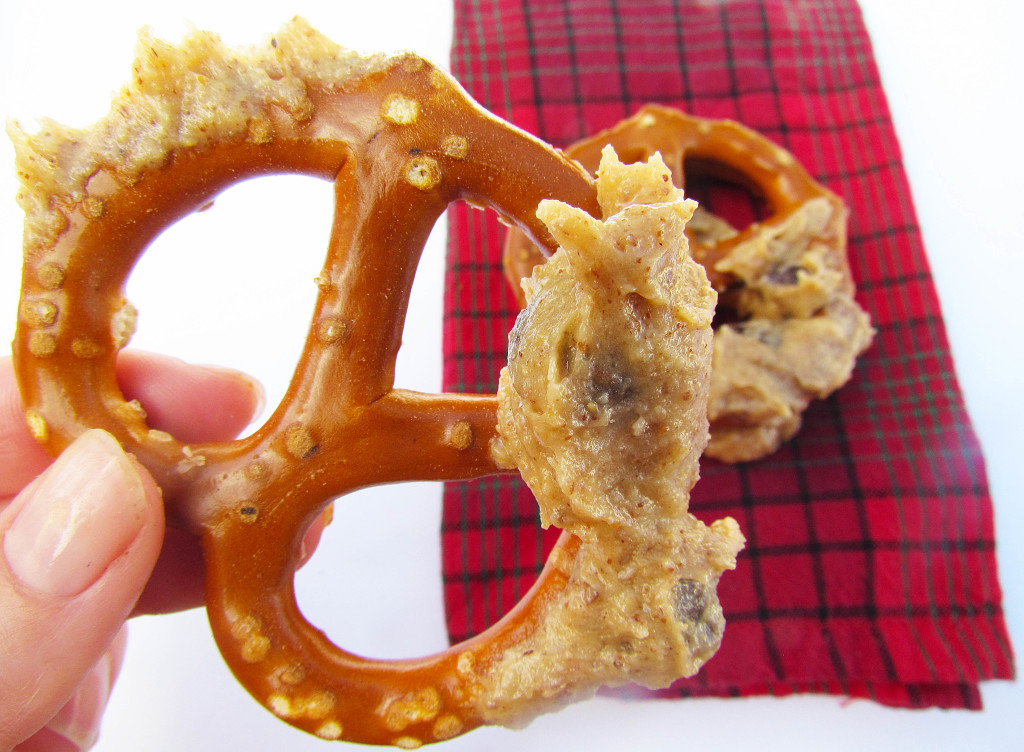 It's rich, it's creamy, and it's a great dessert dip to make for a gathering this weekend over Memorial Day. Or to keep all to yourself as a treat while binge watching Netflix all weekend (no judgment here!). Either way, I hope that you try and enjoy it!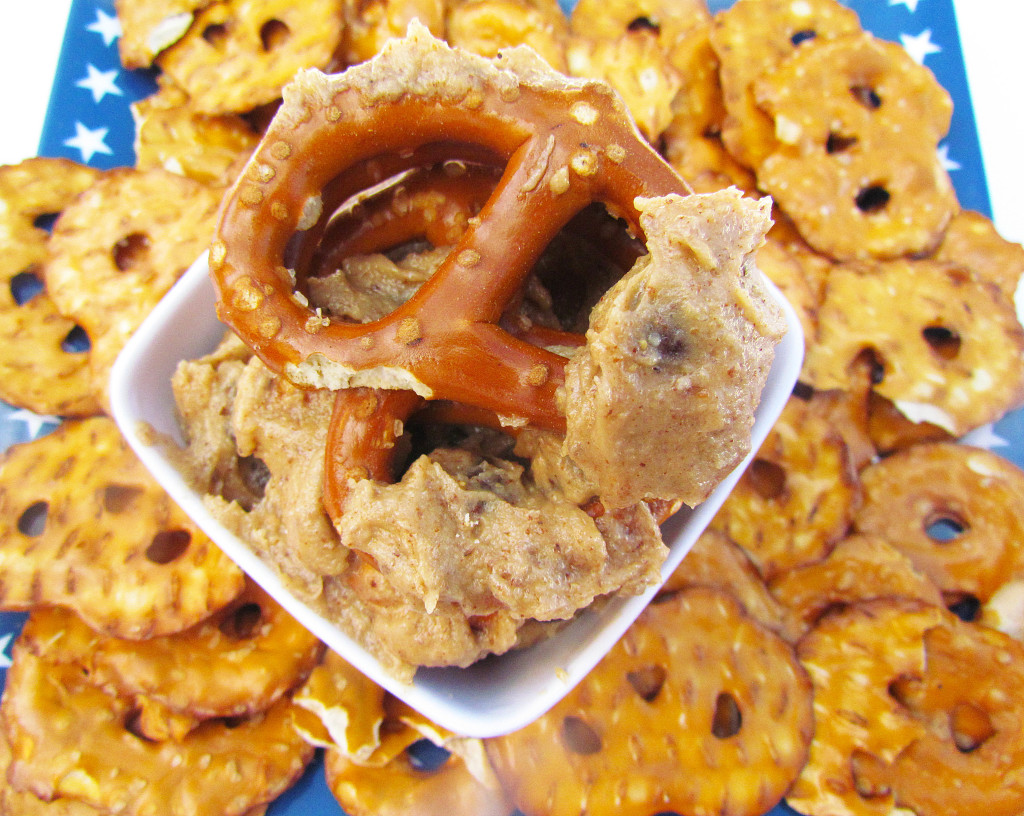 Chocolate Chip Almond Butter Cookie Dough Pretzel Dip
Author:
Foodie Loves Fitness
This recipe takes a nut butter twist on homemade cookie dough! Dip it with pretzels for a fun treat.
Ingredients
6 TBSP all-purpose flour
5 TBSP almond meal
¼ cup creamy almond butter
¼ cup butter, softened
¼ cup Almond Breeze Almondmilk Hint of Honey Vanilla
¼ cup light brown sugar
2 TBSP granulated sugar
⅓ cup (dark) chocolate chips
½ TSP vanilla extract
Pretzels, for scooping dip
Instructions
Using an electric mixer, cream the butter and sugars in a medium bowl.
Add in the almond butter and vanilla extract, and beat again on low.
Mix in the almond meal and flour, and stir with a wooden spoon to combine.
Add in the almond milk and chocolate chips, and stir together well.
Chill before serving with your favorite pretzels.
Nutrition Information
Serving size:
2 TBSP,
Calories:
220,
Fat:
15 g,
Saturated fat:
6 g,
Carbohydrates:
20 g,
Sugar:
13 g,
Fiber:
2 g,
Protein:
4 g,
Cholesterol:
15 mg
Tell me.. Are you a raw cookie dough fan? Are you into sweet & salty dessert combos as much as I am? 
Disclaimer: This post is sponsored by Almond Breeze Almondmilk. As always, all opinions expressed are genuinely my own, and I appreciate your support!