Hi friends!
Hope you that you had a great weekend. Mine was pretty low-key: did some schoolwork (got 100% on my second test!) and stuff around/for the house, went hiking, got some beach time in and just enjoyed the summertime weather.
And speaking of summer, today's recipe is most definitely seasonally appropriate.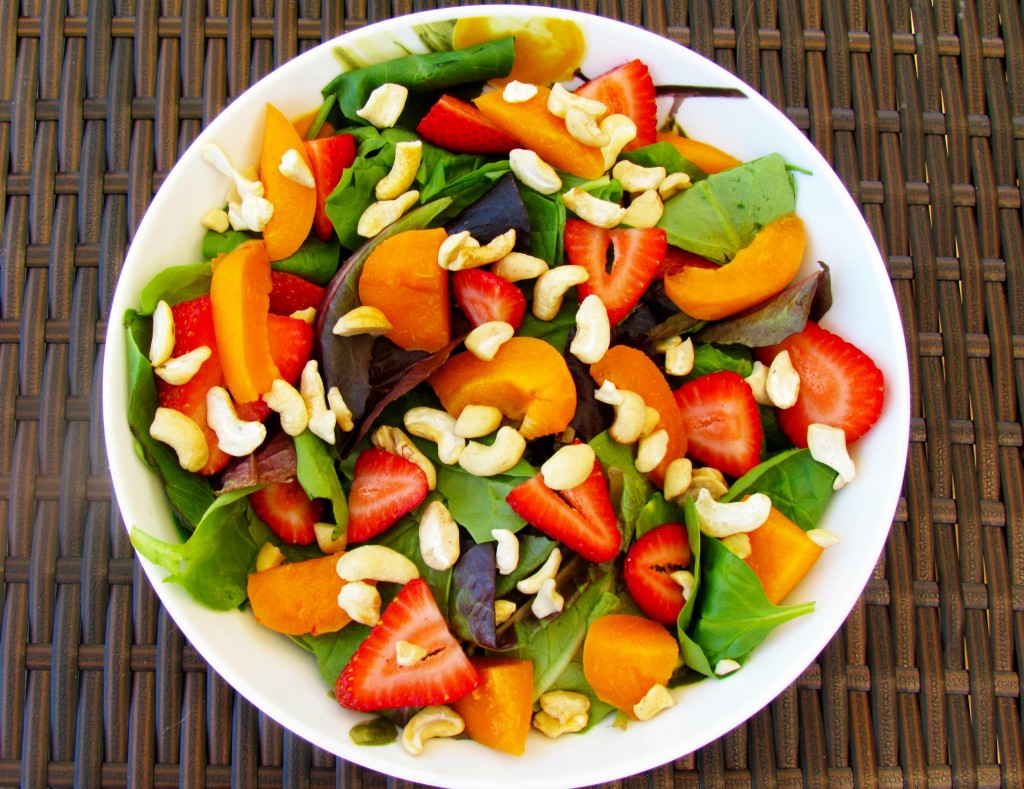 I came up with this salad after having recently eaten a strawberry basil Greek yogurt. I loved the flavor combo, and when I picked up strawberries during my next grocery store run, I started thinking about pairing local strawberries with basil from my backyard for a dish.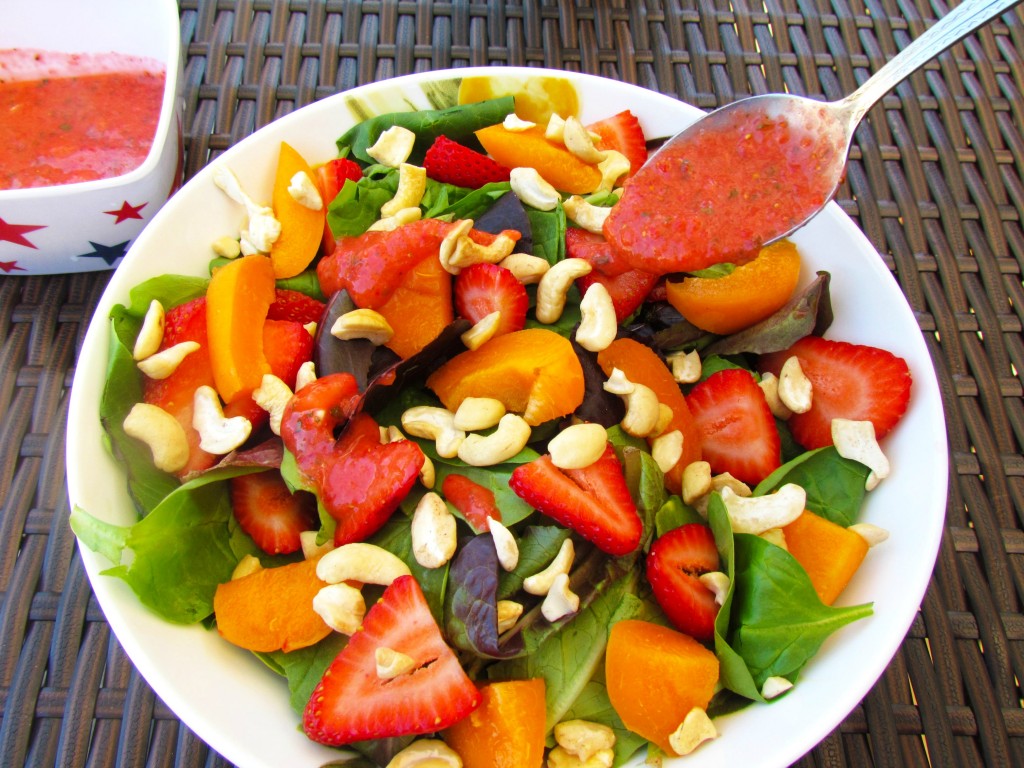 In general, I like to switch things up in the kitchen, but this just isn't the case when it comes to salad dressings. My go-to dressing mix is extra virgin olive oil + fresh lemon juice + balsamic vinaigrette + mixed up salt. BOOM. I pretty much make it every time I have salad, but this time, I decided to get a little creative and make a strawberry basil vinaigrette.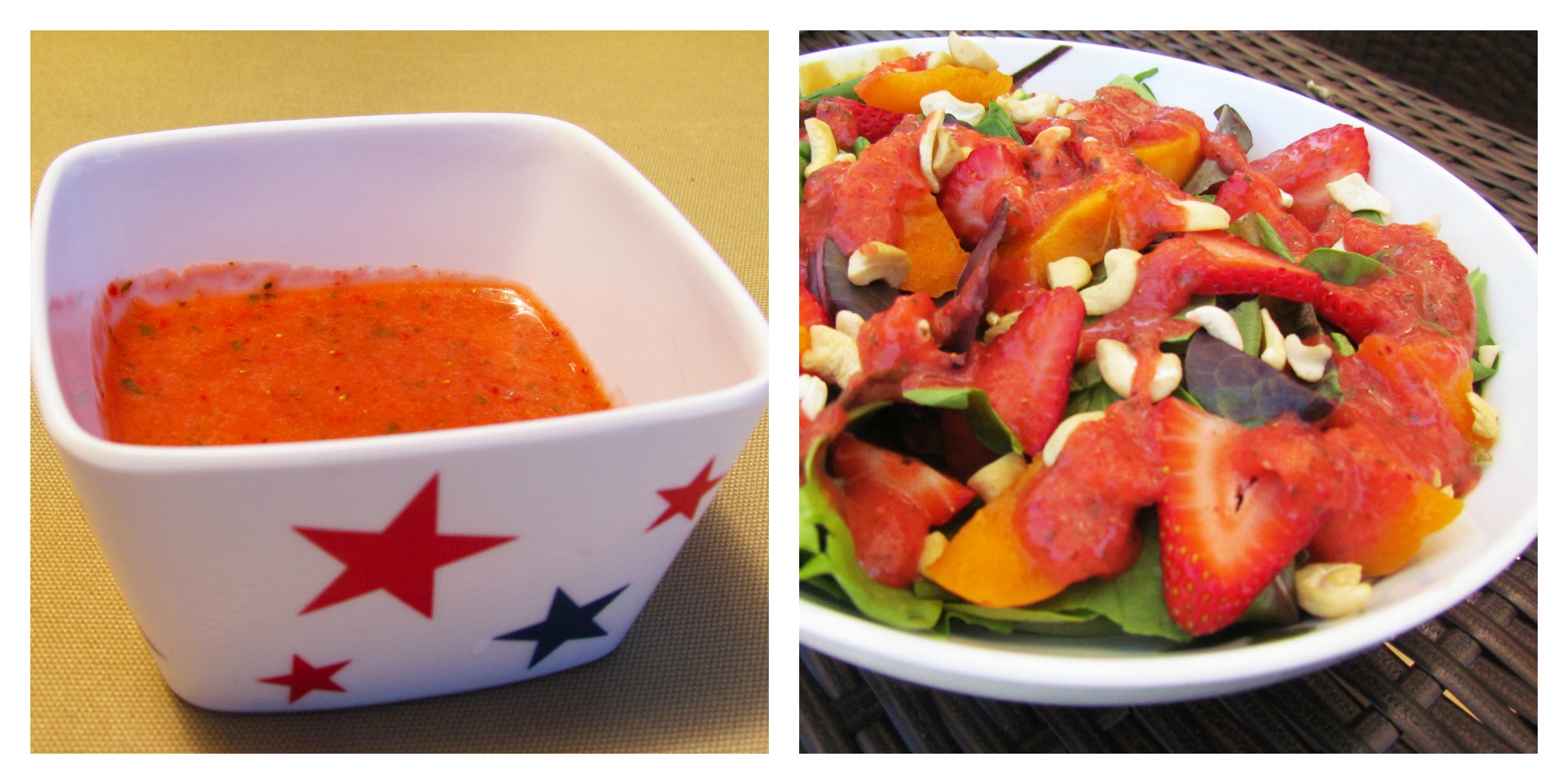 Simple enough to throw together in a jiffy, the dressing is the fresh and fruity star of this vibrant, vegan, healthy summer salad.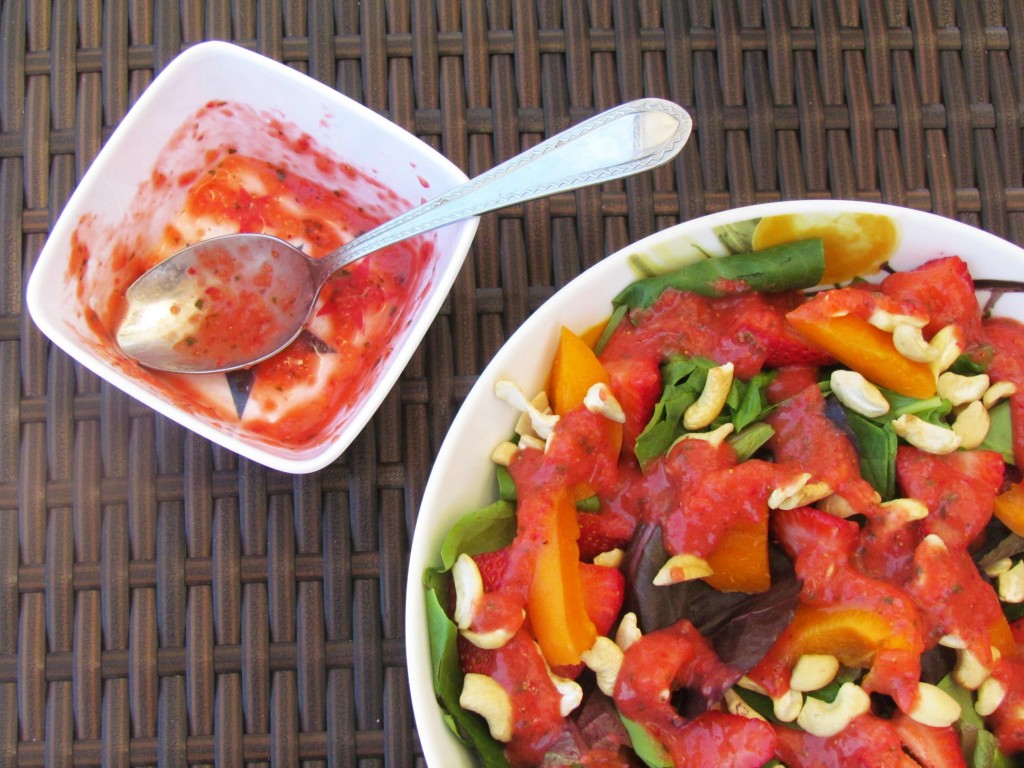 Strawberry, Cashew & Apricot Salad with Strawberry Basil Vinaigrette
Author:
Foodie Loves Fitness
Ingredients
Salad:
6 cups of mixed greens
1 cup strawberries
4 fresh apricots
½ cup raw cashew pieces
Dressing:
1 cup strawberries
2 TSP white balsamic vinegar
2 TSP cane sugar
2 TBSP fresh basil
1½ TBSP extra virgin olive oil
¼ TSP sea salt
Instructions
Place greens in a large salad bowl.
Slice strawberries and quarter apricots. Place 1 cup of the strawberries and the apricot pieces into the salad bowl. Sprinkle cashew pieces in, and toss to combine.
In a food processor, combine remaining strawberries and all other dressing ingredients. Pulse until the mixture forms a smooth dressing. Drizzle on top of salad. Top to combine. Divide evenly into 2 bowls.
Questions: Do you like the combination of strawberry and basil? What's your go-to salad dressing?
PS – If you haven't already, don't forget to enter my KIND healthy snack bar giveaway before it ends Wednesday!