Hey friends, how's it going?
Greetings from the east coast — my parents' house in Jersey to be exact. Things around here are pretty up and down. As I talked about in my last post, I flew here because my sweet little grandma is really sick. When I'm not at the hospital or working, I've been trying to do things that soothe my soul a bit and help me keep it together. This includes fitting in an at-home workout this morning, going for a long walk with my brother's girlfriend and their newborn baby yesterday, and having brunch with a close girlfriend today.
Yesterday after being at the hospital, I wanted to try to take my mind off of my grandma for a bit, so I decided to spend time in the kitchen whipping up some snacks and dinner for my family. My mom got a food processor last year that she had yet to open, so I unwrapped the packaging and broke it in.
Baking and cooking is such a stress soother for me. And as you probably know by now, I love to make food for people, and though my hubby is a happy eater of my creations, being at my parents' gives me many more than willing tasters in my family members.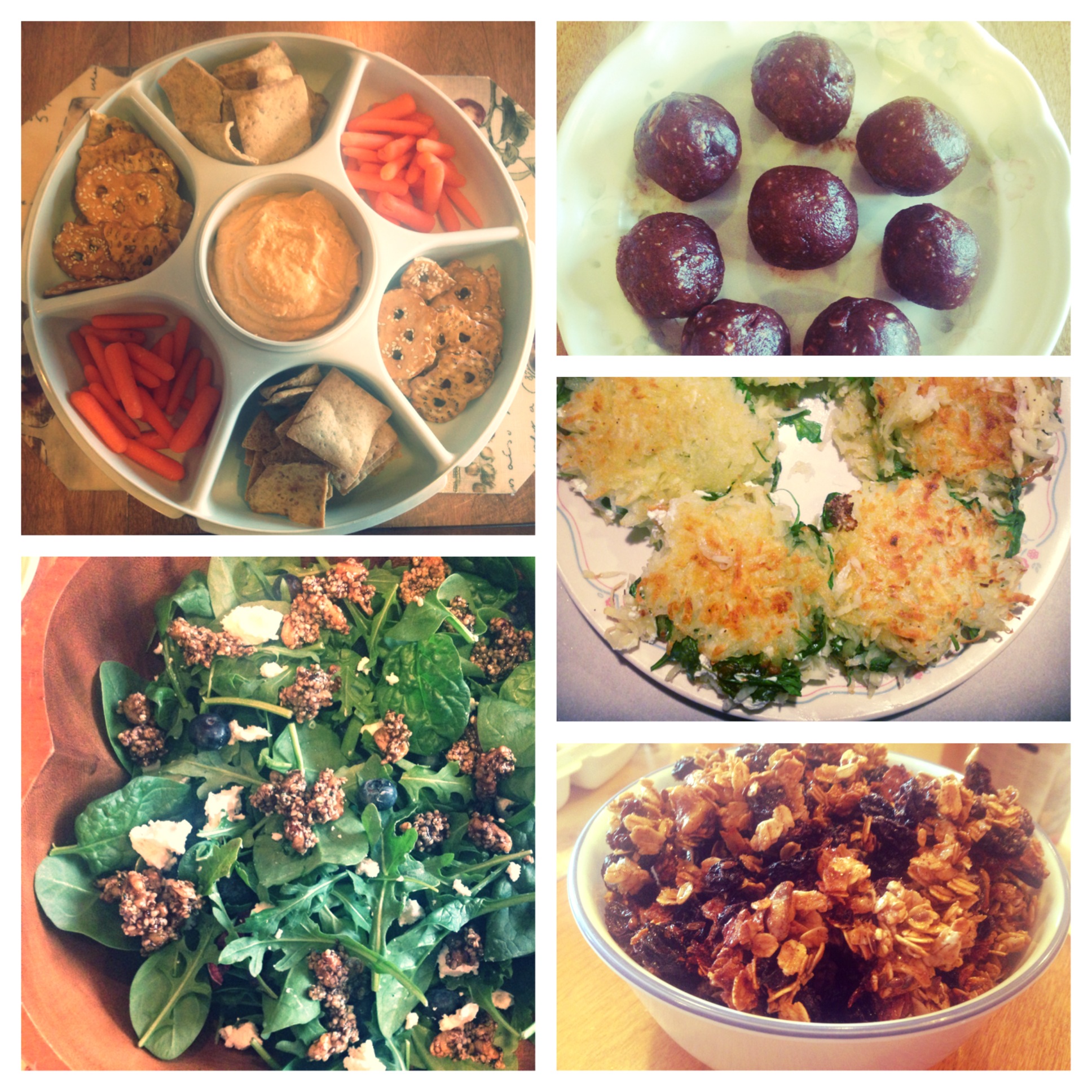 My creations from top left clockwise: a roasted red pepper hummus platter, mint chocolate chip date balls, rosti potatoes with goat cheese and arugula (recipe here), cinnamon raisin flaxseed granola (recipe here), and a mixed green salad with blueberries, goat cheese, & honeyed walnut -n- hemp seed clusters (recipe here).
In preparation for making this food, I made a stop at the food store, and while I was there I  spotted mint chocolate chips. I love chocolate and I love mint, so I had to give these babies a try. Immediately what popped into my mind was to make date balls.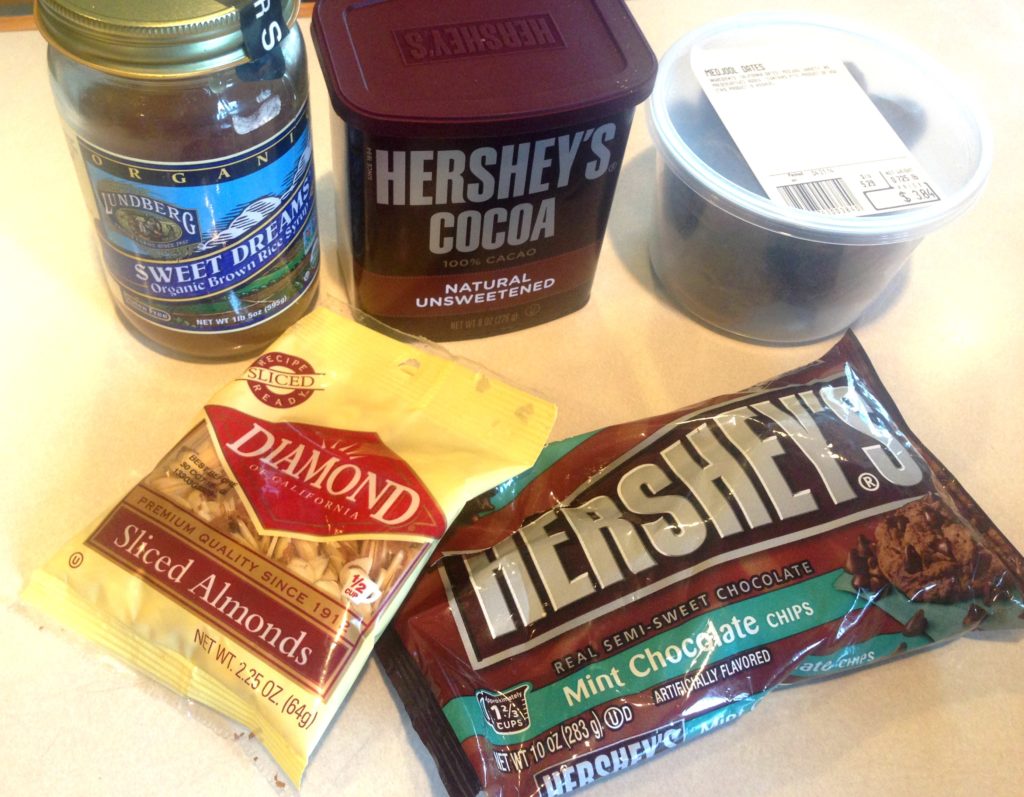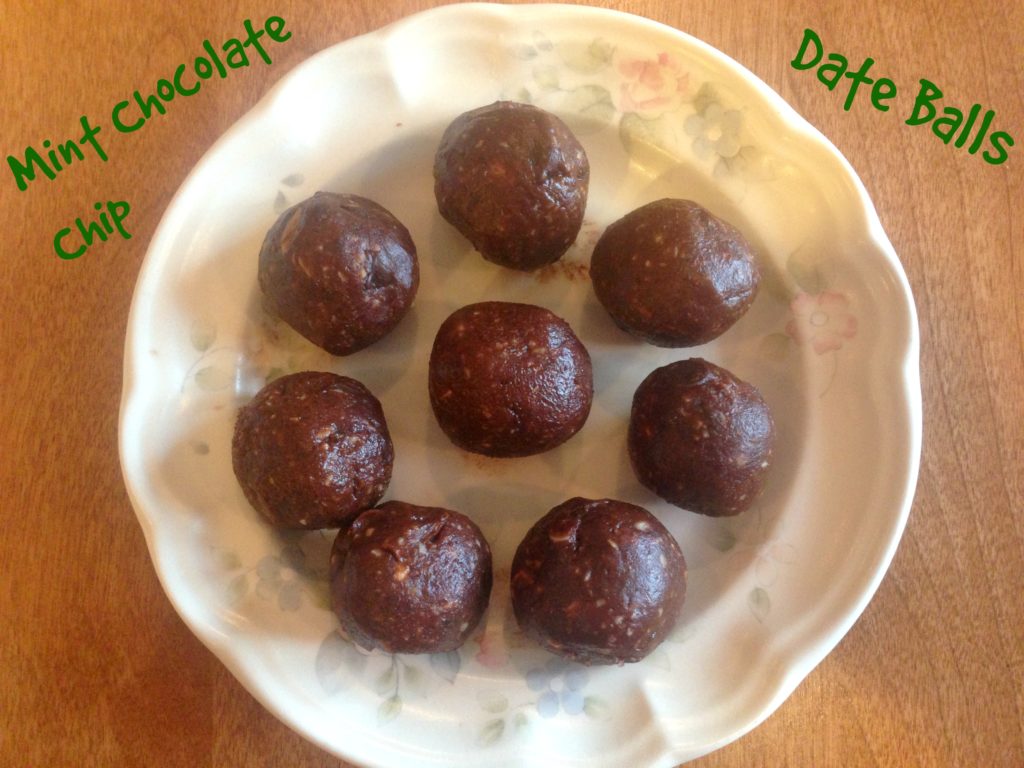 Date balls make such fun healthy dessert-like snacks. Next time I may put a few drops of peppermint extract into the date ball dough to make it have even more of a peppermint flavor, and I would have if I had some on-hand. However, they turned out tasty as is. Everyone enjoyed them and my sister said that these babies taste like Girl Scout cookies!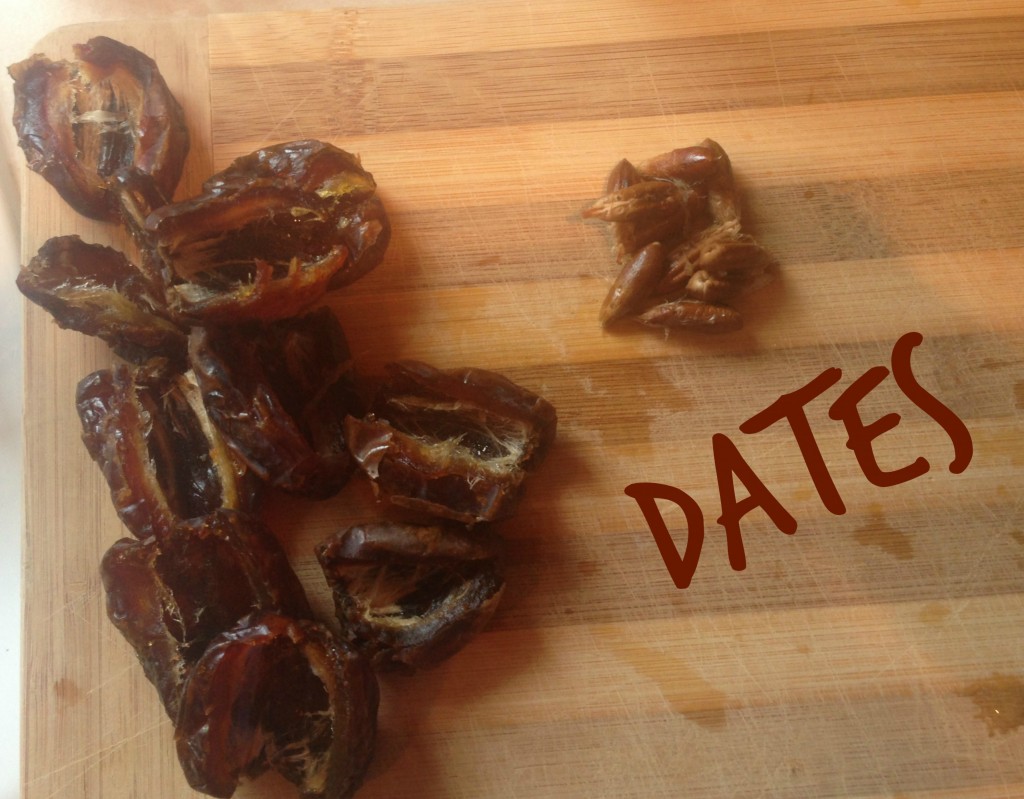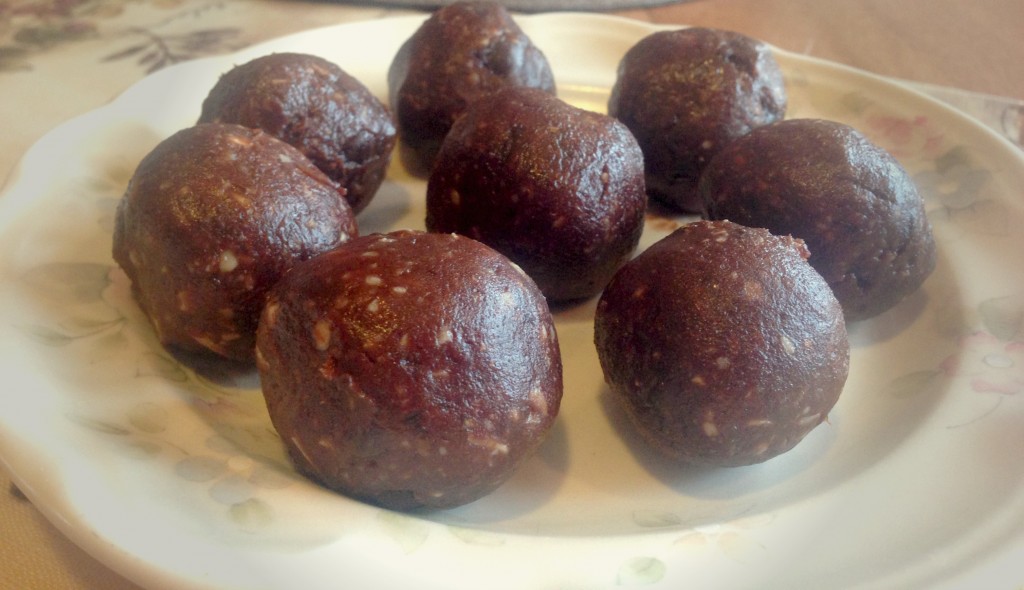 Mint Chocolate Chip Date Balls
Author:
Foodie Loves Fitness
Ingredients
12 Medjool dates, pitted
½ cup sliced almonds
2 TBSP brown rice syrup (honey or agave syrup would also work)
2 TBSP unsweetened cocoa powder
¼ cup mint chocolate chips
Pinch of salt
Instructions
In a food processor, combine the dates, almonds, brown rice syrup, cocoa powder and salt. Pulse until it forms into a sticky ball. You may need to scrape down the sides once or twice to get everything mixed together well.
Mix in the chocolate chips, and stir with a spoon to mix them in there evenly.
With moistened hands, roll the dough into 8 even balls.
You can stick them in the fridge to harden a bit, or enjoy them a little softer as is.
Notes
*You can also add in a few drops of peppermint extract for an extra minty flavor.*
Date balls – love em, hate em, never had em?