When I found out a few weeks ago that my hubby and I will be moving out of the San Diego area very soon, I started thinking about the things we haven't done yet here that I want to experience. That's why last weekend we did a whale watching cruise, and today we did the Three Sisters Waterfall Hike.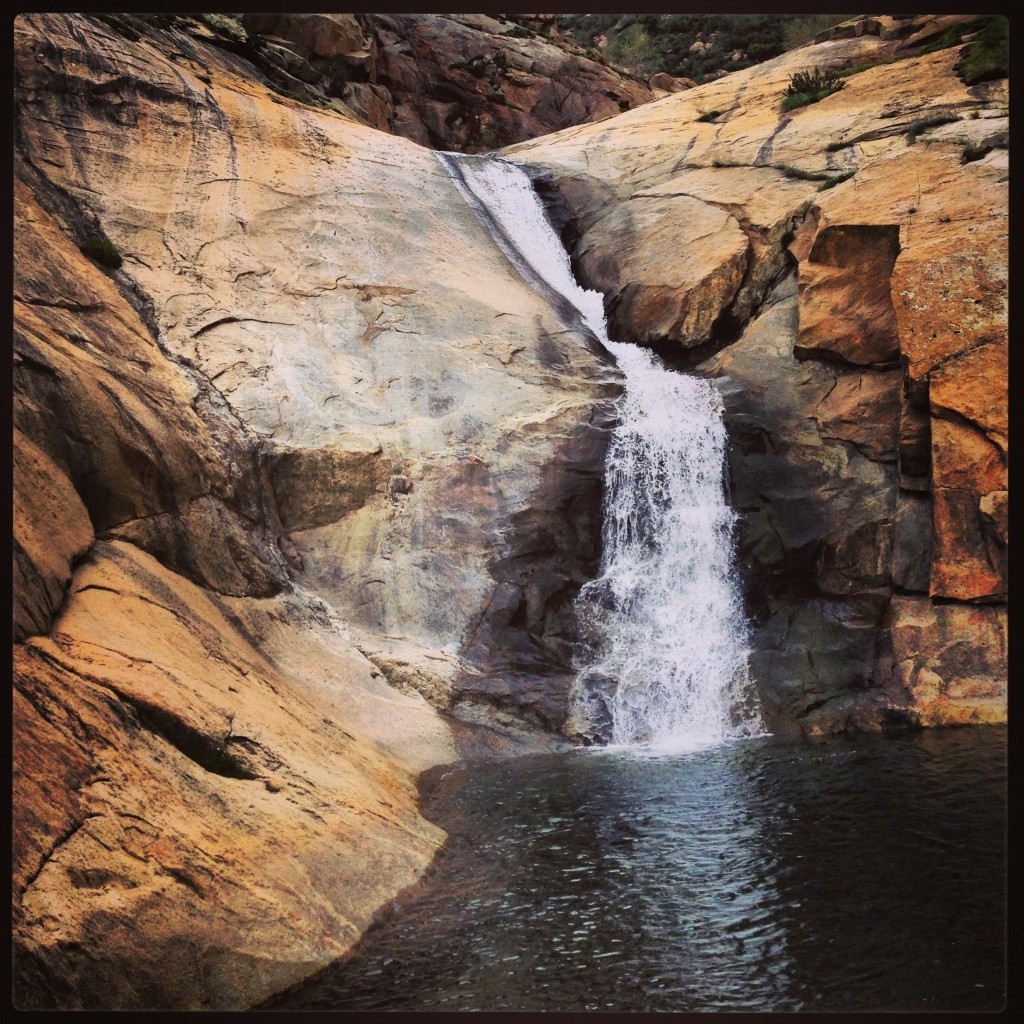 Three Sisters Falls is located in a town called Descanso, around 50 miles from where we live. To get there, we had to drive through very rural areas and back roads where we saw more animals than people. We rode on a very windy, bumpy dirt road for awhile with just a few ranches and hardly any other cars, and we weren't so sure that we were going the right way. I had written down directions before we left, knowing that cell service would be spotty – which is totally was – and man, it made me thankful for the GPS on my iPhone that I usually can use!
At one point, we came across a 'no trespassing' sign and weren't sure if we should continue. But we kept winding through the countryside, and I'm sure glad we did, because we finally saw a bunch of parked cars and knew that we made it to the trail.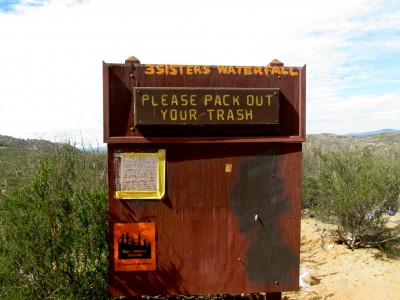 The above sign is the only one we saw the entire hike, and if you notice, the trail name is just spray painted. The trail is definitely not groomed and cared for like most of the hikes around here, which on one hand, was annoying, but on the other hand, was pretty neat. It was nature at its finest.
When we began our hike, the first thing we noticed was how beautiful the scenery was. There were mountains everywhere, and it was the perfect weather for hiking – in the 60s and partly sunny.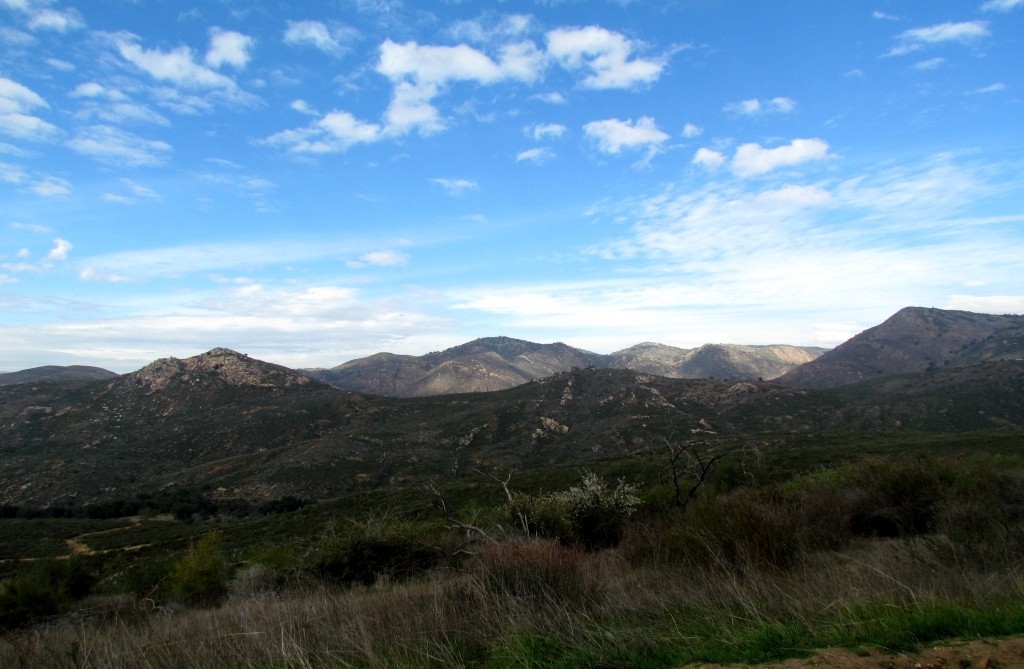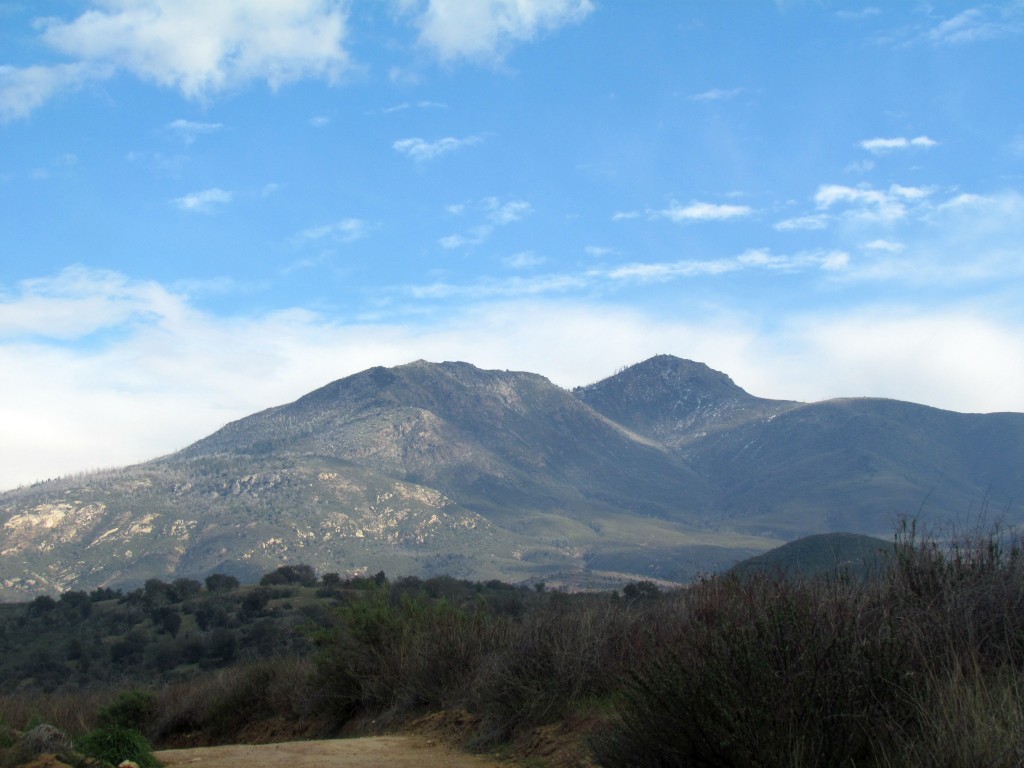 The second thing we noticed was how easy the hike started out. We almost immediately could spot the waterfalls in the distance: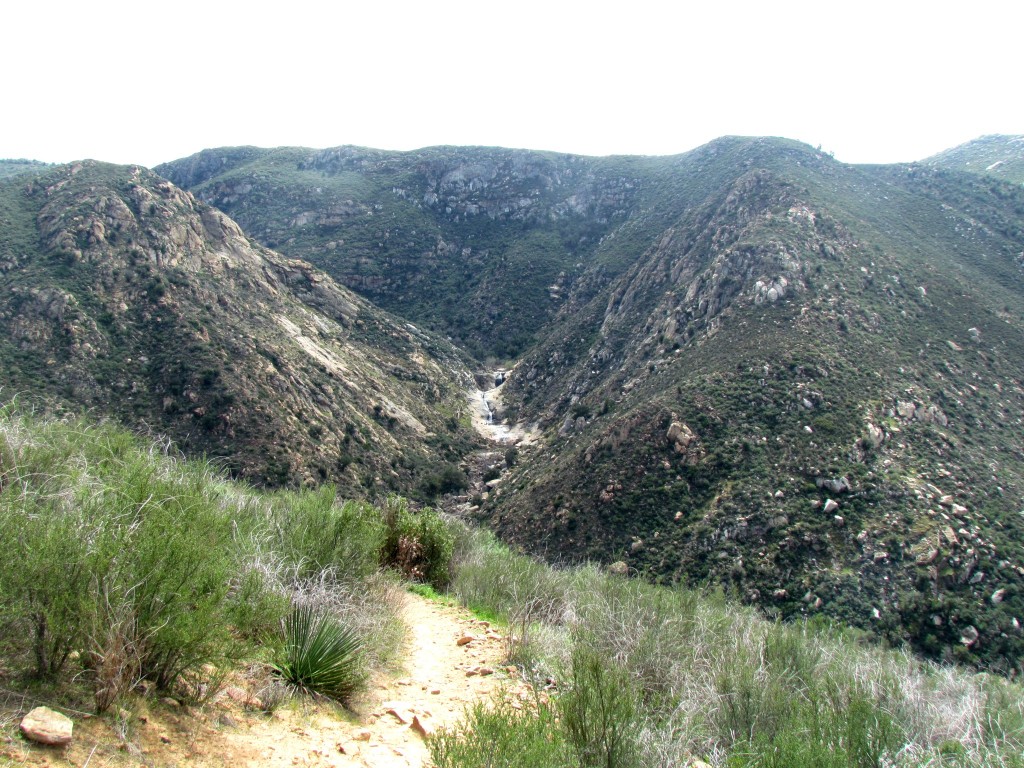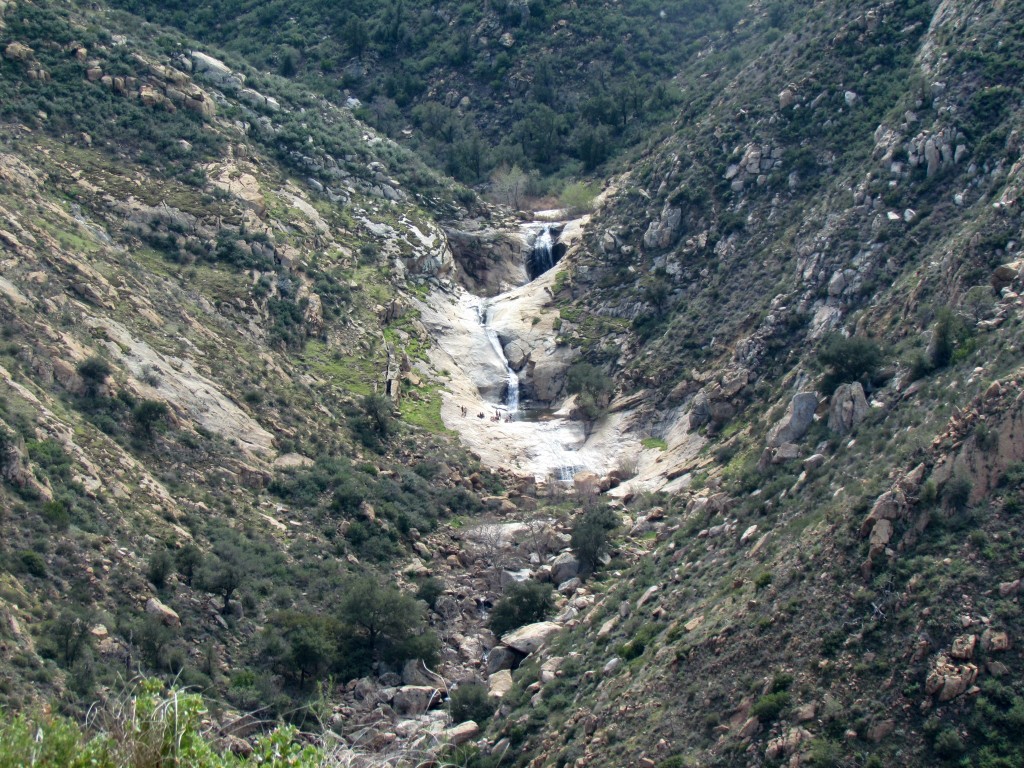 From what we'd read, this was the most difficult hike in San Diego County (hence why we left Harley home), but for the first half an hour, you wouldn't know it. It started off as a walk in the park, and I kept saying that it must get tough at some point, and then we came upon this…..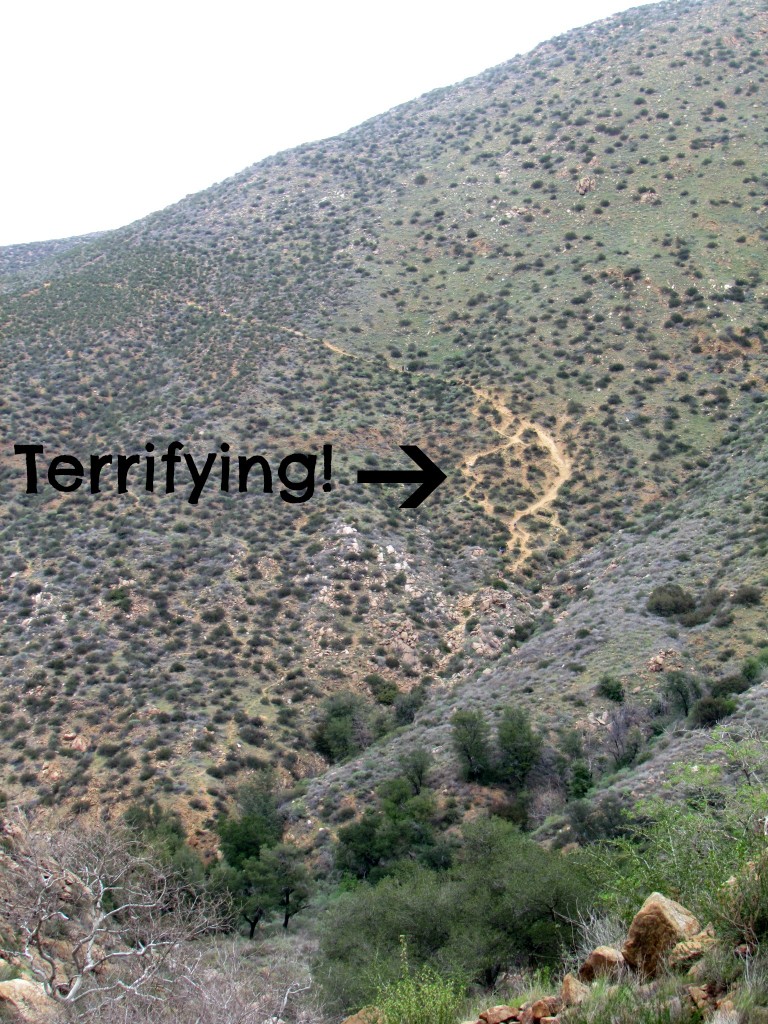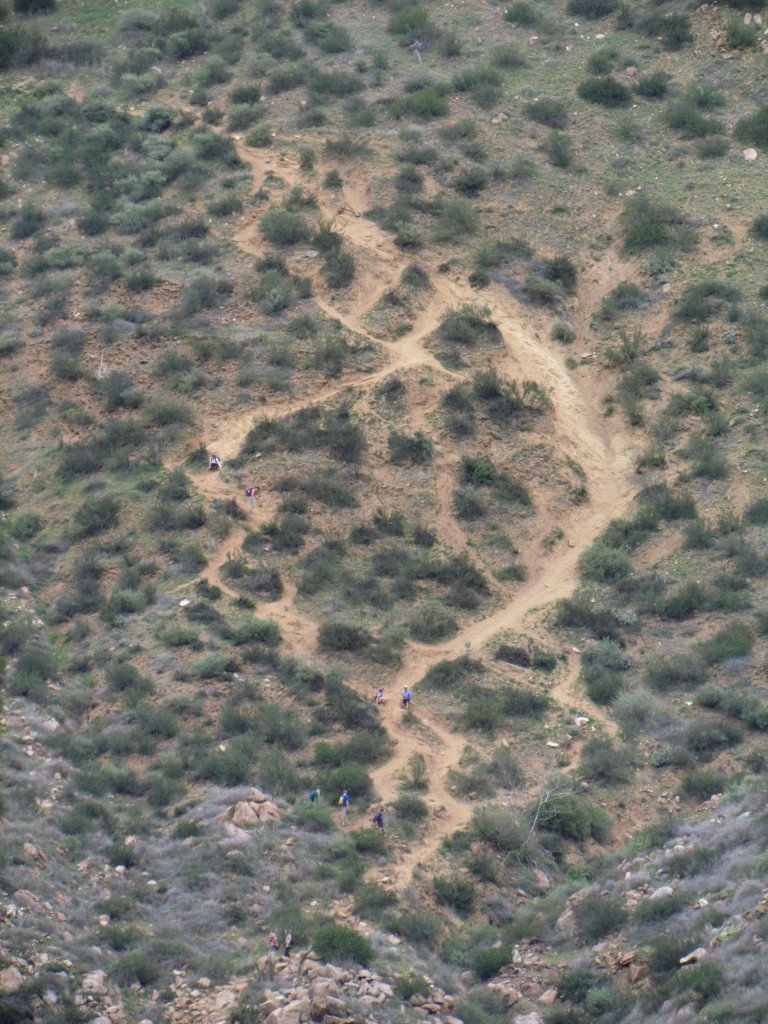 We suddenly got to this spot of steep, and I mean super steep, decline. I noticed that as I began to descend down it, my heart rate was through the roof. I was scared out my mind! I may hike a lot, but my balance isn't that amazing, and I was worried that I was about to completely bust my butt, fall far and really hurt myself. I forced myself to face this fear and just take it one step (or crab crawl) at a time. I grabbed onto branches and pieces of the earth when I could, but the scariest part was that there wasn't all that much to hold onto. At that point, I had to just sit on my butt and slide down, hands scrapping, clouds of dirt hitting me in the face… but I made it!
After that part, the hike offered more adventure that wasn't quite as scary. There was a spot where we repelled down with a rope: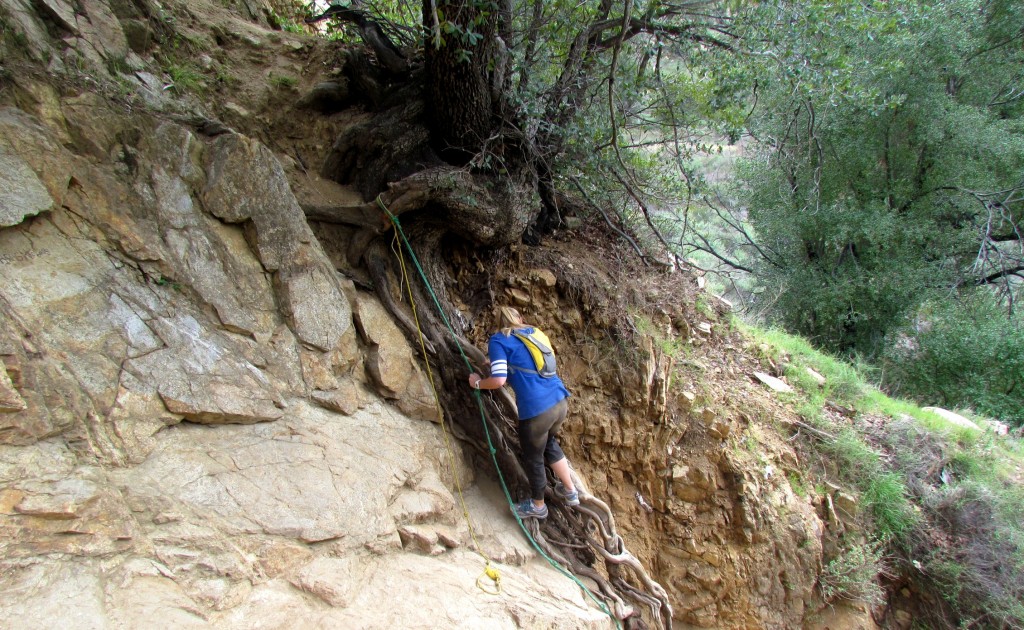 Check out how dirty my butt was, haha!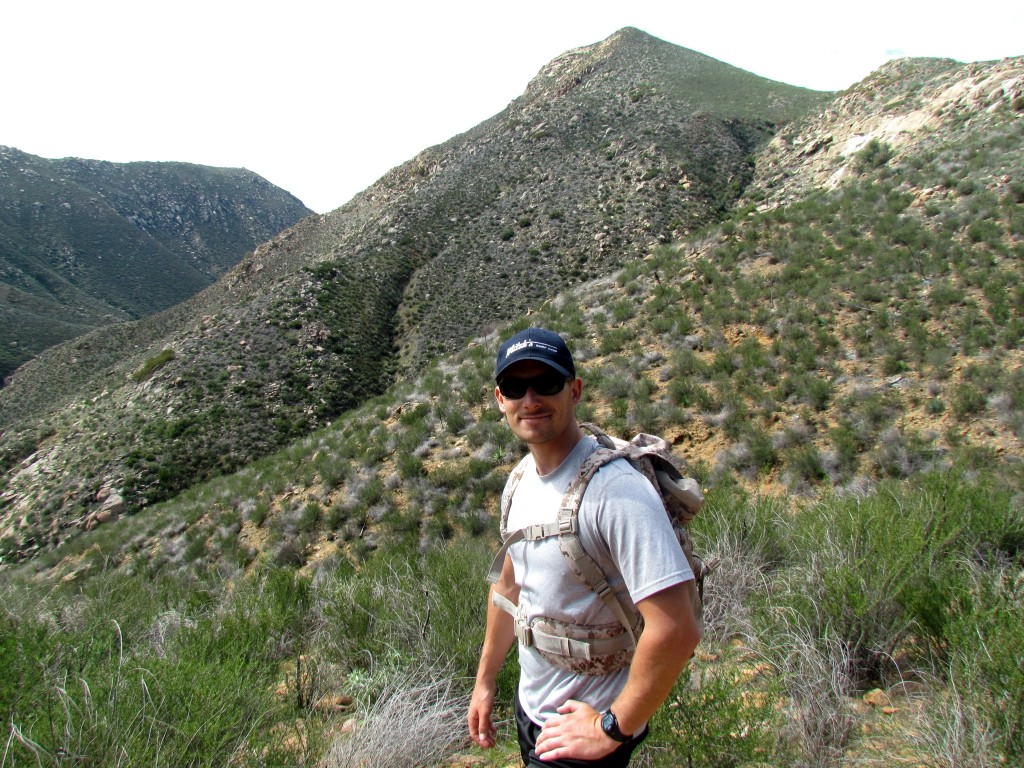 Once we got parallel to the waterfalls, it was more rock climbing than typical hiking. We climbed up and down big boulders to get close to the top of the waterfalls.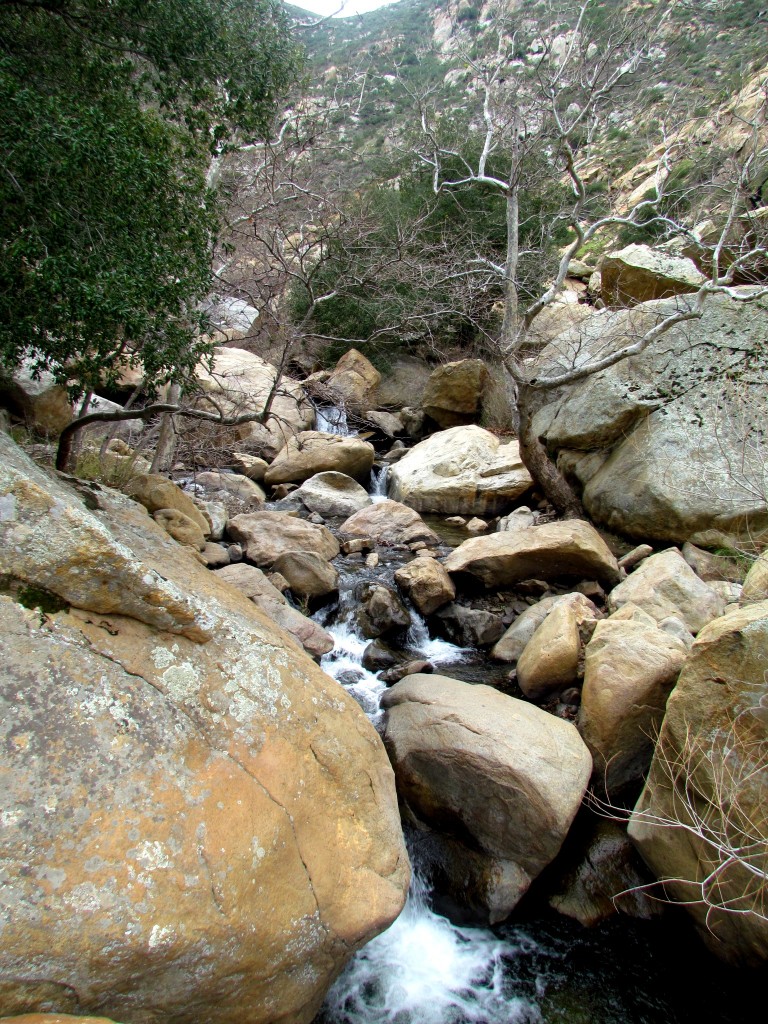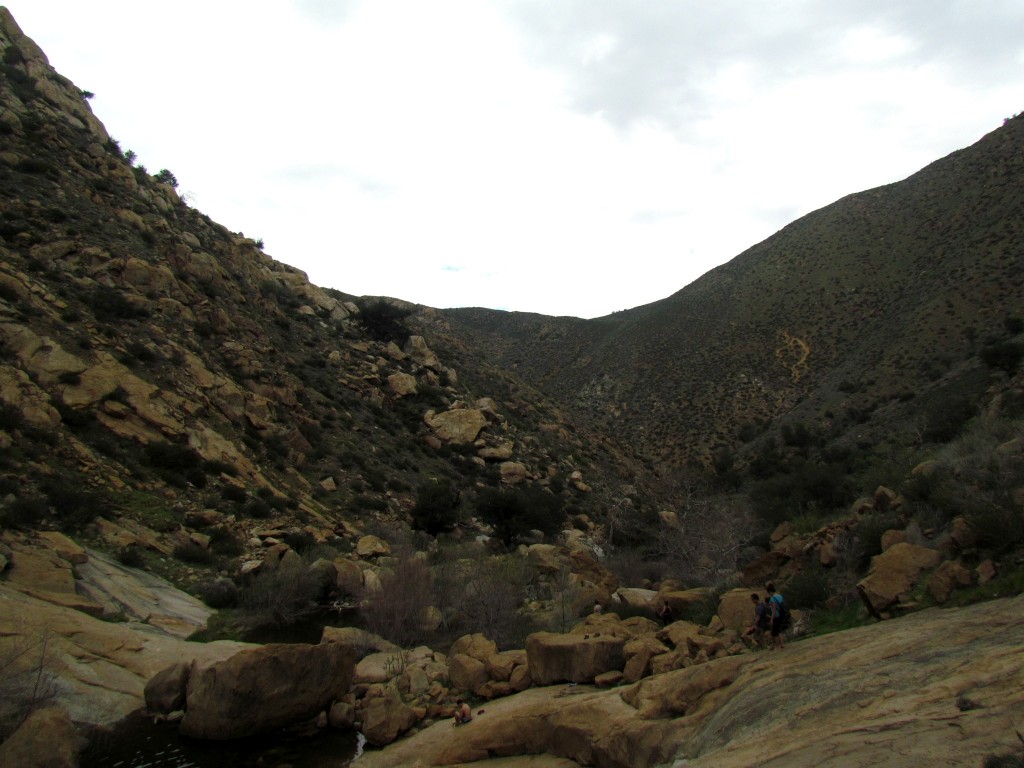 Some of the rocks near the waterfalls were slippery, and at one point I slipped off and rolled my ankle, and my foot slammed into the water. I'm not sure why, but this made me hysterically laugh and I couldn't stop. It was my left foot – same side as my calf injury – so I'm apparently sticking with just having one bad side! I hiked/rock climbed the rest of the way with a soaking wet soak and shoe: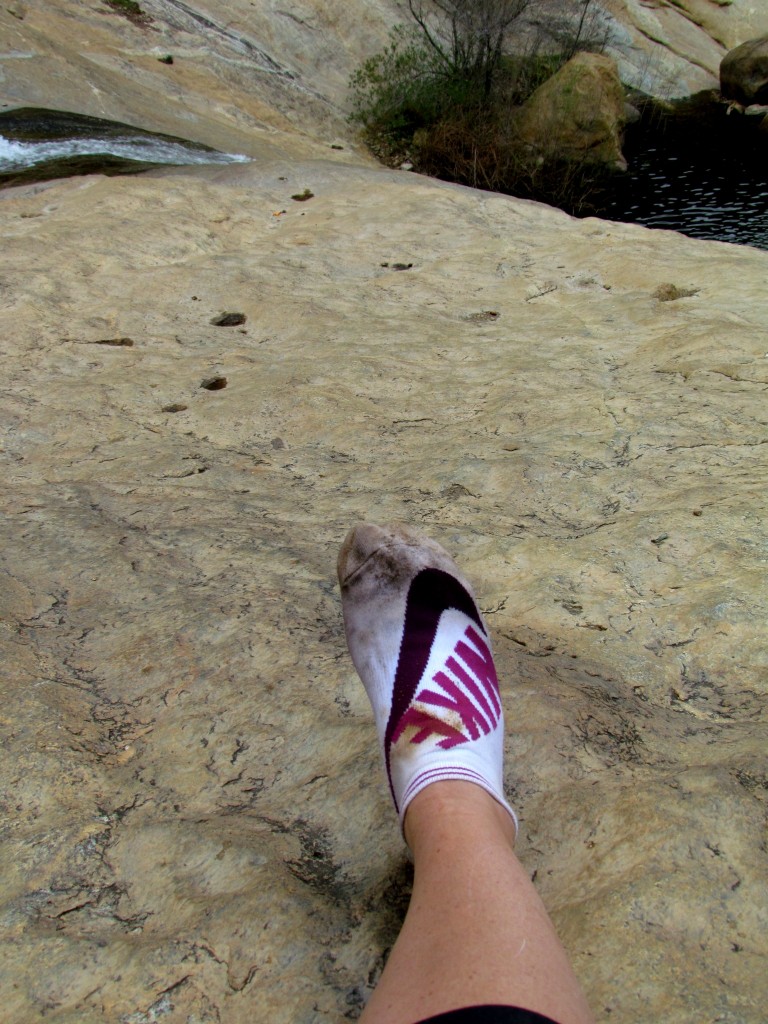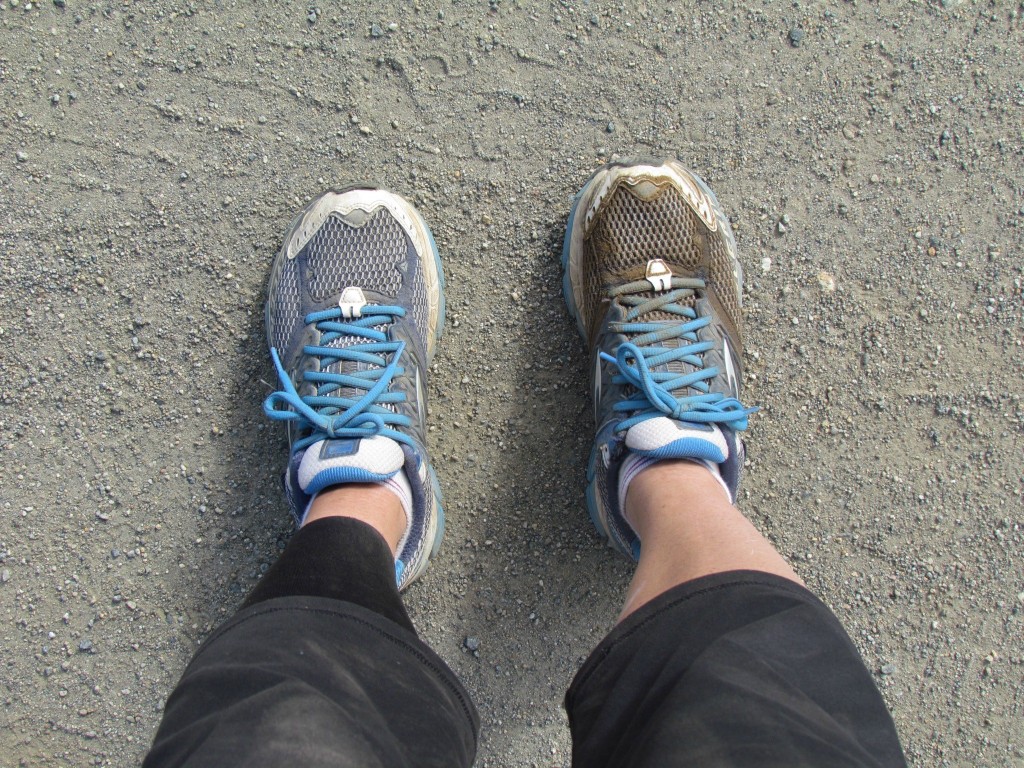 That is exactly why I don't wear my newest sneakers hiking!
I had a few cuts and scratches, a sore ankle, ripped all of my nails climbing, and was lightly dusted with dirt all over, but hiking to the waterfalls was totally worth it. It was the first time I've ever done a hike with waterfalls, and it was so cool!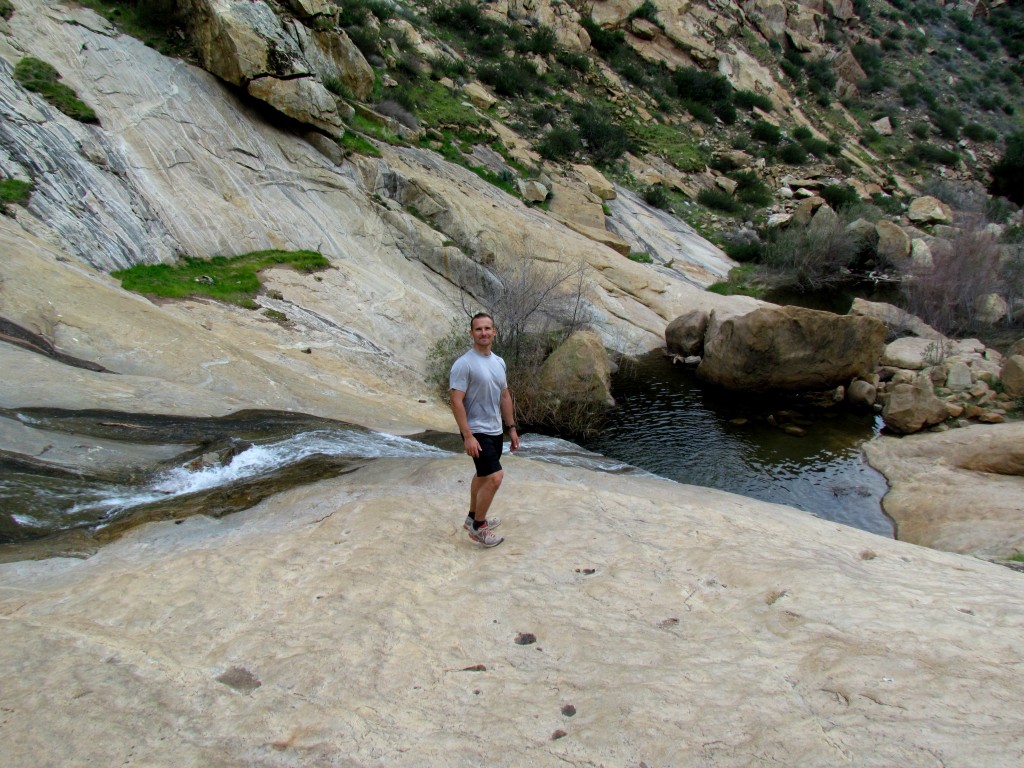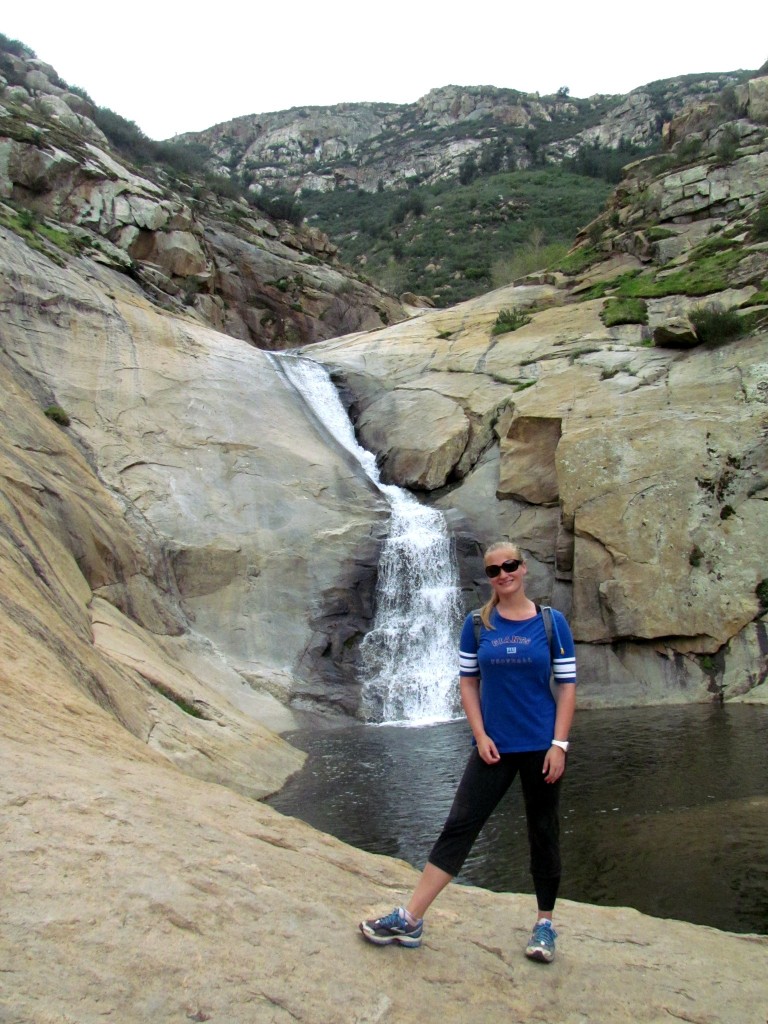 How hilarious is this?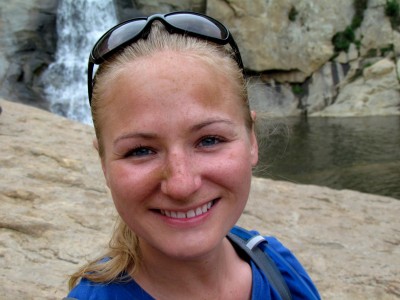 Makeup of the day: dirt!!
We sat by the falls for a bit while eating protein bars and hydrating a bit, but didn't stay too long. We found out that there's an easier route to take to avoid that terrifying part of the trail, and you better believe we took it on the way back. I'm all for a challenge, but not one that I feel is a death trap!!
*TIP TO HIKERS OF THREE SISTERS: ON YOUR WAY TO THE FALLS, TAKE THE RIGHT ROUTE!! IT'S STILL A GREAT WORKOUT, BUT NOT AS INTENSE AS THE LEFT DESCEND*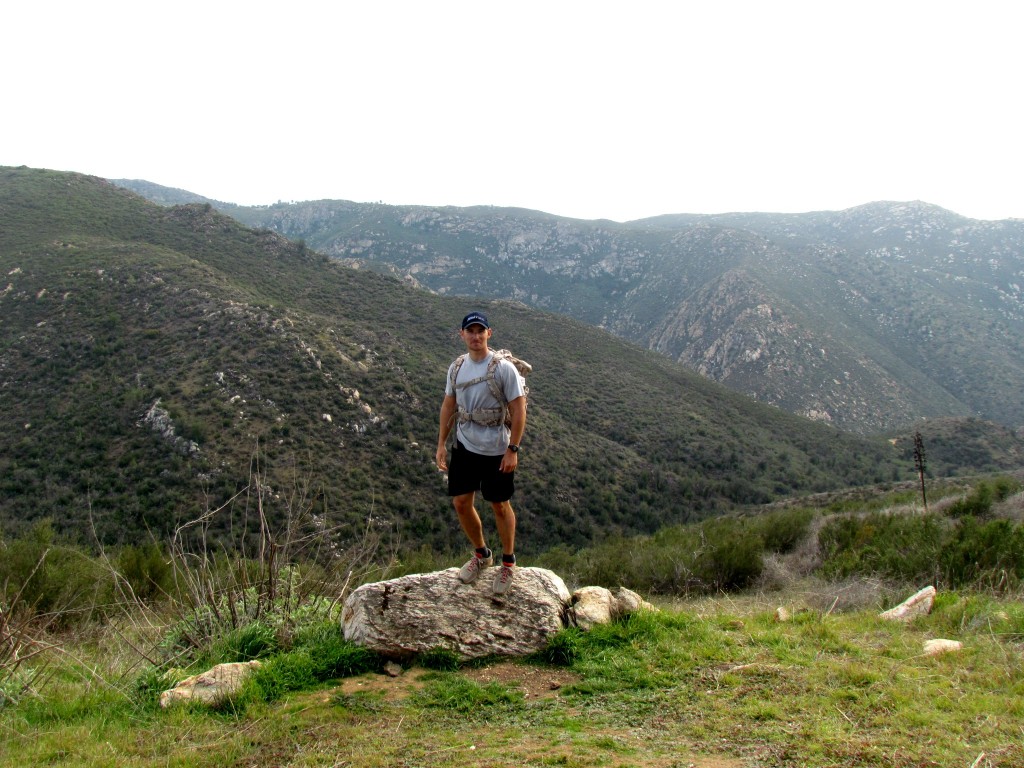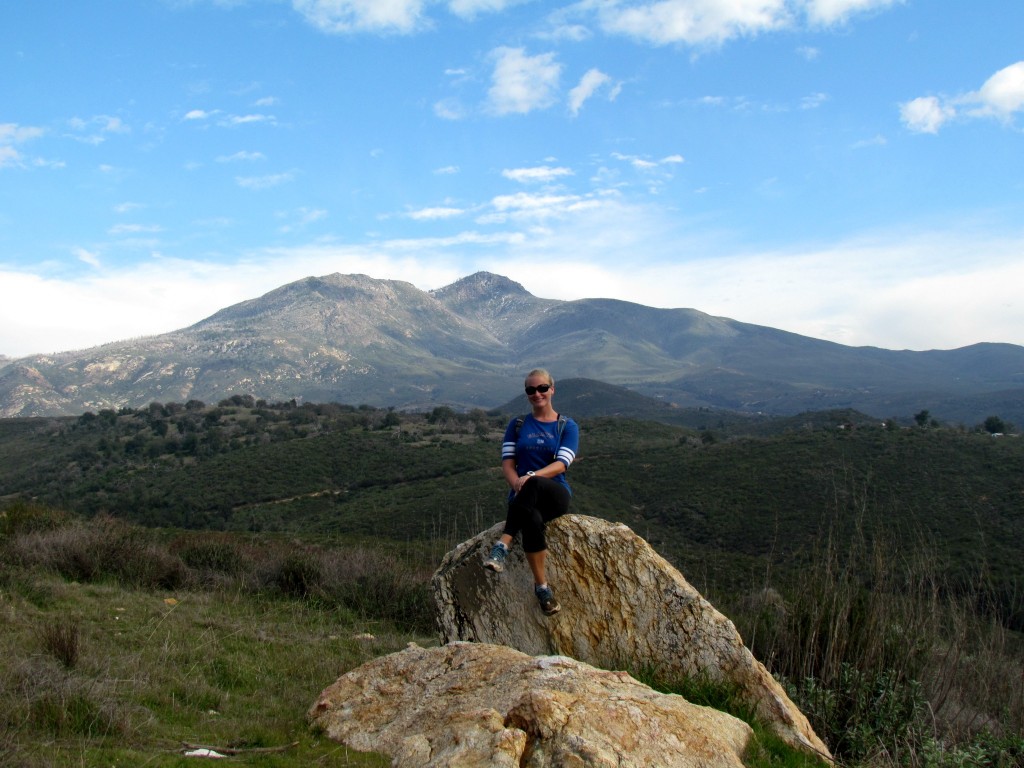 The hike took us a little under 3 hours total.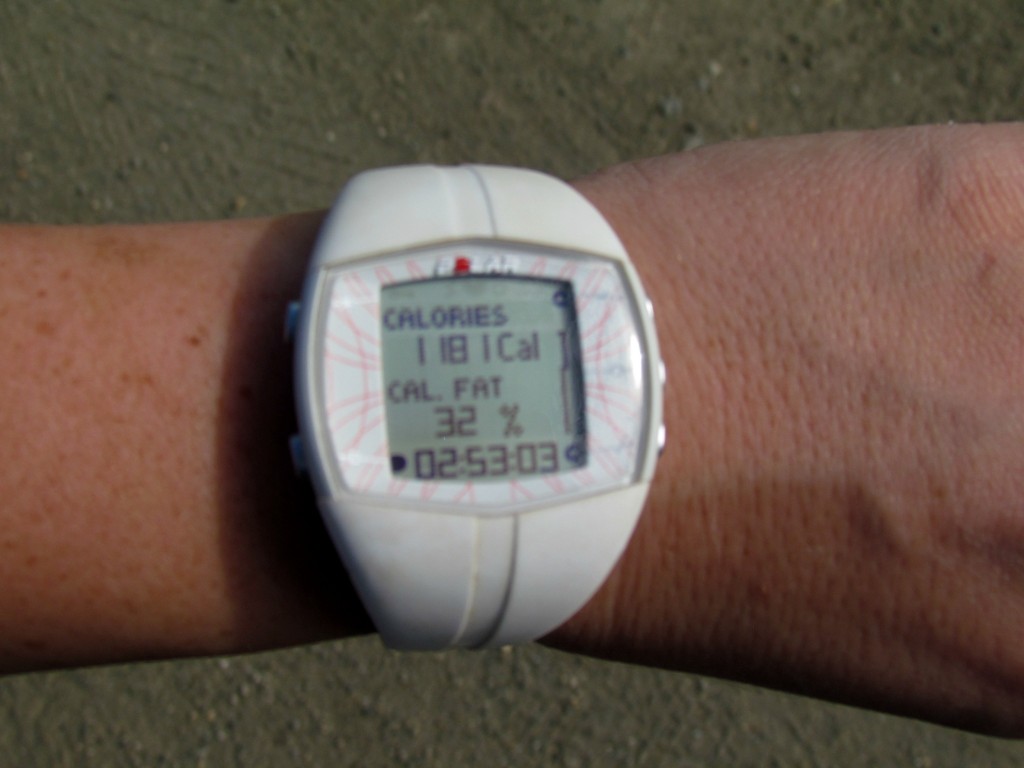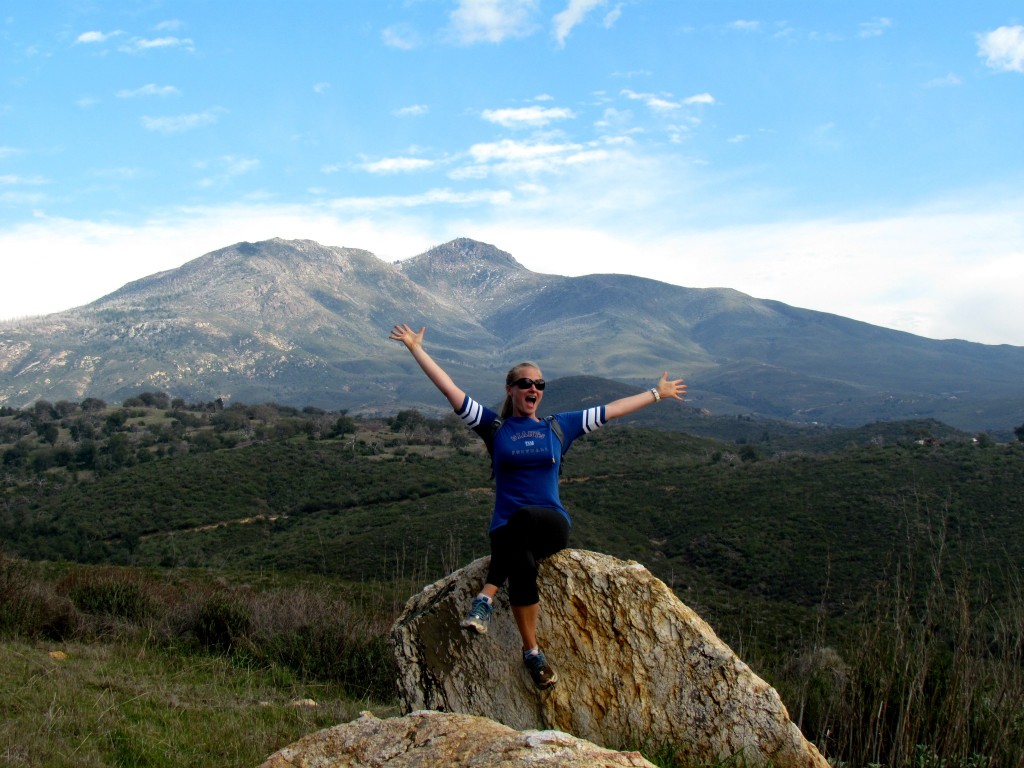 After driving back through the windy countryside, Adam and I found ourselves dizzy and in need of a bite to eat. We stopped at a Mexican joint in Descanso, inhaled burritos, and made our way back home to San Diego. Since then, neither one of us have been very productive, though we have managed to take showers and rid ourselves of all of the dirt we accumulated on the hike. It's safe to say that our hiking excursion wiped us both, but I'm so happy that we made the trip to see Three Sisters.
Now the only things on my to-do list for the next few hours before I go to sleep are to ice my calf/ankle/foot and file my razor sharp finger nails before I stab someone by accident!
Question: What's the most adventurous thing you've done lately? 

Print This
Tagged: California, Descanso, hikes, hiking, rock climbing, San Diego, Three Sisters, waterfalls