Most people have certain foods they eat all the time. Though I like to change up my eats, I definitely have some staple foods that I don't get sick of – including bananas, protein bars, berries, peanut butter, almonds, apples  and yogurt. I usually eat a yogurt a day, and a lot of the time they're Greek. When it comes to Greek yogurt, Chobani is by far my favorite brand.
A couple of weeks ago, I got excited when I saw a package at my door, because the lovely people at Chobani sent me two of their new flavors to try!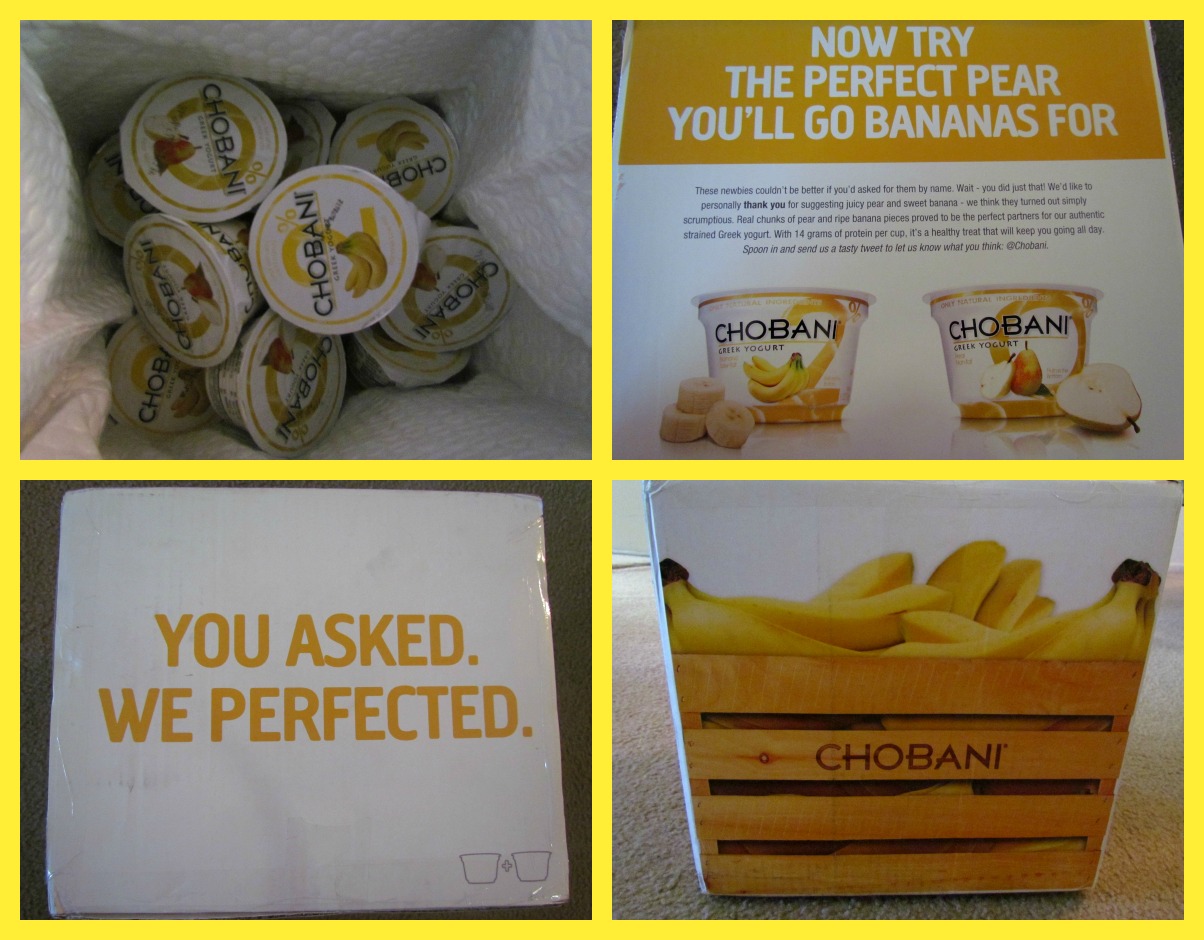 I already had a bunch of Chobani yogurts, so this package really stocked up my fridge with their Greek yogurt goodness.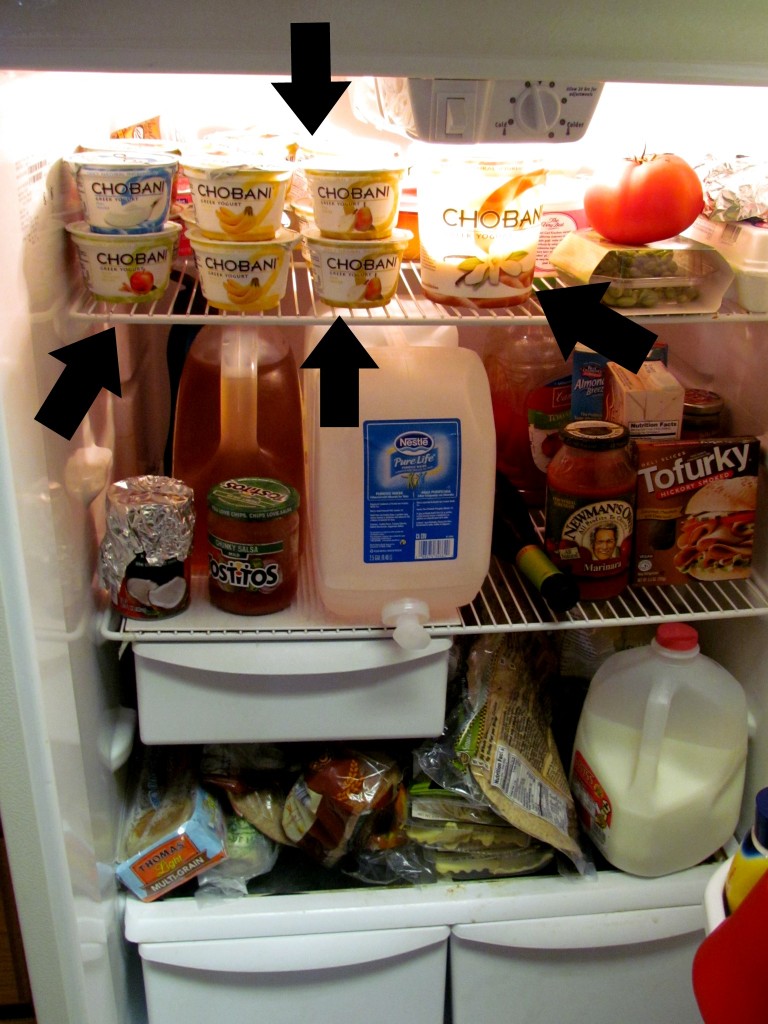 I've been sampling their new pear and banana flavors, and not surprisingly, they're pretty tasty. I love banana in general, so that flavor is definitely the winner in my book. Sure, I've eaten them plain here or there when I'm on the run, but it's more my style to get creative with my food. With that said, here are my favorite ways to enjoy Chobani banana & pear yogurts thus far:
Peanut Butter & Banana Yogurt
PB & banana is one of my favorite combos ever. Adding it to banana yogurt only ups the ante of awesomeness: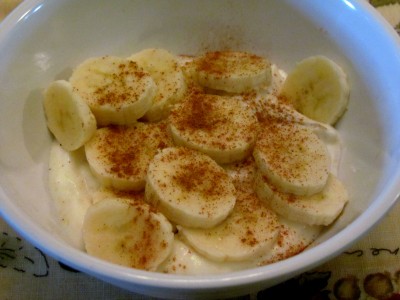 Ingredients:
6 oz container of Chobani banana yogurt
1/2 banana
1 TBSP peanut butter
Sprinkled cinnamon
Put Em in Pancakes
I love whipping up my own healthy pancake batter to satisfy a craving for a fancy breakfast. The other day I wanted to make some chocolate chip banana oatmeal pancakes, but I didn't have any bananas on hand. I thought, Why not add some Greek yogurt to the mix to up the protein in the meal and give it a touch of banana flavor? I followed the recipe for my blueberry banana & oats pancakes but made a few changes:  I subbed banana for 1/4 cup banana yogurt, and also subbed blueberries for chocolate chips.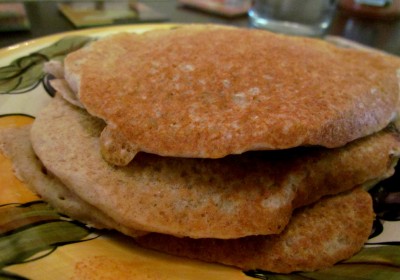 Toasted Almond Pear Delight
A chopped pear & toasted slivered almonds pair perfectly with Chobani's pear yogurt: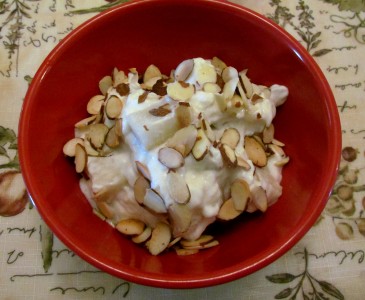 Apples & Bananas
When I'm in the mood for apple pie, I like to microwave a chopped apple sprinkled with cinnamon for a healthy alternative. Doing so and then combining it with a banana yogurt is a yummy combo.
Chocolate Covered Banana Treat
What's better to me than PB & banana? PB + banana + chocolate! I just whipped up this combo tonight…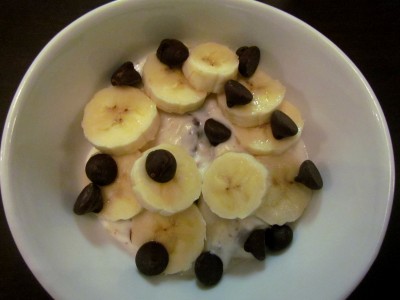 Ingredients:
6 oz- container of Chobani banana yogurt
1 TBSP dark chocolate morsels
1/2 sliced banana
1 TBSP Dark Chocolate Dreams peanut butter
I'm sure I'll keep coming up with yummy Greek yogurt combos!
Question: If you're a yogurt fan, what's your favorite way to eat it?  
Disclaimer: While I did receive free product samples, as always, all opinions expressed in this post are my own.