A very fun weekend is coming to an end! The only thing that put a damper on my weekend was the NY Giants just losing to the Eagles, especially because my hubby is a gloating Philadelphia fan! I guess I can't blame him though, I would certainly do the same if the Giants had pulled out a win. 😉
This afternoon we had a few special guests over for lunch – my girlfriend Angi, her hubby John, and their adorable 3-month old baby girl Zoie. I've talked about Angi on my blog before. She was one of the first women I met when I moved out to San Diego. I thought she was an awesome person within a few minutes of meeting her, and she's been my close friend ever since. Last year her Marine hubby got stationed in Arizona, so now she doesn't live quite as close. I haven't seen her in awhile and miss hanging out with her, so it was nice to catch up a bit today and meet little Zoie!
A foodie like me loves having company over so I can entertain with new recipes. I had a bit of fun whipping up some lunch for us to enjoy: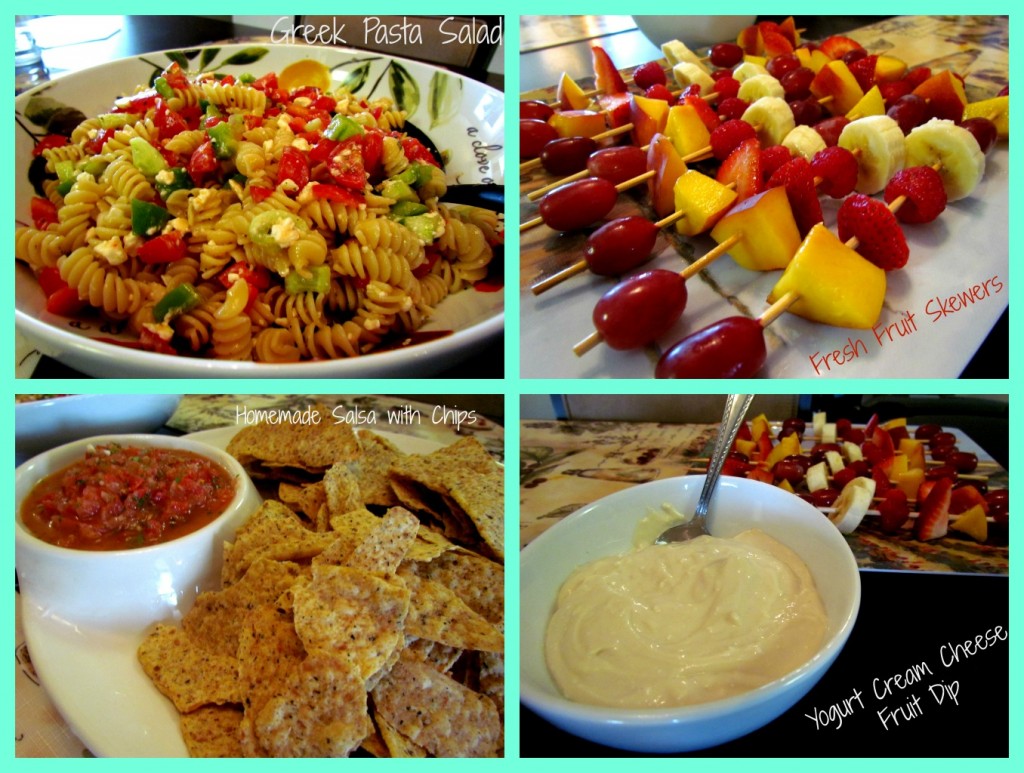 The pretty fruit skewers were something I spotted on Pinterest recently. I cut strawberries, banana, and a peach into slices, and also added grapes and raspberries to the mix. I paired the fruit skewers with an easy, creamy yogurt fruit dip.
For the chips & salsa combo, I followed a spicy tomato salsa recipe I found from Giada De Laurentiis on Food Network.
Lastly, inspired by my recent Greek pizza, I came up with a recipe for Greek pasta salad that turned out pretty damn good.
The recipes for everything are below!

Yogurt & Cream Cheese Fruit Dip
Author:
Foodie Loves Fitness
Ingredients
6 oz of light cream cheese
6 oz of vanilla yogurt
1½ TSP vanilla extract
2 TBSP packed brown sugar
Instructions
With an electric mixer, beat the cream cheese in a small bowl until smooth.
Add the yogurt, sugar, and vanilla extract, and beat until combined.
Cover and chill for at least 30 minutes before serving with your choice of fruit.
Nutrition Information
Serving size:
2 TBSP
Calories:
70,
Fat:
3 g,
Carbohydrates:
8 g,
Protein:
2 g
Spicy Tomato Salsa
Author:
Giada De Laurentiis
Ingredients
4 medium tomatoes, halved
½ cup fresh cilantro leaves
1 garlic clove, minced
3 TBSP olive oil
2 TBSP orange juice
½ TSP red pepper flakes
Salt & pepper to taste
Instructions
Put tomatoes, cilantro, garlic, olive oil, OJ, and pepper flakes in a food processor. Pulse for just a couple of seconds, until ingredients are combined by mixture is chunky.
Season with salt and pepper.
Transfer to a bowl and serve with chips.
Nutrition Information
Calories:
75,
Fat:
7 g,
Carbohydrates:
4 g,
Protein:
1 g
Greek Pasta Salad
Author:
Foodie Loves Fitness
Ingredients
8 oz rotini, or other short shaped pasta
2 cups cherry tomatoes, quartered
½ red bell pepper, diced
½ green bell pepper, diced
1 Persian cucumber, peeled & diced
3 oz crumbled feta cheese (about ¾ cup)
1 clove garlic, minced
2 green onions, sliced
3 TBSP olive oil
1 TBSP lime juice
2 TSP dried oregano
Salt & pepper to taste
Instructions
Cook pasta according to directions.
Meanwhile, combine tomatoes, peppers, cucumber, garlic, and onion in a medium bowl.
Add oregano, olive oil, and lime juice to the veggies.
Once pasta is done cooking, drain it, then rinse under cold water to cool.
Put pasta back into pot, then pour the veggie mixture on top.
Add the feta cheese, season with salt & pepper, and toss well.
Nutrition Information
Serving size:
about 2 cups,
Calories:
255,
Fat:
10 g,
Carbohydrates:
35 g,
Protein:
8 g