A very fun weekend is coming to an end! The only thing that put a damper on my weekend was the NY Giants just losing to the Eagles, especially because my hubby is a gloating Philadelphia fan! I guess I can't blame him though, I would certainly do the same if the Giants had pulled out a win. 😉
This afternoon we had a few special guests over for lunch – my girlfriend Angi, her hubby John, and their adorable 3-month old baby girl Zoie. I've talked about Angi on my blog before. She was one of the first women I met when I moved out to San Diego. I thought she was an awesome person within a few minutes of meeting her, and she's been my close friend ever since. Last year her Marine hubby got stationed in Arizona, so now she doesn't live quite as close. I haven't seen her in awhile and miss hanging out with her, so it was nice to catch up a bit today and meet little Zoie!
A foodie like me loves having company over so I can entertain with new recipes. I had a bit of fun whipping up some lunch for us to enjoy: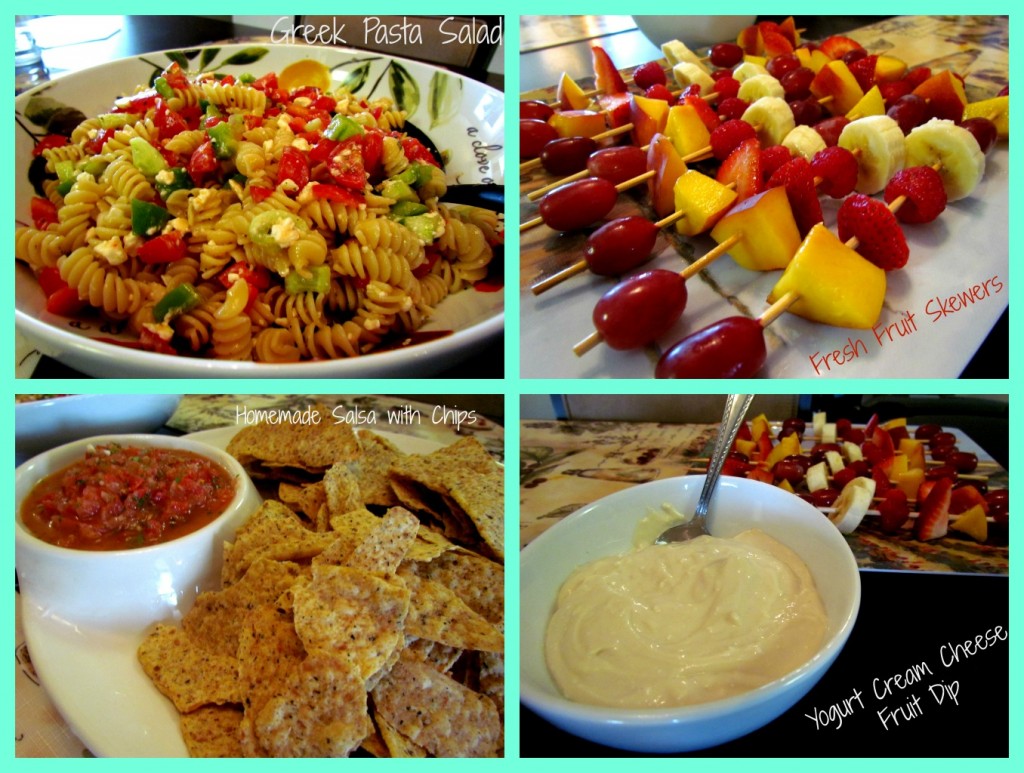 The pretty fruit skewers were something I spotted on Pinterest recently. I cut strawberries, banana, and a peach into slices, and also added grapes and raspberries to the mix. I paired the fruit skewers with an easy, creamy yogurt fruit dip.
For the chips & salsa combo, I followed a spicy tomato salsa recipe I found from Giada De Laurentiis on Food Network.
Lastly, inspired by my recent Greek pizza, I came up with a recipe for Greek pasta salad that turned out pretty damn good.
The recipes for everything are below!